11 Best WooCommerce CRM Solutions to Build Customer Relationships and Increase eCommerce Sales
Building and nurturing customer relationships is crucial for any eCommerce business. Luckily, using the right WooCommerce Customer Relationship Management (CRM) tool eases the task.
This tool helps online store owners gather critical consumer data, boost sales, and improve customer experience through better relationships.
With this in mind, we'll look at 11 top WooCommerce customer management solutions that can make your eCommerce objectives easy to achieve.
We've selected these tools based on their functionality, ease of integration with WooCommerce, pricing, and customer reviews.
Download Checklist: How to Start an Online Business
Top 11 WooCommerce CRM Tools
Let's delve into the top 11 WooCommerce CRM tools that can elevate your online business.
1. Jetpack CRM (Formerly Zero BS CRM)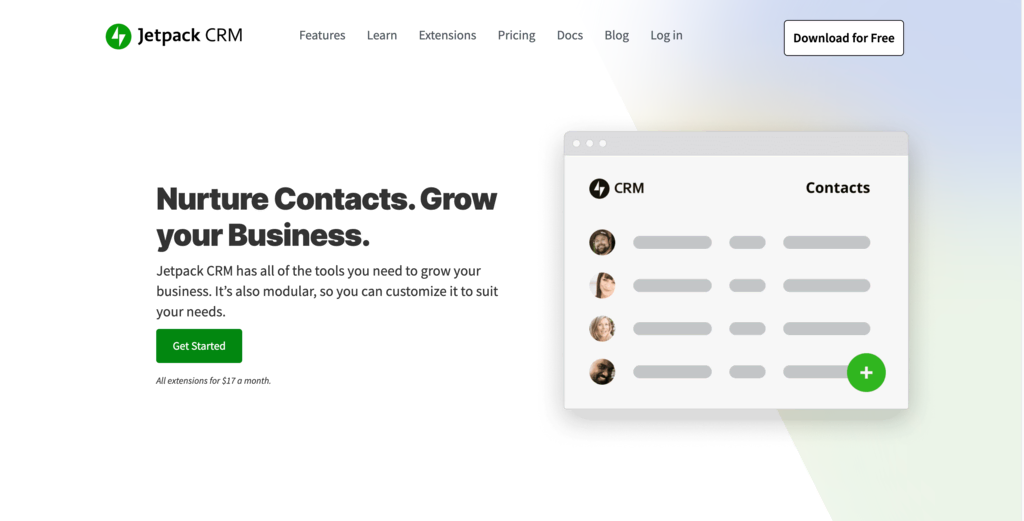 Jetpack Stats:
Rating: 4.3/5
Best for: small-to-medium WooCommerce store owners
Price: freemium (starting at $11/month when billed annually)
Active installations: 40,000+
Jetpack CRM (formerly Zero BS CRM) is a simplified CRM tool that integrates easily with most WooCommerce plugins. It is designed for those who want a straightforward, no-frills approach to customer relationship management.
Once you install the plugin on your WooCommerce store, it starts to automatically capture customer information and orders. You can manage this data from your WordPress dashboard.
What sets Jetpack CRM apart is its simplicity. While other CRM tools come with numerous features and functions, Jetpack CRM focuses on providing the essentials in an easy-to-use package, making it great for small business owners who've just started making money online.
Key Features
Contact management – store and manage all customer details in one place.
Built-in email campaign – create and send targeted email campaigns. The feature also includes a user-friendly editor, pre-designed templates, personalization options, and performance-tracking capabilities.
Extensions – extend functionality with paid extensions for tasks like invoicing and PayPal and MailChimp integration.
The basic version lacks advanced features that larger businesses usually need. You will have to buy premium extensions for more complex functionality, and their prices can add up.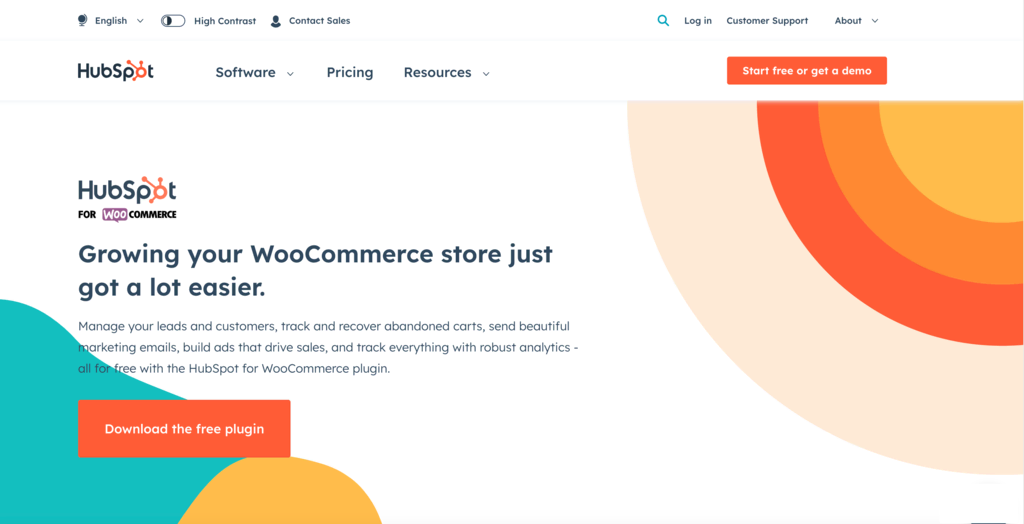 HubSpot for WooCommerce Stats:
Rating: 4.7/5
Best for: businesses seeking a feature-rich CRM
Price: freemium (paid plans start at $18/month)
Active installations: 10,000+
HubSpot for WooCommerce is a robust, feature-rich CRM that seamlessly integrates with your WooCommerce stores. It offers an extensive range of features for managing your customers, enhancing your marketing efforts, and boosting sales.
After installing, you first need to sync your WooCommerce store data with this WordPress WooCommerce plugin. The tool then lets you access and manage customer information from the HubSpot dashboard.
HubSpot differs from its competition by offering a comprehensive feature set. With advanced analytics, abandoned cart tracking and recovery, sales funnel management, and more, it offers a complete suite of tools that other CRM solutions often lack.
Key Features
Customer support and help desk – manage customer inquiries, support tickets, and email conversations, as well as maintain a knowledge base for self-service support.
Email automation – send targeted emails and build powerful, automated workflows.
Sales pipeline management – monitor your sales process and identify growth opportunities.
The wealth of features may be overwhelming for new users. On the other hand, some advanced features are only available in the premium plans.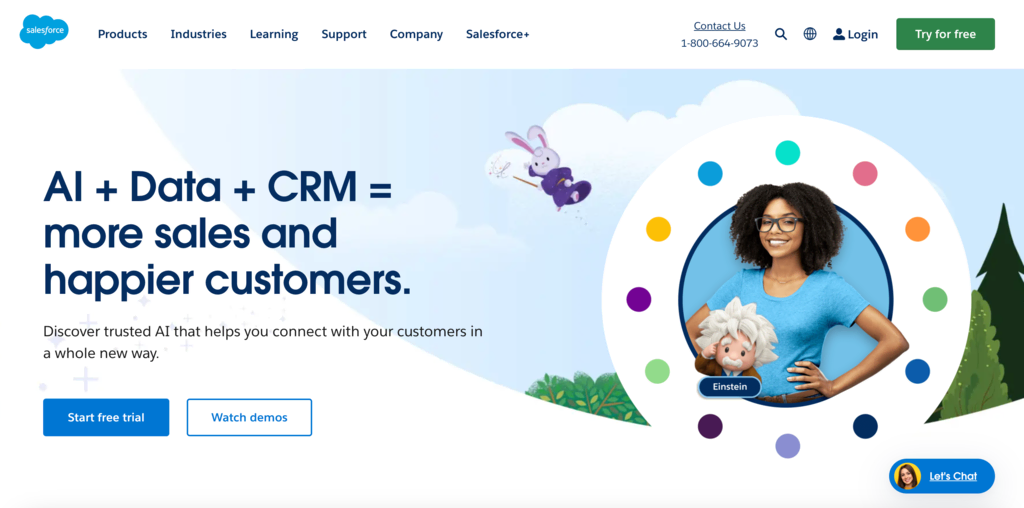 Salesforce Stats:
Rating: 4.5/5
Best for: large businesses looking for enterprise-level CRM and sales management
Price: premium (paid plans start at $25/user/month)
Active users: 150,000+
Salesforce is a renowned CRM platform that offers a wide range of features for sales, marketing, and customer relationship management. It is a powerful solution primarily designed for enterprise-level businesses.
To use the Salesforce CRM tool, you must sign up for a Salesforce account and integrate it with your store using a Salesforce-WooCommerce connector plugin.
Salesforce is famous for its scalability, customization options, and extensive integration capabilities. It enables you to tailor the CRM system to your needs by seamlessly integrating it with other business applications and processes.
Key Features:
Sales management – get robust sales management features, including lead and opportunity tracking, sales forecasting, and performance analytics.
Marketing automation – create personalized marketing campaigns, track customer interactions, and analyze campaign effectiveness.
Workflow automation – automate repetitive tasks and streamline your business processes, improving efficiency and productivity.
Salesforce's pricing is higher than many other CRM options, and the connector plugin needed for WooCommerce CRM integration can increase the overall price.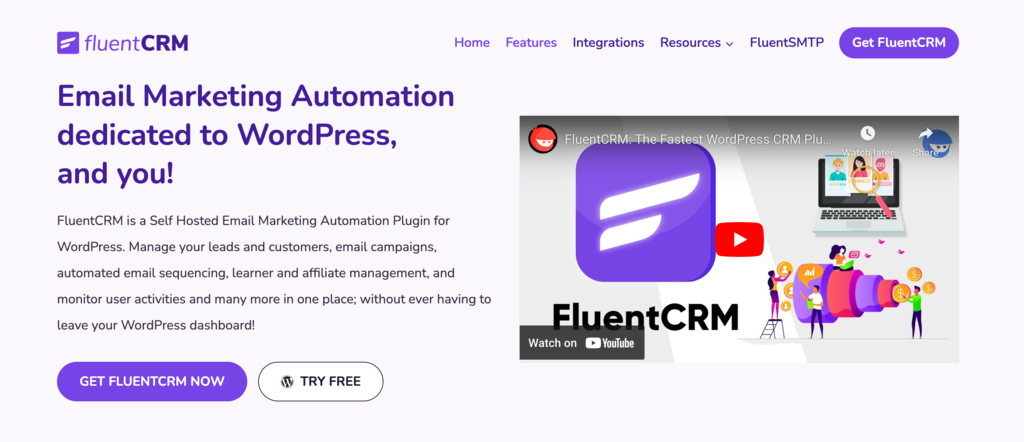 FluentCRM Stats:
Rating: 4.9/5
Best for: businesses looking for a lightweight, robust, and easy-to-use CRM
Price: freemium (paid plans start at $103/year)
Active installations: 30,000+
FluentCRM is a self-hosted email marketing automation plugin for WordPress that's perfect for WooCommerce. It brings together all user data in one place, which makes managing customer relationships easier.
After installing the plugin, integrate it with WooCommerce to start managing customer data. You can then run email marketing campaigns and track customer activities right from your WordPress dashboard, helping you drive more traffic to the website.
FluentCRM's uniqueness lies in its simplicity. It is incredibly lightweight and does not rely on external services, making it faster and more efficient than many competing CRM platforms.
Key Features:
Segmentation – group customers based on their behavior and characteristics.
Email campaigns – create segments to build and manage email ad campaigns for old and new customers.
360-degree contact view – get a detailed view of your customers, including their purchase history and interactions with your store.
Note that plugin's free version doesn't offer dynamic segmentation, email sequencing, and other features. However, it still has the most important features.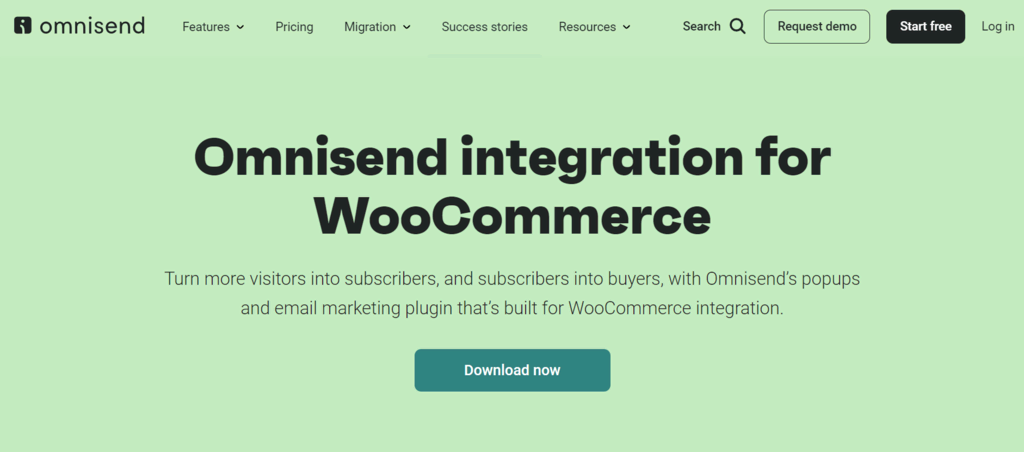 Omnisend Stats:
Rating: 4.9/5
Best for: eCommerce email marketing automation
Price: freemium (paid plans start at $16/month)
Active installations: 7,000+
Omnisend is a robust WooCommerce CRM solution tailored for eCommerce businesses of all sizes. With Omnisend, you can manage email marketing efforts and customer relationships within the WooCommerce platform.
Omnisend stands out because it offers industry-specific templates and automation workflows designed for eCommerce. It also provides detailed reports of your campaign performance.
After installing Omnisend, configure your email campaigns and automation workflows. Write emails that convert with Omnisend's easy drag-and-drop editor. Segment your audience and send personalized messages, such as abandoned cart reminders or product recommendations.
Key Features:
Unlimited audience segmentation – easily segment your customers into different groups for more tailored marketing efforts.
Email and SMS automation – automate your email and SMS campaigns to engage customers with minimal effort consistently.
One-click integration – quickly connect Omnisend with your WooCommerce store, getting it up and running in minutes.
Omnisend offers a free plan that lets users send up to 500 emails/month to 250 contacts. To send more emails and save more contacts, upgrade to one of its paid plans starting at $16/month.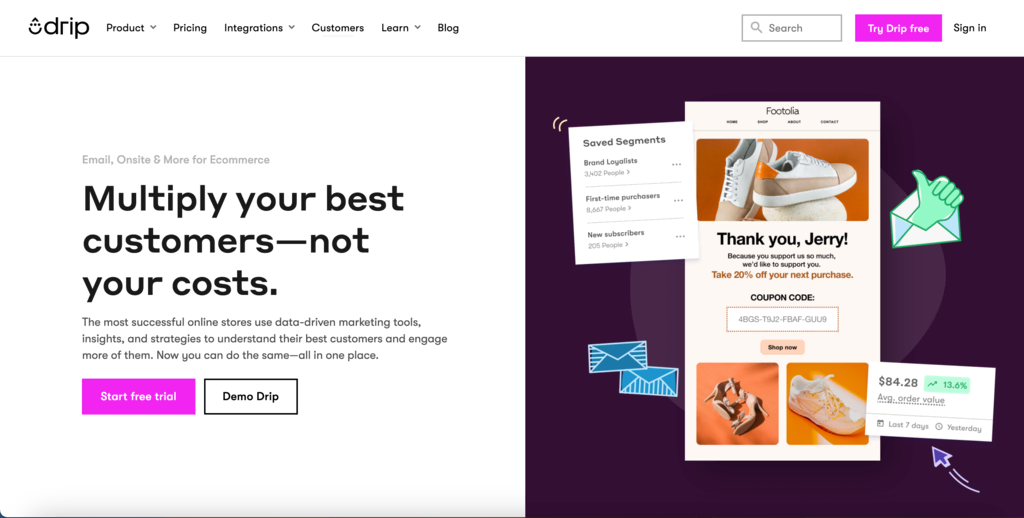 Drip Stats:
Rating: 4.3/5
Best for: marketing and email automation campaigns
Price: premium (paid plans start at $39/month for 2500 contacts)
Active installations: 4,000+
Drip is one of the most potent eCommerce CRM plugins for WooCommerce that focuses on building strong, profitable relationships with customers at scale.
After installation, you need to connect Drip and your WooCommerce plugin. Once set up, you can start automating your marketing, segmentation, email campaigns, and more right from the Drip dashboard.
Drip's strength lies in automation. It's designed to help its clients get more customers and drive sales via automated email and social media campaigns. Its automation and segmentation tools also allow personalized messaging based on customer behaviors.
Key Features:
Advanced segmentation – segment customers more precisely for better targeting through personalized messages and offers, improving customer loyalty.
Email campaigns – run automated email ad campaigns with comprehensive performance tracking.
Automation – create intricate automation workflows for customer engagement.
Drip's pricing depends on the number of contacts, which can get expensive for firms with large customer bases. While there is no free version, you can try its services free of charge for the first 14 days.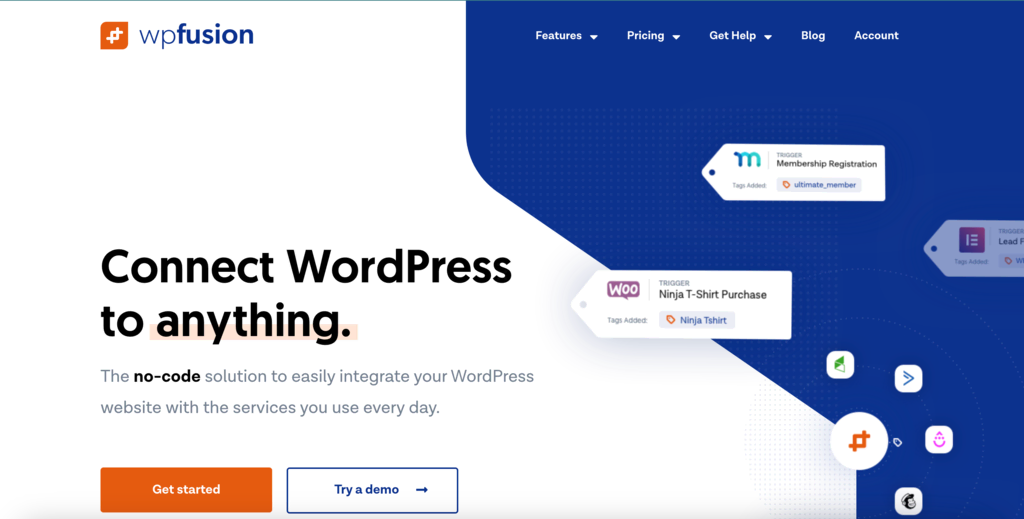 WP Fusion Stats:
Rating: 4.6/5
Best for: businesses looking for a compatible CRM solution
Price: freemium (prices start at $247/year)
Active installations: 4,000+
WP Fusion is a WordPress plugin that connects your site to any one of over 40 supported CRM platforms and marketing automation systems. It's ideal for store owners who use multiple plugins to set up their eCommerce websites and want to ensure all their tools are compatible with each other.
To use this WP CRM system, you need to add a new section to the settings of your other plugins. Here you can define how your CRM tags are mapped to WordPress fields, which keeps your CRM and WordPress site in sync.
WP Fusion stands out because of its compatibility. This makes it a great choice if you use multiple tools to manage your store.
Key Features:
Seamless integration – connect WooCommerce to various CRM tools.
Multiple plugin synchronization – keep your CRM and other plugins in sync.
Automation triggers – trigger automation workflows based on customer activity.
The WP Fusion might be too expensive for smaller startups or beginners who have just started a business. While there is a free WP Fusion Lite version, it is very limited.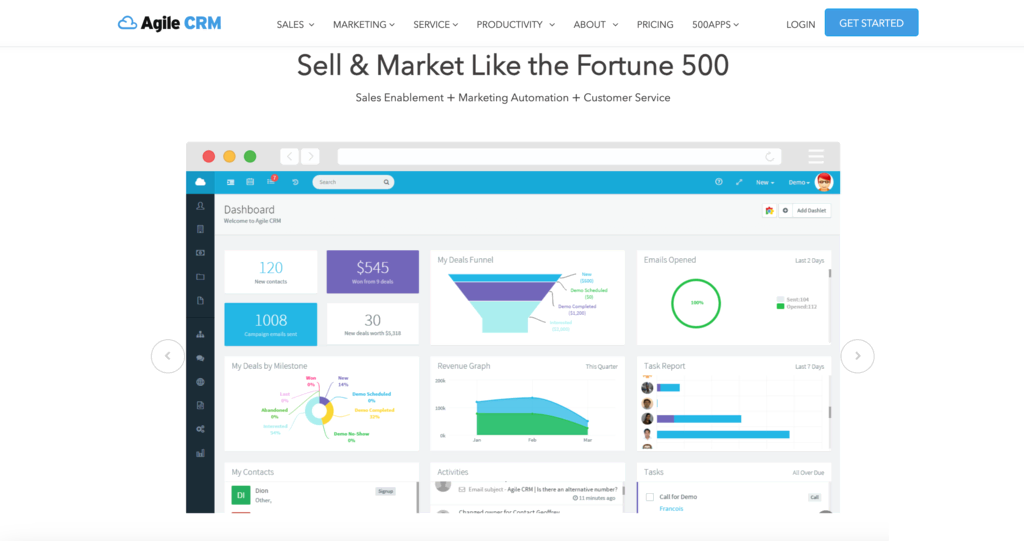 Agile CRM Stats:
Rating: 4.1/5
Best for: SMEs looking to scale their operations quickly
Price: free for up to 10 users (paid plans start at $8.99/user/month)
Active installations: 1,000+
Agile CRM is a comprehensive CRM solution that combines powerful sales, service, and marketing tools in one platform. It's known for its rich set of features and flexibility, offering a great value proposition for store owners.
After installing the plugin, you will get on-screen prompts to continue the CRM installation process. You can then use the WooCommerce dashboard to track customers, automate marketing efforts, and deliver superior service.
It is one of the best CRM tools for WooCommerce because it combines sales, marketing, and service in one platform. This all-in-one approach saves time and improves efficiency, making it a great tool for SMEs who want to scale their operations.
Key Features:
360-degree customer view – get a holistic view of your customers with contact details, communication history, and social profiles all in one place.
Social media monitoring – connect your social media accounts and monitor activities, mentions, and engagement on platforms like Facebook, Twitter, and LinkedIn.
Service automation – manage customer queries effectively with ticketing and customer service features.
Agile CRM's wide range of features might feel overwhelming for beginners. Moreover, for large-scale businesses, the cost per user can add up.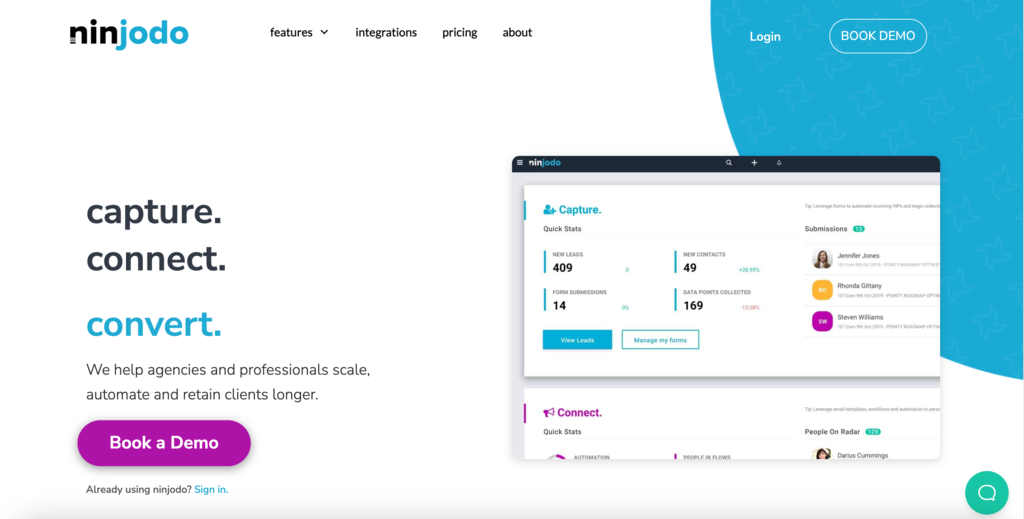 Ninjodo Stats:
Rating: 4.5/5
Best for: CRM and Small Business Management
Price: premium (plans start at $65/month when billed annually for 5000 contacts)
Ninjodo is a comprehensive small business management and CRM platform that offers a range of tools to streamline your business operations and enhance your communication with clients.
To use the tool, you need a Ninjodo account and CRM integration with your WooCommerce store. You can then manage your customer relationships, track leads, automate workflows, and handle invoicing and project management tasks from one platform.
Ninjodo stands out for its all-in-one approach to small business management. It combines CRM functionality with project management, invoicing, and other business tools, making it a versatile solution for small businesses.
Key Features:
Contact Management – get a central hub for managing customer contact information, interactions, and communication history.
Lead Tracking – track leads and sales opportunities, assign tasks and monitor progress through the pipeline.
Automation – automate your workflow by streamlining repetitive tasks.
On the other hand, Ninjodo's price might be higher than other CRM options. Luckily, you can use it for free for 14 days before giving your credit card details.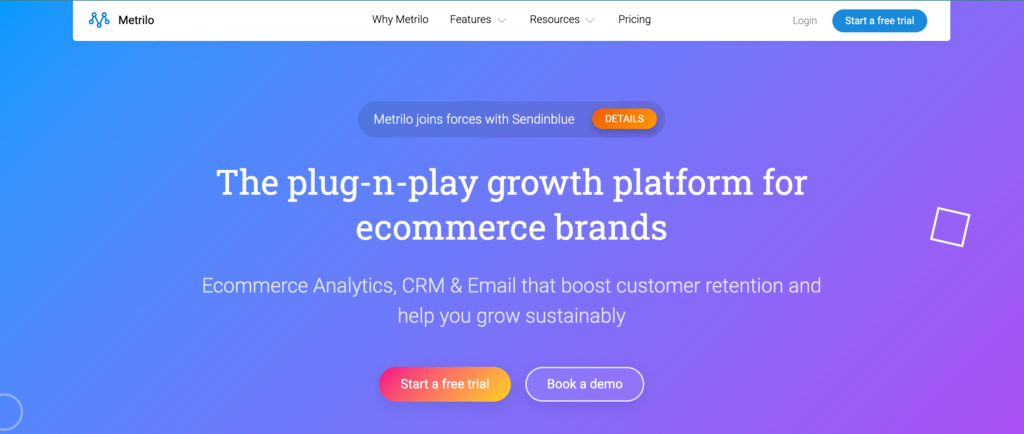 Metrilo Stats:
Rating: 4/5
Best for: eCommerce businesses
Price: premium (plans start at $99/month when billed annually)
Active installations: 800+
Metrilo is one of the most powerful eCommerce CRM, analytics, and email marketing platforms. Its standout feature is the seamless integration with WooCommerce, enabling store owners to manage their customer information efficiently.
Once you install Metrilo, it syncs your WooCommerce data to its platform. The Metrilo dashboard lets you manage your customers, track their activity, and send targeted emails based on their behavior.
Unlike other CRM tools, Metrilo specializes in eCommerce analytics. It automatically segments customers based on their behavior, providing insightful data to help you create effective eCommerce marketing strategies.
Key Features:
Customer database management – get a clear view of your customer profiles and order history.
Retention analysis – identify your most valuable customers and build strategies to keep them.
Email automation – send targeted emails based on customer behavior.
While Metrilo is arguably the best CRM for eCommerce store owners, its higher price point might be a barrier for small businesses or beginners. On the other hand, it offers a 14-day free trial to help you decide whether it's worth the investment.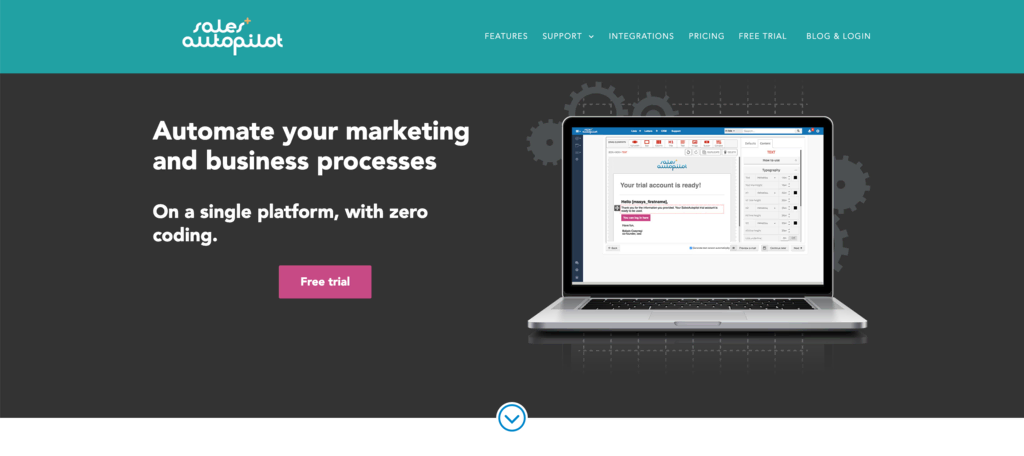 SalesAutoPilot Stats:
Rating: 4/5
Best for: businesses looking for a CRM with strong email marketing features
Price: freemium (paid plans start at $14/month for 1000 contacts)
Active installations: 200+
SalesAutoPilot is a CRM system that doubles as a powerful marketing automation tool. It offers robust email-based marketing and CRM features to help store owners build stronger relationships with their customers.
After installing the plugin, you need to connect it to your SalesAutoPilot account and sync customer data with your WooCommerce store.
What sets SalesAutoPilot apart is its strong focus on email marketing. It offers a range of email marketing features, including automated email campaigns and advanced email tracking, that aren't always available in other CRM tools.
Key Features:
Robust email marketing – create targeted, automated email campaigns to nurture customer relationships.
Customer segmentation – segment your customers based on their behavior and preferences to offer them a better user experience.
eCommerce tracking – track customer activity to understand their shopping habits and preferences.
However, the user interface might feel a bit outdated, and the learning curve may be steep for beginners.
Benefits of Using CRM for WooCommerce
Now, let's explore the general benefits that CRM tools can bring to your WooCommerce store.
Tracks Customer Behavior
WooCommerce CRM integration enables you to capture and analyze customer activity by tracking their purchase history, preferences, and engagement with marketing campaigns. This helps you create targeted marketing strategies to improve sales and customer retention.
Centralize Data Management
CRMs serve as centralized systems that manage all customer data for your eCommerce platform, including contact information, purchase history, and online store interactions. This centralization makes it easier for you to manage customer relationships, personalize marketing efforts, and make data-driven decisions.
Track Subscriptions
WooCommerce CRM systems often include features for tracking subscriptions, which is especially useful for WooCommerce users that offer subscription-based products or services. The CRM tracks renewal dates, payment statuses, and other critical subscription data of your eCommerce business, ensuring steady revenue and customer satisfaction.
Improve Marketing Management
CRM systems help you manage your marketing campaigns more effectively. You can segment your customer base, create targeted marketing campaigns, track customer responses, and analyze the effectiveness of your campaigns. This helps you optimize marketing strategies for your online store and improve your return on investment.
Analyze Store Performance
eCommerce CRM platforms help you track key data points for your online business, such as sales trends, product performance, customer lifetime value, and more. These insights help you understand how your store is performing and where improvements are needed.
What Is the Best WooCommerce CRM Hosting
Besides leveraging the right WooCommerce CRM for your online business, choosing the right web host is also crucial for optimal performance and seamless integration. A reliable web host ensures smooth eCommerce operations for your WooCommerce hosting solution, taking care of your online store.
Hostinger offers WooCommerce hosting plans specifically designed for eCommerce stores. With a 99.9% uptime guarantee, 24/7 support, and easy WooCommerce integration, Hostinger is a reliable and efficient eCommerce hosting solution for your WooCommerce customer relationship management needs.


Conclusion
Considering the number of options in the market, finding the best WooCommerce CRM solutions for your store can be overwhelming. But armed with our insights, you're now well-equipped to make an informed choice.
Let's briefly overview four notable WooCommerce customer relationship management tools from the list and their standout features:
HubSpot for WooCommerce – offers seamless integration with WooCommerce and abandoned cart tracking and recovery features.
FluentCRM – is easy to use and incredibly lightweight.
JetpackCRM – focuses on delivering the essentials in an easy-to-use package.
Salesforce – provides advanced customer management capabilities and a comprehensive feature set.
All things considered, HubSpot for WooCommerce stood out as the best WooCommerce CRM software due to its feature-rich portfolio and budget-friendly pricing. No wonder it carries a 4.7/5 rating and has over 10,000 active users.
If you know any other WooCommerce CRMs that can make it to this list, tell us in the comments below.
WooCommerce CRM FAQ
Got lingering questions about WooCommerce CRM? We'll address the most common ones in the FAQ section below.
What Is WooCommerce CRM?
A WooCommerce CRM is a tool that connects with your WooCommerce store to help you manage customer data, monitor interactions, and enhance customer relationships, boosting your sales. 
Does WooCommerce Have Built-In CRM?
No, WooCommerce doesn't come with a built-in CRM solution. But it can integrate seamlessly with various CRM tools through plugins to help you manage customer relationships effectively.
What to Look for in a WooCommerce CRM Software?
In WooCommerce CRM software, look for seamless integration, user-friendly design, consumer behavior tracking, automation features, comprehensive customer profiles, and insightful analytics.