20+ Ways to Make Money Online in 2024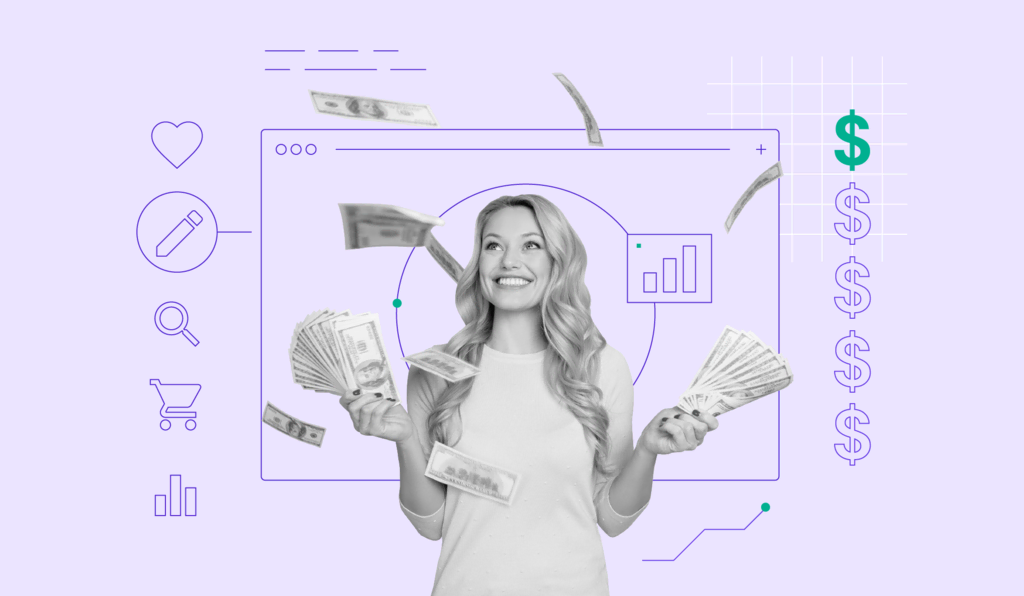 The internet is a goldmine of opportunities for making money online. Whether you're aiming for financial independence or some extra cash, it offers many options for starting an online business.
This guide explores some of the best ways to make money online in 2024. We've compiled a list of 26 strategies that can turn your online aspirations into an income stream. For each method, we'll provide insights into the necessary tools, skills, and potential earnings.


Top 26 Ways to Make Money Online
From creating your own eCommerce store to freelance writing, becoming virtual assistants, and joining influencer partnerships, let's dive into 26 ways to make money online.
1. Create an eCommerce Site
Online stores have many advantages compared to offline ones, including wider market reach and lower startup costs.
If you focus on a specific niche, your eCommerce business can stand a better chance against rivals. Staying up-to-date with currently trending products can help you decide which items to sell.
To establish a successful eCommerce store, develop a business plan and set up the essentials like inventory, shipping, business licenses, and permits.
If you're a first-timer, Hostinger Website Builder is an excellent platform to build your own online store.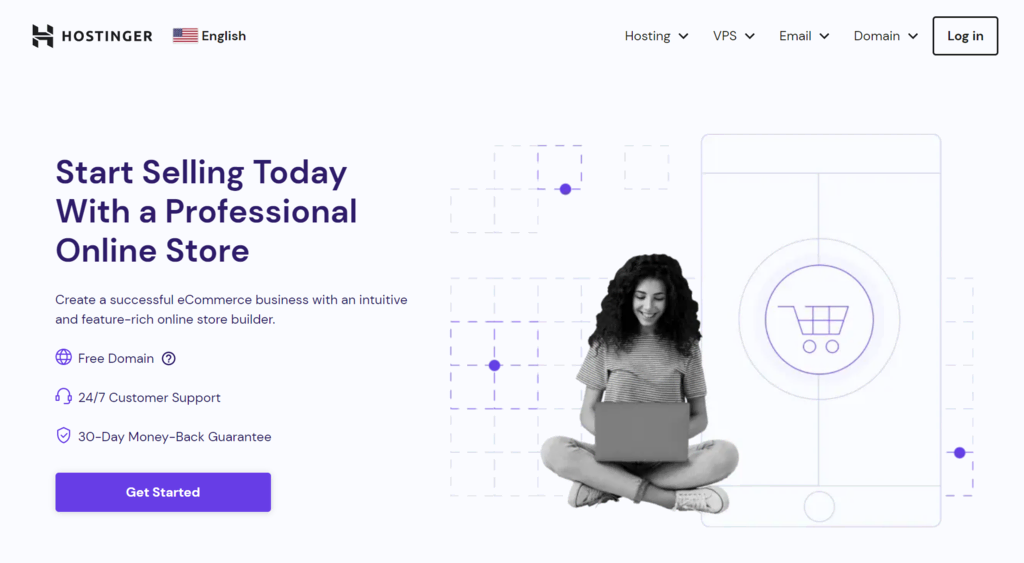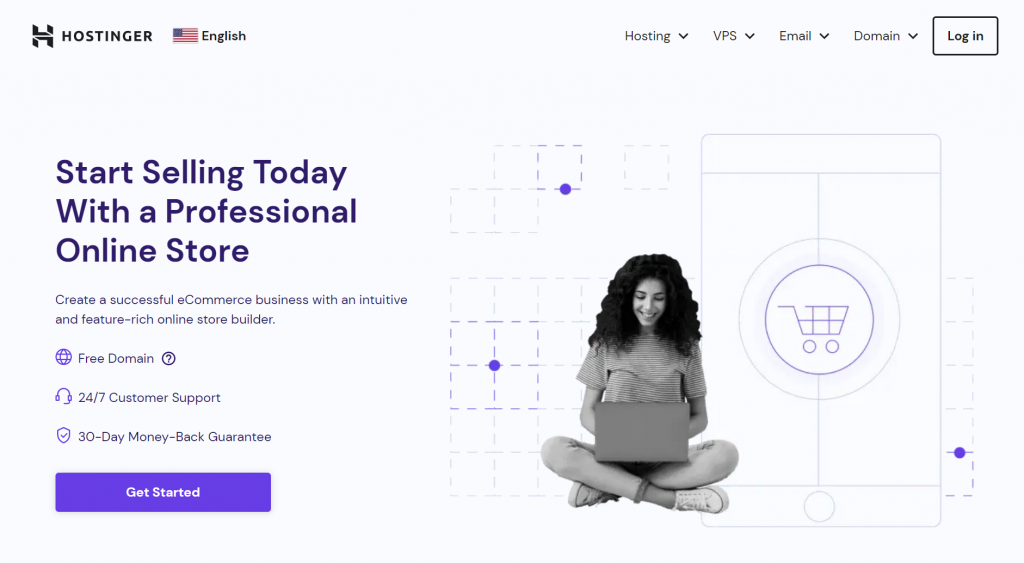 Use our builder to quickly set up your website with hundreds of ready-made templates or generate it with AI. Equipped with AI tools, including the logo and heatmap maker, it makes business and website creation tasks simple.
If you've already signed up for Hostinger's website builder and hosting plan, to enable its built-in eCommerce store integration, navigate from the template editor → Online Store → ADD STORE.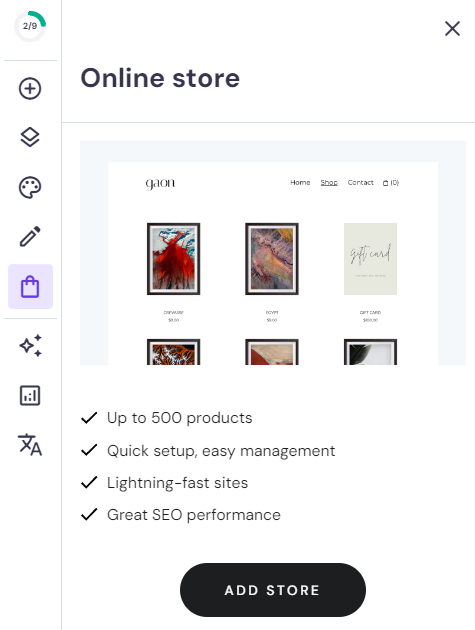 Besides enabling the shopping bag feature, online store activation allows you to start:
Creating product listings. Hostinger Website Builder lets you sell up to 500 products with 0% transaction fees.
Managing product pages. Edit the sample page with your own product photos and descriptions. In the product management area, you can also enable a quantity picker.
Customizing the checkout page. Add the terms and conditions checkbox, change the page's language, and insert custom fields.
Adding payment processors and shipping methods. Hostinger Website Builder supports over 20 payment methods, including Stripe, .kevin, and PayPal. You can set up unlimited shipping zones and up to 25 shipping options per zone.
The platform's eCommerce feature also comes with SEO tools. These tools let you add meta titles, descriptions, and keywords throughout your online store. Additionally, you can hide certain pages from search engines for organization and indexing purposes.
If you need inspiration, Urban Potter and Awarecorp are two great examples of online businesses built on Hostinger Website Builder.
Best of all, Hostinger AI Website Builder is beginner-friendly. The founder of the landscaping and mowing company Diplomatic Lawn Care was able to set up his business website quickly despite being new to website creation.


Suggested Reading
To help you get started, we've put together a comprehensive guide on How to Start an Online Store. This guide covers everything from business strategy to setting up your website and marketing your products.
2. Write and Monetize Blog Posts
If you are passionate about writing, try starting a blog.
People create a blog for various reasons – to share opinions and experiences, market products or services, or educate people on a certain topic.
Building niche websites will increase your chances of success. So, instead of creating a generic food blog, try focusing on one type of cuisine.
For example, The Book Satchel is a blog on book reviews and recommendations. Other popular blog ideas include travel, food, health, and lifestyle.
Although blogging can be lucrative, it takes time for your blog to become profitable. To speed up the process, be consistent, maintain high quality, and apply tried-and-true content marketing techniques.
With Hostinger Website Builder, you can consistently offer new content with the help of AI Writer.
Before creating a blog post on our builder, enable the Blog feature from the template editor → Blog → START A BLOG.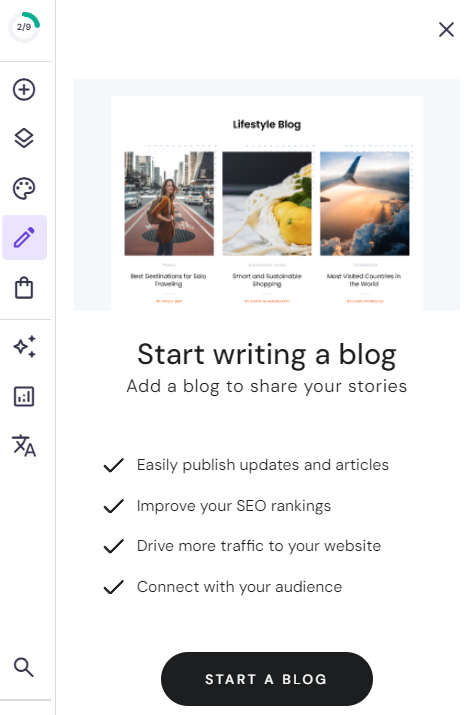 Here's how you can create blog posts with our AI writer:
On the template editor, go to the Blog page and click on Edit Post.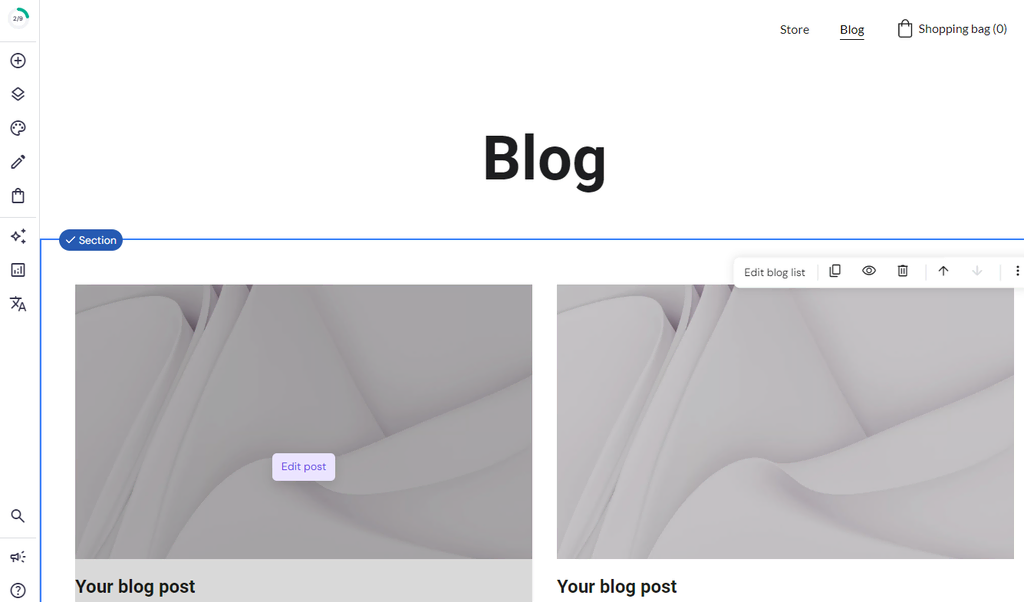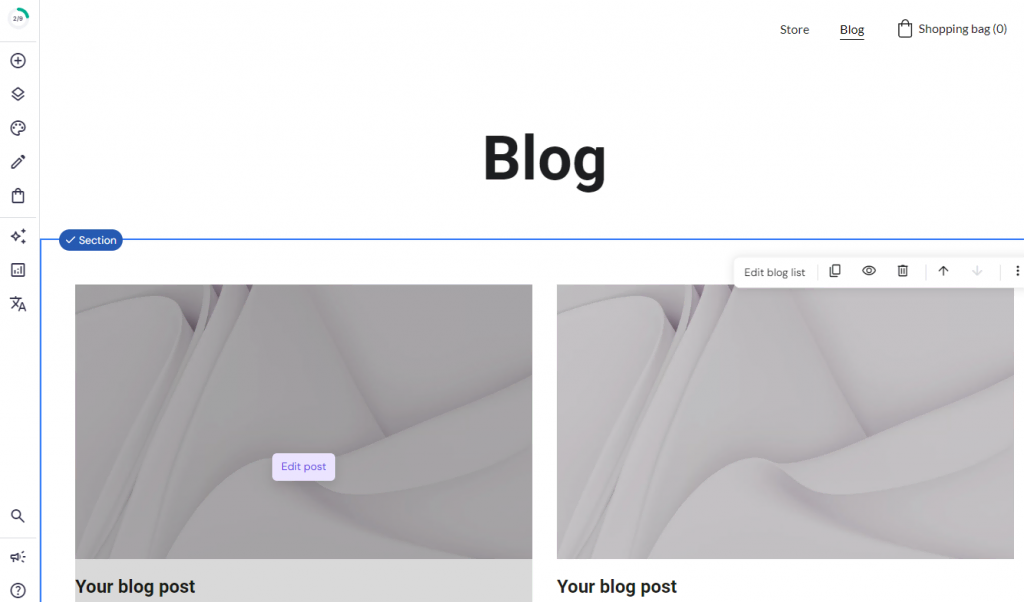 Locate the My post content text box, click on it, and choose AI Assist.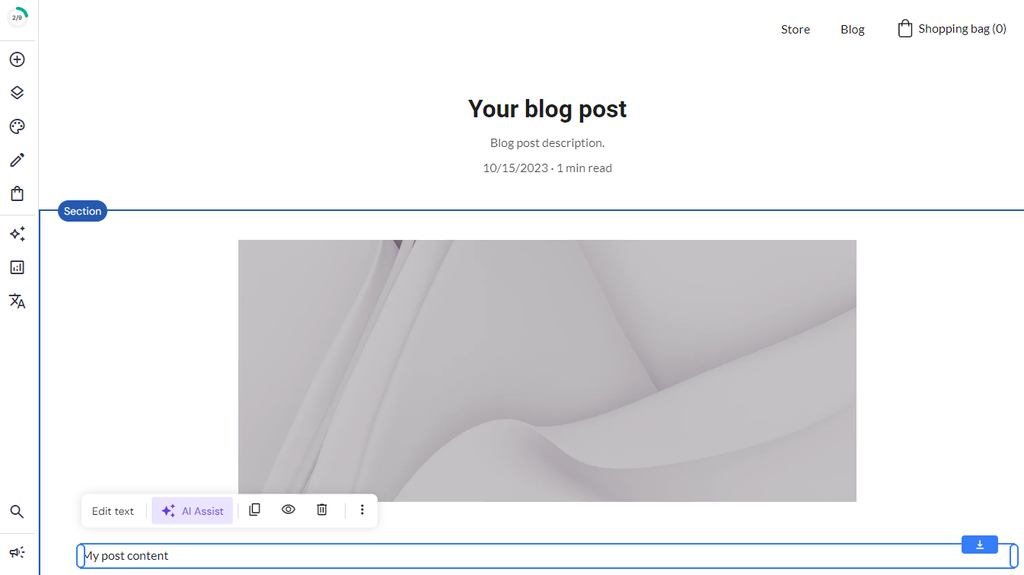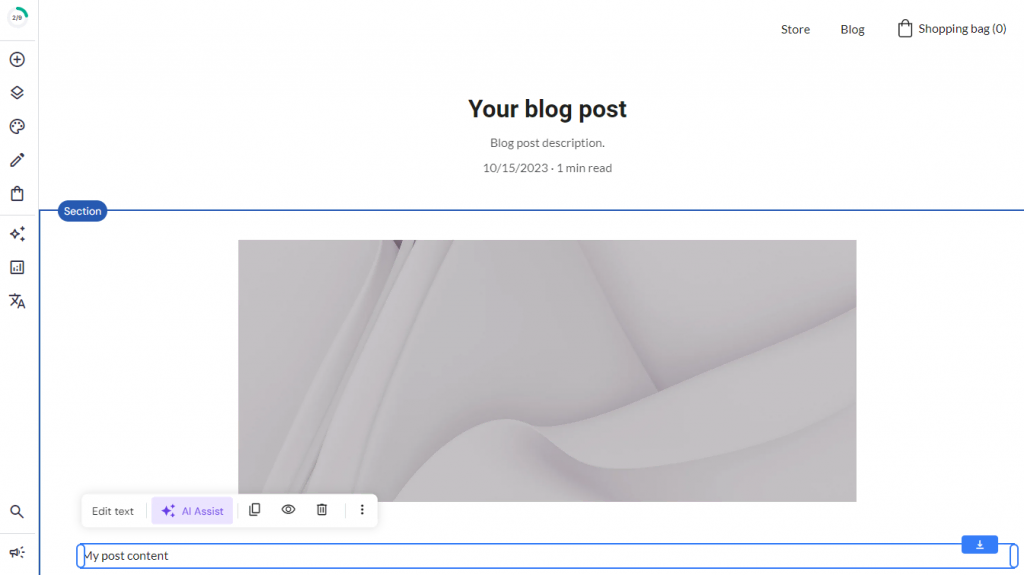 Write a short description in the text box, then click GENERATE TEXT.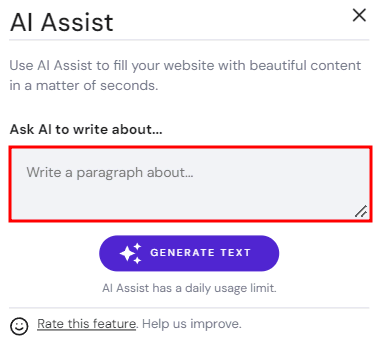 Wait for the AI tool to write the blog post. Once finished, choose to Discard or Keep the generated text. You can also tell the AI assistant to rewrite the content.


Customizing and designing your website on the template editor is easy. For each of the blog sections, you can modify the color, background, and layout.
Once you grow your reader base, implement content marketing strategies to monetize your blog. Methods to make money blogging include selling ad spaces, becoming an affiliate, and accepting brand sponsorships.


3. Find Freelance Work
Freelancing offers many online income possibilities for various skills and interests. Here are some examples of the most popular freelance roles:
Graphic designer. If you are passionate about art, consider becoming a freelance graphic designer. Crafting stunning visuals for logos, posters, and advertisements is among the best ways to make money online for creatives.
Web developer. Building websites for clients is a lucrative option if you're skilled in web development. To achieve success, build websites that are both functional and visually appealing.
Virtual assistant. Provide administrative support to businesses by carrying out tasks like email management, scheduling, and document preparation.
Social media manager. Freelance as a social media manager to help businesses and individuals grow their online presence. Responsibilities may include content creation, strategy development, audience engagement, and performance analysis.
Data entry specialist. Attention to detail and accuracy are essential for data entry roles. This freelancing job mainly requires you to input data into spreadsheets, databases, or other online platforms.
Some of the best freelance websites to find work are Fiverr, Toptal, and Upwork. Whether you're looking to earn money online on the side or transition to full-time self-employment, these platforms provide freelancing opportunities to achieve your financial goals.
How much you earn from freelancing will depend on factors like your expertise, niche, location, and service demand. Skilled freelancers can earn anywhere from a few hundred to several thousand dollars per project. Some experienced professionals can get even higher rates.
Fortunately, freelancing is a highly scalable business model. If you're able, you can take on multiple projects simultaneously and steadily increase your income over time.
4. Develop Websites for a Living
The average web developer salary is around $50,900/year. Moreover, the employment of digital designers and web developers is projected to grow by 16% between 2022 and 2032.
To help you stand out among competitors, choose a web development specialization, like UX design or back-end development. You can also participate in a coding boot camp like Flatiron School to enhance career advancement opportunities.
Due to the high demand for these jobs, website developers should jump into the industry and start creating websites for multiple clients.
Hostinger Pro Panel can help you manage multiple client websites. From setting up the hosting environment to adding, removing, and monitoring client websites, you can easily perform these tasks from our Pro Panel.
Another advantage of using Pro Panel is that you can earn commission by purchasing Hostinger plans for your clients directly from the platform.


5. Sell Used Items
Selling or renting out items you have is great for earning money online and decluttering your space. The rising importance of sustainability makes selling second-hand items even more promising.
Second-hand clothing has become the most popular category among used items. That said, furniture, electronic devices, and collectibles are great options, too.
To begin, catalog the second-hand items you want to sell and take high-quality product photos from various angles.
When it comes to pricing second-hand items to maximize profit, consider these strategies:
Research comparable listings. Start by researching similar items on online marketplaces to understand their current market value. If your items are overpriced, potential buyers won't be interested.
Consider the condition. Be transparent about the condition of your items, including any defects or signs of wear. Adjust the price accordingly or offer discounts for items in less-than-perfect condition.
Bundle items. If you have related items or accessories that go together, consider bundling them. This strategy helps justify a higher price and attract buyers looking for a complete package.
Highlight competitive edge. If your item has unique or valuable features, highlight them in your listing. This helps convince buyers that your item is worth the price.
Negotiate responsively. Be open to negotiation, but do so responsibly. Know your minimum acceptable price and be willing to walk away should the offer not meet your criteria.
If you want to sell second-hand clothes, consider starting an online clothing store instead of just selling on a marketplace. Having your own online store means no platform fees, allowing you to maximize profits.
With the right approach, your store can be a lasting business venture that allows you to earn passive income while promoting sustainability.


6. Write and Publish Paid Newsletters
Creating and publishing email newsletters is a great business idea for writers.
Unlike publishing articles for established publications, running a newsletter lets you own your intellectual property and have full editorial control. Your writing belongs to you – not the platform you're writing for.
When running a newsletter publication, write unique content that provides value to your readers. Stay consistent and stick to your publishing schedule.
Additionally, put effort into building trust and rapport with your email subscribers. Encourage reader engagement by asking for their feedback.
Hostinger's email hosting service provides essential features for building and managing a successful newsletter program.
These features include unlimited email templates, auto-replies, and ten email aliases. With up to 50 GB of storage and a robust security system, our email hosting can help you launch a newsletter smoothly.
Our email hosting is also compatible with multiple email clients, making it easy to send and receive newsletters using your preferred software or application.


7. Make Online Courses
If you are knowledgeable in a certain field and like teaching, try selling online courses. Business, health, and personal development are some of the most sought-after course topics.
While joining an eLearning platform is easier, creating your own eLearning website offers more control over your course formats and monetization.
You can offer courses in various formats, including eBooks, interactive PDFs, presentations, podcasts, and videos. Then, sell them as digital products or subscription rewards.
To easily build an eLearning site, you can use a WordPress LMS plugin. Such a plugin provides a user-friendly way to create online courses, track student progress, and offer a seamless learning experience to your audience.
Many LMS plugins also use a mobile-friendly design, enhancing the accessibility and reach of your eLearning platform.

8. Sign Up for Affiliate Networks
If you have an established audience, consider signing up for an affiliate marketing program.
This method involves promoting a company's products or services through your content. You will receive a commission whenever someone clicks on the affiliate link and purchases the item or service.
Affiliate income varies widely depending on the number of readers and affiliate programs you have.
Sign up for programs relevant to your niche to maintain credibility and audience interest. For example, the Hostinger Affiliate Program is completely free to join and a great fit for those in the web development or eCommerce industry.
With our affiliate program, you can place a banner on your website or share your unique affiliate link with friends and family. You will receive payouts of at least 60% in commission after the 15th of each month.
9. Build an Online Portfolio
A portfolio website allows creative professionals to showcase their work to potential clients. Photographers, graphic designers, and web developers can also use an online portfolio to network and collaborate with other creatives.
Whether you're a designer or an illustrator, your online portfolio can act as a resume. It's a visual testament to your expertise and a valuable tool for establishing trust with your target audience globally.
You can also integrate an online store into your portfolio and make more money from selling original printables and templates. If you're a photographer, utilize your online portfolio for selling stock photography.
Luckily, you don't need to be tech-savvy to create an impressive online portfolio. With Hostinger Website Builder, you can display your work beautifully without coding. Its beginner-friendly interface and customizable templates help you quickly create a stunning portfolio website.
One excellent example is Manuel Lozano.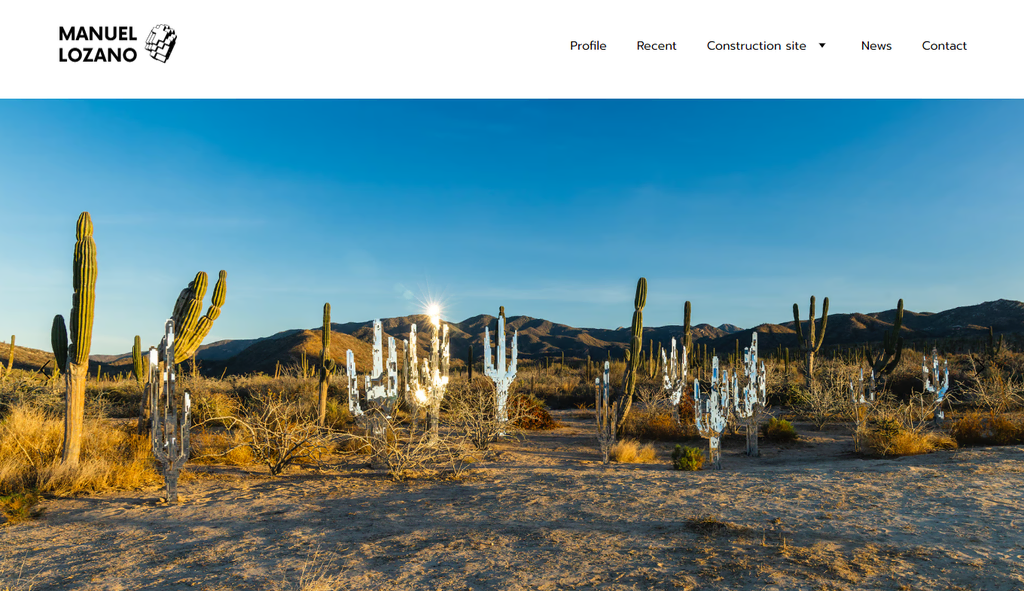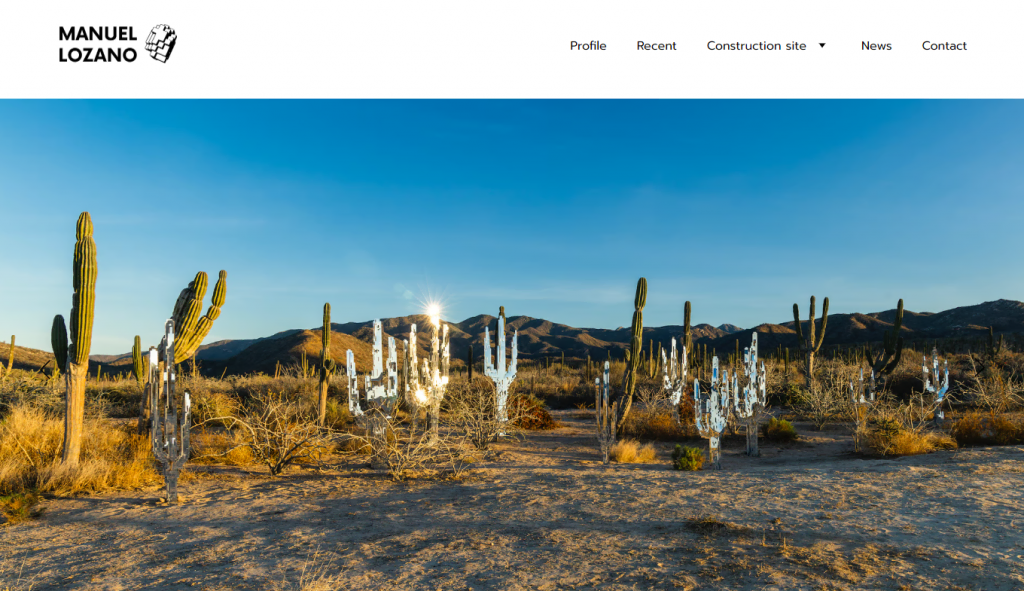 The interdisciplinary artist uses Hostinger Website Builder to create an online portfolio and showcase his works.
In addition to the portfolio page, there's a dedicated Contact page so that potential clients and collaborators can easily message him. The artist also incorporates the News page where he shares upcoming exhibition events.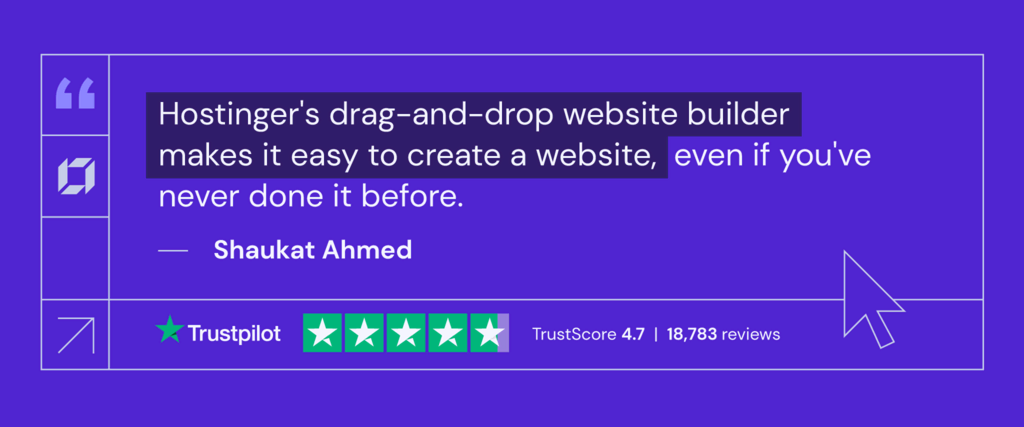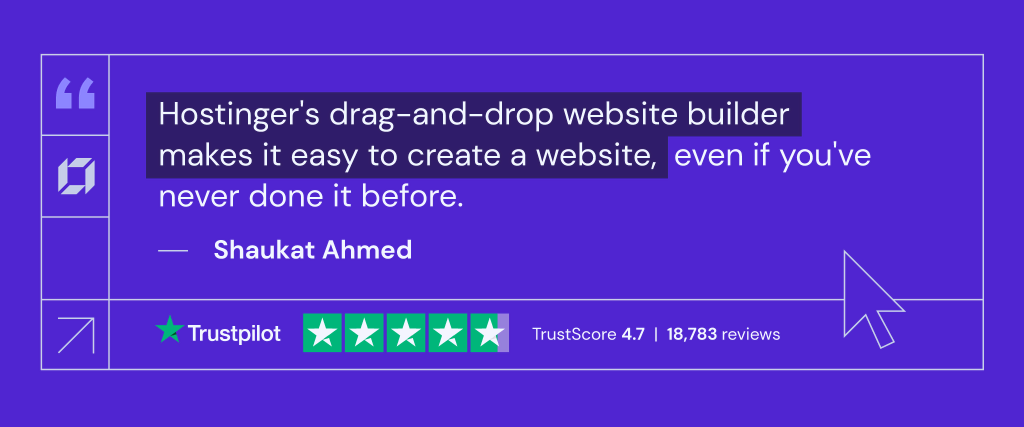 10. Try Flipping Domains or Websites
Flipping websites involves purchasing a website, optimizing its content for search engines, generating revenue, and selling it for profit.
It's an ideal money-making project for anyone who enjoys website design, improving SEO, and enhancing user experience.
However, not all websites have potential, so knowing which ones to invest in is essential. A good rule of thumb is to pick the ones that already generate some revenue and traffic.
Pro Tip
Websites with a popular niche and a premium domain name are easier to sell at higher prices.
Alternatively, try domain flipping. This practice involves acquiring domain names valuable to potential buyers and reselling them for a higher price.
Domain flipping can be lucrative for several reasons:
Scarcity of desirable domain names. As more enterprises establish an online presence, good domain names are becoming more limited. This scarcity drives up the value of unique and memorable domain names.
Potential for high returns. A carefully selected domain name can be highly valuable, especially if it aligns with a trending industry, keyword, or brand. Reselling them can get domain flippers a lot of profit.
Demand for brandable domains. Many businesses are willing to invest in domain names that align with their brand or product. Domain flippers who own such domains can negotiate highly profitable sales.
Investment strategy. Domain investors research and acquire domains based on market trends and future potential, similar to investing in real estate or stocks.
If you're interested in domain flipping, you can purchase domains at Hostinger at great prices. All you have to do is use our domain name search tool, pick the name and extension you want, and purchase the domain name. Then, sell it to a buyer at a higher price.
Pro Tip
With Hostinger, you can use AI to brainstorm valuable domain names across website niches or business industries.
11. Set up a Dropshipping Store
Dropshipping lets people sell products without managing inventory or shipping. The dropshipper's primary responsibility is to market the product while their suppliers handle order fulfillment.
Therefore, you must work with reliable suppliers to run a successful dropshipping business. Here are some websites for finding good suppliers:
Modalyst. Discover suppliers worldwide and use its profit calculator for easy product pricing.
Spocket. Connect with global suppliers and integrate seamlessly with platforms like Shopify and WooCommerce.
SaleHoo. Work with many vetted suppliers and connect with other dropshippers via its community forum.
Hostinger Website Builder is a great choice to quickly set up your dropshipping site. Simply enable the Online Store functionality and start adding the product listings.
You can also set up your own website using a CMS like WordPress and integrate WooCommerce to set up the store.
Choose your hosting plan carefully to ensure a smooth-running WooCommerce store. Consider our cloud hosting packages for optimal performance. Our hosting plans are highly scalable, so you can upgrade to a higher-tier plan whenever you want.


12. Build a Membership Website
Another great money-making method is building membership websites with subscription services. A membership site lets you offer exclusive content for your members.
Offer multiple subscription plans so members can decide what rewards they want to get. You can offer exclusive tips, posts, or videos. Make sure to tailor the content according to your chosen niche and listen to feedback from members.
For example, 40 Aprons offers members-only recipes, eBooks, meal plans, and an ad-free site browsing experience.
This business model is great for the long term. It can provide additional passive income streams, as users must renew their membership regularly to enjoy exclusive rewards. In addition, it helps build a loyal community to whom you can market products or services.
Use WordPress membership plugins to create your membership website with ease. They offer features to help you create membership plans, generate business reports, and restrict content according to tiers.
13. Offer Advertising Space
Featuring ads on the blank spaces of your site is a great way to generate passive income. The number of clicks and impressions determines the ad revenue.
Advertisers want to ensure the site featuring their ads is reputable and relevant to their niche. To achieve this, focus on creating valuable content that performs well on search engines. Use a heatmap tool to determine the best ad placements for better conversions and user experience.
A popular advertising network you can work with is Google AdSense. Simply sign up and embed the ad code on your site. For WordPress users, check out our tutorial on adding AdSense to WordPress.
Alternatively, check out these other advertising networks:
PropellerAds. Catch people's attention using five different ad formats – push, pop-under, in-page push, interstitial, and direct click.
Adcash. Boost revenue with its anti-ad blocker feature and worldwide reach.
Media.net. Get exclusive access to the Yahoo! Bing Network search demand and feature relevant user intent-based ads.

14. Do Usability Testing
There are many opportunities for making extra money online via testing apps and games. Video games specifically occupy the largest segment of the global digital media market.
A good example is Mistplay, an app that lets you earn gift card loyalty points by playing mobile games. Another example is Givling, a website where people can play trivia games to win cash prizes.
There is also the Global Beta Test Network by Keywords Studios. The program pays people to play games before their release date. Players must be at least 18 years old and sign a non-disclosure agreement.
While these games and apps offer an easy way to make extra money, some black hats use them as a front to steal personal information. Therefore, always do proper research and check reviews to avoid scams.
15. Provide Digital Marketing Services
If you have expertise in digital marketing, consider offering remote consulting services. Digital marketing consultants assist businesses in attracting target audiences and improving sales.
For example, you can provide SEO services to help websites achieve higher rankings on search engine results pages (SERPs), drive more traffic, and generate valuable leads.
Consider getting an SEO certificate from a reputable platform like Semrush Academy to demonstrate your skills. You can also take courses like the Google Analytics Academy to deepen your knowledge.
Pro Tip
Many people use WordPress to build their sites, so familiarizing yourself with WordPress SEO techniques will help you become a better consultant.
You can also offer social media marketing services by planning and executing campaigns on various social platforms. These actions encourage better audience interaction and brand recognition.
To be an excellent social media manager, you'll need to keep up with trends, identify a brand's target audience, and track social media data for better results.
In addition to remote digital marketing consulting, consider hosting webinars and workshops. These interactive sessions allow you to share your expertise, engage with a broader audience, and earn money in exchange for your knowledge sharing.
Webinars and workshops provide an additional income stream and enhance your authority in the digital marketing field. They can also attract more clients to your consultancy services, boosting overall earnings.
16. Work as a Digital Content Writer
For those with a knack for writing, becoming a content writer is one of the best ways to earn money online. Content writing makes for a profitable side gig or full-time remote work with an average pay of around $57,873/year.
In addition to writing skills, this career path may require SEO knowledge. Knowing the basics of HTML and CSS can also help, especially when working with a CMS like WordPress.
Even if you're not an expert in the written word, getting into content writing is now easier than ever, thanks to AI. Tools like Hostinger AI Writer, ChatGPT, Bard, and Jasper can help generate informative content and speed up editing.
Try your luck on job boards like Fiverr and Freelancer to work as a freelance writer. Alternatively, join a content writing agency like Verblio, Express Writers, and Textbroker for steady work opportunities.
Consider building your own portfolio website to showcase your writing skills and attract clients and employers.


17. Take on Customer Service Jobs
Customer service representatives work on behalf of companies to address customer concerns through phone, live chat, or face-to-face communication. The tasks may include taking orders, processing complaints or product returns, and answering product or service-related questions.
Representatives often work full-time in designated shifts, as many customer service departments have to be available 24/7.
Customer service representatives typically receive training beforehand to familiarize themselves with the company's products and services and the tools they will use. These tools may include help desk software like Zendesk and a CRM system like Salesforce.
Working in customer service is a great way to develop and improve your problem-solving and people skills. You have to be friendly, patient, professional, and able to quickly and efficiently resolve problems.
Businesses are constantly looking for customer service representatives. Search for vacancies on popular job board websites like Indeed, Glassdoor, and ZipRecruiter.
18. Tutor People Online
If you want to share your knowledge but prefer a more direct way of teaching, consider becoming an online tutor. This lets you teach students from all over the world in the comfort of your own schedule.
Choose a subject you're well-versed in. As an online tutor, you must provide learning materials and be ready to answer student questions. Additionally, offer constructive feedback to help students improve and track their learning progress.
Some popular online tutoring topics include chemistry, math, and foreign languages. Get certifications in your chosen subject to improve your credibility and rates.
At-Home Tutoring Services offers a good website example to take inspiration from.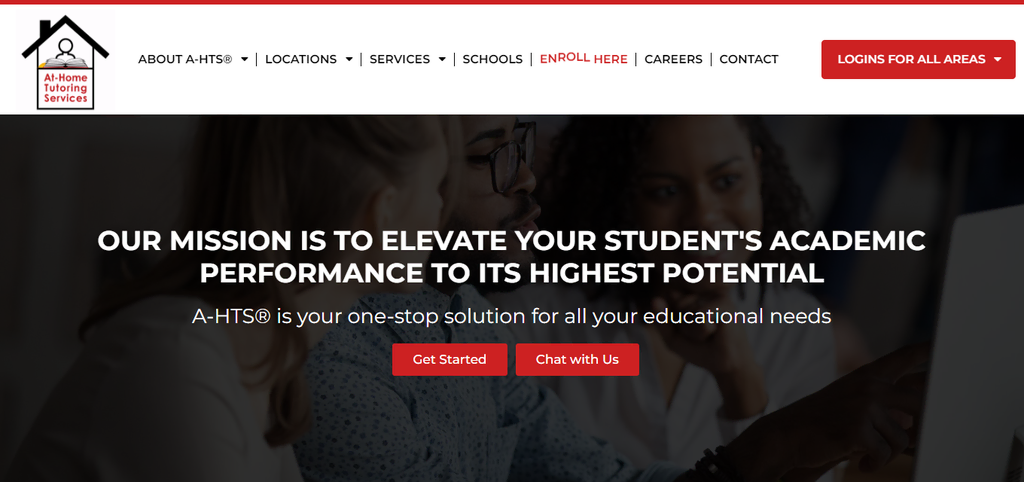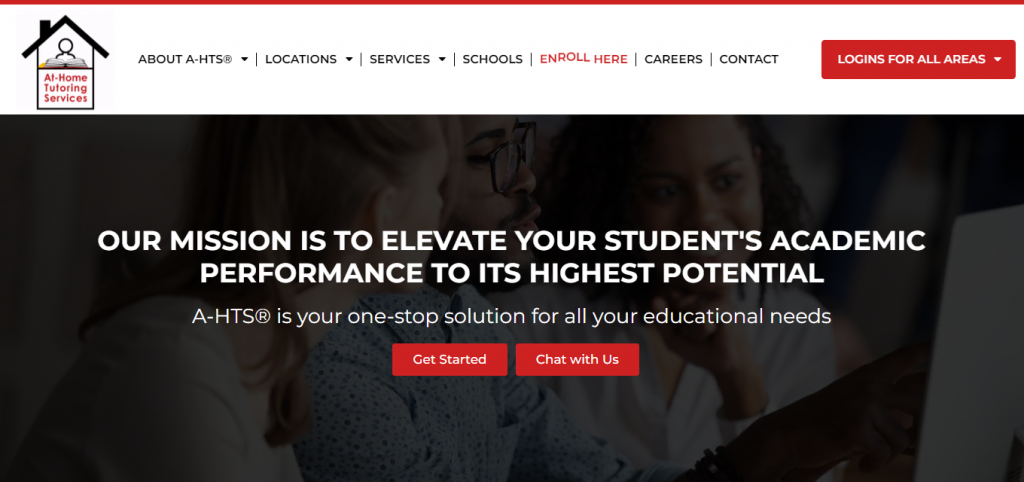 The Services menu provides details about its online tutoring programs, like Academic Coaching and Test Preparation.
This intuitive navigation helps improve user experience and attract potential students.
19. Start a Podcast
Starting a podcast is one of the most profitable online business ideas, with the number of global podcast listeners reaching 464.7 million people. If you have top-notch communication skills, a podcast is a gig worth considering.
A computer or mobile device with a built-in microphone is enough to start podcasting for profit. However, we recommend investing in proper audio equipment and software to improve recording quality.
You can create a podcast on any topic, from financial tips to true crime. If you are a digital marketing expert, you can create an agency podcast to share your knowledge and attract clients.
After recording and editing the first few episodes, find a podcast hosting platform to publish them online. Some of the best ones are Buzzsprout, Resonate, and Anchor.
You can also stream your podcast with our VPS services. With root access and abundant resources, the virtual private server environment can efficiently handle real-time content transmission.
Most podcasts primarily make money from sponsorships. Once your podcast has attracted a following, consider signing up for production agencies like Podfly or Pacific Content to grow your brand, content quality, and audience reach.
Finally, don't forget to promote the podcast on social media to boost its discoverability.


20. Be an Influencer
The continuous rise of social media has made influencer marketing a popular choice to make money online.
Like affiliate marketing, companies pay influencers to market their products and services. The main difference is influencers aim to impact people's buying decisions instead of simply bringing leads.
How much money influencers make significantly depends on the following and engagement rate on their social media account. Therefore, to become a successful influencer, you must cultivate a strong personal brand and become an authoritative voice within your niche to attract sponsors and advertisers.
There are quite a few ways to earn money online as an influencer.
YouTube influencers should sign up for the YouTube Partner Program. A YouTube channel should have at least 1,000 subscribers and no active Community Guidelines strikes to be eligible.
The most popular YouTube monetization method is through advertising revenue. Alternative monetization methods include channel memberships, Super Chat, Super Stickers, merch, sponsorships, and YouTube BrandConnect.
If your YouTube channel is not yet eligible for monetization, try using third-party membership platforms such as Patreon or Contribee. These sites let you make money online by collecting one-time or recurring fees from your subscribers.
Other than YouTube, influencers also thrive on other platforms like Instagram, Twitter, and TikTok. Learn which content types work best for each platform to expand your success.
21. Become a Mystery Shopper
Many businesses and market research companies pay mystery shoppers to pose as regular customers, shop at various retail locations, and review their experience. You can also do this work remotely by evaluating eCommerce stores and call centers.
Some popular companies hiring mystery shoppers include:
Secret Shopper. Choose from various mystery shopping opportunities, including online, phone, and on-site evaluations.
BestMark. Evaluate customer service quality for companies as an independent contractor for cash or free goods.
Market Force. Visit local stores, evaluate the experience, and complete reports on the go with its Eyes:On mobile app.
Payments vary across companies. Mystery shoppers typically receive free items, vouchers, and gift cards or earn around $10-30 for each completed assignment.
Important! Be wary of companies that ask you to pay to become a mystery shopper or force you to take a certain number of jobs.
22. Build an App
Creating an app is a great way to profit from rapid mobile digitalization. Building paid apps or selling them to companies is among the most popular monetization methods. Launching a free app and offering in-app purchases is also a great approach.
In addition to the extra income, creating an app is an excellent way to hone your coding skills.
For coding enthusiasts with little to no programming experience, check out these beginner-friendly mobile app builders:
Appy Pie. This app builder employs a simple four-step process to help you create an app with a great user experience. The pricing ranges from $16–$60/app/month.
AppInstitute. An app builder for busy small business owners that makes it easy to create mobile apps without coding knowledge. Pricing ranges from $67-280/month.
Mobincube. An intuitive app builder for launching an app in four easy steps. It's a freemium platform, with paid plans ranging from €35.88-1,199.88/year.
Don't forget to conduct research before the app development process. Once finished, submit your app to the App Store or Google Play Store and await approval. Finally, market your app and monetize it.
23. Offer Professional Voice-Over Services
Voice-over talents are always in demand as companies need people to narrate their trailers, audio guides, commercials, audiobooks, and demonstration videos.
Aside from working with companies, voice-over artists can give their voices to text-to-speech software. It's used to read text aloud for people who are blind, visually impaired, or have difficulty reading.
Get started by finding voice-over jobs on freelance websites like Upwork. The pay varies depending on experience, project type, and script length. The average salary of voice-over artists in the United States is $34/hour.
Alternatively, sign up for platforms that will connect you to clients needing voice-over talents and authors looking for audiobook narrators, such as Voices or ACX.
Here are some tips to become a successful voice-over talent:
Develop versatility as well as consistent and clear articulation by practicing sample scripts.
Invest in good voice recording hardware and software.
Ensure to record in an ideal environment with minimal background noise.
24. Stream Video Games for a Live Audience
Video game streaming has taken off in the past few years, generating an average of over 2 million daily viewers on Twitch alone.
It's a great money-making idea if you're good at playing games and enjoy being in front of a camera. You can stream for a few hours at a time and interact with your audience to foster a sense of community.
After establishing a significant following, connect with other video game streamers and invite them to stream together. Collaborations often bring in a larger audience, as fans of both streamers will gather to watch one livestream and interact with one another.
Streaming platforms like Twitch, YouTube, and Facebook offer partner programs, allowing streamers to accept ad revenue and tips from their audience. Moreover, video game streamers can earn more money from brand deals, sponsorships, and merchandise sales.
The amount of money you can make depends on the size of your following. For example, Canadian streamer Shroud has over 10 million Twitch followers and an estimated net worth of $8-12 million.
25. Write and Release eBooks
The rising popularity of self-publishing has made it possible for anyone to publish eBooks. It's a great option for beginners to make quick money since there are no printing or shipping costs.
To publish an eBook, submit your writing to a self-publishing platform. There are two types of publishing companies – retailers and aggregators. Retailers sell books directly to customers, whereas aggregators distribute them to retailers at additional costs.
The revenue you generate from eBooks will depend on the publishing company's royalty policy.
For example, Amazon Kindle Direct Publishing pays up to 70% royalties for books sold on the Kindle store. Barnes & Noble Press and Apple Books for Authors offer writers 70% royalties for eBook sales regardless of the platform.
26. Compose and Sell Royalty-Free Music
Creating and selling royalty-free music can be a great way to make extra cash for musically inclined people. Music composing and producing tools are more accessible than ever, so this can be a fun way to explore your creativity while making money.
Royalty-free or stock music is typically created for mass use in commercials, films, or YouTube videos. Some have lyrics, but they are mostly instrumentals.
The following are some of the best websites to sell royalty-free music:
AudioJungle. An Envato Market platform that gives you earnings based on contributor exclusivity and license type.
Pond5. A media marketplace offering a 35% royalty rate for music and sound effect creators.
Epidemic Sound. A company working with music creators offering a 50% royalty rate.
How to Choose the Best Way to Make Money Online
After learning all 26 ways to make money online, it's time to narrow your options. To help you make a decision, evaluate the following factors:
Effort. Consider the time you'll spend setting up and exploring the new venture and whether you have the required skills or experience.
Cost. Estimate whether you have the budget to start an online business.
Interest. Don't choose an idea because it seems like an easy way to make money online quickly. It's important to opt for a business you are genuinely interested in.
Potential. Identify the monetary potential of the business idea and whether it can be profitable in the long run.
Here's an example of an online business that nails these four factors – La Petite Alice. With a commitment to ethical and eco-friendly business practices, La Petite Alice offers made-to-order clothing that embodies a vision of how timeless fashion should be.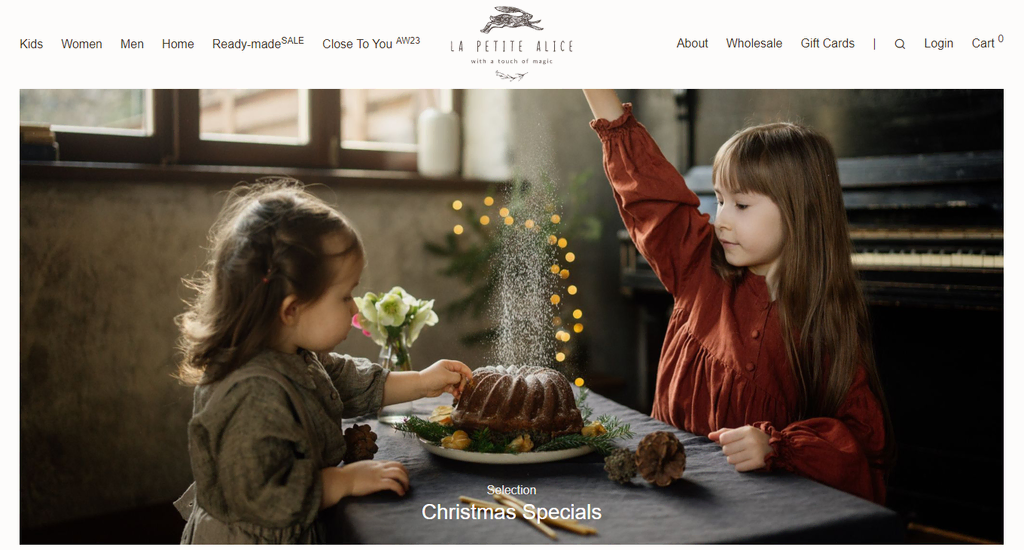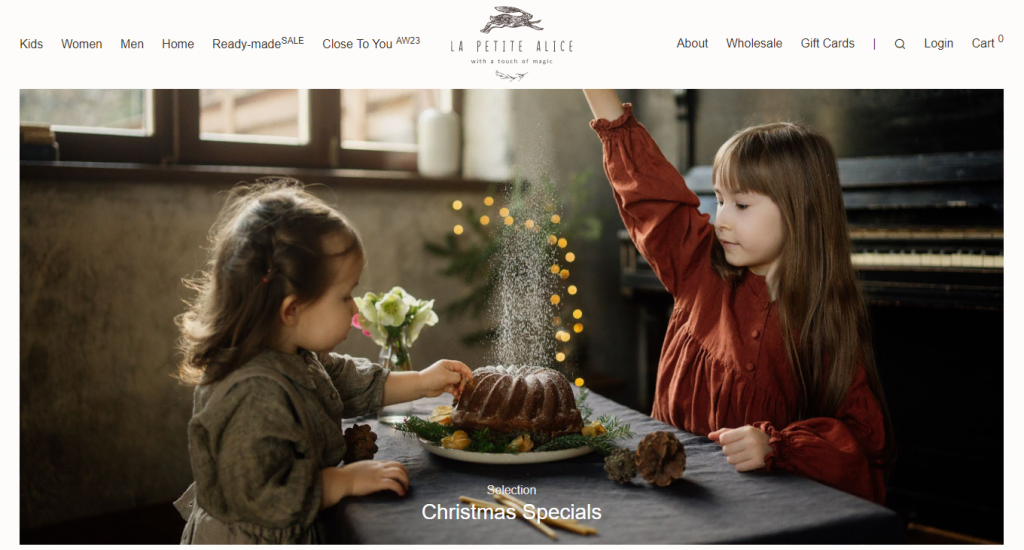 La Petite Alice's journey began on Etsy, where the brand gained recognition for its unique designs and dedication to sustainability. As the business grew, the need for a more robust and scalable platform became evident.
La Petite Alice transitioned to Hostinger, leveraging the power of WordPress with WooCommerce integration. This migration allowed them to centralize orders and streamline inventory management.
The brand demonstrates how Hostinger helps businesses looking to thrive in the digital world. From Etsy to a fully-fledged eCommerce platform, its journey showcases how sustainable fashion can meet cutting-edge technology for a brighter, greener future.
How to Make Money Online – Video Tutorial
Before you go, check out our video tutorial and discover some more tips on making money online.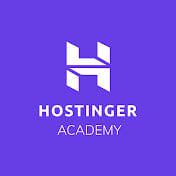 Subscribe For more educational videos!
Hostinger Academy
Subscribe
Conclusion
When choosing an idea for making money online, consider your skills, passion, and financial situation.
If you want to sell items online, consider starting an eCommerce store. If you have a limited budget, auction second-hand clothes, offer stock photography, or adopt the dropshipping business model.
Professionals who want to monetize their skills can offer tutoring services and courses. If you're skilled in programming, try becoming a web or mobile app developer. If writing is your passion, try content writing, blogging, publishing eBooks, or sending paid newsletters.
Become an influencer, start a podcast, create a YouTube channel, or stream for profit if you love engaging with an audience. Or, create a website with quality content and monetize it using ads and affiliate links to generate passive revenue.
We hope this article has helped you understand more about how to make money online and choose the most suitable ones. Put your knowledge to good use, work hard, and start making money online today. Good luck!
Make Money Online FAQ
This section will answer some commonly asked questions about making money online.
How Can I Make Money Online Fast?
Selling second-hand items, offering advertising space, and joining affiliate programs can generate income relatively quickly when done effectively.
How Can I Make Money From Home?
You can make money from home by doing various remote jobs. Examples include building an eCommerce store, doing voice-over work, offering online tutoring, and starting a podcast.
How Can I Make Money With Zero Investment?
You can make money online with little to no investment if you have a computer, mobile device, and internet connection. Try becoming a content writer, working as a customer service representative, running a blog, or becoming a virtual assistant.