How to Start an Online Clothing Store In 2023: Step-by-Step Guide
Starting a successful online clothing store no longer requires a brick and mortar. With an eCommerce platform, you can start a business, sell clothes online to a worldwide audience, earn money online, and have a chance to be the next big brand in the fashion industry.
In this article, we will show you how to start an online clothing store. We'll cover all the aspects, including how to build a site, and go over some extra tips to grow your business.
Download Checklist: How to Start an Online Business
1. Register a Domain Name for the Online Clothing Store
One of the first steps is to decide on a domain name, which is the address that users will use to access your online clothing store.
One easy way is to use your brand name. Some online clothing companies include the words "clothing", "collection", "wear", or "shop at" in their brand name when registering their domain, such as wearpact or shopatanna. You can also use business name generators to come up with a unique domain.
Generally, a good domain name has the following characteristics:
Descriptive. It should provide potential customers with a fantastic online business idea and positively represent your fashion brand.
Memorable and concise. Its length should be one to three words at most. It should be easy to remember whenever people want to visit your online store.
Simple to pronounce and type. People should be able to share the name easily with others.
Another critical aspect to consider is the top-level domain, which is the extension that follows after the name.
The most widely used one for commercial and personal use is .com. Users might instinctively type that in when inserting a URL because it is one of the most commonly used TLDs.
At Hostinger, .com domains are available starting from $9.99/year. On a tighter budget, .store and .xyz are excellent, cheaper alternatives, costing $0.99/year.
After finding the right name and extension, use a domain checker to search domain availability. Once you're done, proceed to the checkout to complete the purchase.
Domain Name Checker
Instantly check domain name availability.
2. Choose a Platform for the Online Business
Picking a suitable platform will make it easy to start an online store and grow your fashion business in the long run.
There are many options to choose from, each with its own pros and cons. Here, we will look at three of the most popular methods – WooCommerce, a website builder, and an eCommerce platform.
WooCommerce
WooCommerce is a plugin built on WordPress, a popular content management system used for creating websites. With WooCommerce, you can transform a WordPress site into an online store.
Using WordPress and WooCommerce requires purchasing a hosting service to get the store up and running.
At Hostinger, we offer WooCommerce hosting plans starting from $3.99/month. All packages feature a one-click WordPress and WooCommerce installation, so you can start building the website immediately.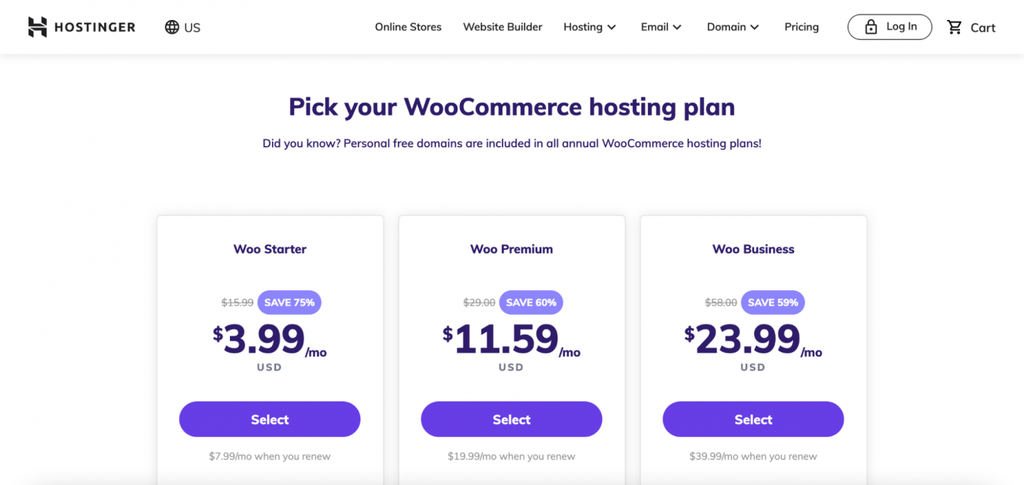 Here are some of the main benefits of using WooCommerce:
Easy setup. Upon activation, the plugin will walk users through the steps for setting up an online store. It will also automatically create the basic site pages.
Customizable. Users can add extensions to enable simple features like accepting payments or complex ones like integrating shipping carriers.
Scalable. As web traffic grows, users can upgrade the hosting plan to improve performance.
Budget-friendly. The core plugin is free, and so are many of its extensions. As such, you're able to limit your expenses to pay for hosting only.
WooCommerce is perfect for those who want a user-friendly and flexible solution for their online clothing business. That said, it's best if you have basic knowledge of hosting so that you can manage the site properly.
eCommerce Website Builder
A website builder is similar to a content management system in that you can use it to create all types of sites. However, with a web hosting service, everything will be taken care of for you. In other words, users don't have to deal with any back-end management.
As such, site builders have become the preferred solution for users looking for a less technical approach. Not to mention, many builders, such as Hostinger Website Builder, come with essential eCommerce features that let you build a website with online store functionality.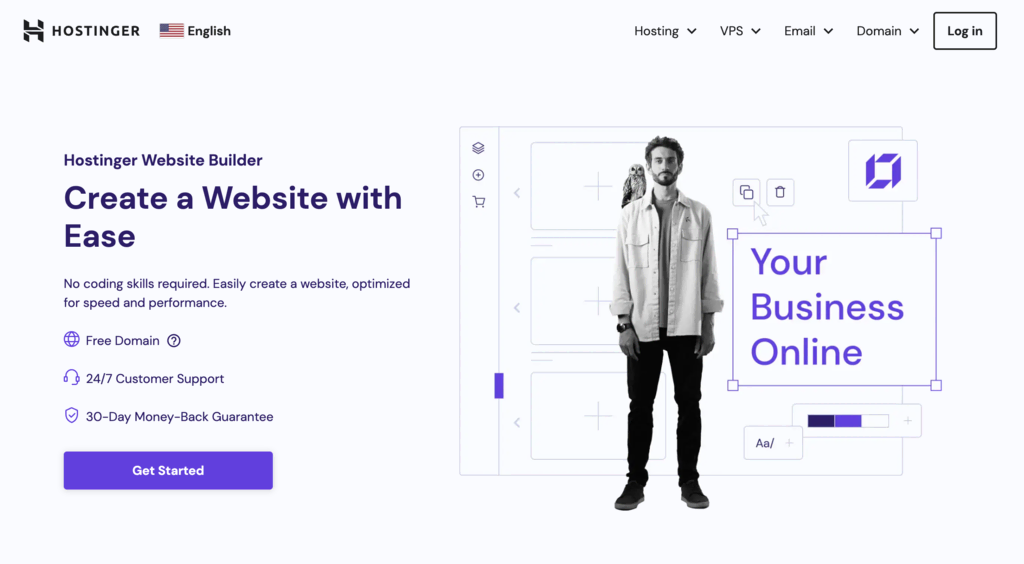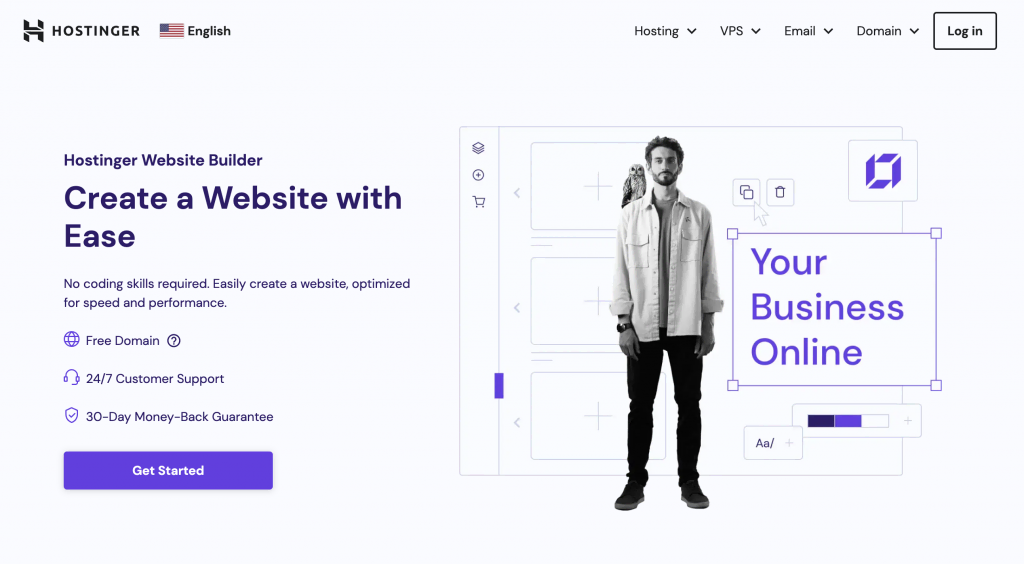 Here are some of the benefits of using Hostinger Website Builder:
Fast onboarding. After selecting and paying for a web hosting plan, simply head to the Websites menu in hPanel, select a template, customize the website, and hit Publish.
Designer templates. All designer-made templates feature pre-configured sections, so users can simply replace the existing content with their own. Not to mention, they are all specifically made to be mobile-friendly.
Beginner-friendly. Move elements freely across the page using the WYSIWYG, drag-and-drop interface.
Marketing features. Besides being a site builder, Hostinger offers AI-driven tools for logo making, creating a business name or slogan, and generating engaging copy for your web content.
If you are looking for an easy, quick, and hassle-free way of creating visually attractive websites, Hostinger Website Builder may be the perfect option for you.


eCommerce Platform
Unlike a CMS that is mainly used for managing content or a website builder whose main function is to build various kinds of websites, an eCommerce platform is primarily designed for creating and managing online stores.
Although its content management features may be similar to a CMS, an eCommerce platform will have more extensive store management and order processing features. In terms of ease of use, building a website with an eCommerce platform doesn't require coding but may be more challenging compared to a drag-and-drop website builder.
There are hosted and self-hosted eCommerce platforms. Hosted eCommerce platforms like Shopify or BigCommerce already come with hosting but give users limited control over their own sites.
On the other hand, self-hosted ones like PrestaShop give you full control over your site but require you to set up your own hosting with the help of a web host. For example, Hostinger offers the best hosting for PrestaShop starting from $2.99/month.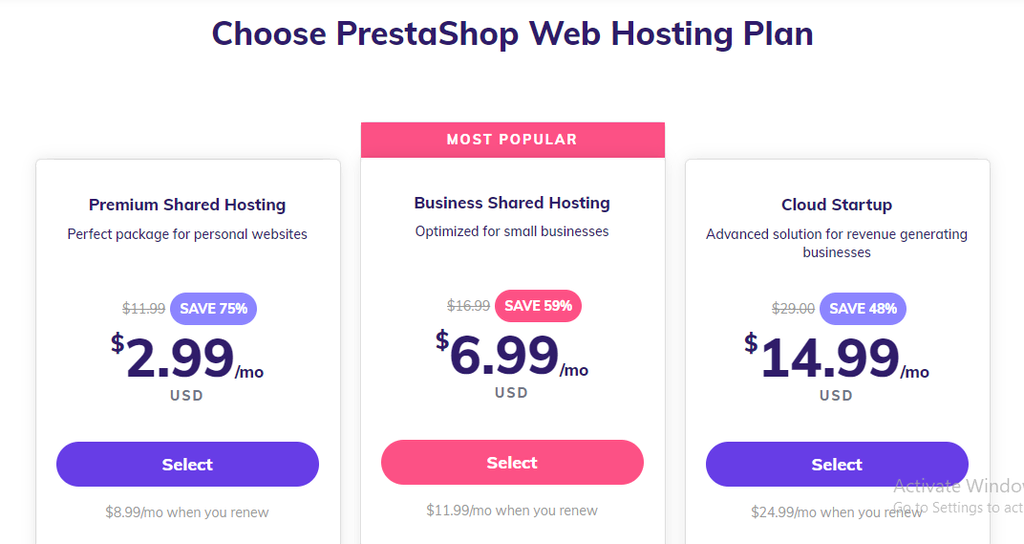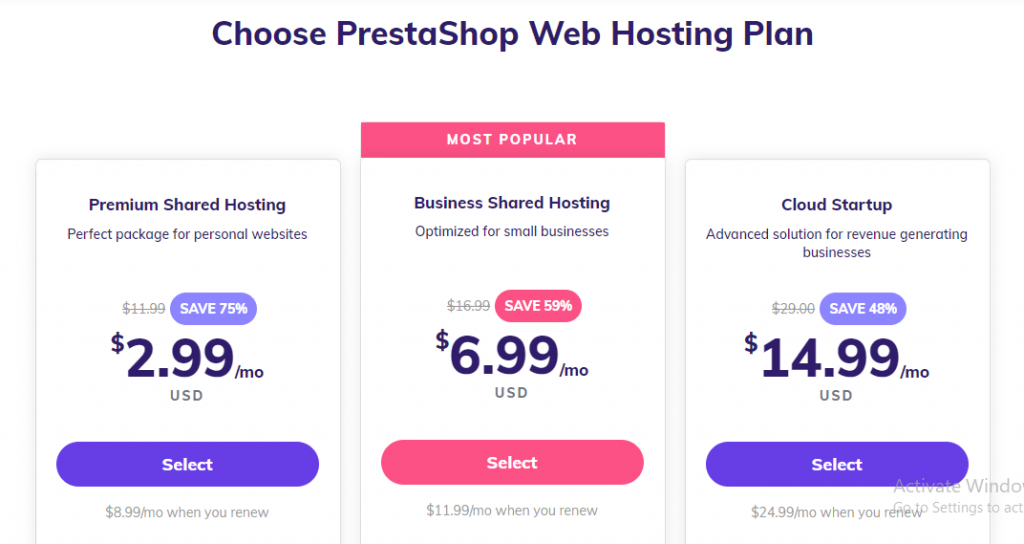 Some benefits of using an eCommerce platform include:
Large product catalog support. An eCommerce platform lets you sell a large collection of products, going up to hundreds of thousands of items.
Complex product support. You can sell products with different variants, configurable elements, and grouping options.
Advanced product search. This feature lets customers perform advanced searches using different filters to find a specific product on your site.
Multistore management. Run multiple storefronts from the same admin dashboard.
An eCommerce platform is best for medium to large-sized businesses selling a wide array of products or services. In short, it is a great choice for building a website whose primary purpose is selling rather than publishing content.
Ultimately, no matter which platform you pick, make sure it is easy to work with and can be scaled accordingly once your online clothing store has grown.
3. Pick a Theme and Customize the Store's Design
When picking a theme, it's a good idea to think of the key elements that you want to feature on the site. For instance, if you're going to make a video banner on the homepage, check whether the theme can support it.
Its design is also an essential factor. Ideally, it should closely represent the online clothing store brand, so you wouldn't need to make any changes when editing.
Alternatively, look for themes that offer multiple styling choices so that you can customize the appearance freely.
WooCommerce users can find themes in the respective WordPress or WooCommerce directories. Theme developers also feature WooCommerce themes on their own websites, like the best-selling Astra theme. There are also options available on third-party marketplaces such as ThemeForest.
For Hostinger Website Builder users, choose from various ready-made online store templates.
When customizing a template, consider implementing the following practices to improve your web design:
Visual hierarchy. To create a practical page layout, organize the web elements by order of importance. For instance, position image banners for your latest collection on top so that it instantly catches attention.
Whitespace. Include some negative space between the content and eliminate unnecessary elements. A cluttered design makes for a poor viewing experience.
Navigation. Shoppers should be able to access all the essential pages through the menu. It's also good practice to include a search bar on top so that users can quickly find the product they're looking for.
Readability. Use the typographic hierarchy to guide visitors' eyes to the most important content. Break up long paragraphs into chunks to make the text easier to scan.
Color selection. Pick up to three colors to feature on the web design. More than that can confuse the visitor on where to look next. Use an eye-catching color for the most attention-commanding elements, like call-to-action buttons.
Mobile-friendliness. Since the majority of internet traffic comes from smartphones, the design should translate well to mobile devices. Pick a responsive template so that the site can adjust to all screen sizes.
Check out Protest's website to see a demo of these practices being implemented. Its design is simple, with plenty of whitespaces to create a pleasant viewing experience. The use of color and large images also make for a captivating design.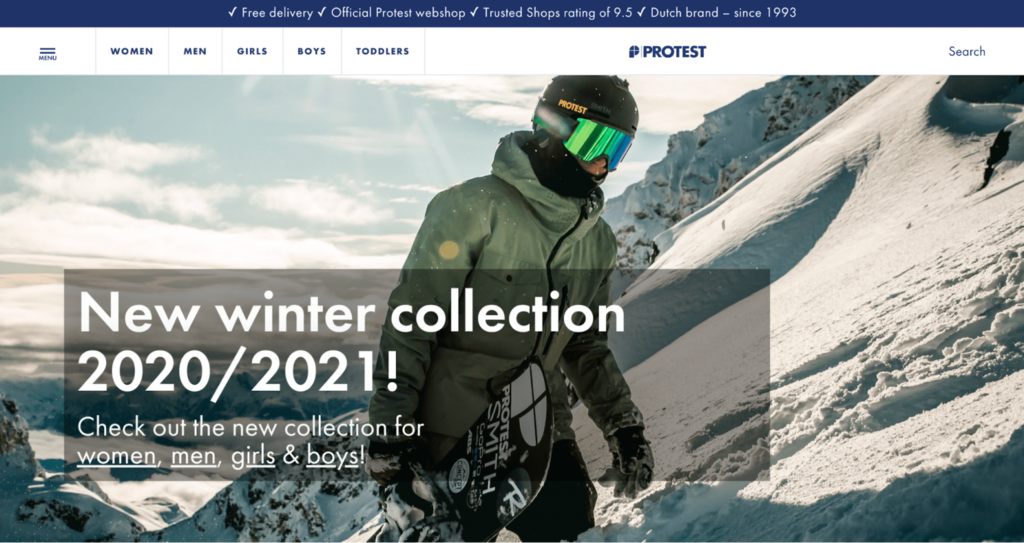 4. Set Up the Online Store Pages
After designing them, let's start building your online boutique. There are several pages to pay closer attention to when making an online store for clothing:
Homepage. This page serves as an introduction to your fashion brand. Briefly explain what the business is about and feature a hero product image to excite the target audience.
About Us page. Visitors can check out this page to get to know your business better. Feel free to include your company's history, vision, and mission statement.
Product gallery. All the product images will be on display on this page. Include some filtering and sorting options to help buyers find their desired items quickly.
Sizing information. This page can assist customers in figuring out which size they should buy. Include detailed measurements and pictures with models for reference.
Shipping information. The content should cover where you ship, what delivery options there are, and how long it takes for a package to deliver. It's also a good idea to feature the estimated costs per location so customers know what to expect.
Return and exchange policy. Providing such information can make visitors more likely to make a purchase. This information should clearly explain when a return or exchange request is acceptable and what the procedure will look like.
Cart page. On this page, buyers can review their order before proceeding to checkout. It should display the total estimated costs, so they know how much they can expect to pay.
Legal pages. These include the privacy policy and terms of service, which are essential to show your business complies with law rules. Use such services as Termify to generate such pages.
5. Add Products to the Online Store
Our next step to starting an online clothing store is to introduce the products. Most eCommerce platforms provide the choice to add items in bulk to speed up the process.
That said, it's good to go through each product one by one to ensure they look excellent on display. When adding the products, we recommend focusing on the following elements:
Product Images
Since customers will rely on the information provided on the site, having high-quality product images is essential.
These days, a smartphone camera is good enough to shoot good pictures. However, there are some ways to enhance your product presentation:
Invest in the right tools. At the very least, get proper lighting equipment so that the pictures look well-lit and sharp.
If possible, hire a model. They can bring the products to life and make the pictures look more convincing.
Use a plain background. It will make the clothing stand out, enabling viewers to focus solely on the item.
Take multiple angles and detailed shots. Customers can use these images to visualize what the product looks like in real life.
Make subtle color corrections. Concentrate on making the object look the same as how people would see it live. Refrain from using filters, as they can distort the product presentation.
Implement the zoom function. This feature will let customers see the product much more closely.
Madewell's product shots are great examples to use as inspiration. The white background puts the item front and center. On top of that, the model's dynamic poses make it easy to envision how the clothing might look in person.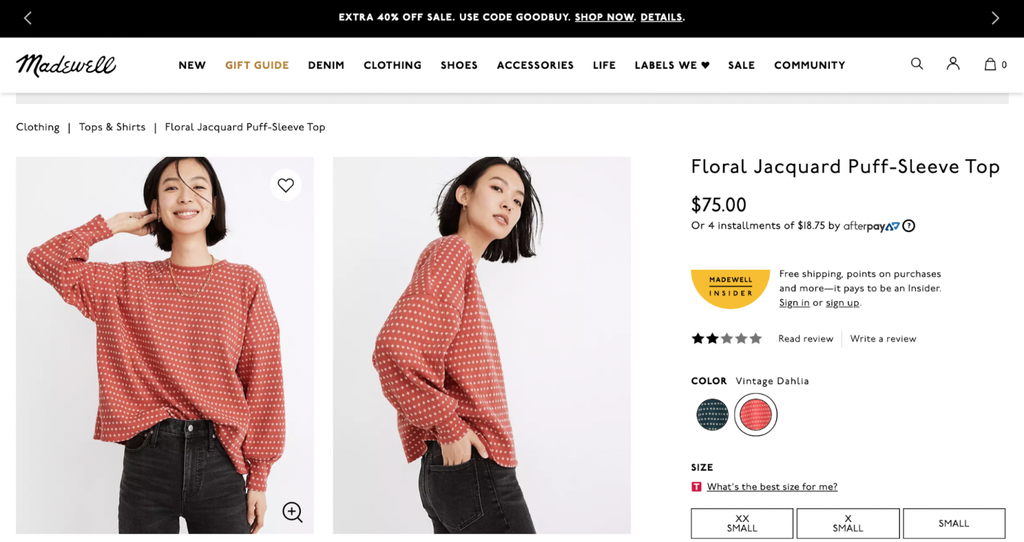 Pricing
The products' pricing can determine how much profit your online clothing business makes. Here are some commonly used pricing strategies in eCommerce stores:
Cost-based. It involves adding the total cost of producing and marketing the clothing with the profit margin per sale. This is a beginner-friendly tactic, but shoppers may not find the price appealing.
Competition-based. This strategy requires researching the competition to find out the different price points for the type of products you sell so that your offer remains competitive.
Value-based. It combines the strategies above while also considering what competitive advantage you're providing. This could be the brand philosophy, material quality, or unique product features.
Whichever pricing strategy you pick, keep in mind there is always room for readjustments in the future.
Product Description
Having an attractive and clear product description can increase your chances of selling the clothing successfully. According to an eMarketer report, this copy can influence 82% of a customer's purchasing decision.
For reference, take a look at the following product description from Modcloth.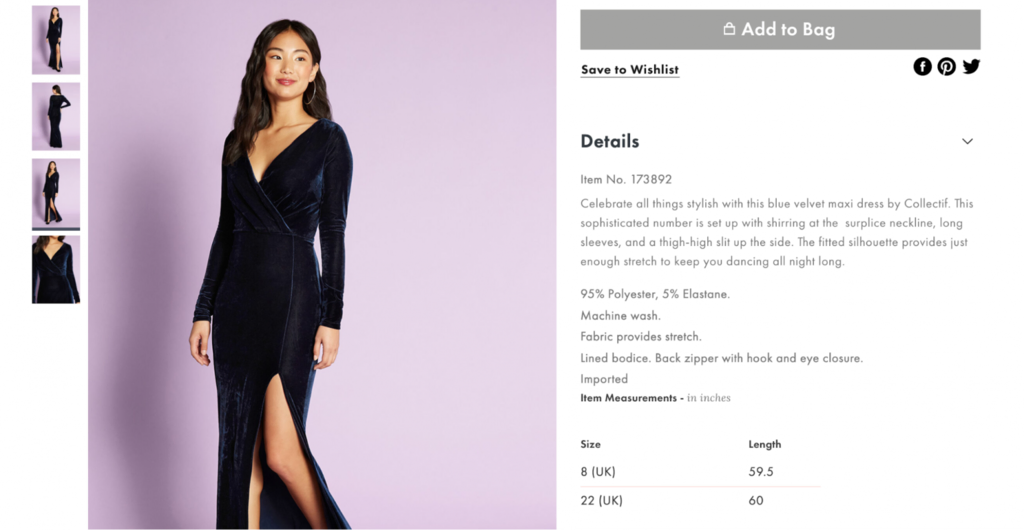 The paragraph describes the item and its features while showing how readers can wear it without being too lengthy. The information about the material, fit, and care instructions are separate from the primary copy so that customers can find this information quickly.
6. Set Up the Payment and Test the Shopping Experience
Before opening for business, ensure that your online clothing store has a secure payment system and that it runs smoothly to prevent any potential problems.
Payment Methods
Starting an online clothing business requires having a reliable payment system. It should process transactions from customers securely so that all the data would be safe from unauthorized users.
Below are some widely-used payment methods:
PayPal. This platform can process credit card payments in 25 currencies. The merchant rate differs by transaction type and location of the business owner.
Stripe. Accepts over 135 currencies and supports credit cards, digital wallets, and local payment methods. The standard rate is 2.9% plus 30 cents/sale, excluding fees for international payments and currency conversions.
2Checkout. This payment solution is available in 200 countries and can enable multilingual checkout. Small businesses can use the 2Sell plan, which has a 3.5% rate plus 35 cents/transaction.
Test the Store's Shopping Experience
Check for errors that can hinder customers from finding a product, proceeding to checkout, and completing the transaction. These could be broken links, slow-loading images, error pages, or a malfunctioning payment gateway.
In the beginning, don't be afraid to ask friends or family members for feedback. Alternatively, try usability testing tools to analyze the website and pinpoint bottlenecks to eliminate.
Once everything looks good enough, you're ready to launch your online clothing business.
7. Promote the Online Clothing Store
Mainly having figured out how to start an online clothing store, all that is left is to spread the word about your new business.
Here, we'll mainly discuss promoting a fashion brand on social media, but we'll also touch on other marketing practices.
Establish a Social Media Presence
According to GWI, more and more people are using social media to research brands and trending products, as such, having a solid presence on these platforms can make it easier for you to reach your target audience.
Clothing businesses mainly use Instagram to market their products, with 25% of sponsored posts being fashion-related. Selling on Pinterest is also effective for style-centric content.
Here are some tips for launching a social media presence for your fashion brand:
Use a business account. It will grant access to special features, such as audience analytics, shoppable posts, and paid advertising.
Reach out to influencers. Micro-influencers are usually more affordable to work with. As such, they generate a higher return on investment.
Conduct giveaways. These are excellent for raising brand awareness. The clothing line Girlfriend Collective did this by giving away free leggings for those who shared their post on social media. As a result, they generated 10,000 orders on their launch day.
Encourage user-generated content. Having customers post pictures of your products can increase your profile's credibility. One way to implement this tip is to ask followers to model their purchases using a unique hashtag and repost them on your account.
Other Marketing Strategies That Work
Besides social media marketing, the following marketing strategies are excellent for an online clothing business:
Email marketing. Set up an opt-in form to ask for an email address every time a user visits the store. Send them announcements when there is a new collection or sales event. On average, this tactic can bring in $38 for every $1 invested.
Blogging. It's an excellent way to connect with readers and increase search engine ranking. Some common fashion blog post examples include styling tips and gift guides, which are great for promoting and making money blogging about your products.
Search advertising. According to Clutch, 75% of users think paid ads help find information. To ensure people click, use keywords related to your products and the audience's search intent.
Bonus Tips to Grow Your Clothing Business
Now that you know how to start an online shop, let's go over some extra tips to grow your clothing business.
Speed Up the Online Store
According to Portent, an eCommerce site should load within two seconds to get the best conversion rates. Otherwise, visitors might bounce to a different online store with a faster page speed.
Google also considers loading time as a ranking factor for organic and paid search results. In other words, a speedy site is more likely to get more recognition and traffic.
Increase Average Order Value (AOV)
AOV is a metric used to measure how much a person would spend on your clothing line on each order. To calculate the amount, divide the store's total revenue by the number of orders received.
Increasing AOV will lead to a larger income per sale. To attain this benefit, you can encourage customers to buy more products using the following tips:
Provide free shipping with a minimum order threshold. This strategy can make customers more likely to buy more items to be eligible for the offer.
Recommend relevant products. For instance, if you're selling jewelry, you can cross-sell it with a matching pair upon checkout.
Offer bundling options. An example is when you're starting t-shirt business online, you can offer different colors in one set. The bundle's price should be lower than the cost of getting each item separately to provide more value to the customer.
Create a loyalty program. This tactic encourages first-time buyers to become repeat customers, who usually spend 67% higher than new shoppers.
Reduce Cart Abandonment
If you're wondering how to start a clothing line with amazing CRO, look no further than lower cart abandonment rates. Cart abandonment refers to when users leave the store despite having added items to their shopping cart. Implementing the methods below can ensure visitors become customers:
Optimize the checkout flow. Make the process as easy and fast as possible for potential buyers. Offer guest checkout and multiple payment options. Only ask for the most important details, such as shipping, billing, and payment information.
Show the total estimated costs on the shopping cart. Finding unexpected expenses during the checkout process can make customers think twice about completing the transaction.
Secure your website. According to Barilliance, an unsafe-looking site is a major cause of cart abandonment. You can use an SSL certificate and display trust badges on the online clothing store to instill confidence in your shoppers.
Track Customer Behavior Using Google Analytics
Using analytics software can help increase your online clothing store sales. It can show which products visitors gravitate towards and what blockages prevent them from converting.
An excellent tool for this is Google Analytics. It will provide tons of data about site performance, including traffic channels, number of pages viewed, and conversion rates.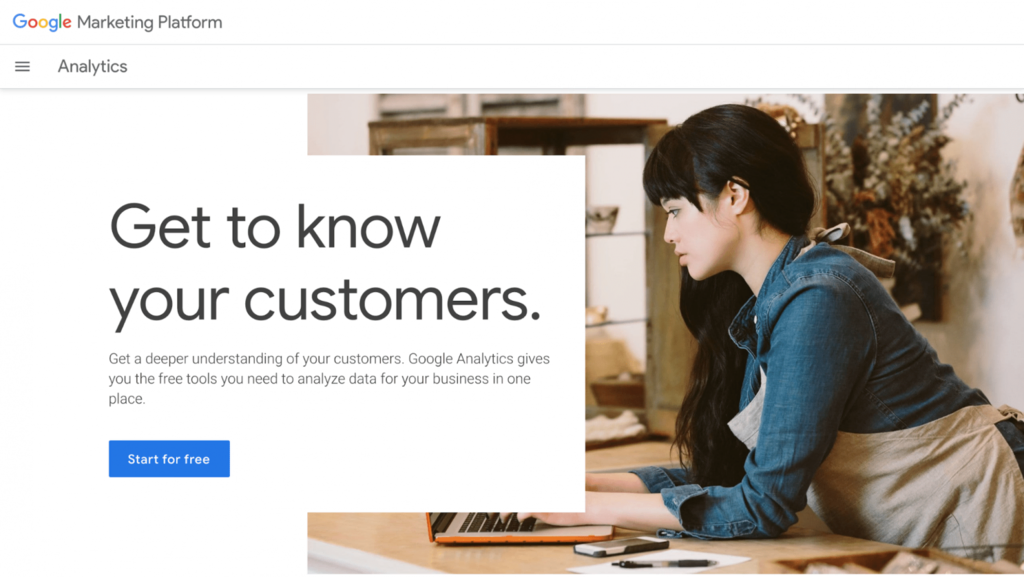 Furthermore, it's free. After signing up, simply add a Tracking ID to the website's code to start using the program.
Ready to Start Your Online Clothing Store?
Building any online business can be overwhelming at first. However, you have every opportunity out there to do research and prepare yourself for the journey ahead.
In this article, we've shown you every step on how to start an online clothing store. Here's a short recap:
Register your domain name, making sure it is simple and easy to remember
Choose your preferred eCommerce platform
Pick a theme and customize the design
Set up the online clothing store pages
Add your products
Set up payment methods
Test out the shopping experience before launching your website
Promote your brand on social media platforms
With that in mind, this is only the first stage of setting up a successful online clothing store. To grow your business, make sure to improve the page loading time, encourage more purchases, reduce cart abandonment rates, and use web analytics.
What are you waiting for? Go out there and start a successful online clothing store. Good luck!
How to Start an Online Clothing Store FAQ
Here are some of the most frequently asked questions when it comes to building an online clothing store.
How Much Does It Cost to Start an Online Clothing Store?
The total costs depend on such factors as the chosen eCommerce platform, hosting services, domain name, storefront theme, and extensions. If you want more information, we've prepared an article specifically for website costs.
How Long Does It Take to Create an Online Clothing Store?
With a self-hosted eCommerce platform or a website builder, creating an online store can take under an hour. Both options require signing up, choosing a theme, adding the products, and configuring the site settings. Building an eCommerce site can take weeks or months with a developer, though.
How Profitable Can an Online Clothing Store Be?
An online clothing business can generally be more cost-effective than a brick-and-mortar one. There's no need to pay for overhead expenses like rent, allowing you to save money and have higher profit margins. As eCommerce niches go, fashion market has a lot of demand overall, too.
Do I Have to Design Clothes to Start an Online Clothing Business?
No. Many brands use the dropshipping model, which means they outsource their products from wholesalers and sell them online using their own branding. This business model is convenient if you only want to focus on selling clothes as you don't need to deal with any logistic problems.