10+ Best WordPress LMS Plugins for Your eLearning Site
Many people seek more interactive and practical ways to learn, be it learning how to play a musical instrument or mastering web development. This makes the learning management systems (LMS) consistently grow in demand as the LMS market worth is expected to reach over $12 billion by 2024.
Therefore, if you're considering launching a website for learning, now is a great time to do so. Best of all, there are many great WordPress plugins both free and premium available to make the process easier.
This article will go over a selection of the best WordPress LMS plugins to help you get set up and running. It will also provide helpful tips on how to choose the best LMS plugin for your needs.

Best Free WordPress LMS Plugins
The following are our favorite free learning management system plugins to help you get started on your online learning platform.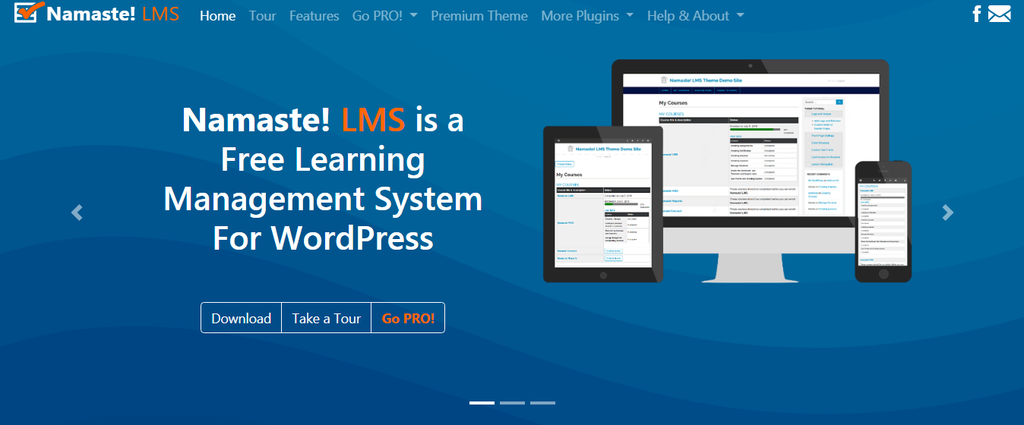 Plugin stats:
Downloads: 1,000+
Rating: 4.6/5
Pricing: freemium (premium version available from $67/license)
Namaste! LMS allows you to create unlimited courses, lessons, and assignments. It also allows you to define the various course and lesson access criteria based on completeness, test results, or manual approval.
This WordPress LMS plugin supports custom post types, making it possible to include a variety of different eLearning content on your website.
Teachers can also grade students' performance by assigning points for achievements or using a grading system. Features like award badges and certificates are also available upon course completion.
Let's take a look at some of the notable features, like:
A variety of categories for course types.
Integration with BuddyPress for student discussions.
Ability to manage and assign specific roles to multiple users.
To get advanced features, such as a leaderboard generator, content restriction, and gamification, upgrading to the premium version of Namaste! LMS might be a good solution. It costs $67/license and comes with one year of customer support and free upgrades.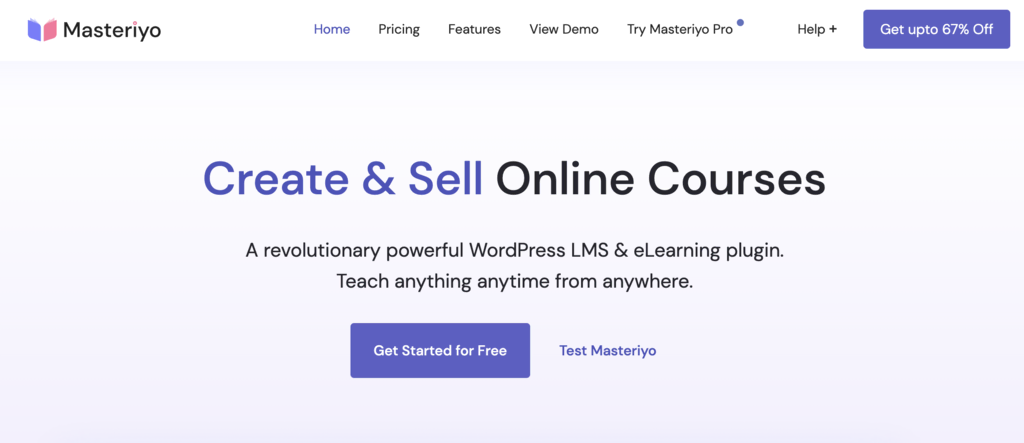 Plugin Stats:
Active Installs: 2,000+
Ratings: 4.8/5
Pricing: Freemium (premium pricing starts from $49.17/year for 1 Site)
Masteriyo LMS is an excellent WordPress LMS plugin designed for creating, managing, and selling courses effortlessly. It comes with a complete set of features enabling you to quickly build an LMS website, including a powerful course builder, quiz builder, in-built ordering system, PayPal and Stripe integration, certificate builder, etc.
Setting up Masteriyo LMS is a breeze, ensuring a hassle-free process from start to finish. You can easily get started with its step-by-step setup wizard and set up the basic configuration. Next, it offers a single-page application interface allowing you to create entire courses seamlessly without switching between pages or enduring page reloads.
Additionally, Masteriyo LMS provides an integrated order system, eliminating the need for third-party dependencies when selling your courses online. This built-in system allows you to seamlessly handle course transactions with secure payment gateways like PayPal, Stripe, etc.
Notable features ofMasteriyo include:
Intuitive drag-and-drop course builder
Advanced quiz builder for interactive quizzes
Certificate builder for awarding and encouraging students
Dedicated question and answers page for better interactions
Easy course navigation and course progressive bar
Also, to unlock more advanced features such as content drip functionality, multi-instructor support, assignments, white labeling, wishlist, and more, you can upgrade to the pro version of Masteriyo LMS. The pro version starts at an affordable price of $49.17 per year.

Plugin stats:
Downloads: 20,000+
Rating: 4.7/5
Pricing: freemium (premium version available from $149/year)
Tutor LMS is an LMS WordPress plugin that comes with plenty of features to optimize an eLearning site. This plugin's free version provides lots of tools, including an intuitive drag-and-drop function, a lesson management system, and a front-end student dashboard.
Tutor LMS offers a quiz creator that supports more than 10 question styles, such as true or false, multiple choices, fill in the blank, and short answers. It also allows you to customize the timers or limit the attempts on specific questions to make the learning experience more fun and challenging.
Notable features of Tutor LMS are:
Unlimited online courses and lessons.
Q&A section for students to interact with each other and ask questions.
Ability to manage student and instructor profiles from the admin panel.
Beautiful, custom-designed certificates.
Compatibility with Gutenberg, WooCommerce, and Easy Digital Downloads.
You can upgrade to Tutor LMS Pro starting from $149/year for a single license for additional benefits, such as content drip, multimedia attachments, and grading system.

Plugin stats:
Downloads: 100,000+
Rating: 4.4/5
Pricing: free
LearnPress is a free WordPress site plugin with an easy-to-use user interface, similar to the WordPress dashboard. Its drag-and-drop builder allows you to create courses, lessons, and quizzes quickly and effortlessly.
To give you more functionality, LearnPress offers various free and premium add-ons. The free add-ons include wishlists, course reviews, and prerequisite courses. At the same time, LearnPress premium add-ons allow you to add a drip-feed feature and assign multiple instructors for a specific course.
Other notable features of LearnPress include:
Integration with BuddyPress and bbPress forum.
Multiple payment gateway options, like PayPal, WooCommerce, and offline methods.
Random quiz function on specific courses.
Option to reward students with award certificates.
Although the plugin is free of charge, the one-off price for premium add-ons starts from $19.99 to $29.99. Also, LearnPress offers two theme bundle options starting from $249.99 for a one-time fee.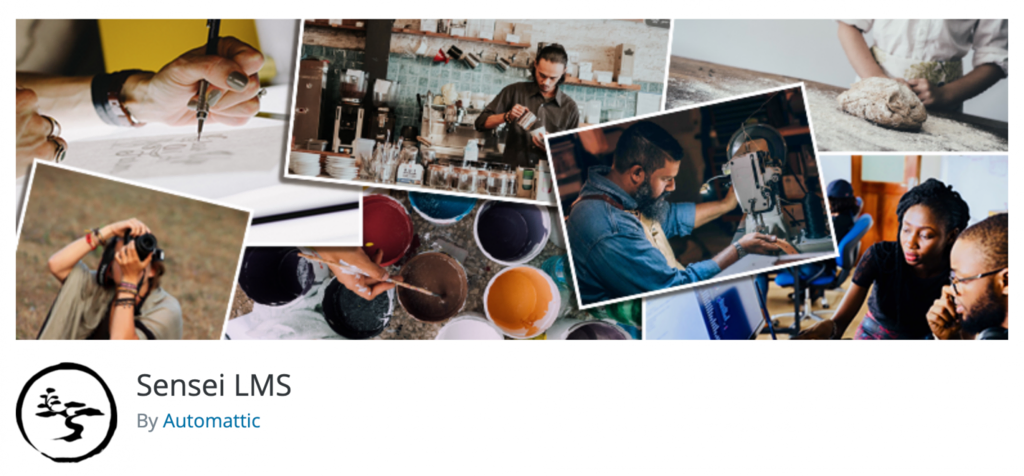 Plugin stats:
Downloads: 10,000+
Rating: 4/5
Pricing: free
Sensei is a WordPress LMS plugin built by the same team behind the leading eCommerce plugin, WooCommerce.
It offers seamless integration with WooCommerce and gives you flexible monetization options for selling your online courses. This WordPress LMS plugin also works nicely with most WordPress themes, allowing you to turn your website into a fully functional online classroom with no coding required.
With Sensei, creating courses is as simple as creating posts or pages through the WordPress editor. There are options to attach videos, include quizzes, and manage students' work using the provided grade book.
Other features offered by the Sensei LMS plugin include:
User account dashboard allows students to sign up for a course and manage their progress easily.
Built-in language localization system to provide courses in multiple languages.
Course analytics to give you information on grades, course completion, and students registered.
Compared to other WordPress plugins, Sensei doesn't include as much functionality unless you install additional extensions. The prices for the extensions range from being free to download to $129/year.
Remember that to accept recurring payments and create memberships, you will need to install WooCommerce Subscriptions and WooCommerce Memberships.

Plugin stats:
Downloads: 10,000+
Rating: 4.1/5
Pricing: freemium (premium version available from $54.99/year)
In addition to producing various course content types, MasterStudy LMS also includes an option for creating trial courses. With its live streaming feature, you can even conduct real-time lectures and make your learning sessions more engaging.
The smooth integration with WooCommerce, PayPal, and Stripe gives you much more flexibility regarding payment gateways.
Furthermore, this LMS plugin works excellent with Elementor page builder and offers multiple design customizations. You can choose to present your content in a grid or carousel-style and display featured teachers, latest courses, and course categories.
Other notable features of MasterStudy include:
A user-friendly WYSIWYG editor, which makes your course creation and management more efficient and comfortable.
Incorporate videos, graphs, images, and other attachment files to make engaging lessons.
A message board that provides a convenient way for students and teachers to communicate.
The premium version of this LMS plugin for WordPress provides more features, such as course bundles, a point reward system, and Zoom and Google Classroom integration.
MasterStudy Pro starts with a $54.99/year price for a single site and goes up to $149.99/year for 25 sites.

Plugin stats:
Downloads: 10,000+
Rating: 4.7/5
Pricing: freemium (premium version available from $149/year)
LifterLMS is a freemium plugin that offers feature-rich tools to make your work a breeze. This WordPress LMS plugin works great with any WordPress theme and is also compatible with popular page builders, such as Beaver Builder, Divi, and Elementor.
LifterLMS comes with a Course Options meta-box that lets you manage additional properties, from the course length and difficulty to whether or not you want to display user reviews.
LifterLMS also provides a built-in shopping cart functionality, along with other features:
Personalized emails to users based on their achievements.
Ability to offer paid memberships.
Restrict courses and create course prerequisites.
Includes downloadable lessons and certificates.
For more functionality, browse through the plugin's add-ons that include custom fields, private areas, and advanced videos. Since the free version already has a great set of tools for course creation, many users only install payment extensions that start from $149/year.
However, as your website grows, you might need to install multiple add-ons. For this reason, LifterLMS provides two premium bundle options that come with advanced LMS tools starting at $360/year.

Best Premium LMS Plugins for WordPress
For more advanced features and extensive functionality, take a look at our list of the best premium WordPress LMS plugins.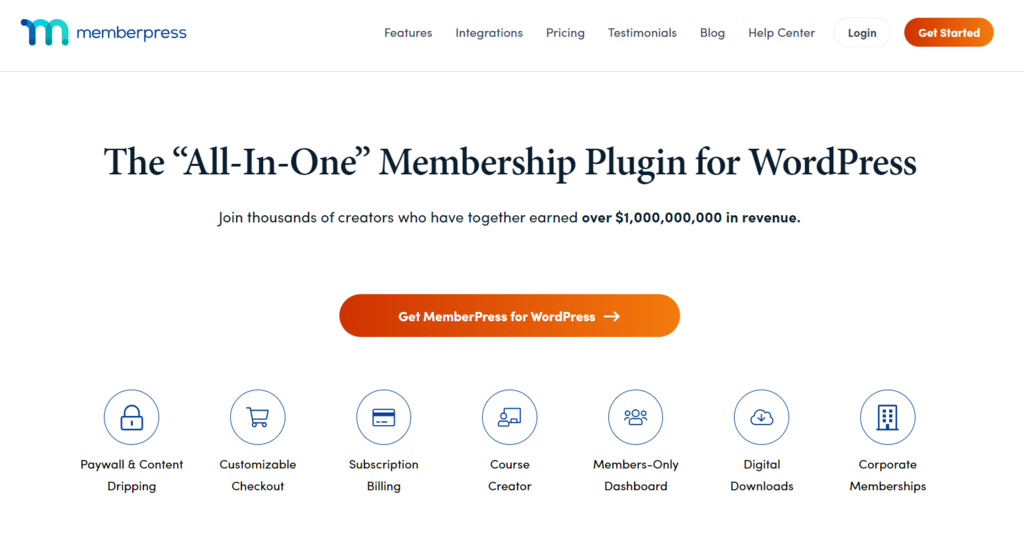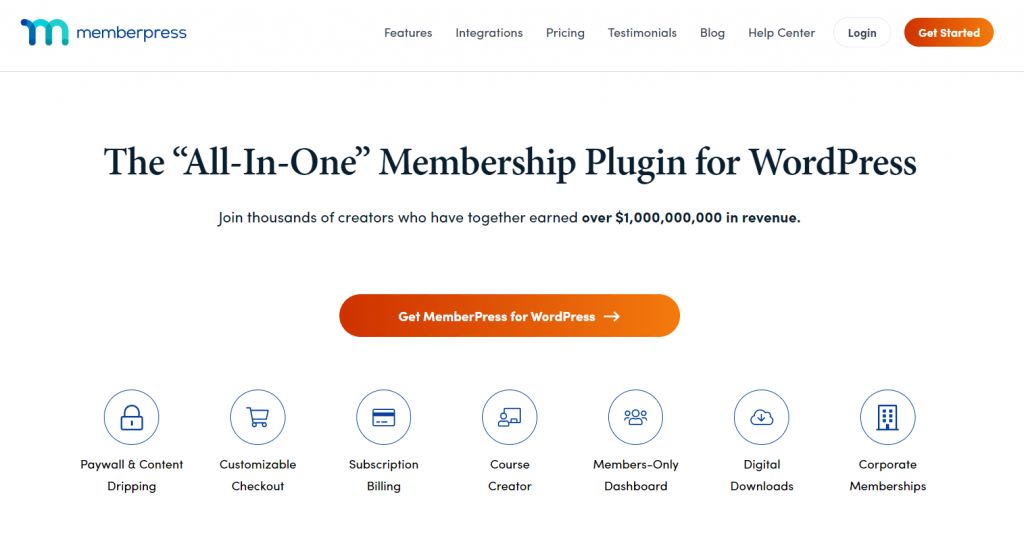 Downloads: Thousands of creators who together earn over $1 billion in revenue
Rating: 4.8/5 (Capterra review)
Pricing: from $179.50/year to $399.50/year
MemberPress is one of the most powerful WordPress membership plugins on the market and it comes with built-in LMS features that you can use to easily create and sell online courses. This makes it one of the best LMS plugins for monetizing your course content.
MemberPress offers all of the features you need to build a profitable online learning platform, including:
Visual online course builder that's built on top of the WordPress block editor.
Ready-made 'Classroom Mode' to automatically style your courses.
Content dripping to release lessons gradually over a period of time.
Interactive quizzes with 5 different answer types including multiple choice, true/false, and more.
Customizable certificates to reward your students for completing a course.
Integrations with popular payment gateways like Stripe, PayPal, and Authorize.net.
With MemberPress, you can create unlimited membership subscription levels and easily control who has access to your courses based on the type of membership they purchased.
For example, you can create a single membership that gives users access to all courses, similar to a Skillshare or Coursera membership. Or, you can make individual memberships for specific courses. You can even boost sales by creating special course bundles.
MemberPress also connects with the top Google Analytics plugins, such as MonsterInsights. This allows you to track your website activity and see what's working, so that you can increase signups and sales for your eLearning platform.
MemberPress pricing starts at $179.50/year, which includes unlimited memberships and courses for use on one site, $299.50/year for unlimited quizzes and certificates for two sites, and $399.50 for use on five sites.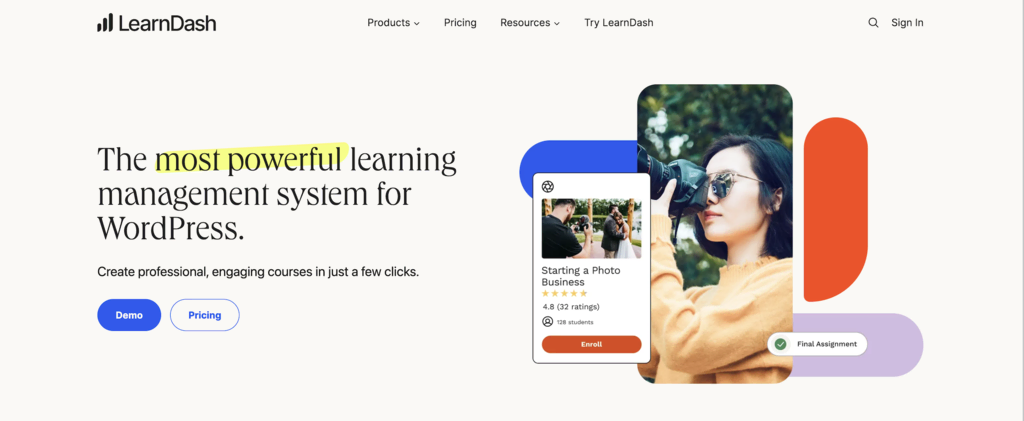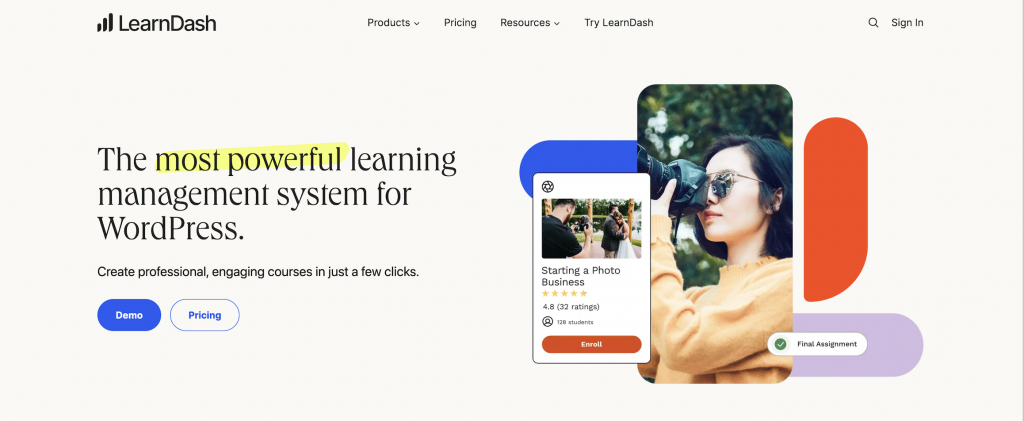 Plugin stats:
Downloads: 10,000+
Rating: 4.6/5
Pricing: from $199/year to $799/year
LearnDash is trusted by many Fortune 500 companies and popular learning platforms, including Yoast Academy and WPElevation. This makes it clear why LearnDash is well-known as one of the best LMS plugins for WordPress.
LearnDash offers a plethora of features to turn your WordPress site into a functional online learning platform. These features include:
Hassle-free online course creation with advanced drag-and-drop functionality.
Interactive quizzes with up to eight question types, custom messages, and question banks.
Customizable prerequisites for accessing the courses, lessons, and quizzes.
Support of any type of media file, ranging from images and videos to SWF files and HTML5.
Display rankings and awards on an interactive leaderboard.
Provide detailed records to keep track of enrollment reports, student progress, and performance.
On top of that, LearnDash gives you the flexibility to sell your online courses as bundles, licenses, subscriptions, or memberships. This plugin also integrates with PayPal, Stripe, and 2Checkout, making the payment process a breeze.
If you need help using LearnDash, you can get reliable support from its official Facebook and YouTube channels. Moreover, there is extensive documentation and a FAQ page available to help you get started.
The price for LearnDash starts from $199/year for one site license, $399/year for ten site licenses, and $799/year for unlimited licenses. All plans come with a 30-day money-back guarantee.

Plugin stats:
Downloads: 20,000+
Rating: 4.4/5
Pricing: from $129/year to $199/year
WP Courseware is a premium WordPress LMS plugin that offers an easy-to-use interface, allowing you to create unlimited courses within minutes.
Aside from the intuitive drag-and-drop builder, WP Courseware also comes with these great features:
Automated notifications and quiz grading to reduce extra work on the administrative end.
Drip content based on dates or specified intervals.
A wide selection of training resources to help you with course creation.
Built-in shopping cart functionality that integrates with Stripe and PayPal.
WP Courseware allows you to modify various elements of the course. These options range from setting up welcome messages and configuring permissions to selecting instructors and sending custom emails.
The feature-rich quiz and survey builder lets you create advanced question types and set timers or retake limits.
For more functionality, WP Courseware offers seamless integrations with multiple WordPress plugins and page builders, such as WooCommerce, BuddyPress, and WPBakery.
This WordPress LMS plugin comes with three pricing plans:
Teacher plan costs $129/year and can be added to two websites.
Professor plan costs $149/year and can be added to 10 sites.
Guru plan costs $199/year and can be added to up to 25 sites.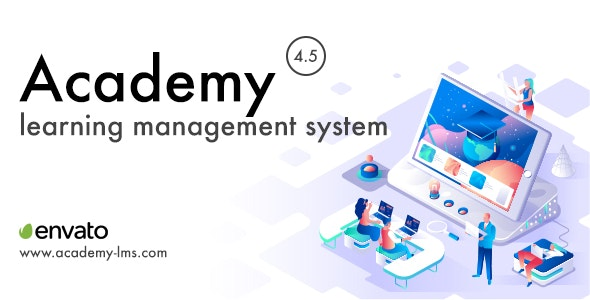 Plugin stats:
Downloads: 3,000+
Rating: 4.8/5
Pricing: $55/license
Academy LMS is a premium WordPress LMS plugin that is designed for professional course content creation. The plugin provides advanced features for admins, students, and instructors to ensure that every party using this learning management system (LMS) gets the best experience.
Students can browse through the course portal and filter courses based on specific criteria, then add the chosen courses into a wishlist. There is also a course follow-up for students to track their progress and give a rating after completing a course.
Instructors get a dedicated dashboard to manage courses and view their payment status. As for the administrator features, there is a course dashboard to watch the list of enrolled students, organize course categories, and approve pending courses from instructors.
Here are other great features Academy LMS includes:
Multiple lesson type files, ranging from videos and images to PDF and DOC files.
An interactive messaging system for convenient communication between students and instructors.
Quizzes with unlimited questions and answer types.
Built-in shopping cart functionality to add multiple courses and purchase them at the same time.
Portal setup settings to set commission rate, configure privacy policy, and enable multilingual translation.
The price for Academy LMS regular license is $55, which is ideal for personal projects.
Why Do You Need an LMS Plugin at All?
A learning management system plugin comes with features that allow you to easily create, host, and manage online classes and training programs. Many LMS WordPress plugins offer extensive tools, such as gamification, incentives, and forum integrations.
Installing an LMS plugin can turn your WordPress website into a functional eLearning platform. It provides an easy way to create and deliver engaging courses to your audience, which can vary from text-based material to interactive quizzes and videos.
Additionally, these plugins let you enroll students, track progress reports, and configure payment gateway options from the admin dashboard.
It's important to note that an LMS plugin is different from a membership plugin. Membership plugins focus on protecting and restricting access to your content, while LMS plugins provide the tools to create such content in the first place.
Now that we covered LMS plugins' functions, let's take a look at the 10+ best WordPress LMS plugins on the market.
How to Choose the Right LMS Plugin
Now that we looked over our list of the best WordPress LMS plugins, it's time for you to choose and install plugin that will be perfect for your website. To help you with this matter, we listed some essential features to keep in mind when making your choice:
Course builder. A tool required to create interactive courses for your site. It is also important to make sure your plugin allows you to include a variety of file types, such as PDFs, links, images, or videos.
Quizzes and assignments. Including short quizzes or tests can be an excellent way to evaluate your students' progress. The best WordPress LMS plugins usually offer features, such as Q&A, quiz builder, or grading, to let you do just that.
Student management. This feature makes it easy for you to track how many students are enrolling in your online courses. It also lets you manage attendance reports, memberships, payments, and registrations.
Content dripping. The content drip functionality allows you to restrict certain courses and release them according to scheduled times and dates. This feature can be used instead of an additional membership plugin.
Certificates. Providing course completion certificates is a great way to show appreciation for your students and to keep them engaged with your courses. The best WordPress LMS plugins come with a feature to customize certificates for every course.
Payment gateways. Implementing various payment options will offer flexibility for your customers.
Benefits of Selling Online Courses
With more and more people accessing online courses every day, Global Market Insights reports that the global eLearning market size is expected to surpass $300 billion by 2025.
Aside from the promising statistics above, here are some other benefits you can get from selling online courses:
Recurring income. You can get a stable recurring income by offering a membership model with a monthly or yearly fee for your courses.
Flexible. There is no limitation to what courses you can offer. Ranging from academic to self-development skills, you can create courses based on your expertise or interests.
Scalable. Having your own eLearning site allows you to take action and scale up the business. For example, you can offer discount coupons or send promotional emails to reach a wider audience.
Cost-effective. Digital products usually require a smaller investment compared to physical products.
Building a community. An eLearning site not only provides a great way to learn online, but it can also be a place for the audience to interact and engage with each other.
Additionally, if you are an educator, consider building a more comprehensive teacher website to sell an online course. That way, you can build credibility through a portfolio to help gain students' trust.
Conclusion
There you have it – we have covered the best WordPress LMS plugins that offer great tools and functionality to turn your WordPress website into an interactive learning platform.
Be sure to define your needs before going over the features and benefits. Determining your budget is also an important step when making your choice.
To summarize, here are our top three free WordPress LMS plugins:
All of these free plugins come with plenty of features to make your eLearning platform look professional and work smoothly. In case you need additional features, you can upgrade each one of these plugins to their premium versions.
Furthermore, our top three recommendations from the premium WordPress LMS plugins list are:
In case you want to avoid a potential lack of functionality, you can invest in a premium plugin right away. These three options are some of the best-rated by the users and come with an extensive list of LMS functions that can improve your eLearning site.
We hope this list will help you find the perfect plugin for your site. Good luck!
WordPress LMS Plugins FAQ
The following are some frequently asked questions about WordPress LMS plugins.
What Is a WordPress LMS Plugin?
A WordPress LMS plugin is a software add-on that integrates with WordPress to enable the creation and management of online courses, student enrollment, content creation, tracking and grading, and other features related to online learning and education.
Can I Make an LMS with WordPress For Free?
Yes, you can make an LMS with WordPress for free using plugins like LearnPress or Sensei. However, the premium plugins will offer more features to optimize your website.
How Do I Create a Learning Management Website With WordPress?
To create a learning management website with WordPress, you need to install a WordPress LMS plugin, create course content, set up student registration and enrollment, design the website, and launch it.