How to Start Affiliate Marketing: 9 Steps to a Successful Affiliate Marketing Business
Valued at $12 billion, the affiliate marketing industry offers a great potential to make money online. Apart from being flexible and low-risk, this online business model requires little to no costs to start.
When starting your own affiliate marketing business, understanding the basics will help you set fair expectations and avoid affiliate marketing mistakes.
This article will explain all you need to know about how to start affiliate marketing – from choosing a niche to tracking online success.


How to Start Affiliate Marketing – Video Tutorial
Learn how to start affiliate marketing from scratch and make passive income online!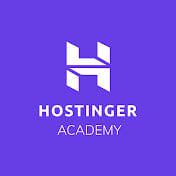 Subscribe For more educational videos!
Hostinger Academy
Subscribe
How to Start Affiliate Marketing
In the following sections, we'll walk you through the steps to start affiliate marketing.
Step 1. Decide on a Niche
The first step in any successful affiliate marketing strategy is to select a segmented target market and audience, also known as a niche.
A niche market is typically characterized by a shared interest or demographics, which subsequently influence product quality and price point.
For instance, within the skincare industry, particular niches could include skincare for kids, anti-aging, or acne-prone skin.
Targeting a small market segment is more effective than trying to follow trends or appeal to an entire industry. Thus, it is easier to establish brand recognition, grow expertise, and build authority.
Here are several considerations to help you select an affiliate marketing niche.
Start with your passion or interest. Picking a subject that interests you will make content creation enjoyable. Alternatively, go for a topic you have mastered – having product knowledge will help establish yourself as a reliable source.
Analyze your competitors. Determine the level of difficulty in entering that niche. If it's a high-competition niche, find and highlight your unique selling point to stand out from competitors.
Assess market demand. Ensure that your chosen niche is profitable and sustainable. Choose evergreen markets that have a consistent demand all year round. Quick research on Google Trends or Ubersuggest can help you check keyword popularity.

Step 2. Select a Platform
After choosing an affiliate niche, the next step is deciding on a platform to publish your content. The two main options to start affiliate marketing are social media and personal websites.
With 4.62 billion regular users, running your affiliate marketing business on social media is a great option, especially if you have pre-existing followers.
Social media platforms provide good opportunities to engage with established communities, build an audience, and demonstrate credibility.
When deciding on a social media platform, consider your audience demographics. For instance, users between the ages of 10 and 19 make up Tiktok's largest age group. Therefore, beauty bloggers targeting teenage girls might want to utilize that platform as their main channel.
Next, determine where your niche is mostly visible. For example, to promote career acceleration courses, consider advertising on a professional networking platform like LinkedIn. On the other hand, for fashion or travel-related niches, Instagram is more suitable.
Moreover, starting a YouTube channel could really benefit those entering a highly competitive niche since using videos to advertise your product could increase leads by 66%.
Pro Tip
Utilizing several platforms gives more opportunities to share affiliate links, increasing the chance of generating leads. However, each platform requires a different optimization strategy. Thus, if you're just starting out, it's better to choose a platform you're familiar with and focus on optimizing content there.
While promoting affiliate marketing products on social media platforms is a great way to build an audience, having a separate website makes your brand appear more professional and attracts potential customers. In fact, nearly 65% of affiliate marketers generate traffic by blogging.
Furthermore, blog posts provide more opportunities to include affiliate links naturally and optimize them for search engine results.


Step 3. Create a Website
An affiliate site provides a central hub for all your affiliate marketing content, giving you more opportunities to highlight other promotional materials.
Here are a few essential steps:
Get Web Hosting
Web hosting is the service that enables you to store your website files and make them available on the internet.
While several types are available, shared hosting is a great option for affiliate marketers, as it's affordable and doesn't require technical knowledge.
Moreover, you'll also need a domain name. A domain name is your affiliate site address. As it is what internet visitors type to access your site, pick a unique yet simple one, aiming for short names that will reflect your brand and avoiding special characters.
Here at Hostinger, our Premium and Business Shared Hosting plans include a free domain – you only need to use our instant domain search to check its availability.
Choose a Website Building Platform
Thanks to content management systems (CMSs) like WordPress and website builders, you don't need coding knowledge to create a website from scratch.
A website builder simplifies website building tasks, often featuring a drag-and-drop interface for easy customization. It is a great option for users who want to set up their websites quickly and without coding.
Offering a lot of flexibility, a CMS is ideal for users who want more control over their affiliate sites. However, it has a steeper learning curve than a website builder.
In addition to WordPress, other popular CMSs are Drupal and Joomla.
Important! Creating your site with a CMS like WordPress requires a hosting plan. Make sure to choose fast WordPress server hosting to improve site performance and user experience. Opt for web hosting with Joomla or Drupal optimization if you plan to use these content management systems.
We also recommend reading our beginner-friendly guide that explains how to build a website using different platforms.
Customize Your Site With Themes and Plugins
For WordPress users, various free themes are available to download in the official directory. Just make sure the chosen theme is not only visually appealing but also loads fast and is responsive.
Moreover, install the best WordPress plugins to improve site performance and security, and help you better manage the website.


Step 4. Join an Affiliate Program
With a target audience in mind and a platform to start publishing content, the next step is signing up for an affiliate marketing program that fits your niche.
You can simply research brands within your niche and see if they offer affiliate programs that you can join. Alternatively, apply for an affiliate network to obtain access to a variety of affiliate programs at once.
When looking for the right affiliate program, there are some aspects to consider:
Cookie Period
All affiliate sales are attributed to you through a tracking cookie attached to your affiliate links that could last from one to over 30 days. While a shorter cookie period can still be effective, programs with a longer one provide more time to convince your audience to convert.
Commission Structure
Subscription-based businesses usually offer recurring commissions, enabling you to get money for as long as the customer pays for the service. Others require you to generate a certain amount of sales before sending the payout.
Moreover, pay attention to the commission rates. Depending on the type of products you're promoting, there are three types of affiliate programs:
Low commission, high volume. These programs are low-paying but offer a wide range of mainstream affiliate products. Thus, generating a lot of content and traffic is necessary to reach your revenue goal. Amazon's affiliate program is an example.
High commission, low volume. With high-paying affiliate programs, you generate more revenue with fewer sales. They usually include luxury affiliate products like watches, jewelry, and antiques.
High commission, high volume. These programs are highly competitive due to their high earning potential. Examples include credit card and web hosting affiliate programs.
Brand Alignment and Reputation
Partnering with unreliable merchants is going to negatively impact your brand. Before deciding on an affiliate partner, check out online reviews, discussion forums, or social media conversations to evaluate their brand reputation.
Moreover, ensure you are partnering with brands suitable to your content and audience group. Otherwise, you'll risk losing the audience's trust.
Support
See if the program provides additional resources to help you market their product, such as visuals or workshops. For instance, affiliates joining Hostinger Affiliate Program get extra assistance from a dedicated affiliate manager.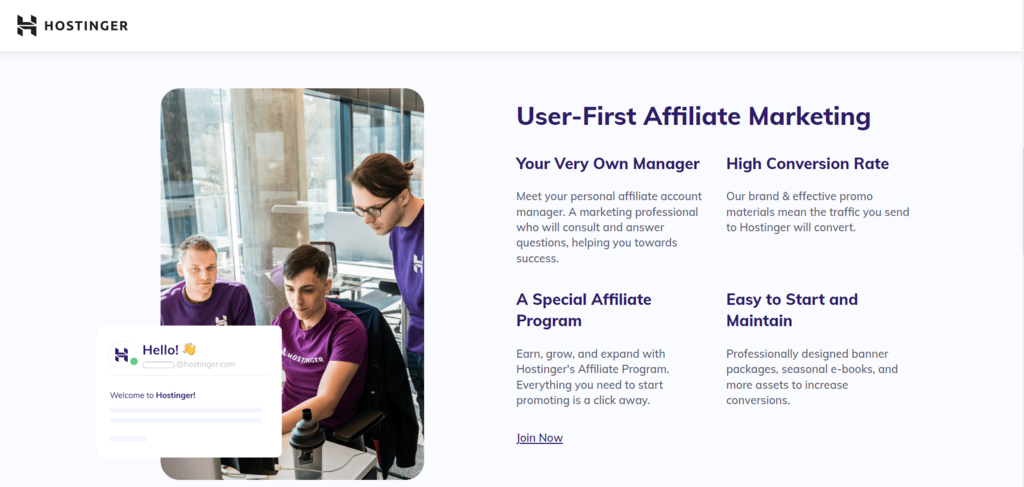 Once you've decided on an affiliate marketing program to join and the products to promote, it's time to create content.
Pro Tip
Once you successfully promote an affiliate product and improve your online marketing skills, consider joining other programs to diversify your income streams.
Step 5. Write Excellent Content
Poor content and careless placement of affiliate links will not be enough to convert your audience into buying customers. A successful affiliate marketer prioritizes connecting and engaging with the existing audience to earn their trust.
Thus, creating valuable content that resonates with your audience is a must.
Not only does high-quality content convince the existing audiences, but it will also help boost your site's performance on search results. A higher ranking increases the chance of getting more organic traffic and attracting new visitors.
Whether it's a YouTube video, blog post, or newsletter, you should aim to produce original, informative content that addresses the audience's queries or helps them solve a particular issue.
For inspiration, start by conducting keyword research and determining their problems and pain points.
A good rule of thumb when you first start is to target a specific, long-tail keyword since they are easier to rank for than generic keywords. Using keyword research tools like Semrush or Google Keyword Planner can help with this process.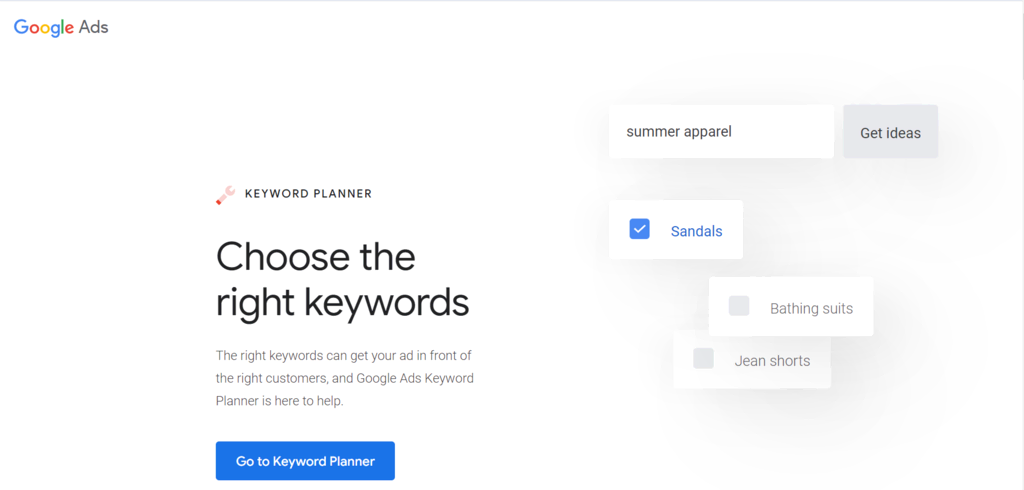 Additionally, combining non-time-sensitive and trend-driven topics is a great way to ensure brand relevancy all year round.
Here are some common types of content to create for your affiliate site:
Product reviews. A highly popular content amongst affiliate marketers, as 90% of online buyers seek product reviews before visiting the site and purchasing a product.
Product comparisons. Compare two similar products and explore their advantages and disadvantages to help the audience make a buying decision.
Product roundups. Similar to product comparisons, a product roundup evaluates several products within the same category.
Tutorials. Explain step-by-step how a product or service works. When a customer can clearly understand how it will benefit them, they are more inclined to purchase it.
Resource pages. Consisting of tools and resources to help solve the audience's problems, this content can further establish your authority as an expert.
eBooks. Go in-depth on subjects that don't fit in a blog post. Plus, eBooks can be utilized as a lead magnet to expand your email list.
Important! Make sure to include an affiliate disclosure explaining that you earn a commission whenever people purchase from your affiliate link.
Step 6. Drive Traffic to Your Affiliate Website
Once you have a good amount of published content, it's time to drive traffic to your affiliate site. Doing so is necessary to generate leads, boost conversions, and attract potential customers.
Hence, creating an SEO strategy is a must – the higher your site appears on search engines, the more traffic you'll get. This includes keyword optimization, link building, and ensuring the site is mobile-friendly.
Here are a few other methods to generate traffic to your affiliate site:
Start an email campaign. Email marketing helps to gently nudge readers towards a purchase. By creating and sending email newsletters, you can directly communicate about product recommendations, limited offers, and regular updates. Use a custom email address that contains your website name to increase the chances of your email campaign success.
Be active on social media. Having a solid social media presence increases brand awareness. You can build up followers' engagement and optimize content with hashtags to boost discoverability.
Participate in online forum discussions. Online forums like Reddit and Quora are a great place to connect to your target audience. Since most forums don't allow posting affiliate links, redirect people to your blog posts or affiliate landing pages.
Write guest posts. Reach out to sites in your niche and offer to write high-quality posts for them. It'll help attract an audience already interested in the topic to your site.
Step 7. Cloak Your Affiliate Links
The next important step to optimize your affiliate marketing efforts is link cloaking, the practice of hiding the affiliate ID from a URL by redirecting it to another page.
Cloaking affiliate links helps to prevent link hijacking, one of the biggest security risks in affiliate marketing. It occurs when malicious users try to steal valuable commissions by replacing your unique ID with theirs.
For instance, instead of a long, complicated URL containing numbers and characters like the example below:
www.youraffiliateprogram.com/?affiliateid=123qwerty*
You can make the affiliate link more visually pleasing and user-friendly:
www.yourwebsitename.come/affiliate-product
A cloaked link is perceived as more secure as it tells users exactly what to expect when clicking on it.
Moreover, it is also easier to remember and share, which helps to increase brand recognition and expand audience reach.
To cloak the links, you can use WordPress plugins such as Pretty Links or ThirstyAffiliates.
Step 8. Track Your Affiliate Campaigns
Properly monitoring affiliate links is essential for creating an effective strategy that generates revenue. This includes tracking which pages, links, and visual elements get the most traffic and conversions.
While most affiliate programs provide sales data through an affiliate dashboard, you can use additional affiliate marketing tools to optimize your campaigns.
They will help keep track of your affiliate campaigns across different marketing channels and enhance your affiliate strategies. Examples include Post Affiliate Pro, LinkTrack, and Voluum.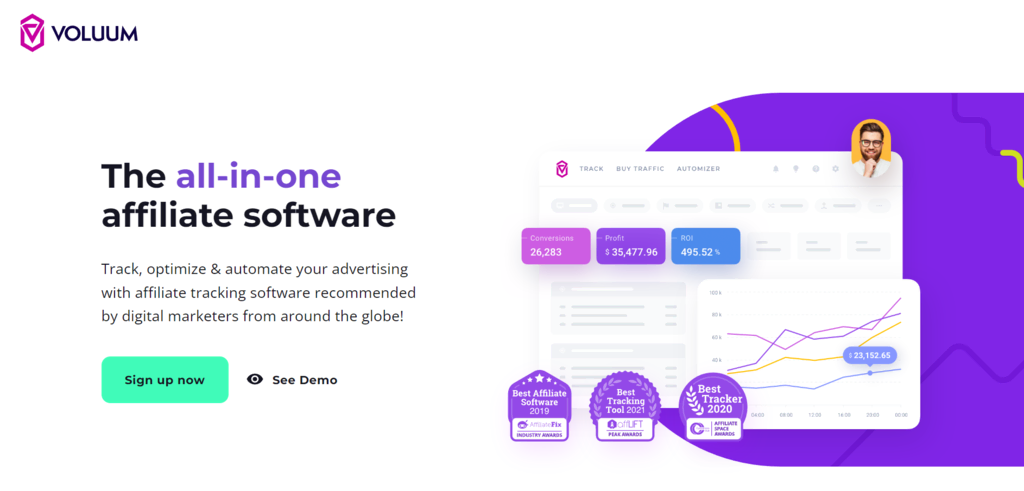 Alternatively, free tools like Google Analytics and Google Tag Manager also help track affiliate links.
If you're a WordPress user, there are several affiliate plugins to simplify the process.
MonsterInsights, for example, enables users to see traffic volume for individual product pages from the WordPress dashboard. It integrates with your Google Analytics account for affiliate link tracking and link cloaking plugins like Pretty Links to set up redirection for your affiliate links.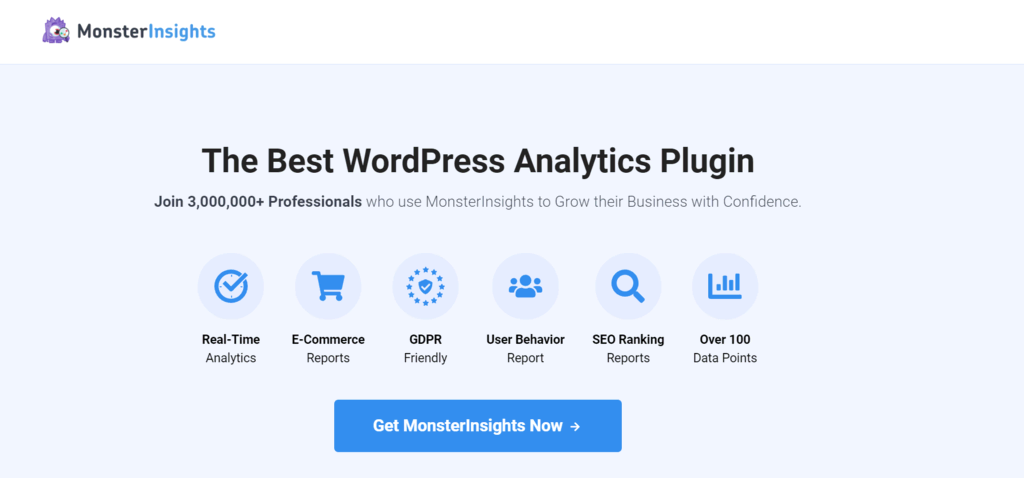 Step 9. Boost Your Income
While the previous steps will help start your affiliate marketing career, there's no guarantee it will bring in affiliate revenue. In addition to tracking the links, constantly optimizing your marketing efforts is necessary to increase affiliate income.
Running tests on your content is a great start. For example, identify which posts get high traffic but low RPM (revenue per thousand impressions).
Then, tweak some elements to see what triggers more conversions and increases your affiliate income:
Test your headlines. To evaluate their effectiveness, create two headlines for the same content. Split traffic into two groups and serve different headlines to each.
Experiment with images. You can conduct the same test with two separate, high-quality images of the same product. Assess the results and feature the image that converts more.
Insert comparison tables. For product comparisons or reviews, consider adding a comparison table displaying the product features and prices.
Optimize the CTAs. Keep the calls to action brief and personalized. Use time-related words like "Shop Now", "Limited", "Last Chance", and pair them with a countdown timer to create a sense of urgency.
Add exit intent pop-ups. These pop-ups act as the last resort to convince visitors who are about to abandon the site. You can install a WordPress pop-up plugin like OptinMonster to help with that.
How Does Affiliate Marketing Work?
An affiliate marketer's main responsibility is to direct their audience to complete an action – whether it's a purchase, a form submission, or visiting the merchant's site.
To do so, marketers include affiliate links on their websites, blogs, or social media posts. A tracking cookie within the link helps affiliate networks determine where the sales came from. Therefore, whenever a customer makes a purchase, the sale will be attributed to the corresponding affiliate.
Types of Affiliate Marketing
Based on the level of association with the product promoted, there are three main types of affiliate marketing:
Unattached Affiliate Marketing. This form of affiliate marketing requires no direct connection between affiliates and the advertised product. Affiliates get commissions solely by displaying the merchants' ads, whether or not they fit their niche. For example, a fashion blog that features gym ads.
Involved Affiliate Marketing. This type refers to affiliates who are closely associated with the product. Seen as experts within the niche, they educate readers about the product and give recommendations based on personal experiences.
Related Affiliate Marketing. A mix of the other two types, related affiliate marketing involves promoting relevant products without making direct claims. Often, the affiliates have some degree of authority within the niche, making them a trusted source of information. For instance, if you have an established audience for a fitness blog, you can promote fitness gear despite never using it before.
Types of Payment in Affiliate Marketing
Here are the primary methods of payment in affiliate marketing:
Pay-per-sale. The most common payment structure in affiliate marketing. Affiliates get a percentage of the product price from each purchase made using their unique affiliate link.
Pay-per-lead. This method pays the affiliate based on lead conversion. For instance, when they successfully convert potential customers into creating a trial account or subscribing to a newsletter.
Pay-per-click. This method calculates commissions based on the amount of traffic brought to the merchant's site. The more users click on the affiliate link, the better.
Why Should You Start Affiliate Marketing?
Affiliate marketing is a rapidly growing industry – by 2022, the spending will reach $8.2 billion in the United States alone, up from $5.4 billion in 2017.
Plus, the business model is a win-win for the business and affiliates. In addition to helping businesses attract new customers, it'll help your audience find the best products and services. As for your affiliate platform, it'll help you create content and generate affiliate revenue.
Here are additional reasons why affiliate marketing is worth starting:
Affiliate Marketing Is Low-Risk and Low-Cost
Affiliate marketing doesn't require a large initial budget. Unlike starting a conventional business, like an online store, you won't have to worry about the logistics and costs of product development, maintenance, and shipping.
While there might be a few upfront costs, mainly when creating your website, no further investment is expected once it's set up.
It is also low-risk since there's no penalty fee for unsuccessful sales.
Affiliate Marketing Scales Easily
There is no limit to scaling your affiliate marketing business. You can simultaneously introduce new products to the current audience while the existing affiliate content continues to generate profit.
In addition, you can sign up for different affiliate programs to increase your income.
It's a Source of Passive Income
Affiliate marketing enables you to earn a steady stream of passive income. However, it doesn't guarantee success.
Investing time to establish promotional platforms, build an audience, and create traffic sources is necessary. Nevertheless, once set up, your affiliate links have the potential to make money continuously.
How Much Money Can You Make as an Affiliate Marketer?
As an affiliate marketer, your earning potential depends on factors such as the niche, products, affiliate programs, traffic volume, and audience size. Of course, a larger following increases your chance of generating more traffic and conversions.
The average affiliate marketer makes $53,000/year, with the lowest tier earning $39,000/year and the highest $73,000/year.
Most successful affiliate marketers, like Pat Flynn, earn even higher. The net worth of the founder of the online marketing blog Smart Passive Income is estimated at $3+ million.
What Are the Best Opportunities to Help Affiliate Marketers Get Started?
For new affiliates, finding merchants and affiliate products might be a confusing yet necessary task.
An effective way to get started is by joining an affiliate network, which acts as an intermediary between affiliates and brands.
Here are some of the best affiliate networks for beginners:
Mistakes to Avoid as an Affiliate Marketer
While it's a fairly simple and lucrative business model, affiliate marketing is also highly competitive. To thrive in the industry, you should have an affiliate strategy that converts. Knowing what not to do as an affiliate marketer is a step in that direction.
Here are a few examples of affiliate marketing mistakes to avoid:
Lacking product knowledge
Neglecting site performance
Overlooking the importance of SEO
Producing low-quality content
Counting on one affiliate program
Underestimating the audience's trust
Not including an affiliate disclosure


Conclusion
Affiliate marketing is a low-risk, easy-to-scale business model that enables you to make money online by creating promotional content. Starting affiliate marketing doesn't require advanced technical knowledge or a large budget.
Once you have a niche and a platform, research affiliate programs to join. Then, create high-quality content to promote the affiliate products and diversify the traffic sources to generate more leads. Lastly, track your affiliate campaigns and run tests to optimize them.
Keep in mind that affiliate marketing success doesn't happen overnight. If you're just starting, it might take a while before your content starts generating conversions. Thus, it's important to devote time to learning and implementing affiliate marketing tips.
Finally, like any other successful business, the most important step is to start. With sufficient knowledge on how to start affiliate marketing, you're well equipped to begin the journey. Good luck.
How to Start Affiliate Marketing FAQ
In this section, we will explain some frequently asked questions about how to start affiliate marketing.
Can I Start Affiliate Marketing With No Money?
Yes. You don't need a lot of capital to start affiliate marketing. There are no costs to join most affiliate networks, and a variety of free platforms are available to boost your efforts.

All you need is a working computer, a decent internet connection, and dedicated time to grow your business. You can even find affiliate marketing courses online for free.
Is Affiliate Marketing Good for Beginners?
Affiliate marketing is worth trying for beginners. It is low risk, inexpensive, and easy to scale. There's no limit to how much you can earn as an affiliate marketer. You may potentially generate a six-figure income from affiliate marketing – with sufficient time, effort, and an effective strategy.
How Much Can Beginner Affiliate Marketers Make?
Beginner affiliate marketers could make as little as $0 to as much as $1,000/month. 

While having a pre-existing audience will speed up your business's growth, total beginners might require some time to set everything up before making affiliate sales.
Can I Start Affiliate Marketing Without a Website?
Yes, starting affiliate marketing doesn't require a website. You can share affiliate links on social media platforms such as Instagram, TikTok, and YouTube. However, having a website is beneficial as it improves credibility and broadens your audience reach.