What Is a Guest Post? Everything You Need to Know
A guest post is a content piece a blogger writes for someone else's blog. This is typically used as a marketing tactic to:
Establish authority in the niche.
Expand one's audience reach and network.
Generate more traffic to a website.
While guest posting has become common practice, navigating it can be challenging if you have little experience or few connections.
That's why we've come up with this comprehensive guide on guest blogging. We'll explain how newbie bloggers can land guest posting gigs, write a good guest blog post, and optimize content for success.
Reasons to Start Guest Blogging
First things first – let's discuss how guest blogging can benefit beginner bloggers.
Boost Website SEO and Authority
Guest posting can boost SEO in two ways – to start with, we'll talk about building backlinks.
In guest blogging, the contributor is usually allowed to include one or two external links to their own blog within the content or author bio.
Search engines see these links as a vote from one website to another, meaning that the referred site is worth checking out. As a result, Google may see the blog as a credible source – thereby increasing its chances of ranking and gaining more organic traffic.
According to Ahrefs, there is a positive correlation between how many backlinks a website has and how much organic traffic it can attract.
Another way guest posting helps SEO is by generating online mentions of your brand.
Say you run a business blog and regularly contribute to sites like Forbes and Entrepreneur. The more your name appears in relevant sites of your niche, the more likely search engines will consider you an industry expert.
That said, bloggers should guest post with careful consideration. Google sees large-scale guest blogging as a manipulative linking scheme, so don't overdo it.
For WordPress users, here are more tips to optimize a WordPress website for search engines.
Expand Your Blog Audience
Guest posting allows tapping into other blogs' audiences – which can lead to higher referral traffic and even conversions.
Many brands have succeeded in this. SaaS startup Groove claims to have reached more than 1 million readers with guest blogging. Help Scout also gained 36,000+ new mail subscribers thanks to this strategy.
The trick to getting such results is targeting websites whose readers are similar to yours – either by interest, behavior, or demographic. These people are more likely to learn more about you after engaging with the guest post.
Widen Your Network
Guest posting also creates the opportunity to network with other bloggers and brands.
The more you pitch content ideas and publish articles on related sites, the more familiar your name will be in the industry. In turn, future partnerships will start to open up.
However, we recommend being selective of the websites you partner with.
While having 100,000+ monthly visitors isn't necessary, the sites you write for should offer valuable content and have significant audience engagement. Be careful of spammy-looking, low-quality blogs, as they can negatively impact your reputation.
Market Your Products or Services
If you run a business, guest posting can offer the chance to market products and services.
Most blogs allow doing this in the author bio, like in this guest post by Elna Cain for the Blogging Wizard:
In some cases, the guest blogger can also mention their product or service if it's contextually appropriate for the topic.
Take a look at this Ahrefs guest post about doubling blog traffic. The writer starts by using his agency Growth Machine to illustrate his success with the strategy explained in the content.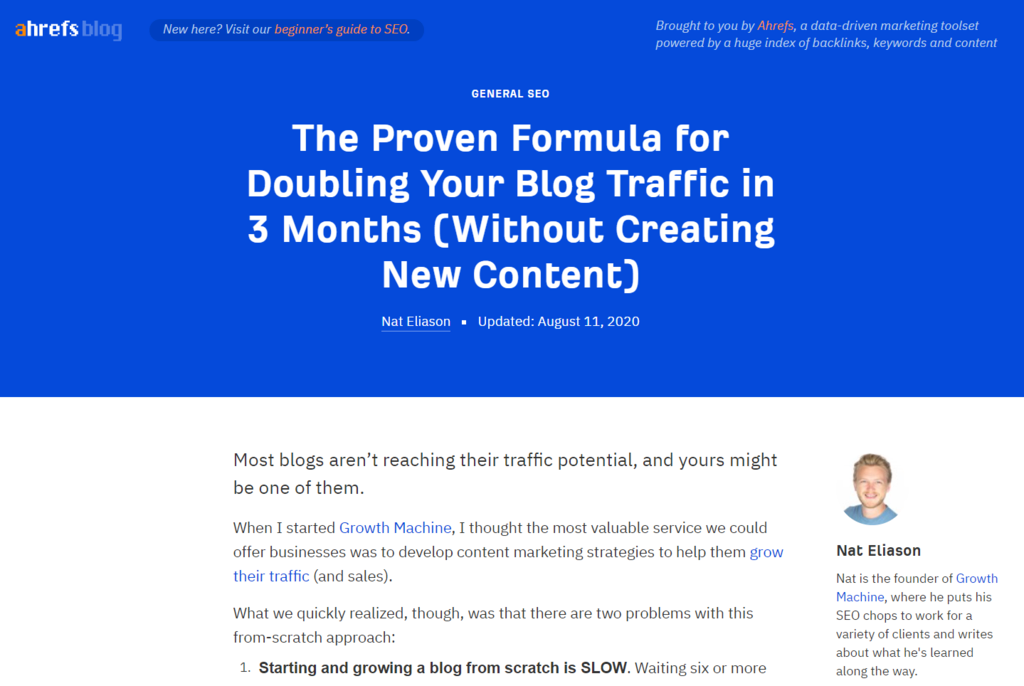 While the content doesn't directly promote Nat's business offer, it demonstrates what his agency can do for potential clients.
Note that most blogs are against direct self-promotion in guest posts. Avoid being too salesy and read the guidelines to see what can or cannot be included in the content.
Monetize Your Content
For freelance writers and bloggers, guest posting can be an opportunity to make money with a blog. Some blog owners pay their contributors commission for every content piece published. However, these assignments usually have more specific requirements.
The salary range largely varies. However, most credible blogs pay around $75 or more, depending on word count and topic.


How to Write a Guest Post
Guest posting typically starts with finding blogs to contribute to, pitching your ideas to the site owner, submitting the content, and promoting it to attract the audience.
This section will cover each step and provide some of the best guest posting practices.
1. Find Guest Posting Opportunities
The first step is to look for guest posting sites in the niche.
If you already have some blogs in mind, put them in the potential guest post list. Then scour through the website and find out if the site owner accepts guest posts. Such information is usually available on the About page, Contact page, or FAQ section.
Alternatively, open Google and enter site:websitename.com guest post or site:websitename.com write for us. These Google search strings will show if any page on the website contains those keywords.
To discover guest blogging opportunities on other websites, enter the search strings below. Make sure to replace "keyword" with a phrase or term related to the industry.
"keyword" + "guest post"
"keyword" + "write for us"
"keyword" + "guest post guidelines"
"keyword" + "guest blogging guidelines"
"keyword" + "guest posting guidelines"
"keyword" + "contributor guidelines"
"keyword" + "guest post submissions"
"keyword" + "accepting guest posts"
"keyword" + "submit guest post"
Here's an example of what the "tech" + "write for us" query results look like:
Twitter is another excellent platform to find guest posting opportunities. On the search bar, insert a niche-related keyword along with a guest blogging term like below. Then scroll through the results for potential target sites.
The next method is to look through a competitor's backlink profile and find sites they've guest posted for. Use Ahrefs' backlink checker for this.
Keep in mind that not all sites include information about guest contributions. Even so, it doesn't mean the blog doesn't accept third-party content.
In this case, simply take note of the blog owner or managing editor's email address – you'll use that to pitch the guest posts later.
As previously mentioned, it's important to vet each target blog to ensure its legitimacy. After collecting all the potential guest posting sites, evaluate the following elements to narrow down the list:
Target audience. Are they the users you want to reach? Do they have similar interests or demographics as your blog readers? Will they be interested in visiting your website after reading the guest post?
Engagement. Find out how many blog comments and shares the guest posts get to determine how well they perform. Also, check the blog owner's social media and see whether they promote contributor content there.
Credibility. How reputable is the blog? The Ahrefs' backlink checker tool can measure this with its Domain Rating (DR) metric. Start by targeting sites with a score between 20 and 50 – while they're not much of an authority site, they're more likely to work with new bloggers.
After creating a solid list, select one of the guest posting sites and move on to the next section.
2. Brainstorm Ideas for the Guest Post
The second step is to think of blog content ideas for the target site. Ideally, the post should meet the site owner's criteria, tackle the target audience's pain points, and pick a topic that other guest posts haven't covered.
Some sites usually have a page for guest posting guidelines, which may include what topics the site owner is looking for and what content formats they prefer. Use them as a starting point for the brainstorming session.
It's also good to read their most popular content to see what works with the audience. SEO tools like Ubersuggest can help with discovering the most visited pages of any site.
Other than that, take a look at their latest blog posts to get an idea of the site owner's current content strategy. They're more likely to approve a proposed headline if it suits their present objectives.
Here are other tips to finding the perfect guest post idea:
Pick an idea that can demonstrate your expertise. Telling readers about a personal experience, success, and mistakes can make the article much more credible and original.
Look for trending blog post topics in the niche. Use tools like Google Trends and BuzzSumo to see what's popular on the market.
Offer to rewrite a low-performing guest blog post. Use an SEO tool to identify which articles haven't gained as much engagement or traffic as the top pages. Then look for areas to improve – it can be content freshness, comprehensiveness, or organization.
From here, pick between two to three blog post topics with the best chance of getting accepted by the target site owner. Continue to the next step.
3. Pitch Your Guest Post's Content
Let's craft a cold email to land your first guest post opportunity.
Depending on the blog, some may require sending the entire article from the beginning instead of pitching some ideas. Be sure to check the guest post guidelines before proceeding to this step.
Also, have the correct contact information. Send the pitch to the person responsible for the editorial content, not the customer service, advertising, or other general inquiries.
It's also better to warm up to the blog owner or editor first to make them more familiar with your name. That way, they are more likely to open and read your email.
Commenting on their latest blog posts, sharing their articles on your platforms, or interacting with them on social media is a good start. Spend a couple of weeks doing this before sending the pitch.
Once that's covered, write the email. Below are some tips for creating guest post pitches:
Make it personal. Don't use the same message for every recipient. Address the person by name and refer to a blog post you like from them to show you've done some research.
Craft an enticing subject line. Simply writing "guest post pitch" won't grab attention. Consider referring to one of the content ideas to give them some context.
Keep it concise and straightforward. Simply introduce yourself, state why you're reaching out to the blog, and mention the content ideas. The ideal length is between 50 and 125 words.
Include some writing samples. Demonstrate your skills and qualifications, as well as set the recipient's expectations. If there are any guest posts published on someone else's blog, consider linking to them in the email.
Proofread the content. Fix any grammatical errors or spelling mistakes to show you're a professional.
Use an email signature. Include your name, website title, and social media handles, so they know how to find out more about you.
Get someone to introduce you first. If you know another guest blogger that has posted on the site, consider asking them to vouch for you. The blog owner is more likely to trust a writer recommended by someone they've worked with.
Use a custom email address. That way, your email looks much more professional and credible. For this, an email hosting service is necessary.
If you need some inspiration to write the email, check out the example below:
Subject line: Guest post for Healthy Fast Food: How to make oil-free french fries
Hey Jamie,
My name is Alex, and I'm a blogger at Easy Home Cooking.
I've been trying out a few recipes from your blog – the low-calorie chicken nuggets were a knockout. I want to present you some guest post ideas that can go along with that theme:
How to make oil-free french fries
Top 10 vegan meat recipes for burgers
How to make sugar-free soft-serve ice cream
If you need a reference, here's an article I wrote on the best non-dairy milk for the food blog Health Nut. So far, it has received 5k in monthly visits and 250+ shares on Facebook.
Looking forward to hearing from you!
Thanks,
Alex Linden
Blogger and recipe developer at Easy Home Cooking
4. Write High-Quality Content
Once an idea gets accepted, it's time to write the content.
While each blog has its own guidelines, there are several best practices to follow to create an amazing guest post:
Keep the search intent in mind. What is the general goal users want to achieve by reading the content? Make sure to cover their most pressing questions about the topic.
Make it unique and different from competitors'. It can be by providing new information, approaching the topic from a unique angle, or offering more actionable tips.
Include expert quotes. They can help create a more authoritative and informative post. Use HARO or Help a B2B Writer for those in the business niche.
Avoid promoting yourself. As mentioned, most sites are against having guest bloggers explicitly market their products or services in the content. Only mention them for illustrative purposes.
Include keywords for SEO. Use them naturally and in a grammatically correct manner.
Match the style and formatting with the existing blog posts. At the very least, the content organization, language, and comprehensiveness should be up to par with what's published.
Pay attention to readability. The content should be easy to read and understand. Go for simple language, active sentences, short paragraphs, and ordered and unordered lists.
5. Craft a Compelling Headline
Having written a great post, all that's left to do is create an enticing headline for it. It should grab people's attention immediately, compelling them to click on the article from the blog homepage or search results.
Here are a few things to consider when brainstorming for headline ideas:
Show how the article can solve the reader's problem. They're more likely to click on a title that appeals to their needs.
Include numbers if appropriate. Various studies have shown that numbered headlines have the highest click-through rates. They're great for listicles and how-to guides.
Use a question. Questions make up 8% of search queries in Google, so utilizing this format can show that the article is relevant to the searcher's interest.
Optimize for search engines. Google can only display 70 characters in the title tags, so it's best to stick with that length. Make sure to include the target keyword as well.
Avoid clickbait titles. In other words, don't exaggerate what the article is about or promise something the content doesn't deliver.
If you need some references, Databox has a great list of best blog headline examples.
6. Use Internal and External Links
Internal linking isn't just good for the target site's SEO. It can also show the editor that you're familiar with their content, making it more likely for them to publish the guest post.
As with internal links in your own website, refer only to blog posts supporting the article.
The quickest way to discover them is by entering site:websitename.com [keyword] on Google. It will filter and display any page on the website that uses the term.
Also, use contextual anchor texts so that search engines and users know what the cited source is about.
Naturally, you also want to add external links to direct referral traffic to your own blog. In this case, only include them if they're contextually relevant.
Refer to the guest posting guidelines or ask the blog editor to see how many links can be featured. It's also better to link to a content piece rather than a homepage or sales page to avoid being promotional.
7. Submit the Guest Post
The final step is to submit the guest post to the target site. Before sending the final draft, edit and proofread the content. Check for grammatical errors, spelling mistakes, broken links, or unclear images.
Also, write a guest author bio. This is where you can explain who you are and usually include a link back to your website landing page.
Here's an excellent example by former Forbes guest contributor Ryan Robinson. It explains what he does without being overtly promotional and features his website link contextually. He also mentions the number of his blog readers to add credibility.
After sending the email, wait for several days to get a reply. Depending on the number of submissions the blog receives, a follow-up may be necessary to ensure that the guest post submission gets published.
Once the post is live, keep maintaining a positive relationship with the blog owner or editor. That way, you're more likely to land more guest post opportunities for the website.
Send a thank-you email and promote the article on social media. Also, reply to any comments on the guest post – this is an excellent way to build connections with the audience and demonstrate expertise.
Where Can I Guest Post?
If you're looking for sites that accept guest posts, here are some recommendations to kickstart your guest blogging journey.
Travel and Lifestyle Blogs
Do you know some excellent traveling tips or vacation destinations? Consider sharing your knowledge on a travel blog.
There are many niches within this category – from backpacking to luxury trips. Choose a blog that suits the type of trips you're known for and attracts your desired audience.
Below are some travel blogs that accept guest posts:
Marketing and Business Blogs
Business and marketing is a popular yet challenging niche to get into. Most blogs look for successful entrepreneurs, freelancers, or business owners with original ideas to share. When figuring out what content to write, focus on areas of your expertise.
Here are some marketing and business blogs that accept guest posts:
Food Blogs
Depending on the niche, food blogs generally look for original recipes, restaurant guides, cooking techniques, nutrition advice, or stories about the culinary industry.
Here are some food blogs that accept guest posters:
Fashion and Beauty Blogs
This niche is all about covering the latest trends, styling tips, shopping guides, and product reviews. Here are some fashion and beauty publications that accept guest bloggers:
Sports Blogs
These sites typically seek writers who can report on the latest sports news or share expert opinions about the industry. Here are some blogs that are open to guest content:
Medium Publications
Medium is a content publishing platform with a built-in community of over 170 million people.
Unlike other sites, it's more similar to a social network – each user can follow other bloggers, have their posts appear on their feed, and "clap" for the articles they like. Thus, getting more exposure and engagement for the content can be much easier on this platform.
To discover guest post opportunities on Medium, find the right publication first. Here are some popular options:
Each publication has its own guest posting guidelines, so make sure to read them first before submitting a draft. Also, read Medium's policy as they have specific rules about embedding external content and promotions.
For more tips and tricks, check out Benji Hyam's article on going viral on Medium.
Proven Strategies to Optimize Guest Posts
Now that you know how to write a guest post and submit one, here are some more tactics to improve the guest blogging strategy.
Keep Track of the Guest Post's Performance
After submitting some guest blogs, monitor whether the posts are bringing more traffic to your website. Doing so can inform whether the content is engaging enough that readers are interested in learning more about you.
Track this result by using Google Analytics. After signing in to an account, go to Acquisition -> All Traffic -> Referrals. This report will show how much traffic comes from referral sources.
If available, check the post's number of social shares as well to measure its shareability.
Add Visual Elements in the Guest Post
Featuring images within the article can help break up long chunks of text, making the content much more engaging. They can also help visualize complex information in a more digestible way.
There are many types of images to add to a blog article. Infographics and charts are great for projecting some data and supporting claims. Screenshots can also help with displaying online quotes from experts, providing examples, or writing software-related tutorials.
For photographs, make sure they're high-quality to ensure a pleasant viewing experience. It's good to use original pictures, especially if you're guest blogging for travel or food sites. Otherwise, royalty-free stock photos should suffice.
Encourage Engagement With a Call to Action (CTA)
Ending the post with a call to action (CTA) can increase engagement. It's a sentence that invites readers to take your desired action, such as commenting or sharing the article.
Engagement is essential for SEO as it means that the blog is active and readers are enjoying the content. How much time users spend on a website is also considered a ranking factor.
Here are some CTA examples for a blog article:
Comment below to share your thoughts on [topic name].
Share this post with anyone who might be interested in [topic name].
Are there any tips you know that we haven't mentioned? Let us know in the comments.
Promote Your Email List in the Author Bio
While most guest bloggers use the author byline to link back to their website, some take this chance to promote their email list. This tactic is better suited for those who want to build their audience instead of getting more organic traffic.
List building requires two things – one being an email subscription software. This tool will help with signing up new subscribers, creating newsletters and campaigns, and managing the emails. Some well-known examples are Mailchimp and OptinMonster.
The second is a landing page for people to enlist in the subscription. The design should focus on one goal – getting users to convert into subscribers. Avoid linking to the homepage as it's full of menus, links, and sidebars that can distract visitors from signing up.
Be Active in Online Communities
In addition to social profiles, online forums and communities are great places to promote guest posts. Find sites or groups that are relevant to your niche and target audience, and mention the article when appropriate.
For instance, if you're writing guest posts about iPad tips and tricks, consider joining the iPad & iPad Pro subreddit. When someone starts a thread about maximizing their device usage, consider sharing some knowledge and linking to the articles you've written.
What Is a Guest Post: A Summary
To sum up, a guest post is an article one writes for someone else's blog. Bloggers usually contribute such a post to another website to build their authority, widen their network, and expand their reach.
This article has broken down guest posting into seven steps:
Find guest post opportunities. Look for reputable and active sites that accept contributor content and align with your own blog audience.
Brainstorm fresh content ideas. The ideal post should check all the contributor guidelines, fulfill the blog owner's goals, solve the audience's problems, and demonstrate your expertise.
Pitch guest post ideas. It's best to make your name more familiar in the site owner's network first, then craft a personalized cold email to propose the content ideas.
Write high-quality content. It has to fulfill the users' search intent and matches the style of the other guest posts. Also, make sure it's unique, readable, and keyword-friendly.
Create a compelling title. It should entice potential readers enough to click on the article and check it out.
Include internal and external links. Refer to other relevant posts from the blog so that readers get more information. When linking to your own content, it should be contextually appropriate.
Submit the guest post. Proofread the content and craft an author bio before sending the final draft to the blog owner. After the article is published, promote it on social media and reply to comments, if any.
Now that you know how to become a guest blogger, all that's left to do is take the first step to start a blog. Refer to our list of blogs that accept contributor content or Google a bit to find the right site. If you have any further questions or feedback, leave them in the comments section below.