50+ Blog Post Ideas to Drive Traffic and Increase Followers
Coming up with new blog post ideas can be challenging for both new and experienced bloggers. Those just starting a blog can feel confused about where to begin, and even veterans can run out of ideas for the next blog post.
With this in mind, we have conducted research to recommend unique blog post ideas that can provide value for your readers, helping you drive more traffic to the website.
We will cover blog post topics for eight niches, providing ideas and examples for each.
Whether you have just started blogging or have been in the game for a while, this article can help you develop new blog ideas or generate blog posts that are helpful for your readers.
Online Business Blog Post Ideas
The success of your online store relies on many factors, including secure web hosting services and marketing strategies. With Hostinger, you can get free SSL, Cloudflare-protected nameservers, and a malware scanner starting at ₱109.

A business might use a blog for marketing and credibility. Here are some promotional blog post ideas to help you get started and drive more traffic to your website.
1. How to Enter the Industry
Share personal stories detailing how you got into the business. Tell readers how and why you did it, your struggles, and how you overcame them.
For example, Climbingvan is a business founded by people living in camper vans. It sells products for those leading a similar lifestyle. The business website features blog posts surrounding life on a camper van, including how to get started and prepare for it.
2. Expert Tips
If you run out of ideas for blog topics, interview experts for useful tips and tricks. Featuring experts with years of experience and a good reputation in the industry can enhance your business credibility.
A good example is a spring cleaning article published by the Homes & Gardens interior and garden design magazine, which features various useful tips from several cleaning experts.
3. Do's and Don'ts
Create a list of dos and don'ts for various industry-relevant topics or issues to offer potential customers useful and easily skimmable information.
The online beauty store Roxie Cosmetics provides excellent blog post examples of this type. For instance, its article on makeup do's and don'ts includes information on the best makeup application practices and mistakes to avoid.
4. Industry-Relevant Tutorials
Write tutorial blog posts related to your business and its products and services. This is a great way to help address customer pain points while directing them to your products.
The graphic design platform Canva has mastered this marketing technique. It publishes numerous helpful design-related tutorials promoting its product, such as the guide on how to make thank-you cards using Canva.
5. Employee Experiences
These posts are typically published regularly and feature one person at a time. They help put a face to the business and paint a picture of its company culture.
For example, Spotify Design highlights one employee every few months through its In the Spotlight posts. Each employee answers questions related to their position and experiences working at the company.
6. Product Knowledge
Product knowledge blog topics can include all the posts introducing new products or services, explaining how to use them, or informing users of updates or developments.
A company that offers frequent product knowledge posts through its blog is Adobe. For example, it published a blog post introducing Adobe Firefly, its new creative generative AI service.
7. Customer Success Stories
Success story blog posts are a longer form of customer testimonials. Celebrate your customer's success while highlighting how your product or service plays a part in their journey to achieve their goals.
Hostinger Blog features numerous client stories on its website. It breaks down how customers achieve their goals using Hostinger's web hosting services or how their business has improved since the website migration.
Educational Blog Post Ideas
This blog post idea is suitable for professionals who want to start blogging and spread their knowledge through the writing process. In other words, this section features blog topics perfect for educational websites.
1. Step-By-Step Guides
Guide readers through the steps of the process to accomplish a goal. You can include visual aids where relevant.
A great example is a Thinkific post on creating a successful online course in 10 steps. This online course platform's systematic and detailed tutorial includes helpful screenshots and custom graphics.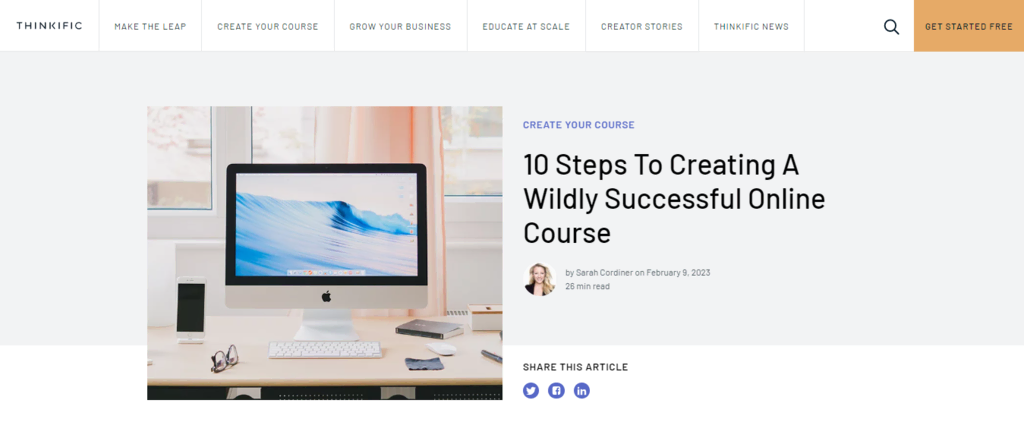 2. Best Practices
This blog post idea usually contains lists of widely accepted techniques or methods in a certain industry. These are tried and true tips and tricks that can help people to achieve the best results.
For example, the Semrush blog provides numerous posts on search engine optimization (SEO) strategies and digital marketing tips, including its post on the best SEO practices.
3. Recommendations of Tools and Resources
Finding the best tools and resources to use can be challenging. Conduct research and share the best ones with your readers through comprehensive blog listicles.
The Teacher Toolkit education blog publishes various posts about teaching and learning. A great example is its list post of useful education technology tools teachers can use in their classrooms.
4. Introduction to New Topics
Introductory articles typically break down simple or complex concepts and explain them in an easy-to-understand format for newbies.
The personal finance company NerdWallet regularly posts articles to educate its readers on various finance and business topics. For example, its introductory article on mutual funds elaborates on what they are and how to invest in them.
5. Problem-Solving Guides
These posts are one of the most useful learning resources as they directly address people's pain points by immediately answering their questions or giving solutions to their problems.
An excellent example is an article by Family Handyman that walks readers through the steps of plugging a leaky tire. It lists the tools and materials and provides an image for every step.
6. Expert Interviews
Featuring interviews with experts in your niche can increase your credibility and provide unique and valuable insights for your readers. In addition, you can invite them to write a guest post on your blog.
The science and society magazine Undark, for example, published an article featuring a transcript of an interview with Katharine Hayhoe, a global warming expert.
7. Sample Exercises and Projects
Providing sample questions and suggesting project ideas help readers put what they have learned into practice. This way, learners can solidify their knowledge instead of just memorizing information by rote.
w3resource offers numerous posts containing exercises and projects for different programming languages. For instance, its post on basic declarations and expressions in the C programming language lists over 100 practice questions.
Blog Post Ideas for Travelers
If you are an avid traveler eager to start a travel blog and share your knowledge, check out the following blog post ideas.
1. Trip Recaps
A trip recap blog post recalls your entire experience traveling to certain destinations. Include helpful details like the flights or routes you took, places you visited, and a detailed breakdown of your expenses.
For example, a recap blog post by blogger Alyson Haley summarizes her trip to Rome, Italy. She discusses where she stayed and ate, as well as answers questions from readers.
2. Must-Visit Travel Destinations
You can make numerous posts with this blog topic, tailoring each list to various conditions or demographics. Generate seasonal blog post ideas, such as recommending the best destinations for each season throughout the year.
A concrete example is a blog post by The Blonde Abroad that recommends the best summer destinations in Europe. It highlights the best features of each destination, complete with picturesque travel images.
3. What to Pack
Packing can be one of the most overwhelming parts of traveling, especially for long trips. Posts providing a guide on how and what to pack can be very helpful for travel blog readers.
The travel blog Practical Wanderlust has an excellent post featuring a list of over 40 must-have travel items, including gear, clothing, toiletries, medication, and insurance. It also offers free printable checklists people can use for packing.
4. Must-Try Activities
Thinking of what to do during a trip can also take time and effort. Write posts recommending the best activities people can do when visiting a certain area.
Hand Luggage Only publishes excellent activity recommendation blog posts, such as their article on the best things to do in Halifax, Nova Scotia. It features descriptions and aesthetically-pleasing images highlighting the beauty of the destination.
5. Best Local Cuisine
For some tourists, trying out local foods can be the highlight of a trip. Cuisine recommendation blog posts list a region's best dishes or restaurants to visit.
A great example is a blog post on Zamboanga City food recommendations published on The Poor Traveler website. From seafood restaurants to dessert spots, the post highlights the best dishes each place offers.
6. Accommodation Recommendations
People need a comfortable and safe place to rest after a day of adventure. Help your website visitors determine the best accommodations according to their budget and travel conditions.
The Anywhere We Roam blog's post on Iceland's best places to stay is an excellent example. It describes each place's location, general atmosphere, and selling points. In addition, the post includes tips for booking accommodations.
7. Sample Itineraries
Itineraries can be a lifesaver when planning a trip. These help travelers make the most of their journey instead of wasting precious vacation time figuring out what to do and where to go.
An example is the Japan itinerary blog post on the Nomadic Matt website. Dedicated to first-timers, the post creates routes for trips of various lengths and suggests activities to do at each destination.
Beauty and Fashion Blog Post Ideas
People are always looking for ways to enhance their appearance, so beauty and fashion have become two lucrative fields that complement each other. The following are great ideas that can help you create the best blog posts centered on these industries.
1. Latest Trends
Beauty and fashion are fast-paced and ever-changing industries. Each new season brings new collections and looks. Therefore, it is no wonder people are always eager to update themselves on the latest trends.
British Vogue has published many posts informing readers of the latest fashion trends, such as its spring/summer 2023 collection listicle.
2. Styling Techniques
Sometimes people struggle with styling certain pieces of clothing. A blog post on styling techniques can teach readers how to incorporate an item into various looks.
An example of this post type is an article on The Adult Man website giving readers seven ways to style a hoodie. It also suggests other articles of clothing people can combine with a hoodie to create outfits for various occasions.
3. Looks to Try
Present different outfit and makeup ideas for various people, seasons, and events. These types of posts help people avoid wasting time figuring out what to wear.
For example, Harper's Bazaar published an article recommending over 20 outfit ideas perfect for summer. It also suggests where people can purchase similar clothes in the photo.
4. Makeup Tutorial
Great makeup ties your whole look together, but it can take time and effort to master. Try writing makeup tutorial posts that walk readers through the steps of creating beautiful looks.
An example of this blog post type is the glowy and natural makeup tutorial article on the Maybelline website. It breaks down the process into several steps with product recommendations and high-quality images.
5. Product Reviews
Many people look up review articles when they are interested in a product but unsure about purchasing it. Write product review posts to help readers make informed buying decisions.
A great example is the Biologique Recherche Lotion P50 review on the Byrdie website. It provides helpful information such as the product's pros and cons, ingredients, effects, price, scent, and feel.
6. Celebrity Looks
From daily to red-carpet outfits, try writing about a certain celebrity's best looks. Highlight what is great about the outfits and what people can learn from them.
For instance, The Zoe Report published a post showing the outfits worn by celebrities in the New York Fashion Week runway shows.
Artistic Blog Post Ideas
Art blogs are excellent learning resources, especially for beginners and hobbyists. If you are an artist looking to share your knowledge, check out these creative blog post ideas.
1. Best Techniques to Try Out
Demonstrate your expertise by showing the different techniques people can try, especially those just starting out. Highlight what kind of project each method is most suitable for.
For example, the Stitch Clinic website has a blog post covering basic hand-sewing stitches people can use for all projects. It breaks each technique into steps with helpful images and shows video tutorials on each stitch.
2. Equipment Recommendations
Through this blog post, you can inform readers on which tools are the best, including details on the different projects and skill levels they are suitable for.
A great example of this post is the listicle published by Guitar World on the best acoustic guitars. The listicle features each guitar's photo, material information, and product description.
3. Product Comparisons
These blog posts are perfect for people looking into buying equipment but are still determining which ones to get. Write objective comparisons of popular brands or products, providing factual reasons to support your verdict.
If you want some inspiration, an excellent example is the Canon versus Nikon comparison blog post on the Digital Camera World website. The post is divided into several sections, each focusing on different camera types.
4. Step-By-Step Tutorials
Tutorial blog posts that guide readers through an activity are great learning resources. Typically, each step consists of a short description and an accompanying image as a visual aid.
A great example is the numerous step-by-step knitting guides on Nimble Needles, a blog run by Norman Schwarze. The helpful tutorials feature large high-quality images for all the steps and include lists of tools and materials needed.
5. Artist Spotlight
Artist spotlight blog posts let you promote fellow experts and professionals in the art industry. In addition to establishing authority and educating readers, these posts provide opportunities to connect with like-minded individuals and widen your network.
The Canadian art blog Booooooom regularly publishes great blog posts showcasing different artists and their works. A great example is its artist spotlight post that features artist Max Seckel and his paintings.
6. Freelancing Tips and Tricks
Many creatives and art professionals make their money through freelance work, whether as their main or side income source. Therefore, posts featuring freelancing tips and tricks can be valuable resources for readers.
Expert Photography has an informative blog post that shares helpful tips on getting freelance photography jobs, including pointers encouraging readers to make their work stand out and build an online presence.
7. Portfolio Creation Guide
Portfolios are important for landing jobs, as potential clients use them to determine whether they want to work with the artists. A guide on how to make an online portfolio is an excellent blog post idea for an artistic website.
For example, the art blog acrylgiessen.com has a great blog post informing readers on how to make and present hard copy and online art portfolios.
Health Blog Post Ideas
This blog niche helps people to stay in good shape and cultivate healthy habits. Take a look at the following healthy lifestyle blog post ideas to help you get started.
1. Benefits of Health Practices
Many people perform health practices without knowing their true benefits. Understanding why certain practices are good for the body helps people make conscious health decisions rather than just following trends.
A great example of a health practice benefit post is a Healthline article discussing the benefits of flossing your teeth. It includes information like how often people should floss their teeth, different floss types, and good dental practices.
2. Popular Health Trends
As medical technology advances and scientists present new findings, people try to keep themselves up to date on the latest popular health trends. A listicle of health trends can help inform people about what practices are currently trending.
The Country and Town House post on wellness trends to try in 2023 does exactly that. It lists a wide range of trending health practices, from sleep syncing to digital detox.
3. Health Myth Busting
Numerous prevalent health myths have become commonly held beliefs. Your own post, busting these health myths by separating scientific fact from fiction, can be a helpful and informative learning resource.
For example, WebMD has an excellent article debunking popular health myths, such as ones saying that people catch a cold from being cold and that sugar makes kids hyper.
4. Best Home Remedies
Home remedies provide immediate relief for non-urgent health conditions. Help alleviate people's pain and discomfort before they see a medical professional by writing a blog post recommending treatments to try at home.
An example to inspire you is the Cleveland Clinic article on sore throat home remedies. It lists various methods people can try, from sipping warm and cold drinks to taking a hot shower.
5. Health Product Recommendations
Many companies claim their products can give people various health benefits, but it's hard to figure out which are truly worth buying. You can conduct research and write a blog post to help people make informed purchasing decisions.
For example, the Australian publication body+soul has published a great article recommending the best handheld massagers for sore muscles.
6. Best Workout Moves
Working out is an essential part of leading a healthy lifestyle. Write a post recommending the best exercise moves people can try. Emphasize whom they are suitable for or what areas of muscle they target.
For example, a blog post on the Advanced Human Performance website lists and explains over 20 rotational exercises for improving athletic performance, complete with instructional YouTube videos.
7. Healthy Diet Plans
People adopt specific diets for various purposes, from catering to a health condition to losing weight. Write posts educating people on different diet types, including their pros and cons and sample meal plans or menus.
A great example is the Verywell Fit article introducing the low-sugar diet. The post explains the diet's pros and cons, ingredients to eat and avoid, as well as benefits and risks.
Foodie Blog Post Ideas
If you are passionate about all things food-related and want to start a food blog, here are some fun blog post ideas to consider.
1. Food Recipes
Food recipes are some of the most popular blog posts and have become a staple on food websites. They can be categorized based on variables like course type or preparation method.
The Creamy Mushroom Chicken recipe on the Minimalist Baker website is an example of a great food recipe post. This blog post format includes a list of ingredients and instructions as well as a short video showing the cooking process.
2. Weekly Meal Plans
Deciding what to eat every day can be a time-consuming task, especially for busy people. A series of blog posts featuring pre-designed weekly meal plans can help reduce decision fatigue and save time and money.
For example, Tastes Better From Scratch has published numerous meal plan posts with printable shopping lists and price estimates.
3. Ingredient Spotlights
This great blog post idea highlights certain ingredients and is an excellent learning resource for beginner cooks. They can also be useful for introducing unique region-specific ingredients to a global audience.
The Woks of Life post on Chinese dry spices and seasonings is a great example. It showcases each spice component with a photo and a description of its taste and how it is used in dishes.
4. Cooking Techniques
There are a wide variety of cooking techniques cooks can learn. You can write blog posts on how to master a certain technique or create a list of useful techniques people can try.
For example, The Spruce Eats has an article listing 25 cooking techniques everyone must know, from chopping an onion to creating sauces.
5. Equipment Reviews
From frying pans to cutting boards, people use many tools for cooking in the kitchen. Blog posts reviewing different cooking equipment can help people decide what to purchase.
For inspiration, you can look at an article on BBC Good Food reviewing 14 different air fryers. The post includes each fryer's pros, cons, wattage, and star ratings.
6. Food Photography Tips
High-quality photos are one of the biggest selling points of food blogs. In addition, many people love posting food photos on social media platforms. As a food blogger, you can write an informative blog post on how to take the best food pictures.
The Cookie and Kate food blog has a helpful post providing food photography tips, including best practices, troubleshooting strategies, and equipment recommendations.
7. Event-Specific Menu Ideas
Try writing blog posts recommending menus for special occasions or widely celebrated holidays. These sample menus will typically feature multiple dishes across several courses.
For instance, Southern Living has an excellent article on full Christmas menus for different types of celebrations, such as brunches, dinners, and parties.
Personal Development Blog Post Ideas
Check out these great blog post ideas if you run a website focused on helping people develop themselves and realize their full potential.
1. Time Management Techniques
Great time management skills are crucial for maintaining a well-balanced life. Write a blog post recommending the best time management techniques people can use to plan their days.
A good example is the time management guide on the actiTIME website. The comprehensive article includes 15 techniques divided into four sections – planning and organizing, control, focus, and productivity.
2. Productivity Tips
Being productive leads to greater fulfillment and a better quality of life. Help people achieve their goals by creating a blog post listing various tips for maximizing productivity at work.
Science of People has a great article on productivity tips, specifically educating people on how to be productive with less effort.
3. Self-Care Methods
Personal development isn't all about work and productivity – it is also about taking care of yourself. Recommend some ways readers can take care of themselves to stay physically, emotionally, and mentally healthy.
For instance, Verywell Mind published an article on self-care practices for different areas of life. These include physical, social, mental, spiritual, and emotional self-care.
4. How to Nurture Relationships
People often forget that maintaining good relationships with loved ones requires deliberate purpose, time, and effort.
Try writing a blog post on nurturing healthy relationships with close friends and family. For example, The Gottman Institute has a helpful article on simple ways to promote closeness in your family.
5. Developing Good Habits
Habits shape our everyday lives and affect our health and happiness. Write a blog post to encourage people to consciously form good habits and maintain them over time.
A great example is a BetterUp article on building good habits and ditching bad ones. It includes the definition of a habit, the science of it, and mistakes to avoid.
6. Overcoming Fears
Having fears is natural, but getting over them can help someone become stronger and more confident. You can write blog posts on overcoming different fears, drawing from scientific research and your personal life.
For instance, Tony Robbins wrote an article on how to get over the fear of rejection, breaking the process down into six steps.
7. Routine Planning
Planning can help you complete more tasks and reduce procrastination. Help people use their time wisely by writing a blog post on planning routines. You can also provide a sneak peek at your own daily routine as an example.
A great post to inspire you is an article on the Ambition & Balance by Doist website detailing a guide on how to plan your day effectively.


Conclusion
If you want to create an interesting blog, it is crucial to provide valuable content covering a wide range of topics within your niche. Conduct proper research and present important information in simple-to-understand language.
If you're still confused about what blog post topics to cover, here are our final recommendations of the best blog posts suitable for any type of website:
Tips and tricks. Teach people various best practices that can help them accomplish their goals and achieve the best results.
Product recommendations. Help readers make informed purchasing decisions, letting them know the pros and cons of various products and whom they are suitable for.
Latest trends. Inform people about currently trending products or practices in your industry so they can stay up to date.
How-to guides. Provide a helpful tutorial and guide readers through the steps of a process using useful visual aids like images or videos.
Regardless of the type of blog you run, don't forget to keep looking for new blog post ideas and maintain high quality across all of your posts. Good luck.
Blog Post Ideas FAQ
This section will answer commonly asked questions surrounding blog content ideas.