How to Sell Online: Learn to Sell Items Online in 2023
If you are looking to learn how to sell online, you are not alone. The eCommerce industry is a lucrative and ever-growing market, significantly boosted by the COVID-19 pandemic. Naturally, the decrease in in-person activities has encouraged online shopping. With all the methods and platforms available to make money online, learning how to sell products online can be daunting.
Additionally, we will list the advantages of selling online, especially compared to selling products in a brick-and-mortar store.


How to Sell Online in 9 Steps
To help you out, we broke down how to sell online into nine easy steps:
1. Conduct Market Research
Market research refers to gathering background knowledge on the different aspects of the industry you want to start an online business in, such as its profitability, target market scope, and trends. This is a crucial step to complete before you start selling online.
Mainly, there are two types of market research:
Primary. You collect data via surveys, experiments, or interviews with the target market.
Secondary. This type includes gathering and analyzing publicly available data, for example, from government websites or research papers published by different companies and organizations.
When conducting market research, there are two main aspects to focus on: industry niches and competitors.
After deciding on an industry, conduct further research to decide on a niche to join. Doing so will help you create more effective online selling strategies and narrow down the competition. For example, if you're interested in the skincare industry, you could narrow it down by selling skincare products for men. Use tools such as Google Trends and Ahrefs Keyword Explorer to explore different keywords and their popularity. For example, this global Google Trends data for the search term "neck pillow" during the past 12 months shows people's interest in this product.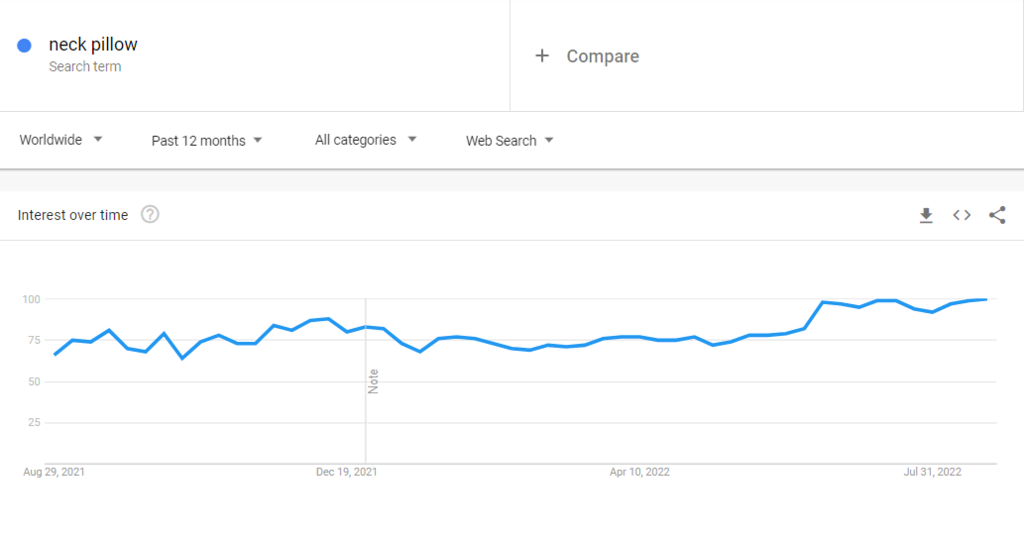 You also need to research fellow competitors in your chosen industry niche. Analyze their strengths and weaknesses, business strategies, and positions in the industry. Find out their unique qualities, products or services, pricing methods, and audiences they cater to.
Perform a similar analysis of your business idea and compare the results. This will further help determine if your business will have a fighting chance in the niche. Some useful tools to conduct competitive analysis include Semrush, iSpionage, and Sprout Social.
2. Determine Your Target Audience
Another important part of learning how to sell online is knowing who to target. Your target audience is the specific group of people within your target market who would most likely be interested in the products or services you offer.
Knowing your target audience will help you develop more effective and personalized marketing campaigns and build stronger relationships with your customers. A useful method for determining your target audience is creating personas with the information you gathered from market research. In marketing, a persona is a fictional character who represents a specific consumer type. It helps you determine your target audience's characteristics, needs and behaviors. Experts recommend marketers develop three to five personas.
When creating personas, consider the following factors:
Age
Gender
Location
Income
Education level
Job
Marital status
Interests
Media channels
In addition to determining who your target audience is, make sure to decide who your target customers are not to narrow down your target market further.
When your website is already up and running, use tools like Google Analytics to help gather data about your online store visitors and further improve the accuracy of your personas. Examples of this information include your traffic sources and most-viewed pages.
3. Choose What Items to Sell
To determine what items to begin selling, you should conduct product research. This will help you learn about the trending products in your industry and whether there is significant demand for the products you plan to sell.
There are many tools for performing product research. For example, you can browse numerous popular items in different product categories on eCommerce sites.
One of the best examples is Amazon, an online marketplace offering numerous features that show currently popular products.
For example, the eCommerce platform has an hourly updated Best Sellers page displaying the top performing items of each product category. Furthermore, its Movers and Shakers page – which is updated every 24 hours – shows the products that are the biggest gainers in terms of sale rank.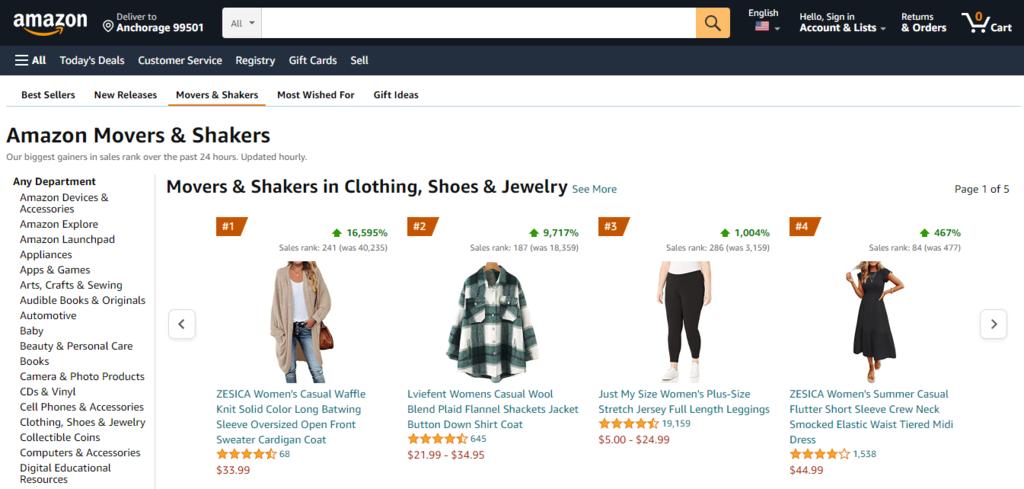 If you click on the Most Wished For tab, you can even check out the daily updated list of products people most often add to their wishlists and gift registries.
Another tool for researching products is a trend report website like Ecomhunt. It is a daily updated website that curates and displays new and popular products to sell.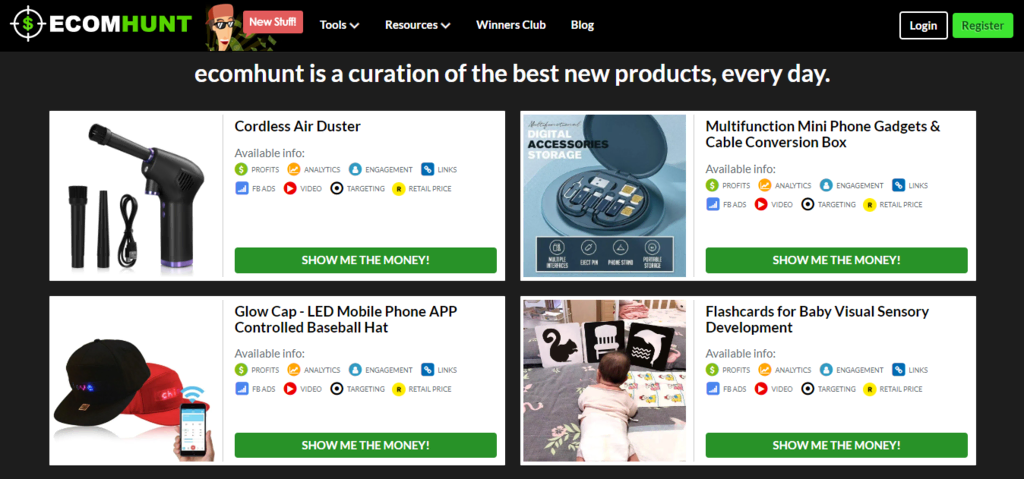 It also offers helpful information like product descriptions, costs, selling prices, and profit margins. Its Saturation Inspector also shows the level of market saturation and the number of stores selling the product.
Nowadays, many brands also use social media to interact with their customers and work with different influencers to market their products. As such, social media platforms can be excellent tools for researching popular products.
For example, you can look up hashtags on Twitter and Instagram or find niche communities on Facebook and Reddit. Observe how many people are talking about certain products as well as their attitudes toward them.
Additionally, once you have chosen a particular product to sell, use the Instant Product Evaluator Tool to evaluate the item's strengths and weaknesses.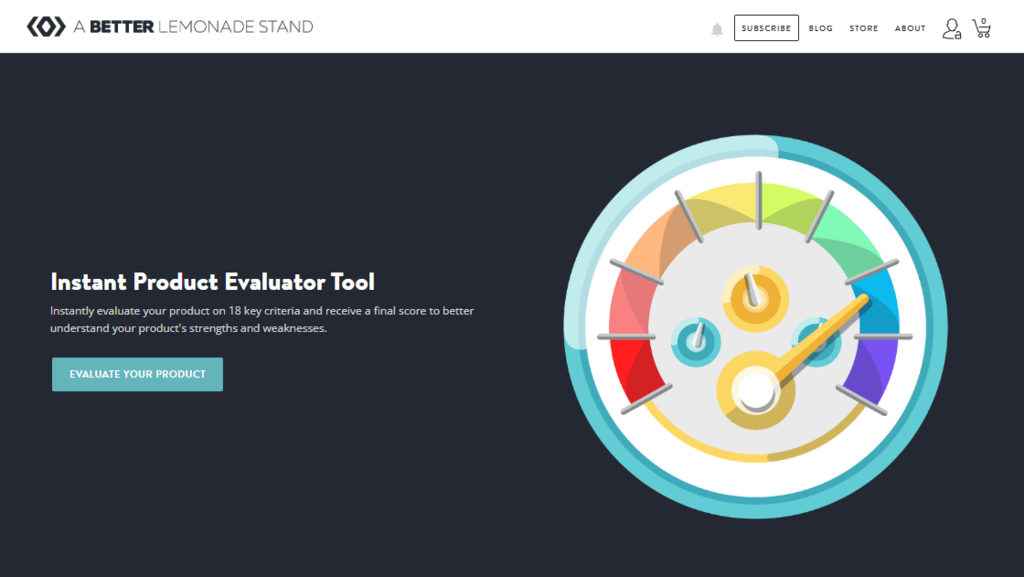 The tool will ask you several questions about the product to measure the profitability of your eCommerce business on a zero-to-100 scale. The score will also come with an explanation to help you understand the possible advantages and disadvantages of selling the product.
4. Select Your Sales Channels
A sales channel is a business's approach to selling products or services to customers. The online seller may adopt either a B2C or B2B business model.
The B2C model involves selling directly to customers through platforms like an online store or a mobile app. On the other hand, the B2B model uses intermediaries to reach customers, such as working together with resellers.
Numerous sales channels are available, and some businesses even sell things online via multiple websites or channels.
In this section, we will focus on three sales channels in the eCommerce industry: online stores, online marketplaces, and social media platforms.
Online Stores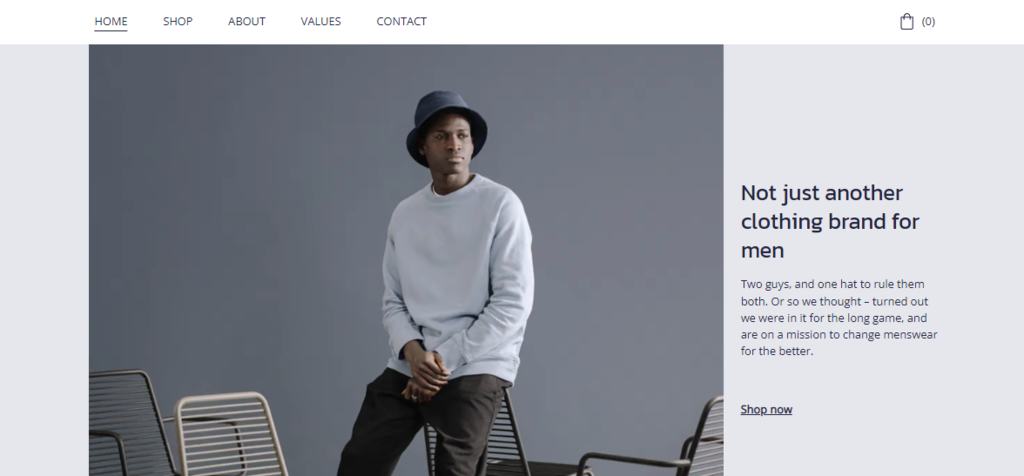 Starting an online store is a great way to sell products and services directly to customers. It is much more affordable than setting up a physical store and lets you sell online round the clock to a global market.
Creating your own eCommerce store lets you present a better first impression to potential customers. It increases your brand's credibility and makes you look more professional. Moreover, you can customize your own website to suit your brand's identity and have more control over your own store and its maintenance.
In today's digital age, not having a website for your business can be detrimental to your success. Research shows that up to 71% of small businesses have their own website.
This is why we recommend making an eCommerce website. The next steps in this tutorial will explain the basics of creating your own online store.
Online Marketplaces

Another popular way to offer products and services to online shoppers is by selling via popular marketplaces like Amazon, eBay, or Etsy. These online selling sites typically feature a wide range of products and a large number of sellers.
One of the benefits of selling on these marketplaces is their large customer base. You can get your products in front of many customers simply by listing a product on the eCommerce platform.
However, these online marketplaces will take a commission out of every sale. These websites also typically have strict rules sellers must follow, giving you limited control over your online storefront.
Social Media Platforms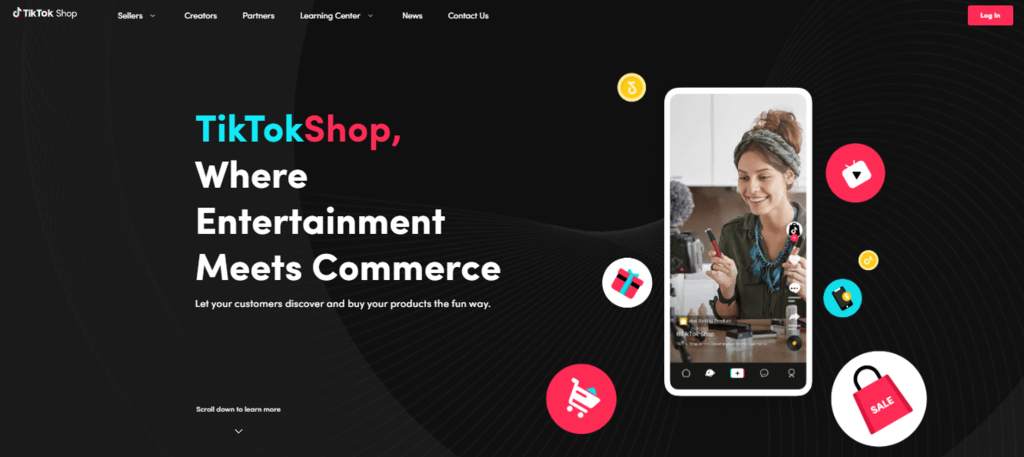 Similar to online marketplaces, selling on social media channels means showing your products to a large user base. Statistics show that up to 59% of the world's population uses social media.
Many social media websites already have built-in features that allow you to set up shops on their platforms and sell directly to customers. Examples include Facebook Marketplace and TikTok Shop.
5. Choose the Best Domain Name
A domain name is the web address people type into the browser when they want to access a website.
Choosing the right domain name for your site is important, as it may affect the success of your online business. You can buy domains using the help of a reliable domain registrar. Some web hosting providers, like Hostinger, also offer free domain names with their hosting plans.
Ideally, your domain name should match the name of your online business. Here are some tips to help you come up with the right domain name:
Create a short and memorable domain. Try to come up with a catchy name that is easy to pronounce and consists of around six to 14 characters. This will help people remember your website and access it easily.
Avoid using numbers and hyphens. Numbers and hyphens make a domain name harder to remember and increase the chances of typos. Stick to one word or a short phrase.
Pick .com if possible. Although there are many other options available, consider using .com since it is the most widely used domain extension.
Check for trademark infringement. Look up your desired brand name on trademark databases to avoid using a name someone else has already taken. Furthermore, avoid coming up with names that are similar to well-known brands.
Look up close alternatives. Consider purchasing similar variations of your domain name, so even if people mistype the URL, they will be redirected to your online store. For example, people who type fb.com will still be directed to Facebook.
Make sure the domain is future-proof. Come up with a name that will still look good in the long term. Avoid including words that will only be relevant during a certain period of time. For example, you shouldn't include years in your URL.
In addition, use a domain checker to check the availability of your chosen domain name. The tool can also suggest alternative domain name ideas if the one you want is already taken.
Domain Name Checker
Instantly check domain name availability.
Pro tip
Check out our guide for more tips on how to buy a domain name. It includes a step-by-step process for registering a domain and answers other related questions.
6. Make an Online Store
There are two main ways to create your own business website – using a website builder or a content management system (CMS).
A website builder provides you with all the tools you need to create websites easily without any coding experience. It typically offers a selection of pre-made templates users can choose and customize using its drag-and-drop functionality.
Website builders usually already come with a web hosting service, so you don't need to find your own web host. Some also come with a free domain name.
Examples of some popular website builders include Hostinger Website Builder, Wix, and Squarespace. We recommend using Hostinger Website Builder, as it comes with useful AI tools to help with numerous business and website-building tasks.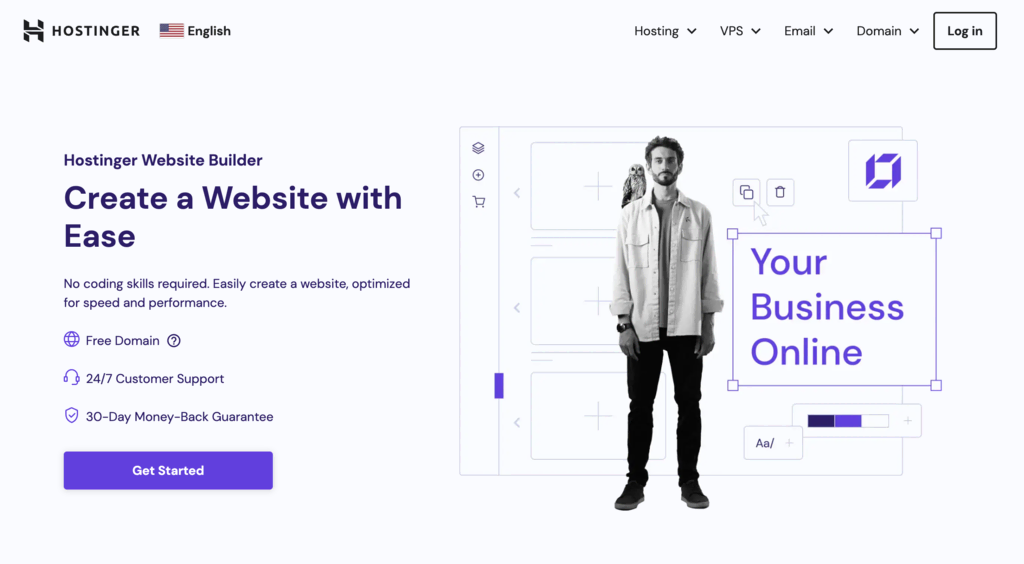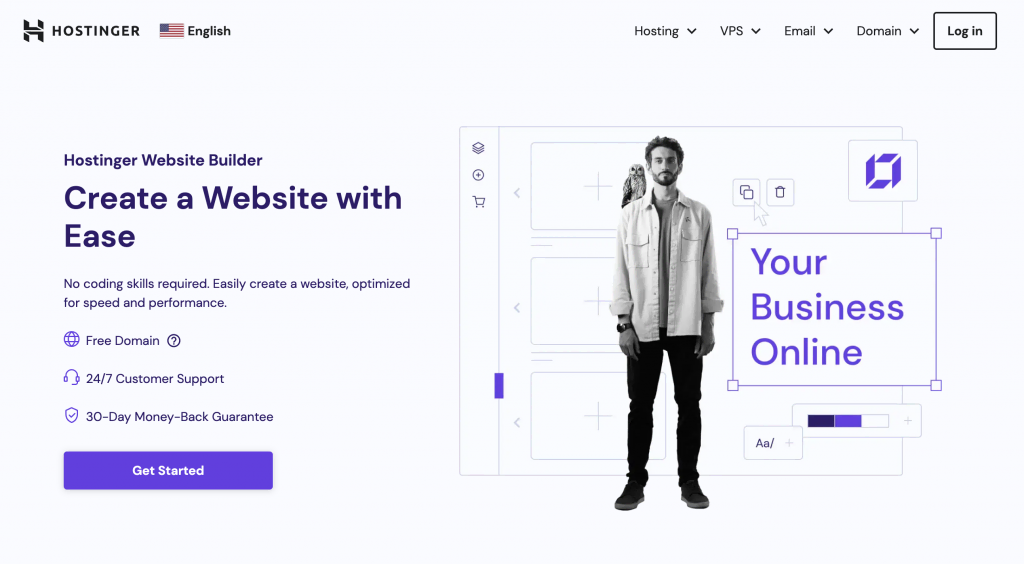 Here are the steps of how to make a website using a website builder:
Choose a template.
Customize your website design.
Add website content and products.
Set up payment and shipping.
Publish the site.
On the other hand, a CMS is software that runs in your browser and lets you create, edit, and publish content using a graphical user interface.
People also don't need coding knowledge to use a CMS, but it has a steeper learning curve compared to a website builder. Examples of CMSs include WordPress, Drupal, and Joomla. WordPress holds first place in terms of popularity, accounting for over 65% of the CMS market share as of January 2022.
The CMS itself is typically free and open-source, but you must purchase your own web hosting and domain name. You also have to handle website security, maintenance, and backups.
We recommend finding a web host that suits the CMS of your choice. For example, Hostinger has eCommerce hosting plans, including WordPress packages, specifically designed for online stores. Drupal, PrestaShop, and Joomla web hosting packages are also available if you prefer CMS-optimized plans.


Numerous free or premium themes and plugins are also available for various CMSs. For example, WordPress offers thousands of free themes and plugins through its official directories. You can even find many premium options on third-party websites.
One of the most popular WordPress plugins is WooCommerce which lets users turn an existing website into an online store.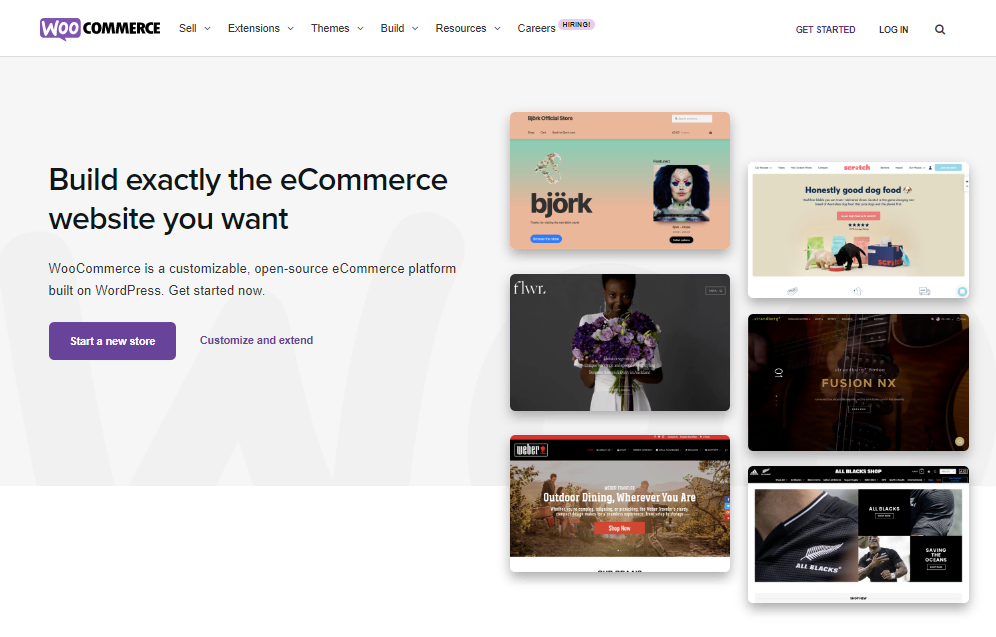 The following are the basic steps on how to create an online store using WooCommerce:
Set up your web hosting with the help of a web hosting provider.
Choose, purchase, and register a domain name.
Install WordPress using the one-click installer provided by your web host.
Add essential pages and customize the website design.
Install the WooCommerce plugin.
Run the WooCommerce setup wizard and follow the steps.
Publish your website.
To further help you decide between the two options, check out the following infographic comparing the various aspects of the WordPress CMS and a website builder.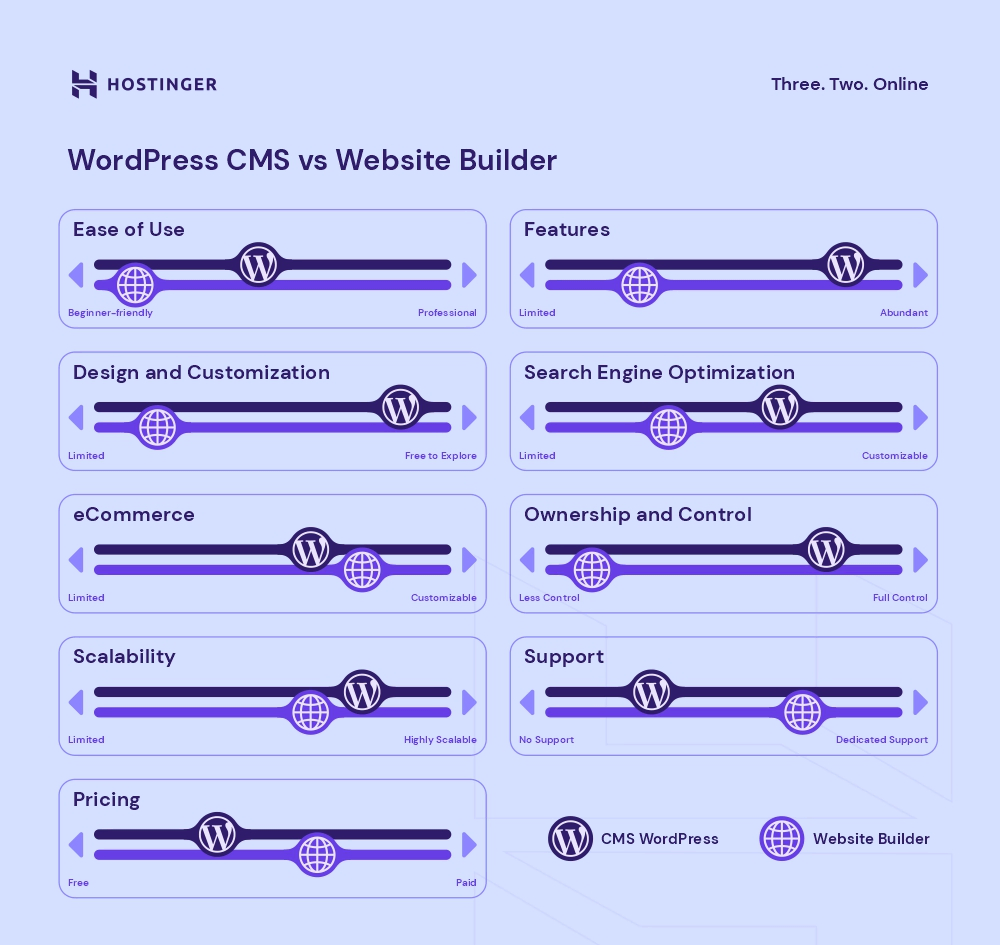 7. Configure Payment Options
There are two main types of payment processing: on-site and off-site.
On-site means the customer will be directed to a third-party payment processor's site to complete their purchase. Many small businesses opt for this option because it's easy to set up. Payment-related security and privacy protocols also become the payment processor's responsibility. However, customers must leave your site to finish their transactions.
On the other hand, off-site means your customers can enjoy a smoother checkout experience without having to leave your online store. This method gives you more control but may also be more expensive and require more work.
For example, you will need a business bank account, an SSL certificate, and a payment gateway. In addition, you also need to become PCI compliant. Due to its complexity, this option is more suitable for bigger businesses generating lots of online sales.
It is good practice to provide several payment methods for customers. The more methods your online store accepts, the better. Here are some popular ones you can offer:
Credit and debit cards
PayPal
Digital wallet solutions like Amazon Pay, Google Pay, or Apple Pay
Bank transfers
Cryptocurrency
In addition, consider the following factors when looking for payment service providers for your store:
Fees. Conduct proper research to find out how much the provider charges for its sign-up, monthly, and transaction fees.
Holding period. To account for refunds or chargebacks, the payment provider will typically hold the money the customer paid for a few days before sending it to your account. The period may vary across different providers, from a day up to a week.
Country and currency support. Find out what countries and currencies the payment provider supports. This is particularly important for businesses selling to an international market.
Recurring payments. If your business is subscription-based, choose a provider that supports recurring billing. This typically includes features like saving customer information for future payments and automatically charging cards on pre-determined dates.
Mobile payment support. As many people shop online using their mobile devices, you should choose a payment service provider that supports mobile payments.
8. Select Your Shipping Options
Unless you're only selling digital products, shipping will be a very important part of running your online business. Choose which shipping carriers to use and decide how much to charge customers for delivering the products they ordered. Some popular shipping carriers include USPS, FedEx, UPS, and DHL.
Remember that balance is key. A shipping fee that is too expensive will drive customers away. However, you also don't want to undercharge shipping fees and lose money in the process. The more shipping methods you offer, the more you can help increase conversions and reduce shopping cart abandonment.
With this in mind, here are some of the most popular shipping options an eCommerce website can offer:
Free. The business will pay the shipping fee instead of the customer. Businesses typically offer this as a method of incentive marketing, such as only providing free shipping once a customer's order reaches a pre-determined price threshold.
Flat rate. Customers only need to pay a fixed shipping fee as long as the package fits into a box of a specific size as determined by the carrier. It doesn't matter how heavy the box is – the fee stays the same if the package fits in it.
Real-time rate. The carrier automatically calculates the shipping fee while the customer puts their order together. The calculation is done based on the items' dimensions and the customer's location.
Expedited. This type of shipping is faster than a standard one, although the exact turnaround may differ across shipping carriers.
Same day. With this shipping option, the customer will receive the product the day they purchase it.
Overnight. This method guarantees customers will receive the product the next business day after making their purchase.
Local. This can be a great option for small businesses just starting out. You can limit deliveries to certain areas or within a specific radius. Additionally, offering customers the option to pick up the products themselves may also be a great idea.
International. If you want to target the global market, offering international shipping is a must. In addition to being more difficult and expensive than local shipping, there are more details to consider, such as customs declarations, taxes, duties, and tariffs.
9. Market Your Products
To sell online successfully, employ eCommerce marketing strategies to help customers discover your products.
This section will discuss some methods you can use to spread the word about your new online business.
Social Media Marketing
Being active on social media platforms is a great way to reach out to prospective customers. Many brands create accounts on various platforms and market their products by creating interesting content, posting regularly, and interacting with followers. These platforms also have features designed to help businesses market products and services.Instagram, for example, offers Instagram for Business which has useful features like Instagram Shopping, Stories, Branded Content, and Reels. Facebook and Instagram also offer Ads Manager – a tool for businesses interested in paid advertising. It lets business owners create and run online ads designed for multiple platforms via desktop or mobile devices. Keep in mind that different demographics frequent different social platforms. For example, Facebook's largest age group comprises people aged 25 to 34, while TikTok is more popular among people aged 10 to 19.
Influencer Collaboration
Another way to promote the products you sell online is by working with influencers. Partner up with these public figures on different platforms to market your products to their loyal audience. Offer to pay them commission fees or send free products for them to review. If you have the budget for it, try setting up a long-term partnership with these influencers by having them become brand ambassadors. You can also reach out to bloggers and offer them special referral links to include in their blog posts. Whenever a customer makes a purchase by clicking on the link, the blogger will get a cut out of the sale.
Search Engine Optimization
Optimizing website content for search engines is one of the most important aspects of digital marketing. The better you optimize content, the higher your website will rank on search engine results pages. This increases visibility and drives traffic to your online store. There are many search engine optimization (SEO) techniques you can implement. Examples include implementing keywords, optimizing images, using internal linking, and structuring your content with headings. Making sure your eCommerce site is mobile-friendly and has a quick load time is also important.
Email Newsletters
Send out emails regularly to your customers or email subscribers to keep your brand at the forefront of their minds. The emails should be fun and interesting to read but also contain relevant updates about your store, informing people about new products or promotional sales. Use tools like Mailchimp or Constant Contact to automate the email marketing process. Make sure they are not too lengthy and include visually attractive photos or graphics to break up blocks of text. Creating personalized emails that address the customers by name will also help develop trust between you and your customers.
Remember not to send emails too often, as people might get annoyed. Stick to once a month or every few months, except for special events like the highly-anticipated restocking of a beloved product.
Contests and Giveaways
Holding out contests and giveaways is a great way to generate buzz about your brand and familiarize people with your products. Set up fun quizzes or have people participate in challenges on various social media platforms. Some examples of great tools for creating contests or giveaways are Woorise and SweepWidget. Set up specific conditions they must fulfill to participate in the contest or giveaway. For example, ask them to like or share your social media post using certain hashtags. Make sure to state how you will choose the winner – whether by counting metrics like views and likes or using a random name picker. Afterward, publicize the winners on your site and social media platforms.
Benefits of Selling Online
There are many advantages to starting and maintaining a business online as opposed to an offline one. The following are some benefits people who sell online get to enjoy.
Flexible Schedule
eCommerce offers flexibility for both customers and sellers. Unlike offline stores, online shops aren't limited to certain operating hours. Merchants can sell online round the clock, and customers can shop whenever they want.
Starting Out Is Inexpensive
One of the biggest advantages of selling online is that it is much more affordable compared to selling offline. You get to save money on various expenses that usually come with setting up and maintaining a brick-and-mortar store. Examples include having to pay for rent, electricity, and heating. You can even start a dropshipping business if you don't want to rent warehouses and manage inventory. Alternatively, you can also sell used items already in your possession.
Wider Customer Reach
With physical storefronts, you are essentially selling from one place. Even if you open up a few storefronts, you are still limited to their geographical areas. On the other hand, selling online means small businesses can market their products to the global market.
Easily Trackable Analytics
Many eCommerce platforms have built-in business analytics tools that automate the process of gathering and analyzing information like sales, page views, and customer behavior. This makes it a lot easier for businesses to grow as they can use the data collected by the eCommerce software to improve sales and marketing strategies. For example, a small business owner can use the data to predict product demand and avoid overstocking or understocking a certain item.
Conclusion
Before you start selling online, conduct market research on your industry, niche, and fellow competitors. Then create marketing personas and determine the demographics you plan to sell products to. You also need to do some product research to choose the kind of items you want to sell online.
You can use many sales channels to start selling products online, including online shops, eCommerce platforms, and social media sites. However, we recommend building your own web store using a CMS or a website builder to help establish your brand.
If you choose to create your own eCommerce website, make sure to choose a domain name that is catchy, memorable, and representative of your business. Don't forget to set up payment and shipping before publishing the store. Afterward, use various strategies to promote products to potential customers, as marketing is an integral part of running a successful business.
We hope this article has helped you learn more about how to sell online. Good luck on your eCommerce journey.
How to Sell Online FAQ
This section will answer some commonly asked questions about how to sell products online.
How Can I Sell Products Online Safely?
Ensure that you verify the identity of buyers, use a reputable payment gateway, and encrypt customer data. Additionally, implement measures to prevent fraud, such as requiring strong passwords and two-factor authentication, and provide clear terms and conditions.