How to Sell Online Successfully in 10 Steps and the Best Practices to Make Profit Right Away
eCommerce offers an opportunity to quickly establish an online business and make a profit.
As of 2023, it is estimated that approximately 20% of all retail purchases are online. This significantly influences eCommerce sales, which are forecasted to increase by around 10%.
Building a profitable business from scratch and staying ahead of the competition requires time and effort. The process includes identifying a profitable niche, targeting the right audience, and continuously promoting your business.
In this article, we will share 10 steps on how to sell online effectively. You will also learn several practices to ensure the profitability of your online store website, from creating a consistent brand image to conducting thorough market research.


1. Find a Niche
A niche is a specialized market segment that addresses a target audience's needs and preferences.
By pinpointing and focusing on a niche, online businesses can establish their expertise in a particular field, distinguish themselves from competitors, and effectively engage with potential consumers.
Here are five strategies to help you find a fitting niche for a profitable business online:
Identify Your Interests and Expertise
Reflect and list hobbies, skills, and subjects you are passionate about. A niche that aligns with your interests and expertise helps bolster your productivity and enhances customer experience. Additionally, it provides a solid foundation for your selected niche.
Research Market Trends
Conduct thorough market research to determine the demand for products in your chosen niche. Online marketplaces, website forums, and social media platforms are excellent sources for insights on your chosen subjects.
Perform a Competitive Analysis
Understanding the competition level in your chosen niche is crucial. Examine existing businesses within your niche and identify your unique selling points. This analysis can also help you understand the possible challenges and opportunities.
Keep Up with Industry Trends
It is important to stay up-to-date with the latest trends and developments. For instance, subscribe to industry-related newsletters, read relevant blogs, and follow experts in the field. Therefore, you can spot emerging trends and prepare for new challenges.
Explore Sub-Niches
Consider segmenting your main niche into smaller subdivisions and exploring specialized areas with less competition. This can help you stand out from larger competitors and reach new customers.
2. Choose Your Target Audience
A target audience is individuals most inclined to purchase a business's products. Identifying a target audience lets you customize your eCommerce marketing strategies, product lineup, and customer service. This helps establish a strong relationship and trust with potential customers.
To effectively select your target audience, implement the following steps:
Conduct Audience Research
Audience research helps you understand their buying behaviors and interact with them effectively. You can utilize online platforms, such as website forums and social media sites, to discover communities or groups relevant to your niche.
Perform Keyword Research
Keyword research offers insights into what people are searching for online. Use tools like Semrush, Google Trends, and Ahrefs to identify trending search terms associated with your niche.
Create Buyer Personas
Crafting buyer personas involves understanding the traits, preferences, and needs of individuals interested in your products. You can conduct surveys to understand the demographic data of your target audience, such as age, gender, location, and income level.
3. Determine Profitable Products to Sell
Choosing suitable products for your eCommerce store is vital, as it sets the foundation for your online business's long-term success. Once you have defined your niche and target audience, implement the following methods to select which products to sell:
Identify and Address Customer Pain Points
A pain point represents a problem or challenge your potential customers encounter. By recognizing these pain points, you can offer a fitting solution through your product.
You can identify their pain points via surveys, social media interactions, and direct customer engagement.
For instance, you are a software developer planning to create an application for office workers. After research, you find their main challenge is time management. It can be your chance to offer a solution for their issue, such as selling digital planner or time management software.
Analyze Customer Reviews of Existing Products
Customer feedback offers valuable insights into a product's strengths and weaknesses. To study customer reviews, search for your competitors' top-selling products and examine positive and negative customer feedback.
Positive reviews provide information about product quality, customer service, and specific features. Meanwhile, negative reviews pinpoint areas where the product falls short. Both review types can help you offer a superior product.
Research High-Profit Margin Products
Profit margins reflect your business's financial health, representing earnings after deducting production and shipping costs. A wider gap between selling price and production costs results in a higher profit margin.
You can start evaluating the production costs of trending products within your target market. This includes direct costs like raw materials, shipping, and labor, along with indirect expenses such as rent and utilities.
Validate Product Concept
Verifying your product concept before a full-scale launch helps minimize failure, estimate market demand, and better understand your customers. The process can involve creating a minimum viable product (MVP), offering pre-sales, or conducting customer interviews.
For example, if you develop a financial tracking application, launching a beta version can help gauge its potential within your niche.
Stay Up-To-Date With the Latest Online Marketplace Trends
Keeping up with current trends lets you anticipate customer needs and adjust your products accordingly. Trend-tracking tools like Semrush Trends, BuzzSumo, and Google Trends can help identify the latest trending topics in your industry.
4. Create a Professional Online Business Name
Selecting an engaging and professional business name is key to setting up your online presence. It differentiates your online store and attracts customers to find out more about it.
A professional business name helps build your brand identity and reflect your business model and values. Including keywords related to your product in the name aids your search engine optimization (SEO) efforts, so prospective customers will find you more easily.
In this section, we will guide you through the process of creating a strong business name:
Brainstorm Business Name Ideas
It is important to clearly understand your brand missions or objectives, as it will help you craft a business name that aligns with your brand identity. You can define your brand's values, mission, target audience, and unique selling propositions.
After that, write down a list of words, phrases, and concepts related to your brand. You can also include relevant keywords from your product and brand attributes.
Keep It Simple and Original
Aim for a short and unique business name, but ensure it reflects your brand identity. It is important to have a name that is easy to pronounce and spell to improve its memorability.
Avoid complex or lengthy names that might confuse customers. We also recommend thoroughly researching your competitors' business names to avoid similarities or potential trademark conflicts.
Check Domain Availability
After narrowing down potential business names, check their availability as domain names. Incorporating your business name as a domain name adds credibility to your online store, making it easier for people to find your eCommerce business.
Fortunately, Hostinger offers a domain name search tool that lets you purchase a domain name and check its availability.
Domain Name Checker
Instantly check domain name availability.
If the preferred domain name is already taken, our domain name search will suggest various domain extensions. We offer hundreds of top-level domains (TLDs), starting at $0.99/year, including .online, .shop, .net, and .com.
Hostinger also provides free domain privacy protection to keep your information confidential. If you encounter difficulty registering your domain name, our dedicated live technical support team is always ready to assist you.
5. Select an eCommerce Platform
A suitable eCommerce platform lets you manage your online store, promote products, and process payments. When choosing an eCommerce platform, consider the following aspects:
Ease of use. Look for a platform with a user-friendly and intuitive interface for seamless setup and management of your online store.
Customizability. Select a platform that lets you modify eCommerce store elements, such as the product listing page and design template.
Reliable payment gateway. The platform must integrate with reliable payment processing gateways, like PayPal, Stripe, and Square, to enable easy and secure online payments for customers.
Scalability. Choose a platform that scales with your business, letting you effortlessly add more products, features, and functionality to your online store.
Technical support. The platform should have reliable technical support to assist you when your eCommerce store experiences issues like cyber attacks, performance slowdowns, and unexpected human errors.
To help you find the right eCommerce platforms, we recommend choosing one or a combination of the following three options:
How to Sell Online with Your Own Website
Building your own eCommerce website gives you full control over your online store. For instance, you can design the product page with a custom template and add a knowledge base page for your product.
Content management systems (CMS) and website builders are popular platforms for creating online stores. The main difference between these two platforms is their usability.
CMS platforms like WordPress offer full customization at the cost of a steep learning curve. Meanwhile, website builders simplify the website creation process with the help of a user-friendly interface and an intuitive drag-and-drop editor.
You can purchase Hostinger's Website Builder & Web Hosting plan for $2.99/month and start building your eCommerce website without hassle. The plan already includes web hosting and a free domain, so you don't need to purchase them separately.
Our website builder is AI-integrated, meaning you can set up an online store with just a few clicks.
It provides over 150 designer-made eCommerce templates that are responsive and mobile-friendly. It also features a store manager where you can control your products, create categories, and manage transactions.


How to Sell Online Using Social Media
Social media services, such as Instagram, Pinterest, and Facebook, offer built-in eCommerce features that enable users to sell products from their platforms.
It can be your ideal solution if you have a strong social media presence or your target audience is highly active on specific platforms.
For example, Instagram Shopping lets users discover and explore products via the View Shop button on your account page. It also has product detail pages (PDPs) that display information like product descriptions, pricing, and product tags.
However, keep in mind that customization options might be limited compared to having your own eCommerce site.
How to Sell via an Online Marketplace
Major online marketplaces like eBay, Amazon, and Etsy provide a ready-to-use store for listing and selling products online. These eCommerce platforms offer high visibility and access to a vast customer base.
For example, you want to sell products on Amazon. First, register an account by opting for either Amazon's Individual or Professional plan.
Next, upload and submit the required documents, including your bank account details, government-issued national ID, and tax information.
Once the registration is complete, you can access the Amazon Seller Central account. This account lets you list your products, add descriptions, and manage inventory.
6. Build an Online Store
Creating an online store is a fun and challenging process as you must ensure the website is visually appealing, responsive, and reflects your brand identity. In this section, we will guide you through making an eCommerce website with Hostinger Website Builder.
Creating the Website
You must build a website before using Hostinger Website Builder's eCommerce features. Here are the steps:
Log in to your Hostinger account and navigate to the Websites section.
Click the Create or migrate a website button to launch the setup wizard.
There will be a selection of website types. Choose the Online store option.
Select the Hostinger Builder with AI option on the Choose a Platform page.
Choose a domain to connect with Hostinger Website Builder and click Select.
On the AI Website Builder setup wizard, click Or, use the pre-made template button.
Select a suitable template from the available options. For example, we will choose the eCommerce website template called Feyer.
Click Start Building to use the template.
Setting Up the Online Store
Once you have created a website, follow the steps below to set up the online store:
From the website builder editor, click the Online store button on the screen's top-left corner.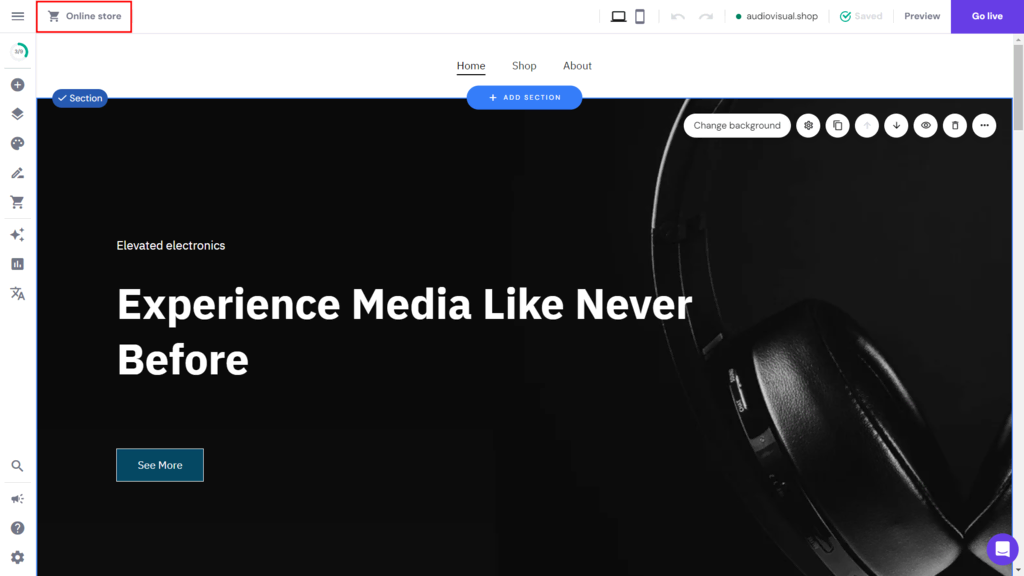 Type an eCommerce store name on the required field. We recommend using your business name, which will be displayed on your site and invoices.
Select the store country and currency.
Click Continue to finish the process.
7. Add Products to Your Store
After building your eCommerce store, the next step is to add your products. We will go over the steps for adding products via Hostinger Website Builder:
From the Store Manager dashboard, navigate to Products.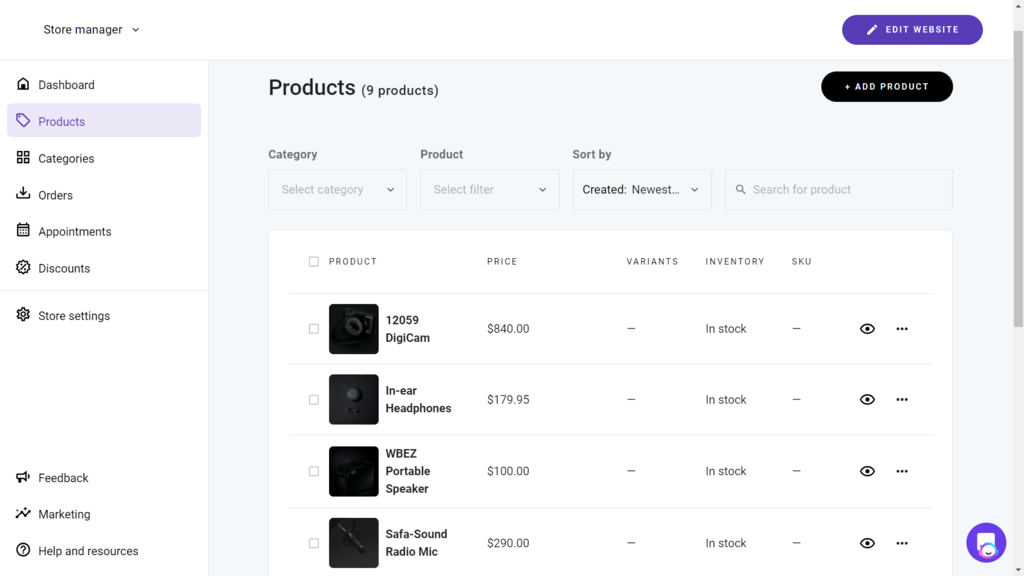 Click Add Products and choose the type of product to add. You can choose from physical, service, or digital products. For example, we will select the Physical type.
Drag and drop or upload an image related to your product. Ensure the image format is JPG, SVG, PNG, or WEBP. The file size shouldn't exceed 15 MB.
Type the product title in the Title section.
In the Description section, provide the product descriptions by highlighting aspects like size, color, features, and functions.
Add the product pricing, stock-keeping unit (SKU), and weight.
Enable the Track quantity option if the product has limited stocks.
Assign a relevant product category if you have multiple similar product types.
Save the changes by clicking the Save button.
To further optimize your product listings, consider implementing the following best practices:
Use high-quality product images. Capture high-resolution photos of your products from different angles. Also, use the same image dimensions and formats to maintain professional and consistent visuals.
Write product descriptions. Highlight unique features, benefits, and specifications of your products. Use persuasive language to entice potential customers and communicate the products' values.
Set competitive prices. Research your competitor's pricing to decide competitive prices for your products. Consider factors such as production costs and profit margins.
Implement SEO strategies. Include keywords in your product titles, descriptions, and meta tags. Make sure your product URLs are search engine friendly and contain relevant keywords.
Regularly update your product catalog. Add new products, manage the store inventory, and remove discontinued items. Keeping your product catalog up-to-date helps entice and retain customers.
8. Set Up Payment Gateways and Provide Shipping Options
To ensure smooth and secure transactions to your eCommerce storefront, it is important to set up multiple payment gateways and provide shipping options.
Setting Up Payment Gateways
When selecting payment gateways for your eCommerce business, there are several factors to consider:
Accepted payment methods. Offer payment methods your customers prefer, like debit or credit cards, digital wallets, or bank transfers.
Transaction fees. Compare transaction fees from different payment gateways. Take note of the percentage charged per transaction and any fixed costs associated with each payment method.
Security. Choose payment gateways that provide security features, such as SSL encryption, PCI compliance, and scam protection. They can protect your online store against fraudulent transactions and sensitive data theft.
Fortunately, Hostinger Website Builder provides multiple payment gateways, such as PayPal, Stripe, and manual payment options.
In this section, we will go over the steps to connect your online store with PayPal:
From the Store Manager Dashboard, go to Store settings.
Click Payment to see a list of payment methods, including PayPal.
Click the Connect button in the PayPal section.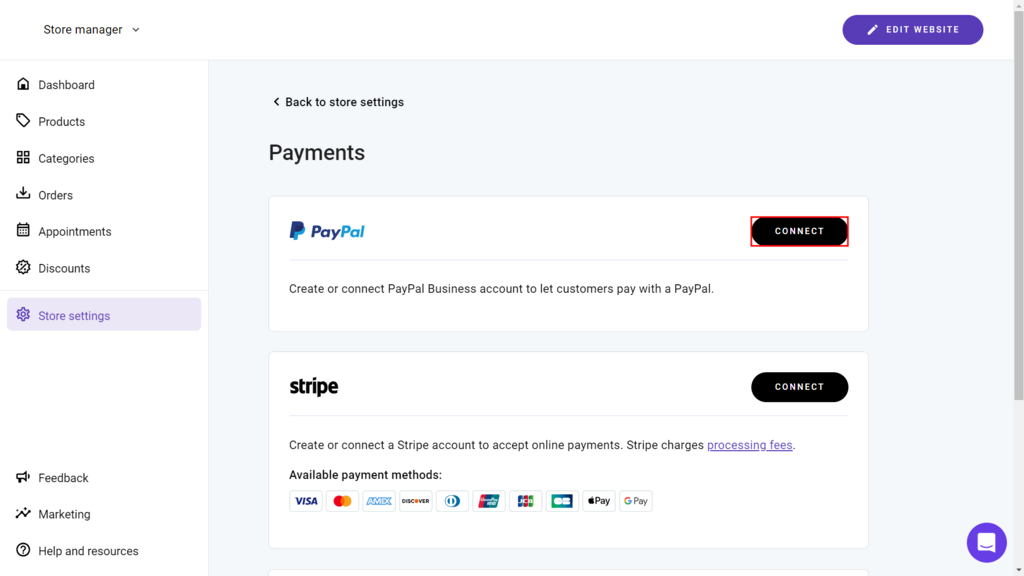 Log in to your PayPal account and follow the instructions.
To set up a manual payment method like bank transfer, follow these steps below:
Select the Manual payment option and click Add.
Name the manual payment method to show at checkout.
Enter the payment instructions, such as adding your bank account number.
Check the Enable manual payment method at checkout option.
Click Save to complete the setup.
Provide Shipping Options
There are factors to consider before choosing shipping options:
Customer expectations. Understand your customer's shipping expectations and preferences to improve their online shopping experience. Consider factors like delivery speed, package tracking, and flexible delivery options.
Product characteristics. Your products may need special handling and additional packaging. Choose a service that can accommodate your product shipping requirements.
Shipping costs. Evaluate shipping costs to maintain your profitability. Compare prices from different agencies by considering their rates, distances, and product weights.
The following are the steps to set up shipping options using Hostinger Website Builder:
From the Payment screen, go to Shipping.
Click Create Zone to add a shipping option.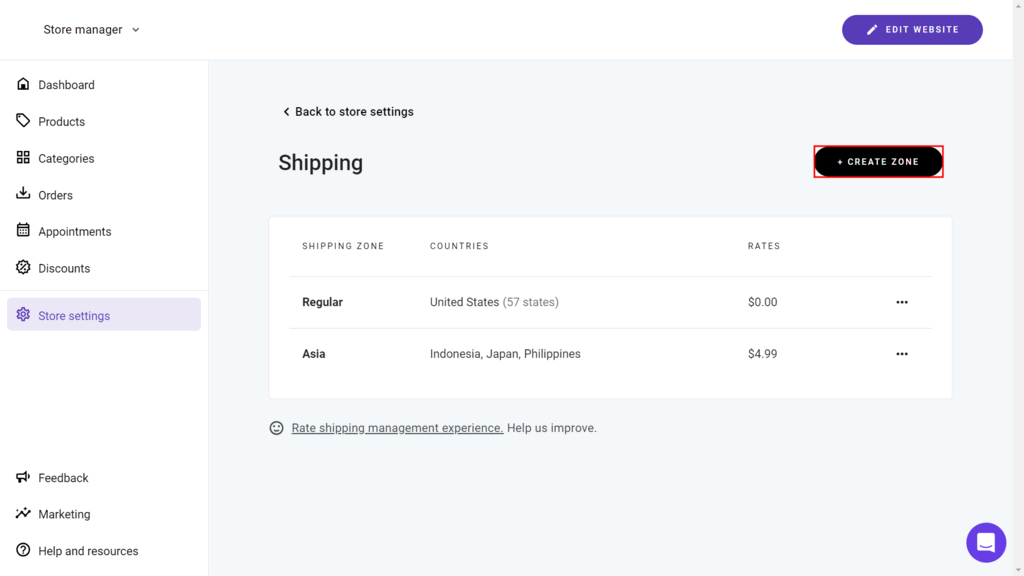 In the Edit shipping zone section, name the zone, select countries from the dropdown list, and click Save.
Click Add Option on the Shipping options section.
Name the shipping option. For instance, enter your shipping agency's name and set the shipping rate.
If you have special product condition types, enable the Add conditions option.
Save the changes.
You can add multiple shipping options to accommodate various customers.
9. Optimize Your Online Store
In this section, we will share several key strategies to optimize your eCommerce shop.
Perform On-Site Optimization
Implementing on-site optimization is an effective way to drive organic traffic and improve your business visibility. The optimization methods include keyword research and optimizing meta tags and URLs.
By researching keywords related to your product, you can find the best ones to target and increase the chances of the product appearing on search engine result pages (SERPs).
Use keyword research tools, such as Semrush or Ahrefs, to discover high-volume keywords with low competition.
It is important to create descriptive meta tags for each product page and include relevant keywords.
Additionally, ensure that each product page URL is user-friendly and representative of its content. For instance, https://visualaudio.shop/monitoring-headphones should redirect to the monitoring headphones product catalog.
It is possible to implement these on-site optimization strategies via Hostinger Website Builder.
Here are the steps:
From the website builder editor, click the Analytics button and select SEO.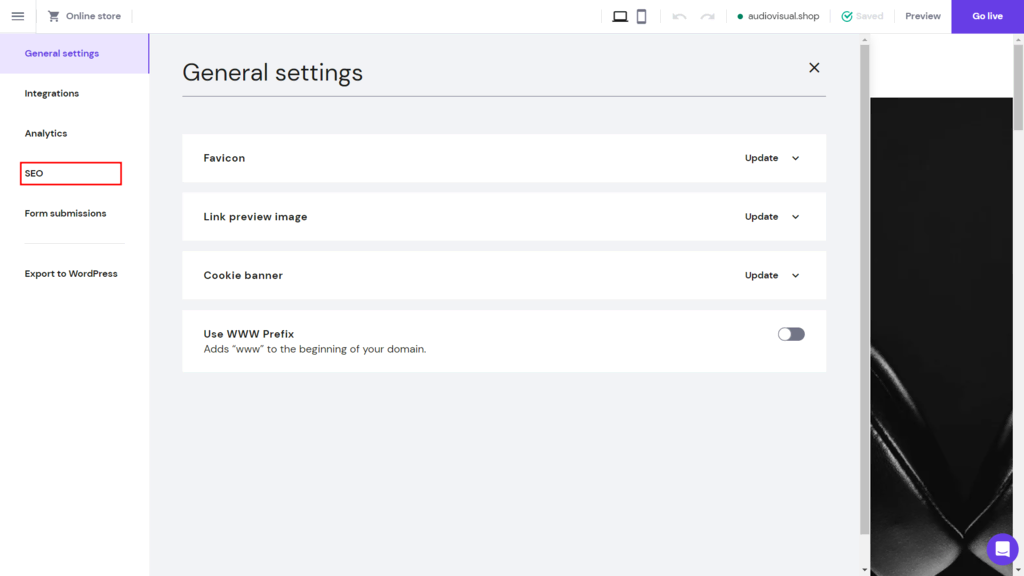 Enter your business name on the Business or brand name field and click Next Step.
Choose your website language and click Next Step. This helps your target audience – which speaks the chosen language – to easily find your site.
Provide a summary of your website and click Next Step. The description will help generate relevant keywords, SEO title, and meta descriptions.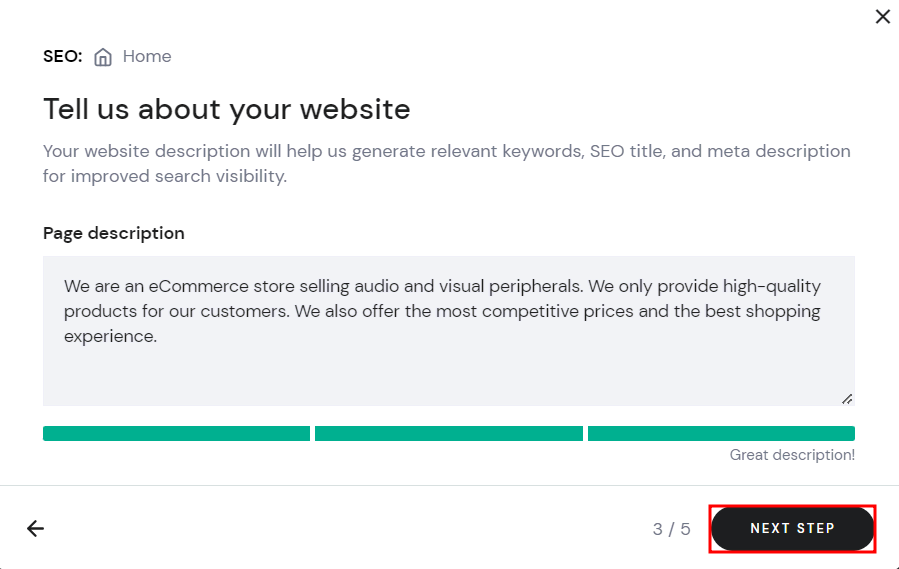 Select three keywords from the list and click Next Step.
Review the summary of your eCommerce store and click Finish.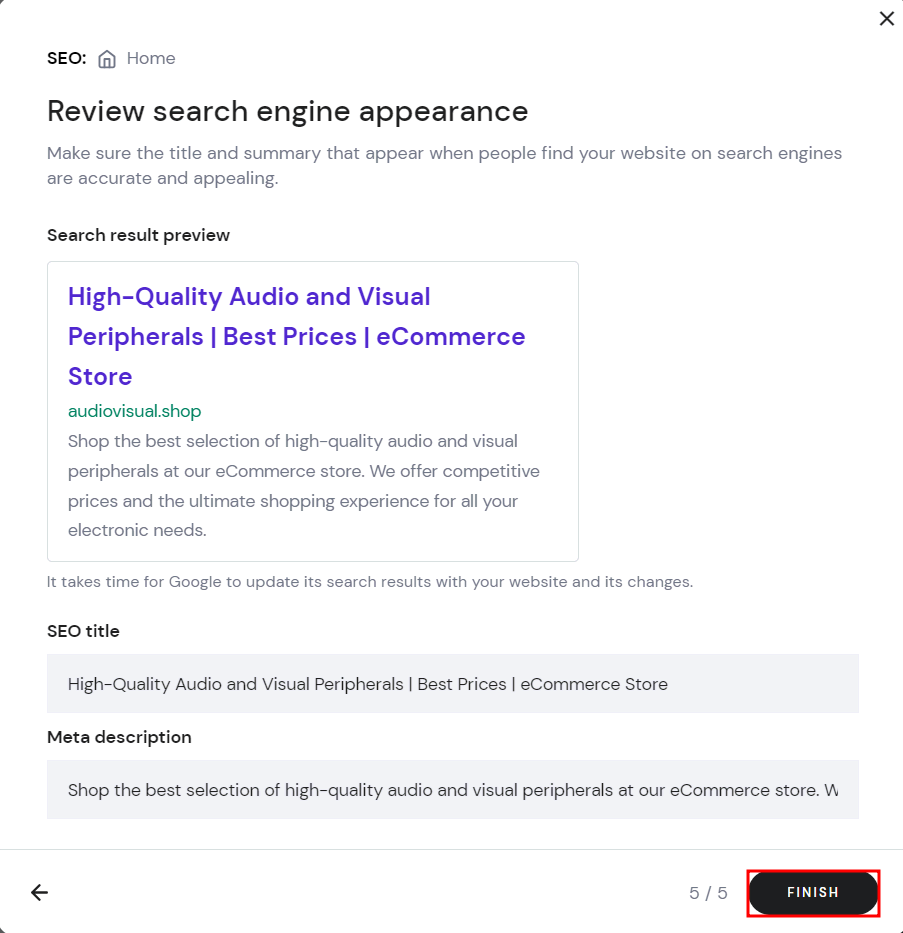 You can modify the SEO title, meta description, and keywords at any time. It is also possible to start the SEO setup by clicking the Redo SEO Setup button.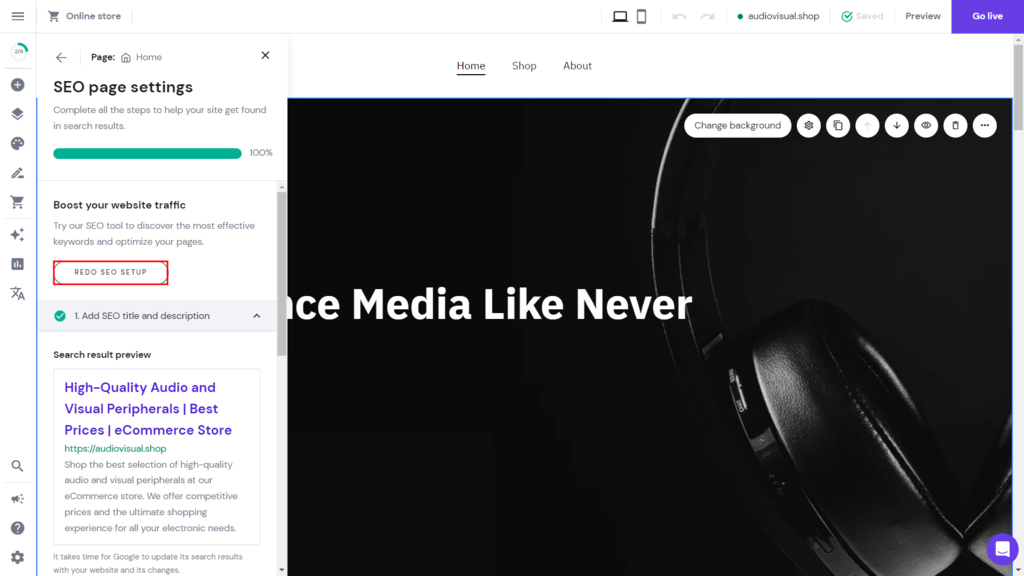 Optimize Your Website Structure and Navigation
A seamless browsing experience can lead to increased visitor engagement and conversions. Optimizing your website structure and navigation is a great way to ensure that users can easily find the products they are looking for.
Create well-arranged menus to categorize your products and make your website navigation more user-friendly. Avoid creating too many menu options, which can make the navigation menu look cluttered.
Implementing a search bar at the top of each page is another effective way to help visitors find specific items. Then, incorporate autocomplete suggestions and filtering options to personalize the search experience.
Make Your eCommerce Store Mobile Friendly
As the numbers of mobile users continuously increase, it is important to deliver a seamless mobile experience to reach more prospective customers and drive sales.
A responsive design eliminates the need for separate mobile and desktop versions and ensures your eCommerce site's compatibility with various screen sizes and resolutions.
Optimizing your store's loading speed for mobile devices is also crucial. Use strategies like image compression so that your site can load faster.
Hostinger Website Builder lets you check and customize your online store's mobile version. To do that, click the mobile phone icon to switch the view from desktop to mobile.
You can manually customize elements that don't fit with the mobile view. Alternatively, the Auto-fix layout feature can automatically adjust your website's element layouts.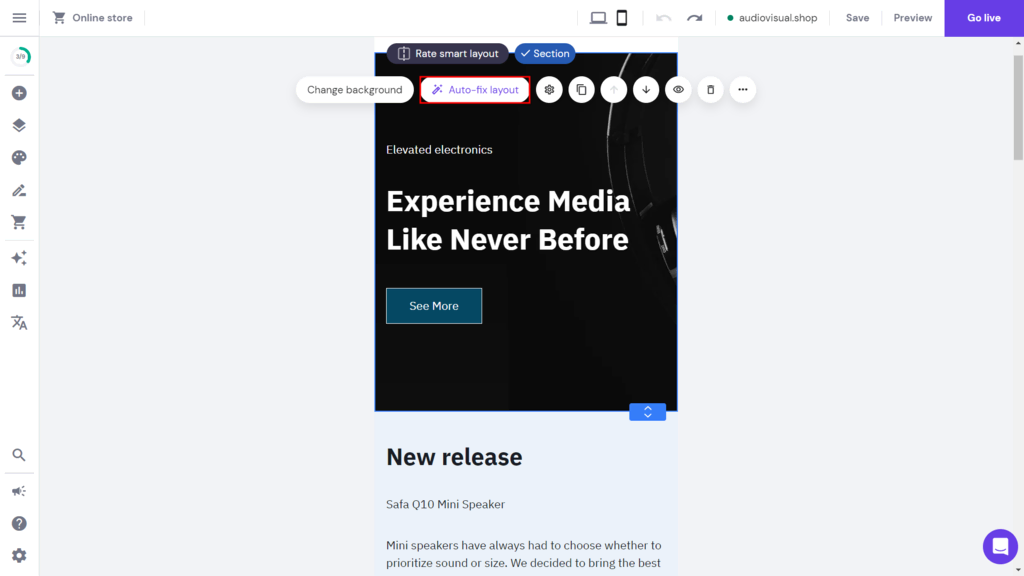 After customizing and optimizing your eCommerce site, it is time to make it live. With Hostinger Website Builder, simply click the Go Live button to make your website available online.
10. Promote Your Products
The next step is to promote your products to attract the target audience to visit your store. In this section, we will discuss several effective ways to showcase your eCommerce store's products.
Implement Social Media Marketing
Social media channels like Facebook, Instagram, Twitter, and Pinterest are powerful tools for promoting products and increasing conversions.
Implementing social media marketing starts with identifying where your target audience is most active. Therefore, you can determine the best marketing campaigns for each platform.
Craft compelling content to attract the attention of potential customers. For instance, post about product updates, behind-the-scenes production processes, and promotional events.
Consider running online ads on multiple social media platforms. Hostinger Website Builder has a feature that helps set up social media ads on platforms including Facebook, Instagram, TikTok, and Pinterest.
Additionally, it is important to monitor your social media campaign performance. Use social media analytics tools to analyze engagement rates, follower growth, and click-through rates (CTRs).
Launch an Email Marketing Campaign
Email marketing strategy helps promote products and nurture relationships with your audience. We will share several methods to launch a successful email marketing campaign.
Start by creating an email list for product updates or special offers. Consider offering incentives, such as exclusive content, discounts, or free resources to encourage visitors to subscribe to your mailing list.
Next, segment your email list based on demographics, purchase history, or engagement levels. This helps personalize your email campaign and deliver messages effectively to prospective customers.
Write compelling and enticing email subject lines to capture your subscribers' attention. After that, craft concise, engaging email content using appealing visuals and a clear call-to-action (CTA).


Best Practices to Make Profit When Selling Online
In addition to setting up an eCommerce store and selling items online, there are best practices that can help increase the chances of making money quickly.
Check the Regulations in Your Location
When selling products online, be aware of and comply with the regulations in your location, including requirements related to sales tax and business licenses.
For instance, if your eCommerce shop is based in New York and your customers are from different states or countries, you must know their sales tax obligations. Failure to comply with these regulations can lead to legal issues, penalties, and a damaged business reputation.
Start with Free Marketing
In the early stages of your online selling journey, we recommend using free marketing channels before investing in paid advertising. This can significantly help reduce upfront costs.
For instance, you can implement a content marketing technique by adding a blog page on your eCommerce website.
Regularly write and publish engaging content about your business and products. Also, incorporate relevant keywords into your articles to increase their visibility on search engines.
Establish Consistent Branding
Building a consistent brand identity across all marketing channels helps establish recognition and build trust with your target audience. A strong brand identity creates a memorable customer experience, increasing brand recognition and driving repeat purchases.
Suppose your brand is known for its vibrant color scheme and modern typography. Be sure to incorporate these elements consistently throughout your website, social media profiles, and advertisements.
Add High-Quality Photos and Product Details
Visual content plays a vital role in online shopping. We highly recommend utilizing high-quality product images to enhance engagement and conversions.
If you sell clothing or home decorations, it is important to invest in professional product photography. Capture your products from various angles and highlight important details with close-up shots.
Also, include comprehensive product descriptions that communicate its features, benefits, and specifications.
Conclusion
Selling products online brings unique benefits compared to having a brick-and-mortar store. It enables you to reach a global audience, significantly reduce operational costs, and generate profits more efficiently.
In this article, we have covered 10 crucial steps to establish a strong foundation for your online business. To recap, here are the steps on how to sell online:
Find a niche.
Choose your target audience.
Determine profitable products to sell.
Create a professional business name.
Select an eCommerce platform.
Build an online store.
Add products to your store.
Set up payment gateways and provide shipping options.
Optimize your online store.
Promote your products.
As you embark on your online selling journey, maintain a consistent brand identity, comply with online selling regulations, and provide high-quality products.
We hope this article has helped you understand the process of selling online. Good luck on your journey.
How to Sell Online FAQs
In this section, we will answer several commonly asked questions regarding how to sell online.
How Can I Sell Products Online Safely?
To ensure a secure online selling experience, implement eCommerce security practices. Use safe payment processing gateways, employ strong credentials, and regularly update your eCommerce store website with the latest security patches. This way, you can safeguard sensitive customer information, such as contact details and transaction history, from potential cyber threats.
What Is the Best Way to Sell Online?
One of the best ways to start selling online is by building an eCommerce site. It offers advanced customization options and lets you utilize various features. With Hostinger, you can effortlessly create a professional and user-friendly online storefront thanks to its integration with AI tools, including AI Website Builder, AI Writer, and AI Heatmap.
What Are the Rules for Selling Online?
It is crucial to know the rules and regulations of selling online. Familiarize yourself with consumer protection laws, sales tax obligations, and specific online business regulations applicable in your region. Understanding and following these rules will ensure a safe and legal online selling procedure.
What Are the Benefits of Selling Online?
There are various benefits of selling online. First, it lets you target specific online shoppers and sell your products across countries. Second, operating online storefronts is less costly than traditional brick-and-mortar stores. Third, an eCommerce store lets you track online sales and personalize customers' shopping experiences.