10 Best eCommerce Website Builders to Build Your Online Store In 2021
The first step to successfully launching an online store is choosing the right eCommerce platform. Once committed, it can be difficult to switch to another platform.
With a plethora of website builders available on the market, it may be difficult to pinpoint where to start.
Here's a comparison of the best eCommerce platforms suitable for any budget and size in 2021.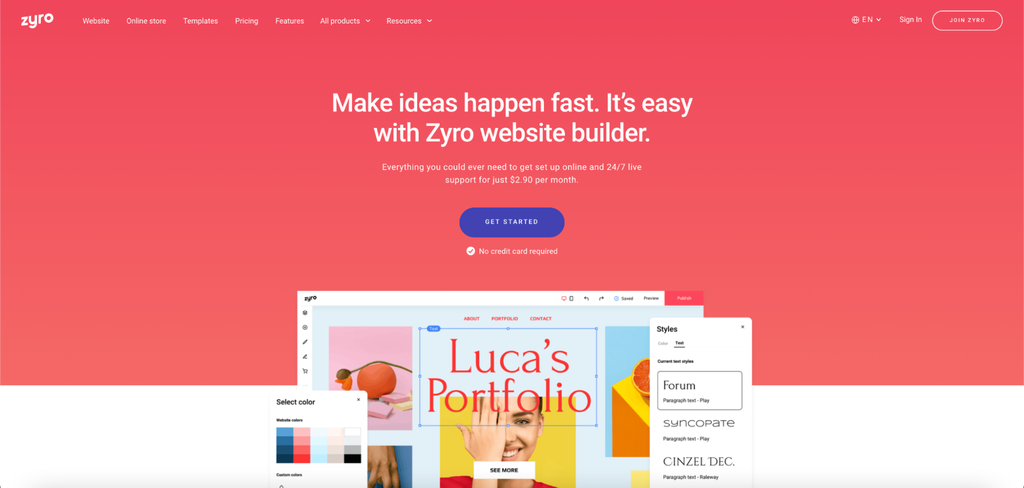 This easy-to-use eCommerce platform utilizes a drag-and-drop builder and an intuitive grid system, allowing you to set up a website in minutes. You can choose from dozens of free designer-made templates, which you can customize entirely to your liking.
Once the editing is done, Zyro allows its users to publish the website with a single button click. Notable eCommerce features include its ability to export products from your online store straight to other marketplaces such as Amazon, Facebook, and Instagram.
Sales are managed all in one place with Zyro's mobile-friendly central administration dashboard. Furthermore, Zyro doesn't charge additional transaction fees for your sales, and it includes an automated tax and shipping calculator to assist with invoices.
What sets Zyro apart from other eCommerce builders are the AI-driven tools.
For example, its AI heatmap tool assists in placing call-to-action and social media buttons in optimized locations for higher conversion rates.
Moreover, the AI content generator helps with creating SEO-friendly copy for product descriptions or blog posts.
Pros
Ease of use. Beginner-friendly and takes minutes to set up.
Best value for money. Feature-packed at the most cost-effective price.
No hidden fees. More money into your pocket so you could focus on your business alone.
Cons
Limited number of templates. Though the designs are beautiful, there aren't too many to choose from.
No phone support. While it offers 24/7 live chat support, those who prefer a more direct approach may be left disappointed.
Who Is Zyro Best For?
Zyro is one of the best platforms for eCommerce when working with small to medium-sized businesses that want a cost-effective and beginner-friendly builder that does not compromise on eCommerce features.
Pricing
Zyro offers two eCommerce tiers – eCommerce for $9.90/month and eCommerce Plus for $14.90/month.
The main difference between these plans is that eCommerce Plus has the added feature of abandoned cart recovery emails, product filters, multilingual sites, and the ability to export and sell on different online marketplaces.
All plans include fast hosting, SSL security, a free domain for a year, ample storage, and bandwidth.
While there is no official free trial, Zyro offers a 30-day money-back guarantee on all of its eCommerce builder plans.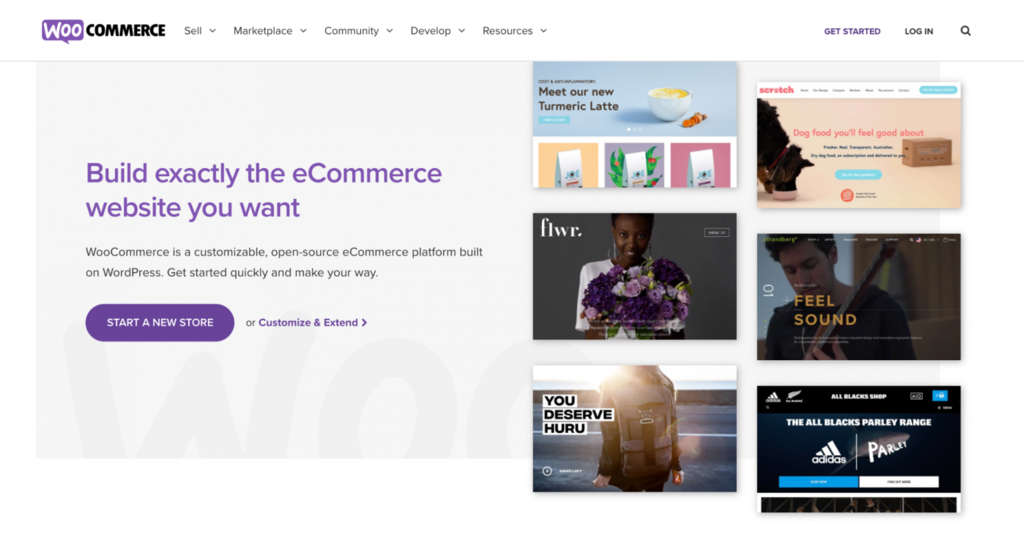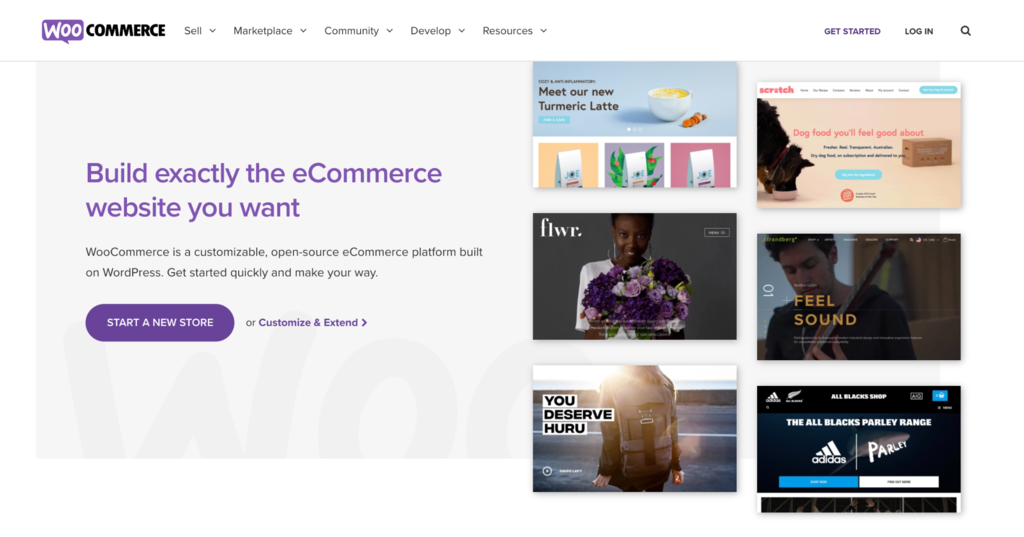 WooCommerce is a free, open-source eCommerce builder plugin available for WordPress sites. It's one of the most robust and powerful eCommerce platforms in the market.
To get started with WooCommerce, simply install the the plugin and start uploading your products and content on the platform. Thousands of themes are compatible with WooCommerce in the WordPress theme gallery and thousands more on theme sites such as Theme Forest.
Much like WordPress itself, WooCommerce is great for SEO. It allows you to add copy and meta titles to product descriptions for higher rankings on search engines.
Users can add more features to their online store by downloading WooCommerce plugins and extensions. The performance of your eCommerce website depends on how you configure WooCommerce to your needs.
Pros
Free. WooCommerce is an entirely free plugin for WordPress sites, making this platform one of the more cost-effective options available.
Flexibility. You have complete control over the look and feel of your website.
Ownership. Since WooCommerce is an open-source platform, you own every aspect of your store. WooCommerce also does not take any additional transaction fees.
Cons
Support lacking. WooCommerce does not provide phone or email support – it has a 24/7 live chat operated through a ticket system.
Steep learning curve. It may take some time to get used to the interface. However, WooCommerce provides clear instructions on how to get started.
Who Is WooCommerce Best For?
WooCommerce is one of the best eCommerce website builders for businesses that already have an online presence running on WordPress or small to medium-sized companies in general.
Pricing
WooCommerce is essentially free but also a self-hosted platform, meaning you have to set up web hosting, a domain name, and SSL security by yourself.
The core WooCommerce plugin is already robust enough for the needs of small businesses, and you can download plugins and extensions to expand functionality as you grow. These plugins range from a few to a few hundred dollars per month.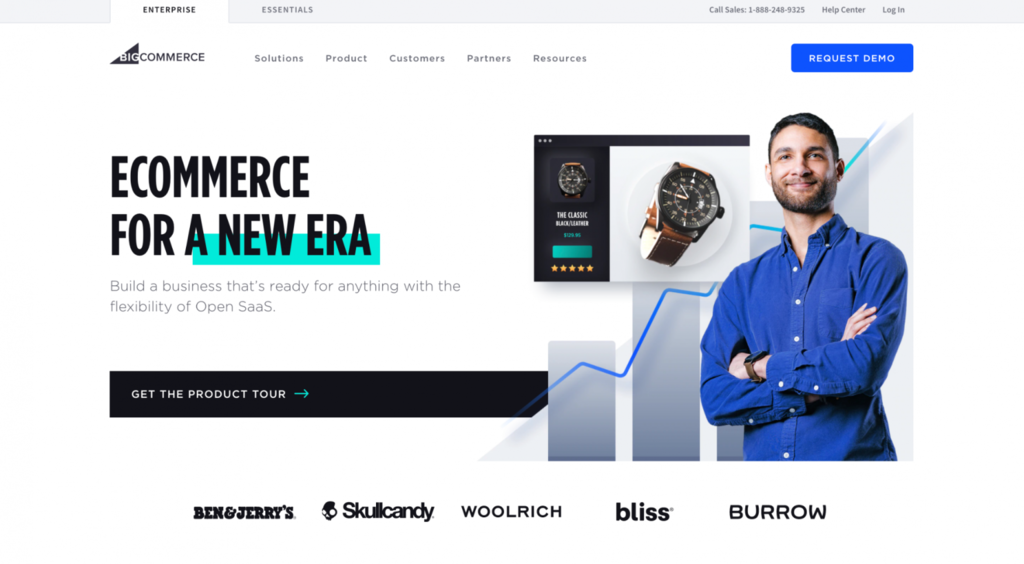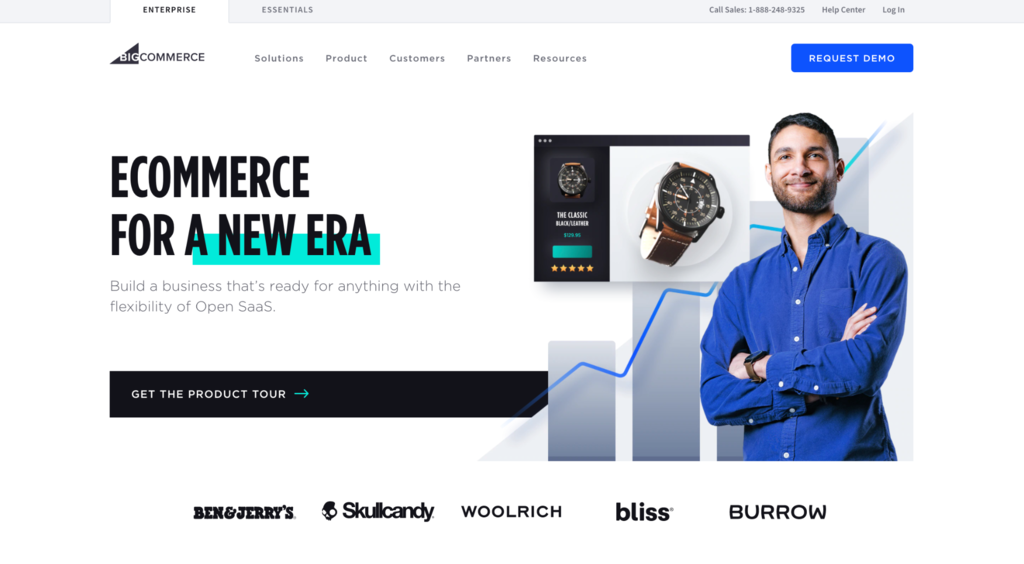 If you want an eCommerce website builder with all the online store features built-in, look no further than BigCommerce.
To start, users can choose a web design template that suits their business. BigCommerce templates are visually appealing and professional. While not a true drag-and-drop builder, the platform uses a visual editor that allows you to customize without any knowledge of coding.
BigCommerce is a feature-packed online store builder. Some notable eCommerce capabilities include unlimited products, storage, bandwidth, staff accounts, and the ability to sell on online marketplaces such as Amazon, eBay, and Facebook on any of the paid plans.
A variety of BigCommerce plugins are available. However, most of the needed functionality is already included in the base version of BigCommerce. This makes BigCommerce a powerful website builder, even if it is somewhat complicated to navigate at first.
Luckily, BigCommerce offers 24/7 live support available through phone, email, and live chat.
Pros
Built-in features. BigCommerce boasts the most built-in eCommerce-specific features compared to other eCommerce platforms, meaning you won't need to download additional plugins or extensions in most cases.
No hidden fees. BigCommerce does not tax you with any additional fees for your sales.
Great eCommerce themes. This builder has some of the best eCommerce-specific themes in the market as it combines conversion principles with modern design.
Cons
Cut-off tiers. Once you start earning above a certain amount annually, you will have to upgrade to the next plan. For the Standard plan, the cutoff is $50,000 in sales a year.
Learning curve. Due to the number of features that come with BigCommerce, it might take a while for beginner website creators to get used to the interface.
Who Is BigCommerce Best For?
Rapidly growing businesses may be able to make the best use of all the eCommerce functions that BigCommerce has to offer. It's also one of the best eCommerce website builders for B2B businesses.
Pricing
BigCommerce offers the Standard, Plus, and Pro plans at $29.95/month, $79.95/month, and $299.95/month, respectively.
Each plan has a sales cut-off limit. The cut-off is up to $50,000, $180,000, and $400,000 in annual sales for the Standard, Plus, and Pro plans, respectively. If small businesses exceed that annual sales limit, they can request an enterprise solution.
All plans include free hosting, an SSL certificate, plenty of bandwidth and storage, and a 15-day free trial. There is no free plan, however.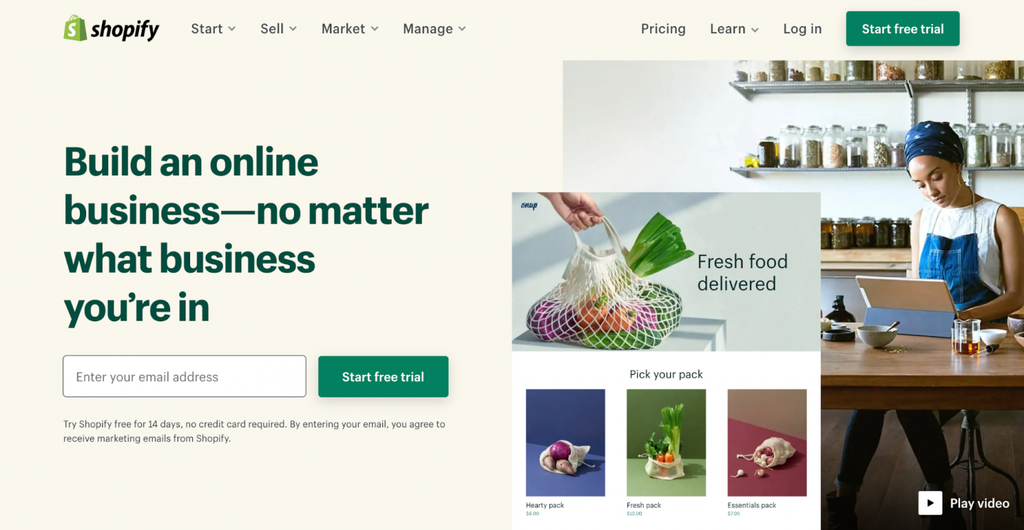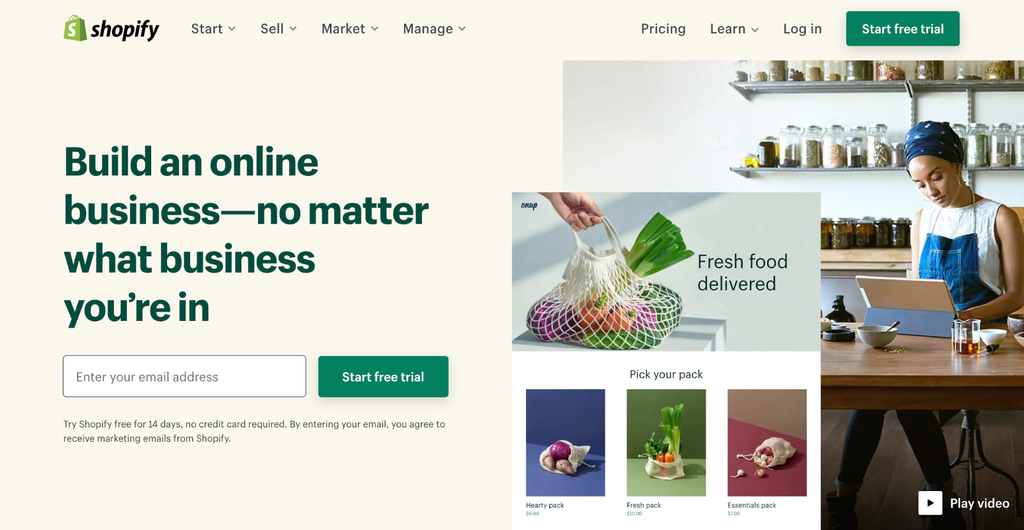 Shopify is arguably the most popular eCommerce platform in the market right now, powering over one million online stores. This is in part due to its excellent marketing strategy and beginner-friendly eCommerce-specific features.
To get started with Shopify, users can choose from over 70 eCommerce templates and customize them to their liking. It features a drag-and-drop builder that allows you to add text and image sections to your website easily.
Adding plugins for live chat or dropshipping is easily done through the Shopify App Store for extra functionality. There are many free plugins available, but the more complex ones are paid for on a subscription basis.
The platform also offers competitive shipping rates and access to its fulfillment network, ensuring timely deliveries for an additional fee.
Pros
Best eCommerce themes. Shopify's templates are designed for the highest possible conversion rates.
App gallery. There are hundreds of plugins available to extend the functionality of your store. These apps are extensively curated, so you can be sure they are bug-free.
Cons
Transaction fees. On top of the high monthly fees, Shopify charges a transaction cost for every sale made.
Additional costs. Higher-end themes can cost a one-time fee of around $100 to $180, whereas plugins can cost from $5/month to $20/month on top of the Shopify service fee.
Domain not included. For the price attached to this platform, it doesn't come with a domain name.
Who Is Shopify Best For?
Medium to large businesses with an established following and are looking to grow their business exponentially will find Shopify suiting them best.
Pricing
Shopify offers three plans called the Basic, Shopify, and Advanced plans for $29/month, $79/month, and $299/month, respectively.
The appeal of the top-tier plans includes its more competitive transaction fees. For instance, the Basic plan has a transaction fee of 2.9% + $0.30 for each order, while the Advanced plan charges 2.4% + $0.30.
All plans come with free hosting, an SSL certificate, generous bandwidth and storage, and 24/7 live support by chat, email, and phone. However, you will have to register your own domain name.
Shopify offers a 14 day free trial for those interested as it has no free plan for eCommerce. It's also important to note that you may spend a bit above the average if you buy a custom theme and add plugins to your site.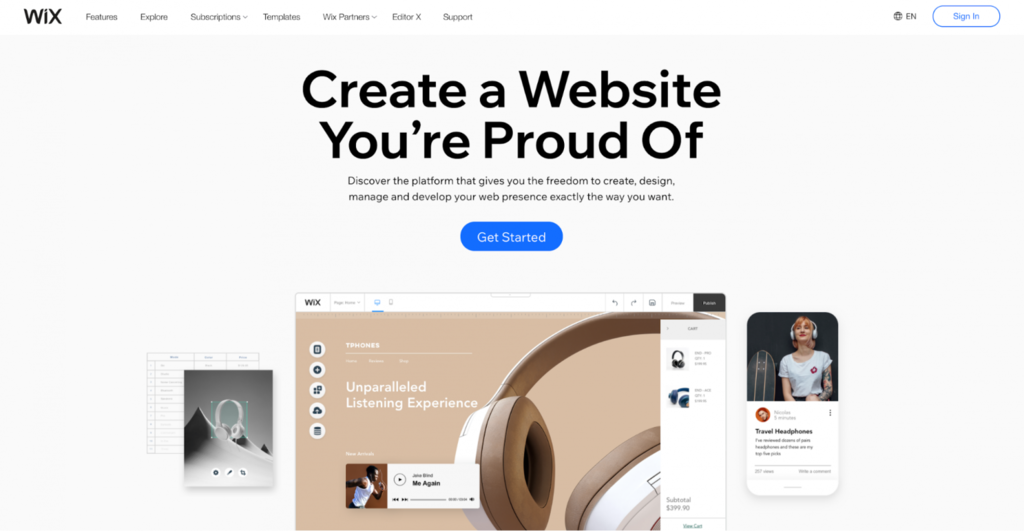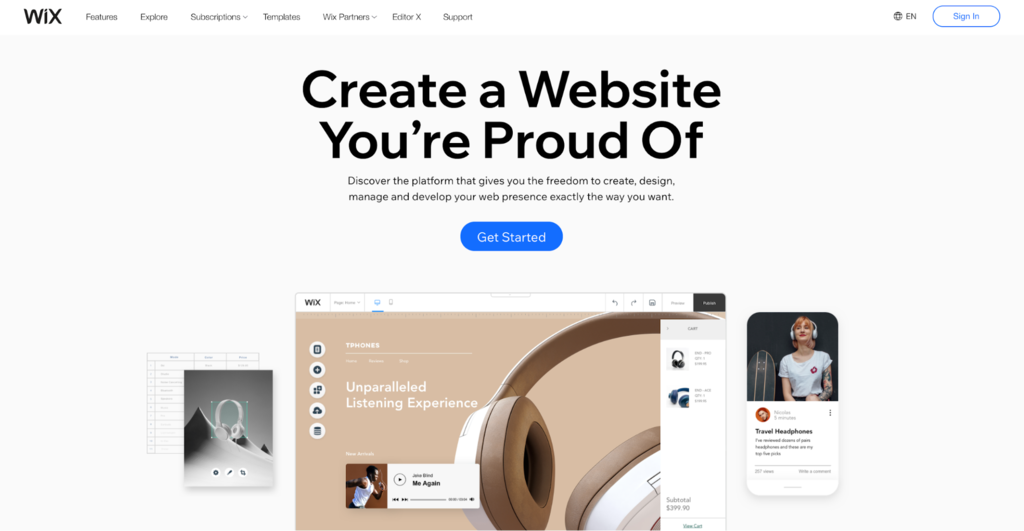 Wix is an all-around website builder that offers an excellent drag-and-drop editor to help you build an eCommerce website.
Users can choose from over 500 professionally designed templates and freely customize the site to suit any brand. A website's visuals can be expanded using Wix's advanced design features such as animation, video backgrounds, and scroll effects.
Standard eCommerce features include a seamless store management system that can be accessed through desktop or mobile, the integration of multiple payment methods, and the ability to offer coupons and discounts and set custom shipping and tax regulations for each country.
It's worth noting that Wix eCommerce frequently updates its list of features available for online stores so you can be sure you're getting up-to-date when it comes to site functionality.
Pros
Easy to use. Navigating Wix's user interface is seamless and intuitive.
Marketing features. Wix has built-in marketing features to help promote your online store.
Customer support. There is a knowledge base and a support team available to help you if you're struggling.
Cons
eCommerce capabilities. Wix offers less advanced eCommerce features compared to other options out there.
Responsive design. Although Wix allows for creative freedom, changes made on your website design will not automatically translate to its mobile version – you'll have to edit it manually.
Who Is Wix Best For?
Small to medium-sized businesses will enjoy what Wix has to offer – the quick and intuitive setup process coupled with the wide variety of templates makes it one of the nicest website builders for eCommerce.
Pricing
Wix has three main eCommerce plans – Business Basic at $23/month, Business Unlimited at $27month, and Business VIP at $49/month.
Its main difference between the plans revolves around access to the professional logo feature and advanced eCommerce features. Business Unlimited also gets priority response, while Business VIP gets VIP support.
However, all plans include unlimited bandwidth, a free domain for one year, ample storage, and marketing and analytics credits.
Wix offers a 14-day money-back guarantee if you want to try your hand at making some websites for eCommerce before you buy.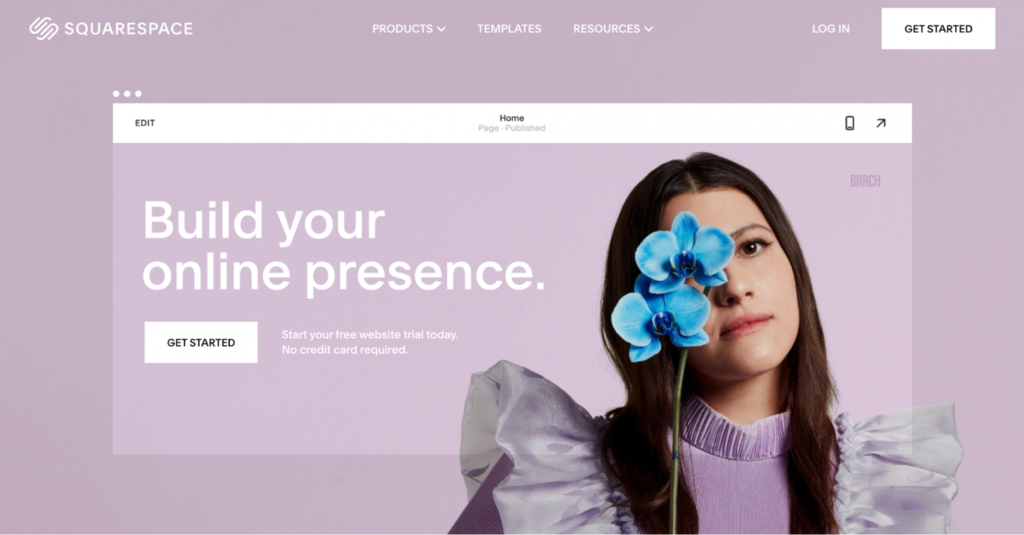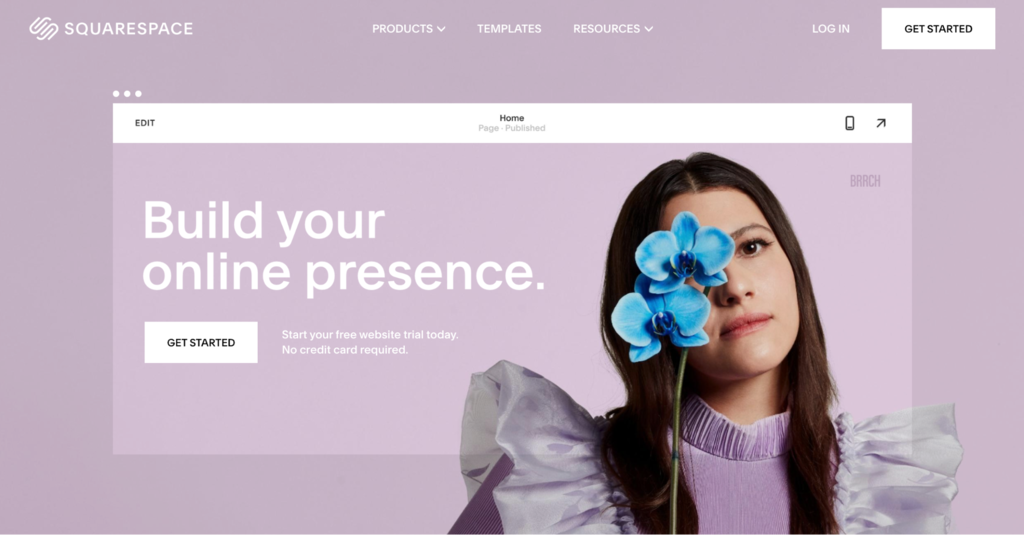 Though Squarespace is primarily known for its aesthetically pleasing web designs, it also offers solid industry-standard eCommerce features.
Squarespace boasts dozens of beautiful free web design templates. However, its online store collection only has eight templates. Nonetheless, the templates are all modern and are sure to catch the customers' attention.
The platform makes use of a visual builder that is intuitive to understand and work with. In other words, you can customize your designs without the need to code.
Squarespace has a heavy focus on product placement and incorporates this into all of their web designs so you can be sure the platform is optimizing conversion rates for you.
It also has plenty of marketing tools to help promote online stores, including SEO, social media integration, and ad creation.
Pros
Beautiful templates. Squarespace arguably has the most well-designed templates in the market, all of which can be customized to suit various businesses.
Marketing. Squarespace offers $100 Adword credits, promotional pop-ups, and a professional email account for all plans.
Zero transaction fees. The two commerce plans do not have a transaction fee.
Cons
Limited payment gateway options. Squarespace currently only accepts Stripe, PayPal, and Square payment processing options.
Lacking advanced functionality. For the price you're paying, there are better eCommerce options available for setting up an online store as there is little to no analytics and no abandoned cart recovery options.
Who Is Squarespace Best For?
Squarespace is great for small to medium-sized businesses that are looking for a sleek online presence. However, be aware that there are more budget-friendly store builders available that offer more powerful eCommerce functions.
Pricing
Squarespace eCommerce pricing starts from $18/month for the Business plan, $26/month for the Basic Commerce plan, and $40/month for the Advanced Commerce, all billed annually.
There is a 2% transaction fee for each sale with the Business plan, so it might be better to go with either the Basic Commerce or Advanced Commerce options.
Each plan comes with unlimited products, free hosting, beautiful web designs, SSL security, and a free domain name.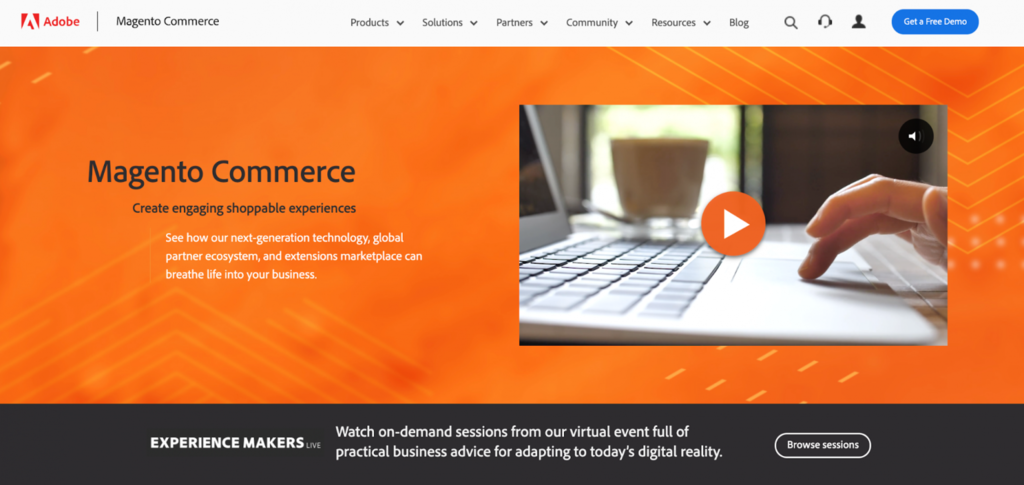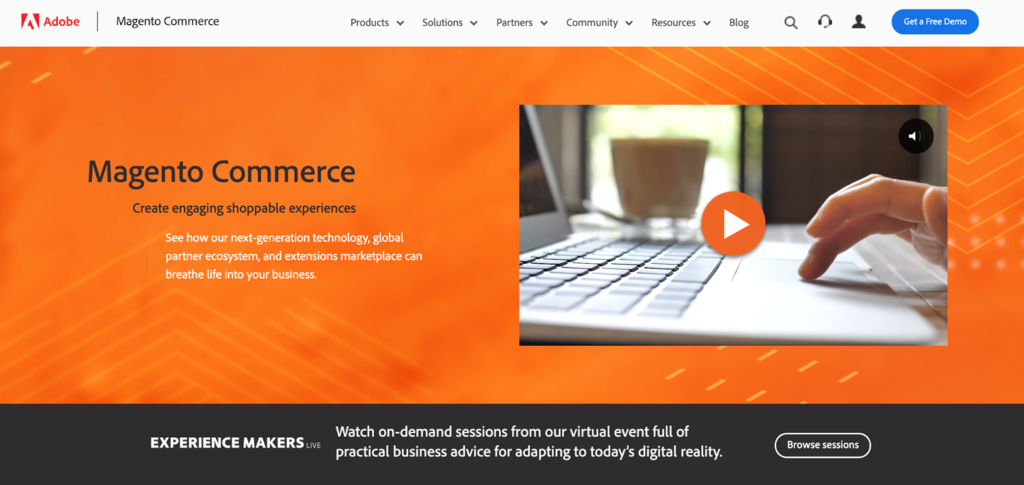 Magento is an open-source eCommerce-specific software that is widely popular and completely free. However, it is a self-hosted solution meaning that you will need to have your own web hosting, domain, and security.
Getting started with Magento is easy – most hosting providers provide a 1-click installation option. If you have no technical knowledge, there is a massive community of Magento web developers ready to help.
Users can download premium themes from the Magento marketplace or visit trusted sites like Theme Forest for more beautiful eCommerce designs. Magento is great if you appreciate its flexibility and freedom to customize your site just how you want it.
Propel your business forward with Magento's powerful CMS and B2B functionality, as well as Business Intelligence to help make successful data-driven decisions.
If you're looking for a hosted option, Magento also offers the all-inclusive Magento Commerce. However, this is more suited to those with a large budget.
Pros
Full CMS. Magento has a full CMS built-in that's easy for anyone to manage, create, and promote content.
Scalability. Whether you have 10 products or 100,000, Magento has the features, capability, and infrastructure to help grow your business.
Feature-packed. Built-in features to sell B2C and B2B, eCommerce analytics, export to other marketplaces, and much more.
Cons
Requires some technical knowledge. Like most open-source software, it may take some technical skill to navigate at first.
Buggy. Magento updates are known to have bugs in their first few iterations. However, this problem does not exist with the Magento Commerce solution.
Who Is Magento Best For?
Medium to large businesses will find Magento suiting them best due to its focus on scaling companies. This open-source solution is best for those with some technical skills or people who have the time and budget to invest in their website heavily. It is especially great for B2B businesses.
Pricing
Magento is free to download and use. However, expect to pay for other features associated with the site, such as hosting, themes, development, and any plugins or extensions. This potentially makes it the best platform for eCommerce businesses willing to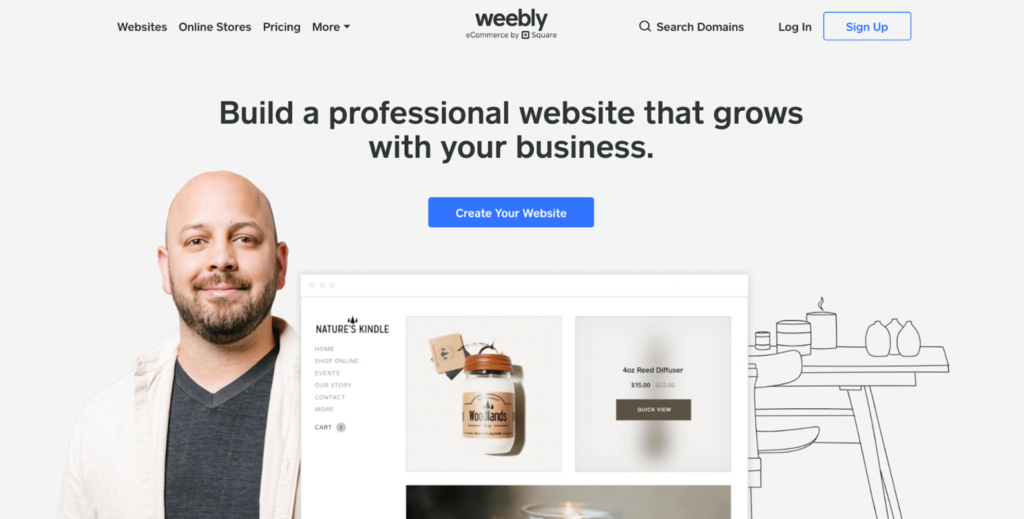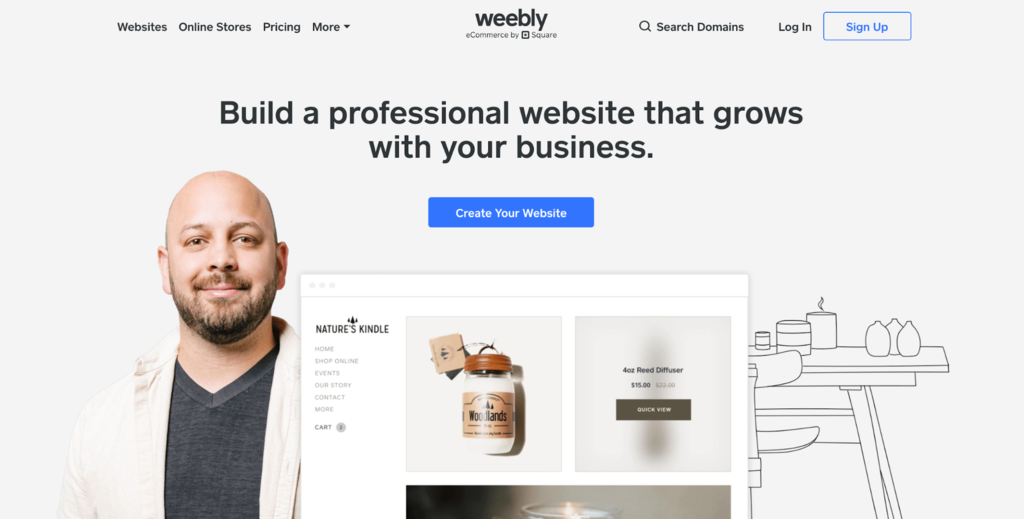 Weebly is another popular website builder that has been around for a long time. It is a straightforward, clean, and intuitive platform that doesn't compromise on functionality.
There are over 70 stunning and responsive themes to choose from, as well as a structured drag-and-drop editor and a Weebly App Center to help you create an online store.
One of the subtle nuances that make Weebly so user-friendly is its use of spotlighting – dimming the rest of the website as you're editing a specific part to maintain your focus.
As for eCommerce features, Weebly was recently acquired by the payment processing company Square, making the eCommerce features powerful and easy to use compared to some competitors.
Notable features include its built-in robust content marketing capabilities such as email, blogging, SEO, automatic tax and shipping, and an intuitive eCommerce dashboard.
Pros
Simple interface. Weebly is very intuitive to use, making it easy to manage your website.
Switch themes whenever you like. Unlike other website builders, you can easily change your website theme whenever your online store needs a revamp.
Cons
Limited customization. Although its themes are beautiful and the drag-and-drop builder easy to use, it is pretty limited to what you can customize. For example, you can't change colors and footers or customize the checkout space unless you use code.
Who Is Weebly Best For?
Weebly is the best eCommerce platform for small to medium-sized businesses that value time efficiency and a service that is easy to use.
Pricing
While Weebly is a freemium website builder, you might want to choose from three of the paid options to make full use of the available eCommerce capabilities on offer.
The Personal plan at $6/month has essential online store functions such as a shopping cart and the ability to accept payments. Weebly suggests this for less serious vendors such as groups and organizations.
For more established businesses, you have the option of the Professional plan at $12/month or the Performance plan at $26/month. Weebly suggests small businesses and stores go with the former and power sellers go with the latter.
All plans include web hosting, SSL security, and domain name registration.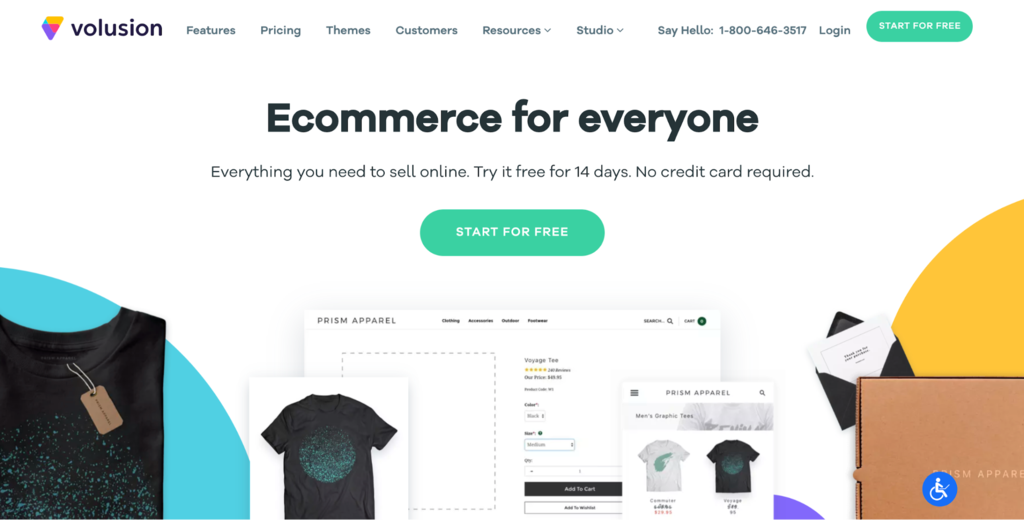 Volusion is an eCommerce website builder that has rich back-end functionality. In particular, the platform has excellent inventory management features to help run your store.
However, it may fall behind compared to some of its competitors when it comes to front-end functionality such as ease of use, website customization, and content creation.
That being said, Volusion does offer 11 free themes and over 30 paid feature-rich themes yet starting from $180.
Pros
Zero transaction fees. Volusion does not tax you with additional fees upon transaction.
Back-end features. Easily upload product videos, edit descriptions, add payment gateway options, and manage inventory. You can also do this on their excellent mobile app.
Cons
Tiered cut-offs. Once your site starts generating a certain amount of revenue, you must upgrade to the next subscription tier.
No integrated blogging. Volusion does not have a built-in blogging feature which may negatively impact website SEO and promotion of your site.
Who Is Volusion Best For?
Volusion is most suitable for established businesses or far-reaching sellers.
Pricing
There are three plans to choose from – the Personal plan at $29/month, the Professional plan at $79/month, and the Business plan at $299/month.
The automatic cut-offs regarding your yearly revenue for each plan are $50,000, $100,000, and $500,000, respectively. For stores that exceed the gross merchandise value of $500,000, Volusion has prepared a VIP plan.
The main differences between the plans include the level of support, access to premium eCommerce features like Amazon and eBay integrations, customer ratings and reviews, newsletters, abandoned cart reports, and third-party shipping and gateways.
All plans come with staff accounts, unlimited bandwidth, and online support.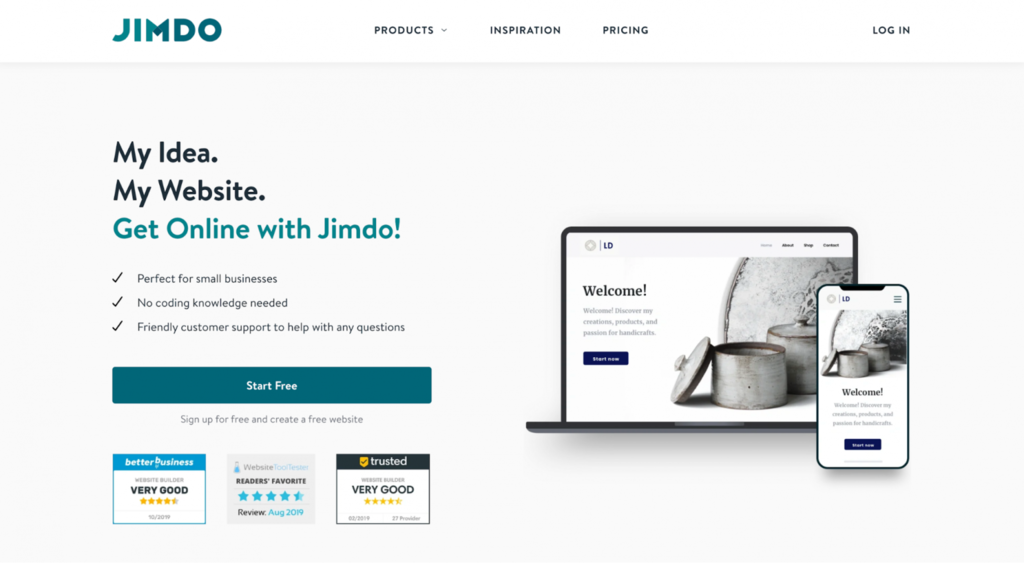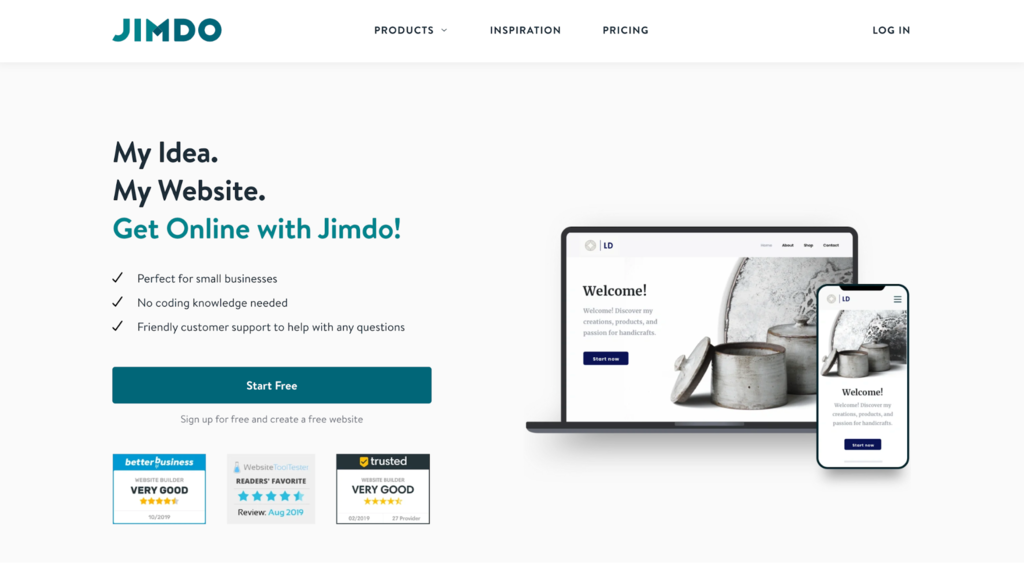 Jimdo is an online store builder that will help get your store up and running in no time.
As soon as you create an account, Jimdo will ask some questions regarding your goals for the site and your preferred visual style.
It will then recommend a few theme options to choose from. With their visual editor, you can customize the layout, pages, and image and text blocks to achieve the desired look.
Its editor allows you to add products, edit descriptions easily, and start posting content in no time.
Jimdo has excellent eCommerce features such as easy stock management, mobile-friendly features, personal support and does not charge any transaction fees.
Pros
User experience. Jimdo is simple and easy to use, saving precious time that can be used to manage your business instead.
Customer support. Fast and reliable customer service to help with any queries.
Cons
Lack of customization freedom. You won't have total control over your website's design.
Scalability. Jimdo's eCommerce features are quite limited and may not be suitable for high sales volume websites.
Who Is Jimdo Best For?
Jimdo is one of the best store builders for personal selling or small businesses.
Pricing
You can choose from the Basic plan at $15/month and the Business plan at $19/month, all billed annually.
All plans include such features as a free domain, SSL security, and sizable bandwidth and storage. However, higher-priced plans receive more efficient customer service, extra storage, and premium eCommerce features such as discount codes, product variants, and website pages.
What to Look For in an eCommerce Website Builder?
Here are some factors to consider when choosing the best website builder for you.
Ease of Use
The easiest website builder to use will include features like a drag-and-drop builder, intuitive grid, customization ability, template inclusion, and maybe some support or training materials to help you navigate through the setup.
Design and Templates
A good first impression is crucial to capture your customers' attention, ensuring website design and any templates you might be using are modern, sleek, and mobile responsive. Take a look at each platform's template gallery, customization flexibility, and costs of the relevant templates.
Transaction Fees
Some eCommerce platforms have hidden costs on top of monthly subscription fees, so research the eCommerce builders you're interested in and include this in your accounting accordingly.
Content Management System (CMS)
The features of a CMS include creating and managing website content such as meta descriptions, blog posts, and other types of media. Having a built-in CMS will help with SEO.
Some features to look for include comment management for greater engagement with customers and the possibility to schedule posts.
Search Engine Optimization (SEO)
Good SEO boosts website rankings on search engines, ensuring that the website builder has at least the essential SEO functions included. The best eCommerce website builders offer fast loading speeds, media optimization features, and metadata capabilities.
Security and SSL
Websites protected with SSL encryption have the HTTPS protocol present in their URL or a padlock icon visible next to their URL when accessed through a browser.
Having an SSL certificate will keep your website, data, and payment information safe and secure from cyber-attacks.
Bandwidth
Bandwidth is the maximum allowed rate of data transfer for your site and is often the reason for website crashes. If you're looking to grow your site, ensure the eCommerce platform provides unlimited bandwidth so that it can handle the increasing web traffic to your store.
Storage
The more media and products you have on your site, the more storage you need. To grow your site, ensure the website builder has generous storage allowances.
Customer Support
Ideally, look for 24/7 support through live chat, email, or phone support just in case anything happens to your site. If the website builder has a knowledge base, resources, and a blog, it will help you out as well.
Websites for businesses rely on a quick response time if anything goes wrong, so this is a crucial factor when considering your pick.
Pricing, Plans, and Value
This depends on the size and goals of your business, but ultimately the best eCommerce website builder will give you the most value for money.
eCommerce Platforms: Frequently Asked Questions
Getting your head around eCommerce platforms can get somewhat overwhelming at first.
Here are some of the most frequently asked questions regarding eCommerce website builders.
How Do I Create an Online Store?
Choose a niche. Know who you're selling to, and pick a product that potential customers will like.
Choose an eCommerce website builder. Understand the needs and goals for your new business to help you choose among the many website builders with eCommerce functionality.
Customize and configure your online store. Edit the look of your site and upload the relevant content and products. Don't forget to edit meta descriptions for better SEO.
Promote your store. Use social media platforms to create hype for the launch of your store.
Start selling. Launch your store and start selling. You may want to create launch sales or other marketing tactics to drive maximum traffic.
What Is the Easiest Way to Create an eCommerce Website?
Using an eCommerce website builder platform. It takes care of all the features you need to run a successful online business while simplifying the user experience for ease of use.
Website builders often have a knowledge base and support team to help you succeed in your goals.
How Much Does It Cost to Create an eCommerce Website on Average?
The average cost of creating and maintaining an eCommerce website is around $27/month, billed annually. However, depending on your needs, you can pay less for eCommerce websites.
What Is the Best Free eCommerce Website Builder?
The closest thing to a free website builder that still provides adequate eCommerce functionality would be open source platforms such as WooCommerce and Magento. However, you will still need to pay for hosting, domain name registration, and SSL security.
The most affordable yet powerful eCommerce website builder is Zyro, priced at $9.90/month and $14.90/month for eCommerce and eCommerce + plans.
Conclusion
While the choices on this list are all top contenders, here is a summary of three of the best website builders on offer today:
Zyro eCommerce – an all-around eCommerce builder with the tools and features necessary to run a successful online business at less than half the cost of other competitors. Best for small to medium-sized businesses that value ease of use.
WooCommerce – a robust, open-source platform that gives you the creative freedom to build an online store like no other. Perfect choice for businesses that already have a WordPress website.
BigCommerce – an excellent option for rapidly growing businesses for the plethora of built-in eCommerce features available on the platform.
Ultimately, the best website builder for eCommerce will depend on the goals and needs of your online store.