25 eCommerce Statistics and How to Capitalize on Them in 2022
With the large number of people shopping online these days, now is the perfect time to start an eCommerce business. Knowing the latest eCommerce statistics and trends is essential to make sound business decisions.
However, conducting market research from scratch can be time-consuming, especially since there are many sources to scour. To help you get off to a good start, we have compiled the must-know eCommerce statistics for 2022.
In this article, we will discuss various interesting eCommerce statistics, including the purchase behavior of global internet users, mobile shopping, eCommerce marketing, and social media's relation to online purchases. Let's get started.
Download Guide To Writing Business Plan
Top 5 Online Sales Statistics to Consider for 2022–2025
Here are the top five eCommerce stats that illustrate the current state of the eCommerce industry:
Online global retail sales are projected to surpass $7 trillion by 2025.
The average cart abandonment rate is 69.99%.
Mobile eCommerce global sales are projected to reach $728.28 billion by 2025.
54% of consumers want to see more video content from the businesses they follow.
89% of eCommerce companies are investing in personalization.
Check out our article on the latest eCommerce trends to look out for in 2022 to get a sense of the industry's future direction.
General eCommerce Statistics
This section explores global eCommerce growth projections and general retail sales data. Therefore, they are relevant for all online retailers regardless of where they operate.
The following are the top eCommerce statistics for general business decision-making.
Around 230.5 million US shoppers are buying goods and services online in 2022 (Tidio).
In 2021, the number of global digital buyers was 2.14 billion. As of October 2022, the world population comprises over 7.9 billion people. That means at least 27% of the worldwide population shop online to fulfill their needs.
In the US alone, the retail eCommerce sales for the second quarter of 2022 reached around $257 billion. This is a 2.7% increase from the previous quarter.
The same trend can also be seen in Europe, as the region's eCommerce market revenue is growing by 13.86% yearly. By 2025, Europe is projected to have about 564 million eCommerce users.
With the global eCommerce market showing no signs of slowing down within the next few years, now is the perfect time to start an online business.
Worldwide online retail sales are projected to surpass $7 trillion by 2025 (Insider Intelligence).
Online shopping is one of the most popular activities today, especially since the pandemic has profoundly affected mobility. The fact that 63% of shopping journeys start online further supports this claim.
This creates opportunities for online shops to enter marketplaces and generate higher revenues. You can turn new online shoppers into returning buyers by employing on-point marketing strategies and fostering an excellent customer experience.
The electronics industry accounts for the largest share of global revenues in 2022 at $988.4 billion (DataReportal).
By generating over $988.4 billion, the consumer electronics category takes the lead in the global business-to-consumer (B2C) eCommerce markets. This number beats the fashion industry, which came first in 2021, by approximately $84 billion.
Other thriving industries include toys and personal and household care, which generate over $381.5 billion. Meanwhile, the food and beverage industries have the fastest growth, showing a 38% and 35% revenue increase, respectively.
Despite ranking second, the fashion industry still generates $904.5 billion in revenue, making it prospective in the coming years. If you're interested in this eCommerce business niche, check out our article on starting an online clothing store.
Digital and mobile wallets accounted for nearly 45% of all worldwide eCommerce sales (Drip).
In 2021, credit cards were the most popular online payment method worldwide, accounting for 31% of global eCommerce payments. Digital and mobile wallets ranked second with 29% in the worldwide market. However, this is predicted to change.
Digital payment systems have grown in popularity over the past few years. 51.7% of all transactions are projected to use digital wallets by 2024.
Online stores should take advantage of this momentum and integrate popular digital wallets like PayPal and Apple Pay into their eCommerce sites. Doing so will make customers' transactions easier, positively influencing their purchasing decisions.
China has the largest eCommerce market share (Business.com).
China's domination in the eCommerce market, particularly the luxury goods industry, stems directly from travel restrictions. In fact, 842 million people in China shopped online in 2021.
The country makes a significant contribution to global retail eCommerce sales. A new report finds that 67% of China's cross-border online shoppers expect to spend more online in 2022.
As China's population accounts for 18.47% of the world's population, you shouldn't underestimate its buying power. As a reference, Alibaba, the country's top online retailer, reached around 903 million active consumers in the first quarter of 2022.
Other huge eCommerce companies in China, like JD.com, TMall, and Taobao, also significantly contribute to the country's massive online sales. Many of these businesses also sell to resellers worldwide.
If you want to enter the Chinese market, consider building a multilingual eCommerce store with a localized assortment of products. Read our article on the best WordPress translation plugins for recommended tools.
Moreover, promoting your eCommerce store via China's most popular social media platforms like Weibo, Douyin, and WeChat can boost brand awareness in the country.
Online Shopping Consumer Behaviour Statistics
Understanding consumer behavior is essential for any eCommerce strategy. It improves user experience and ensures customer satisfaction for optimal conversion rates.
By learning about your consumers' needs and buying motives, you'll be able to influence their purchasing decisions. It'll also be easier to turn new buyers into loyal customers.
Here are the top five eCommerce stats on online shopping behavior and tips to best take advantage of them.
The average cart abandonment rate across all industries is 69.99% (Baymard Institute).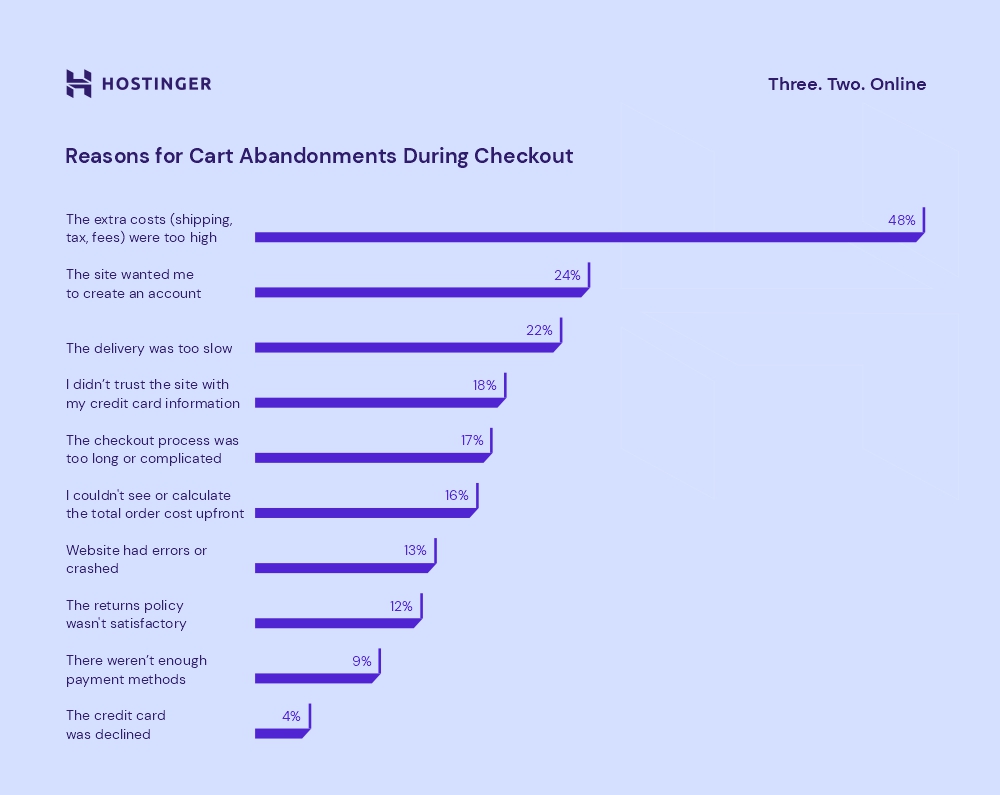 Interestingly, mobile users display a higher cart abandonment rate of 85.65%. This is a telltale sign that you must optimize today's eCommerce sites for mobile users.
According to Baymard Institute, the top three reasons for online shopping cart abandonment are unexpected extra costs, account creation requirements, and a slow delivery process.
Unanticipated additional charges such as shipping and taxes accounted for 48% of over 4,384 US-based digital buyers' decision to abandon their shopping carts.
Free shipping can help reduce online shopping cart abandonment on mobile and desktop devices. If your eCommerce site has a signup system, allow users to make online purchases without registering.
Checkout optimization can improve conversion rates by 35.26% (Baymard Institute).
17% of Baymard's respondents have abandoned their carts due to complicated checkout processes. As Europe and US eCommerce sales total about $738 billion, checkout optimizations may save up to $260 billion worth of lost orders.
Optimizing your checkout process and page design is an excellent way to reduce cart abandonment. Eliminate mandatory signups, support multiple digital payment methods, and use exit-intent popups, among other best practices.
Nine out of ten consumers read online reviews before purchasing (Oberlo).
54.7% of those with this habit tend to read at least four reviews before buying a product. Moreover, almost half of all internet users post online reviews at least once a month.
As 97% of online shoppers that read online reviews also look for responses from online stores, responding to customer reviews can help your branding. Make an extra effort to reply to negative reviews within a week to avoid leaving a bad impression.
Unsurprisingly, 59% of online shoppers use Google to find reviews. Since online consumers usually turn to Google My Business for local business reviews, consider listing your business on the platform if you haven't.
54% of consumers consider sustainable packaging when shopping for a product (Trivium Packaging).
Forbes reported that 2020 and 2021 saw record-breaking deliveries due to the pandemic. There are currently about 6.3 billion tons of plastic waste worldwide.
The global concern for inorganic waste contributes to the rising number of eco-conscious customers. In the US alone, 64% of consumers are willing to pay more for sustainable products.
The easiest way to make your business more sustainable is by going paperless or using biodegradable packaging. If you produce your products in-house, opting for eco-friendly ingredients will make your brand more appealing to eco-conscious customers.
40.3% of customers have significantly decreased their visits to brick-and-mortar stores due to COVID-19 (Raydiant).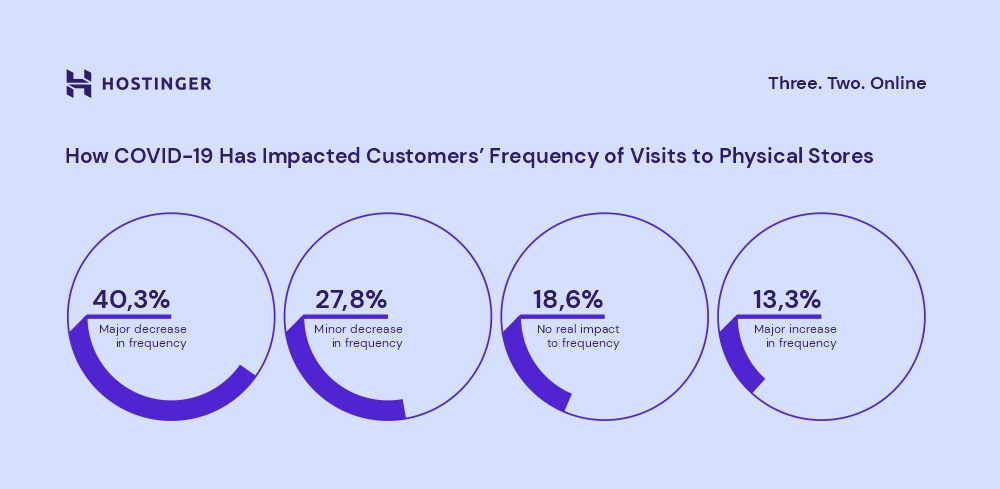 This statistic shows how customers' behavior has evolved in the past few years, providing you with another reason to start an online shop.
If you already run a physical store, consider branching into omnichannel eCommerce by providing in-person and online shopping experiences.
A seamless shopping experience across multiple channels can boost sales at your brick-and-mortar shop and online store.
Omnichannel eCommerce marketing also shows more significant results than single-channel commerce. Companies marketing on three channels or more experienced a 494% higher purchase rate than those running single-channel campaigns.
Mobile Commerce Statistics
With mobile devices becoming more accessible, mobile commerce offers abundant opportunities for eCommerce merchants to turn their website visits into purchases and increase brand awareness.
Here are the top five mobile eCommerce statistics and how to capitalize on them to influence mobile purchasing decisions.
Retail mobile shopping sales hit $359.32 billion in 2021, a 15.2% increase from 2020 (Insider Intelligence).
Global mobile commerce has a 29% growth rate, which is 7% higher than eCommerce in general. Today, mobile eCommerce accounts for over 67.2% of all online transactions.
The rapid rise of mobile usage contributes to the global mobile commerce market growth.
As US mobile purchases are projected to reach $728.28 billion by 2025, optimizing your online shop for mobile website visitors will increase overall traffic and revenue.
The overall eCommerce revenue made through voice searches in the US is expected to reach $40 billion in 2022 (Invesp).
The accessibility of mobile devices today has contributed to the global voice commerce market growth. More people have become dependent on voice assistants as the feature allows them to control mobile gadgets without needing to type.
In 2022, 62% of US citizens over 18 use a voice assistant. Interestingly, 80% of consumers who purchase with voice assistants are satisfied with their experience.
For this reason, consider adapting to this change by optimizing your store for voice search. Doing so will let you personalize the shopping experience of each visitor.
Pay attention to the local SEO and utilize long-tail keywords to make your online store easily discoverable via voice search.
The Amazon Shopping app ranks first among iOS users in the US (SimilarWeb).
In 2020, the Amazon Alexa virtual assistant was compatible with approximately 9,500 brands. Around 10.8% of digital buyers used Amazon Alexa to make at least one online purchase.
As one of the biggest online retailer businesses in the US, Amazon accounted for 37.8% of the country's eCommerce market. Additionally, the company generated total net sales of around $121.2 billion during the second quarter of 2022.
If running your own website seems like a hassle, consider joining online marketplaces like Amazon and building your brand there.
Alternatively, when building a retail website, choose a platform that supports Amazon integration, like the Hostinger online store builder.
The average American spends one-third of their waking hours on their mobile phone (App Annie via Forbes).
In 2021, 58% of global online visits came from mobile devices.
However, the average conversion rate on desktop devices is almost twice as high as on mobile. This indicates that many consumers use mobile devices to window-shop and purchase online on their desktop devices.
63% of consumers prefer mobile apps over mobile websites because they find the former more convenient. 57% of consumers claim speed as the main reason for this preference, while 40% like that apps store their settings.
If you have a mobile online store, developing a mobile app can improve your customers' shopping experience and increase eCommerce sales.
29% of all mobile users will use QR codes to pay by 2025 (Juniper Research).
In 2020, 1.5 billion people used QR codes in contactless payments. In the US alone, QR usage has increased by 11% during the pandemic. To no one's surprise, this payment method's transaction value is predicted to reach $2.7 trillion by 2025.
The top three QR code uses include the buy button, mobile transfers, and peer-to-peer transfers. It's most popular among people aged 18-29.
There are many ways to utilize QR codes to increase traffic. For example, you can generate one for your online shop and put it on promotional materials. Since many people are inclined to scan QR codes, you'll make it easier for them to visit the shop.
If you run a physical store, supporting QR code payments can boost the in-store shopping experience. It offers more payment options, which influence their buying decisions.
eCommerce Marketing Statistics
The eCommerce marketing sector has evolved over the past years. Creating on-point marketing campaigns is essential to remain relevant in this highly competitive market.
The following are eCommerce statistics to help you design the best marketing campaign.
38% of potential customers are more likely to purchase from eCommerce businesses that offer live chat support (Kayako).
Live chat plays a significant role in the overall eCommerce experience and user engagement.
79% of eCommerce sellers agree that implementing live chat has improved their sales, revenue, and customer relationships.
This statistic aligns with the fact that about 51% of consumers are more inclined to make repeat purchases from online shopping companies with live chat support.
Despite this, 40% of consumers have low expectations regarding the quality and speed of live chat support. Around 84% of consumers have even given up on a live chat due to long wait times and poor responses.
Providing an excellent live chat experience in your store will cater to this group of consumers. If you're planning to do so, invest in a knowledgeable support team that can provide personalized expert assistance.
Avoid giving scripted responses that make your company's consumer interactions impersonal. Additionally, optimize the queuing system to reduce wait times.
If your online store runs on WordPress, there are numerous great live chat plugins you can use to provide customer service.
According to 83% of consumers, a loyalty program influences their decision to buy again from a brand (Yotpo).
Loyalty programs are another popular marketing strategy to increase conversion and customer retention rates.
Improving retention by only 5% will boost your business's revenue by at least 25%. That's because 42% of consumers spend more on brands they're loyal to.
More and more companies are creating their own loyalty program, making competition fierce. However, creating loyalty programs that work to your advantage require lots of effort.
Keep in mind that 79% of consumers are no longer interested in accumulating points. So if you're thinking of starting a loyalty program, consider offering immediate rewards instead of points.
Premium or paid loyalty programs are now a popular alternative to the conventional type. In fact, 81% of conventional loyalty members are willing to join a premium loyalty program if the included benefits are valuable.
Some popular premium loyalty program rewards include free shipping, immediate discounts, and online deals.
89% of eCommerce companies are investing in personalization (Spiceworks).
Impersonal website content frustrates 71% of consumers. Therefore, it's no surprise that 51% of marketers say that personalization is their number one priority.
76% of consumers are more likely to consider purchasing from companies that offer a personalized customer experience. Moreover, 78% of consumers will likely repurchase from those companies.
Creating personalized marketing campaigns and shopping experiences requires accurate customer data.
Tools like Google Analytics are useful for an eCommerce seller to monitor various website statistics. Doing so will give you better insights into their preferences and shopping habits.
If WordPress powers your online store, there are plenty of plugins for Google Analytics that streamline the integration process.
Email marketing ROI is 3,600% (Litmus).
As of 2022, 4.26 billion people – more than half of the global population – use emails. This number is forecasted to reach 4.6 billion by 2025, making email one of the most important digital marketing channels.
Email marketing has a high return on investment, particularly in the retail, eCommerce, and consumer goods industries. It generates $36 for every dollar invested and encourages 60% of consumers to make a purchase.
Email personalization is equally as crucial as content personalization. It increases unique open rates by 29% and unique click rates by 41%.
If you want to engage in email marketing, start by building an email list. Use email subscription tools to create signup forms and manage emails.
Online video to be the leading web content type in 2022 (Popupsmart).
86% of businesses used video as a marketing tool in 2021. Marketers are also aware of the value of video marketing in generating retail sales, with 92% of them seeing it as a vital part of their marketing strategy.
42% of businesses use live-action videos to promote their brand. 74% of those videos are explainers, educating viewers on the company's products and services.
54% of consumers want to see more video content from a business they support. By posting short videos about your products, you don't have to rely on online ads to attract potential customers or retain existing ones.
Social Media Statistics for eCommerce
The number of mobile device users grows alongside social media users. As a result, social sites have become one of the best online sales platforms for marketing.
Here are all the facts about social eCommerce, with tips on leveraging them to increase online sales.
An average of six new users start using social media every second (DataReportal).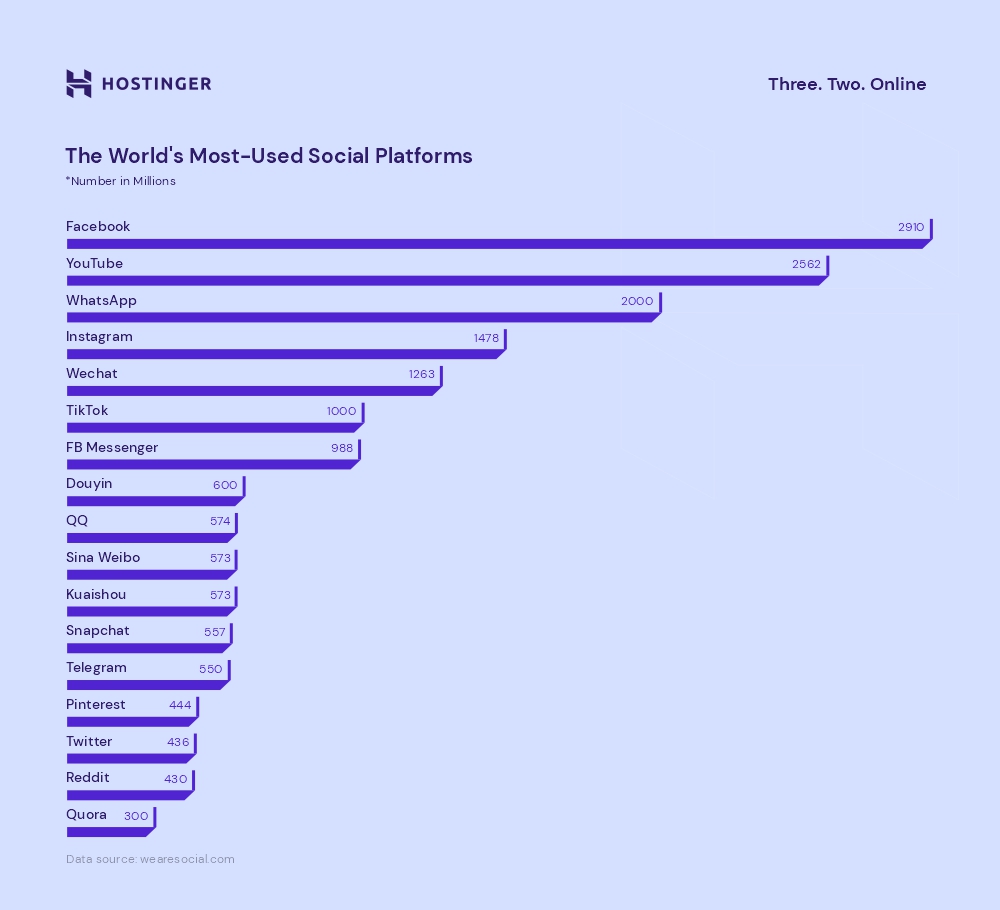 In October 2022, there were 4.74 billion social network users worldwide, In other words, 59% of the global population uses social media.
There are six social platforms with over 1 billion monthly active users. Meanwhile, there are 11 social platforms with at least 300 million monthly active users. Facebook is the world's most populous social platform, with around 2.9 billion monthly active users.
Building a presence on these online channels can boost your brand awareness, turning visits into social commerce sales.
Add social media icons to your store to encourage online customers to share their favorite products on their accounts. WordPress has many social media plugins you can install to let visitors share your products and content.
US retail eCommerce sales on social media are expected to hit $45.74 billion in 2022 (Insider Intelligence).
More and more social platforms have launched social eCommerce features in response to this trend. Consequently, social eCommerce sales are projected to rise by 26% to $1.2 trillion by 2025.
If you're considering advertising on a social platform, consider taking advantage of social eCommerce features. Facebook, for example, has the Commerce Manager tool that lets you manage shop catalogs on Facebook and Instagram.
90% of marketers say that social data helps them to stay ahead of their competitors (Sprout Social).
31% of consumers prefer social media the most to share feedback about a product or service, followed by email at 18%.
Social media is also the most popular channel for getting assistance from businesses. They even outrank dedicated customer service channels and email support.
91% of consumers who follow eCommerce brands on social platforms visit their websites and apps, whereas 90% choose to buy from them.
86% of consumers prefer brands they follow over a competitor, with 83% going as far as recommending those brands to their friends and family.
Based on these social media eCommerce statistics, it'd be beneficial for your business to have active social media accounts. Establishing a social media presence helps build brand awareness, boost your customer experience, and increase total retail sales.
Additionally, social media marketing is suitable for a small eCommerce business. Around 71% of small-to-mid-sized businesses use social media to promote themselves.
90% of Instagram users follow at least one brand account (Hootsuite).
In 2021, Instagram reached over 2 billion monthly users worldwide.
Instagram's popularity and ability to let B2C companies share photos and videos offer tons of exposure. 44% of Instagram users shop online on the platform weekly.
If you're looking for social media platforms for brand promotion, Instagram is worth considering. Integrate Instagram plugins on your WordPress website and boost brand awareness.
88% of consumers consider authenticity crucial when deciding which brands to support (Stackla).
Marketers have created numerous types of content to convey authentic brand messages. Despite this, 60% of consumers think user-generated content (UGC) is the most genuine.
79% of consumers find that UGC influences their buying decisions more than influencer or branded content. Additionally, 58% of online shoppers have abandoned their shopping carts due to the absence of user reviews and pictures.
The best way to generate UGC is to invite consumers to join your online community. 65% of gen Z consumers are happy to join brand communities and create content for companies they believe in.
Besides providing excellent promotional material, this can improve customer loyalty and encourage purchases online. After all, 61% of consumers are likelier to buy from brands that invite them to engage.
Conclusion
The rapid growth of online shopping has created a saturated market. This market is difficult to navigate unless you keep up with the ever-evolving eCommerce industry.
Understanding your target audience and their motivation to shop online will make it easier to connect with online shoppers and turn eCommerce website visits into sales.
This article compiles 25 must-know eCommerce statistics about consumer behavior, mobile shopping, social media, and marketing. We have also suggested actions to leverage each statistic for increased returns.
We hope this article about eCommerce growth statistics has helped you understand the industry's current state. If you have any questions or suggestions, please leave them in the comments section below.
eCommerce Statistics FAQ
Here are some frequently asked questions about eCommerce statistics.
How Many People Shop Online?
As of 2021, there were around 2.14 billion eCommerce shoppers worldwide – a 4.4% year-over-year increase from 2020. This number is expected to keep growing in the coming years.
What Percentage of People Use eCommerce?
There are 2.14 billion eCommerce shoppers out of 7.9 billion people in the world. Therefore, around 27% of the world purchases goods from eCommerce retailers.
Who Uses eCommerce the Most?
The eCommerce users demographic worldwide comprises mostly younger generations. For example, 55% of social commerce users are in the age group of 25 to 34. As for areas, countries in Asia, Australia, and the Americas are expected to have the highest sales growth in 2022.