Top 15 eCommerce Trends You Should Know in 2024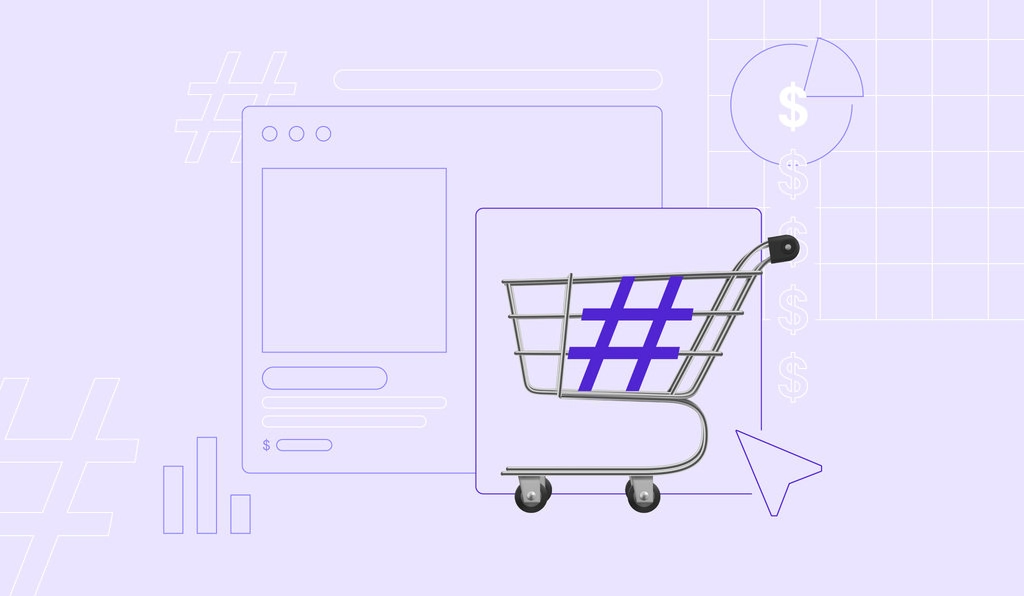 The global eCommerce industry is changing rapidly. Online businesses must keep up with the latest eCommerce trends and ever-changing consumer demand to stay relevant and competitive.
This article will break down 15 eCommerce trends you need to know in 2024. Keep them in mind if you plan to build an online store this year.
We will cover essential eCommerce trends, such as customer service and data privacy, to advanced tech solutions like AI, AR, VR, and the headless environment.
By the end of this article, you'll be more prepared to meet future eCommerce industry expectations, discover new ways to improve efficiency, and deliver a next-level online shopping experience.


Top eCommerce Trends in 2024: Rundown
Here's a quick look at the 15 eCommerce trends you need to know in 2024:
AI helps personalize user experience – eCommerce businesses can provide a richer buying experience with this technology. AI and machine learning also play huge roles in personalization.
Hybrid commerce offers a seamlessly connected customer journey – combine your online channels with the brick-and-mortar store experience to improve purchase rate.
Augmented and virtual reality engage audiences with an immersive experience – these technologies help customers examine products closely and boost their purchasing confidence.
CRM builds a community around your eCommerce brand – CRM helps you understand your potential customer's needs and behavior to strengthen relationships and improve customer loyalty.
Customer support remains a priority – excellent support positively influences purchasing decisions, cultivates loyalty, promotes a positive brand image, and boosts eCommerce sales.
Strategize social selling to take advantage of its rise – social commerce is cost-effective and encourages in-app purchases. Influencer marketing and live shopping are two of the latest trends in eCommerce to implement alongside this strategy.
The subscription model helps customers fulfill their recurring expenses easily – attracts loyal customers, and boosts retention rates and profitability.
Migrate to headless eCommerce for better ROI – decoupling your eCommerce site's front and back ends offers more flexibility and the ability to reach customers on any device. Use a headless CMS or eCommerce platform to join this trend.
Provide multiple payment options to improve user experience – some customers prefer traditional payment methods like bank transfers. Others favor novel ones like digital wallets or the Buy Now, Pay Later (BNPL) feature.
Voice and visual searches – more people are using newer ways to browse and shop online. Optimize your eCommerce site for both search technologies.
Work on your CRO strategy – increase traffic value by converting website visitors to new customers or newsletter subscribers.
Marketing automation boosts conversions and productivity – automating your marketing routine is a great way to streamline your workflow and make it more efficient.
Fast and free delivery improves customer satisfaction – shipping costs and speed impact customers' purchasing decisions.
Consider zero-party data to prepare for future data privacy policies – stay ahead of upcoming data privacy trends by applying the zero-party data strategy.
Adopt sustainability practices around your eCommerce brand – many consumers consider a product or brand's sustainability before purchasing. Identify your business' environmental impacts and apply more sustainable solutions.
Read the following sections for our in-depth breakdown of these eCommerce trends.
1. Artificial Intelligence for Personalization
Artificial intelligence (AI) simulates human intelligence using computer science and big data. For eCommerce purposes, business owners can train AI to adapt to consumer behavior, resulting in more accurate and valuable information.
One of the top areas where businesses can implement AI is personalization.
Personalization is about tailoring user experience based on what the company has learned about them. A survey found that 80% of consumers are more likely to become returning buyers if a company provides a personalized shopping experience.
At a compound annual growth rate (CAGR) of 23.67%, the global personalization software market is expected to surge over $5 billion by 2030. This is a significant jump from $943.25 million in 2022.
Combining AI and machine learning, Starbucks is one of several eCommerce businesses that offer top-notch personalization.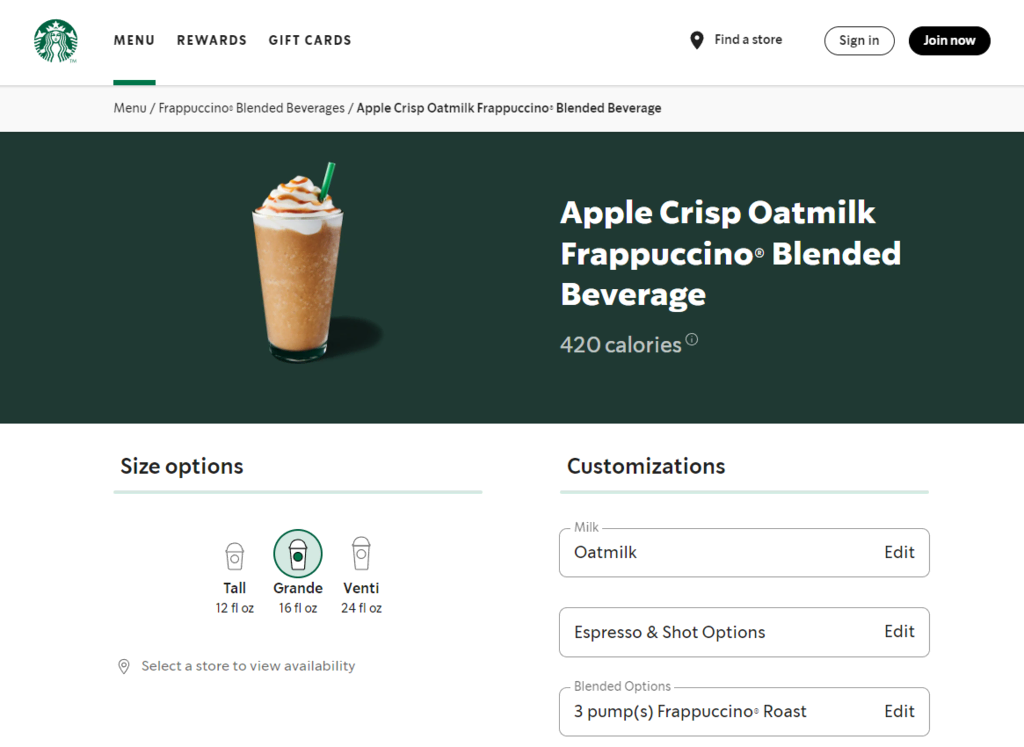 In the third quarter of 2022, 60% of Starbucks's cold beverage orders were customized. The coffee shop and roastery utilize customer behavior data to offer hyper-personalized suggestions.
Starbucks tracks customer data on the mobile app to generate unique, attractive offers in real-time. It considers customer preferences, activity, past purchases, and location before sending over 400,000 personalized messages through in-app push notifications.
Overall, the future of AI in the eCommerce landscape is promising. By 2027, the global AI market is projected to reach $407 billion – a dramatic uptick from $86.9 billion in 2022. Another study reveals that 91.5% of leading brands and companies invest in AI continuously.
Pro tip
Check out our AI in eCommerce piece for more ideas on how to use artificial intelligence for your online store.
2. Hybrid Commerce
The future of eCommerce is phygital – a blend of online channels and physical retail experiences. This eCommerce model integrates multiple channels and platforms to provide a seamless experience, encouraging hybrid commerce or omnichannel selling.
A simple way to conduct omnichannel selling is by implementing click-and-collect. Also called buy online, pick up in-store (BOPIS), this service lets customers check out online and collect their purchases at the store or pickup station.
The convenience of online shopping, quick in-store visits, and zero shipping charges has steadily grown the click-and-collect trend. Its value is projected to surpass $154 billion by 2025. Leading retailers like Walmart, Target, and IKEA offer this service.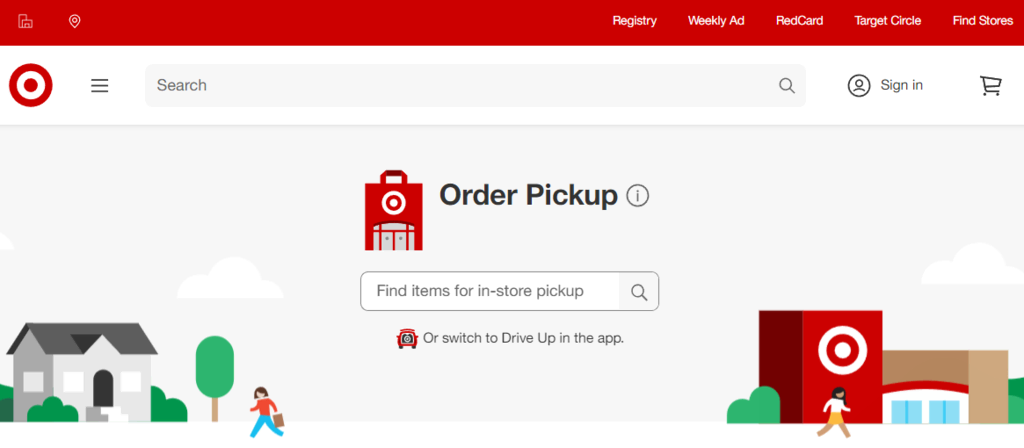 The research online, purchase offline (ROPO) consumer behavior has also increased in popularity. In addition to zero shipping fees, ROPO lets customers ensure a product's compatibility. After all, 56% of shoppers want to see, touch, and feel the products before buying.
Furthermore, eCommerce business owners can opt for a progressive web app (PWA) to accommodate customers who prefer to shop online. A PWA is a win-win solution for business owners choosing between building an eCommerce app or website.
Progressive web apps act like native apps that are compatible across different devices and browsers. They are excellent for optimizing mobile users' shopping experiences.


Even if you already have a robust eCommerce app or site, you should still consider offering your products on online marketplaces. By 2025, global online marketplace sales are projected to reach $8.8 trillion at a 20% CAGR.
You can also use the marketplace's free shipping and return policies to attract consumers.
Remember to offer a consistent customer experience when balancing online and offline channels. This effort pays off well – the order rate is 494% higher for companies employing omnichannel campaigns.
3. Augmented and Virtual Reality
The AR/VR market size, growing at a ten-year CAGR of 41.1%, is expected to reach $856.2 billion by 2031.
Augmented reality (AR) integrates the real, physical world with computer-generated visuals, sound, or other stimuli. Meanwhile, virtual reality (VR) is a simulated experience that puts the user in a seemingly real computer-generated environment using a special headset.
Numerous eCommerce brands are adopting AR and VR technologies to offer a more immersive shopping experience.
Consumers' reactions are predominantly positive. According to a survey, 71% would shop more if a business used AR. Another study reveals that companies using AR/VR content have a 94% higher conversion rate.
IKEA is one of the companies paving the way for augmented reality.
The IKEA Place mobile app uses Apple's ARKit platform to let customers view digitally-reproduced 3D product images in their homes. Users can examine whether a furniture piece fits nicely in a room with their mobile devices.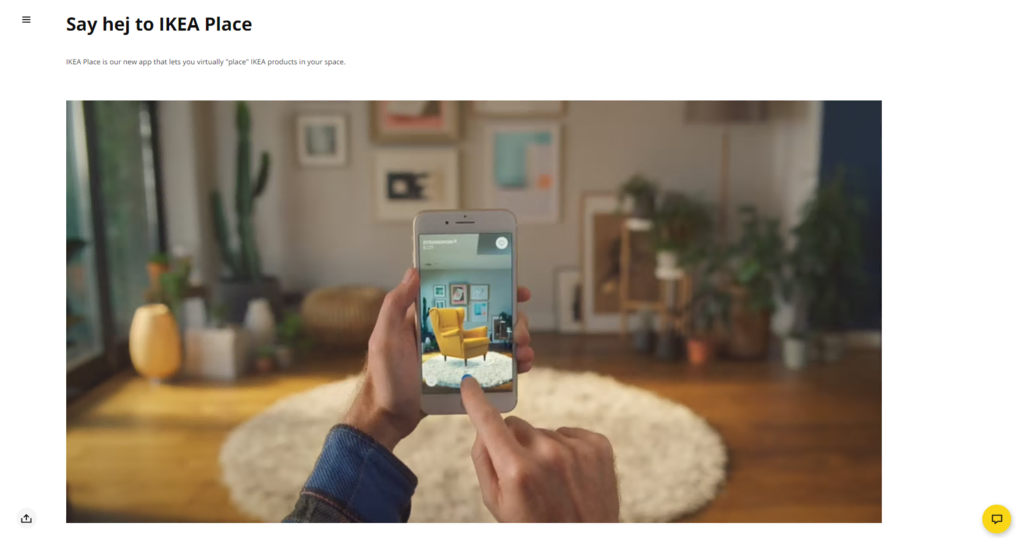 4. Customer Relationship Management
Customer relationship management (CRM) includes tools and strategies to help eCommerce businesses manage customer interaction. A great CRM strategy is essential, as 92% of customers would abandon a business after two or three negative interactions.
CRM lets business owners understand their customers' needs and behavior better. This helps strengthen relationships and build a loyal customer base.
The CRM market size is expected to hit around $128 billion by 2028. Additionally, over 91% of companies with 10 or more employees use CRM to manage customer conversations.
Loyalty and reward programs are excellent CRM strategies. In fact, 75% of customers favor companies that offer rewards. These programs also improve retention rates by 5% and profits by 25% to 95%.
The North Face's loyalty program, XPLR Pass, lets customers earn points through several actions – purchasing an item, store check-ins, and referring a friend.
Every 100 points give customers a $10 reward that they can spend on The North Face's products. Loyalty members can also access exclusive products, birthday gifts, and field testing.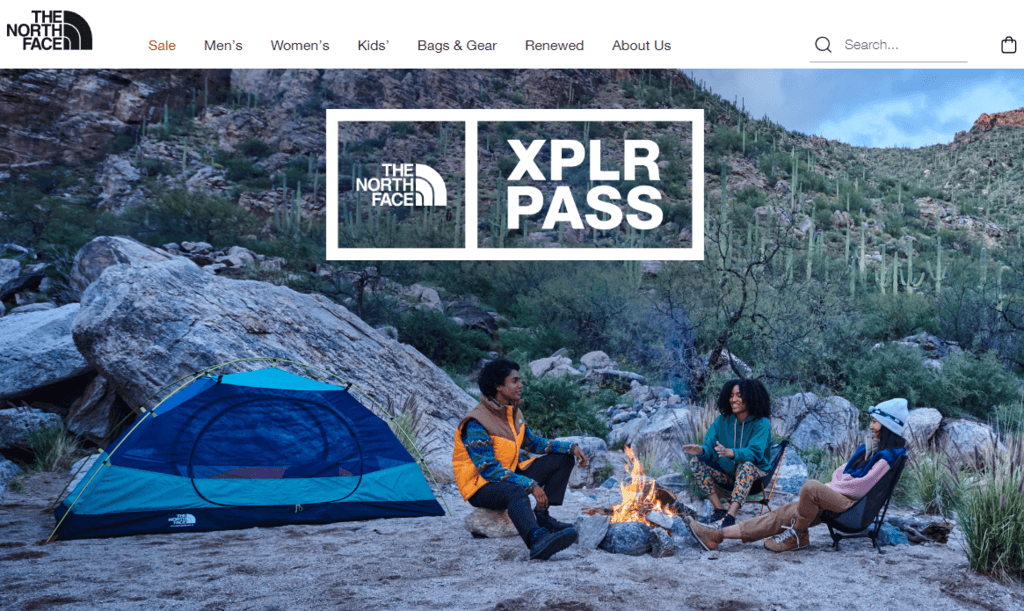 CRM will continue to be a top strategy for improving customer engagement. Therefore, investing in a CRM tool can be great for an eCommerce business's growth.
If you're a WordPress user, install CRM plugins like HubSpot CRM or JetPack CRM. These plugins allow you to tailor your CRM strategy, including email marketing management, social integration, and funnel builder features.
5. Customer Support as a Priority
Customer support has been and will always be essential in every business. Issues with products or services can turn away existing customers and potential buyers. Ultimately, a company is responsible for offering quality assistance.
81% of customers believe a positive support experience encourages repeat purchases. Reply time is essential, and 60% of customers agree that 10 minutes or less is the benchmark for immediate response time.
Consumer demand for instant interaction is why live chat has become the preferred communication channel. 41% of consumers choose live chat over phone, email, and social media support because it offers immediate help with minimal effort.
Despite the increasing demand for real-time customer service, many businesses now utilize customer service chatbots to help streamline the customer journey from acquisition to retention.
With an average CAGR of 25.7%, the global chatbot market is forecasted to account for $3.99 billion by 2030. As the demand for immediate response continuously grows by 64% yearly, utilizing chatbots is an excellent step.
Uniqlo IQ takes one step ahead with its chatbot. Apart from providing customer service, Uniqlo IQ helps users in other ways. It can select the best item that goes well with a recent purchase and pick an ensemble based on the occasion.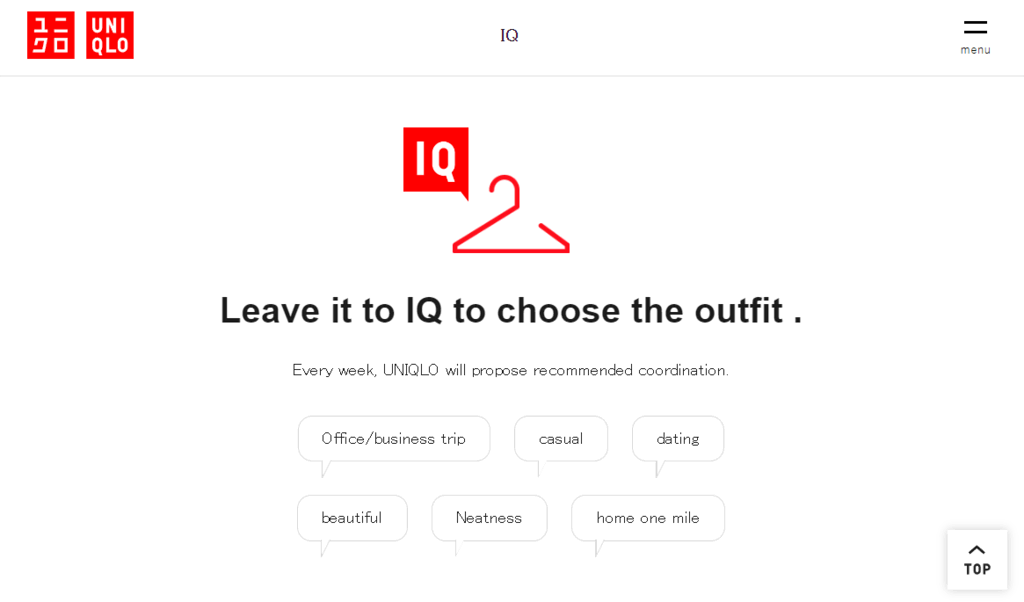 Fortunately, adding chatbots to eCommerce sites is relatively easy. If you're a WordPress user, Tidio, IBM Watson Assistant, and WP Chatbot Plugin are some of the best AI-driven chatbot plugins.
Expert Tip
Chatbots have improved customer satisfaction, and this trend will continue to grow. They are the primary choice for over 60% of all end customers. Companies use chatbots to improve customer service, provide faster and more accurate responses, and collect data to enhance customer experience. Above all, your consumers will receive personalized and prompt service, which all eCommerce businesses should strive for.
6. Social Commerce
Social media is an effective retail sales channel for making the most of mobile shopping. A study shows that mobile devices share 80% of social media traffic. Furthermore, 79% of smartphone users have made a purchase using their mobile devices.
Already a multibillion-dollar industry, social media commerce sales are expected to triple by 2025, reaching $1.2 trillion. On top of that, global social network users surged over the four billion mark in 2021 and are projected to reach almost six billion in 2027.
eCommerce businesses should take advantage of this trend, especially when 75% of users use social media platforms to research products. Facebook is currently the most popular platform, with around 2.9 million users worldwide.
Thanks to built-in eCommerce platforms, such as TikTok Shop, Instagram Shopping, Facebook Shops, and Pinterest's shoppable ads, business owners can conveniently execute campaigns to reach their prospective customers.
Selling from social media channels is cost-effective and can be a great solution for new eCommerce stores. To boost sales, business owners can integrate influencer marketing and live shopping.
Influencer marketing helps drive organic traffic and attract new customers with lower costs. For every dollar spent, it generates a return of $5.78.
60% of marketers found that influencer-generated content drives more engagement and performs better than branded posts. Also, 80% of consumers have purchased products based on influencer recommendations.
One of the leading online retailers, Net-A-Porter, does influencer marketing well.
Net-A-Porter publishes articles about fashion and lifestyle featuring influencers, celebrities, and key industry people. To encourage sales, Net-A-Porter provides Shop the Look links under photographs of the interviewed subjects.
Furthermore, business owners can utilize live shopping features on social media channels.
Live online shopping lets sellers showcase their products to the audience in real-time. Besides creating an interactive experience, showing your product's real-life size, shape, and material through unedited live videos helps build customer trust.
Estimated to reach $55 billion by 2026, live online shopping is one of the most promising eCommerce trends. Consequently, livestream shopping may play a crucial role in reshaping eCommerce in the future.
To join this eCommerce trend, investigate whether it fits your audience. Fashion is the most showcased product category in live commerce, followed by beauty products.
Track the number of views and conversion rates to measure your audience's interest in live commerce. To increase engagement, create a sense of scarcity by offering livestream-exclusive discounts.
7. Subscription Models
Over the past few years, consumers have become increasingly used to the convenience of shopping online. The subscription model has become one of the leading trends in the eCommerce industry as it offers a practical solution to fulfill consumers' recurring expenses.
Unsurprisingly, the subscription market is growing exponentially at a 71% CAGR and is estimated to surge over $2 trillion by 2028.
Various products come as subscriptions, from streaming services to monthly clothing deliveries and daily meal kits like HelloFresh. As of October 2022, HelloFresh has attracted over seven million customers worldwide with its customizable plans.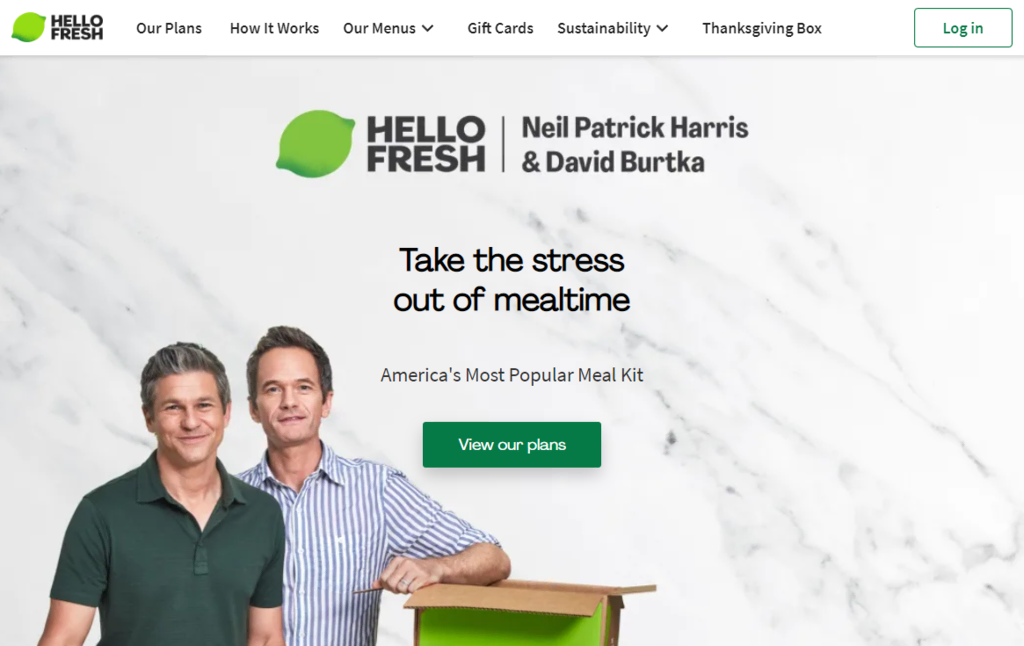 70% of business leaders agree that the subscription model plays a vital role in the future of eCommerce growth and expansion. That said, churn rate is one of the main challenges for this digital business model.
To reduce subscription churn, offer special perks such as free delivery, lower prices, and access to limited products. Maintaining good communication with your customers – like informing them about delayed deliveries – is a great way to improve customer trust.
8. Headless Commerce
Headless commerce is a next-generation eCommerce solution that decouples a website or application's front and back ends. Using application programming interfaces (APIs), headless commerce can deliver content to any front-end framework.
With this architecture, eCommerce shopping will not be limited to desktops, laptops, and mobile devices. Consumers can browse and purchase through Internet of Things (IoT) devices such as smart speakers and smart fitness devices.
Headless commerce unifies all shopping experiences, increases flexibility, and opens sales possibilities. It can also streamline omnichannel selling since headless businesses can quickly incorporate new eCommerce sales channels.
82.91% of business owners saw improvements across various performance metrics after adopting a headless system. Due to its advantages, headless architecture is undoubtedly a future-proof technology in the eCommerce world.
More eCommerce businesses will utilize the headless environment to help streamline their processes, adding to the long list of rising online shopping trends.
In a 2022 survey, 57% of leaders of all business sizes across industries plan to implement the headless approach in the next two years. The research also found that 80% of businesses that haven't switched to headless architecture plan to do it during the same period.
The headless CMS market size is growing at a 22.1% CAGR, anticipating $5.5 billion by 2023.
Consider migrating to a headless content management system (CMS) like Sanity.io and Strapi. Alternatively, opt for a headless eCommerce platform like Shopify Plus and BigCommerce.
If you already use WordPress as your eCommerce platform, you can also use it as a headless CMS.

9. Flexible Payment Options
Don't lose potential buyers just because your site doesn't accept their preferred payment methods. Consider offering popular and alternative payment options to get a head start in the future eCommerce trend.
As mobile devices are nearly universal, providing mobile payment solutions has become among the top eCommerce trends worldwide.
In 2021, digital or mobile wallets accounted for 49% of global eCommerce transactions and were expected to facilitate about 53% of all eCommerce transactions by 2025.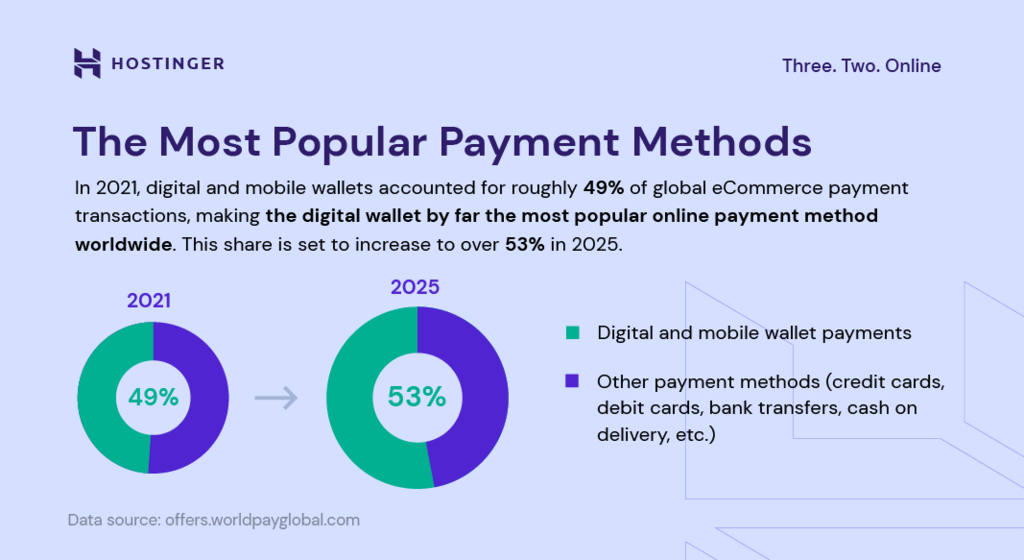 However, be informed that payment methods' popularity varies by region. For example, most people in South Korea favor credit cards over other payment options. Meanwhile, bank transfers are the most popular payment form in Thailand.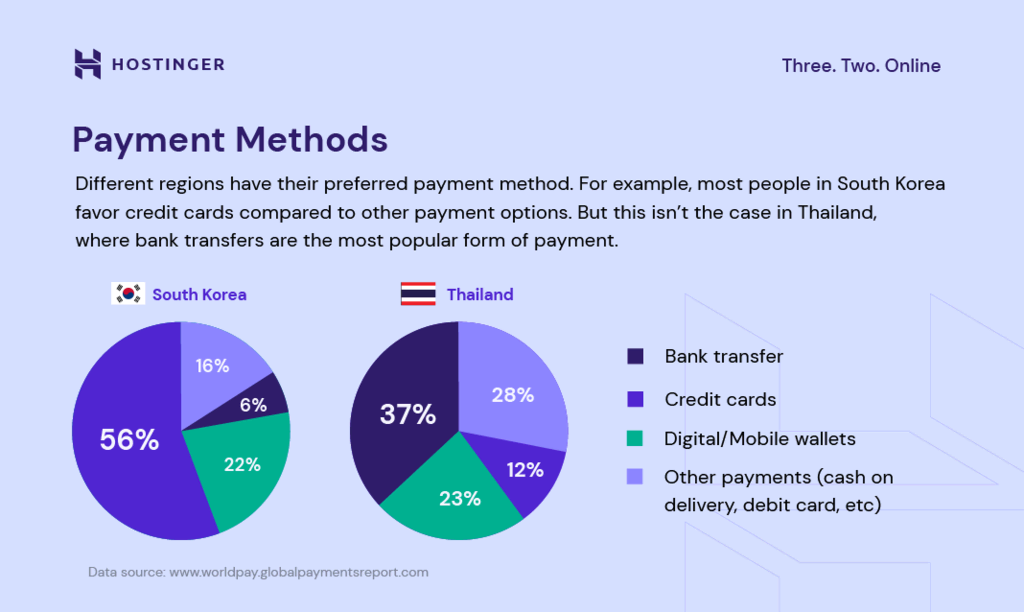 BNPL lets customers pay for products in installments, often interest-free. This payment method is projected to account for $680 billion in transaction volume by 2025, and this uptick will continue to grow.
Since it's accessible to many customers, BNPL is a great way to improve customer experience. Its lower initial payment instills purchasing confidence in customers. This increases retail sales and reduces the cart abandonment rate by 35%.
BNPL is applicable for various products, from food to more expensive items like electronics.
To add this payment solution to your checkout page, use a payment gateway that supports installment payments. Excellent BNPL providers include PayPal Pay in 4, Klarna, Affirm, and Afterpay.
10. Voice and Visual Searches
Thanks to the advancement of AI, customers can now take advantage of visual and voice searches.
These AI-powered site search systems use machine learning and natural language processing (NLP) to determine the intent behind a search query and offer the most relevant results.
Visual search lets online shoppers conduct searches using images. It's forecasted to grow at a CAGR of 17.5%, anticipating over $32 million in market value by 2028.
While research shows that 62% of millennials and Gen Z want to use visual search, only about 8% of brands offer this functionality.
The ASOS app employs visual search through the Style Match feature. It lets visitors upload a photo of an item they want to purchase online, then generates a list of products most similar to the uploaded image.
Business owners can join this shopping trend by using high-quality product photos. This helps amplify your store's discoverability on platforms with a visual search feature, like Google and Pinterest.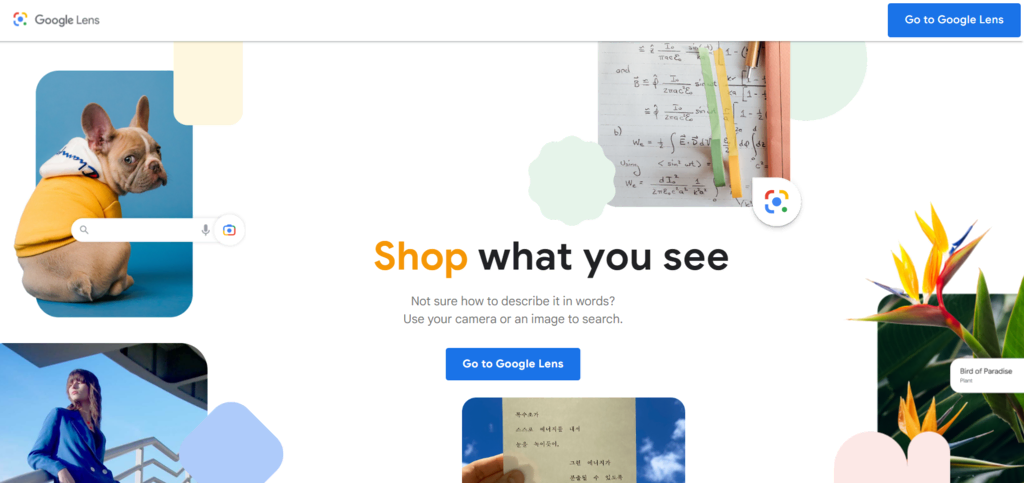 On the other hand, voice search lets people multitask, helping them save time and avoid the hassle of typing a query into a search bar. Around 47% of shoppers used voice commands to make an online purchase, and 58% were satisfied with their experiences.
Due to the technology's ability to capture shopping habits, 61% of the respondents use it to repurchase saved orders. The most frequently purchased items via voice shopping are daily necessities, like groceries (48%).
The voice search market value is estimated to grow at a CAGR of 23.7%, anticipating a jump from the estimated $11.21 billion in 2022 to $49.79 billion by 2029.
To optimize your eCommerce store for voice search, aim for the top position on Google as it reads top-ranking content to voice searchers. Furthermore, execute a proper keyword strategy. People tend to ask complete questions instead of phrases when using voice search.
For example, to find nearby online stores that sell masks, someone may say, "Ok, Google, where to buy masks near me?".
11. Conversion Rate Optimization
One essential task when running an eCommerce website is converting traffic into purchasing customers. Applying conversion rate optimization (CRO) encourages site visitors to buy your products or sign up for your newsletter.
Important! Conversions aren't just online sales and signups. They may also include customers adding products to their wishlist or cart.
The future of CRO is customer-centric. More marketers will focus on discovering what attracts and prevents visitors from taking action, guaranteeing the best user experience possible.
Therefore, business owners should strategize their eCommerce developments and optimize every customer touchpoint, including the landing page.
Websites with over 30 landing pages yield seven times more leads than those with less than 10. To ensure higher conversions, create a straightforward copy to minimize unnecessary distractions.
Conducting website usability testing is also a great way to measure a CRO strategy's performance. One of the popular examples is the A/B test. This method enables you to assess the responsiveness of two versions of a webpage or CTA for mobile shopping.
Statistics reveal that 60% of companies already implement A/B testing, and 34% plan to utilize the strategy.
Future Market Insights' study shows that the CRO software market is growing at 11.6% CAGR. Another study reveals the average return on investments in CRO tools is more than 223%. Hence, integrating one into your eCommerce site is a smart move.
Hotjar and Glassbox are great CRO tools for qualitative data analysis. To process quantitative data, use Google Analytics or Mixpanel.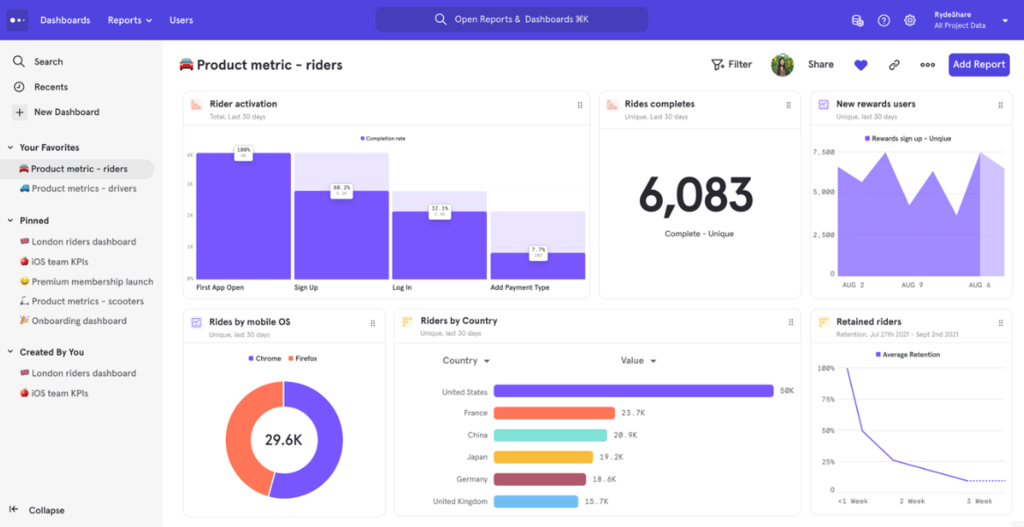 12. Marketing Automation
Marketing automation, with the help of machine learning, enables businesses to automate routine marketing tasks, such as ads, outreach, and follow-up emails.
This technology doesn't rely on generic messages. It gathers and analyzes customer data to create personalized messages for every step of the buyer's journey. The result is improved customer engagement and increased conversion rates.
Marketing automation will grow at 12.8%, anticipating $9.5 billion by 2027. Due to its effectiveness in streamlining workflows, marketing automation saves more than six hours a week.
To stay on top of this new eCommerce trend, 40% of marketers plan to implement automation into their email marketing campaigns.
The marketing automation algorithm helps reduce the cart abandonment rate by pushing automated emails to encourage customers to complete the checkout. In these emails, business owners can offer free shipping coupons as an incentive to improve their success rate.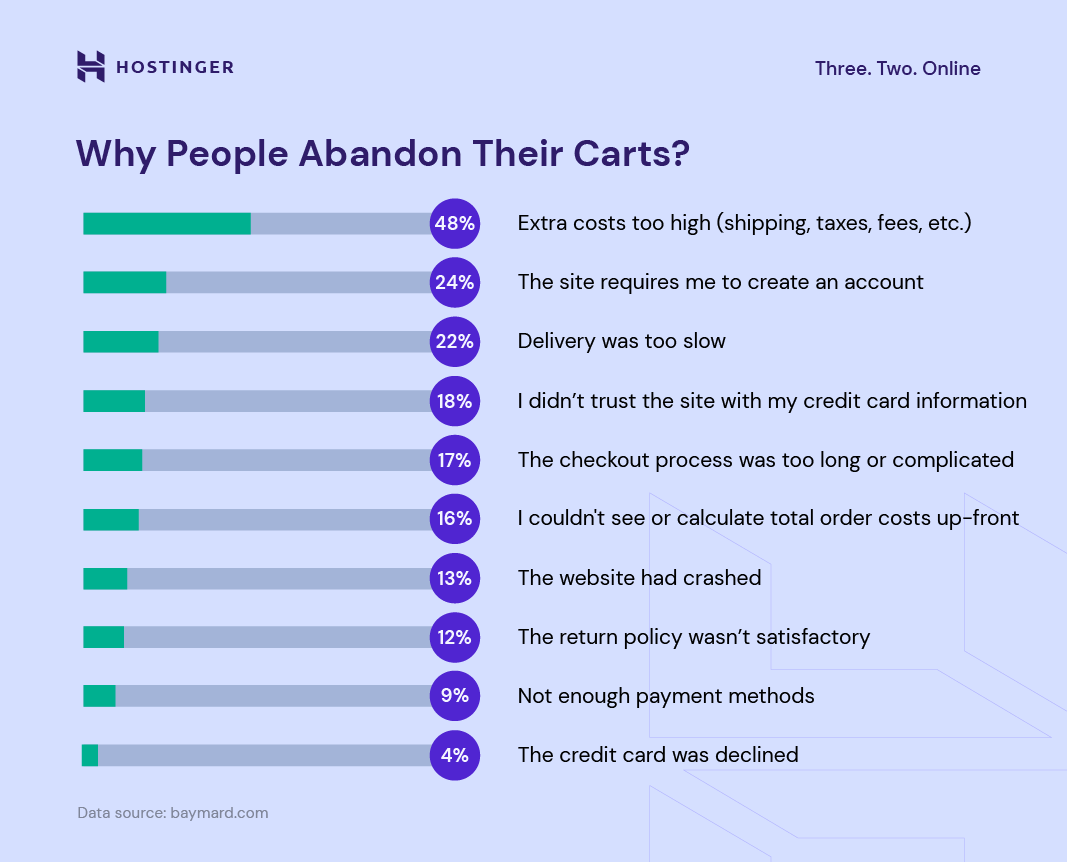 Many tools are available to help integrate automation into an online store. If you use email marketing, opt for email automation tools like Mailchimp and Constant Contact. For WordPress users, marketing automation plugins like ActiveCampaign are helpful.
13. Fast and Free Delivery Options
Customers expect their online purchases to arrive as soon as possible. Research suggests that 62% of online shoppers expect free shipping orders to arrive within three business days.
In addition to speed, free or affordable shipping is another eCommerce trend business owners should look out for. The Jungle Scout Consumer Trends report reveals that 72% of US online shoppers seek products with the lowest shipping prices.
Unfortunately, shipping satisfaction indicates a yearly decline. In 2022, online delivery satisfaction registered eight and above scores from 67% of the respondents. This number dropped from 77% in 2021 and 79% in 2020.
Consequently, business owners should strategize efficient shipping systems to meet online customers' expectations.
Amazon sets a great example for an excellent fulfillment strategy. It achieves a faster supply chain by distributing its inventory warehouses globally.
Both shipping speed and costs will continue to influence the future of eCommerce. If you can't offer fast deliveries or advanced warehousing, discounted or free shipping is an incentive worth pursuing.
14. Zero-Party Data
A survey by Cisco found that 86% of consumers care about data privacy – they demand transparency and control over how businesses use their data. 47% of the respondents have switched companies due to poor data policies and practices.
Apple answered this concern by incorporating App Tracking Transparency. This feature lets internet users opt out of data tracking for affiliate marketing or Facebook advertising purposes. Google Chrome will also end its support for third-party cookies starting mid-2023.
To survive future data policy changes, we recommend collecting zero-party data – information collected directly from relevant, consenting customers.
There are many ways to collect zero-party data. Some examples are quizzes, polls, and registration. As it offers a more participatory customer experience, zero-party data also helps business owners improve engagement.
However, avoid asking for too much information at once. This may overwhelm customers and stop them from sharing valuable insights.
It's also important to follow the newest technical updates related to web development, especially when it impacts your site's performance on search engines. For example, a recent Google algorithm update considers page experience, one of the core web vitals, as a ranking factor.
15. Sustainable Online Shopping
Sustainability, specifically the environmental impact of eCommerce, has been a growing concern for many consumers. By the end of this decade, CO2 emissions from freight shipping may amount to 25 million metric tons.
Furthermore, 52% of consumers worldwide admitted that the pandemic has made them value sustainability issues more. Another survey shows that nearly 80% of customers consider the sustainability of online retailers, products, or brands when making purchases.
As such, green commerce is among the many rising trends in online shopping. A major field of interest is how orders are packaged and delivered.
Annually, shipping accounted for 3% of total global greenhouse gas emissions. 65% of customers try to buy sustainably packaged products, and 29% regularly avoid plastic packaging. Furthermore, 64% of US and UK consumers demand that fashion brands use less packaging.
These statistics show that consumers want a greener shopping experience than most businesses currently offer. To boost competitiveness in the future eCommerce landscape, savvy businesses need to adapt to this large-scale shift in customer behavior.
A great example of a sustainable eCommerce business is the online grocery membership store Thrive Market. It offers ethically-sourced products delivered to customers in carbon-neutral packaging. Moreover, its warehouses are zero-waste.
Opting for eco-friendly packaging is among the most effective ways to introduce brand sustainability. Paper and cardboard are excellent recyclable materials. If you still need plastic, use biodegradable plastics or plant-based bioplastics instead.
Conclusion
Following the latest eCommerce industry trends doesn't mean copying someone else's business strategies or implementing new eCommerce technology without sufficient planning.
Rather, it should be about keeping up with the times and evolving customer expectations. This lets you provide a richer shopping experience for your customers while maintaining a healthy business.
In this article, we have explored 15 of the biggest eCommerce trends to prepare for the future of the online retail industry. Here are some key takeaways:
AI plays a huge role in driving eCommerce growth. Trends like AI-powered personalized marketing, customer support, smart search, and automation are now widely used in many businesses' day-to-day operations.
To boost eCommerce sales, strategize your marketing around AR/VR, reward programs, social commerce, and subscription models.
Having brick-and-mortar stores in addition to online shopping helps create a seamless omnichannel experience. Business owners can also use PWA and digital marketplaces to improve mobile shopping.
Improve user experience by offering multiple payment options, granting fast and free delivery options, collecting zero-party data, and providing more sustainable online shopping.
Get ahead of your competitors by migrating to the headless environment. It comes with many advantages, including increased traffic and ROI. Also, optimize landing pages and conduct A/B tests to improve conversion rates.
Some of these trends may only apply to specific business models. Hence, it's crucial to understand the ins and outs of your business to make informed decisions and ensure success.
We hope this article has helped you keep up with future eCommerce trends and grow your online business. Feel free to ask questions and share your thoughts in the comments section.
eCommerce Trends FAQ
In this section, we'll answer some of the most frequently asked questions about eCommerce trends and how it shapes the industry's future.
How Is eCommerce Changing in 2024?
AI will play a huge role in customer support and marketing automation. Furthermore, more eCommerce businesses are implementing an omnichannel strategy. Flexibility is also key to excellent customer experience. On top of that, collecting zero-party data helps provide a personalized experience while still maintaining customers' trust.
Will eCommerce Replace Physical Stores?
Despite the rapid growth of online shopping, it's unlikely that in-store shopping will completely halt.
Hybrid commerce is one of the new trends in eCommerce. It combines the brick-and-mortar store experience with multiple channels like eCommerce sites and progressive web apps. Therefore, physical stores are still a big part of the future trends in eCommerce.
What Percentage of Sales Are Made Through eCommerce?
In 2021, eCommerce made up 19% of all retail sales globally. This percentage is expected to increase gradually to 24% by 2026.