30 Small Business Statistics to Capitalize On in 2022
Starting a business is becoming more popular these days. Millions of people have this dream for various reasons ‒ following a passion, seeking freedom, and achieving financial independence, to name a few.
Besides understanding the steps of starting a business, knowing the market's current state and demands is crucial for your entrepreneurial journey. Additionally, conducting research on the most profitable small business ideas will help your company take off much faster.
This article will cover the latest small business statistics every aspiring entrepreneur should know in 2022, regardless of the chosen business model. With this information, you'll get some insights into what works and doesn't, increasing your chances of succeeding in the business world.
Download Guide To Writing Business Plan
Top 10 Small Business Stats You Should Know
Here are the top 10 small business statistics overviewing the current state of the private sector:
There are 32.5 million small businesses in the US.
Small businesses created 12.7 million net new jobs between 1995 and 2020.
63% of small business owners plan to increase spending on social media.
77% of small businesses in the US used business earnings as their primary source of funding.
Cash is the most popular form of financing in 2021.
29% of people started a small business because they were ready to be their own boss.
The salary of a small business owner in the US ranges between $30,000-$130,000/year.
71% of growing small businesses survived the pandemic through digitization.
42% of small business owners have developed new digital capabilities and will maintain them after the pandemic.
Lack of capital or cash flow was the number one non-pandemic-related challenge for small businesses.
General Statistics About Small Businesses in the US
This section focuses on the general small business stats in the US. Therefore, the data should benefit those living there or planning to target this particular market.
1. There are 32.5 million small businesses in the US (Small Business Administration).

81% of the total small businesses, approximately 26.5 million, are nonemployer companies. Only 19% or 6 million small businesses are employer firms, meaning that they have paid employees.
The Small Business Administration defines nonemployer businesses as freelancers and independent contractors who work independently. Besides having more autonomy and equity, this business type also requires low startup costs.
2. Small businesses created 12.7 million net new jobs between 1995 and 2020 (Small Business Administration).
In comparison, the SBA recorded that large businesses created 7.9 million new jobs within the same period.
In addition to the massive variety of trending products and services offered, small businesses significantly contribute to the US economy's growth.
3. Approximately 29% of employer businesses are family-owned (Small Business Administration).
The sectors with the highest share of family-owned businesses were company management and utilities, accounting for 50% and 47%, respectively.
In contrast, health care and social assistance had the lowest share at 16%. This is understandable as the government has total authority over this particular sector, leaving limited space for independent contractors to thrive in.
4. 20% of US-based small businesses operate within professional services and real estate industries (SBCS).
Non-manufacturing goods production and associated services industries have the second-highest share of small businesses at 18%. Business support and customer services come third with 15%.
On the other hand, the manufacturing industry has the lowest share of small enterprises, accounting for 4% only.
The low number of small businesses operating in the manufacturing industry makes the competition less stiff than those in the saturated sectors. In other words, you will have better chances of succeeding in it.
5. 52.1% of small employer firms in the US are S-corporations (Small Business Administration).
| | | |
| --- | --- | --- |
| Type of Business | Nonemployer | Small employer |
| Sole proprietorship | 86.6% | 13.7% |
| Partnership | 7.4% | 11.9% |
| S corporation | 4.5% | 52.1% |
| C corporation & others | 1.5% | 22.5% |
In the US, an S corporation has a regular corporate structure with a special tax status to include the business profit in the shareholders' personal income tax. It's designed to avoid C corporations' double taxation and protect the business owner's personal assets from business debts.
On the other hand, a sole proprietorship is popular among nonemployer companies, with 86.6% of businesses adopting this legal structure. It's the simplest business structure anyone can start a business with, as only one person owns and runs it.
Small Business Social Media Marketing Stats
With 4.55 billion people using social media, advertising on social networking sites is an integral part of any business strategy. Small businesses rely on this method in particular due to its cost-effectiveness and high conversion rates.
The following are five small business social media marketing statistics for higher brand awareness.
6. 55% of small business owners in the US were advertising on social media (Statista).
66% of the small businesses surveyed claimed to use Facebook, while 42% opted for YouTube.
This isn't surprising since Facebook and YouTube were the two most popular social media platforms in 2021. According to DataReportal, both Facebook and YouTube have over two billion monthly active users ‒ surpassing Instagram by approximately a billion users.
Advertising on platforms with such a massive audience base will give small companies a competitive edge in their marketing efforts.
7. 94% of small businesses post monthly on social media (Asset Digital Communications).
79% of marketers post weekly, while 52% do it daily. Only 6% of small firms post less frequently than once a month.
Interestingly, of 86% of social media users who follow a brand, 58% do so to receive deals and promotions. With 17.9% of users unfollowing brands that rarely post, not having a regular posting schedule will cost you a lot of potential customers.
8. 55% of consumers learn about new brands via social media (SproutSocial).
Brand discovery in social media is particularly popular among Gen Z as 78% of users from this demographic use it regularly, followed by 61% of millennials and 56% of Gen X. Only 35% of baby boomers surf social media to find new brands.
Therefore, businesses that target Gen Z and millennials will improve their exposure much faster by investing in social media marketing, particularly on popular platforms such as Instagram and TikTok.
9. 63% of small companies plan to increase spending on social media (The Manifest).
More than half of small businesses focus on social media marketing. 54% of small firms will invest more in their website, while only 35% plan to spend more on SEO.
Social media may be one of the most cost-effective and profitable digital marketing channels due to its massive user base. Be that as it may, being active on social networking platforms without practicing SEO will bring substandard results or, even worse, losses.
For this reason, we recommend tapping into other eCommerce marketing strategies while also optimizing your campaigns for search engines.
10. 47% of small business owners handle their marketing efforts independently (Leadpages).
Small companies' decisions to manage their marketing efforts resulted in a lack of time for proper preparation and optimization.
Statistics show that only 20.77% of small enterprises spent ten hours or more on social media marketing in the US alone.
Therefore, consider investing in a professional marketer to improve your marketing campaigns for better results. It may cost you extra, but the traffic and brand awareness you'll get will expose your small business to a wider audience.
Small Business Finance Statistics
Knowing how small businesses manage their financial affairs will give you a better idea of what works and what doesn't.
Here are five small business statistics highlighting the available financing options to help new businesses make better financial decisions.
11. The average small business loan amount in the US was $71,072 (AdvisorSmith).
This figure applies to businesses that generate up to $5 million in annual sales. The average loan amount varied based on the borrower's business type, bank or lending institution, and loan terms.
95% of small business loans surveyed were fixed-rate loans with an average loan balance of $66,917. Overall, most small business owners prefer to make long-term predictable payments to mitigate interest rate fluctuations.
12. 77% of small businesses in the US used business earnings as their primary source of funding (Small Business Administration).
According to the US Census Bureau, the average revenue of a small business with no employees is $46,978/year. During the pandemic, many small businesses utilized the resources provided by the SBA Office of Capital Access to maintain their cash flows.
In 2020, 73% of small employer firms received financial assistance from the Paycheck Protection Program. It provided funds for small businesses to pay interest on mortgages, rent, and utilities.
13. Auto or equipment loan applications were most likely approved (SBCS).
Merchant cash advancement loans had the second-highest approval rate at 84%, followed by the business line of credit at 71%.
Interestingly, only 43% of personal loan applications were approved, the lowest approval rate of the eight loan types surveyed. Other loans with low approval rates were business loans (57%) and SBA line of credit (65%).
14. Businesses with lower credit scores turned to online lenders and non-bank finance companies much more frequently than those with higher credit scores (SBCS).
35% of small businesses with lower credit scores sought out loans from online lenders, while 23% turned to non-bank finance companies. The latter include mortgage companies, equipment dealers, and insurance companies.
In comparison, only a small percentage of small businesses with higher credit scores submitted loan applications to online lenders (11%) and finance companies (11%).
15. Cash was the most popular form of financing in 2021, with 39% of business owners utilizing it (Guidant Financial).
Rollover for Business Startups (ROBS) came in second with 20% of respondents utilizing it. Meanwhile, 10% of small businesses sought financial aid from family and friends.
Home Equity Line of Credit (HELOC) was the least popular form of financing, with only 3% of respondents utilizing it to jumpstart their business.
Top Statistics about Business Owner Demographics
Knowing small business owner demographics will give you more insights into the competition. Plus, this information can help you craft an on-point business and marketing strategy so you can avoid the mistakes of others.
16. 46% of small business owners are Gen X (Guidant Financial).
41% of small business owners are baby boomers, while millennials comprise 13%. Gen Z or zoomers, born between 1997-2021, only account for 1% of small business owners.
This business trend shows a shift of small business owners based on age from baby boomers to Gen X. A small number of baby boomers will enter retirement by 2022, whereas Gen Xs are still in their productive years.
17. Women own 32% of small businesses or franchises in the US (Guidant Financial).
51% of Gen X-owned businesses are run by women, compared to 31% in baby boomer, 17% in millennial, and 1% in Gen Z businesses.
34% of women business owners hold a Bachelor's degree, while 27% have a Master's degree. Only 8% hold a Doctorate.
Overall, there's been a 114% increase in the number of women-owned businesses over the past 20 years.
18. 29% of people who started a small business did so because they were ready to be their own boss (Guidant Financial).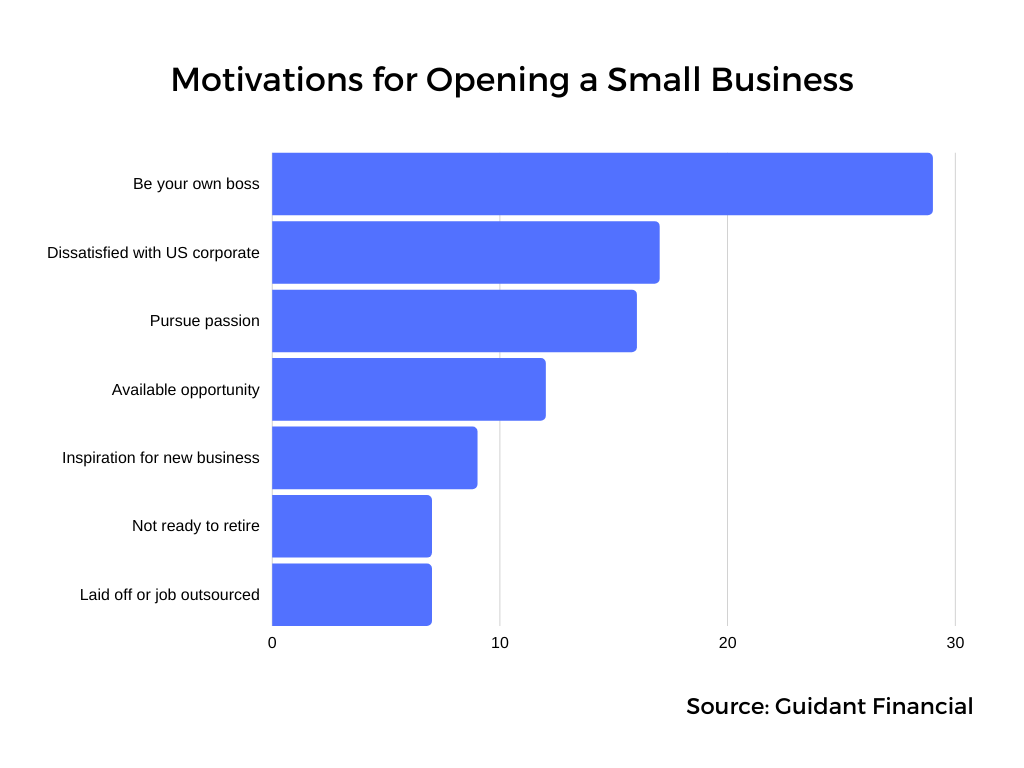 17% of aspiring entrepreneurs started a business because they felt dissatisfied with corporate America. Surprisingly, only 16% of respondents did so to pursue their passion.
Only 7% of respondents started a small business because they weren't ready to retire. The same percentage did so due to being laid off or having their job outsourced
19. The base salary of a small business owner in the US ranges between $30,000-$130,000/year (Payscale).
The average small business owner makes $65,784/year.
Entry-level small business owners with less than one year of experience earn $30,913/year on average. Those with 1-4 years of experience generally make $50,200/year.
Meanwhile, mid and late-career small business owners with 5-19 years of experience are estimated to earn $61,000-$68,000/year. Entrepreneurs with 20 years of experience or more make $76,253/year on average.
20. 70.8% of US business owners are Caucasian (Zippia).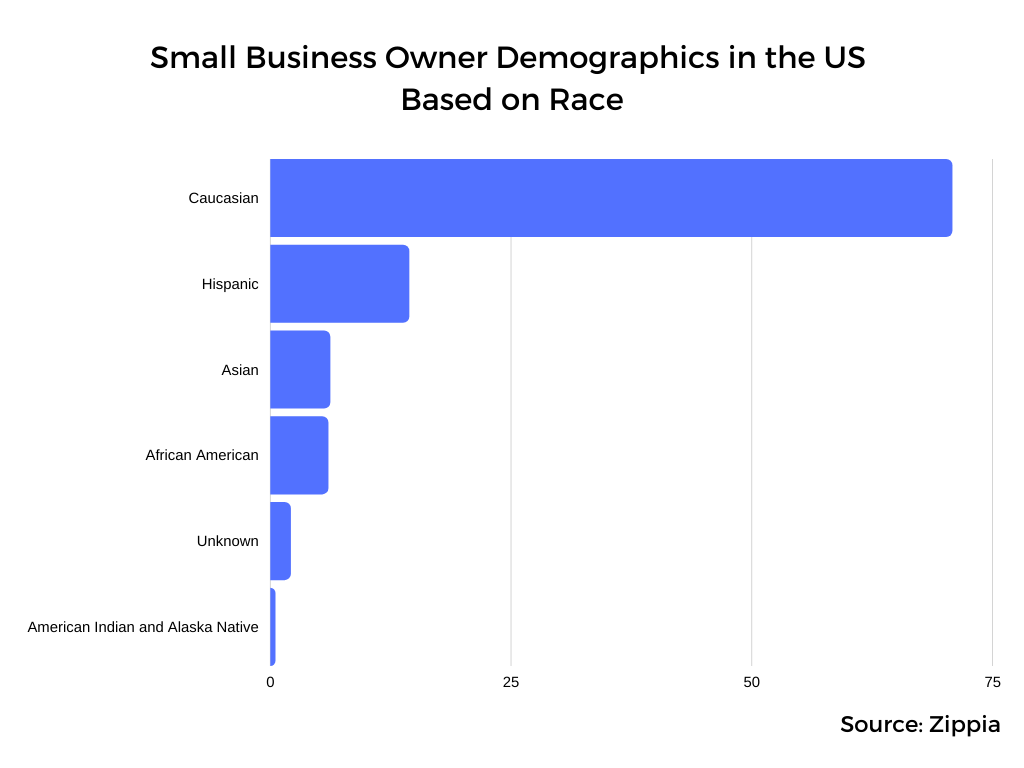 Hispanic or Latino people make up 14.39% of US business owners, followed by Asian (6.17%) and African American (6%).
Interestingly, immigrant-owned businesses account for 30% of small business growth in the US. In 2019, 3.2 million immigrant entrepreneurs comprised 21.7% of all business owners.
Small businesses owned by immigrant entrepreneurs were particularly prominent in construction, transportation, utilities, and retail trade industries.
Statistics about Online Shopping in Small Businesses
As the internet is becoming more accessible these days, many businesses move to an online platform to expand their market reach. To no one's surprise, small enterprises strive to capitalize on eCommerce trends.
Here are several impactful eCommerce statistics to be aware of if you plan to take your business online.
21. 71% of growing small businesses survive the pandemic through digitization (Salesforce).
eCommerce sales in the US and Europe experience a 17.9% and 22.15% annual growth, respectively.
With 27% of the global population turning to online shopping, customers expect small businesses to support online transactions and have an eCommerce presence. This trend will likely continue after the pandemic ends.
22. The growth rate of artificial intelligence (AI) is projected to reach 310% in the next three years (Salesforce).
30% of small business firms plan to use said technology to provide customers with automatic recommendations. Research predicts that this application will have a three-year growth rate of over 892%.
That said, only 46% of small business owners believe that they're ready to implement AI in their business processes in the near future.
23. Up to 80% of people research a small business online before visiting or purchasing from them (Blue Corona).
Additionally, 54% of customers read online reviews before making a purchase. In 2020, 60% of customers did so on mobile, cementing the rising popularity of mobile review reading.
However, this behavior changed during the COVID-19 pandemic, as 34% of digital buyers now read fewer reviews. 31% read more of them, while 35% look up the same number of reviews as before.
24. 70% of consumers support local businesses by shopping online and/or in-store (Mint Life).
Of the 1,500 US citizens surveyed, 57% shopped small to keep their money local. Meanwhile, 38% wanted to support local communities and creators.
Millennial and Gen X customers have the highest tendency to support local small businesses, with 45% of them shopping online to do so. The majority (56%) of people who decide to shop in-store at small businesses are over the age of 45.
25. 42% of small business owners have developed new digital capabilities and will maintain them once the pandemic ends (Pymnts).
In 2020, 26.8% of US-based small businesses had adopted or expanded their use of digital technologies.
Once the pandemic is over and local economies recover, 36% plan to invest more in developing new digital abilities, whereas 5.1% plan to eliminate their online presence.
Those who have implemented online order-ahead pickups and accepted mobile wallet payments are more likely to invest in new digital innovations.
Statistically Biggest Challenges for Small Business Owners
The COVID-19 pandemic has affected various sectors worldwide, and the business industry is no exception.
Keep reading as we will cover some of the biggest factors that impact small business success and failure rates.
26. 67.8% of small business owners in the US were affected negatively by the COVID-19 pandemic (Statista).
Guidant Financial discovered that five of the most common effects COVID-19 had on established small businesses included lost revenue (23%), reduced budgets (11%), temporary closures (11%), reduced personal wages (10%), and temporary pivot (7%).
According to Statista, 44.9% of small business owners experienced moderately negative effects of the pandemic. On the other hand, 6.9% claimed that the COVID-19 pandemic had a moderately positive effect on their business while 1.8% experienced significant positive effects.
27. 67.6% of new businesses survived at least two years (Small Business Administration).
By the end of the fifth year of operations, the small business survival rate was 48.9%, with 33.6% continuing activities for over ten years. Only 25.7% of small businesses survived for at least 15 years.
These small business statistics appear consistent across different industries, such as manufacturing, retail trade, catering and hospitality, and construction.
28. 43% of cyber attacks targeted small businesses (Embroker).
The most common types of attacks small businesses experience include phishing (57%), compromised or stolen devices (33%), and credential theft (30%).
60% of small companies went out of business within six months after the attack. The financial effects of a cyber attack could linger for up to three years.
29. Sales of 88% of small businesses have not returned to pre-pandemic levels (FED Small Business).
Of the 9,693 US-based firms the FED Small Business surveyed, 64% would apply for another round of government aid if offered. 39% claimed that they wouldn't survive without government assistance until sales returned to normal.
30. Lack of capital or cash flow is the number one non-pandemic-related challenge for small businesses (Guidant Financial).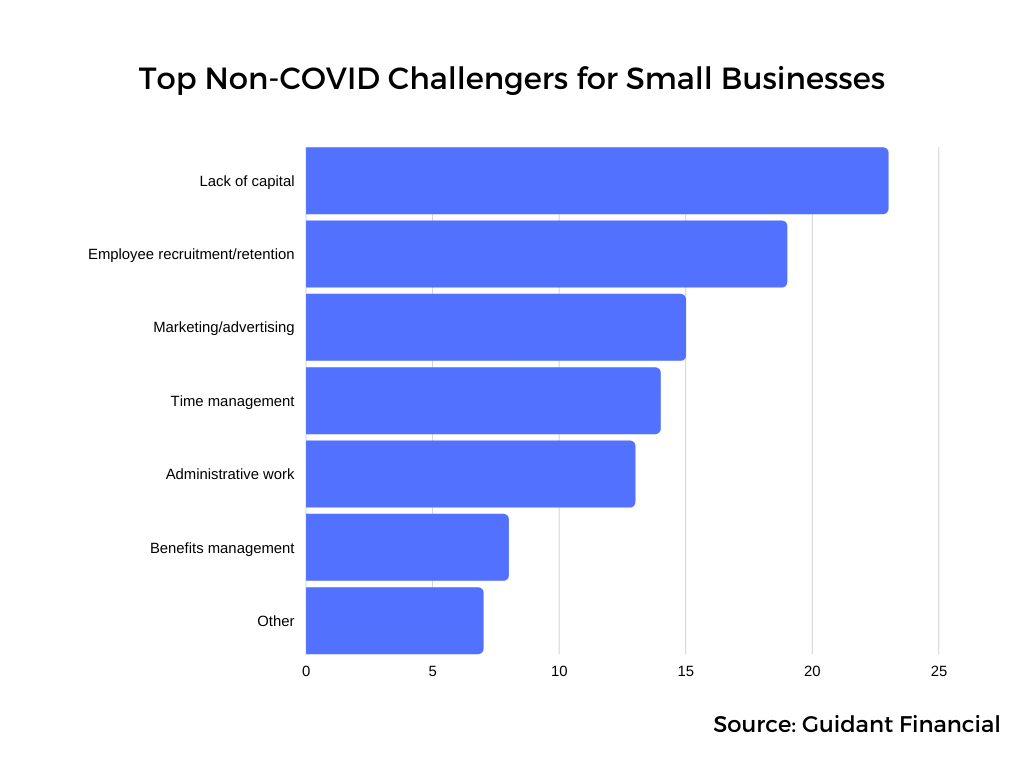 The second biggest challenge that stifles small business growth is employee recruitment and retention, with 19% of small businesses having experienced it. Other hurdles include marketing and advertising, time management, administrative work, and benefits management.
Conclusion
Starting your own business may be challenging, yet many people deem it rewarding enough to pursue. It takes time, hard work, and dedication to make your venture successful and overcome the ever-changing challenges.
However, with a proper skill set, passion, and extensive knowledge of the current market situation, any aspiring entrepreneur can prepare their small business for growth.
We hope the small business statistics provided in this article have been insightful. Make sure to apply this data to capitalize on it and make money online.