How to Sell Website Maintenance Services
Businesses increasingly use websites to promote their services and products. Thus, they need to be maintained regularly to ensure a good user experience and avoid security issues.
However, the problem is that web maintenance can take a lot of time, and not every company has a dedicated person or team to take care of it. In this case, purchasing a website maintenance service is an excellent choice.
If you're a freelancer or work in an agency that focuses on web design and development, adding website maintenance to your list of services is a great idea to bring an additional stream of income.
In this article, you'll learn the essential aspects of website maintenance services. We will cover the benefits of offering them, what should be included in the maintenance package, tips, tricks, and examples from existing web maintenance companies.
Why Sell Website Maintenance Services?
Website maintenance is an essential service. Its implementation improves the site's performance, which directly impacts the site's traffic growth, SEO performance, and conversion rate.
For example, a poor user experience, caused by a poorly designed site, slow loading speed, or glitches, can make 50% of users leave the site and go to a competitor instead.
It can hurt the company's credibility and cause potential revenue losses. Fortunately, these issues can be prevented and solved with regular web maintenance.
Investing in a web maintenance plan is also beneficial in the long run. It ensures experts take care of the website, letting site owners save time and focus on developing and running their business.
For developers or people who want to start a tech business, there are several reasons why selling website maintenance services can present lucrative business opportunities:
Source of recurring revenue – as website maintenance is a continuous service, it's a good way to earn a stable and consistent income online.
It's profitable – depending on your pricing strategy, website maintenance can bring in a sizable profit, especially if you automate the tasks or use white label services.
Opportunity to resell hosting packages – a website maintenance plan usually includes web hosting management, so you can join a hosting company's affiliate program and earn a commission for every sale.
Boost client retention – if you build websites, for example, you can nurture your current clients by offering web maintenance as an extra service. This will help your business stand out and may also increase the possibility of clients recommending your services to their colleagues and acquaintances.
5 Best Website Maintenance Services
When potential clients are looking for a website maintenance plan, they most likely look for maintenance services such as:
Software updates and hosting management.
Backups and recovery.
Website security.
Technical support.
Website analytics.
While it is great to offer content and design updates, these five types of services are essential. They are what we took into account when preparing our list of the best website maintenance service providers.
These companies can serve as a benchmark when you're starting your own website maintenance business.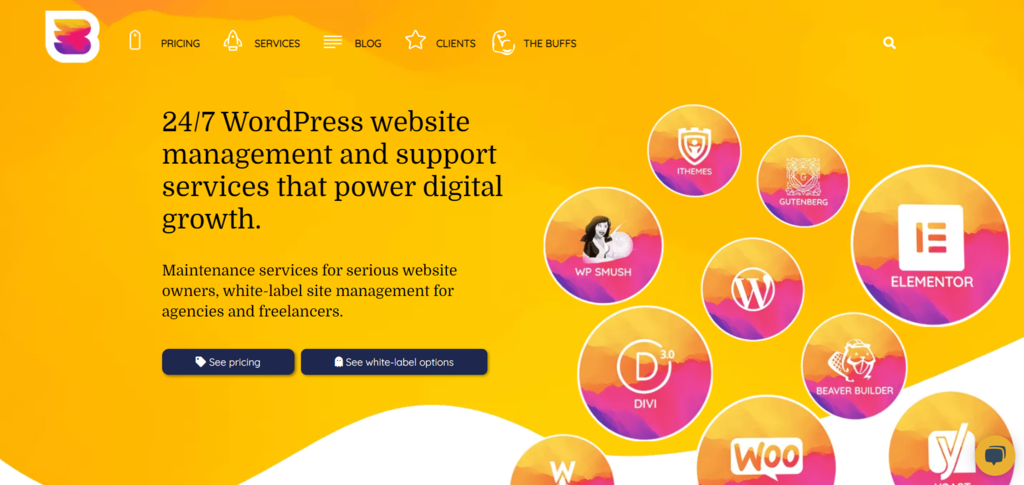 WP Buffs is one of the top-rated WordPress website management and support services. It offers maintenance services for various types of WordPress websites, including corporate, membership, and eCommerce sites.
Their services include:
24/7 monitoring and emergency support – it checks clients' sites uptime every 60 seconds and performs daily security scans. In addition, its customer service team responds within a minute.
Weekly reports – customers receive information about updates, uptime, backups, traffic, and performance.
Unlimited website edits – the company offers 24/7 website edits for customers who sign up for the Protect plan and higher.
WP Buffs' weekly updates may look like a disadvantage at first, since other WordPress maintenance services offer daily updates. However, the longer update period enables WP Buffs experts to test the updates on their staging sites first, ensuring the updates won't negatively impact the clients' sites.
It's also worth noting that WP Buffs performs the updates when a site experiences the lowest amount of traffic to avoid damaging its performance and user experience.
Pros:
The customer service team covers all time zones to respond immediately to any issues on the client's website.
White-label website maintenance plans. If you create and host WordPress websites for your clients, offer WP Buff's services under your own brand.
Cons:
Malware removal and speed optimization are only available with mid to high-tiered plans.
Not the most affordable for startups or small WordPress websites, but its reliability is worth the price.
WP Buffs offers monthly plans that range from $79-$447/month and annual plans that range from $66-$373/year. Its plans are based on each site's needs – from standard WordPress site maintenance to custom sites with advanced functionality.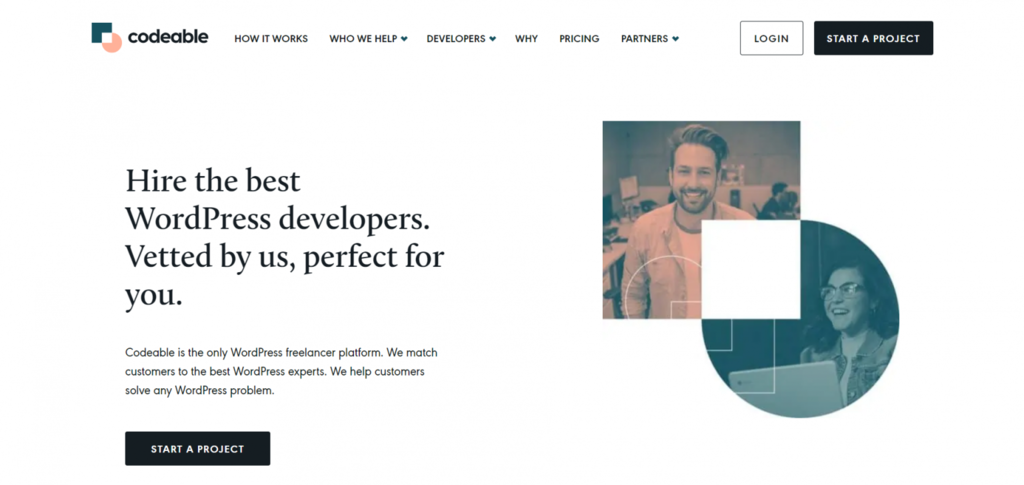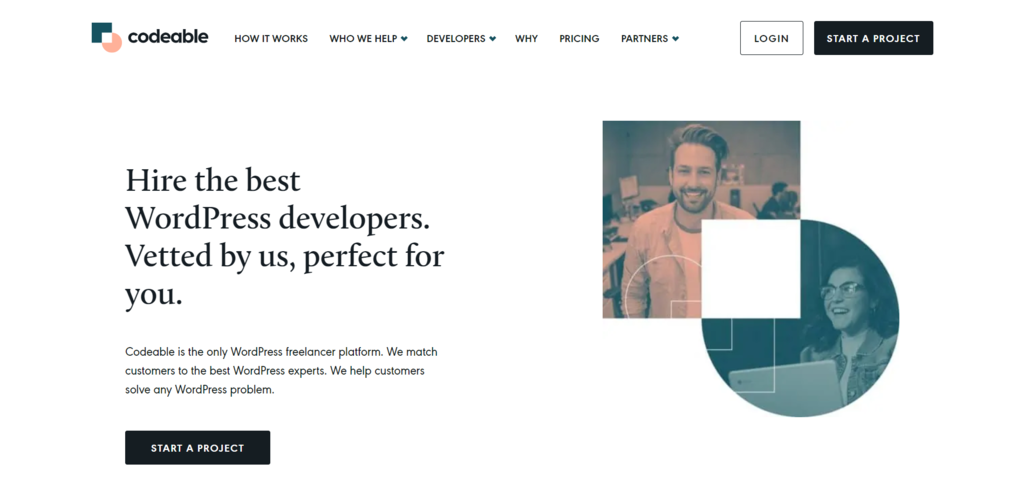 Codeable is a WordPress freelancer platform where people can hire developers to solve WordPress issues. The experts are available for short-term, recurring, or full-time work.
It has a strong vetting process, ensuring that customers only hire experts.
Since every job is customized, Codeable doesn't follow a predetermined pricing model.
Pros:
Customers can specify what type of WordPress service they are looking for. This means they will only pay for what they need.
It offers a 28-day bug warranty and refund policy. Also, Codeable helps clear up any misunderstandings between customers and hired experts. Depending on the issue, it will find a new expert or provide a refund.
Cons:
Customers need to have a clear idea of what service their WordPress website requires. This may be tricky for those who are not familiar with WordPress.
There is no fixed price. Customers only know how much the service will cost when the expert sends an estimate, usually a day after posting the project on Codeable. Alternatively, it provides a pricing guide calculator to estimate the price based on the complexity, urgency, and project scope.
Codeable provides an estimated rate of $70-$120/hour, set to avoid bidding competition between freelancers and issues like low-quality work, dissatisfied customers, and unhappy freelancers.
In addition to that, there is a 17.5% service fee for each project.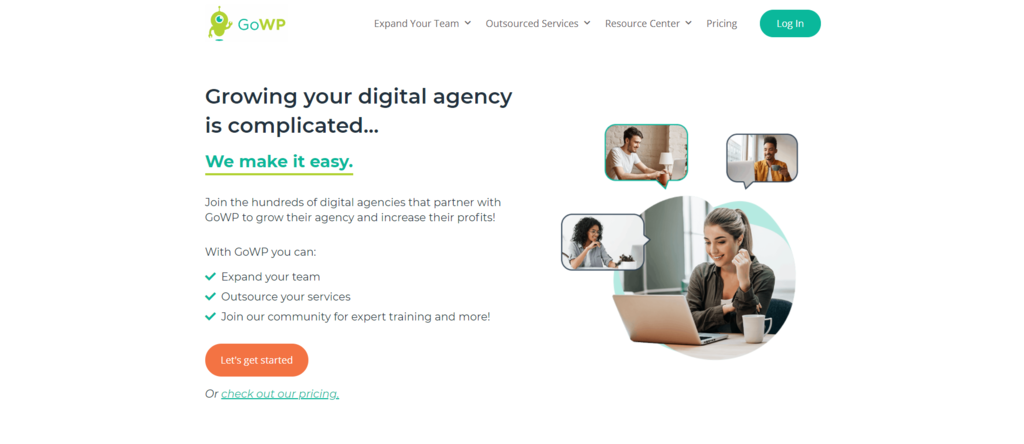 GoWP provides website maintenance services focused on agencies and freelancers who work with WordPress.
It offers white-label website maintenance packages so companies can use their own branding, while the maintenance work is handled by GoWP's team.
There are two types of packages, each with its own plans:
Team expansion – the company lets you hire a dedicated developer, dedicated project manager, dedicated copywriter, and dedicated designer.
Outsourced services – these include maintenance, content edits, landing page builds, and copywriting case studies.
GoWP deals with updates, backups, and other routine tasks so WordPress freelancers and agencies can focus on growing their businesses and delivering results.
Pros:
The white-label product enables freelancers and agencies to get additional revenue without extra workload or team members.
Their website maintenance plan is pretty affordable, at $29/month per site. It includes backups, updates, and malware cleanup.
Cons:
Since it's aimed at agencies or freelancers within the website development industry, non-technical users will face a steep learning curve.
The landing page builds and team expansion plans might not suit freelancers and small agencies due to their higher starting prices.
The outsourced WordPress services range from $29/month for maintenance to $1299/month for landing page builds. It also offers team expansion packages ranging from $1299/month to $2499/month, depending on the area of expertise.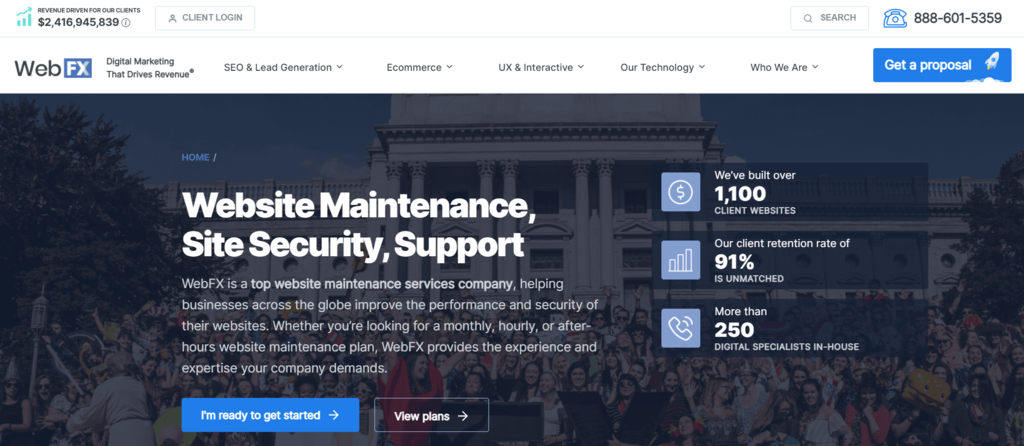 WebFX is a digital marketing and development company that offers all-round digital solutions, from SEO to website maintenance.
Their website maintenance service offers monthly and hourly packages, divided into several plans:
Monthly packages – these include CMS security, full web maintenance, and after-hours maintenance plans.
Hourly packages – the company offers design and support, internet marketing, and development services.
The monthly packages take care of all the management, monitoring, and maintenance aspects of a client's website. Their features include daily updates, quarterly CMS security patches, and annual CMS version upgrades.
Meanwhile, the hourly packages offer specific services for companies that don't need routine maintenance.
Pros:
Suitable for businesses that require routine site maintenance and also that only need maintenance of specific aspects.
Apart from site maintenance, it offers services such as SEO audits and social media management.
Cons:
Services like navigation redesign and functionality development are charged separately from the monthly plans.
WebFX's monthly packages range from $200 to $4,500, while the hourly packages range from $100 to $125, with minimum service requests.
To add the design and development service to your CMS Security Plan, you'll have to pay an additional $150/hour, while the other plans include 3-5 hours of design or development time every month.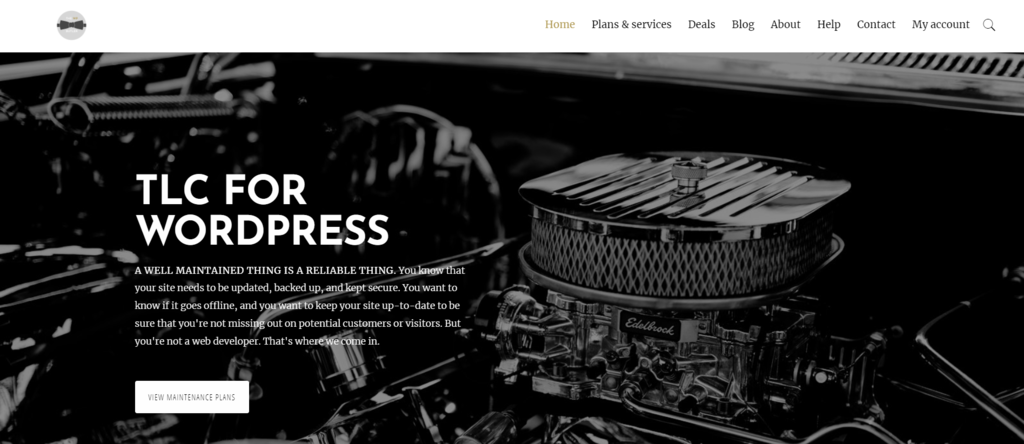 The WP Butler is a great WordPress website maintenance service for those who need customized plans. It offers predefined monthly plans and customized plans, enabling potential clients to choose based on their company size or specific requirements.
Its services include:
Maintenance plans – monthly site maintenance, based on website or business scale.
One-off services – one-time individual tasks charged on a flat fee basis. There are six services, such as caching and speed, security assessment, and site audit.
WordPress monthly retainer – an additional service for the maintenance plans, in which a dedicated person works on the site every month. This plan includes building new sets of features, updating content, and making style improvements. The service is charged based on the number of hours worked per month.
Development work – a plan for those who don't need ongoing maintenance.
By providing a variety of plans, the WP Butler helps its clients stick to their website budget. The predefined plans help non-tech savvy clients choose a plan that best suits their needs.
Pros:
Clients can customize their website maintenance package, ensuring the optimal use of their maintenance budget.
Full daily backups on the Amazon S3 cloud.
Cons:
The information about the money-back guarantee on its website is limited. You have to contact the WP Butler via a contact form to know the process to claim it and other details.
Prices vary significantly. The maintenance plans range from $39-$599/month, and the one-off services range from $100-$250.
The WordPress maintenance retainer starts at $120/hour, but the rates go down the more hours the customer reserves. For projects that demand eight or more hours/month, the price is $100/hour.
What Should You Include in a Website Maintenance Package?
Now it's time to decide what services to include in your maintenance package. Here are some of the most common services you can offer:
1. Web Hosting Management
This service includes taking care of clients' web server hosting and ensuring that everything related to it, such as the domain name, hosting plan, and SSL certificate, is set correctly and active.
Remind clients that web hosting requires regular attention. If a site's hosting plan expires, its data will be deleted. Moreover, if its domain expires, the site and other domain-related services will become inactive.
You can also offer a comprehensive service with hosting for agencies to manage clients' accounts and carry out scheduled maintenance.
2. Website Security
Cyberattack methods are constantly evolving, causing various problems for website owners.
Website security measures will ensure that no website data is stolen, leaked, or copied by unauthorized parties. This is especially important if your client's website holds lots of confidential information like personal and payment details.
This service should include security scans, troubleshooting security issues, and installing firewalls to keep hackers at bay.
If your client uses a content management system like WordPress, you'll also need to install new security updates and patches.
3. Website Backups and Recovery
Regular backups are essential to ensure your client can recover their site data in case of an incident such as a cyber attack or system error.
The backup schedule depends on how often the website's content is updated. If there are new posts every day, then daily backups will be necessary. Meanwhile, weekly backups should be sufficient if the website publishes new content one or a few times a week.
Note that you'll also need to preview the backup version of your client's website to ensure that all the necessary data for restoring the site is there.
4. Software Updates – CMS, Themes, Plugins
No matter which Content Management System (CMS) a website uses, updates ensure its smooth functionality. If someone fails to update their site regularly, they will face technical errors, compatibility conflicts, and security issues. Some of the main aspects of a website that require regular updates are its theme, plugins, and the platform's core software.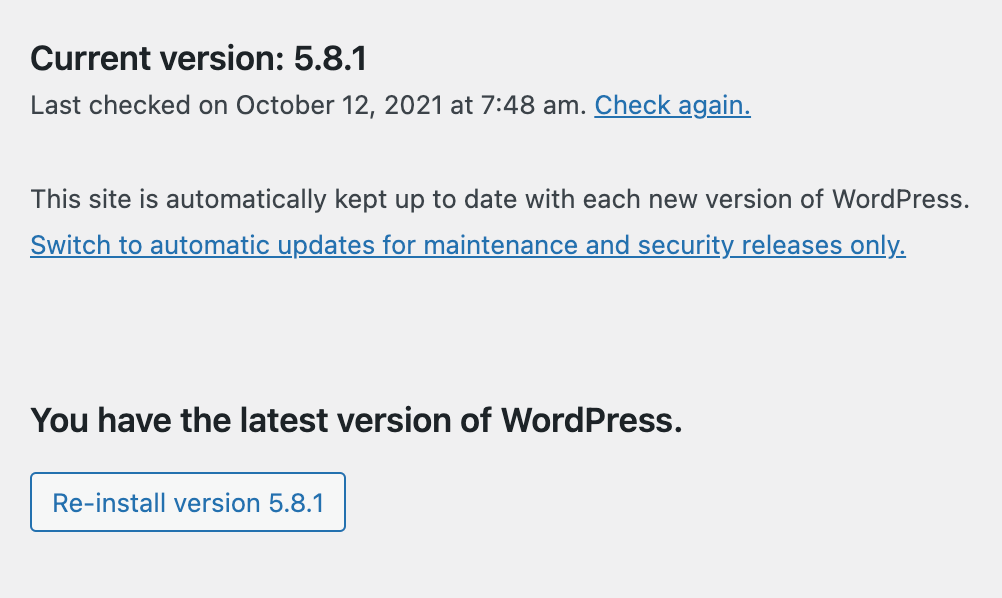 Your clients might find it overwhelming to keep track of all that, especially if their websites use many plugins and other tools.
A software update package should include bug fixes and feature improvements. You'll have to check whether there are updates available and execute them, perform regular script updates, and resolve errors that might occur after the update.
5. Technical Support
Providing technical support means having a dedicated team to answer queries about common website maintenance issues.
Here are some of the tasks that a technical support team might cover:
Answering queries about technical issues.
Troubleshooting user access issues.
System training.
Solving data or content errors.
Problems like server downtime or cyber attacks can happen anytime, so it's necessary to be ready to solve them by providing 24/7 technical support.
Alternatively, if you just started your website maintenance company, get a partner or outsource a team to expand the service availability.
6. Website Content – Updates, Changes, New Content
New content helps attract visitors to a website, boosting its traffic and profitability. However, companies and website owners may not have the time to update their site content regularly.
Website content services may include tailored copywriting, information updates, image optimization such as using progressive JPEG, and applying WordPress SEO practices to improve page ranking on search engine results pages.
Remember that search engine algorithms are continuously changing, so you have to keep up with the latest trends.
7. Design and Development Changes
Help your clients understand that design and development improvements will benefit their company in the long run. If a website has a confusing navigation structure, visitors will likely decide to leave the site within the first 50 milliseconds.
Provide a service to fine-tune your client's website in terms of design and development so that it can stand out from the crowd and stay relevant.
For example, implementing a responsive design will make the website optimally accessible on any device, boosting its engagement rate.
8. Website Analytics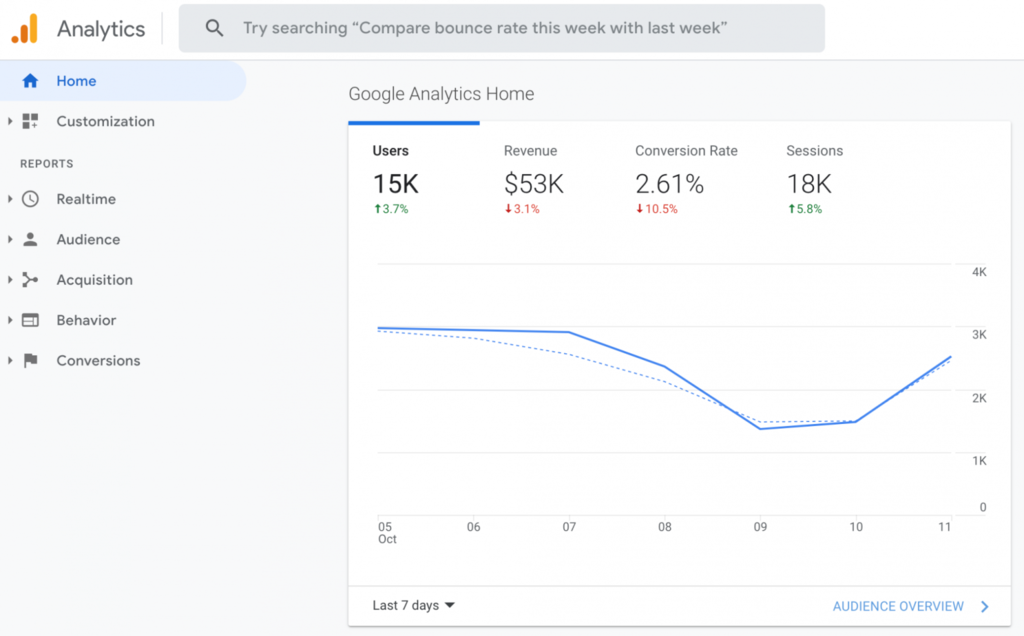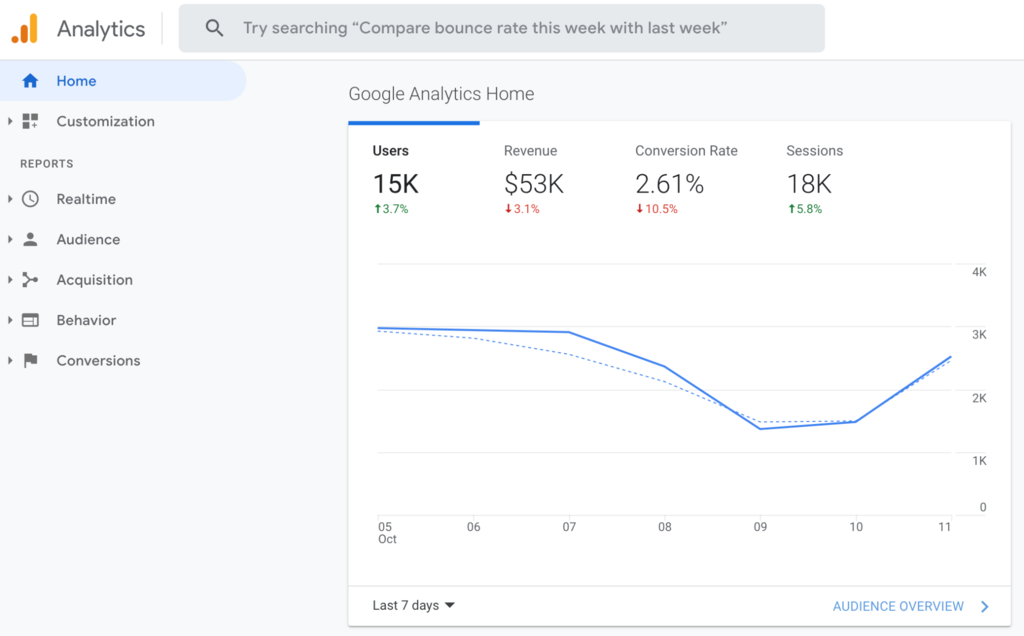 Website analytics enable you and your clients to plan out actionable strategies and decide whether you need to make changes to the website based on user behavior and activities.
By employing website analytics, you can provide in-depth reports about marketing campaigns' performance on different channels to help the client see how their website performs.
In your reports, include easy-to-understand metrics and goals, suggestions on increasing traffic, generating leads, and other key performance indicators.
Tips and Tricks for Selling Your Website Maintenance Services
As with any other business, promoting your website maintenance services is essential to attract new clients. Thus, we've gathered some tips and tricks to help you sell your services.
1. Provide Comprehensive Reports
The clients of your website maintenance service will most likely expect regular reports about their websites. Providing them also helps establish transparency and build customer loyalty.
In general, the report should include the following aspects:
Traffic reports – insights into the website's traffic sources, acquisition channels, new and returning clients, and top-performing pages.
Security reports – give details of the security measures you've implemented to protect the site, from regular monitoring to security patches. You should also outline the strategies to prevent future security issues.
Actionable advice – share suggestions on which part of the site needs improvement to reduce bounce rates and boost conversions, for example.
Summary of the web maintenance services – list all the website maintenance services done.
These reports should be sent to your clients weekly or at other regular intervals so they can keep track of the maintenance progress and take immediate action if there's any issue.
2. Research the Market
Conducting market research will give you insights into competing website maintenance services, trending products, and your target audience.
It will help you identify any gaps in the website maintenance service industry that you can fill to make your business stand out.
To begin, determine who your competitors are and take note of their selling and pricing strategies. Then, look into potential clients. Find out their needs by sharing forms and questionnaires – start with your current clients, if possible.
Pro Tip
Some people may not be aware that it's possible to outsource maintenance services safely. This is especially true for non-technical clients and clients with old websites, regardless of the business's size.
Take advantage of your social media channels to increase brand awareness and promote your company. If you are not sure how to begin, check out our social media webinar.
Tools like Google Trends will help you find which keywords related to website maintenance people are searching for.
Once you've gathered all the data, identify your unique selling proposition (USP) and adapt your website maintenance plans accordingly. Highlight the benefits of your website maintenance packages that people cannot find in other services.
3. Have a Professional Website
Creating a professional and impeccable website is essential to establish your business's credibility.
First, choose a domain name that properly represents your website maintenance service company, as it will be the first impression visitors have of your brand.
If you find it hard to create one, try using domain name generators to help you brainstorm. Aim for a .com extension as it'll help present your website as business-oriented and credible.
Also, include detailed information on what your company does and the service packages so that potential clients know if your services are suitable for them.
Furthermore, provide your company's complete contact information, such as its email address and phone number, to let visitors easily book your services and dispel any doubts.
4. Set Prices
Get the website maintenance pricing right by defining the critical expenses of your company. This includes the hours of work, operational expenses, acquisition costs, and your team salaries. Also, take into account what kind of service and support you provide, so you won't end up underselling it.
In general, website maintenance services start at $29/month and can cost up to hundreds of dollars. Many sellers think lowering their prices will set them apart from the competition, but that's an unsustainable strategy.
All in all, be honest and fair with your pricing. Work your way towards providing the best service possible to demonstrate that your maintenance packages are worth their price.
5. Be Transparent and Professional
Before signing any contracts, communicate your terms and conditions to your clients to make sure they have realistic expectations.
It will prepare them for any unforeseen circumstances. For example, website updates and backups cannot guarantee that a website will be immune from problems. Maintenance, however, is the best preventive action to protect it.
The goal of website maintenance is to ensure that the site can function properly and securely, and that if any problems occur, you will troubleshoot them.
However, inform your clients that you're not responsible for issues caused by negligence on their side.
Conclusion
Websites need regular maintenance to work optimally. Otherwise, they may encounter technical errors that can cost a lot of time and money to fix.
However, not every person or company has the time and ability to deal with it. Website maintenance businesses not only take care of all maintenance, but also tailor the process according to each site and client's needs.
Additionally, it's an excellent business opportunity since the demand for it is constant. The most common website maintenance services include:
Web hosting management.
Website security.
Website backups and recovery.
Software updates.
Technical support.
Website content updates and creation.
Design and development changes.
Website analytics.
Before you start, make sure to research the market extensively to determine your target audience. Build a professional website to boost your company's credibility and provide prices so potential customers can choose a plan that best suits their needs.
Additionally, always be transparent and professional with your clients. Provide clear terms and conditions, reports, and excellent customer service.
Now that you've learned all the steps to create a successful website maintenance company, it's time to start your business.
Was this tutorial helpful?