GoDaddy Alternatives: Why Consider Hostinger for Web Hosting
Finding the right web hosting provider can make a significant impact on your online presence and business success. GoDaddy and Hostinger, two of the most popular hosting providers, are the go-to solutions in the industry.
But why switch from GoDaddy to Hostinger? In this article, we will explore what Hostinger has to offer that makes it one of the best GoDaddy alternatives.
That being said, we'll compare these web hosting providers in terms of performance, scalability, benefits, and value for money to find out why Hostinger is an excellent GoDaddy replacement.


A Quick Comparison of Hostinger and GoDaddy
Before we delve into the specific features and aspects that set Hostinger apart from other GoDaddy competitors, let's take a quick look at the comparison table between the two providers.
| | | |
| --- | --- | --- |
| | Hostinger | GoDaddy |
| Websites | 100 for shared hosting plans and 300 for cloud hosting plans | Between one and 50 for standard shared hosting plans |
| SSD storage | 100-200 GB | 25-100 GB |
| Databases | Unlimited for all Premium plans and higher | 10-100 databases for shared hosting plans |
| Free domain name | Yes | Yes |
| Free Cloudflare | Yes | No |
| Free malware scanner | Yes | No |
| Free SSL certificate | Yes | Yes |
| Fee website migration | Available for all hosting plans | Only for Managed WordPress plans |
| 24/7 live chat support | Yes | Yes |
| Uptime guarantee | 99.9% | 99.9% |
| Hosting control panel | hPanel | cPanel |
| Data centers | 10 throughout Europe, Asia, North America, and South America | Unspecified locations in Europe, Asia, and North America |
| Pricing | Starts at ₱49/month | Starts at $5.99/month |
Both hosting services offer some similar benefits, like free SSL certificates, a 99.9% uptime guarantee, and 24/7 live chat support. Hostinger and GoDaddy also double as a domain registrar, both offering free domain name registration.
However, Hostinger offers extensive features that make it one of the best GoDaddy alternatives. Some of its advantages include a higher number of sites hosted, increased resource limits, and reasonable pricing. Plus, all users get free access to the beginner-friendly AI-powered website builder, easing site creation.
These benefits make Hostinger a great choice for customers who are looking for a reliable hosting provider that offers great value for money.
Now that we've covered a quick side-by-side comparison of Hostinger's and GoDaddy's features in the table above, let's dive deeper into Hostinger's advantages to better understand why it stands out as an alternative to GoDaddy.

Why Hostinger Is a Suitable Alternative
In this section, we will examine the advantages of using Hostinger as your web hosting provider.
To help you decide, we will explain why Hostinger is one of the best GoDaddy alternatives based on various categories, from performance and security to user experience and management.
Pro Tip
Want to know how Hostinger compares to other providers? Check out our comparison reviews:
Reliability and Performance
When it comes to hosting a website, reliability and performance are of utmost importance. Hostinger gives you an excellent 99.9% uptime guarantee, ensuring that your website remains accessible to visitors without interruption.
Plus, with Hostinger's optimized servers and unlimited bandwidth, you can expect a faster website loading time. This results in an enhanced user experience and improved search engine optimization (SEO) rankings, attracting potential visitors and helping to improve conversions.
Another benefit is Hostinger's reliability and excellent scalability. Users who require hosting with dedicated resources can opt for a VPS Hosting plan, which is an excellent alternative to dedicated hosting packages. It offers top-tier hosting performance with a unique dedicated IP address and higher resource limits.


Meanwhile, site owners receiving tons of traffic can ensure website stability with any of our Cloud Hosting solutions. It's another excellent substitute for a dedicated hosting plan for high performance without the technical complexities.
Users on a Business plan or higher also get access to our in-house content delivery network (CDN). It includes advanced caching options that speed up loading time by up to 40%, making Hostinger one of the best GoDaddy alternatives.
Great Value for Money
Cost-conscious customers will appreciate Hostinger's approach to offering great value for money. First of all, Hostinger provides a free website migration service with all hosting packages.
Additionally, Hostinger offers free domain registration for multiple top-level domains (TLDs) in the first 12 months, making it a cost-effective choice when compared to GoDaddy. With Hostinger, you minimize your web hosting cost without compromising on quality.
For example, GoDaddy's cheapest Web Hosting Economy plan priced at $5.99/month gives users standard performance, one free SSL certificate, one website, and 25 GB of storage.
Meanwhile, Hostinger's Business package costing just ₱179/month, offers five times improved performance, unlimited free SSL certificates, up to 100 websites, and 200 GB of storage.
Hostinger provides domain services if you prefer to buy a domain name separately. You can use our domain checker tool to make sure your preferred domain names are available for registration.
All Hostinger hosting plans come with a 30-day money-back guarantee. This feature lets you test our hosting features before committing to a long-term plan, ensuring you get the best value for your money.
Check out this table to find affordable domain names for your websites.
| TLD | Registration | Renewal | Transfer |
| --- | --- | --- | --- |
Higher Resource Limits
Hostinger surpasses GoDaddy in terms of resource limits, providing users with greater flexibility and room for growth. Whether it's subdomains, FTP accounts, or databases, Hostinger offers higher limits, enabling you to expand your online performance without constraints.
We provide users with unlimited databases in all plans except Single. This is in contrast to GoDaddy, which limits shared plans to 10-100 databases. When accounting for the price, Hostinger users also benefit from higher subdomain limits for shared hosting plans.
Hostinger doesn't offer unlimited disk space, but there is no need to worry about data storage. You will get a substantial 100-200 GB of SSD storage, depending on your chosen plan.
As a hosting provider, we offer better RAM for shared hosting plans, ranging from 768 to 1536 MB. In contrast, GoDaddy only offers 512 MB for its lower plan.
While neither solution supports hosting unlimited websites, Hostinger outperforms with its superior capability to host multiple websites.
With Hostinger, you can host up to 100 websites per account on shared hosting plans and 300 websites per account on Cloud hosting plans. Meanwhile, GoDaddy limits you to just 50 websites for standard shared hosting.
This advantage is particularly beneficial for those who manage multiple websites, like freelancers or agencies requiring extensive resources for their online projects.


User-Friendly Interface and Management
Managing a website can be challenging, especially for beginners. GoDaddy uses cPanel as its hosting control panel, which is a popular solution for managing hosting accounts and websites.
On the other hand, Hostinger offers a unique control panel called hPanel. It is a custom in-house control panel that lets users manage their web hosting accounts seamlessly and easily without having to log in to the server.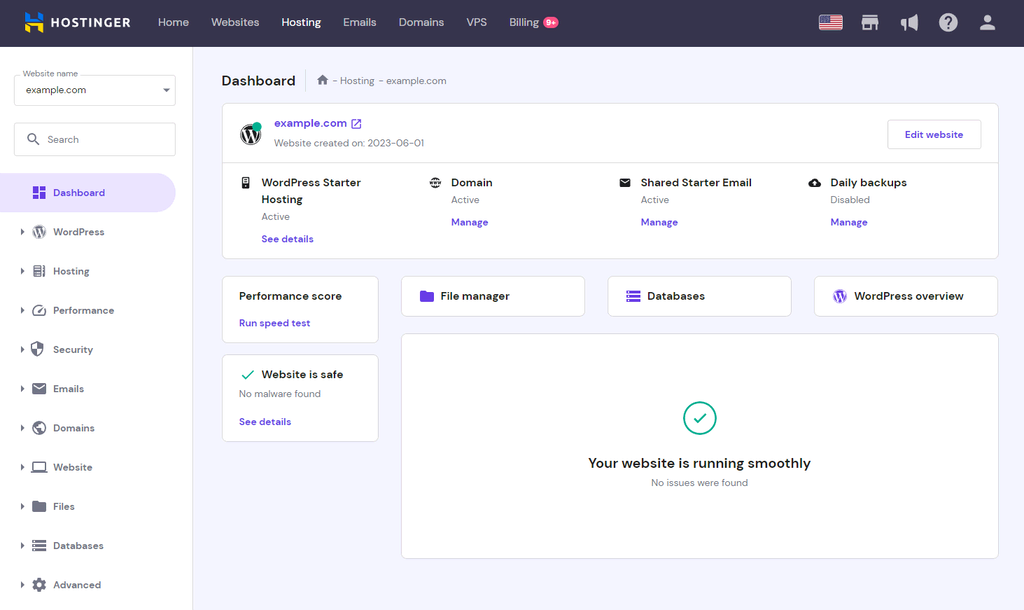 This control panel has all the essential features, including a DNS Zone Editor, domain manager, and File Manager. Users don't need to worry about complex website management since hPanel has an interface that prioritizes usability and efficiency.
Site owners can also test their websites' page load speed directly from hPanel. All you have to do is choose your preferred device to test on and click Analyze. The system will run the test and give you diagnostic results and suggestions to improve the site's performance.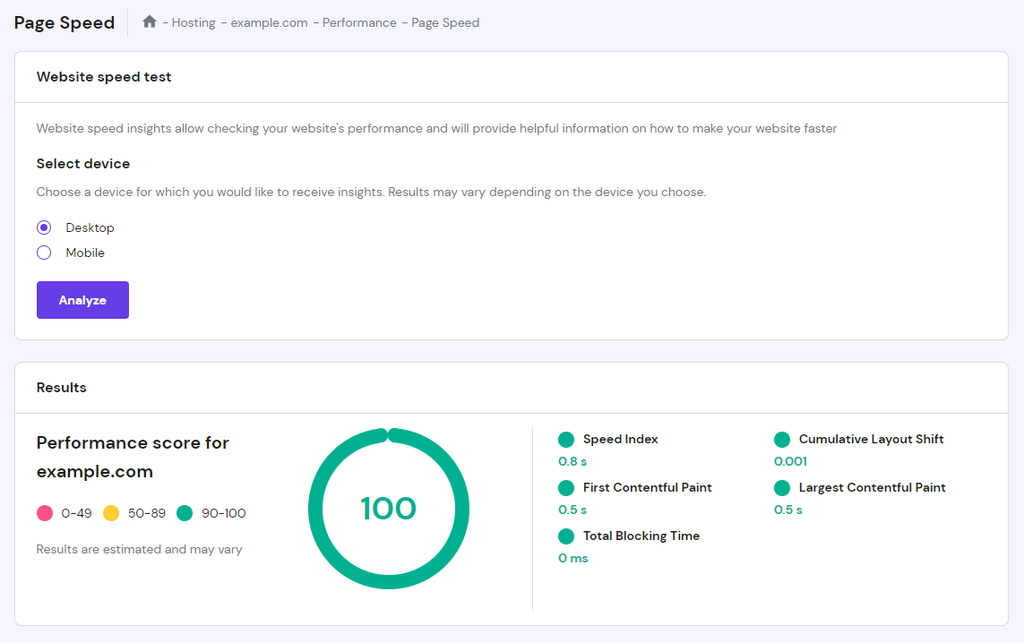 We also constantly update hPanel with new tools to suit users' evolving needs. That's why Hostinger's user-friendly interface and advanced features make this hosting service a top alternative to GoDaddy.
Enhanced Security Measures
Ensuring web hosting security should be your top priority since it greatly impacts your user experience and brand reputation. Hostinger is a good GoDaddy alternative that offers robust hosting and website security tools to protect your website's valuable data.
Hostinger ensures that your site remains safeguarded against unauthorized access and potential cyber threats by providing advanced security measures. These include a web application firewall, malware scanner and removal, DDoS protection, and Cloudflare-protected nameservers.
Every site hosted on Hostinger also benefits from a free SSL certificate from Let's Encrypt and free WHOIS privacy protection.
With GoDaddy hosting, users need to pay more to access security features like the malware scanner, whereas Hostinger includes them in its hosting packages.
These features make Hostinger a better value-for-money hosting service, especially for sites that process sensitive user data.
Excellent Customer Service
Customer support plays a vital role in the overall hosting experience. Hostinger shines in this area with its dedicated Customer Success team, available 24/7 to address any inquiries or technical issues.
Hostinger ensures that its users receive timely and efficient customer support by offering live chat and email options. This eliminates the need to wait on hold for phone assistance, providing a more convenient and accessible way to get help.
With live chat, users can connect with support agents in real time, receiving speedy answers to their questions and resolving issues quickly. Live chat is also available directly via hPanel, so you won't need to navigate through different pages to reach out.
Meanwhile, email support enables users to submit queries or concerns anytime, ensuring a thorough and detailed response. By offering these support channels, Hostinger prioritizes user satisfaction and streamlines the customer service experience.
If you prefer to troubleshoot issues yourself, Hostinger has a list of helpful FAQs and other resources showing you how to use Hostinger to manage your website more efficiently.
There is also a Help Center database filled with quick knowledge nuggets, as well as an extensive collection of Hostinger Tutorials to kickstart your online success.
Extensive Features and Tools
Hostinger packs a wide range of features and tools that cater to the diverse needs of all website owners, from beginners to experienced web professionals.
From the drag-and-drop website builder for seamless website creation to free unlimited SSL certificates and domain privacy protection, Hostinger equips you with everything necessary to establish a strong online presence.
Here are some of the top features of Hostinger that make it the best GoDaddy alternative:
Beginner-Friendly Site Builder
Hostinger Website Builder is a great alternative to the GoDaddy website builder due to its intuitive interface and AI-powered features. Users who want to create a website quickly without typing a single code can benefit from this beginner-friendly site builder.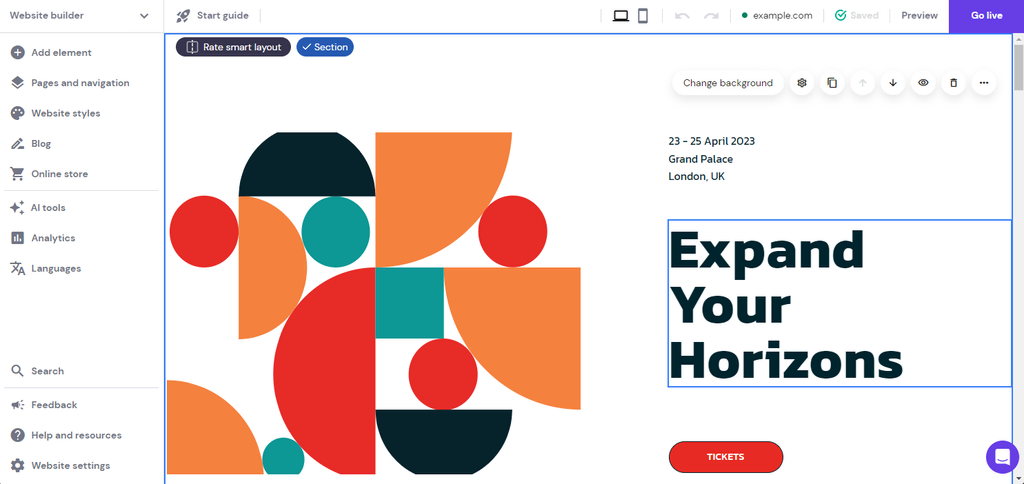 This service includes all the essential functions to make a professional website, including built-in SEO capabilities and page navigation, blog, and analytics tools.
Running a business website and selling products online is also easy with the extensive eCommerce options. You can manage product pages, apply discounts, and configure shipping options seamlessly via the store management page.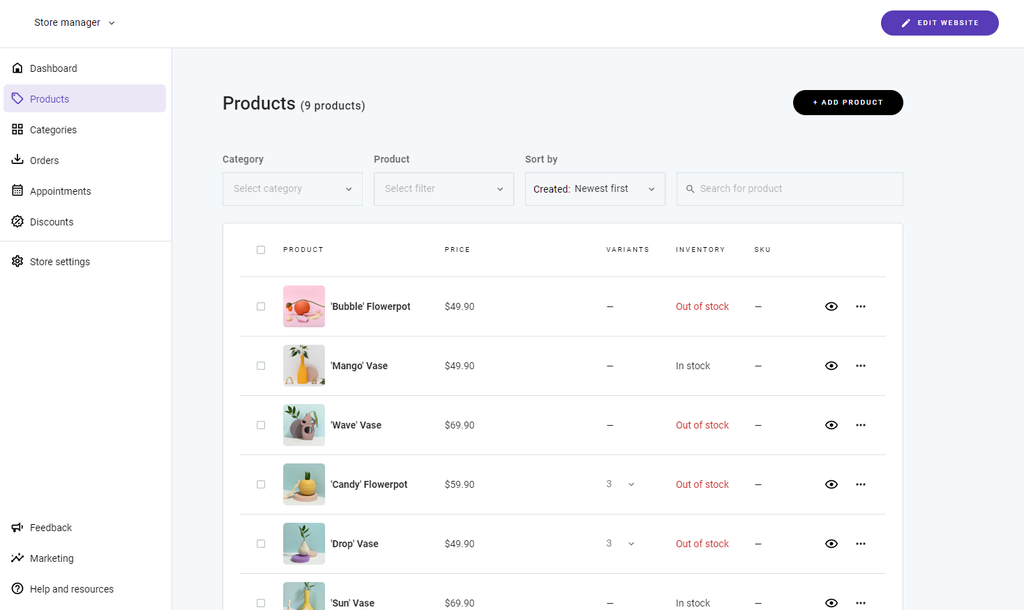 Hostinger Website Builder also includes advanced AI-powered tools to simplify your website-building tasks. With the AI Builder, users can generate a ready-to-use website simply by describing their brand and choosing a relevant industry.
Additionally, you can speed up your branding and content-creation process by leveraging the AI Writer and AI Logo Maker.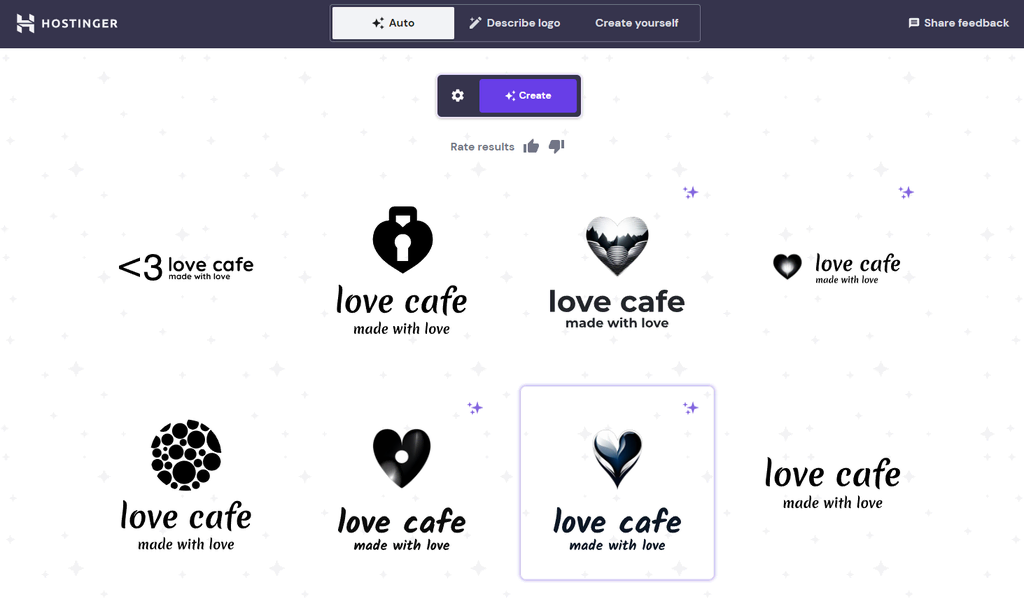 There are more than 100 professionally-designed templates you can use to start your website, so there's no need to worry about any complex web design process.
Unlike most providers, Hostinger includes its website builder in all website hosting plans at no additional cost, regardless of whether you use shared or cloud hosting.
So, if you are looking for a solution to make a website quickly and easily, Hostinger is by far one of the best GoDaddy alternatives in the market.


Seamless Website Migration
Hostinger understands that transferring web hosting can be a complex process. To alleviate this burden, we offer a free website migration service with all hosting plans.
Users simply need to submit a migration request, and Hostinger's agents will handle the rest, moving websites within 24 hours. This convenient service ensures a seamless transition to Hostinger without the hassle of dealing with technical configurations.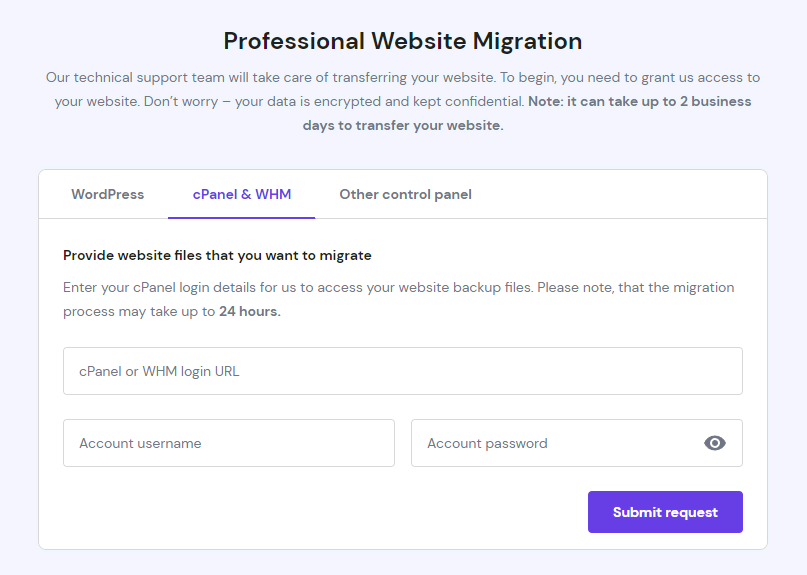 You can also transfer your domain name from GoDaddy to Hostinger directly via hPanel using the Domain Transfer feature.
By providing free website migration services across all hosting plans, Hostinger demonstrates its commitment to delivering exceptional customer experiences and making the process of switching hosts as smooth as possible.
Professional Email Accounts
Hostinger offers free email accounts to users, emphasizing the importance of professional domain-based email addresses. This feature is included in all shared hosting plans.
Easily connect your email account with popular mail clients like Gmail, Thunderbird, or Outlook for efficient management. Hostinger also prioritizes email security, protecting against spam and phishing attacks using DKIM, DMARC, and SPF support.
With Hostinger's free business email accounts, companies and individuals can establish a better online presence and brand reputation without incurring extra costs.
Managed WordPress Hosting
Hostinger offers one of the best managed WordPress hosting services for those who prefer using this content management system (CMS) as their website platform.
Our managed WordPress packages are optimized around this CMS and include additional features to ensure your site works at its best. For example, it provides object caching technology, improving your WordPress website speed by up to three times.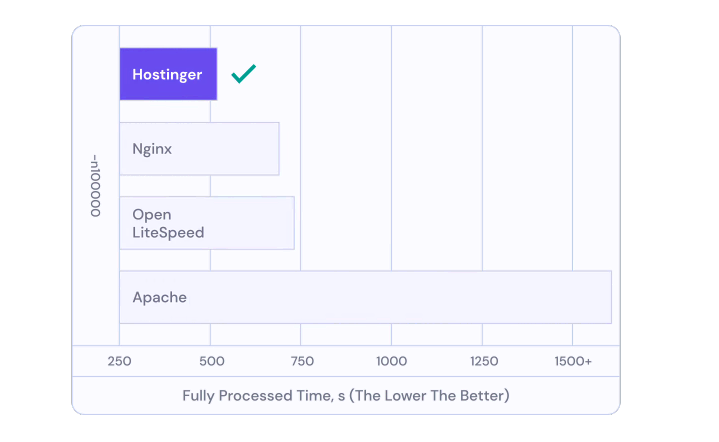 Users can also set up their WordPress sites quickly and easily with the one-click installation feature. Your WordPress installation will already include pre-installed plugins like LSCWP Cache and All in One SEO.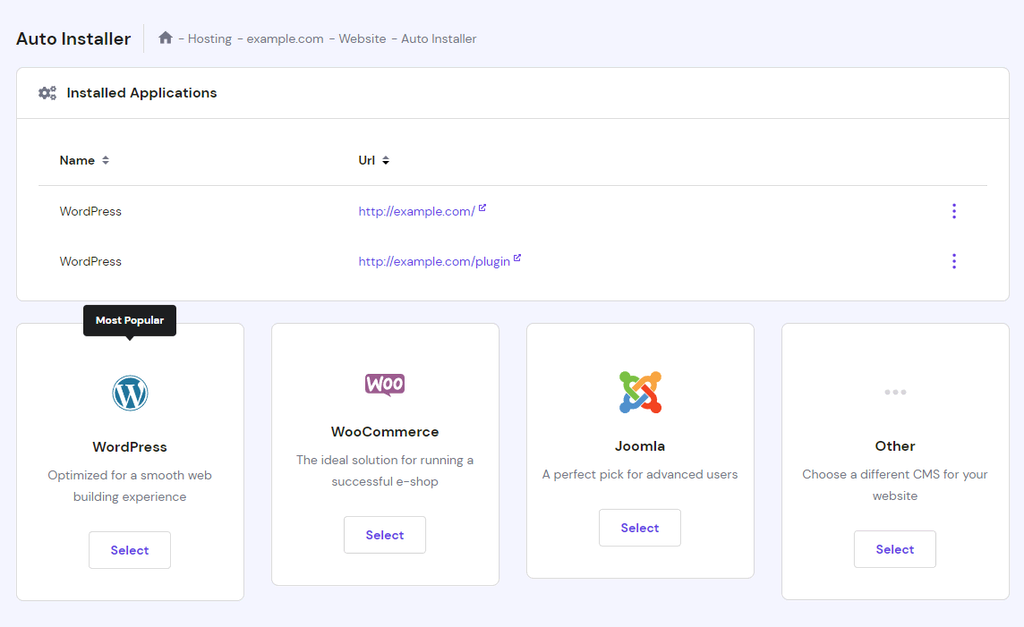 The managed WordPress hosting plans provide advanced features that help you make the most out of this powerful CMS. These include the one-click WordPress staging feature to streamline web development without risking your live website.
Furthermore, Hostinger's managed hosting for WordPress includes automated backups and updates for your WordPress site. There is also a complete advanced toolkit suitable for developers, with WP-CLI, SSH access, Git integration, and PHP version control.
WordPress website owners who want to create an online store can choose Hostinger's specialized WooCommerce hosting plans starting at $3.99/month. These packages ensure high-speed cart performance and are optimized for conversions.
Regardless of your website type, Hostinger's WordPress plans are an excellent solution that can be tailored to your specific needs, making it one of the best GoDaddy hosting alternatives.

Conclusion
With numerous GoDaddy competitors in the market, finding the best hosting provider can be challenging. However, Hostinger stands out as a great option for those who are looking for a user-friendly, all-in-one solution.
As we've explored the various aspects and features of these two hosting services, it becomes evident why Hostinger emerges as the best GoDaddy alternative. You can get a free domain name, managed hosting, and advanced security and maintenance features in a single package.
There are other benefits of choosing Hostinger, including better value for money, higher resource limits, a user-friendly control panel, an AI-powered website builder, excellent customer support, and extensive features and tools.
Overall, Hostinger is an excellent website hosting solution whether you're a cost-conscious customer seeking a beginner-friendly plan, a performance-driven individual aiming for optimal website results, or a tech-savvy user who values usability and robust functionality.
Alternative to GoDaddy FAQ
In this section, we will answer some of the most frequently asked questions about GoDaddy alternatives.
Why Should I Consider Hostinger as a GoDaddy Alternative?
Hostinger offers great performance, value for money, a user-friendly interface, enhanced security measures, excellent customer support, and extensive features. With its comprehensive hosting solutions and AI-powered website builder, Hostinger ensures a seamless web hosting experience that surpasses GoDaddy.
Is It Easy to Migrate My Website From GoDaddy to Hostinger?
Yes. Hostinger provides a free and quick automated migration process if you have a site hosted on GoDaddy or any other provider. You can skip the hassle of manual migration and effortlessly transfer your website to Hostinger's reliable hosting environment. Don't forget to delete your GoDaddy account after you're done to avoid any recurring fees.
Is Hostinger Good for Small Businesses and eCommerce Websites?
Yes. Hostinger is a great hosting option for small businesses and eCommerce websites. With added advantages like free domain registration, free email, and a free SSL certificate, you can establish a professional small business website at a more reasonable price.
Is Hostinger Suitable for Beginners With Limited Technical Knowledge?
Yes. Hostinger uses the intuitive hPanel, making it an ideal choice for beginners with limited technical knowledge. Hostinger also includes a beginner-friendly AI Website Builder to help you create a site easily without having to type a single line of code.