How to Get a Free Domain Name: 2 Proven Methods

A domain name is what visitors type into their browsers to access a website. However, as an essential part of a website, a domain can be costly. Thus, this article will share two proven methods of getting domains for free.
The first method to get a free domain is purchasing a web hosting plan. In comparison, the second method is by using a free subdomain from a website builder. Each method has its advantages and disadvantages – choose the one that fits your needs best.
By the end of the article, you will know how to save money by getting a free domain name. In addition, we will answer the most frequently asked questions about getting domains.
Download eBook: Build Your First Website in 9 Easy Steps
How to Get a Domain Name With Hostinger
Web hosting and a domain name are the two essential elements of making a new website. Some web hosting companies, such as Hostinger, offer a free domain with some of its most popular hosting plans.
The benefit of using this method is getting all the necessary features and tools to create a stunning website. In addition, a free domain name from a web hosting company is a more secure option. Most provide opportunities to get domain privacy and protection.
The following section will cover the steps of getting a free domain name using Hostinger.
1. Pick a Hosting Plan
Hostinger offers free domains with different web hosting services and plans. After choosing the web hosting provider, pick a plan that fits your needs as the right hosting plan will make the website building process easier.
There are various types of web hosting plans, including shared, VPS, and dedicated hosting. Which one to choose depends on the hosting environment you need for the website. Here are some of the factors to consider:
Affordability. See if the cost fits your budget.
Features. Check the additional features that the web host offers, such as a free SSL certificate and email. Double-check whether your website needs those features.
Storage. Take into consideration the bandwidth and storage the web host offers and compare them with your website requirements. We recommend getting 50% more resources than what the website currently needs.
Security. Check the security measures the provider implements, such as access management, SSL certificates, automated backups, and software updates.
Take a look at the different plans and their free features. More specifically, look for hosting plans that offer free domain names. For example, all of Hostinger's cloud hosting plans come with a free domain name registration.
Getting cloud hosting is excellent for websites with high traffic. However, the shared hosting plan is a more affordable option. The Premium Shared Hosting plan costs ₱99/month, while the Business Shared Hosting plan for more storage costs ₱139/month.
2. Come up With a Domain Name
Choose a custom domain name that represents the content of your website. After all, whether it is a professional or a personal website, the domain name is a part of the branding.
For example, a business website should include the business name in the domain. Choose the domain wisely for better brand recognition.
With thousands of new websites created daily, make sure to check the availability of your desired domain name. It is essential to find an available domain to get a free domain name. If the desired domain is already taken, use a domain name search tool to see alternative titles.
Domain Name Checker
Instantly check domain name availability.
Consider the following factors when choosing a domain name:
Length. Short domains are great as they are easier to spell. However, be careful with acronyms as visitors might misspell them.
Meaning. Meaningful domains are easier to understand and remember.
Characters. Use only alphabetical and numerical characters. Too many special characters will be taken as a spammy website.
3. Choose an Extension
A domain extension is located at the end of a website domain, known as a top-level domain (TLD). Domain extensions give prospective customers and readers more information on a website. It is important to set a domain with a suitable extension.
There are three main types of TLDs:
Generic TLD (gTLD). The most common extensions that do not have restrictions for the registration. Some of the popular examples are .com or .net.
Sponsored TLD (sTLD). Handled by private organizations and have specific rules to use the extensions. For example, registering for a .gov or .edu extension will require additional information and clarification.
Country-code TLD (ccTLD). Specific to where the website is operated or located. Take .fr as an example, the country code for French-based websites. But if you want to register UK domains, opt for .co.uk since it is way more popular than .uk, even if it is the country code for United Kingdom. Check your country code using the Internet Assigned Numbers Authority (IANA) database.
The more popular the domain extension, the higher the value. With Hostinger, you can get a .com domain for $8.99/year. However, the same website name using .xyz or .store domain, the more affordable domain extensions, are only $0.99/year.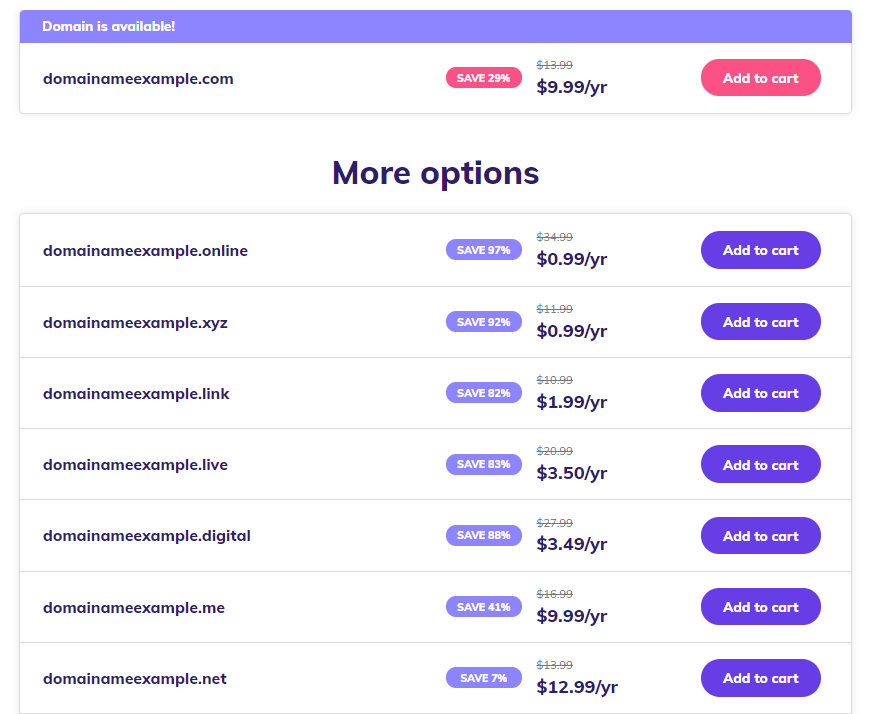 Here at Hostinger, the following TLDs are available:
.click
.com
.fun
.help
.host
.info
.link
.net
.online
.press
.pw
.shop
.site
.space
.tech
.uno
.website
.xyz
Popular domain extensions, such as .net, drive higher organic traffic as visitors often write these TLDs by default. However, an alternative extension, like a .club or .online domain name, makes a website more unique. Either way, make sure to choose an extension that relates to the content of the site. For example, if you are launching an e-commerce website, opt for a .store or .shop domain.
4. Finalize the Registration
To finalize the free domain registration, log into your web hosting account after the checkout page. Then, follow these steps from the homepage:
Click the Setup button next to the web hosting plan. For this example, we will use Premium Shared Hosting.
Follow the setup instructions, from choosing a platform to template until it is time to Name Your Website. Click the Select button under the Claim a Free Domain section to get a new domain.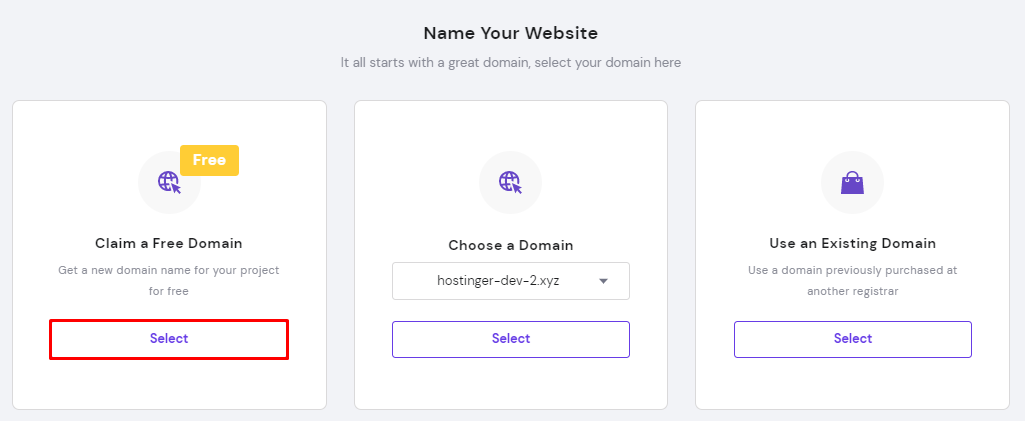 Add the domain that you have selected before, and make sure to check the extension. Then, click the Search button.

If the selected domain is no longer available, it won't let you register.

However, if the domain is available, you can click Continue and get your free domain name registrar.

After finishing setting up the free domain name, Hostinger will automatically start the activation process. Keep note that the activation process can take around 2 hours.
However, if the domain still does not work after the given time, you will need to flush the DNS cache to see the new domain.
Once the domain is activated, make sure also to set up the SSL certificate for domain privacy. To set it up, head to the web hosting homepage again and click on the Setup button next to the SSL Certificate Activation section.

Getting a free domain name and a free SSL activation from a web hosting plan is a better deal than only purchasing a domain. Ultimately, you will need to get web hosting to create a credible website. With this method, everything is already included in one purchase.
Alternative: Get a Free Subdomain
An alternative method to get a free domain includes a subdomain — an additional part of a domain. Often, website builders offer subdomains as an introduction to the tool. For example, a free WordPress subdomain will look like hotel.wordpress.com instead of hotel.com.
Compared to getting a free domain name with web hosting, here are some of the benefits of using this method:
Truly free domains ​​– no need to purchase web hosting.
Great for beginners to create basic websites.
On the other hand, the downsides of using this method are:
Lack of control over domain privacy.
Minimal features and tools to customize the website.
We do not recommend using a free subdomain for a business website, as it looks unprofessional. Although, beginners who are just creating a website and don't have a budget can benefit from this method.
It is an excellent opportunity to practice building a website. Keep in mind that you can upgrade a domain name later.
Alternatively, you can get a free subdomain from our free hosting platform that offers subdomains using the following format: example.000webhostapp.com.
Follow these steps to try:
Select the Free Web Hosting plan to create a website entirely for free.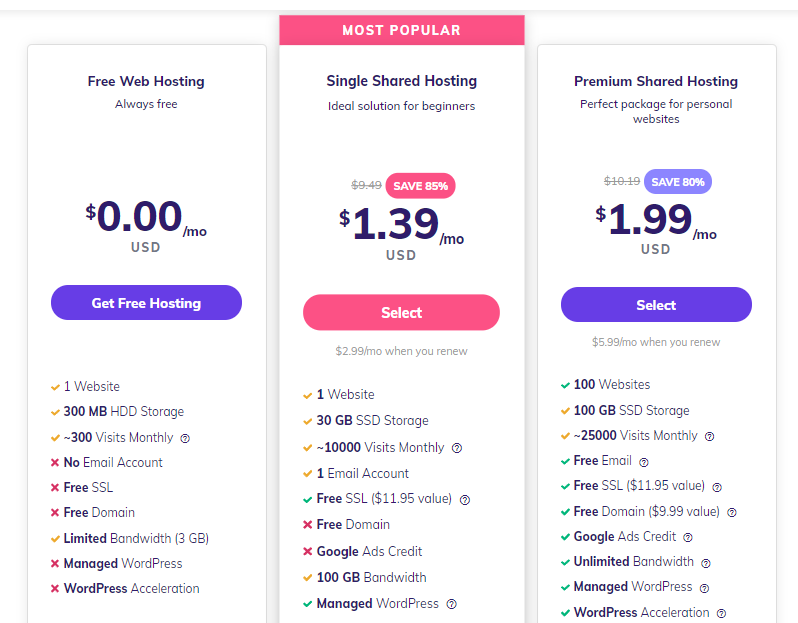 Follow the registration process, starting with the type of website to create.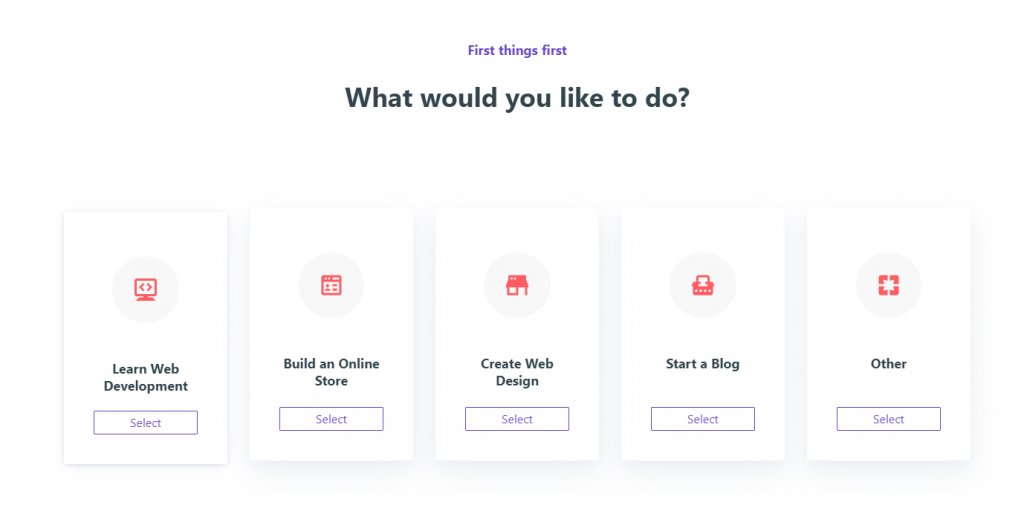 Choose the platform to continue – use a website builder, WordPress, or upload website files from another platform.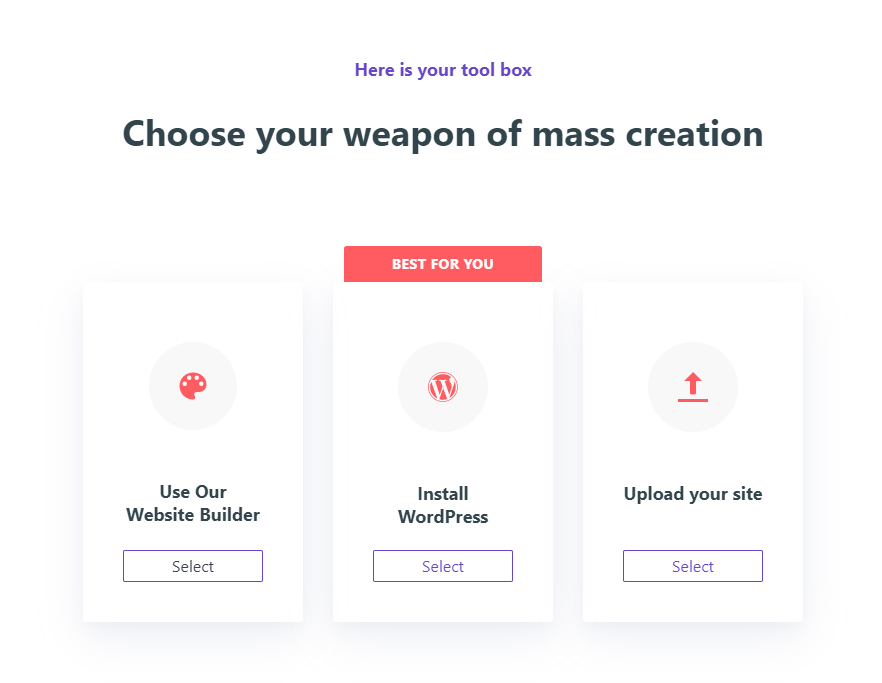 Add a subdomain for your site and a password. Click Submit to finalize the process.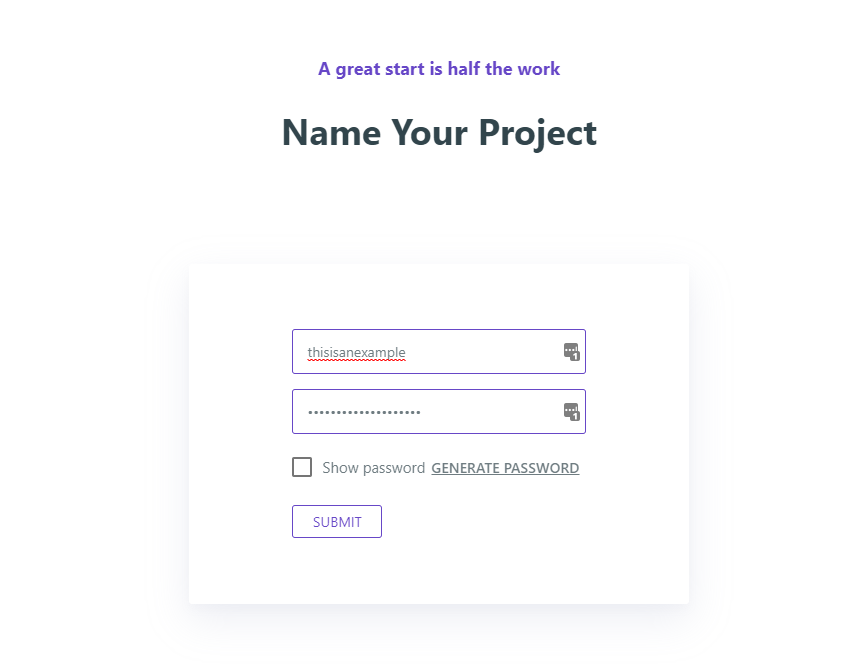 Create a website using the available tools and features. Click Upgrade if the website needs to scale and grow.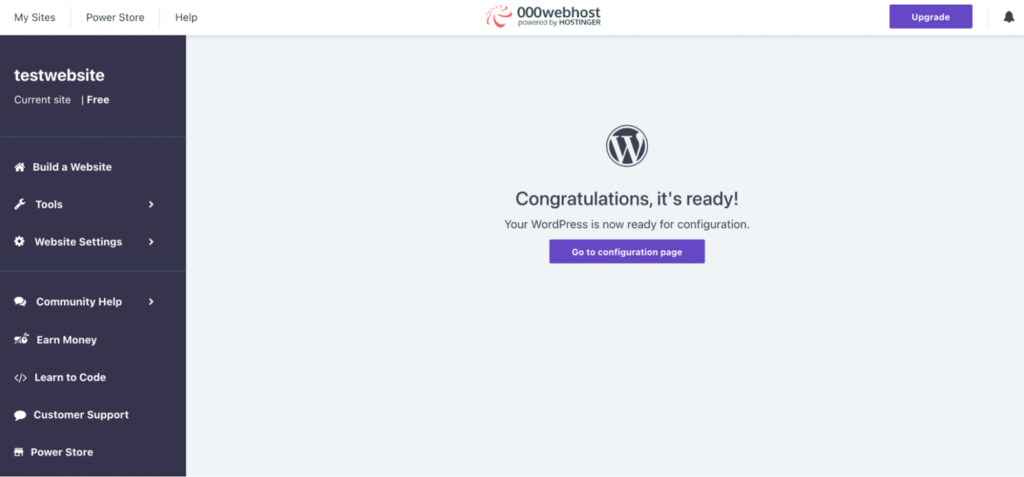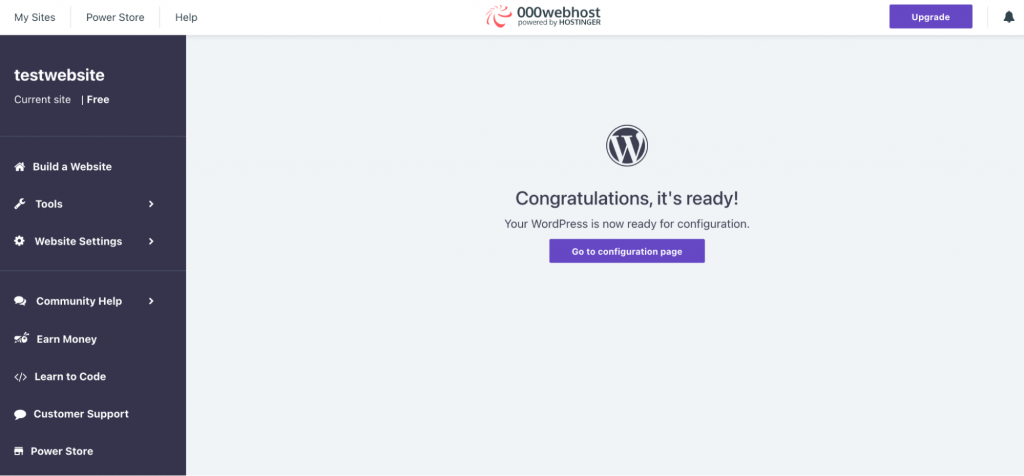 Conclusion
Getting a free domain helps save money. We have shared two proven methods on how to get a free domain name:
Purchasing a web hosting plan. That is how to get an .org domain, .net, .com or any other popular TLD for free. Create any type of website by selecting a hosting plan that comes with a free domain. We recommend getting a free domain using this method to receive helpful online tools, features and scale your website easier.
Free subdomain. Completely free without having to buy web hosting. Some website builders and web hosting providers offer a free subdomain with limited tools and features. This option is excellent for beginners who do not have a budget to purchase a web hosting plan and practice building a website.
We have also answered some of the most common questions on how to get a free domain. Most frequent questions include finding a trustworthy registrar, renewing a domain, and getting a free email with a domain.
Now that we have shared two methods on how to get a free domain, feel free to make your choice. However, if neither of the methods works for you, consider buying a domain name.
How to Get a Free Domain Name FAQ
Here are some of the most frequently asked questions and answers about domain names to give more information about getting a free domain. We will also provide more details about getting a free domain registrar and email.
Why Do I Need a Domain Name?
Without a domain name, visitors will only be able to access a website using its IP address (a string of numbers). It's much easier to access a website by typing in a domain name like hostinger.com than a series of numbers.
Where Can I Find a Trustworthy Domain Registrar?
Use the ICANN accredited registrars list to find trustworthy registrars. These registrars have permission to change your domain name information in the database on your behalf. If you get a free domain by purchasing a web hosting plan, then the registration will be taken care of by the provider.
Do I Need to Buy a Domain Name to Reserve It?
Yes, especially if you have an eye on a particular domain. Reserving a domain will help to avoid losing it to a competitor. It is also possible to purchase an existing domain name, although it will cost more money.
Do I Need a Website Before Buying a Domain Name?
No, it is possible to buy a domain first and make the website after. Seeing that domains influence web design and even overall branding, it's common to secure a domain before creating a website for it.
Should I Renew My Domain Name?
Yes, forgetting to renew a domain might cost you losing the domain or paying a redemption fee. The life cycle of every domain goes from active, expired, redemption period, and then pending delete. So, it's better to avoid paying a redemption fee, which can cost up to hundreds of dollars.
Can I Get a Free Email With My Domain Name?
Yes, although it also depends on the web host and the purchased plan. Hostinger's web hosting plans that offer free domains also come with free emails. Other domain registrars might require business email services to be linked to the domain name in order to create an email account.
What Are the Benefits of Having a Domain Name?
The benefits of having a domain include brand recognition, better SEO rankings, better reach, and control of your URL. For example, domains with keywords can drive high organic traffic to your website. Or, if there's an issue with your domain registrar, you can simply point the domain elsewhere.
How Do I Renew My Domain?
Usually, domain renewal can be easily done through your registrar's control panel. Make sure to check the registration period of your domain and the renewal fee. Some users often don't realize that a domain renewal fee is different from the original fee.
Was this tutorial helpful?