Bluehost Alternative: Why Hostinger Is the Right Choice for You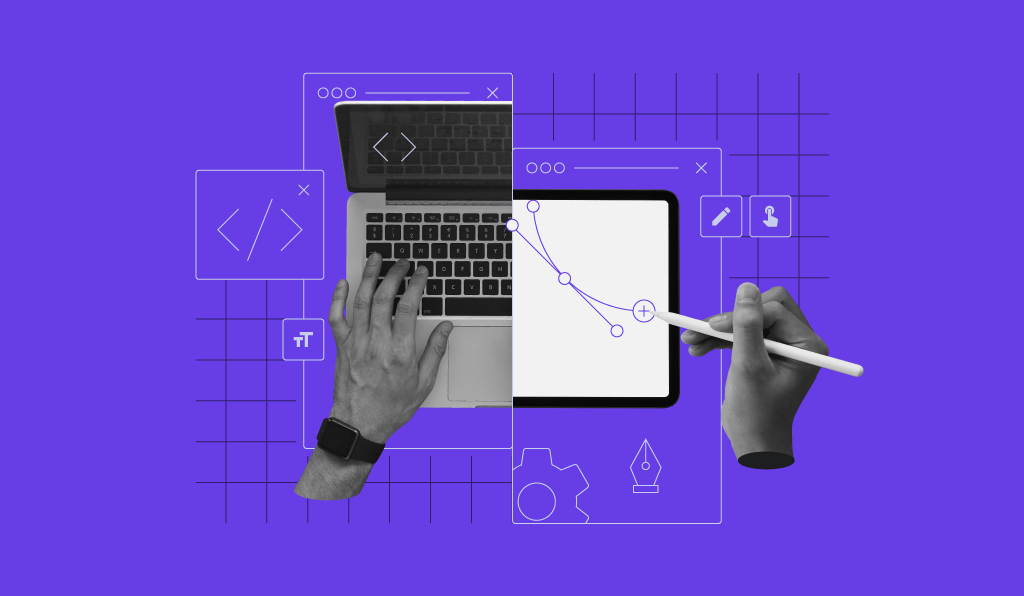 When it comes to dependable hosting providers, Bluehost is often mentioned as one of the best. However, it may not be the ideal choice for everyone.
Whether you're thinking about a switch or merely exploring other options, we invite you to consider Hostinger as an excellent Bluehost alternative.
Read on for a detailed comparison between these two hosting giants and discover why Hostinger offers web hosting services that meet your needs best.


A Quick Comparison of Hostinger and Bluehost
Before we move forward, let's compare Hostinger and Bluehost head-on.
By understanding the strengths and weaknesses of each web hosting provider, you'll be better equipped to make an informed choice.
Both are top-tier hosting providers that millions of users trust worldwide. However, there are a few key areas where Hostinger edges out as a more desirable Bluehost alternative.
Bluehost is well-known for its dedicated hosting. But its lower-tier plans have a few limitations that can impact your online operations. For instance, Bluehost doesn't offer cloud hosting, provides limited sign-up durations, and has significantly higher renewal rates.
On the other hand, Hostinger offers a wide range of hosting options, including virtual private server (VPS), shared, cloud, and managed WordPress hosting. You will also find flexible sign-up terms and significantly lower renewal costs.
Speaking of website hosting costs, Hostinger offers feature-rich and budget-friendly packages. You will get top-notch performance without the hefty price tag often associated with a superior web hosting service.
To better understand why Hostinger is the best alternative to Bluehost, here's a quick overview of the two web hosts:
| | | |
| --- | --- | --- |
| | Hostinger | Bluehost |
| Hosting pricing plans | Starts from $1.99/month (12 months) | Starts from $2.95/month (12 months) |
| Sign-up durations | 1 month, 12 months, 24 months, 48 months | 12 months and 36 months (1 month is reserved for VPS and dedicated hosting) |
| Renewal costs | Starts from $8.99/month (12 months) | Starts from $10.99/month (12 months) |
| Free website migration | Yes (emails excluded) | No ($149.99 for up to 5 websites and 20 mailboxes) |
| Free domain registration | Yes (Premium and above plans) | Yes |
| Free SSL certificate | Lifetime (all web hosting plans) | One year for Basic Plan |
| Unmetered bandwidth | Yes | Yes |
| Unlimited storage | No (up to 300 GB of NVMe storage for shared and cloud plans) | No (up to 100 GB of SSD storage for shared plans) |
| 99.9% uptime guarantee | Yes | Not specified |
| Data centers | USA, France, the Netherlands, Lithuania, the UK, Singapore, India, Indonesia, and Brazil | USA and India |
| Multilingual support | Yes (English, Spanish, Portuguese, Indonesian, Chinese, Lithuanian, French, Arabic, and more) | No (only in English) |
What Makes Hostinger a Great Bluehost Alternative
We've given a brief comparison between Hostinger and Bluehost. Now, let's delve deeper into why Hostinger is the better hosting platform.
Pro Tip
Want to know how Hostinger compares to other providers? Check out our comparison reviews:
GoDaddy Alternatives – Why Hostinger Is Your Best Choice for Web Hosting
HostGator Alternative – Why Hostinger Is an Ideal Choice for Your Hosting
Value for Money
If you're looking for top-quality services at affordable rates, it's best to buy hosting from Hostinger. Our plans not only come reasonably priced, but also include a multitude of hosting features and tools.
For instance, you can purchase our Premium plan for only ₱169 and renew at $8.99/month.
This package lets you build up to 100 websites, offers 100 GB of SSD storage, and enables you to transfer websites from one web host to another for free. It also comes with a free domain name and lifetime SSL certificates, saving you even more money.
In comparison, Bluehost's Basic plan costs $2.95/month for the first year and $10.99/month for the following ones.
While it offers a slightly lower initial price, you can only host one website, get 10 GB of storage, and free SSL for a year. Plus, you must pay an additional $149.99 for website migration.
The same applies to higher-tier plans. Whether looking for cloud or VPS hosting services, you can find feature-packed yet cost-effective solutions with Hostinger.
Our Cloud Startup plan ensures faster website speeds thanks to better SSD storage (200 GB) and RAM (3 GB) than Bluehost's equivalent Business Pro plan. The latter offers 100 GB and 1 GB, respectively.
Priced at ₱699, our Cloud Startup hosting also provides dedicated resources. Bluehost doesn't offer this feature despite charging more for its Business Pro hosting, which costs $13.95/month.
Hosting Options
In terms of web hosting services, both Hostinger and Bluehost offer shared and VPS plans. The main difference is, Hostinger has a wider selection of hosting solutions tailored to your evolving needs and budget:
Shared Hosting. Our shared hosting plans are perfect for first-time website creators trying to establish an online presence. All packages come with unlimited bandwidth, so you don't need to worry about site crashes during peak traffic.
Cloud Hosting. Select our cloud-based plans if you want the power of dedicated servers without the technical expertise to manage them. If one server experiences failures, another one will take its place, keeping your website online at all times.
VPS Hosting. This type of hosting provides greater control and increased performance as resources aren't shared with other websites. VPS hosting is ideal for technically-savvy website owners that prefer more computing power and full root access to the server.
WordPress Hosting. Hostinger is one of the fastest WordPress hosting platforms. Our WordPress hosting plans – Business and higher – are equipped with Object Caching, which speeds up your WordPress site up to three times. You can also host multiple WordPress sites in one dashboard and create a staging environment for safe experimentation.
When choosing a hosting plan, consider your website's type and needs.
With Hostinger, you can start with a basic shared plan and gradually scale to more resource-packed solutions once your site grows.

Furthermore, Hostinger provides more flexibility regarding signup terms. We offer 1-month, 12-month, 24-month, and 48-month subscriptions across all plans.
With monthly billing options, you can try our services before making a long-term commitment.
In contrast, Bluehost only offers 12-month and 36-month signup plans. Its 1-month packages are reserved for VPS and dedicated server hosting.
Website Performance
Fast load times ensure the best browsing experience, keeping visitors hooked to your site.
Therefore, before choosing a web host, check its core web vitals. They're a set of metrics that measure various aspects of website performance and user experience.
Core web vitals have gained significant importance over the last few years, as Google considers them a ranking factor.
Google's Core Web Vitals report analyzes your page performance based on these aspects:
Largest Contentful Paint (LCP). It measures the time it takes for the largest piece of content, such as an image or text block, to become visible to the visitor. To keep users from leaving your website, it should load in under 2.5 seconds.
First Input Delay (FID). It calculates how long a web page responds to the first user interaction, such as clicking a button or selecting a menu item. Your site's delay should be less than 100 milliseconds to meet the FID threshold.
Cumulative Layout Shift (CLS). It deals with the number of unexpected layout shifts during user interaction with the page. Aim for a CLS score of less than 0.1 to provide a visually stable experience.

While Bluehost is often regarded as a reliable hosting provider, Hostinger offers superior website performance.
Based on the latest data by Google, around 30.5% of websites hosted with Hostinger have good core web vitals, compared to only 27.8% with Bluehost.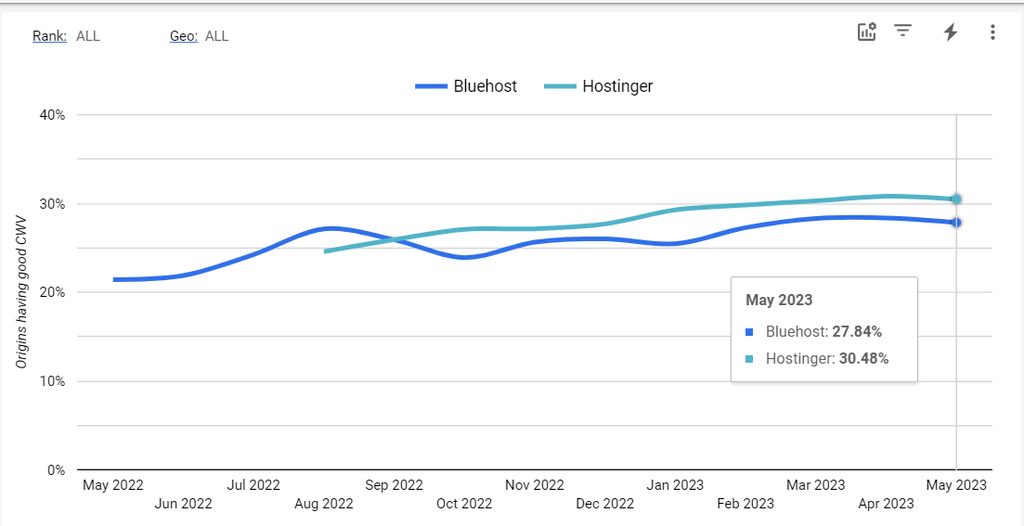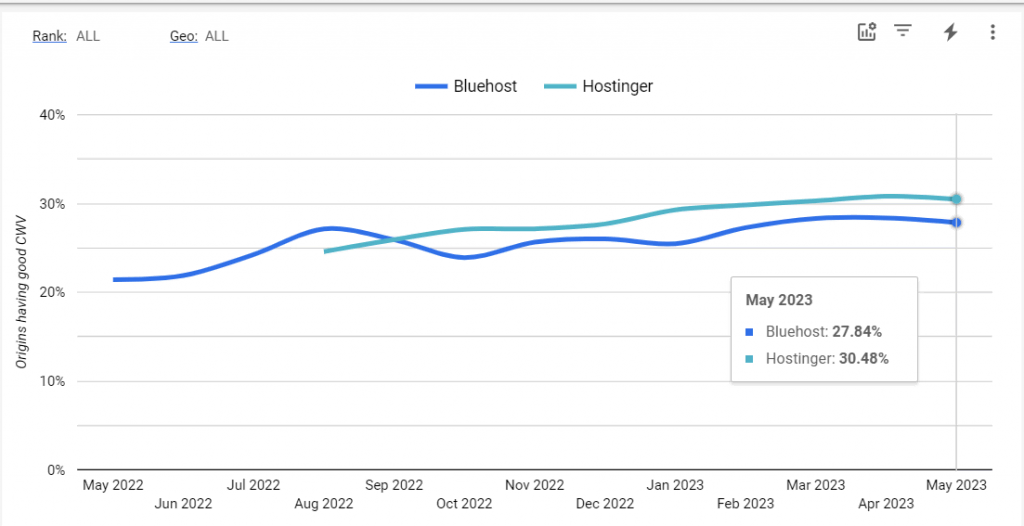 Multilingual Support
Reliable customer support is crucial when dealing with website issues, and Hostinger excels in this area.
Our Customer Success agents work tirelessly around the clock to promptly handle client inquiries. If you run into trouble, contact them via live chat for instant help.
However, what truly sets us apart from Bluehost and many other web hosting companies is our multilingual support.
While Bluehost only offers support in English, Hostinger provides assistance in various languages. Those include English, Spanish, Portuguese, Chinese, French, Arabic, and more.
If you're a web professional whose clients come from diverse cultural backgrounds, then Hostinger is your best bet for a web host.
Data Center Locations
The server location plays a crucial role in your website's performance. It directly affects load times, consequently impacting the user experience and search engine rankings.
Hostinger has ten data centers and counting across Asia, Europe, North America, and South America. In comparison, Bluehost only has data centers in the US and India.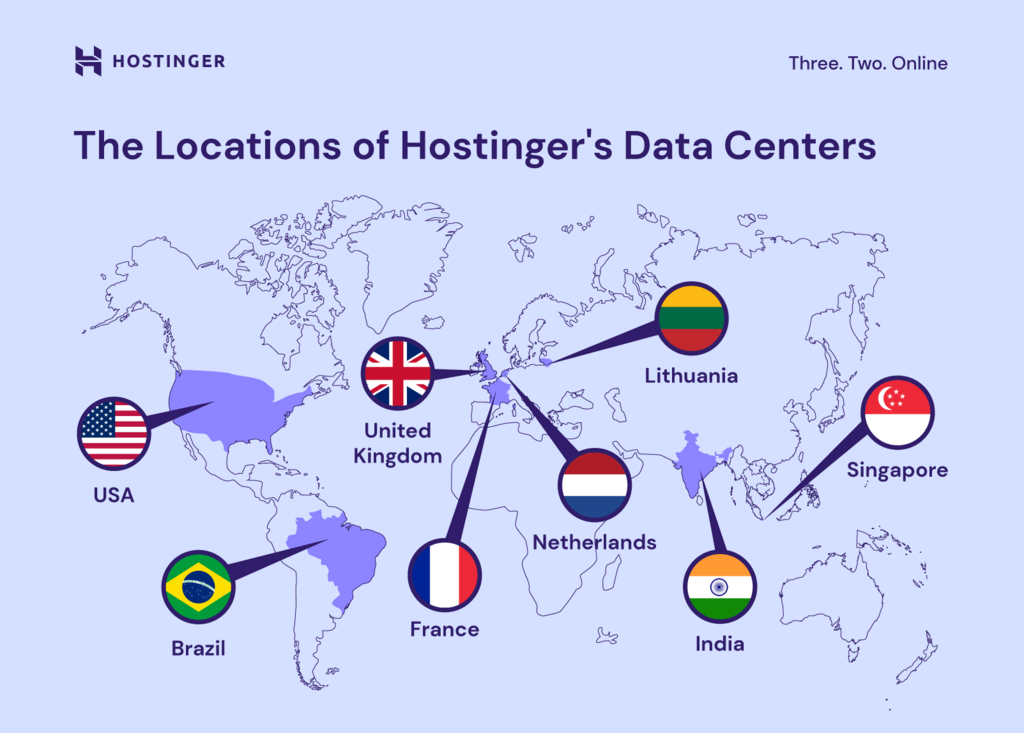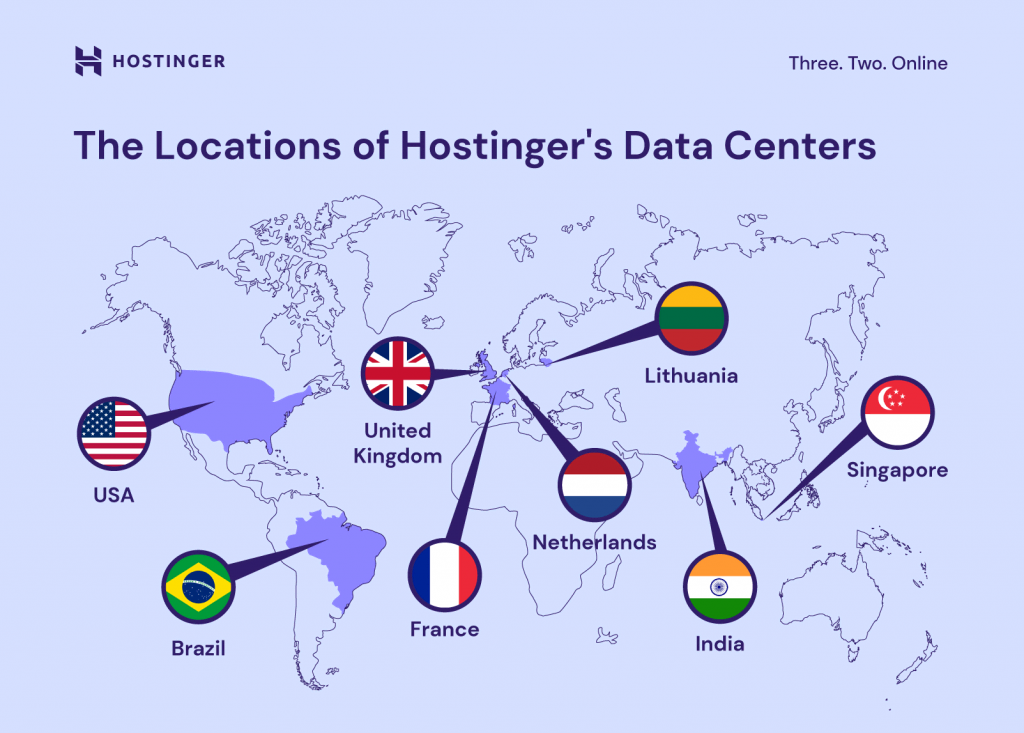 Since our servers are strategically located worldwide, we can ensure a 99.9% uptime guarantee and faster website speed no matter where your audience lives.
Development Tools
Hostinger is a reliable web host for both beginners and seasoned professionals. If you're a web developer, our hPanel offers various advanced tools that make hosting sites easy:
Git integration. Hostinger provides Git access for shared and cloud hosting plans. Deploy and manage Git repositories in one place for improved productivity and collaboration.
WordPress staging tool. Create staging environments for testing changes, updates, and new features without affecting the functionality of your live site.
Cache manager. Our website hosting service also comes with a cache manager for optimized performance. This tool supports frameworks like HTML, WordPress, and Laravel.
Access manager. If you're working with a team, this tool will help you set up and manage access privileges for each member.
PHP configuration. Whether trying out different PHP versions or modifying the php.ini file, our custom control panel has everything you need.
Most of these features are included in all hosting packages, starting from ₱119. The only exception is the staging tool, which is available in the Business plan.
Still, it costs less (₱239) than what you need to spend ($5.45/month) to create a staging environment with Bluehost.
Features and Tools
At Hostinger, we go beyond the basic. Here are some of our outstanding features and tools that make us one of the best Bluehost alternatives:
Intuitive Control Panel
Determined to deliver the best user experience for our customers, we have developed a custom control panel called hPanel.
Its straightforward design lets you perform all sorts of tasks with ease. Those include monitoring website uptime, transferring domain names, managing DNS records, creating professional email accounts, and scanning for malware.
And if you're serious about growing your web development business, we've recently launched Hostinger PRO Panel.
This dedicated section in hPanel lets you manage multiple projects and clients simultaneously. Watch our video tutorial to learn more about this new exciting feature.
Bluehost also has a custom-made control panel called Bluerock. However, the hosting provider does not offer a dedicated pro-user panel.
Robust Security Features
We treat web hosting security seriously. Our security features are designed to safeguard your site against all kinds of threats online:
Unlimited SSL certificates. Secure Sockets Layer ensures an encrypted connection between a website and a browser. It protects sensitive user data, like login credentials and bank details, from falling into the wrong hands.
DDoS protection. We identify and filter malicious traffic, only allowing legitimate users to access your site. As such, your website will be less prone to crashes.
Automated Backups. Depending on your chosen plan, we provide daily or weekly backup services to ensure your website data is always safe and recoverable.
Domain Privacy Protection. It shields your personal information from being publicly available in the WHOIS database.
Bluehost doesn't offer a free SSL certificate and WHOIS protection with its lower-tier packages – you need to purchase the Choice Plus plan for $5.45/month.
In contrast, those features are available in our Premium plan, available at ₱169.
WordPress-Optimized Features
With our managed WordPress hosting solutions, building a great WordPress site has never been easier.
Users can install WordPress in one click, enjoy automated core updates, and monitor vulnerabilities in their plugins or themes.
While Bluehost offers similar functionality with its shared hosting services, there is one area where the hosting provider lacks – AI integration.
Using our newly-launched WordPress AI tools, you can create and publish content faster.
Simply describe your business details, and our AI will generate three blog posts based on the input. Check out this Hostinger Academy video for the complete step-by-step guide.
Hostinger Website Builder
For those looking for a more streamlined web development process, our plans also come bundled with Hostinger Website Builder.
This tool allows you to create a website in three simple steps:
Choose a designer-made theme – there are over 100 templates available. Alternatively, tell our AI what you need, and our website builder will generate a custom design in minutes.
After the initial site is ready, customize it using the drag-and-drop editor. You can easily add new pages and move elements like buttons, text, and images.
Once everything looks good, publish your website.
It doesn't stop there. Optimize your site for search engines and acquire more organic traffic using our built-in SEO tools and third-party marketing integrations.


Conclusion
Choosing a reliable web hosting company is crucial to your online success. If you're unsatisfied with Bluehost, exploring other web hosting providers is never too late.
Hostinger is one of the best alternatives to Bluehost, offering:
Better pricing and value for money
Feature-rich hosting plans
99.9% uptime guarantee
Enhanced security features
Global data center locations
Multilingual customer support
We've designed our hosting services keeping you in mind – whether you're a business owner, a personal blogger, or a seasoned web developer.
From basic features like a free domain name, unlimited bandwidth, and free SSL to developer-made tools like Git integration and access managers for user management, we've got all your needs covered.
Migrate to Hostinger today and experience the difference for yourself. If you still have questions on why Hostinger is the best Bluehost alternative, read the FAQ section below.
Bluehost Alternative FAQ
We'll address some of the most frequently asked questions about Hostinger and its services.
What Types of Hosting Does Hostinger Offer as an Alternative to Bluehost?
As one of the most flexible Bluehost alternatives, Hostinger's web hosting services cater to diverse requirements – we offer shared, cloud, and VPS hosting plans. 

We also provide managed WordPress hosting services. They are designed to optimize your WordPress website for speed and performance.
Can I Migrate My Existing Website From Bluehost to Hostinger?
Absolutely! Hostinger offers a hassle-free migration service. Access hPanel and send a migration request to transfer your website without downtime. If you need assistance, our customer support team is available 24/7.
What eCommerce Features Make Hostinger a Better Choice Compared to Bluehost?
We have various eCommerce hosting plans to help you launch online stores fast, including WooCommerce hosting and PrestaShop hosting.

Hostinger Website Builder also has built-in eCommerce features that let you showcase up to 500 products, accept over 20 payment methods, and manage stock inventory.