How to Use Hostinger
Not sure how to use the Hostinger hosting account you have just created? Don't worry, in this guide, we will go through the most important features and tools you can find in the Hostinger member's area. From domain name management to website creation – we will cover the most important topics. Let's get started.
Download Guide To Using Hostinger
Video Tutorial
Learn how easy it is to use Hostinger's hPanel in this video below.
Completing Your Orders
At Hostinger, we ask each client to provide valid details required for successful domain name registration and hosting setup. Don't worry, it takes less than one minute.
Completing Hosting Setup
In order to finish your web hosting setup, access the Home section, and press the Setup button next to the hosting order you want to set up. In the new window enter the required details and hit the Setup button.
Completing Domain Order
Just like hosting, a domain name order can be completed by accessing the Home section and clicking the Setup button next to the domain name order. You will be redirected to the Domain Order Setup page where you will be asked to fill in the domain registration details, which will be stored in the WHOIS database.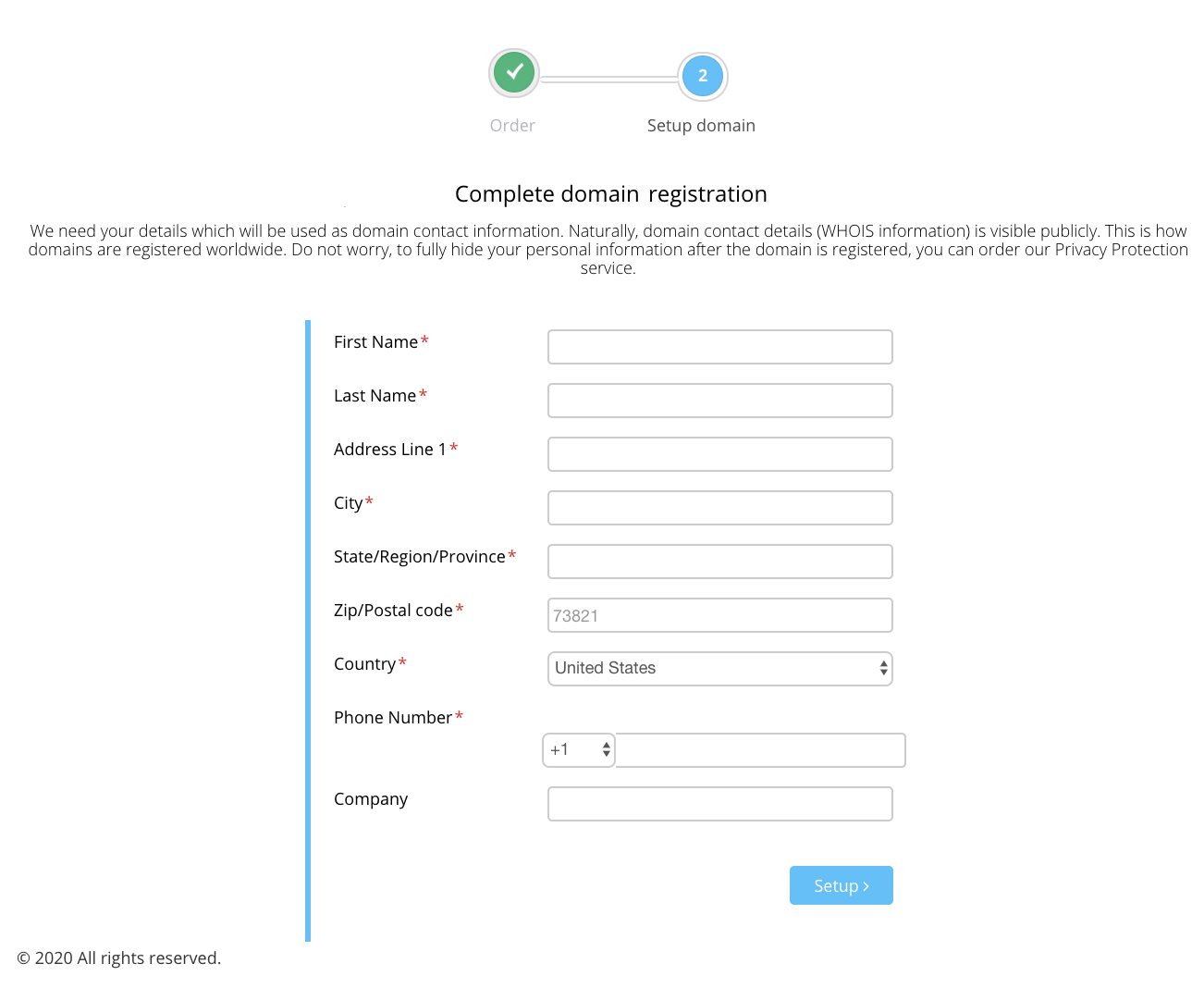 Completing VPS Order
To finish the VPS setup order, open the Home section, and hit the Setup button next to the pending VPS order. In the new window choose operating system, data center location, and enter VPS hostname. Hit the Setup button once you are ready.
Navigating the Members Area
First of all, you need to login to the Hostinger member's area. A login link can be found in the welcome email message. Or by going to Hostinger.com and clicking the Login button.
Hostinger's member's area was built having user experience in mind. Therefore, it's extremely easy to navigate with all the tools needed to configure your hosting account.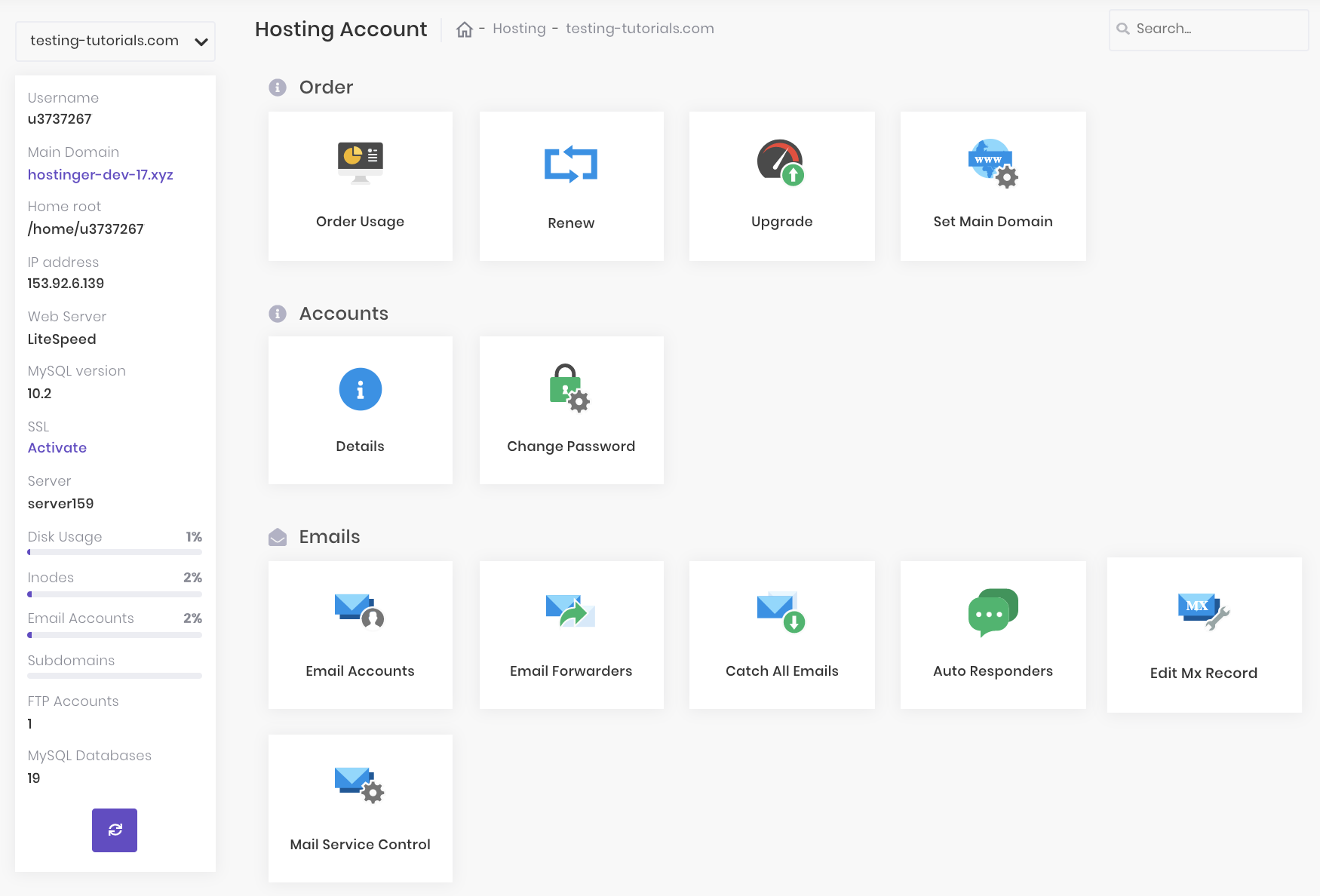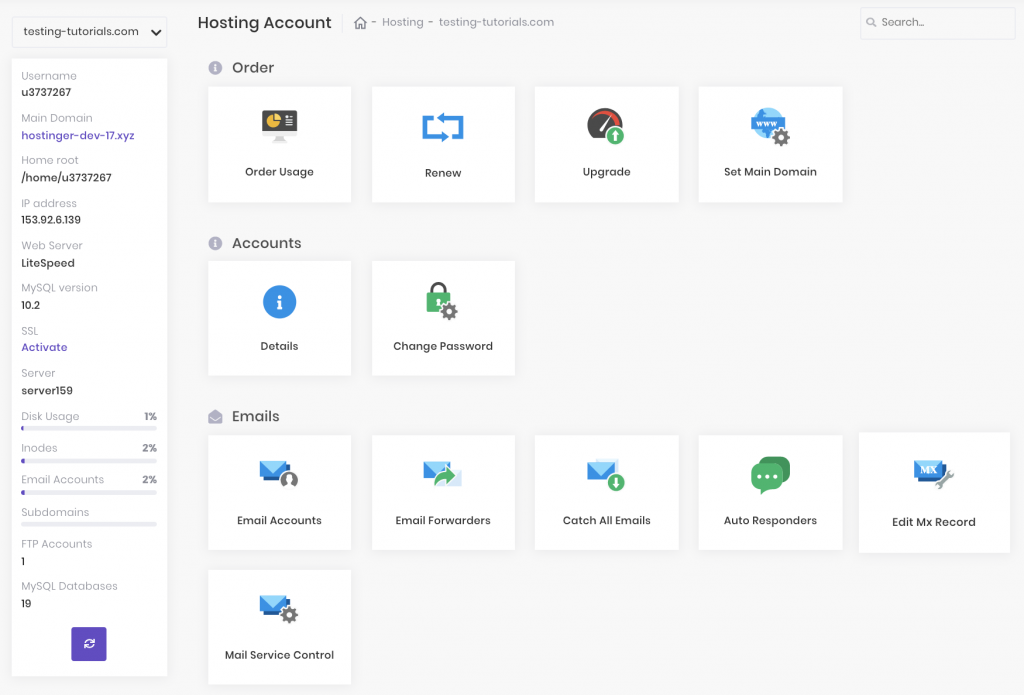 Using navigation buttons at the top of the member's area, you can quickly jump to different areas:


Home – in this section, you can see the latest messages, activity log, and your active services.
Hosting – use this section to access, upgrade, and manage all your hosting accounts. A new hosting account can be ordered in this section as well.
Emails – Get email hosting services for your online projects here.
Domains – get all domains registered with Hostinger. You can also register a new domain name, renew your existing one, and transfer a domain as well.
Servers – order a new VPS (virtual private server) or manage your existing server.
SSL – order a new SSL certificate or manage an existing one.
Billing – billing and payments are easy and understandable for everyone. Here you can find payment receipts, the services you are paying for, and payment methods.
Help – get advice and answers from the Hostinger Team.
Store – enhance your web project with a collection of tools and services we hand-picked just for you.
Updating Profile Details
Over time personal details you have entered during registration can change. In order to prevent issues related to billing or account access, it's necessary to keep them updated.
Along the top menu bar, in the right-hand corner, you will find a circle with an H on it. Click here to see your name, email address, and options to choose from.
Click the My Profile button and it will take you to a page where you can view your profile information, edit your profile, profile picture, link to social networks, as well as add 2-factor authentication.
We also implemented Login History, Activity, Notifications, and Personal Data sections and so you could easily track details on your account.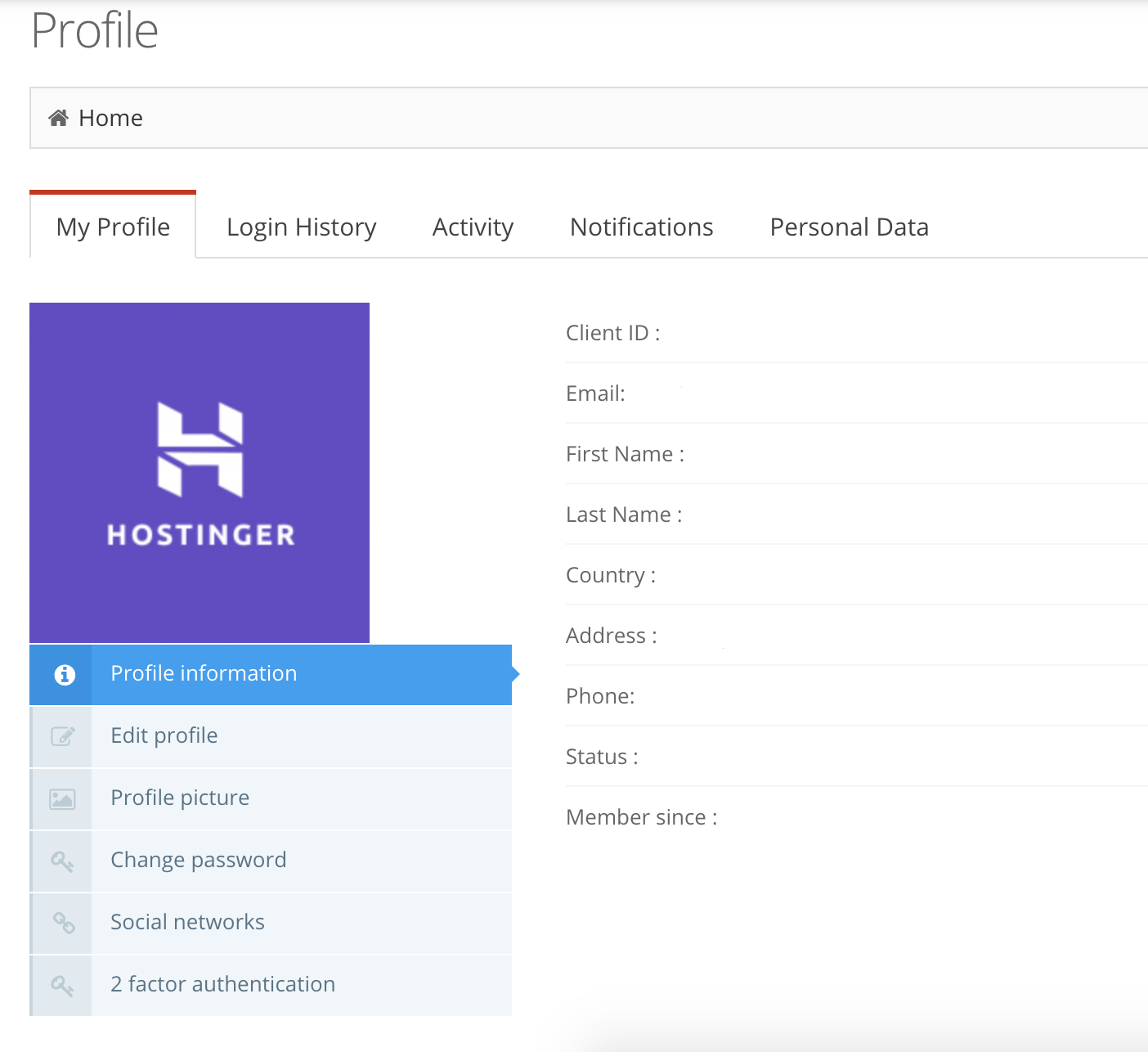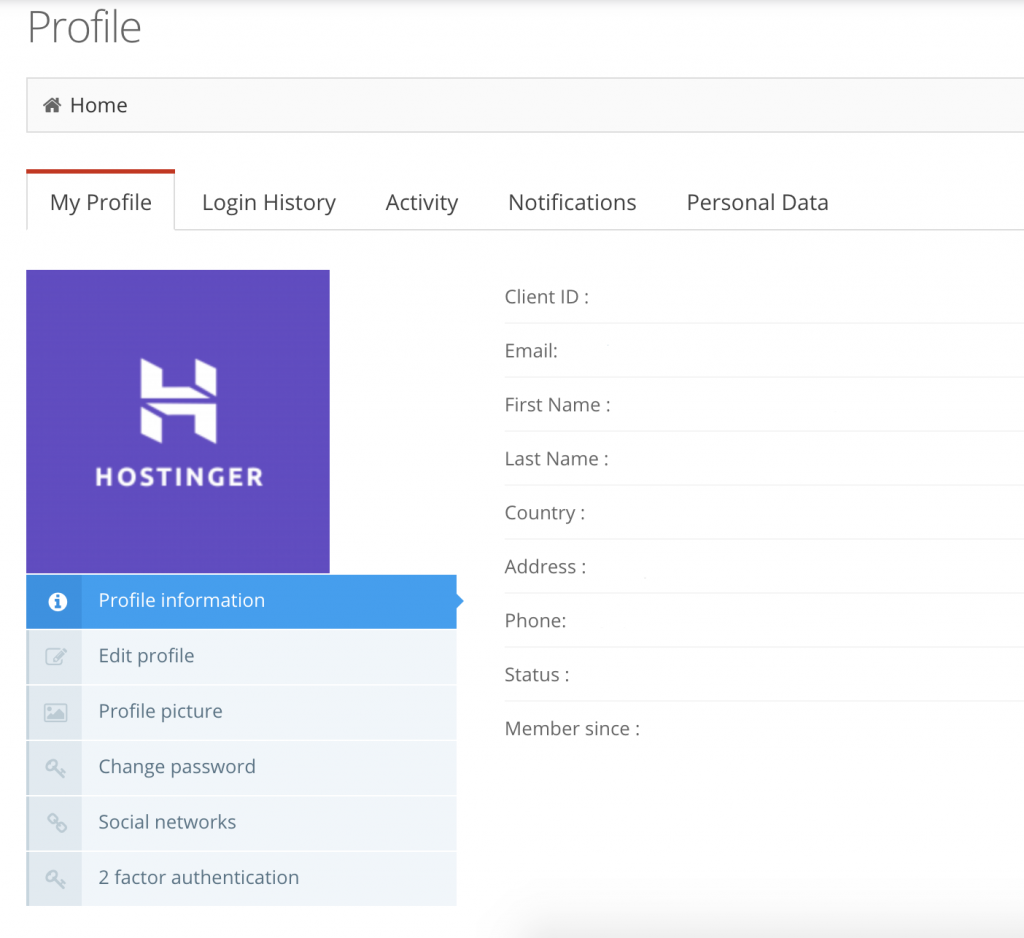 Managing Your Domains
Easily manage all of your Hostinger domains in one easy-to-use section.
Connecting Your Domain Name to Hosting Account
To give others access to your amazing website, you need to have a working domain name. You can choose from two options here: use your own domain name registered somewhere else or register a new domain name on Hostinger.
If you already have a domain name, you need to point it to Hostinger nameservers. Nameservers can be found under the Hosting section.
Click Manage on the domain you need to point, then scroll down to Accounts and click on Details. You should see Nameservers at the top of the page, with ns1.dns-parking.com and ns2.dns-parking.com listed underneath. If not, check out this tutorial to help you point your domain to the correct nameserver.
Once you have pointed your domain name, allow 24 hours for DNS to fully propagate. You can also point the domain name via A record (IP address). The IP address of your account can be found on the same page under Website details.
If you choose to register a new domain name during registration, you don't have to change any DNS details – your domain name will be automatically pointed to Hostinger servers. At Hostinger we aim to register domains as soon as possible.
Creating Subdomains, Add-on Domains, Parked Domains, and Redirects
Hostinger gives you full control of your domain name and DNS zone. In addition, you can create subdomains, parked, redirects, Cloudflare, and add-on domains. All this can be done under the Hosting section and scrolling down to Domains.

Creating an Email Account
On Hostinger you can have an email address with your domain name without any additional cost. We also offer many premium features for all your email needs. The Emails section can be found under the Hosting action and scrolling down to Emails.

Email Accounts – create and manage existing email accounts. Here you can also find all the required details to configure a desktop email client.
Email Forwarders – forward emails from one email address to another. For example, using this tool you can forward all emails from info@yourdomain.com to tom@yourdomain.com.
Catch-All Emails – creating a catch-all email address can prevent the loss of an important email message. It will automatically catch all emails sent to an incorrect, non-existent email address.
Auto Responders – an automatic reply to anyone who sends you an email.
Edit MX record – useful if you want to send and manage an email account on a different hosting or service.
Mail Service Control – enable/disable various email services such as SMTP, DKIM, and Sendmail.
Creating a New Website
Creating a new website has never been easier. Choose from three powerful tools and start a professional website with just a few clicks:
Using our custom-built Auto Installer will take just a few minutes to install popular apps like WordPress, Joomla, Moodle, etc.
Import Website – simply select a .zip, .tar, or .tar.gz archive of all your website files and it will be extracted directly to the public_html folder.
If you want to move a website from another hosting provider, you can do so by migrating it.
Besides these options, you can code your own website, or learn how to code, fix error pages as well as add on an SEO toolkit.
Managing You Files
For quick and easy file management, make use of the Files section on the hPanel. From here, you can make use of the File Manager or create FTP Accounts. On top of that, in this section, you can manage your website backups with ease.

Databases
This section is dedicated to your website's database management. In other words, all of your website's data is stored and can be accessed here.
Here, you can create and manage MySQL databases, manage users, and backups.

Advanced Settings
The advanced settings section gives you access to the DNS zone editor, PHP configuration, Cron Jobs, and more.
One of the most important settings here is the PHP configuration, where you can update it to the latest version and ensure your site runs smoothly.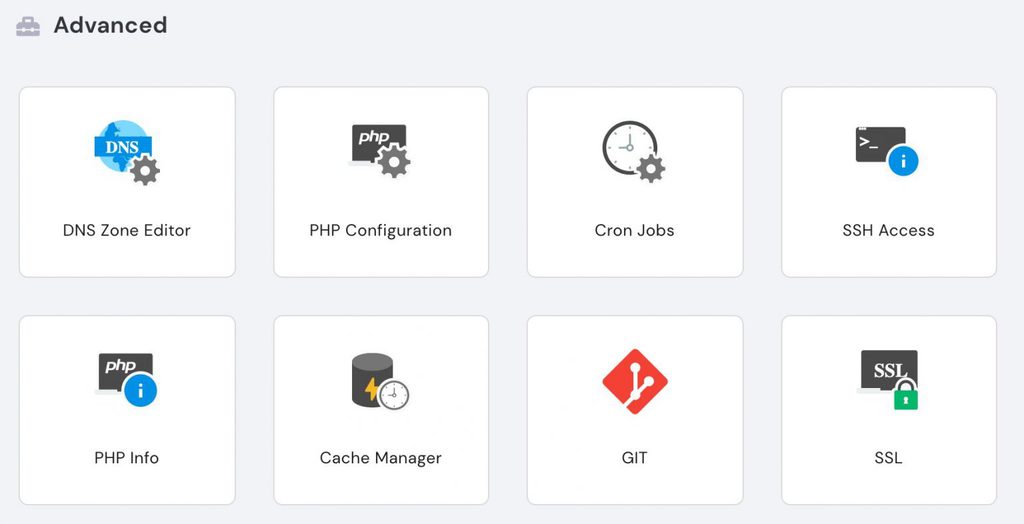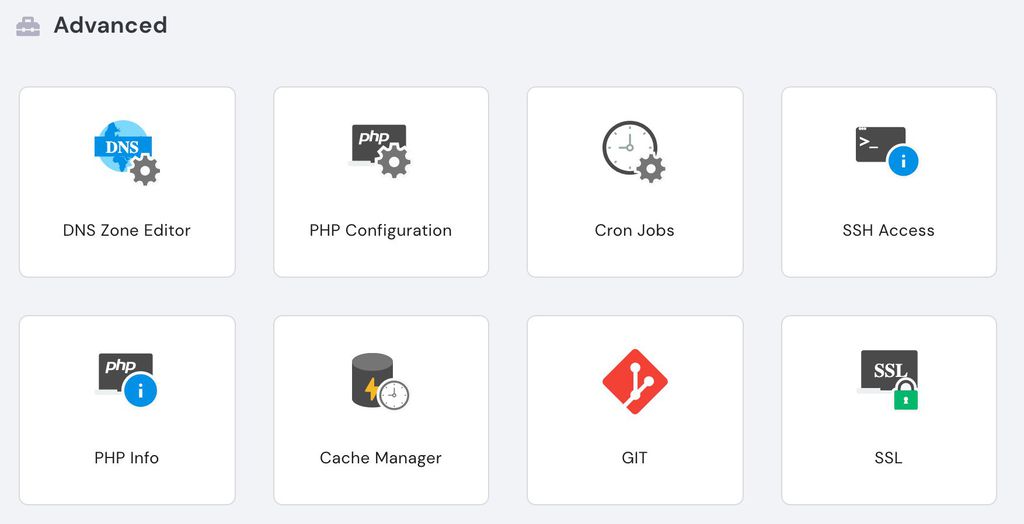 Getting Help
Don't worry if you're still not sure how to use Hostinger. Our customer support team is available 24/7 and you can easily reach a team member but clicking the message button on the bottom right corner of each page. You can also search for your own answers by using the Help page.
Was this tutorial helpful?