How to Start a Book Blog From Scratch in 2023
Many book enthusiasts dream about running a successful book blog – after all, what's better than making money from the comfort of your own home, all while engaging both yourself and your audience in your favorite hobby?
While the idea is enticing to many, starting a blog may still seem like a daunting task for those looking to begin.
So, if you are a bibliophile who wants to learn how to start, you're in the right place. This article will go over the reasons to start a book blog, the definition of one, and provide a step-by-step guide to starting a book blog. Then, we'll discuss how to monetize your blog and share some characteristics of already successful book blogs.
Without further ado, let's begin.


What Is a Book Blog
To begin with, a blog is a regularly updated website whose content is typically written in a conversational style.
Think of it as an online journal, where bloggers share their thoughts with the world.
In book blogging, the book blogger is usually an avid book reader who wants to share their passion with like-minded people.
Posts in a book blog may have different purposes, such as to feature book reviews, book critiques, or book recommendations.
Book blogs may be general or focused on a specific niche. For example, one book blogger may choose to start a book blog to discuss all types of books, while another may have a book review blog focused on fiction or even a more specific genre.
Reasons to Start a Book Blog
If you are a passionate book-lover wondering whether to start a book blog, the following reasons may convince you to take the leap:
Reading is your passion. Starting a book blog means you'll explore books even deeper, making new discoveries in the process.
Recommending books and authors. Share your favorite books and authors – let everyone experience the joy of reading them for the first time.
Having an outlet to express yourself. Start a book blog to write at length about various topics to people who care about the same things as you do.
Improving your writing skills. Being a book blogger will make you learn how to organize and express your thoughts more eloquently. In addition to getting plenty of writing practice done, you'll also receive direct feedback from your blog readers.
Being a community member. As you go further in your book blogging journey, you will naturally meet people with similar interests. Become friends with people in the book world: blog readers, book bloggers, or book authors.
Making a living off your passion for books. As you gain readers and credibility as a book blogger, you will get the opportunity to monetize your blog through various methods such as affiliate links, ads, and sponsored posts.
How to Start a Book Blog: Step-by-Step Guide
If you have finally convinced yourself to start book blogging, it's time to learn how to start a book blog.
To realize your dream of joining the ranks of book bloggers, follow the steps of our book blogging guide below.
1. Determine Your Target Audience
Your target audience is the specific group of people to whom you dedicate your book blog, for example, readers of a certain age range, location, gender, or community.
Specifying your target audience will help you determine the niche of your book blog, the style of your posts, and the design of your blog.
For example, if the target audience is younger readers, you may want to consider the following advice:
Focus on more fun and adventurous book genres. For instance, fantasy or science fiction.
Write posts in a more appealing way. Use informal language, and don't be afraid of slang. Don't forget to insert some funny photos or GIFs to break up the blocks of text.
Create eye-catching site design. A boring and drab site design from the 2000s won't get you anywhere when it comes to a younger demographic. Try including dynamic elements and vibrant colors, and make sure your site is responsive on mobile phones.
Alternatively, if the target audience is older people, you may want to consider these completely different tips:
Focus on more serious books. Concentrate on non-fiction literature such as books on self-help, marketing, and business.
Use conversational language, but keep it semi-formal. Use fewer slang expressions in your book blog. However, keep in mind that using humor is not off-limits. Just because a reader is older doesn't mean your blog should be dull and boring.
Break up lines of text with the occasional picture. But make sure the photos are relevant to your content.
Use a minimalistic and clean website design. It may be more appreciated than a vibrant or lively one.
Keep in mind, however, that nothing is set in stone when it comes to the niche of your blog and its posts, so, feel free to experiment.
With all of that said, it is crucial to take your target audience into account when making decisions.
2. Choose a Book Blogging Angle and Niche
The book blogging angle and niche are the specific segments of the book world your book blog will focus on.
Although there is nothing wrong with a book blog covering all kinds of books, the more specific your niche is, the better.
Choosing a more specific niche and angle may mean less competition and more loyal readers. The more unique your niche is, the more you get to stand out from fellow book bloggers.
Keep in mind that if you pick a particularly rare niche, there is a higher possibility of people seeking out your blog because there aren't a lot of people running blogs with the niche in the first place. However, a rare niche can mean that there will be fewer interested readers.
Consider the following ideas to pick your blogging niche:
Go even further than fiction or non-fiction books. Cover only specific genres. Create a book blog focusing solely on romance, horror, fantasy, science fiction, or classic books.
Get even more specific than picking a genre. Center your entire book blog around a particular book series or works of certain writers.
Dedicate your book blog to a specific matter. For example, reviewing portrayals of people of color in various books or analyzing books from the feminist perspective.
Blog about certain tropes or character types found in books. Write posts based on how certain books utilize familiar stereotypes. Give your opinion on whether this usage has a positive or negative effect on the story.
3. Select the Right Blogging Platform
A blogging platform is software for building and managing your blog or website.
There are two main types of popular blogging platforms that you can create a book blog with: content management systems (CMS) and website builders.
A content management system (CMS) creates and modifies your blog using a graphical user interface. It requires no programming knowledge, runs in your web browser, and is best suited for blogs with a lot of content.
With a CMS, you'll need a host for website so it can be found by readers online. Figuring out the exact web hosting plan that you need will be easy with the help of a reliable website host provider.
Pro Tip
Opting for Hostinger's CMS hosting is an ideal option for those looking for a CMS-optimized hosting solution.
Examples of popular content management systems include:
WordPress.org. Boasting versatility and ease of use, WordPress.org is the most popular CMS in the world. Originally created for blogs, it now powers all kinds of websites. CMS-optimized hosting for WordPress is the best suited hosting solution.
Joomla. This popular CMS is equipped with extensive user management controls and a multilingual system. It's highly flexible – users can display many different content types on the site and create custom fields natively. Joomla hosting plans are best suited hosting solution.
Drupal. Due to its fast load time and robust security, Drupal is often used to build government and corporate websites. It offers numerous modules, themes, and distributions for websites with specific niches. Optimized hosting for Drupal is best suited hosting solution.
Besides content management systems, you can also use website builders to create your blog.
A website builder is a user-friendly tool for designing blogs or websites with the use of a front-end drag-and-drop interface instead of coding.
Users simply choose one of the visually pleasing pre-made templates, tweak the customization options, and drag and drop various elements into place as they like.
Website builders are usually paid services, and users typically don't need to configure their own web hosting as it's already included as a set with the website builder plan.
Examples of some website builders include:
Hostinger Website Builder. This beginner-friendly site builder sets itself apart from its competitors by providing various useful AI-powered tools, such as AI Writer, Slogan Generator, Business Name Generator, Blog Title Generator, Logo Maker, and Heatmap.
Wix. It provides over 500 attractive site templates. It also has its own app marketplace called the Wix App Market, from which you can download numerous add-ons to use on your book blog.
Squarespace. This website builder's main selling point is the high-quality and beautiful templates it provides. In addition, there are third-party apps on Squarespace Extensions, its app marketplace.


If you're still confused which one to choose between a CMS and a website builder, check out the custom graph below.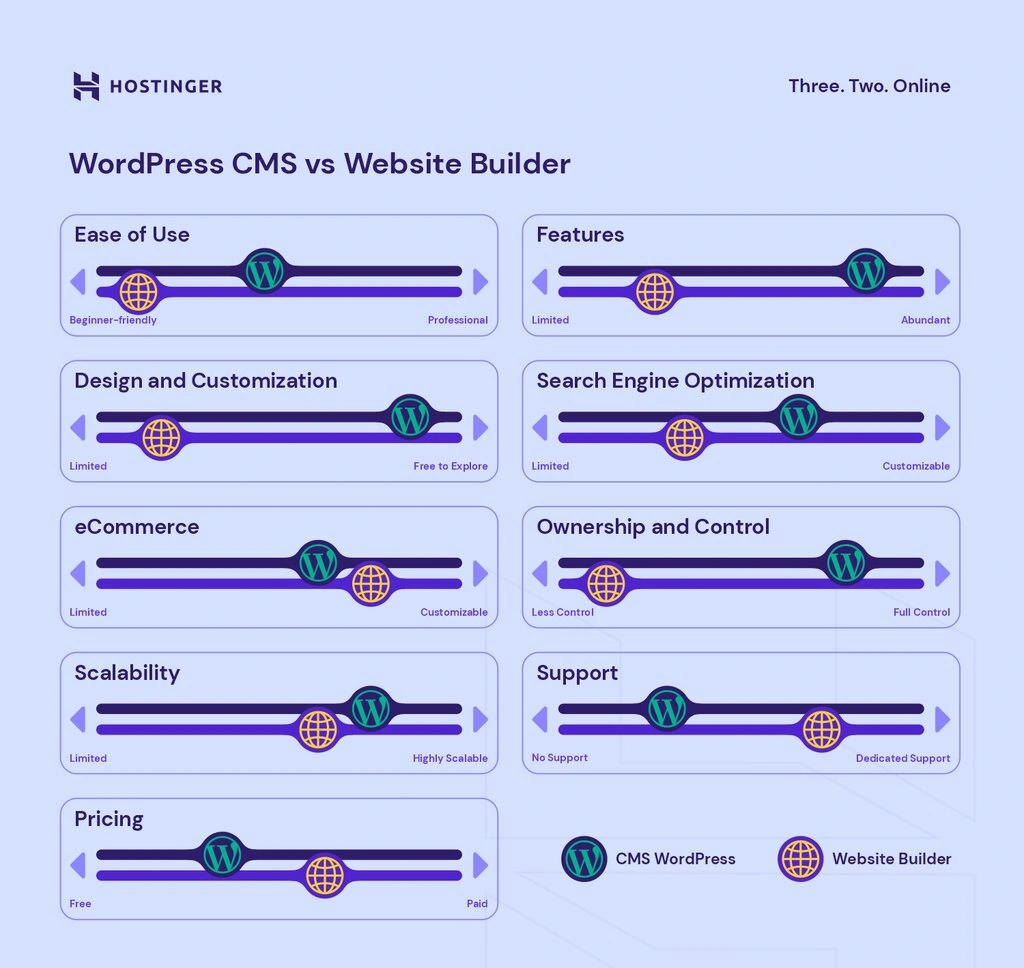 4. Register Your Domain Name
A domain name is the web address people type to access your blog or website, for example, www.hostinger.com.
In the case of a book blog's domain name, it will usually follow or be similar to the name of the book blog itself. Therefore, the process of brainstorming book blog names is strongly tied to the domain name that will follow.
Picking the right domain name is important. If your blog's domain name is too long and complicated, people won't remember it as easily or may have trouble typing it into their browser.
This may result in decreased traffic to your website.
Here are some tips for picking a domain name:
Conduct proper research. Do thorough research on the domain name you have in mind to ensure it has not been taken or trademarked by someone else. Avoid domain names that are very similar to already existing blogs or brands.
Make it easy to remember. Catchy names will increase the number of people accessing your blog. Avoid domains that are too long or complicated.
No numbers or hyphens. They increase the chance of people mistyping your domain name. Even if they intend to access your website, they may end up going to another site entirely due to a typo in the web address.
Go with .com if possible. Although other extensions are available, it's better to go with .com if possible as it's the most commonly used domain name extension.
Think of long-term use. Make sure your domain name is usable in the long term. After all, you don't want to change your domain name every few years.
Reserve social media usernames. It's a good idea to claim social media handles that are the same or similar to your domain name, providing an easy way for people to find you on social media sites.
Claim close alternatives. A great way to increase traffic is to acquire close alternatives of your domain name, ensuring people typing close approximations of your domain name will still access your site. An example is fb.com which leads people to Facebook.
Ask for another opinion. Choosing a domain name is a big step. Talking to your friends can be helpful – they might even offer insights you would never have thought of yourself.
After deciding on your domain name, simply follow these steps to purchase and register your domain name:
Find a reliable domain registrar.
Check domain name availability using a domain checker.
Choose the domain name you want from the options provided. You can find more alternatives using a domain name generator.
Purchase the domain name and fill in the required fields to complete the registration.
Verify domain ownership via the email used for registration.
5. Pick a Web Design Theme
In addition to giving off your blog's first impression to site visitors, your blog theme also plays a part in influencing user experience.
The perfect theme should be easy on the eyes and comfortable to navigate. Remember to look for a theme that will fit the tone of your blog, as discussed earlier. You want to find something that will fit all of your necessary criteria.
Luckily, there are lots of themes to choose from. For example, bloggers who use WordPress can use one of the free themes found on the official WordPress theme directory or premium WordPress themes found on third-party websites such as ThemeForest or StudioPress.
Here are some tips on how to choose your blog theme:
List the features you want. This will ease the search within the official or third-party theme directory. Think about features important to you, such as how many columns you want on your post pages themselves and where to place the sidebar.
Look for light and responsive themes. Bloated themes with too many features result in a slower loading time, which will be frustrating for both you and site visitors. Also, pick a responsive theme that will look great on every device.
Consider your budget. Calculate your budget carefully and decide between a free or premium theme.
Take color and font into account. A clean and attractive theme will increase your credibility. Use a color wheel to see if the colors go well with each other. Make sure your font color and size don't affect readability negatively.
Test the theme. After you have finished configuring your theme's settings and uploading your files, test your theme to see how it looks and whether everything works.
If you are wondering whether to go with a free or paid WordPress theme, consider the pros and cons of each.
Pros of a free WordPress theme:
Easy to test. Install a free theme and see how your site looks and performs with it. Even if you decide not to use it in the end, there is no money lost.
Reviewed by WordPress. The free themes found on the official WordPress theme directory have undergone a strict review process.
Works seamlessly with official WordPress plugins. As WordPress has reviewed them both, the official WordPress themes will naturally be compatible with the official WordPress plugins.
Cons of a free WordPress theme:
Limited features. Free WordPress themes tend to have fewer features than paid ones.
Not unique. It is difficult to stand out when using free WordPress themes. Many people use them, and such themes have fewer customization options.
Lack of dedicated support. The only support you get with free themes usually comes in the form of documentation and user forums instead of an actual support team who will answer your questions. Also, there may be little to no updates.
Pros of a paid WordPress theme:
Extensive features. Paid themes generally have more extensive features and customization options compared to free ones. It's easier to extend your website's capabilities and personalize it using a paid theme.
Frequently updated. Unlike free themes, paid themes tend to be updated frequently, providing bug fixes and new features.
Personalized support. Paying for a theme means there is a support team. When you have questions or problems, simply contact the theme's support team and let them help you find solutions.
Cons of a paid WordPress theme:
Not free. You will need to pay. Some themes only require you to make a one-time payment, while others are billed annually. If you decide not to use a theme after purchasing it, you cannot get your money back.
More difficult to use. The more configuration options a theme has, the more difficult it is to use and navigate. As paid themes tend to be rich in features, it may take some time for you to figure out how to use them.
No official approval from WordPress. WordPress does not review paid themes from third-party developers. The quality of some premium themes may not even be worth the money. There is also no guarantee that these themes will be compatible with various plugins.
6. Personalize Your Book Blog
Personalize your book blog to your liking. Let people know who you are and what the blog is all about.
First, create a logo for your book blog. A logo strengthens your credibility and identity as a book blogger.
When you are already well-established as a book blogger, you can even make money off your logo. Print your logo on various merchandise such as T-shirts or mugs for people to purchase.
You can hire a professional graphic designer or create your own using a logo maker.
Here are some factors to consider when creating a logo:
Your book blog identity. Consider aspects such as your blog's goal, what makes your blog different from others, and three words you would use to describe your book blog.
Your competition's logos. One of the ways to find inspiration to create your own logo is by checking out your competition. Find real examples of great book blog logos and see what you are up against.
Design style. Choose from a variety of design styles, such as classic, vintage, modern, quirky, and handcrafted.
Logo type. Decide the type of logo you want to make: letter marks, pictorial marks, wordmarks, abstract geometric marks, mascots, or a combination of several types of marks.
Typography. When picking a font, think of the feeling you want to deliver, how well it goes with the overall logo, and its readability.
Color. Check how well the colors go together using the color wheel.
Make sure your book blog logo is easily recognizable and unique.
Besides making a logo, you should set up essential pages to further clarify who your blog belongs to, provide ways for people to contact you, and give yourself legal protection.
The pages you should include are:
About me page. Introduce yourself. Let readers know more about yourself and why you chose to start a book blog in the first place. Are they reading a book review blog or one meant for the discovery of new authors?
Contact page. Include contact information such as your email address or your social media profiles. Using a contact form plugin to add a contact form is also a great idea.
Privacy policy information. It informs your readers about the personal information you collect from them and how it will be used. Examples include name, email address, phone number, and credit card information.
Disclaimer statement. It should deny liability for your blog's content. For example, when it comes to writing book reviews, you should state that the reviews reflect only your personal opinion and do not represent the opinions of other associated parties. A disclaimer is also mandatory when you start monetizing your blog.
Terms and conditions. They are the rules of your blog. State what is allowed or prohibited on your book blog.
Refund or exchange policies. It's essential if you sell merchandise. Also, let writers and publishers know what books you accept for a book review.
Don't forget to state your right to modify your legal pages.
Keep in mind that the law for book blogging may differ from one country to another. For example, in the United States, the Federal Trade Commission (FTC) requires you to disclose any financial commissions you get through affiliate links. Thus, it is better to consult a lawyer when it comes to writing your blog's legal pages.
7. Upload and Categorize Content
It's good to have a few posts already uploaded before you publish your website, so your brand new blog won't be empty.
This way, when people visit your website, they already have samples of your writing to enjoy. It's especially important if you want to work with publishers and authors who may ask you to write their book reviews. Give them a taste of your writing to encourage them to work with you.
If you don't know where to start, begin with a book review of the latest book you read. Alternatively, write a book review of something that is newly released – these are especially sought after since people want to know if a certain book would be worth reading before purchasing it.
Find books to review from the following sources:
Your local library. It's a great option for new book bloggers with a tight budget. Simply head to a library near you, pick up some of the latest book releases, and start writing your book reviews.
Book reviewing databases. These are websites for book bloggers to obtain Advanced Reading Copies (ARC) of books, which are given to book bloggers or reviewers to read before print. Examples include NetGalley and Edelweiss+ by Above the Treeline.
Publishers' websites. Most publishers have blogger request forms book bloggers can fill out to request review copies. Some publishers also accept requests via email. Examples of publishers that give out review copies are Fierce Reads and Penguin.
When writing a post, organize your content in a neat way. Split your body of text into sections using headers. Make sure to include the appropriate keywords.
Writing relevant and well-organized content is vital for search engine optimization, which dictates which websites and web pages show up higher on the search results pages.
The higher your webpage is on the list, the more traffic you will get because people are more likely to click on the first result they see.
In terms of organizing your content, a good way to keep track of your content is by using blog taxonomy. Blog taxonomy is a classification system for categorizing your posts.
There are a few reasons why blog taxonomy is important for book blogging:
Helps you keep track of your content. After blogging for a while, keeping track of your content can be overwhelming. By looking at your categories and tags, you can note how many posts you have written about specific topics.
Exposes readers to older content. The posts on a blog usually appear in reverse chronological order, thus older posts may get buried under new ones. By clicking on the categories or tags, people will find older content with ease.
Helps people access similar content. If a reader likes a post you wrote on a particular topic and they want to read similar posts, the reader can just click on the tag or category in question.
Improves search engine optimization. Taxonomy makes it easier for search engine bots to crawl and index your content. Categories and tags help the bots understand the relationship between pieces of content on your blog.
There are two types of taxonomy: categories and WordPress tags. Categories are broad topics you categorize your content under, while tags are words or phrases informing details found in your content.
Categories can be organized in a hierarchical order, while tags cannot. Examples of categories for book bloggers include fiction, non-fiction, fantasy, and romance. Examples of tags include spies, wizards, and love triangles.
For example, if you're writing a review of one of the books in The Lord of the Rings series, you can categorize the book under the fiction category and use tags such as wizards and hobbits.
8. Install Necessary Plugins
A plugin is software for adding a particular functionality to a program, or in this case, a CMS. You can use them to extend the capabilities of your book blogging website if you've decided to use WordPress.
People install plugins for various purposes, from providing a call button to helping you to back up your website.
Here are some WordPress plugins recommended for book bloggers:
Hostinger AI Assistant plugin. Our in-house WordPress plugin for blog content generation, available for Business and Cloud hosting plans users. Briefly describe the content, and it will generate a well-structured blog post with a featured image.
Akismet. It protects bloggers from malicious and irrelevant content by checking contact form submissions and comments against a global spam database. If they are found on the database, they are automatically filtered out.
UpdraftPlus. Backing up your site periodically is crucial as you don't want to lose your site and its contents due to security threats. This plugin makes the process easy, with features such as scheduled backups and cloud-based backup storage.
Easy Table of Contents. Use it to insert a table of contents into your posts, pages, or custom post types. It will improve user navigation, allowing readers to jump to the section they are interested in.
Yoast SEO. Use the Yoast SEO plugin to improve your search engine optimization. Features include canonical URLs, XML sitemaps, meta tags, readability analysis, and Google preview.
Broken Link Checker. Monitor and test all your internal and external links. The plugin makes sure all your links are working and notifies you when it finds a broken link. Bad links will affect SEO and user experience negatively.
WPForms. Create a contact form for people to contact you with. Use the drag-and-drop builder feature and add or remove contact form fields to your liking.
Comment Reply Notification. It sends readers notification emails whenever you reply to their comments, leading readers back to your website to read your replies.
MailChimp. Use this newsletter service to send out email campaigns to your list of blog readers and email subscribers. Notify them every time a new post is published on your website.
bbPress. Create, moderate, and encourage book discussions on your site using this forum plugin. Foster a community among your readers and let them share the excitement of reading a new book or discovering a new author.
Ad Inserter. It inserts advertisements on your book blogging site and supports numerous kinds of ads, such as Google AdSense, Amazon Native Shopping Ads, Google Ad Manager, Infolinks, Media.net, and rotating ad banners.
W3 Total Cache. This website caching plugin enhances your website performance, reduces your website's load times, and improves search engine optimization.
Expert Tip
If you install too many plugins, chances are it's going to slow down your WordPress site, which is also going to reduce your traffic and conversions over time.
9. Publish and Promote Your Blog
Once everything is ready, launch your blog.
However, work doesn't end here – it's time to promote your new blog.
It can take a very long time for your new blog to accumulate traffic if you do nothing. The solution to this problem is to drive traffic to your website by actively promoting it.
There are many ways to promote your blog:
Spread the word. Don't underestimate the power of word of mouth – tell everyone about your new book blog. Encourage them to visit your site and to spread the word to everyone they know.
Use social media. Link your social media profiles to your blog. Share every blog post you publish through various social media sites, including persuasive snippets and pictures in your posts.
Send email campaigns. Send emails to your list of readers, notifying them about new posts, merchandise, or events. But you should use this method only when you have actually acquired some loyal readers.
Find online book clubs. There are lots of virtual book clubs online. Join some clubs, participate in some book discussions, and promote your book blog while you are at it.
Provide a sharing button. Place a sharing button at the end of every post. When people want to share one of your brilliant writing pieces, they can simply click a button to share the post on a social media platform.
Start guest blogging. Become a guest blogger for other well-established blogs, preferably blogs whose niche is similar to yours. Through your writing, attract the readers of those blogs and encourage them to visit yours.
Interact with fellow bloggers. Find fellow book bloggers and interact with their content. Share their posts and comment on them. Make friends with as many book bloggers as possible, and you may just open up the doors to future collaborations.
Buy advertisements. Promote your book blog by placing paid advertisements on online advertising platforms such as Google Ads or Facebook Ads.
Collaborate with influencers. Find well-known influencers in the book blogging community and try offering them paid partnerships. For example, pay them to promote your book blog to their wide audience via their social media posts.
10. Track and Tweak As You Go
It is essential to monitor your blog's performance to ensure its growth.
Book blogging is also about trial and error. Keep trying out different tactics and content types. Note down which ones bring more traffic. Pay attention to your readership's feedback as well as their likes and dislikes.
Analyzing and tracking blog performance is especially important for bloggers who want to monetize their blogs.
Some variables to track when monitoring your blog performance include:
Blog traffic. Naturally, the more people visit your blog, the better. Ideally, the number of your readers should increase over time. You can also monitor the traffic on individual posts to see which types of content are the most popular.
Social media shares. When people share your posts through social media, they promote your blog for free to their friends and followers. Make your content social media-friendly by providing colorful photos and intriguing paragraph hooks.
Backlinks. Backlinks are links on a webpage that lead to another website. When people link to your site, you receive a backlink from them. The more backlinks you receive, the higher your chances are of being ranked higher on search engine results pages.
To help you keep track of your analytics, use Google Analytics – the most popular web analytics tool. There are two ways to add Google Analytics to your website: manually or by using Google Analytics plugins.
Here are some elements to track using Google Analytics:
Visitors overview. Track where your visitors are from, which browsers they use, how often they visit your blog, and how long they stay on your site.
Traffic sources. Find out whether your blog visitors found you through direct or referral means, which referring sites bring you the most traffic, how you perform on search engines, and your most popular keyword search terms.
Content overview. Figure out which of your posts are the most popular, how visitors navigate your blog, how visitors enter your blog, which pages your blog visitors tend to land on, and which pages your visitors tend to leave from.
Monetizing Your Book Blog
If you want to make a living off your book blog, it's crucial to monetize a website properly.
Making money off your blog will require patience and dedication – you can't expect a flow of income as soon as you start a book blog. Most of the time, you need to have a steady flow of traffic to your blog before monetizing it.
There are numerous ways to make money online off your blog:
Affiliate links. With affiliate marketing, you write a post related to a product or service. The aim is to encourage people to click on the affiliate links leading to your business partner's site. The more clicks those links get, the more money you receive.
Ad space. Take advantage of the free space on your blog to display ads in the form of links, banners, or pop-ups. Depending on the model you choose, you may receive money based on the number of people visiting your blog or clicking the ad.
Sponsored posts. Sponsors pay you to create or feature blog posts that are specially dedicated to their product or service. Negotiate your rate with the sponsors. Prices may vary depending on who writes the post and how high your blog traffic is. This form of monetizing is especially popular with book review bloggers.
Selling physical and digital products. Sell your own merchandise in the form of mugs, hoodies, or bookmarks with your distinctive logo on them. You can also sell digital products such as an e-book of a collection of short stories or poetry you wrote.
Freelance writing. Offer your writing services to various parties – companies, websites, authors, or publishers. Write product reviews, guest blog posts, and reviews of published books or Advanced Reading Copies.
Expert Tip
As a beginner, I would start off with AdSense and affiliate marketing. Just do both and generate money from both of them. Whatever performs better, double-down on that.
The other tip I have for you is just to make sure you have five, ten thousand plus visitors a month before you worry about monetizing through AdSense or affiliate marketing.
Examples of Successful Book Blogs
We have compiled four elements of successful book blogs for you to keep in mind throughout your book blogging journey, providing an example of each.
1. Unique and Personal
A great book blog needs to be unique, with the book blogger's personal touch evident all over it.
If you want loyal readers willing to listen to what you have to say, they need to know the person behind the blog and trust you. Therefore, an About Me section is a must.
It doesn't need to be too detailed. Just let people get a sense of you and your personality.
Furthermore, make sure your book blog is unique. For example, designate a specific nickname for your loyal readers or write a unique sign-off message at the end of every blog post.
Also, you can take interesting photos of your books. Use a certain filter or position of the book.
Whatever it is, it should be a distinctive detail your readers can recognize as a characteristic of you or your blog.
Take Juliet's Library as an example. A distinctive feature of Juliet's book blog is cozy and aesthetic book photos. She makes sure all her photos use the same color palette of mostly brown, white, and cream.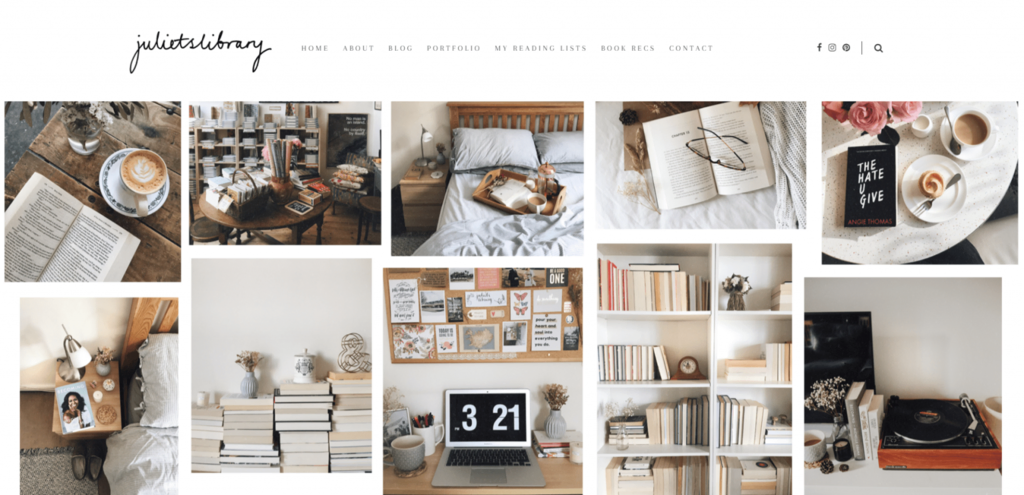 2. Attention-Grabbing Post Headlines
Your headlines or blog post titles should immediately grab the attention of your site visitors at first glance. People should feel like they would be missing out on a great blog post if they didn't click on it.
Be straightforward and direct. The post title should let the readers know immediately what the post is about and whom the post is directed towards.
Avoid being vague and use specific words and numbers. For example, if your post is about a list of book recommendations, include the number of books you are writing about.
Tell people exactly what you are writing about. Instead of a general word such as things, use more specific words such as tips, rules, or facts.
An attention-grabbing headline is also an emotionally provoking one. Use strong adjectives to play with your readers' emotions, such as powerful, weird, and vital.
Make a bold promise to your readers in the post title, persuading them that they will gain valuable information by reading the post. Be as daring as possible while still being truthful about what you really wrote in the post.
Expert Tip
Eight out of ten people read your headline but only two out of ten will click through and read the rest. So think about different headlines, and talk to people you know. Tell them about your headlines and see which ones you think resonate more with your friends.
Take Stacked Shelves as an example. This book blogger utilizes attention-grabbing headlines to her advantage. She writes specific and direct headlines.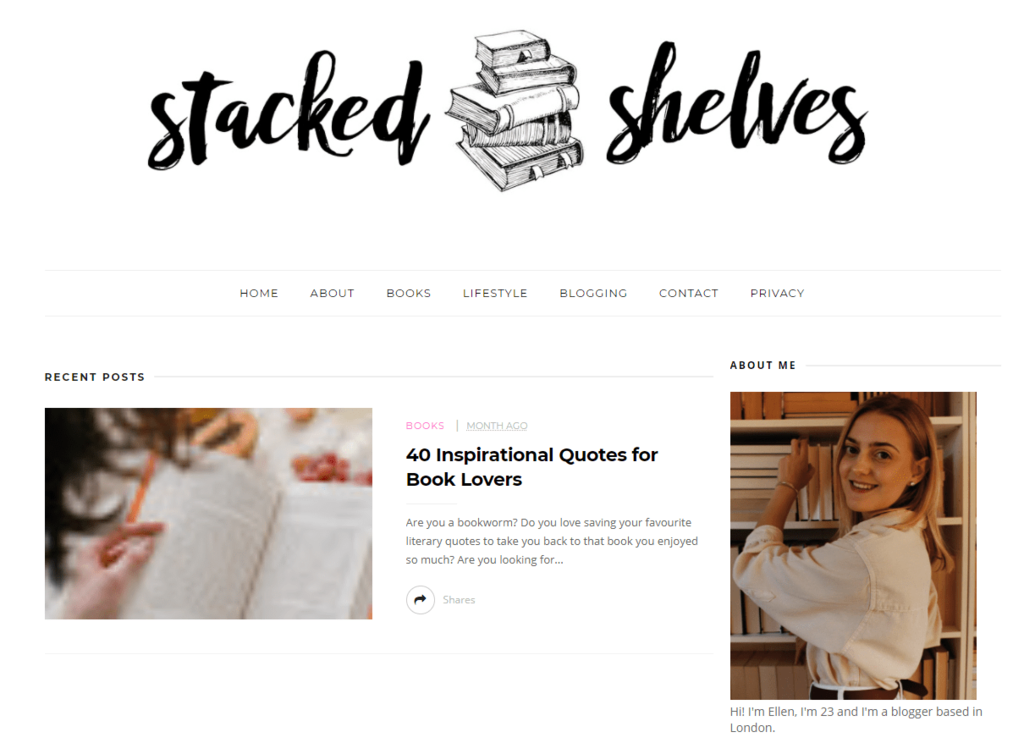 A clear example of this is the title in the screenshot above: "40 Inspirational Quotes for Book Lovers".
The blogger uses exact numbers and words to let people know what they are getting by reading the post. Also, she is very clear about the target audience of her post: book lovers.
3. Regular Updates
Book bloggers should regularly update their blogs with high-quality content.
Since a blog is a dynamic site by nature, book blogging requires you to provide a steady flow of content on your blog. After all, you can't expect your readers to read the same posts over and over again.
One of the key factors in maintaining a successful book blog is staying relevant. Bloggers must stay up to date on trends and new releases in the book industry.
If people visit a blog and see that it hasn't been updated for a while, they will leave the blog immediately.
How often you update your blog is up to you. When you start a book blog, create a regular blog-updating schedule and stick to it. Let your readers know when they can expect new content.
Expert Tip
Create a content schedule. Make sure that you set out time each and every single week to create content and stick with it. And just make sure you're writing the content. In my Google Calendar, I put in blocks of time to write content, publish, and edit.
Make sure also to maintain the quality of your posts. Provide well-written content and accurate book information.
When you are a more popular blogger, avoid the temptation to put less effort into your book blogging. You want to build not only a large readership but also a loyal one.
For an example, check out The Literary Edit. It's a book blog run by an award-winning book blogger, writer, and bibliotherapist.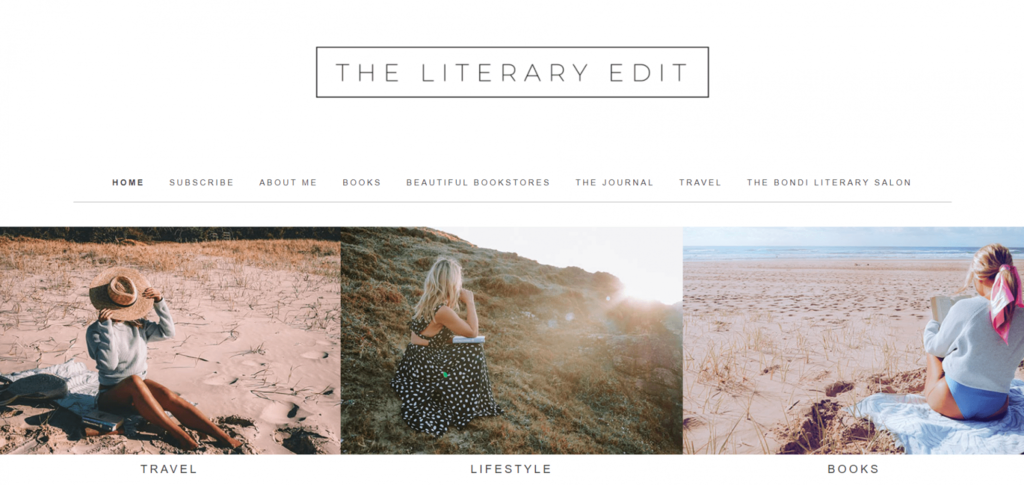 It has a Book of the Month section in the site's sidebar which features one specific book each month. Such regular book blogging attracts readers and it provides consistency to the blog.
4. Posts in Reverse Chronological Order
Once your book blog is dynamic and regularly updated, it's important to display posts in reverse chronological order for easy access.
It means your posts should be shown in the order of newest to oldest, with the most recent posts typically displayed on your home page.
This system allows your readers to keep track of your updates and stay up to date.
Doing the opposite is a bad idea, as it would make people think your blog is no longer updated. It would also make it unnecessarily difficult for readers to access the latest posts.
The Bibliofile is a good example of this. It's a book blogging site where people can immediately see the latest post on the home page.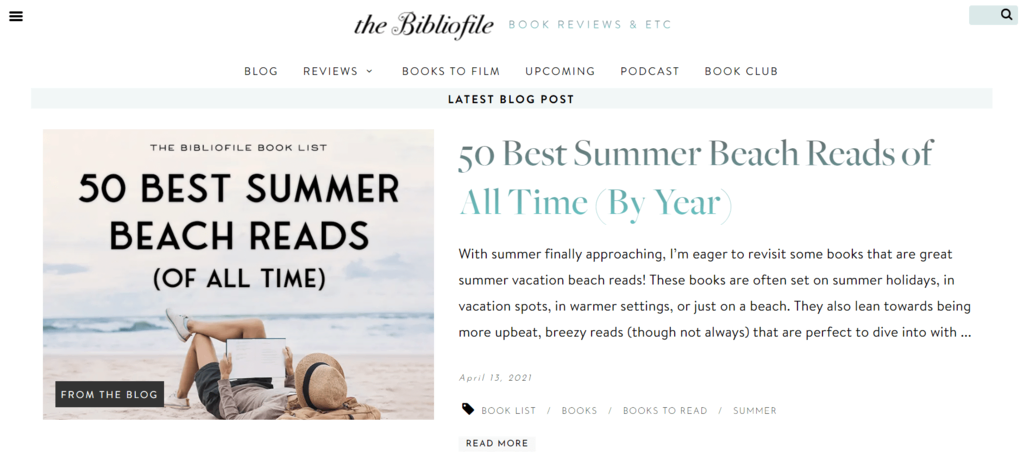 Scrolling down the page, you will find other sections featuring the latest episode of its book podcast, blog posts on the newest book releases, the latest book review post, and a section for recently reviewed books.
Frequently Asked Questions About Book Blogging
What Should Be Included in a Book Blog?
Your book blog should feature diverse book-related content or content tailored according to your niche. Examples of content include book reviews, book recommendations, and analyses of certain books, authors, tropes, or characters.

Include some high-quality pictures that are relevant to your posts and whose colors match the blog's theme.

Providing essential pages is a must. These include an About Me page to let your readers know more about the blog and the person behind it, a Contact page to provide readers a way to contact you, and your legal pages.

The legal pages should include a privacy policy, disclaimer statement, terms and conditions, and refund or exchange policies.

If you want to generate income through your blog, you may want to include affiliate links, advertisements, sponsored posts, or dedicate a section of your blog to sell merchandise.
Is It Better to Start a Blog or Write a Book?
There is no one correct path to take that will guarantee your success as a writer – different writers achieve success in different ways.

However, we suggest beginning your writing journey by starting a blog instead of writing a book. There are several reasons why:

Writer discipline. Running a blog will help you get used to writing deadlines and increase your writing productivity. When writing a book, you may be tempted to procrastinate. A blog, however, requires you to publish new content regularly.

Writing skills. With the increase in writing productivity, you will develop your writing skills more quickly. After all, practice makes perfect.

Faster process. Writing and publishing a book is a long process that may last up to several years. Meanwhile, writing a book blog post usually doesn't take longer than a week, and publishing can be done through a single click.

Readers' interests. With every single blog post written, you get to learn more about your readers' preferences through the feedback you receive.

Audience. Develop a strong relationship with your readers through consistent blogging. As your loyal readership increases in size, you will also strengthen your social media presence.
If you start a book blog first, you will create an easier path towards success as an author when you eventually write a book.

In addition, when it comes to promoting your book – readers who love your blog will be more inclined to purchase your book, and publishers will be more likely to publish your book, considering you already have a devoted following. You will be one step ahead of people who don't have an audience.
Conclusion
To sum it all up, a book blog is a regularly updated site with content relating to books, written in a conversational writing style.
There are many reasons to start a book blog. First of all, you should start a book blog if reading is your passion.
You should also start a book blog if you want to: recommend books and authors, write book reviews, find an outlet for self-expression, improve your writing skills, be part of a book community, or make a living off your passion for books.
We have also broken down the book blogging guide into ten steps:
Determine your target audience
Choose a book blogging angle and niche
Select the right blogging platform
Register your domain name
Pick a web design theme
Personalize your book blog
Upload and categorize content
Install necessary plugins
Publish and promote your blog
Track and tweak as you go
Book bloggers have numerous ways to monetize their blogs, such as affiliate links, ad space, sponsored posts, selling physical and digital products, and freelance writing.
We also discussed four characteristics of successful book blogs: the quality of being unique and personal, having attention-grabbing post headlines, providing regular updates, and displaying posts in reverse chronological order.
Now that you know how to start a book blog, go ahead and start your book blogging journey today. Good luck.