Hostinger Reseller Hosting: Using Pro Panel for Managing Client Sites
Many web professionals collaborate with leading web hosting providers to expand their business reach through reseller hosting.
To assist you further, Hostinger has introduced a powerful Pro Panel feature. With it, you can resell hosting as well as use intuitive and reliable client website management tools.
This article will explore the features and benefits of Hostinger reseller hosting through the Pro Panel dashboard. We will also focus on how this new hPanel feature empowers web professionals to serve as hosting providers and build websites for their clients.
Download Guide To Using Hostinger
What Is Reseller Hosting?
Reseller hosting means buying web hosting packages and renting them to your clients. Simply put, you create your own web hosting business to take care of your client hosting needs.

Many developers use the reselling model since it doesn't require investing in the web hosting infrastructure.
Advantages of Reseller Hosting
Reselling web hosting offers a range of advantages that can take your business to new heights. Let's have a look at what they are:
Unlock Revenue Potential and Expand Your Business
Reseller web hosting enables you to generate additional income by offering hosting solutions to your clients alongside your web development or design services.
You can position yourself as a full-service web host to scale your business and maximize profitability.
Create Long-Term Client Relationships and Trust
Integrating reseller web hosting plans into your services helps create lasting client relationships.
Being a reseller hosting provider showcases your commitment and expertise, helping build customer trust and fostering repeat business.
Satisfied clients are more inclined to return for future projects and recommend your services to others, helping you build a loyal customer base.
Increase Market Competitiveness by Diversifying Services
Introducing yourself as a web hosting provider and offering reseller packages diversifies your services, giving you a competitive edge.
Bundling your website design, development, or optimization services with hosting packages creates a comprehensive solution that suits a broader customer base. This advantage can attract more clients by setting you apart from competitors, leading to higher conversion rates and greater business success.
Who Can Benefit From Reselling Hosting
Before exploring the details, let's identify who can benefit by reselling hosting and help you determine if you're among them.
Freelancers
If you're a freelance web development professional, adding reseller web hosting to your services will help you offer an end-to-end solution to your customers.
You'll be able to show your clients how to choose a web hosting plan and manage the entire website creation process, ensuring a seamless and hassle-free experience.
Digital Agencies
Digital agencies offering comprehensive web development and marketing services can leverage reseller hosting to their advantage, providing clients with an all-in-one solution that simplifies website management and maintenance.
With reseller hosting, agencies gain full control over their clients' hosting accounts, ensuring optimal performance and security.
This service addition can elevate your agency's brand, foster stronger client relationships, and ensure a seamless website management experience for your clients.
Professionals Looking to Expand Their Services
Reseller hosting can be an excellent opportunity for web industry professionals and digital marketers to expand their services and make more money through a side hustle.
By becoming a reseller, you can run your own web hosting service and broaden your portfolio, bringing more value to your clients.
Benefits of Reselling Hosting Through Hostinger
Now that we've identified the potential beneficiaries of reseller web hosting, let's delve into the reasons why Hostinger is the ideal choice to enter the reseller hosting field, all thanks to Pro Panel's array of comprehensive features.
Manage All Clients From One Dashboard
Hostinger's Pro Panel is a one-stop dashboard for effectively managing your reselling hosting services. The intuitive dashboard lets you track all your clients and their websites from a single location.
Perform Bulk Actions on Websites
Pro Panel offers a Bulk Actions feature that lets you perform common actions such as updating plugins, themes, and WordPress versions for multiple websites simultaneously. It saves time by eliminating the need to perform these actions individually on client hosting accounts.
You'll be able to dedicate more time to your core business and make money online from a new source.
Ensure Easy and Secure Access Management
With Pro Panel's access management features, you can easily share access to selected services with your clients and team members.
You can also securely access your clients' websites and products, charge for plans and services by sending invoices, and set up their hosting.
Streamline Your Workflow
By consolidating everything in one place, this control panel brings a remarkable sense of uniformity to your operations, which can streamline your workflow as your business grows.
Leverage Advanced Hostinger Infrastructure
When you choose to resell through Hostinger, you gain access to cutting-edge hosting technology to efficiently manage client websites.
The Hostinger Pro hosting package boasts a suite of powerful features, including LiteSpeed Web Server technology, advanced LSCWP cache, dedicated resources, and IP address, as well as support for HTTP/3 and IPv6.
These elements combine to deliver a secure reseller hosting experience for your clients.
Additionally, Hostinger's 99.9% uptime guarantee is an excellent confidence booster when promoting the high-performance reseller hosting services you provide.
Enjoy Superstar Customer Service
With Hostinger Pro hosting, you can rest assured that you will be able to help your clients anytime. Our Customer Success team consists of professionals who are accessible 24/7 via live chat or email.
As a result, you will be able to deliver the best reseller hosting services to your clients even if you lack certain technical knowledge.
Hostinger Pro Panel – Video Tutorial
Check out how Hostinger Pro Panel looks in this video tutorial.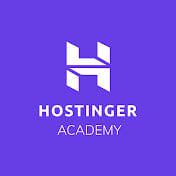 Subscribe For more educational videos!
Hostinger Academy
Subscribe
Reselling Hosting With Hostinger Pro Panel
Reselling hosting is effortless with Hostinger's free-to-join Hostinger Partner Program.
It is custom-tailored for reseller hosting providers, equipping them with all the essential tools and features to establish the best hosting reseller business.


Seting Up Hostinger Pro Panel
Setting up Pro Panel is easy – click on the Pro Panel option after you log in to your Hostinger account.
Get Started
If you're opening Pro Panel for the first time, click Get started and set up the payment method.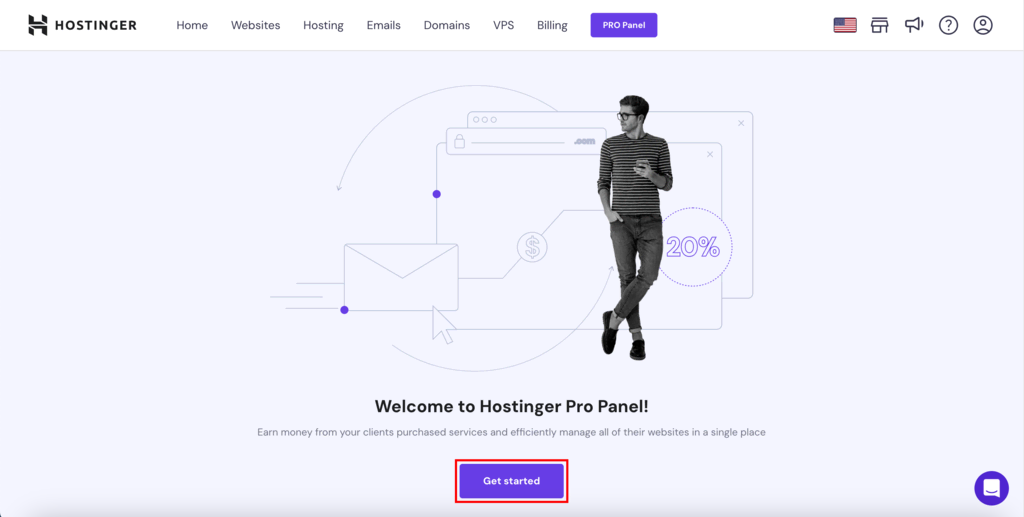 Add a Payment Method
When setting up your payment method in Pro Panel, you can choose between wire transfer and PayPal.

Important! Make this decision carefully. Once you've added your preferred method, it cannot be changed later.
Navigating Through the Pro Panel
Now, let's move along and see how easy it is to navigate through Pro Panel and manage your clients and their websites.
Overview
The overview section has been carefully designed to make Pro Panel as easy to use as our innovative control panel hPanel.
It gives you direct access to all features of your reseller account. You can readily access the clients and websites sections from the tab or the menu on the left. Meanwhile, you can also track upcoming payments and earnings.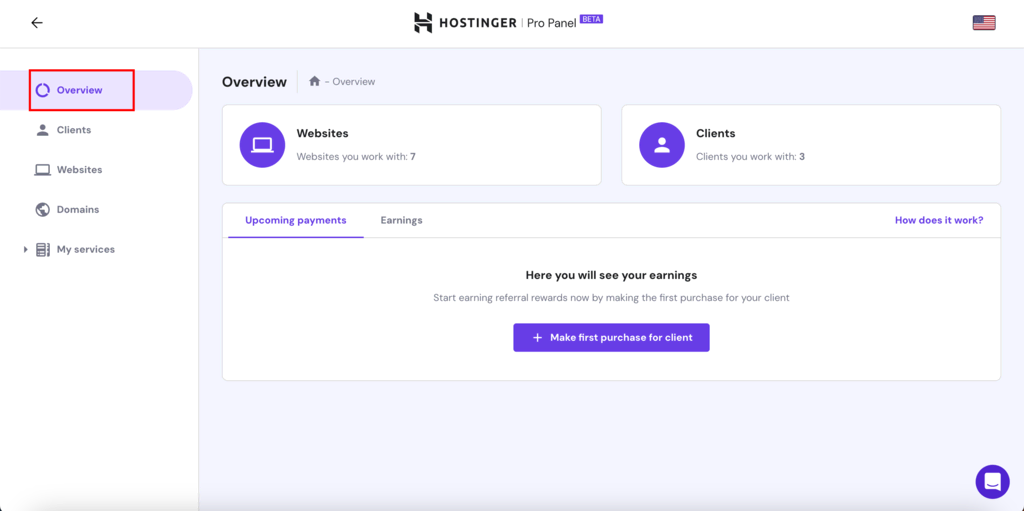 Websites
To access the Websites section, navigate to the overview tab or the menu on the left.
Over here, you can see the client websites you're hosting through your reseller account. The section also has provisions to perform bulk actions on client websites, connect existing websites, manage individual websites, and make purchases for your clients.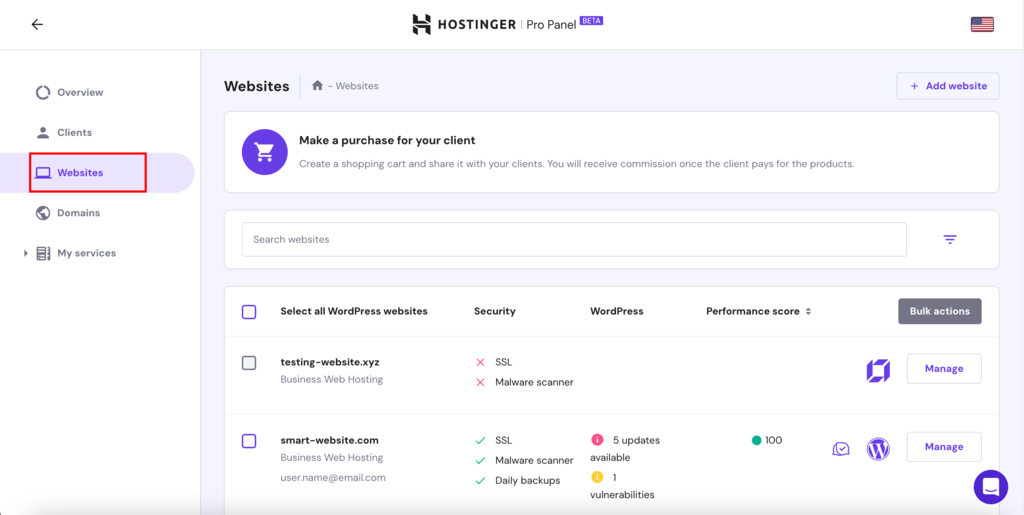 Clients
Like Websites, the Clients section can be accessed from the overview tab or the menu.
Here, you'll see details of all the clients you currently manage through your reseller account. The section has provisions to add new clients, remove existing ones, and shop for them.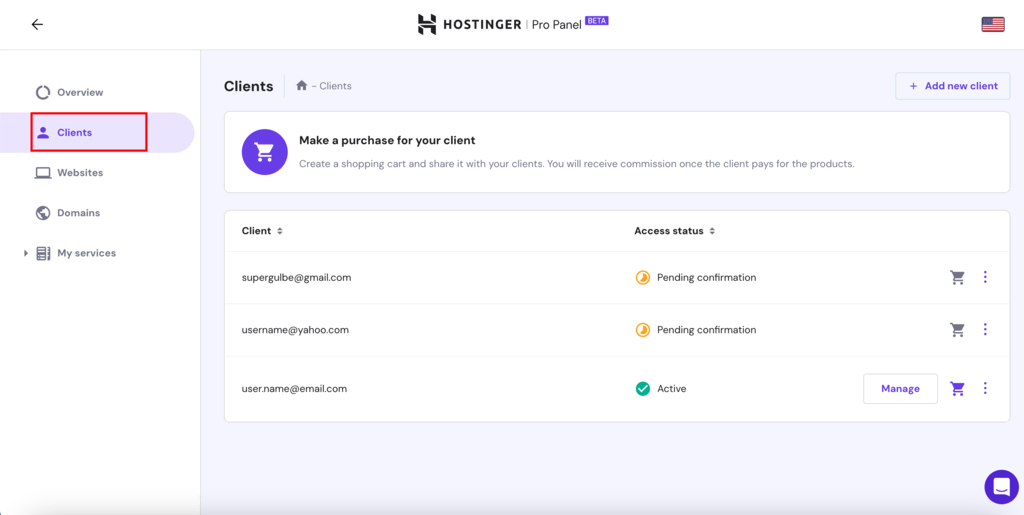 Domains
The Domains section displays a comprehensive list of all your clients' domains, showing their status and expiration dates.
As a proactive reseller, you can efficiently handle domain renewals for your clients directly from this section.
When a domain is approaching its expiration date, you can buy a renewal plan for the client and send an invoice directly to their email address.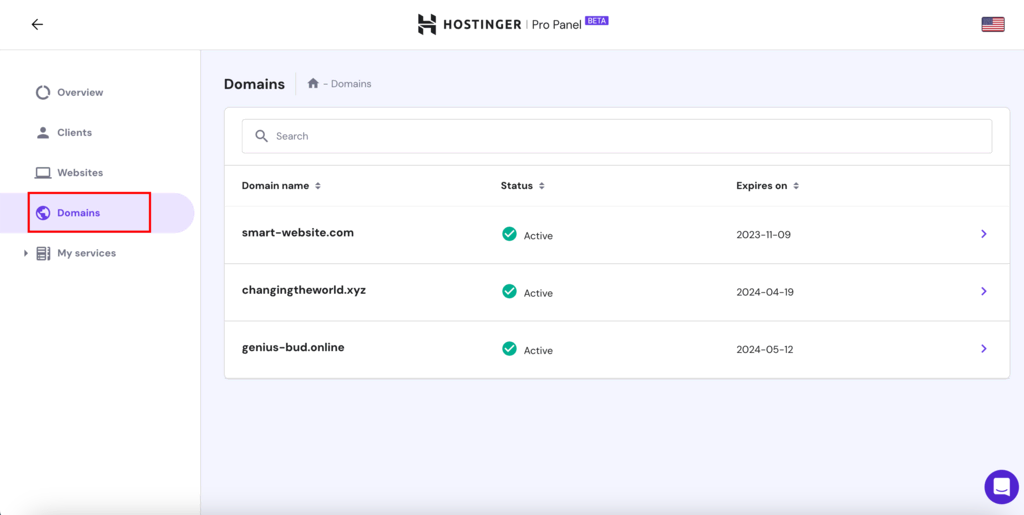 Upcoming Payments and Earnings
Access the Upcoming payments and Earnings section through the overview tab. It displays your total earnings and keeps track of upcoming payments that you have earned but are yet to receive. It makes it easy for you to manage billings.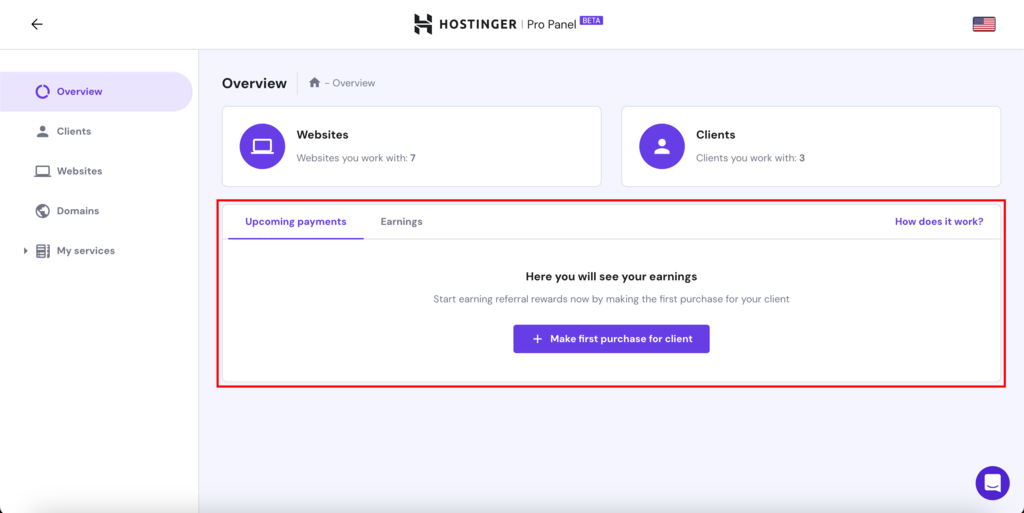 Managing Clients Using Hostinger Pro Panel
With a solid grasp of navigating the Hostinger Pro Panel, let's look at how to use the dashboard to manage client services.
Adding New Clients
Onboarding new clients to your reseller hosting account is a breeze. Simply navigate to the Clients section, click Add new client, and fill in their details.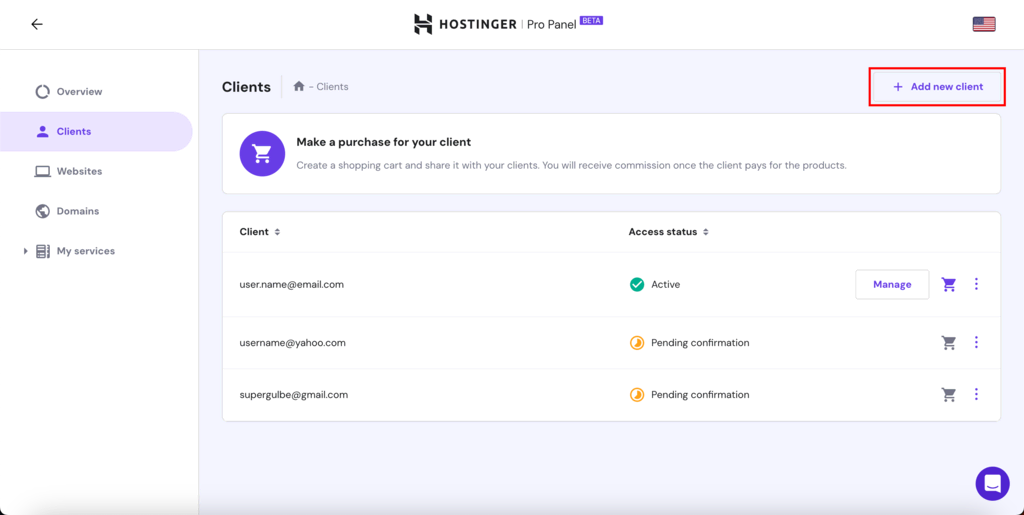 Managing Existing Clients
For existing clients, you can easily access and manage their accounts from the dashboard and buy their web hosting plans and other services.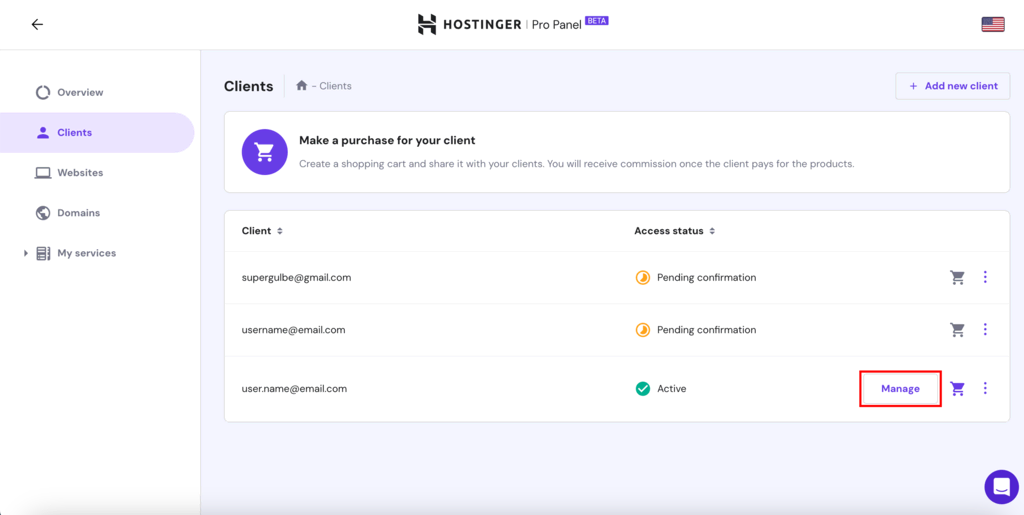 Managing Services With Hostinger Pro Panel
Not let's explore how you can efficiently handle your services through the dashboard.
The Pro Panel empowers you to manage your services effortlessly by simply expanding My services dropdown list on the menu to the left and selecting any of the following options – Hosting, Domains, or Emails.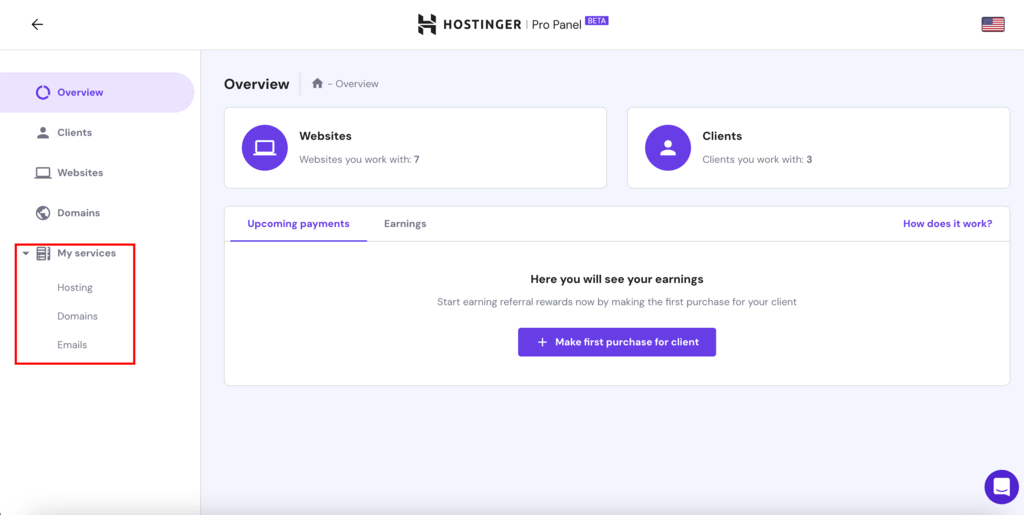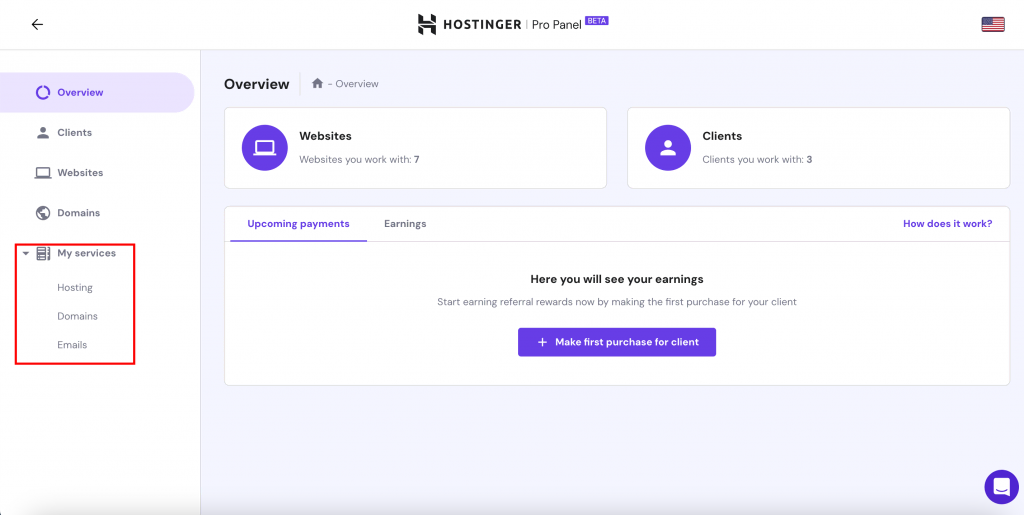 How to Profit From Reselling Hosting
Reselling hosting offers you lucrative opportunities to boost your business revenue. Here are six effective strategies to maximize profits through hosting and reselling:
1. Set Competitive Prices
Pricing your services at competitive rates is the key to success in the reseller hosting business. To do this, you must objectively examine what you're bringing to the table and the quality of the hosting resources you're reselling.
Research web hosting costs on the market and consider determinants such as the value you bring, the server performance, and the customer support you provide through the web host to factor into the price you set.
By setting competitive prices that align with your unique skills and quality of service, you can attract more clients and position yourself as one of the best reseller hosting providers in the market.
2. Upsell and Cross-sell
Upselling and cross-selling additional services with your reseller package can help you increase earnings significantly.
You can upsell higher-tier reseller hosting plans to existing clients by highlighting the dedicated resources and features they offer.
Meanwhile, you can cross-sell reseller hosting options, such as managed reseller hosting services, to new customers who come to you for other website needs.
You can also offer complementary services such as domain registrations, website backups, and security checks to enhance the value of your reseller packages.
This approach increases revenue per client and strengthens client relationships through comprehensive solutions.
3. Target Niche Markets
Identifying and targeting specific niche markets with unique web hosting needs can be a profitable strategy. You can provide WordPress hosting reseller services to bloggers and influencers, offer reseller hosting for agencies, or be a developer who can effectively manage client sites.
Whatever niche you decide to target, you must do thorough research to understand the hosting requirements of these clients and see whether your skills and services align with them.
Tailoring your hosting services to meet these specific needs positions you as an expert in the field and allows you to charge premium prices for specialized solutions.
4. Implement Referral Programs
Implementing a referral program can be an effective way to get your own customers to bring in new clients. You can incentivize existing clients to refer your reseller hosting plan to others by offering discounts, free services, or other rewards.
Happy clients who benefit from these referrals are more likely to recommend your services to others, leading to a steady stream of new customers.
5. Invest in Marketing
Marketing is crucial for reaching potential customers and establishing your reputation as the best reseller hosting provider.
You can employ your skills to create and host a website curated around your services and reseller package. You can leverage various marketing practices such as content marketing and search engine optimization (SEO) to rank high on search engine results pages (SERPs).
You can then complement these efforts to market your website and services through social media and paid advertising.
What better way to market your ability to control websites for clients than showing first-hand how you do it?
6. Strategize Partnerships
Collaborating with other service providers, such as web designers, developers, marketing agencies, or even web hosting providers, is a win-win situation for all parties involved.
Forming partnerships is a good way to expand your service list and offer comprehensive solutions to clients.
These partnerships can result in mutual referrals, increase your client base, and increase revenue opportunities.


Conclusion
Reseller hosting with Hostinger offers an exceptional opportunity for freelancers, web agencies, and aspiring entrepreneurs. With unparalleled services and strategically located data centers around the world, Hostinger stands as the best reseller host in the market.
The comprehensive support offered by Hostinger Partner Program will give you the confidence and resources you need to succeed as the best reseller hosting provider.
Embrace this opportunity to expand your services and unlock the full potential of reseller hosting reselling. Should you have any comments – don't hesitate to leave a comment below.
Hostinger Reseller Hosting FAQ
Now, let's explore some frequently asked questions about Hostinger Reseller Hosting.
What's the Difference Between Shared and Reseller Hosting?
Shared hosting involves hosting multiple websites on a single web server, with each customer having a private account to manage their site. In contrast, reseller hosting provides a unique account that allows you to sell access to your hosting environment to others. Furthermore, you can resell any type of hosting, including shared, cloud, or VPS.
Can I Set My Own Prices With Reseller Hosting?
No, the Hostinger Partner Program operates on a commission-based model, so the pricing structure of your reseller hosting plans will remain fixed. The program allows you to make a purchase for your client – you can conveniently send a cart of the reseller hosting plan directly to your client's email for them to complete the payment. As a reseller, you'll earn a 20% commission for every successful first-time purchase and an additional 10% for user upgrades, renewals, or purchases of different plans.
Is It Possible to Profit From Reseller Hosting?
Yes, reseller hosting presents a lucrative opportunity to generate profit by offering hosting services to clients at competitive rates. To maximize earnings and succeed in the hosting reselling business, consider value-added services, upselling, targeting niche markets, and implementing referral programs. Embrace the potential for profitability with Hostinger's top-notch reseller hosting services.