Best Black Friday / Cyber Monday Deals for Freelancers and Entrepreneurs for 2023
As Black Friday and Cyber Monday are just around the corner, you are probably looking for the best deals you can get to save money.
For every freelancer or entrepreneur, Black Friday and Cyber Monday deals are a steal, since you can purchase additional tools to improve your workflow and reduce business expenses.
With this in mind, we've compiled a list of the best Black Friday and Cyber Monday sales for enhancing your website's performance, from web hosting services and WordPress themes to SEO tools.
Without further ado, let's dive into the list and step up your business resources. With these promo codes, you can do so even on a tight budget.


Best WordPress Black Friday & Cyber Monday Deals – Video Tutorial
Check our recommendations for the best Black Friday and Cyber Monday deals for WordPress!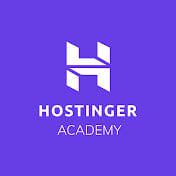 Subscribe For more educational videos!
Hostinger Academy
Subscribe
Best Black Friday and Cyber Monday Hosting Deal for Freelancers – Hostinger Shared Hosting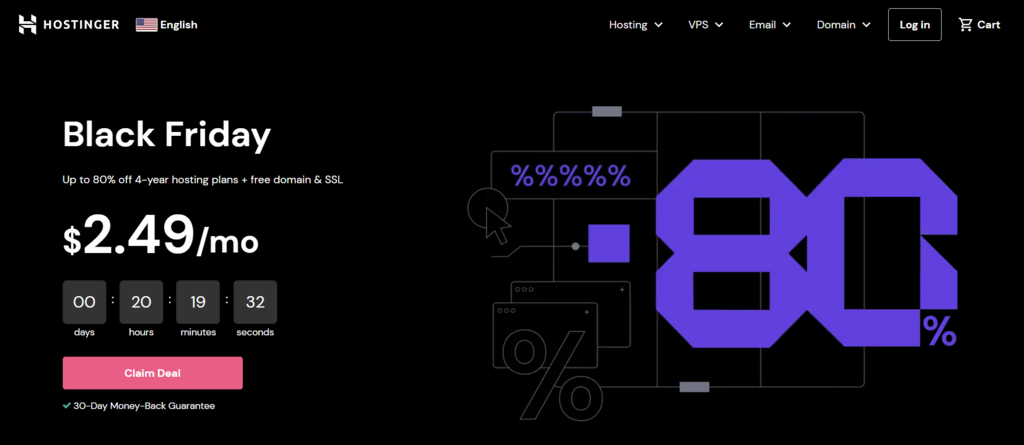 Hostinger stats:
Deal: 80% off
Coupon code: additional 10% off with TutorialsDeal
Offer valid: October 24th – November 27th
If you're looking to build a website, start with choosing a web hosting plan. It's important to find the right one for your business – you don't want to lose potential clients simply because your site is unavailable.
You can get up to 80% off this shopping season with Hostinger's Black Friday and Cyber Monday deals.
The 80% deal is for the four-year package of Single Shared and Premium Shared hosting plans, which all come with an SSL certificate, Cloudflare Protected Nameservers for DDoS protection and a TLD registration with no cost at all for your website.
This offer is automatically included, you don't have to put in any promo code. However, you can get an additional 10% off by using the code TutorialsDeal.
If you're making a personal site, a blog, or a small to average-sized business website, have a limited budget, or don't have much web development skills, Hostinger's shared hosting plans might be a perfect option.
Shared hosting comes with a standardized setup, so you won't need technical expertise to run your website – the web host will take care of the back end, letting you focus on creating your website's content.
Hostinger also has its own control panel, hPanel, which is cleaner and easier to use than cPanel, making running and developing your website easier.
In short, shared hosting services will benefit personal website owners, freelancers, online entrepreneurs, or small business owners. Hostinger offers a 30-day money-back guarantee to try the services and see for yourself.
If you currently use another web hosting provider and want to migrate to Hostinger, use the free website migration service for all your sites.
Key Features
Beginner-friendly – no technical expertise required.
Speed – our web hosting is powered by LiteSpeed, the fastest web server in the industry, which will improve your site's SEO.
Unlimited website migration – we will help you migrate your website for free in less than 48 hours. Furthermore, your site will stay online during the migration process.
Security and availability – a 99.9% uptime guarantee and automated weekly or daily backups.
Excellent support – 24/7 Customer Success services in over 10 languages.
Best Black Friday and Cyber Monday Premium Theme Deal for WordPress – Astra Themes
Finding a suitable theme for your WordPress site is important. Website themes determine your site's layout, from where the buttons are placed to what color the hyperlinks are.
With the right WordPress themes, you can improve your site's visual appeal, enable more customization options, and add functionality. This Black Friday season, save and choose Astra, one of the leading WordPress themes with more than one million active installations.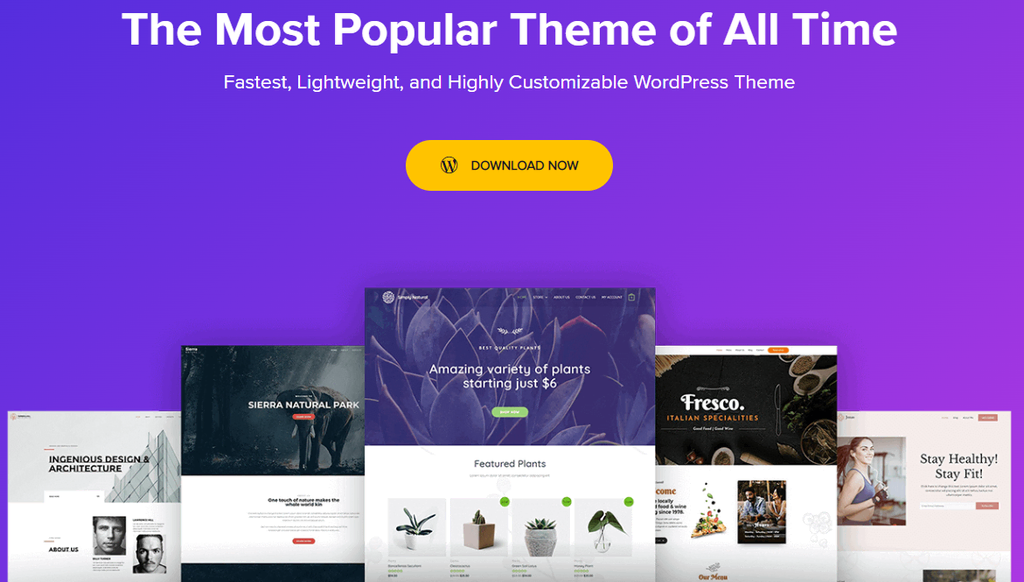 Astra stats:
Deal: 80% off on the Astra Pro subscription
Coupon code: HOSTINGER22
Offer valid: November 21st – 29th
Astra has numerous ready-to-use graphic templates in its library. You will find a suitable one for any website, including a personal blog, an online portfolio, or a business site. Astra is also an excellent choice for online stores since it's WooCommerce-ready. It also works with page builders like Beaver Builder, Visual Composer, or SiteOrigin.
On top of that, Astra is one of the fastest and most lightweight WordPress themes, with less than 50 KB on the front end. As a result, you don't have to worry about your website being slow or wasting storage space on a server.
Aside from speed, Astra is also built with search engine optimization (SEO) in mind. It comes with the integrated Schema.org code, is Native AMP ready, and is compatible with Yoast SEO. All these features will improve your website's look, functionality, and speed, boosting the page ranking.
For this Black Friday sale, use the discount code HOSTINGER22 to save 80% off the Astra Pro annual subscription. You can also use our Astra partner link to apply the discount automatically.
Key Features
Lightweight – boost your website's loading speed.
Fully customizable – choose from numerous templates or work with a page builder.
Multi-purpose – besides offering a template for any website, Astra is WooCommerce-ready for online stores.
SEO-friendly – improve your positions on search engine result pages (SERPs) easily since Astra is compatible with plenty of SEO tools.
Best Black Friday and Cyber Monday Website and Graphics Templates Deal – TemplateMonster

TemplateMonster stats:
Deal: 50% off
Offer valid: November 21st – 30th
TemplateMonster is a digital marketplace covering almost every type of template and digital product you may need to run a successful online business.
Having been around since 2002, TemplateMonster connects hundreds of independent developers with buyers across the globe. The platform has an extensive library of themes for WordPress and WooCommerce, HTML5, Magento, PrestaShop, Shopify, and Joomla, making creating a unique and professional website easy.
You can also find other essential business graphics templates, from PhotoShop templates to PowerPoint slide shows and newsletter layouts.
Hostinger users can save up to 50% off various templates and themes this year. Use our partner link to browse the sale and choose your favorite themes. The discount will be automatically applied at checkout for eligible templates.
Key features:
Multi-platform support – templates for WordPress, WooCommerce, HTML, Shopify, and many other platforms.
Business graphics – on top of website templates, you can also get templates for presentations, CVs, business proposals, and other essential business documents.
Best Black Friday and Cyber Monday Premium Plugin Deals for Freelancers
One of the biggest advantages of WordPress as a content management system (CMS) is the number of available plugins to choose from.
For this holiday season, we've listed the best Black Friday deals you can get from the most popular and useful WordPress plugins to improve your website's efficiency and functionality.
Best Black Friday Deal for WordPress Image Optimization Plugins – ShortPixel

ShortPixel stats:
Deal: bonus credits with every purchase
Offer valid: TBA
ShortPixel is a beginner-friendly and lightweight optimization plugin for compressing all your PDF files and images in just one click.
It also automatically resizes, rescales, and optimizes new images. Furthermore, this WordPress plugin has full WP-CLI support for background processing, which is useful for websites with an extensive media library. This is because it can also optimize images not listed in the Media Library, such as those in galleries like Modula or NextGEN, or added directly via FTP.
Optimized images mean better user experience, PageSpeed Insights or GTmetrix results, search engine rankings, and more visitors.
In addition, this plugin uses minimal resources and is suitable for any shared, cloud, or VPS hosting plans.
This Black Friday, ShortPixel offers bonus credits both for the monthly and one-time plans. You will get double the credit with every purchase – up to 1 million. Don't miss this great offer to optimize more images at lower prices.
Key Features
Easy to use – can compress all your images in just a single click.
Lightweight – uses minimal resources.
Compatibility – it can be used with any gallery, slider, eCommerce plugin, and image types, such as JPG, PNG, GIF, or WebP.
Limitless – no file size limit.
Best Black Friday Deal for WordPress SEO Plugins – AIOSEO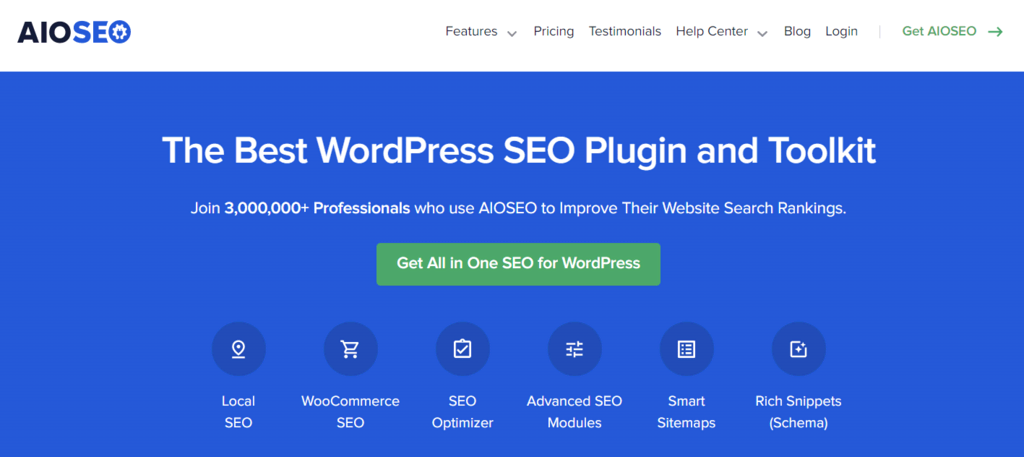 AIOSEO stats:
Deal: TBA
Offer valid: TBA
All in One SEO is a proven WordPress SEO tool with over 3 million users. This plugin helps your pages rank higher on Google News Sitemaps, improve your local SEO, rank your business higher on Google Maps, and monetize your blog with an RSS feed.
When it comes to integration, this SEO tool works well with most social media platforms, including Facebook, Twitter, Pinterest, YouTube, LinkedIn, and Instagram. Therefore, your site will be optimized for both search engines and social media platforms.
Even better, you can connect your website with various webmaster tools such as Google Search Console, Bing, Yandex, Baidu, Microsoft Clarity, and Google Analytics easily.
This year's Black Friday sale will be up to 70% off on all plans. Besides this holiday sale, AIOSEO is giving away an M1 14-inch MacBook Pro. You can enter the giveaway once a day, even without making a purchase. This offer is available from November 21st until 29th.
Key Features
Improve search engine rankings – optimized for Google and other search engines.
eCommerce-ready – works well with WooCommerce.
Social media integration – compatible with popular social media platforms.
Best Black Friday Deal for WordPress Optimization Plugin – WP Rocket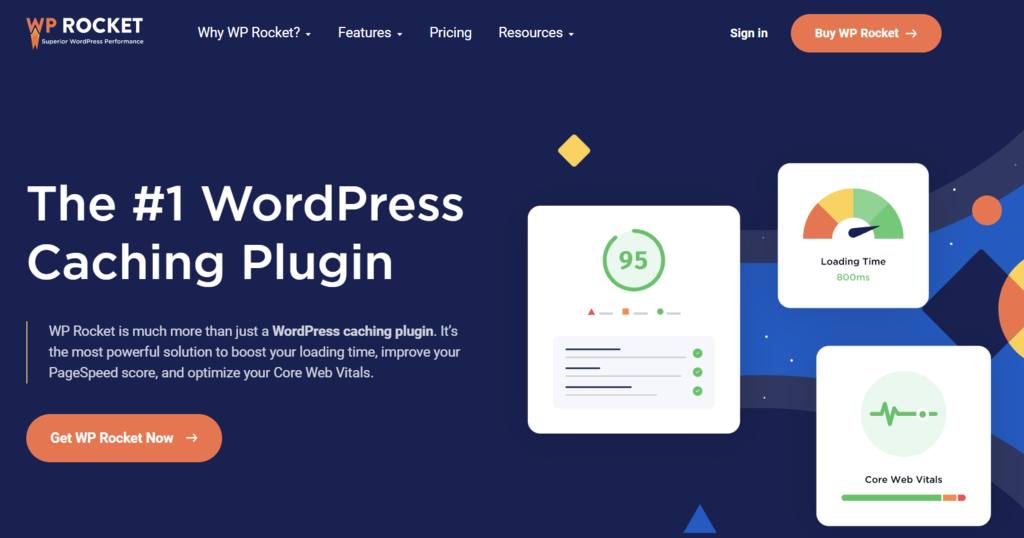 WPRocket stats:
Deal: 30% off on all plans
Offer valid: November 21st – 30th
Site speed is one of the most important search engine ranking factors. To achieve better speed, you may need additional tools such as WP Rocket.
WP Rocket is an easy-to-use caching plugin that will speed up your website, enhancing your site's overall performance. It can improve your Google PageSpeed Insights score as well by optimizing three Core Web Vitals metrics – First Input Delay (FID), Largest Contentful Paint (LCP), and Cumulative Layout Shift (CLS).
WP Rocket improves your site's performance by boosting your site's page caching, browser caching, or GZIP compression. To amplify your performance even more, this plugin also offers advanced options, such as delaying JavaScript execution, removing unused CSS, minification, and the LazyLoad feature.
This Black Friday sale, WP Rocket is offering 30% off on all plans. No need for a promo code, just click on our partner link. This offer is available from November 21st until November 30th. They also give a 100% money-back guarantee within 14 days, so there's no reason not to try this plugin now.
Key Features
Better performance – automatically speeds up loading time, improving user experience as well.
Better SEO results – improve Google PageSpeed Insights.
More conversions – higher ranking may lead to more traffic.
Easy to use – technical expertise is not required.
Best Black Friday Deal for WordPress LMS Plugins – LifterLMS

LifterLMS stats:
Deal: 30% off for premium plans + bonuses worth $2,500
Coupon code: BLACKFRIDAY22
Offer valid: October 28th – December 5th
If you're working on a Learning Management System (LMS) website, LifterLMS might be the right plugin for you. LifterLMS simplifies creating, selling, and maintaining online course and training-based membership websites.
It combines various LMS features, so you only need one plugin to manage course building, membership features, engagement features, and eCommerce handling. With LifterLMS content access management, you can provide lessons or assignments and make them available for members only.
LifterLMS works with any WordPress theme, blocks, and most page builders, like Beaver Builder, Divi, or Gutenberg. Therefore, you can customize your LMS website with little to no hassle.
Aside from that, LifterLMS also offers several premium add-ons. You can add additional payment options, such as PayPal or Stripe, to make purchasing the course easier. There's also an email marketing integration tool to assist you in reaching and retaining customers. LifterLMS offers a private coaching tool that you can upsell as well.
This Black Friday sale, LifterLMS offers great deals – a 30% discount on all their premium plans and add-ons. If you're already using LifterLMS, they're offering a plan upgrade option with an additional 30% off.
In addition, you can save up to 50% if you upgrade your plan to a three-year period.
Furthermore, with the purchase of any plan, you will get bonuses worth $2,500, which include a Group Strategy Call with the company's CEO along with The Office Hours Mastermind weekly event. In this community, you can ask anything to LifterLMS product specialists and enhance your knowledge.
Key Features
All-in-one plugin – offers course building, membership, engagement, and eCommerce management.
Customizable – has a drag-and-drop editor and is compatible with popular page builders.
Best Black Friday Deal for WordPress Contact Form Plugins – WPForms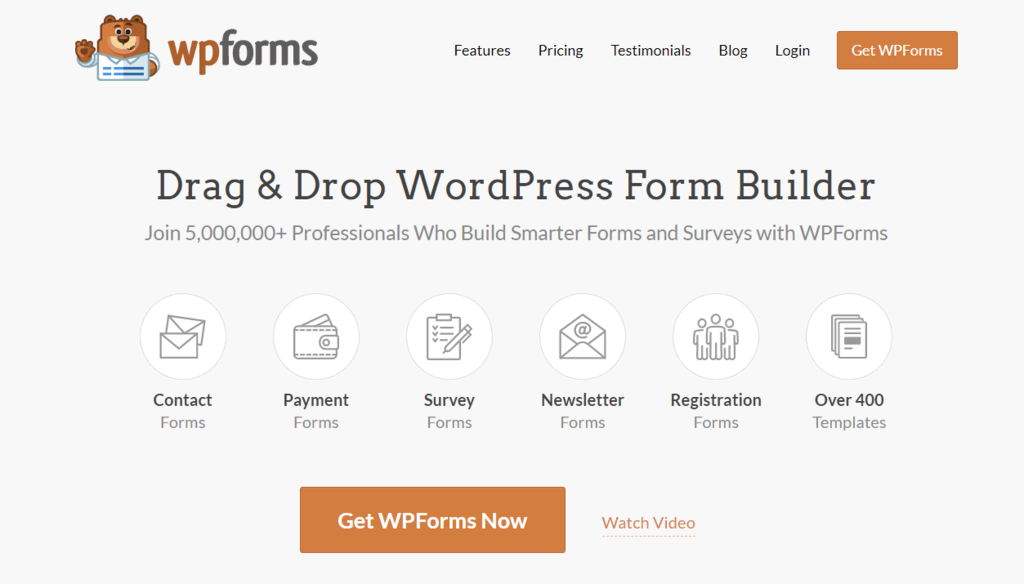 WPForms stats:
Deal: TBA
Offer valid: TBA
If you're on the lookout for a tool to easily create contact forms that look great on all devices, WPForms is the right plugin for you.
WPForms is compatible with WordPress Gutenberg and the classic editor, as well as popular page builders like Divi. WPForms has pre-built templates that will save you time when making forms. It's also easy to embed blog posts, pages, sidebar widgets, footers, and many more.
Additionally, you can create subscription forms and connect them with marketing tools to boost your conversion rate.
When it comes to payment options, WPForms easily integrates with PayPal, Stripe, or Square. You can also accept credit card payments directly on your website.
WPForms offers up to 70% discount on all plans this Black Friday. You can also enter a giveaway to win a MacBook pro. Furthermore, a portion of the proceeds will go to the Children's Health Fund. Thus, you can get their biggest sale of the year while also giving back to the community.
This offer will last from November 21st to November 25th.
Key Features
Ease of use – has numerous pre-built templates and a drag-and-drop form builder.
SEO-friendly – WPForms is highly optimized for web performance, meaning it won't slow down your website.
Compatible with page builders – can be used with the WordPress editor and popular page builders.
Payment options – allows you to make payment forms and integrate them with popular payment types.
Best Black Friday Deal for WordPress Google Analytics Plugin – MonsterInsights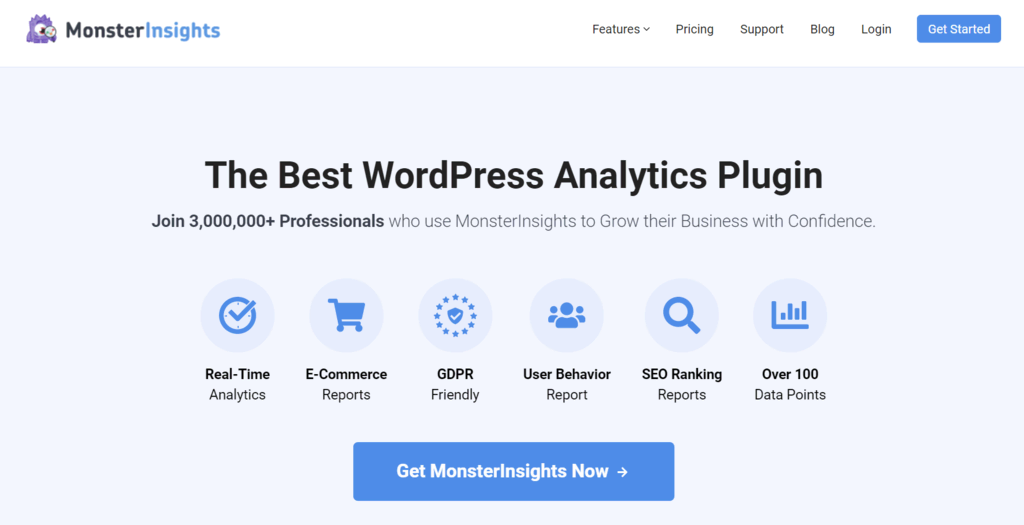 MonsterInsights stats:
Deal: TBA
Offer valid: TBA
MonsterInsights is the correct plugin for you if you're looking to enhance your website with a data-driven approach.
With over 3 million active installations, MonsterInsights is one of WordPress's most popular Google Analytics plugins. With it, you can enable all advanced Google Analytics tracking features with just a few clicks.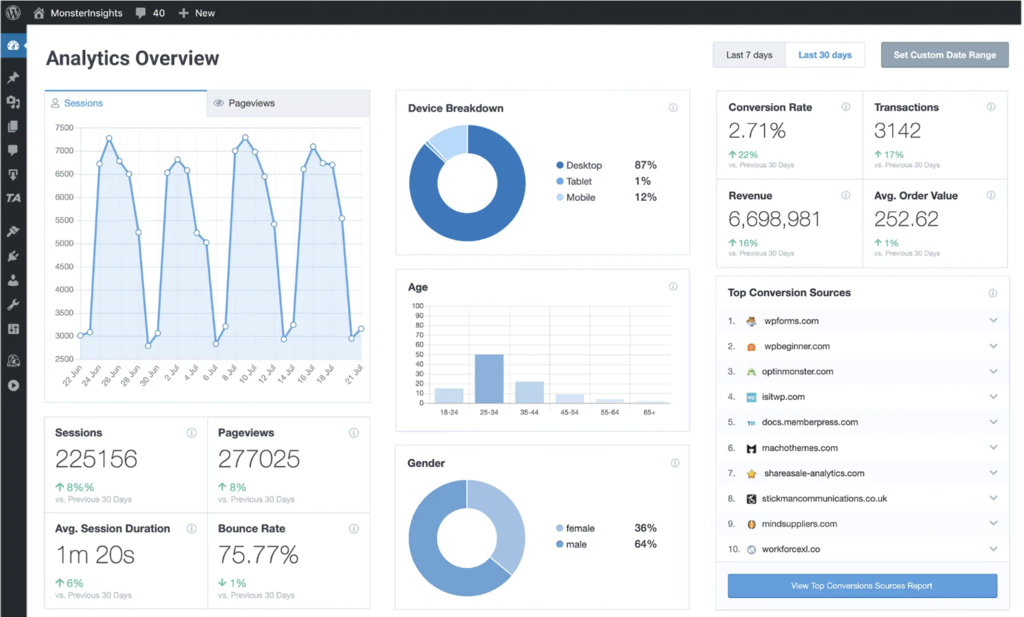 MonsterInsights also comes with an analytics overview that shows reports directly on your WordPress dashboard. You can see which page gets the most visits, which affiliate links perform the best, how people found your website, and what keywords they searched for.
Additionally, if you're running an online store, MonsterInsights also enables eCommerce tools, such as tracking for WooCommerce and MemberPress.
This Black Friday sale, MonsterInsights offers up to 70% off on all plans – its biggest sale of the year. This offer will start on November 21st and end on November 25th.
Furthermore, with every purchase, One Tree Planted, an environmental organization that helps reforestation in 47+ countries all over the world, will plant some trees for you. Therefore, you get to spend less and contribute to the environment at the same time.
Key Features
Analytics made easy – see detailed stats for each post and page directly on the WordPress dashboard.
Affiliate link tracking – automatically track clicks on affiliate links, banner ads, or other outbound links.
Speed – as all events are recorded via JavaScript and sent straight into your account, your website will not slow down.
Compatibility – this WordPress plugin is compatible with WooCommerce, Yoast SEO, MemberPress, AMP, Easy Digital Downloads, Google Optimize, and Google AdSense.
Best Black Friday Deal for WordPress Email Marketing Plugins – OptinMonster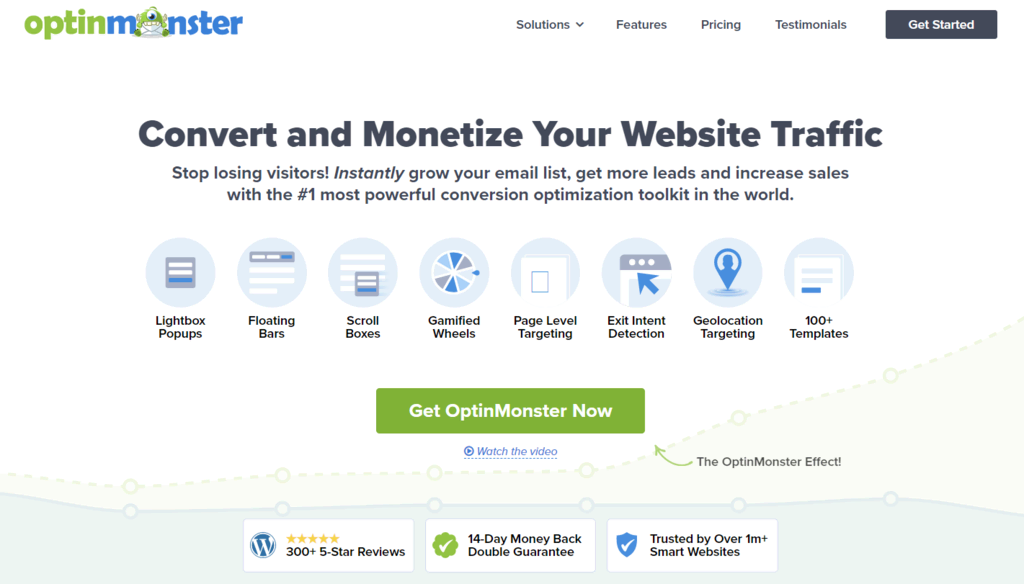 OptinMonster stats:
Deal: TBA
Offer valid: TBA
If you aim to get more subscribers, generate leads or increase paying customers, look no further than OptinMonster.
This plugin is an easy and customizable marketing toolkit. With OptinMonster, you can build various marketing messages, including a lightbox, floating bars, a slide-in, full-screen welcome mats, signup forms, countdown timers, yes-or-no pop-ups, or even gamified wheels. All these messages can be created with an easy-to-use drag-and-drop builder.
OptinMonster is also mobile-friendly, meaning your marketing messages will look good on any device.
Aside from that, OptinMonster is enhanced with a powerful targeting and segmentation engine that lets you connect the perfect offer to the right audience to maximize conversions.
OptinMonster offers up to 60% off for this Black Friday sale on all plans. With this deal, you can save more than $500 on the popular and feature-rich OptinMonster Growth plan.
Along with your purchase, you can also receive a free premium digital marketing tool of your choice, namely:
TrustPulse – a social proof app that displays real-time user activity on your site.
HubSpot – a CRM tool that helps you send personalized emails to customers.
PushEngage – a powerful push notification service.
As these options have limited quantities, make sure to grab them fast.
On top of that, OptinMonster is giving away a 13-inch M1 MacBook Air to one lucky winner. You don't have to buy anything to join the giveaway – just visit our OptinMonster partner link and enter the giveaway once a day until December 1st.
Key Features
Generate leads – convert your website traffic into subscribers or sales.
Customizable – with 100+ templates and a drag-and-drop editor, deliver any type of message easily.
Mobile-friendly – your message will look like it should on all devices.
Targeting tool – boost conversions with a segmentation engine.
Best Black Friday eLearning Courses Deal – BitDegree
Improving your knowledge is as important as having the right tools to run a successful business.
With the right materials, you can maximize your potential by learning how to get more clients, manage your business better, and improve your skills.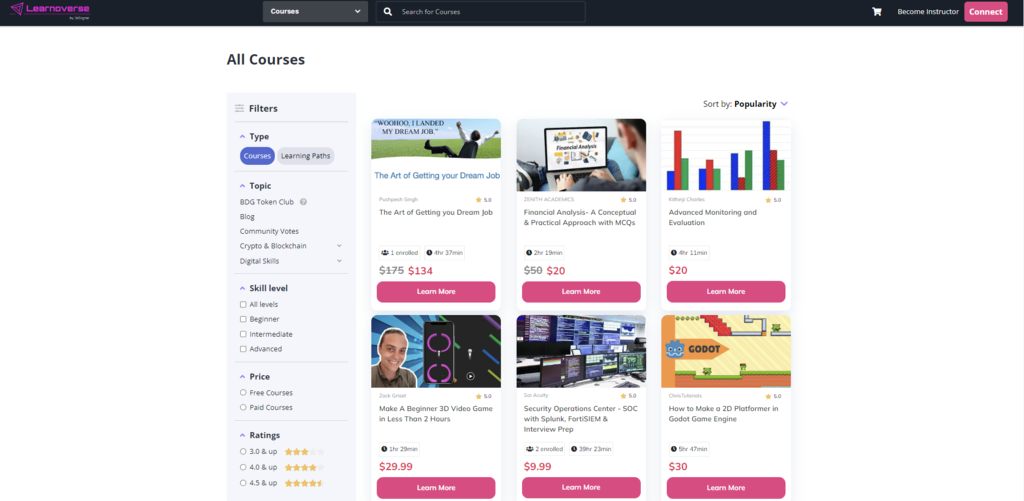 BitDegree stats:
Deal: 88% on all courses
Offer valid: TBA
This year, we're partnering with BitDegree, a leading online technology education hub. BitDegree is specifically created to improve knowledge sharing in digital computing skills.
BitDegree offers courses on web development, eCommerce, data science, digital marketing, programming languages, game development, graphic design, data mining, and even blockchain development.
With BitDegree, you will get a gamified learning experience. This means you will receive rewards for learning and reviewing lessons, boosting your motivation. Besides, you may get badges for reaching specific goals and add friends to help your learning progress.
What differentiates it from other online education platforms is that BitDegree is heavily based on blockchain technology to secure content, provide certificates and give scholarships. You can still pay for the courses via PayPal or credit cards. However, if you pay with BitDegree tokens, you can get an additional 20% discount.
For Hostinger users, this Black Friday season you can save 88% on all BitDegree courses by using a Hostinger partner link. Simply click on the link, enter your email address, then click Redeem Now to get the promo code.
Key Features
Technical courses – BitDegree specializes in digital computing skills like web development or programming languages.
Gamified experience – add excitement to your learning experience with rewards and badges.
Blockchain technology – while BitDegree mainly uses blockchain, you can still pay with other methods.
Best Black Friday Print On Demand Deal – Printify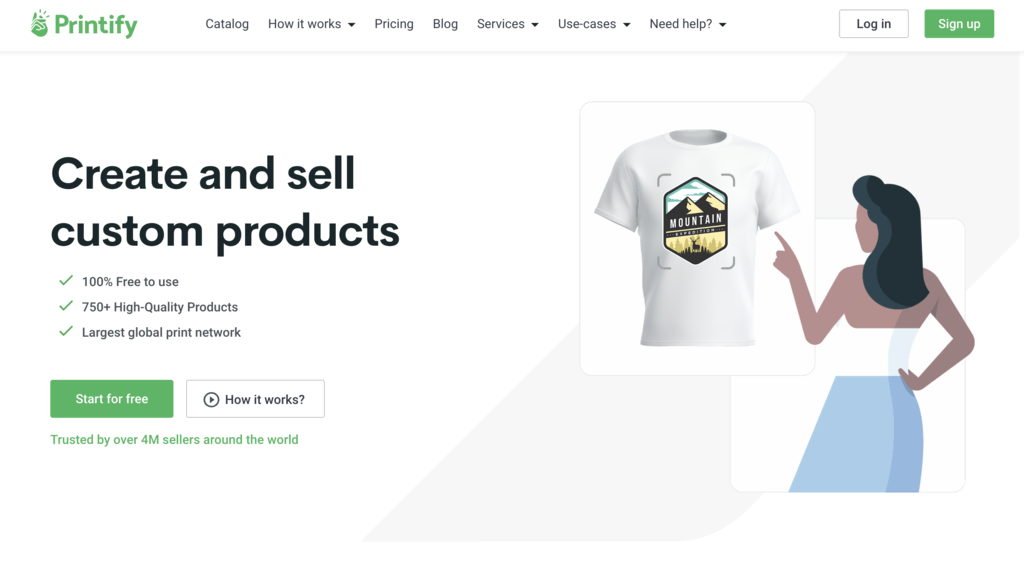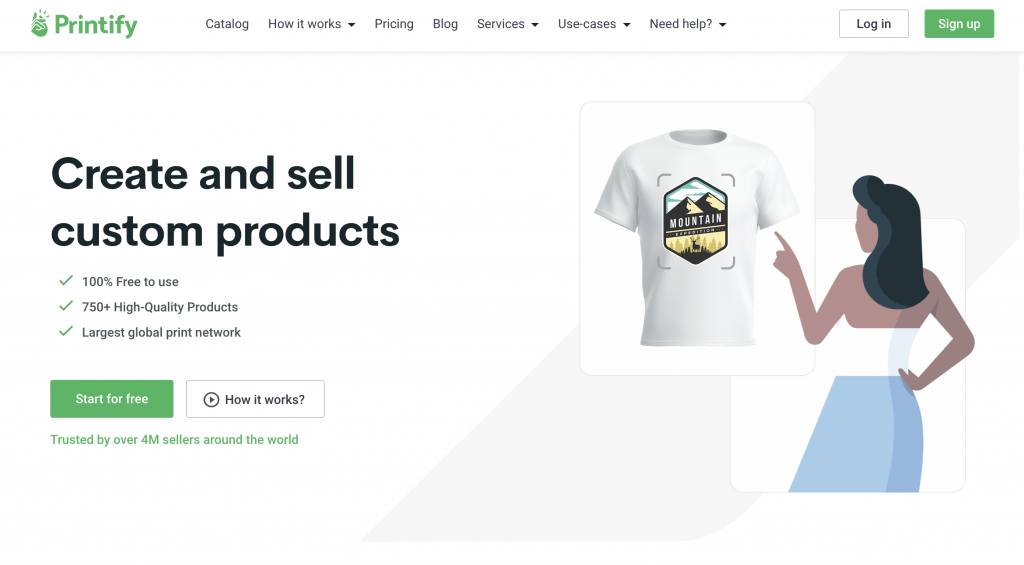 Printify stats:
Deal: 2 free months of premium plan
Coupon: HOSTINGER30
Offer valid: TBA
Printify is a print-on-demand company boasting an impressive catalog of popular dropshipping products, from clothing to calendars, puzzles, mugs, and much more.
It's the ideal partner for anyone wanting to try out eCommerce without needing to create products from scratch and hold their own inventory. Instead, merchants partner up with Printify and choose and customize the products they want to sell in their online store. Anytime an order comes through, it gets sent to Printify, which deals with fulfillment and shipment, freeing your time for customer service and other important things.
We have some good news for all drop shippers, old and new – this Black Friday, you can get an additional 2 months free on Printify's premium plan. Use the code HOSTINGER30 at checkout to claim your extra free months.
Key Features
Extensive catalog – Unlike many other print-on-demand companies, Printify's catalog covers not just clothing but also accessories, lifestyle products, and even seasonal decorations.
Multiple integrations – Printify is integrated with all the popular eCommerce platforms, including WooCommerce.
Competitive pricing – Printify has one of the lowest commission rates, meaning you earn from each sold product.
Conclusion
At this time of the year, it's important to note the best Black Friday / Cyber Monday deals for freelancers or entrepreneurs to get the most for your website.
In this article, we've explored the best deals you can get, namely:
Hostinger – 80% off on all plans.
Astra Theme – 80% off on Astra Pro subscription.
TemplateMonster – 50% off.
ShortPixel – Bonus credits with every purchase.
AIOSEO – up to 70% off on all plans.
WP Rocket – 30% off on all plans.
LifterLMS – 30% off on premium plans and up to 50% for three-year plans.
WPForms – up to 70% off on all plans.
MonsterInsights – up to 70% off all plans.
OptinMonster – up to 60% off on all plans.
BitDegree – 88% on all courses.
Printify – 2 free months on premium plan.
Make sure that you grab these deals fast, as they're limited.
If you have any questions, let us know in the comments. To improve your website even more, explore our other tutorials.
Best Black Friday / Cyber Monday Deals FAQ
Here are some of the most frequently asked questions about the Black Friday sale.
What Exactly Are Black Friday Deals?
Black Friday is a term for the Friday after the American holiday, Thanksgiving. Companies usually offer plenty of promotions for their products. Cyber Monday is the Monday that comes after this long weekend and was created by companies to encourage shoppers to shop online.
When Do Black Friday and Cyber Monday Start?
Technically, this year's Black Friday will start on November 25 and will continue until Monday, November 28, as Cyber Monday. However, as companies offer different promotion periods, make sure you've checked the dates we listed previously.
Are Black Friday Sales Actually Worth It?
Yes. Since Black Friday only comes once a year, it's best to make the most out of it.
Are Cyber Monday Deals Better than Black Friday Deals?
Some of the Cyber Monday deals are just Black Friday deals extension, hence the name Cyber Week. Therefore, most of the deals are potentially similar in value. However, as some deals might have a limited number of products, waiting for Cyber Monday might be risky.