WordPress A/B Testing: Best Practices and Tools to Optimize Conversions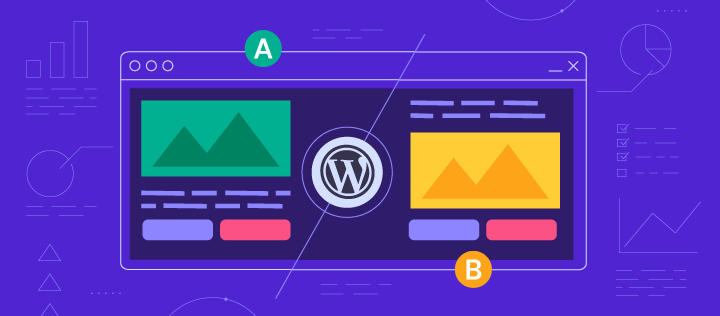 No matter how you look at it, a website's design is an important element of the site's success. All the page elements need to work together in the best possible way to deliver the desired goals, whether that is to generate revenue or get new subscribers.
When changing the website design to optimize conversions, it may be tricky to decide which changes will yield the best results. After all, if you implement the wrong change, you risk lowering the conversion rates and potentially resulting in a dip in your bottom line.
This is where A/B testing comes into play. By testing two versions of your web design, it's easier to see which one results in better conversion.
This article will explain what A/B testing is, what the best practices for WordPress A/B tests are, and which tools to use for the best results.
Download Website Launch Checklist
What Is A/B Testing?
A/B testing, also called split testing, is a comparison test between two or more versions of the same page. It will divide the traffic into all versions to determine which page design delivers better results using metrics like the number of page views, session time, or conversion rate.
What Can You A/B Test
In an ideal world, you should and could be testing anything and everything. But in reality, you probably don't have the resources or time to run tests on every little thing on your pages.
And often, you don't have to either – you should prioritize your testing efforts to those pages that are bringing in the most conversions and sales.
Some of the common elements often included in WordPress A/B testing are:
Calls to action – changing the design of the call-to-action button may affect the conversion rate. Try using a different color or font, moving it to a new position, or adding a different text.
Pricing – any information on the pricing table may affect the visitors' decision to buy or try your product. Experiment with a different free trial period or pricing scheme, or highlight different information.
Contact form – experiment with the number of fields, text, or even the color and typography of the form to generate more leads.
Checkout steps – providing a single-step or multi-step checkout process can make a significant difference depending on the target customers and their characteristics. It's worth testing out which one works best for your site.
Copy – testing different variations of the main sales message on your landing pages can have surprising results. Try longer and shorter versions of your copy, or get rid of any unnecessary text altogether.
Images – while a picture can speak a thousand words, you should test different visuals out frequently. Sometimes a seemingly simple change, like a new hero image, can have a big impact on your page conversions.
When to Do A/B Testing
A/B testing fosters data-driven decisions when planning changes on any website element. By testing two versions of a web page in real time, you'll be able to identify what will work best.
Without this data, you will find yourself in a trial-and-error situation. It may also take longer to find the best solution for your web design.
Overall, WordPress A/B testing is ideal for improving the following aspects of a website:
Conversion rates – when the site already receives a lot of traffic, but you want to convert more web visitors into customers, use A/B testing to see which design version helps them convert.
Bounce rates – changing the placement of elements like navigation buttons or banners may help prevent users from leaving the website. A/B testing can also help to improve your site's overall user experience.
Users' pain points – A/B testing will help you experiment with different solutions for the challenges visitors face. For example, different landing page copy variations may address different audience segments better.
8 Best WordPress A/B Testing Tools and Plugins
WordPress is a flexible platform that allows us to experiment through its tools and plugins. When it comes to WordPress A/B testing, there are plenty of tools to choose from. You can easily get started by installing a simple page tester WordPress plugin to conduct A/B tests from the dashboard.
Or, if you need more complex insights, consider third-party platforms that offer advanced testing features for bigger business websites.
Regardless of the size and type of your site, here are the eight best A/B testing tools and plugins for WordPress.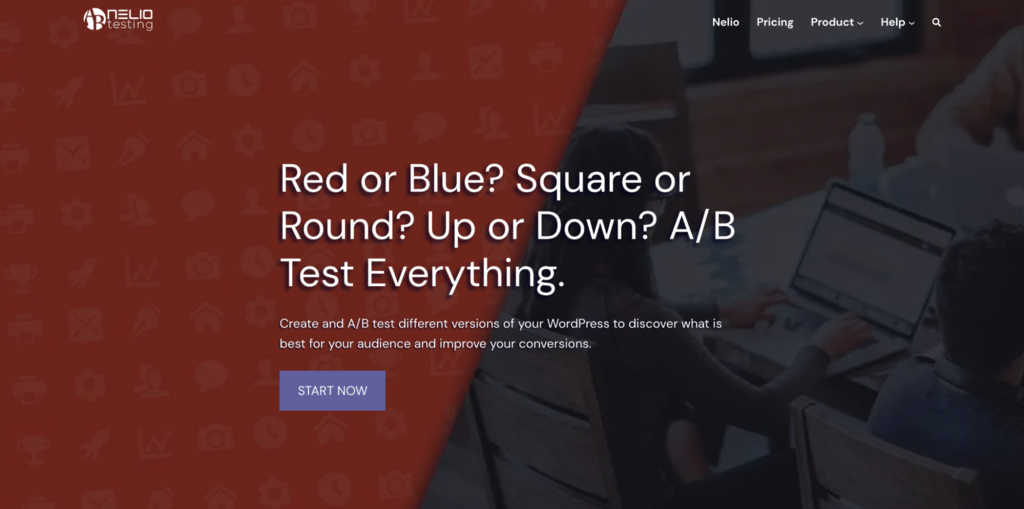 Plugin Stats:
Downloads: 2,000+
Rating: 4.6/5
Notable features: global consistency feature, heatmap, scroll map
Best suited for: beginners (all types of websites)
Price: paid and a free version (from $24/month)
Nelio A/B Testing is a dedicated WordPress plugin for creating and monitoring A/B tests from the WordPress dashboard. This plugin is great for testing headlines, landing pages, and custom post types.
This simple page tester plugin lets you use the regular WordPress editor to create a page variation for the test. Using the global consistency option, you can automatically modify other WordPress pages with the tested variant element.
Each split test has a dashboard for its results and progress, with various charts showing conversion rates and improvement, making it easy to scan the results. Moreover, you get the heatmap and scroll map results for each page variant.
Once you've finished the test, Nelio A/B testing lets you apply the winning variant to your site with a single click.
The free plugin version lets you track one of the six available actions:
Page view
Click on a specific element
Click on an external link
Form submission
YouTube video playback
Custom event using JavaScript
You'll have to sign up for a premium version of Nelio A/B testing to track more actions. It also lets you test multiple versions of the page.
[DOWNLOAD]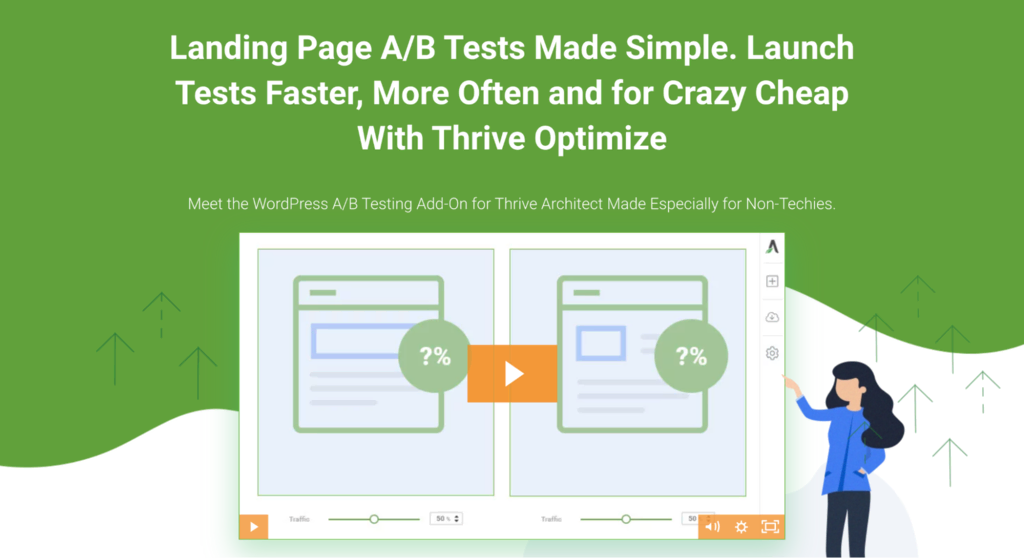 Plugin Stats:
Notable features: unlimited split tests, visual editor, custom traffic distribution
Best suited for: all websites
Price: $167/year to $299/year
Thrive Optimize is a premium WordPress plugin that lets you quickly set up a test without adding any code snippet to the site for action tracking purposes.
Creating an A/B test with this plugin requires only four steps: creating the variant page, editing it using a visual editor, picking the conversion goal, and starting the test.
The plugin allows for infinite tests and page variations, which is great for continuous site improvement. Three conversion goals are available – page visit, opt-in form submission, and revenue. You can customize the traffic distribution easily with a slider bar.
The test results include detailed reporting and an automatic winner feature that will set the best page version for the site.
[PURCHASE]

Plugin Stats:
Downloads: 1+ million
Rating: 4.5/5
Notable features: built-in variant builder, compatibility with OptinMonster's Exit Intent
Best suited for: form conversion and marketing campaign optimization
Price: freemium (from $9/month)
OptinMonster is a newsletter and lead generation plugin for creating marketing campaigns and pop-up opt-in forms. While this is not a WordPress plugin built for A/B testing, OptinMonster has an A/B test feature for improving conversion on your digital marketing campaigns.
You'll also need WPForms to conduct an A/B test for WordPress forms. Once both plugins are connected, use OptinMonster's A/B Split Testing feature to create the test and the variant with its visual builder.
The A/B test feature tracks impressions, leads generated by the form, and the conversion rate of test variants. The feature is also compatible with OptinMonster's Exit Intent technology to see which pop-up banner can convert abandoning site visitors into subscribers or buyers.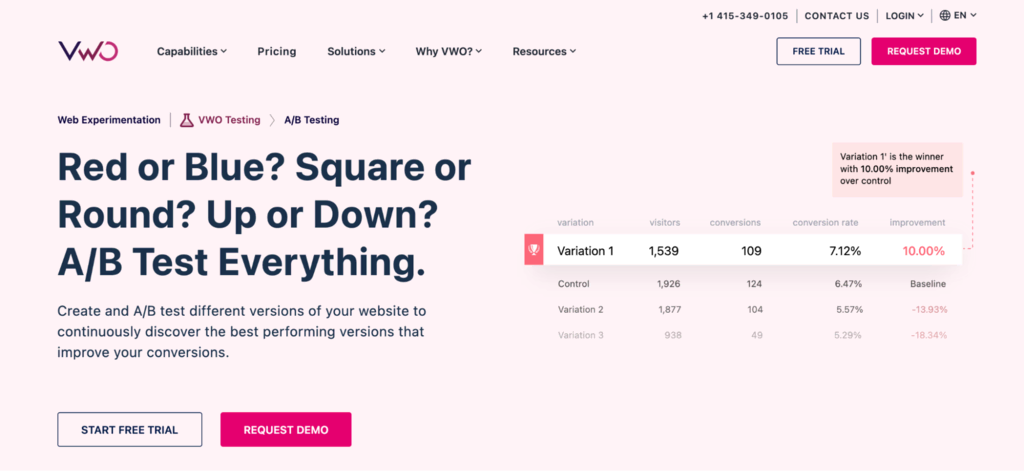 Platform Stats:
Notable features: visual and code builder, customizable reports
Best suited for: enterprises
Price: custom
Visual Website Optimizer (VWO) is a versatile conversion optimization service that offers plenty of advanced A/B testing tools and customizable reports.
It comes with two landing page editors. The visual editor lets users modify the variant page by editing page elements or adding dynamic elements without coding. This is an excellent option for marketers who want to set up the test without coding.
But if you know a programming language or two, the code editor lets users work with HTML, CSS, JavaScript, and jQuery to create more sophisticated A/B tests.
The plugin's report is customizable, showing detailed metrics like conversion rate, improvement percentage, and potential loss. An integrated heatmap and visitor recording are also available, making it easier to see how site visitors behave on the test landing pages.
VWO is more suitable for well-established businesses. You need to contact VWO to get a price estimation and contract term for your business site. However, they provide a 30-day free trial, so you can see if this is the best tool for your tests.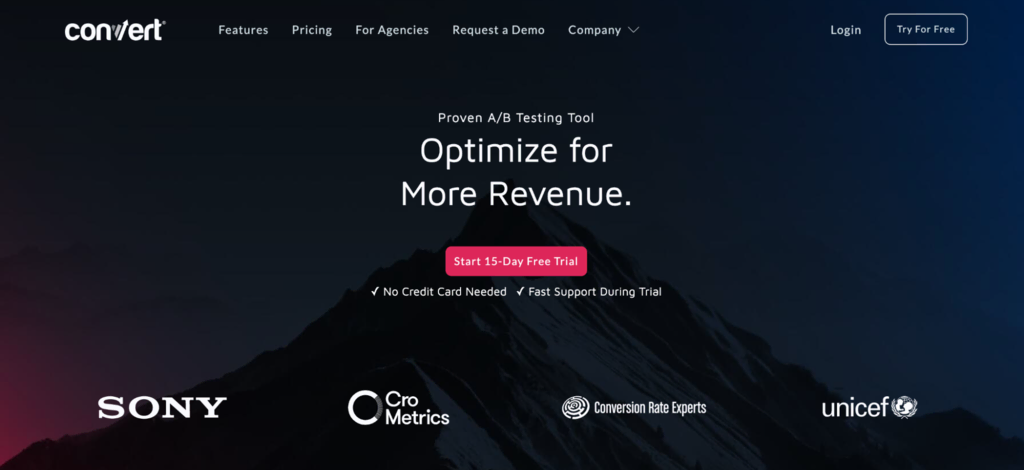 Platform Stats:
Notable features: unlimited tests, advanced targetting, multiple test type options
Best suited for: enterprises
Price: from $699/month to $1,889/month
Convert is an all-in-one website split A/B testing platform with tools for four website tests – A/B, split, multi-page, and multivariate.
This enterprise-grade tool provides advanced reporting metrics such as click-through rate, average order value, and revenue per visitor. Its interactive dashboard also lets you segment the test results data.
The advanced targeting feature helps you identify underperforming traffic sources or geolocations. This data can be a great basis for deciding which locales to improve and target for a new web design and A/B testing.
As this is one of the most advanced A/B testing tools on the list, its price is at the higher end of the scale, starting from $699/month. There's a 15-day free trial if you want to test it first.
[PURCHASE]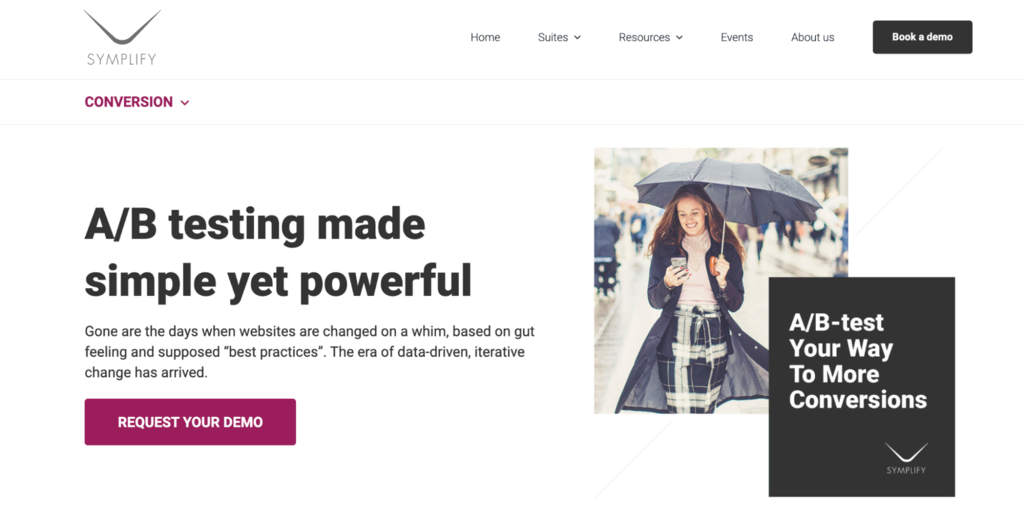 Platform Stats:
Notable features: advanced visitor recording, multiple test type options
Best suited for: enterprises
Price: custom
Symplify, previously known as SiteGainer, is a comprehensive conversion optimization tool that supports A/B, funnel, and multivariate tests.
This optimization service offers visitor recording and heatmap features that integrate well with A/B testing tools to provide better insights. Its drag-and-drop and code editors give you more flexibility when creating test landing pages.
You can choose from over 30 website elements for the A/B test. For more complex analysis, Simplify also offers a multiple variants test feature that lets you experiment with more than one element and a funnel test to analyze the change throughout the customer journey.
Platform Stats:
Downloads: 600,000+
Rating: 4.9/5
Notable features: lightweight and fast, regular updates
Best suited for: all websites
Price: free
All WordPress users benefit from having a Google Analytics account, but it's especially useful for those who want to split test and make data-driven decisions overall.
While Google Analytics in itself isn't strictly speaking a split tester, it collects and analyzes site data in easily understandable ways. You can use the basic Google content experiments to perform A/B tests or connect your analytics account to Google Optimize for maximum impact.
This lightweight plugin enables A/B testing with Google Analytics for your whole WordPress website, making it easy to get started.
[DOWNLOAD]

Platform Stats:
Rating: 4.6/5
Notable features: one click set up, page level analytics
Best suited for: websites aiming for growth
Price: from $199/year
If you're looking for one of the best WordPress A/B testing tools, Google Optimize has your back.
Google Optimize lets you finetune each individual web page with A/B, multivariate, and redirect tests. While you don't get a fully-fledged WordPress plugin, Google Optimize is easy to integrate as an add-on for MonsterInsights.
The setup process is easy since all you need to do is input your Google Optimize Container ID, and MonsterInsights will do the rest.
[PURCHASE]
WordPress A/B Testing Best Practices
When it comes to conversion rate optimization, you want to aim to work smarter rather than harder. Setting up and following these best practices of A/B testing will save you time and money.
1. Link Your WordPress Site to Google Analytics
For the best WordPress experience, if you haven't already, you should link your website to Google Analytics.
With Google Analytics, you can monitor your website and understand its performance better. The tool helps you keep an eye out for odd traffic spikes, track different advertising campaigns, and understand your audience better.
And since Google Analytics is free to use, there's really no risk in testing it out. Plus, Google offers various courses and learning materials to help you master the platform, free of charge.
We have a complete guide on adding Google Analytics to WordPress, but here's a summary of how to do it:
If you don't have one, create a Google account and use it to sign up for Google Analytics.
Install and activate the MonsterInsights plugin from the WordPress admin dashboard.
Navigate to the plugin page by clicking Insights on the side panel. Use the setup wizard and follow the instructions to connect to Google Analytics.

2. Set Up Google Optimize
Having a Google Optimize account helps you start effective split testing, even if you have no budget to spend on plugins or other tools.
Since Google Optimize is part of the Google Analytics family, you can manage and monitor your testing efforts from one single dashboard. This way, you can work more efficiently in the long run.
Setting up Google Optimize is easy. Head to the Google Optimize website and log in using your Google account. After that, follow these steps to link Google Optimize to Google Analytics and the WordPress site.
Click Get started on the account home page.
Tick the boxes relevant to your testing purposes and the terms of service. Click Done.
Click the Settings button on the top-right corner of the page to open the container settings.
The Container settings contain important information and instructions to set up Google Optimize. Link your Google Optimize account to Google Analytics by clicking Link to Analytics.
Use the drop-down menu to select your account's Google Analytics property and data streams, then click Save.
You'll have to insert the Google Optimize code snippet into your WordPress site – copy the code from the Setup Instructions section.
Go to your WordPress dashboard and navigate to Settings -> Google Analytics. Click the Plugin Settings to open the section.
Paste the code snippet in the Custom Code field. Select include tracking code in the page head on the Tracking Code Location, and check the Custom Code Location check box. Click Save Changes once you've finished.
Go back to the Google Optimize container settings and click Install Extension to install the Google Chrome extension. This will allow you to use the visual editor to edit the test page and perform the installation diagnostics.
3. Test With Patience
Even if you want to test multiple variations of a particular headline or page design, many web development and WordPress experts advise against testing too many things at once.
For example, testing multiple different versions of a page design simultaneously can result in not knowing which changes are actually responsible for the test result.
We recommend comparing only a single element on each test to eliminate other variables that may affect the test result. You won't dilute your data and get more accurate reflections on how users are perceiving your design changes.
You should also not run your tests for too long. Often a couple of weeks per test is more than sufficient to highlight potential changes to your conversion rates.
4. Understand What You're Tracking
In order to get the most out of your tests, you must know what exactly it is you want to improve. This means understanding the metrics you want to track, what they mean, and how they are configured in your plugin or tool.
Let's say you get most of your sales via your website's online store. Users, on average, tend to find your online store on social media. In this case, it will bring you little value in tracking and optimizing the conversion rate for newsletter signups if your goal is to increase overall sales. Instead, you could optimize and improve the conversion rate from social media sites.
Ideally, the tools you use make it easy to track those metrics that are most valuable to you.
For example, the Google Optimize report contains data from Google Analytics, such as experiment sessions, experiment conversions, and calculated conversion rate.
The Google Optimize analysis section presents metrics for each variant, like the probability to be the best, the probability to beat the original, and modeled improvement to determine the best page version.
Split Testing Vs Other Types of Tests
While A/B tests provide valuable insights, it also comes with some limitations. For example, split testing a single element at a time makes it difficult to execute complex tests. A/B testing also can be time-consuming and complicated to set up.
Some common alternatives to A/B testing include:
Multivariate test – this is a more complex approach than the A/B test. A multivariate test puts several elements to the test together.
Split URL or redirect test – involves hosting the landing pages on different URLs. This is more suitable for split A/B testing a major page redesign, as such modifications may load slower in a standard A/B testing platform.
Multi-page test – this method best tests a consistent change throughout the page. For example, you want to test a color scheme variation on an eCommerce website and implement the change from the landing pages to the checkout page.
Conclusion
Split testing a WordPress website helps you make data-driven decisions to improve your web design and user experience. Using the test results, you don't have to guess when implementing updates for WordPress landing pages, saving you time and resources.
Google Analytics and Google Optimize are two of the best tools for split testing. They are free, and Google Analytics also provides numerous other insights about your website, even when you're not running tests.
However, several WordPress plugins are available, from the simple page tester to more complex optimization tools. For the best WordPress experience, these plugins enable you to create a split test directly from the WordPress dashboard. You can also consider using a third-party premium split testing platform if you need to analyze bigger business websites.