Choosing Hostinger as a Wix Alternative for Website Building and Hosting in 2023
Wix is a popular website builder, but its tiered features and high pricing can frustrate users. For instance, features for eCommerce sites are only available in more costly plans, and Wix requires a separate plan for each new website. It also doesn't offer free email, adding to your expenses.
Among the best Wix alternatives, Hostinger offers an all-in-one solution. Every plan is feature-rich, letting you manage multiple sites without additional costs or limitations. All website builder features come included in every Hostinger plan, so there's no need to upgrade for essential functionalities.
Hostinger Website Builder offers two simple options to create a website. Answer three straightforward questions to let AI website technology generate a personalized site or select from over 150 designer-made templates.
Learn how Hostinger can be a great Wix alternative, delivering good value for money without compromising quality or performance.
Download Website Launch Checklist
A Quick Comparison of Hostinger vs Wix
Here's a comparison of Hostinger's Premium hosting plan and Wix's basic Light plan:
Why Hostinger Is a Great Alternative
If you're considering switching from Wix to Hostinger, you'll find that Hostinger provides a powerful website builder with an exceptional balance of features, flexibility, and ease of use. Let's look into it in more detail.
Better Value for Money
A website is crucial for branding and communicating with potential customers. That's why choosing a platform that offers better value for money than others is essential, especially for small business owners with a limited budget.
When comparing Wix competitors, consider more than just the initial plan prices. Examine features, limitations, scalability, and long-term costs.
Hostinger features comprehensive web hosting plans, ranging from ₱49/month to ₱499/month. Every package includes an AI website builder with site analytics and eCommerce functions, letting you sell online with minimal startup costs.
Starting with the ₱109/month Premium plan, clients can get a free domain name with WHOIS privacy protection and free email accounts.
The Premium plan also supports 100 GB of storage and up to 100 websites, offering scalability as your business grows. Plus, the free SSL certificate enhances security, conveying credibility to visitors.
Check out the Hostinger pricing details for the Premium plan:
48 months – ₱109/month. Renews at $6.99/month.
24 months – ₱149/month. Renews at $7.99/month.
12 months – ₱169/month. Renews at $9.99/month.
1 month – ₱359/month. Renews at the same price.
All plans include a 30-day money-back guarantee, so there's no risk in trying our services.
You can also test Hostinger Website Builder for free. Simply pick a hosting plan to publish your site when ready.


On the other hand, Wix offers a free plan with several limitations. While you can use its free website builder, using a custom domain name is not possible. Instead, your site will have a wixsite.com subdomain.
Moreover, it will have a Wix favicon and Wix ads on every page. This could undermine the professionalism of your site and deter potential customers.
Furthermore, this free plan only offers 500 MB of storage and 500 MB of bandwidth. These thresholds constrain your website's growth and ability to serve a larger audience.
Wix's $16/month Light package is a step up from the free plan. It has 2 GB of storage space, a light marketing suite with lead-capture forms and automated emails, and a free custom domain for one year with SSL.
That said, for a much higher price than Hostinger's Premium plan, it lacks website analytics and eCommerce functions – so you cannot sell directly through the site. Furthermore, users can only purchase one subscription for one website, which limits their online ventures.
Below are the pricing details for Wix's Light plan under different subscription periods. The initial and renewal prices are the same:
Monthly – $23/month.
One year – $16/month.
Two years – $13/month.
Three years – $11/month.
All Wix plans also include a 14-day money-back guarantee if you're unsatisfied with the services.
All-In-One AI Tools
For small businesses, AI web development tools can greatly speed up and improve the website-building process.
Hostinger's comprehensive AI features make it one of the best Wix alternatives on the market. They can aid in building unique websites and optimizing them from start to finish.
For this, check out our AI Website Builder, which works similarly to Wix's Artificial Design Intelligence (ADI).
Simply fill out your brand name and business information, and the tool will generate a personalized website with a unique template – complete with AI-generated text and pre-selected stock images to speed up website creation.
Afterward, you can customize and perfect the website to your liking using our intuitive drag-and-drop editing interface.
For those starting a new business, use our AI Business Name Generator and Logo Maker to come up with the perfect brand identity.
As for marketing tools, our web builder has a built-in AI Writer to fill your site with engaging and SEO-friendly copy.
Once the site is ready, Hostinger's AI Heatmap can show you how visitors may interact with it. This will help you place important elements like buttons and calls-to-action (CTAs) where they're most effective.
Wix also offers AI tools, but they focus more on the creation side. In addition to the ADI, Wix offers the AI Text Creator and AI Image Creator for generating custom content on the website.
Additionally, Wix has image editing features to enhance visuals, like the Automatic Background Removal and the Auto-Generated Trailer tool.
To sum up, Hostinger's AI tools cover everything from start to finish in website building, content creation, and optimization. While Wix's features are good for creating a site, Hostinger supports you every step of the way with AI, especially if you want more than just a basic website.
Easy Website Customization
Both Wix and Hostinger enable users without technical skills to create a website, making them popular among beginners.
While Wix is known as a customizable website platform, Hostinger provides high-performance web hosting services coupled with an easy website builder.
First, Hostinger offers more than 150 designer-made website templates to suit different use cases.
Secondly, the drag-and-drop website builder ensures flexibility. You can place elements to your liking without being restricted by a rigid template.
With the Smart Layout feature, there's no need to worry about messing up the design. The grid guidelines help arrange elements proportionally on web pages.
The website creator also makes adding new sections to the website template easy. Simply select your desired area and opt for a blank or premade layout.
Hostinger's builder offers the standard elements needed for a website, like text, images, and buttons.
You can click on the Add element (+) button on the left navigation menu to add items like a contact form or social icons and drag and drop them into place. Then, feel free to resize and customize the style as you wish.
Aesthetic consistency is crucial for any professional website. With the Website styles section, you can choose from hundreds of colors and fonts and optional animations that can be applied to all elements on your web pages.
Managing the site's structure with Hostinger Website Builder is straightforward. Click on Pages and navigation to add or organize pages. You can also nest them within menus for better user navigation.
Similar to Wix, Hostinger's platform also features a mobile editor. It lets you optimize the website's layout for smartphone screens, and you can hide any elements that might clutter the mobile view.
If the layout still appears disorganized, the Auto-fix layout tool can automatically rearrange elements for a more cohesive design.
If you need help using the builder, the platform provides a site setup checklist. Completing all items on the to-do list within a specified period of time can even make you eligible for a web hosting discount.
Better Performance and Security
Website loading speed and security are crucial aspects to pay attention to.
When a website is fast and secure, users can navigate it seamlessly and confidently. Furthermore, Google prioritizes sites with high speed and robust protection to promote an optimal user experience and ensure online safety.
Hostinger is one of the best alternatives to Wix regarding performance and security measures. While Wix covers the fundamentals, Hostinger offers more comprehensive solutions to provide maximum performance.
Let's look at how the two website builders compare:
Hostinger's commitment to performance is evident. Our servers operate on CloudLinux, the go-to OS for hosting providers. Paired with industry-leading LiteSpeed web servers, your website will have maximum speed and uptime at all times.
Additionally, our hosting uses NVMe and SSD technologies, enhancing data transfer rates and the site's overall responsiveness.
In contrast, Wix uses third-party hosting from Amazon Web Services, Google Cloud, and Fastly. While these are reputable providers, relying on external vendors may mean Wix has less control over fine-tuning performance.
Both Hostinger and Wix offer unlimited bandwidth, but Hostinger has an edge with a free 24-hour resource boost feature. This lets websites handle upcoming traffic spikes, offering a glimpse into a higher-tier plan's capabilities.
Hostinger Website Builder has global data centers in the US, the Netherlands, Lithuania, and Singapore, guaranteeing rapid loading times for visitors worldwide. Wix has more limited coverage, with data centers based only on two continents.
Regarding hosting security, Hostinger uses Monarx anti-malware software and the Wanguard anti-DDoS traffic analyzer to protect websites against malicious threats. Multiple fail-safes, RAID-10 configurations, and regular backups give users greater peace of mind in case of cyber attacks.
Meanwhile, Wix implements a proactive disaster recovery module and two layers of DDoS protection. However, most of their security heavily relies on third-party providers.
Intuitive eCommerce Capabilities
If you want to run an online store, your chosen platform should set you up for success. It should be easy to use and equipped with all the features necessary to operate your eCommerce business.
For example, those running a boutique clothing store may need advanced features for managing a varied inventory.
Let's see how Wix and Hostinger compare for creating eCommerce stores:
Hostinger's eCommerce solution is comprehensive. All users can access the same online selling features with zero commission fees, regardless of their plan. This makes Hostinger a cost-effective website builder for small businesses.
To build an online store, click the Store icon → Add Store on the website builder's editing interface. This creates a new shopping page on your website, complete with product placeholders for better visualization.
Now, click Manage products to open the Store manager. You'll find a setup checklist to guide you through building your eCommerce site.
Here, you can:
Edit products – add variants, create categories, and enable a quantity tracker to avoid overselling.
Fulfill orders – insert tracking information for customers and cancel orders if needed.
Set up discounts – apply price reductions to specific products and generate coupon codes for checkout.
Configure payment options – the builder supports secure payment gateways like PayPal and Stripe, giving customers the confidence to buy from your eCommerce site. Accepting manual payment methods is also possible.
Customize shipping – group regions into shipping zones and offer up to 25 delivery methods for each one. You can also add shipping rules based on the order price or weight.
Personalize checkout – if necessary, you can collect additional information like phone numbers from customers before they complete their purchase.
On the website builder, it's easy to customize the product page design for better conversions by changing the layout, text alignment, and button styles. Additionally, you can display the available product quantity so customers feel more inclined to purchase before items run out.
Wix also offers tools for online stores but on a higher-tier plan, starting at $27/month. Plus, more advanced eCommerce features like enabling multiple currencies are only available with Business and Business Elite packages.
Additionally, transaction fees may apply depending on the payment method.
Simple SEO Management
SEO tools are essential for small businesses and online stores to stand out in search results. They help you get noticed among competitors and reach the target audience effectively.
Hostinger's SEO-friendly website builder is an excellent alternative to Wix. Its range of marketing, analytics, and SEO tools are designed to help users build a website that looks good and performs well in search results.
When opening Pages and navigation, you'll find an on-page SEO checklist. This guide helps you through the optimization process and shows how much you've already accomplished.
For meta titles and descriptions, the builder helps by suggesting keywords and automatically creating metadata based on existing website information.
The platform also features an AI heading generator, creating SEO-friendly titles for web pages. This saves you the hassle of crafting the perfect headline that can capture visitors' attention.
Hostinger also lets users hide certain pages from navigation and search engines. This is useful for keeping test pages, internal resources, or incomplete content from affecting your overall SEO ranking.
Other than that, the integrated blogging tools make it easy to create drafts, schedule posts, and adjust SEO settings like URLs and meta descriptions. All of this is accessible from the drag-and-drop builder to streamline your workflow.
To create a multilingual website, click on the Languages button on the sidebar. Here, you can manually add language versions and input translations to the site.
This will also automatically insert the HTML "lang" attribute, helping search engines recognize your content's language. Furthermore, screen-reading tools use this attribute for accurate pronunciation and accents.
In addition, Hostinger includes analytics tools in the website builder. You can view traffic data based on the country, device, and time periods up to the last 30 days. For more detailed insights, it's possible to integrate your site with Google Analytics and Hotjar for free.
User-Friendly Control Panel
Hostinger users have access to a back-end control panel called hPanel. This feature lets you manage your hosting plan, domains, emails, and billings in one place and offers control over various advanced features.
On hPanel, you can:
Check website analytics to help improve your site's performance.
Enable service auto-renewal to keep your site live without interruption.
Upgrade your plan in just a few clicks to unlock more resources without experiencing downtime.
Transfer an existing website from another hosting provider to Hostinger.
Manage multiple websites by adding or removing them from your hosting plan. Plus, you can create new sites using platforms like WordPress or Joomla.
Configure email accounts to set up professional email addresses, enhancing communication with customers and business partners.
Manage your domains' DNS settings to direct traffic, control email routing, and ensure website accessibility.
Purchase additional Hostinger products and services.
24/7 Support
When working on an online store or a personal website, issues may arise. To help ensure a seamless site-building and management experience, Hostinger offers 24/7 support in 11 languages, making it one of the best Wix alternatives on the market. This means you can get expert assistance whenever a problem arises.
Hostinger has several customer support channels. One of them is 24/7 live chat, available directly on the website builder and hPanel. Our multilingual global Customer Success agents ensure you'll get timely help wherever you are.
We also have a comprehensive knowledge base that we continuously update. This will help you find quick answers to common questions and solve issues independently.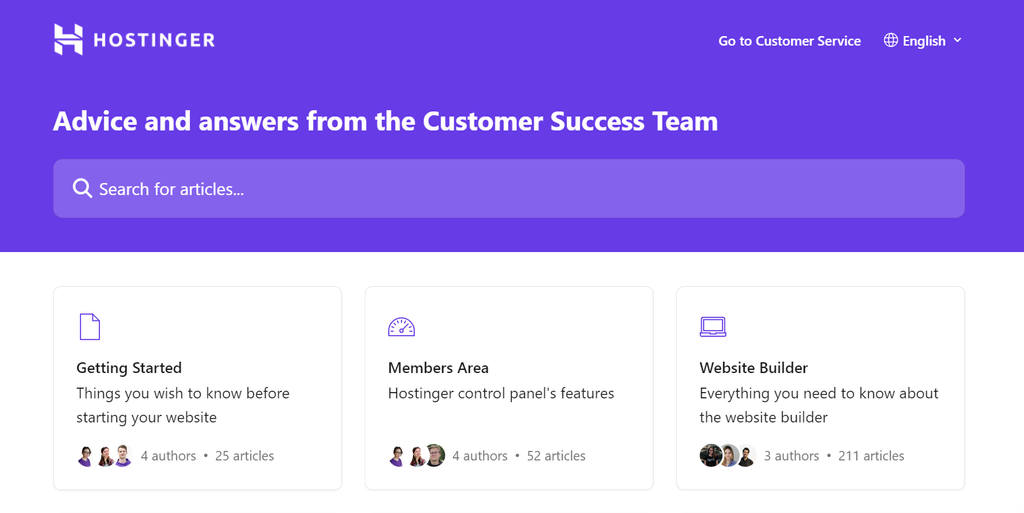 If you're not a Hostinger user yet but have questions about our services, reach us through our Contact page or by emailing support@hostinger.com.
Beyond that, we offer additional resources like Hostinger Tutorials and the Hostinger Academy YouTube channel for more website-building guidance.
Wix provides multiple support channels, too, including a knowledge base, callback support, and live chat. Wix Learn online courses and Wix Blog resources complement these options. However, unlike Hostinger, Wix's 24/7 support is only available by phone and in English.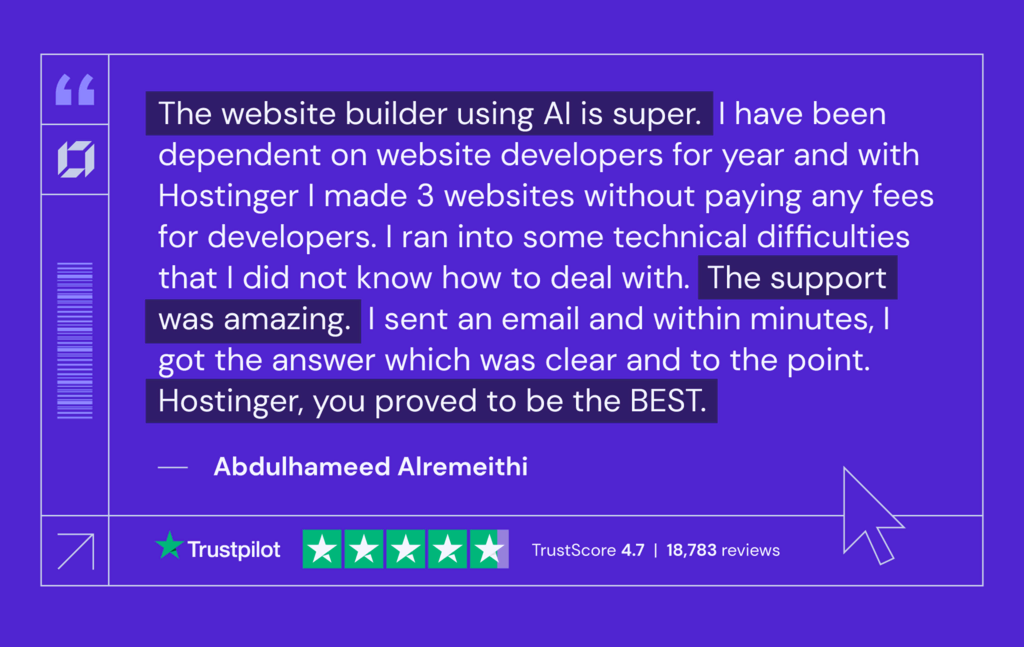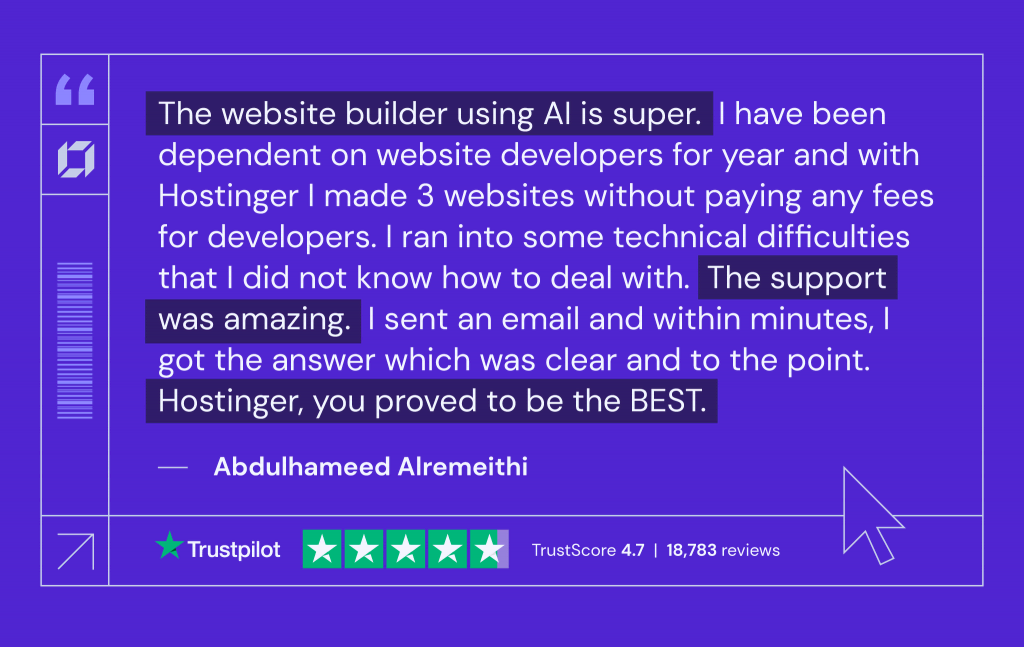 Conclusion
When considering the best alternative to Wix, Hostinger Website Builder stands out for several compelling reasons.
First, it offers unmatched value. Every plan has essential features like a website builder, eCommerce functionality, and site analytics. With the Premium plan, additional perks include a free domain, email services, and the capacity to manage up to 100 websites.
Second, Hostinger streamlines your website-building process with innovative AI tools. From an intelligent builder to a logo maker and content generator, the platform covers all your needs while offering full customization via its editor.
Third, performance and security are top priorities. With in-house hosting, Hostinger can customize its solutions to meet customer needs precisely. The platform employs cutting-edge technologies like LiteSpeed to ensure optimal website performance and security.
If you're in the market for the best website builder, Hostinger offers a compelling package of features, flexibility, and value. We hope this article helps you make an informed decision in your search for the best Wix alternatives.
Wix Alternative FAQ
Read answers to frequently asked questions about Hostinger as an alternative to Wix.