4 Best Wedding Website Templates to Inspire You in 2023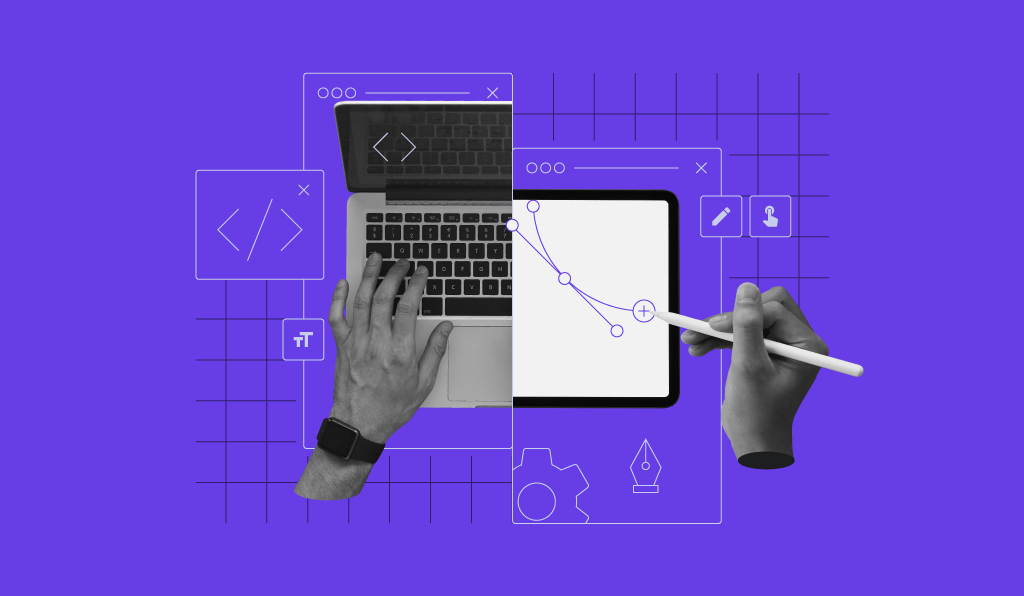 Wedding websites have become an essential part of wedding planning. Not only do they set the tone for the celebration, but wedding websites also serve as a place to share essential information about the wedding party with the guests.
This article showcases the best customizable wedding templates available on Hostinger Website Builder. We will also discuss inspiring wedding website examples and share the top tips to help you build your own stunning website. We will also answer some of the most common questions about modern wedding site layouts.
Download Website Launch Checklist
Best Free Wedding Website Templates
Using wedding website templates streamlines the whole process of creating a beautiful wedding website. Wedding sites can act as stand-alone wedding invitations, making it easy to share everything from your gift registry to other important details, like reception location, with your guests.
If you're looking for free wedding website designs, the following four template designs have been designed specifically with weddings in mind.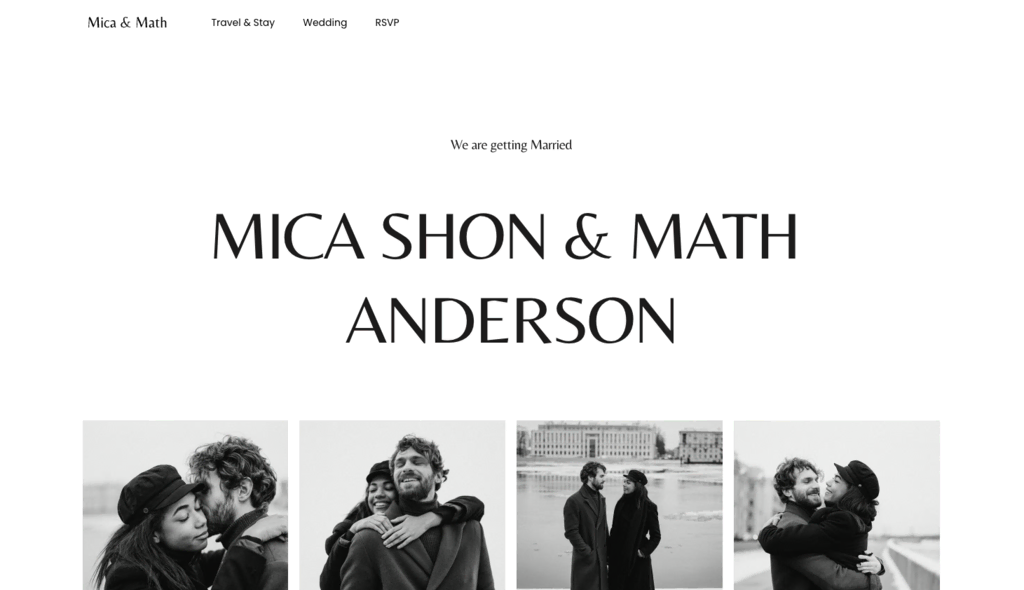 Style: minimalist
Price: included in all Hostinger Website Builder plans
As noteworthy wedding site representations go, Mica is a great example of a minimalist black-and-white page layout.
Consisting of four pages, this beautiful wedding website sets the tone for the wedding party while clearly sharing all the wedding details with the guests. With ample whitespace, the short body copy and stylized images catch the visitor's attention, guiding them to the most important sections on each page.
Consider having a separate online RSVP page to collect guest information, like dietary restrictions or attendance.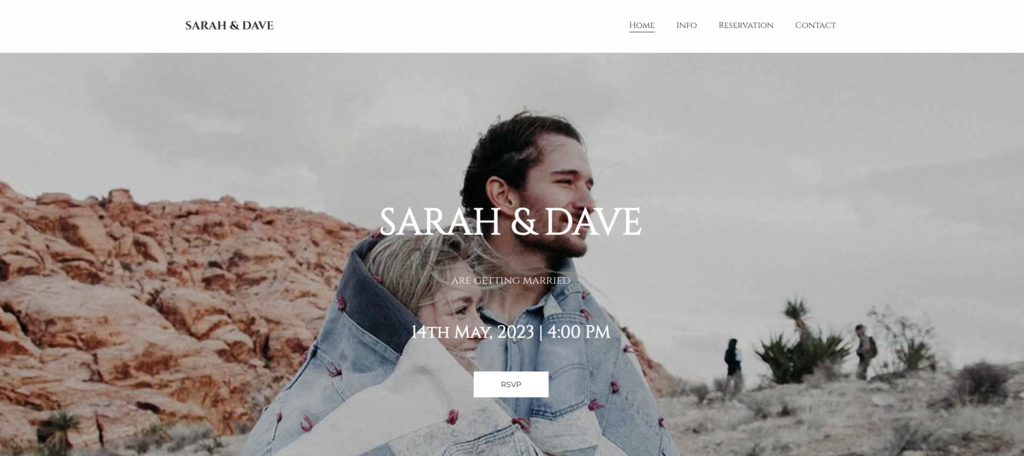 Style: clean and modern
Price: included in all Hostinger Website Builder plans
It's common for wedding websites to feature full-length images of the happy couple, and the Kenzie wedding template does just that in its hero section.
One notable feature of this wedding template is the extensive use of icons. On both the information and reservation pages, simple vector illustrations help to convey the wedding details to guests easily.
The reservation page is also a great addition to any wedding site. Unlike paper invitations, where space is limited, a personal wedding website can be used beyond online RSVP. A user-friendly wedding site design helps to share venue details and recommend local accommodation and transportation options for guests. Use your wedding website to share the wedding planning process with your loved ones.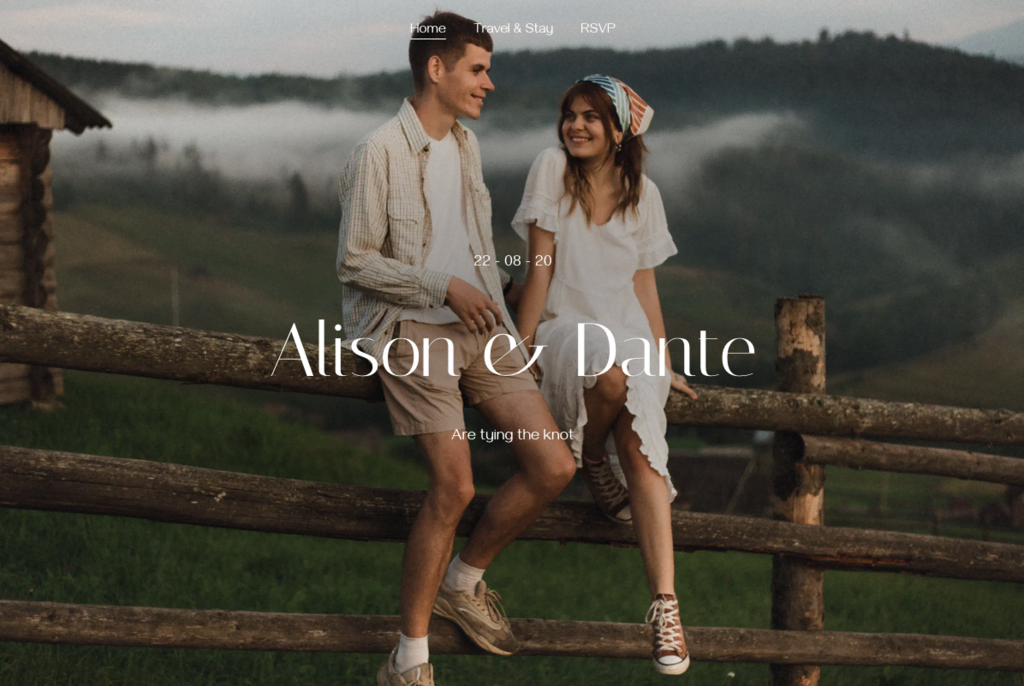 Style: romantic
Price: included in all Hostinger Website Builder plans
Dante is a beautiful wedding template, ideal for anyone looking to share photographs of the engagement shoot with their loved ones.
This minimalist, mobile-friendly wedding theme focuses on a responsive design: all text blocks are short, making them easy to read and skim through on mobile devices. The color of the font is also strategically chosen for the best contrast so that it works best with the background color of the various page sections.
Since the web design is dominated by colorful, romantic images, there's no need for a separate photo gallery. Instead, the sticky navigation bar consists of the main homepage, the RSVP page, and a page dedicated to travel and accommodation information.
This helps to create a stress-free experience for the visitors and keeps guests updated on everything related to the big day.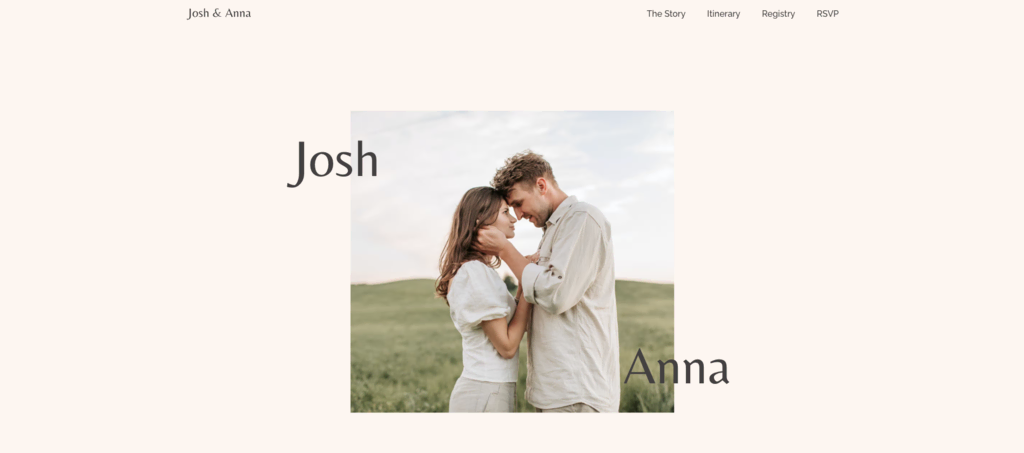 Style: elegant
Price: included in all Hostinger Website Builder plans
This creative wedding page template features a dedicated page for sharing the story of how the bride and groom met. Including a "story" page adds a layer of depth and richness to your wedding celebration, making it more meaningful and engaging for everyone involved.
Another noteworthy feature of this free wedding website template is its hero section. With Hostinger Website Builder, creating dynamic layouts – like text over images – is a simple matter of dragging and dropping the page elements to the desired place on the page. The built-in grid ensures that all elements look good at all times and on all screens.


Top 4 Wedding Website Examples
Ideally, a wedding website should be informative and visually represent the couple. These 5 wedding website examples manage to share the wedding details with the audience and set the tone for the wedding itself.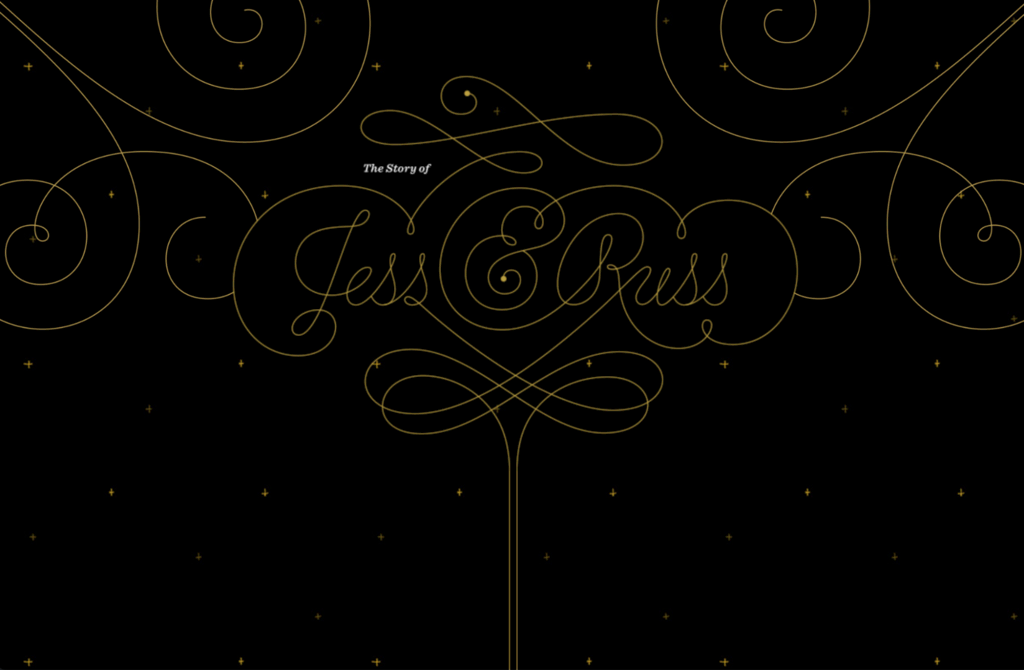 This wedding website's design focuses on the couple's love story.
The illustrations, crafted by the couple's designer friends, create an engaging narrative, keeping the visitors reading. Parallax scrolling adds depth to these illustrations. The overall site design is unified by a consistent color palette of black, gold, and white.
Text features, such as cursive typeface and drop caps, create a storybook atmosphere. This approach suits anyone looking for an effective one-page website design or couples who want to focus on their love story in a visually compelling way.
The design is particularly suitable for those who appreciate art and design, as the illustrations play a significant role in the overall browsing experience.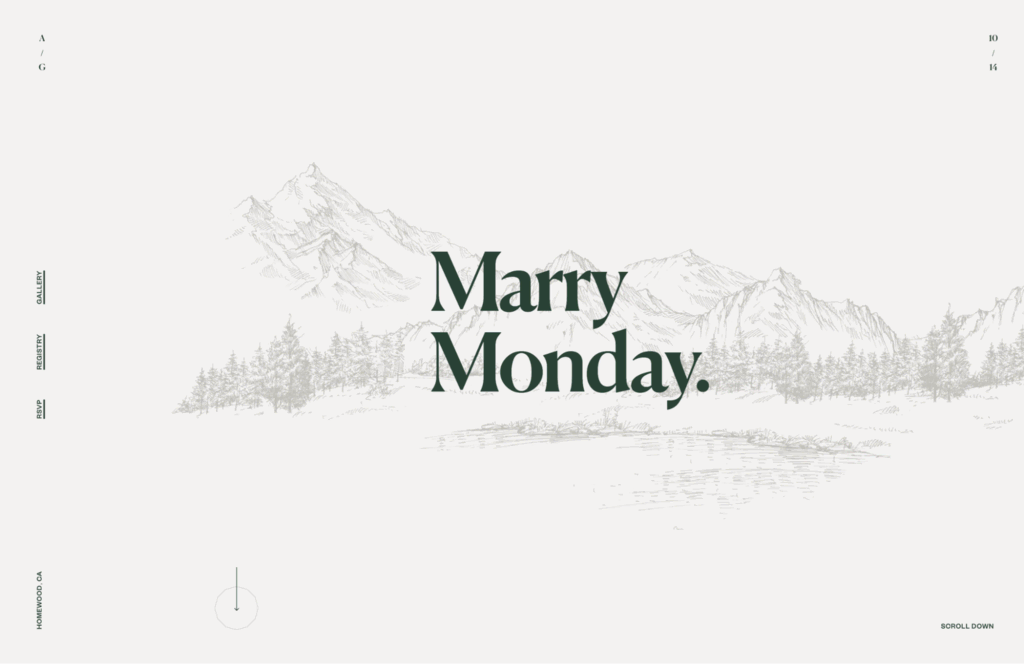 As inspirational wedding website designs go, this design embodies minimalism.
The use of whitespace, large headlines, and concise text contributes to its clean aesthetic, ensuring that each element serves a narrative purpose. Illustrations of mountains in the background reflect the couple's engagement setting, harmonized by a dark green color scheme to indicate their affinity for nature.
Instead of a traditional slideshow, the gallery features a draggable image grid, offering ease of navigation and a contemporary touch.
The design efficiently provides essential information for guests, including recommendations for activities, dining, and travel arrangements. This design is ideal for fans of minimalism who value clean, uncluttered layouts, but would also work well for couples who want to present essential information clearly without overwhelming visitors.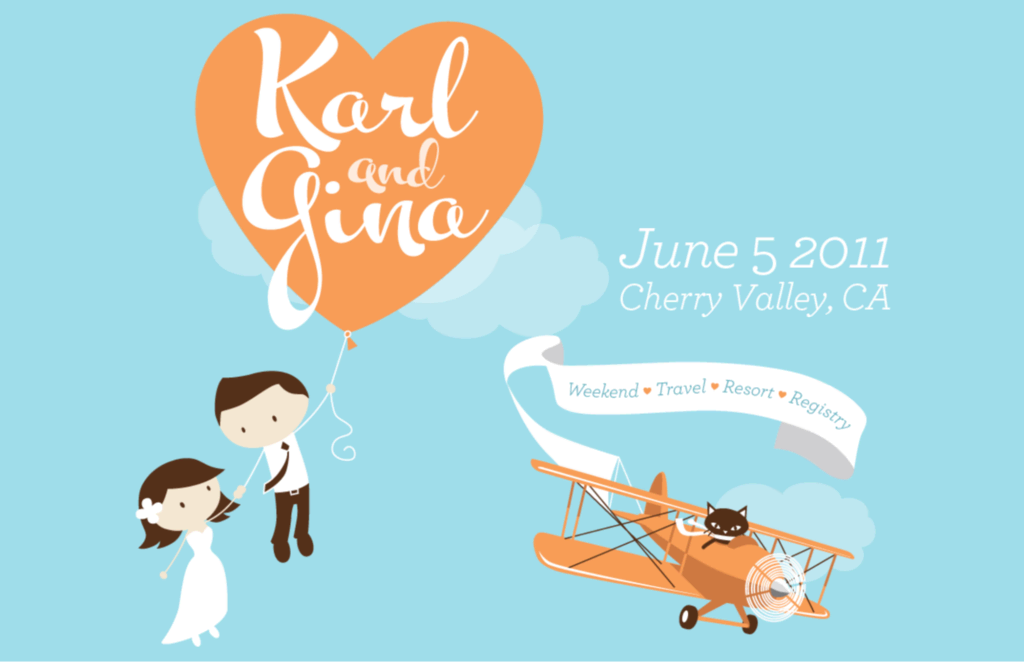 This wedding website's design utilizes cartoons to highlight the couple's celebration.
A prominent illustration featuring a blue sky and landscape forms the background, enriched by multiple animations for a dynamic appearance. The navigation menu integrates seamlessly into the illustration, maintaining design cohesion.
Up and down navigation buttons offer an alternative to traditional scrolling, helping with the overall user experience.
This type of design is best suited for couples whose wedding has a playful, imaginative aesthetic. The cartoon approach and animations are particularly appreciated by younger audiences or those who enjoy animated or graphic art.
Pro Tip
Learn more about why user experience (UX) matters and why UX design is important for any website.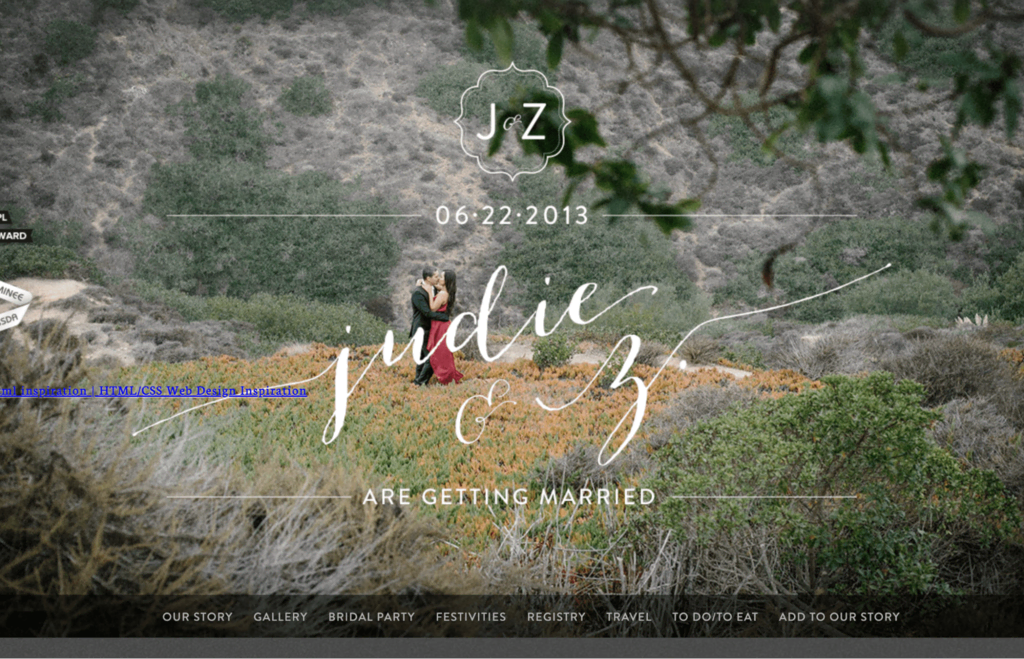 This wedding website is a good example of a unique take on the one-page template design.
Sliders in certain sections allow for the display of multiple content pieces concurrently, optimizing page length. The site adopts a sophisticated aesthetic through cursive headlines and a traditional color scheme of black, beige, grey, and white.
A personalized love quote adds an emotional dimension to the website, serving as a recommendation for those aiming to create a more heartfelt experience. This design is great for couples seeking a more traditional or sophisticated look but within the constraints of a one-page website.
The sliders make this design suitable for those with much information to share while wishing to keep the website concise. Adding a personalized quote also suggests this style might work for couples who want to add an emotional or heartfelt touch to their site.
Create a Wedding Website With Hostinger Website Builder
A wedding website is the central hub for all wedding-related information, providing guests with details about the venue, schedule, registry, and more.
Using a website builder not only makes the process seamless but also provides you with professional-quality designs with no coding required. This ensures you save time, money, and effort while achieving an elegant online presence for your big day.
Step 1. Choose Your Favorite From the Wedding Website Templates
Hostinger Website Builder offers a collection of wedding template styles tailored to fit different styles and themes.
For example, the "Mica" wedding website template is perfect for those seeking a classic, minimalist theme. The "Dante" template, on the other hand, is a vintage-inspired wedding template for couples looking for a rustic, romantic feel.
Navigate through the showcase of wedding template options and select a template that resonates with your vision. This is your foundational design, streamlining the creation process and ensuring you start with a strong aesthetic base.
You can also create a custom site by opting for a blank template or use AI to get a wedding website fast.


Step 2. Customize Your Site
After selecting a template, you must update all the placeholder information to reflect your wedding details. Below are the key reasons why customization is imperative:
Personalization. Customizing your template allows you to inject personal touches, transforming a standard website template into a site that represents your love story and personality.
Relevance. You can ensure that each piece of content directly relates to your wedding day, effectively removing any generic or irrelevant elements.
User experience. Tailoring your wedding site with features like RSVP forms or interactive maps enriches the user experience for your guests.
Consistency. Align the wedding site with the theme of your wedding, colors, and style, setting a cohesive tone and expectations for the actual event.
Information accuracy. Customization allows you to replace any placeholder or generic content, ensuring that everything – from your love story to wedding day logistics – is accurate and up-to-date, avoiding potential confusion for your guests.
Each of these elements contributes significantly to the utility and meaningfulness of your wedding website, making customization a non-negotiable step in the creation process.
Add images from your pre-wedding shoot, write a personal story about how you met, or even include a countdown to the big day. Hostinger Website Builder's intuitive drag-and-drop editor makes it easy to modify elements, change color schemes, and insert content, allowing you to craft a website that truly reflects your journey and upcoming celebration.
Hostinger Website Builder also has built-in AI tools that help with content writing and page layout analysis. You can also create a bespoke logo for your wedding with the AI Logo Maker.
Step 3. Connect a Domain
A personalized domain name makes your wedding website easy for guests to find and adds a touch of professionalism.
With Hostinger, you can either register a new domain or connect an existing one. Ensure the domain name is memorable, short, and relevant to your names or wedding theme – for instance, consider domains like "JohnAndJaneWedding.com" or "SmithsBigDay.net."
Domain Name Checker
Instantly check domain name availability.
Step 4. Publish Your Unique Wedding Site Design
Once you're satisfied with your customized wedding website, it's time to share it with the world.
Before hitting the 'Publish' button, take the time to review your website. Ask a few friends or family members to navigate the site on various devices to ensure it's user-friendly. All Hostinger Website Builder's wedding website templates have been designed with responsiveness in mind, and editing the mobile version of your wedding website is straightforward.
Once you have published the wedding website, all that's left is to share your unique URL with guests, ensuring they have the most important details about your special day at their fingertips.
Tips for Building a Stylish Wedding Website
Planning a wedding is a big task, and a wedding website should make that process smoother, not more complicated. Here are some tips for crafting the perfect digital space for your special day.
Select the Right Wedding Template
Choosing a template that complements the theme and sets the initial tone for the celebration.
For example, for a beach wedding, a template with airy designs and cool color tones can echo the serenity of the venue. This alignment between the theme and website template helps guests feel the atmosphere of the special day before it even begins, fostering excitement and anticipation.
Hostinger offers a range of wedding website templates that can be tailored to fit different themes, whether it's classic elegance or modern minimalism. Always consider colors, fonts, and layouts of the displayed wedding theme possibilities to properly complement your wedding aesthetic.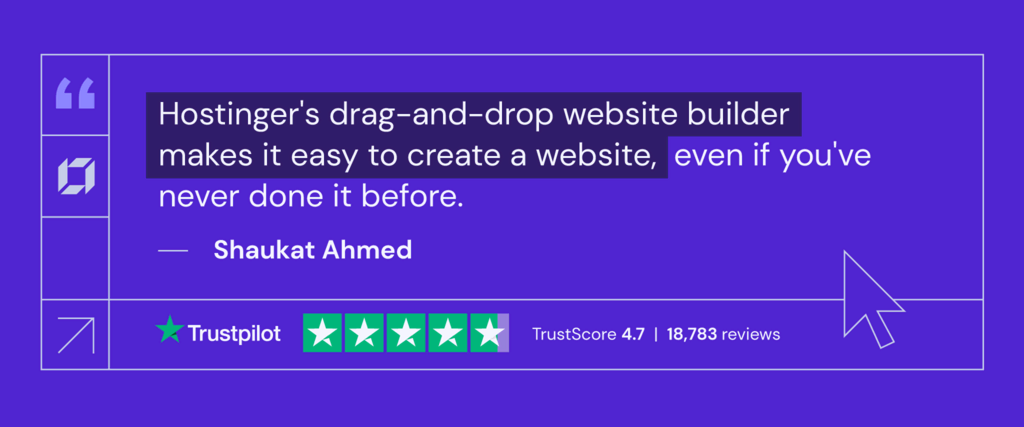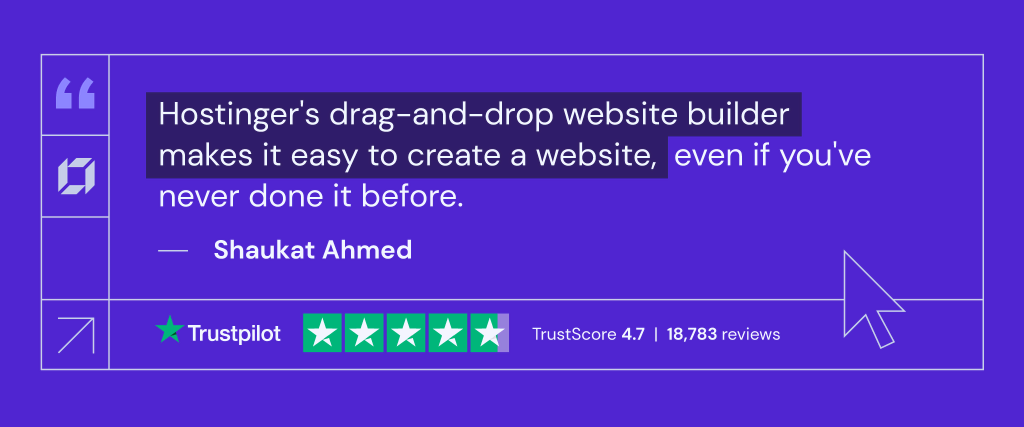 Communicate Clearly
Avoid misunderstandings and reduce the guests' stress by emphasizing clear communication throughout the wedding website design. Placing key information – such as date, venue, schedule, registry, and dress code – in central and easy-to-notice places on the wedding website avoids confusion and helps guests prepare effectively.
Feature a countdown to the wedding date on the homepage and clear directions to the wedding venue. Consider also sharing a detailed agenda for the wedding day to ensure guests feel welcomed and informed.
Add Personal Touches
Sharing your love story on the wedding website adds an emotional touch that guests will appreciate.
It not only personalizes the event but also builds a deeper connection between the couple and their guests. A timeline with pictures and anecdotes invites guests to share the journey, making them feel more involved and invested in the celebration.
Prioritize User-Friendly Design
An intuitive and responsive website shows consideration for the guests.
It is essential to ensure that everyone, regardless of their tech savvy, can easily navigate the wedding site and find the information they need. A user-friendly design shows care for the guests' experience, mirroring the hospitality they can expect on the big day.
Engage with RSVPs and Guests
Incorporating an RSVP form and interactive elements like a guestbook or polls engages guests meaningfully. It allows them to participate actively in the celebration before the big day, not just as attendees but as special contributors.
For example, sending automatic email confirmation for RSVPs shows thoughtfulness, confirming that the guests' presence is significant and eagerly anticipated.
Showcase Captivating Galleries
A high-quality, organized photo gallery does more than just display images – it narrates your love story visually.
By separating photos into different sections (engagement party, family, pre-wedding events like dress fittings), guests are invited to walk through different chapters of the couple's life and relationship. This type of visual storytelling enhances the emotional resonance of the wedding site and builds anticipation for the upcoming celebration.
Conclusion
Creating a wedding website is an important step in modern wedding planning, allowing couples to set the celebration's tone and connect with guests.
Selecting a wedding-themed website template and clearly communicating essential information about the wedding day helps guests prepare effectively.
The wedding website examples in this article establish a standard for aesthetically pleasing and engaging wedding websites, offering couples a valuable reference when crafting their own unique online wedding websites.
Wedding Website Examples FAQ
Find answers to some of the most frequently asked questions about wedding website examples below.
What Is a Wedding Website?
A wedding website lets couples share key details, updates, and emotional elements related to their wedding with guests and loved ones. It is a convenient way for couples to organize, communicate, and share event details with wedding guests.
Are Wedding Websites Still Popular?
Yes, wedding websites continue to be a popular tool for couples, as they provide an efficient and eco-friendly way to communicate essential details with guests and add a personal touch with stories and photos.
What Should You Put on a Wedding Website?
A wedding website typically includes key details such as the wedding date, venue, dress code, RSVP information, registry links, and more. It's also a place to share your love story and engagement photos.