Best 7 WordPress Audio Players
If you're a podcast creator, a musician, or a music lover, you probably want to have an audio player integrated into your site.
In this article, we will give an overview of the seven best WordPress audio players available.
Start A Free 7-day Email Course On WordPress
WordPress Built-in Audio Feature
WordPress has a basic built-in audio player that enables you to display and play audio files on your website. It can be included in your posts, or turned into a widget and placed anywhere on your site creating a WordPress shortcode.
To add an audio player to your post, click the Add Media button at the top of your New Post page. Then press Select Files to upload your audio file. Once added to the Media Library, customize the Attachment Details then click the Insert Into Post button.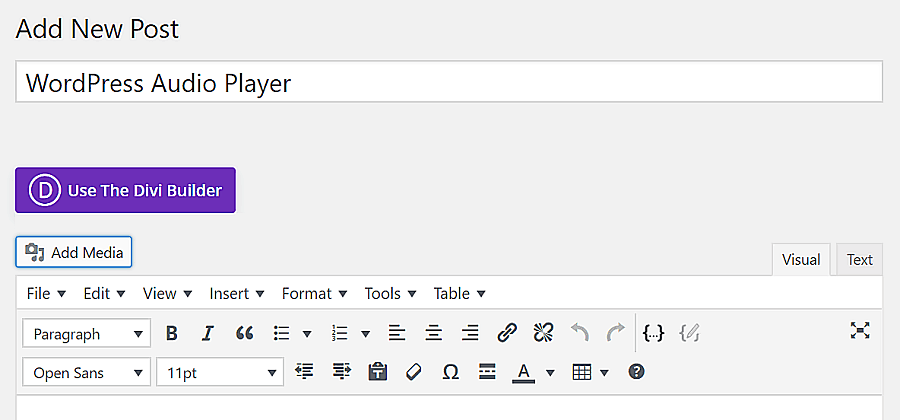 If you want to place the audio as a WordPress widget, you can head over to the Appearance tab and click on Widgets. Press on Audio, select where you want to put the widget, and click on Add Widget. Press Add Audio to upload your file, then click Save.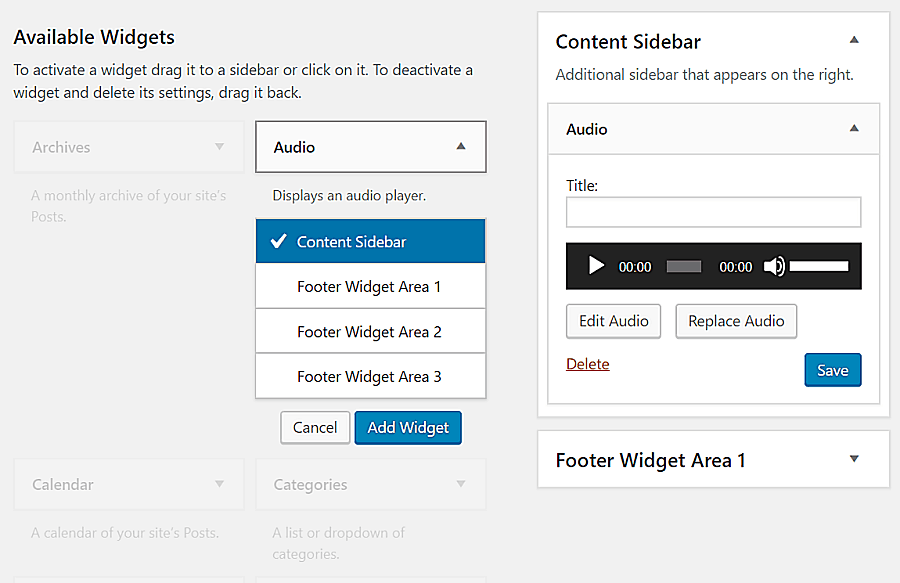 Best 7 WordPress Audio Players
Even if you can use the built-in audio player, the feature is quite limited and it doesn't provide any customization at all.
Therefore you'll need to install WordPress plugins for more features and options, such as embedding podcasts, SoundCloud files, etc.
Here's an overview of the best WordPress plugins for integrating audio players: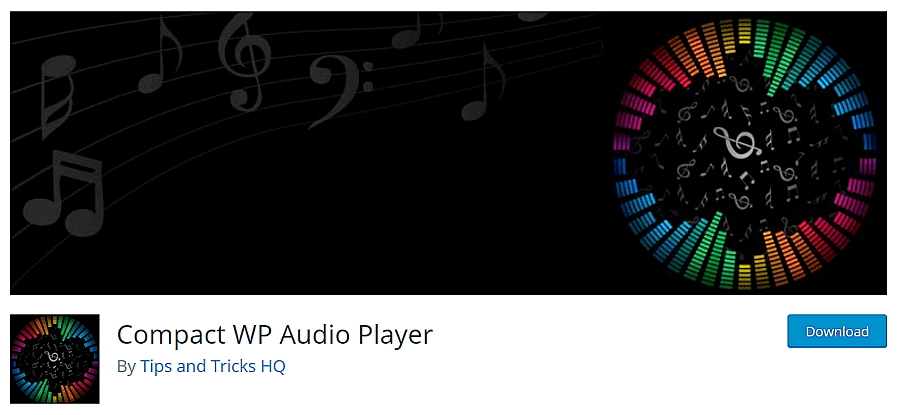 True to its name, this WordPress Audio Player is compact and easy to use. You can place the plugin's shortcode anywhere you want, and a small play button will show on your post or a page. What's more, this plugin is free.
The audio player supports .mp3 and .ogg files. What's great is that the embed file will work on any type of smart device. There are also autoplay and loop options, making the audio play as soon as the page loads and it will replay automatically.
What is more, if you have plans to sell your audio, you're able to provide previews using the plugin.
You can also tweak the shortcode to add text around it or set up its volume. The developer has provided a customization guide on their official plugin page.
The Audio Album plugin lets you group audio files and style them to a single block, turning it into an album.
This plugin is free and very easy to use. Since it integrates to the WordPress core files, some of the attributes are the same as the default WordPress audio player.
You can show multiple albums on a page, and, through the WordPress customizer, you're able to change the colors of the player.
However, unlike the WordPress audio player, you can add titles, details, and dates of the tracks. What is more, the height and width of the player can also be adjusted.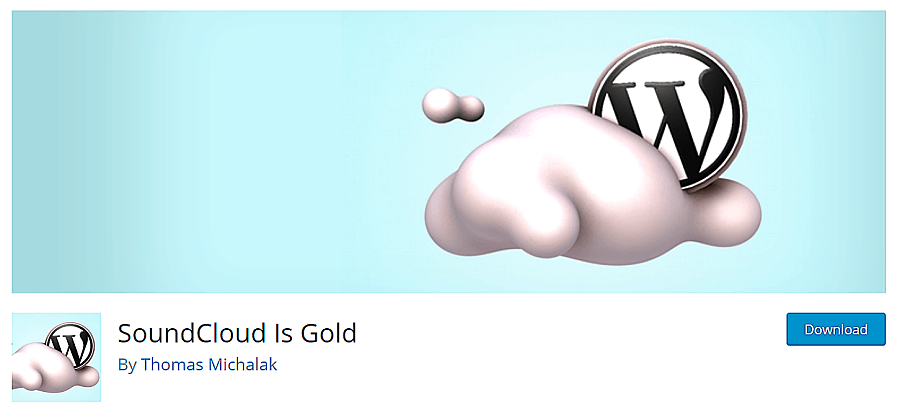 If you are a frequent SoundCloud user, you'll like this plugin. With this WordPress audio player, you can share tracks, playlists, and favorites on your posts.
The plugin can save multiple users – great for collaborative sites among musicians or podcasters.
This WordPress audio player plugin has three style options: Standard, Artwork, and Visual.
The plugin creates a new tab on the WordPress dashboard containing all the tracks' information such as descriptions, covers, and URLs.
Just like most audio plugins, SoundCloud is Gold uses a shortcode, but the tab will generate it as you customize the features.
Through its live preview feature, you can customize the player to fit the design of your website perfectly.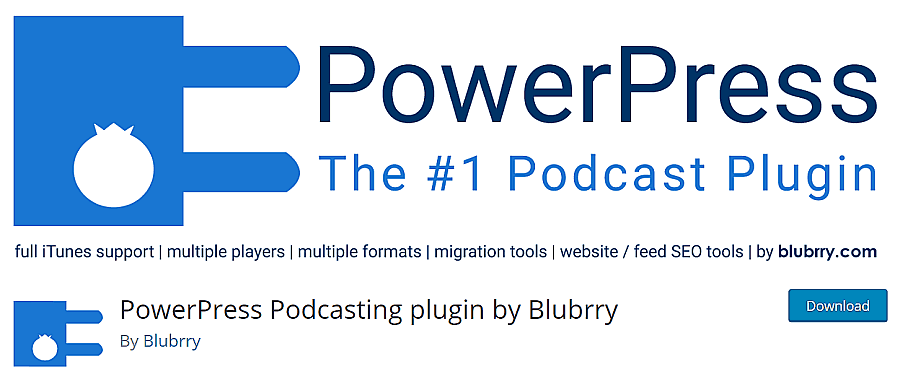 Not only that this WordPress audio player plugin is free, but the tool also has many features useful for amateur and professional podcasters.
What's great, is that the plugin supports Google and Apple podcasts. And it adds a podcast feed to your WordPress site.
You can quickly set up a podcast using the Simple mode with only the essentials. When you're ready to try all the settings and options, you can switch to the Advanced mode.
The import and migration tools help to move the podcast episodes from other platforms to your site.
PowerPress also has useful tools enabling you to make a subscription page with its exclusive shortcode and sidebar widgets. Furthermore, this WordPress audio player plugin has SEO features to help you land on top of SERPs.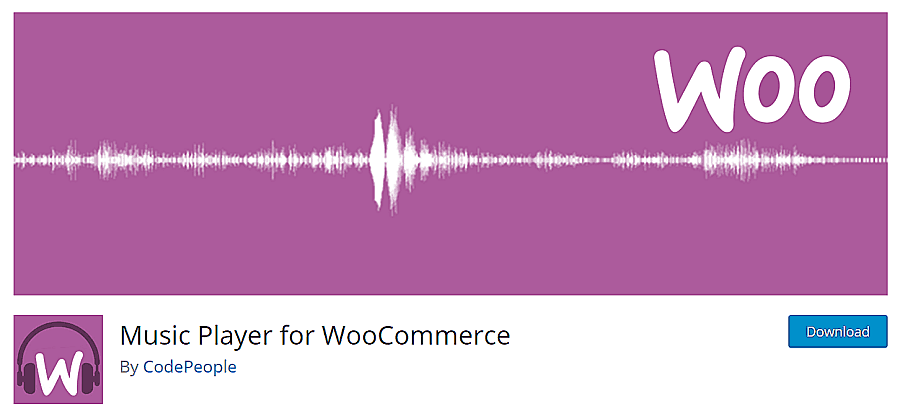 If you already use WooCommerce to sell music, this plugin is a useful extension. The base plugin is free and has all the essentials needed to add a music player to your store.
This WordPress audio player supports OGA, MP3, WAV, and WMA formats. It will also work on the most popular browsers and mobile devices.
However, as for the player layout, you are only given three choices of skin.
You can choose to display all the controls such as the play and volume button, as well as to show the player on the cart page.
The plugin also uses shortcodes and a playlist widget that can be placed on sidebars or posts.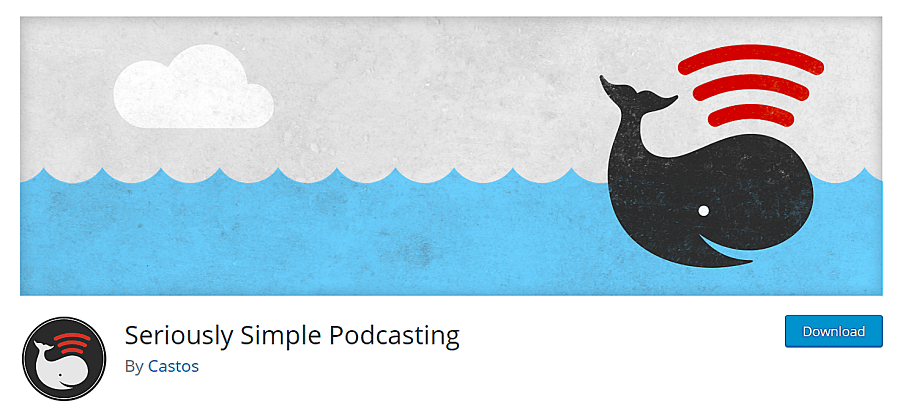 The name doesn't lie as this podcast plugin is seriously very simple to use. Plus, it's free. The WordPress audio player plugin has minimal settings and uses a native WordPress interface. You can get your podcast up and running in just a few minutes.
Using shortcodes and widgets, you can display single episodes or podcast playlists anywhere on your site. What is more, you can also run multiple podcasts, each with its own RSS feed.
In addition to that, you can add cover images, titles, descriptions, and other elements to the media player.
The plugin is also integrated with Castos, a podcast hosting platform where you can host your podcast media files, without having to leave the WordPress dashboard.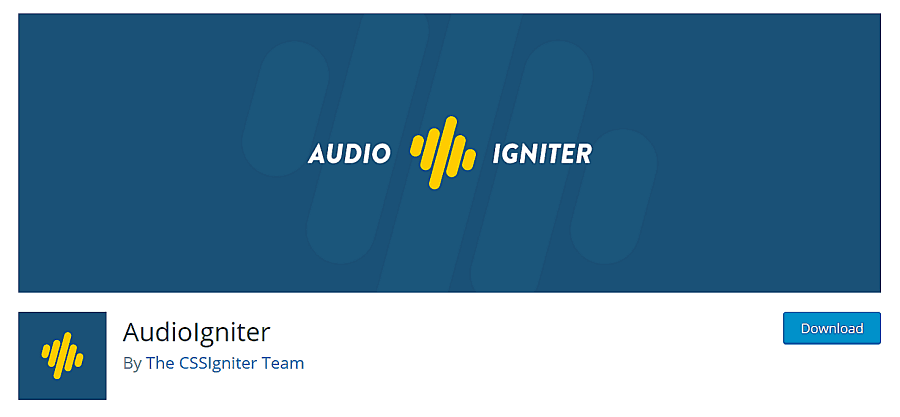 Audio Igniter isn't just your average music player – you will find everything you need to share your music. It's free, plus it has a beautiful design.
If you're selling digital music, you can easily combine this plugin with WooCommerce to sell individual tracks.
What is more, you can embed unlimited playlists and tracks into posts, or WordPress pages.
To top that, the player has a responsive layout, flexible setting, and you're also able to customize the "Buy Track" URL field.
Another great point is that you can stream radio shows through this audio player. You can display an individual or a playlist of streams.
In addition to that, with the audio player plugin, you're able to show or hide track listings, the artists' names, and track covers in playlists.
Conclusion
WordPress has a built-in audio player, but usually, that's not enough. Especially, if your website focuses on audio content.
That's where plugins come in. Let's run through the list:
Compact WP Audio Player – is true to its name by being compact, free, and simple.
Audio Album – is free, easy to use and allows you to group audio files into albums.
SoundCloud is Gold – the perfect option for SoundCloud users that want to share their creations.
Blubrry PowerPress – free, easy to use, customizable and comes with Google and Apple podcast integration.
Music Player for WooCommerce – has a free version, works on different devices, and allows you to sell your audio files.
Seriously Simple Podcasting – a great, simple to use, free plugin for podcast integration.
Audio Igniter – offers a beautiful design, allows you to create playlists, and even has commerce capabilities.
So don't just sit around, share your creations and interest in music with the world!
Was this tutorial helpful?