What are WordPress Widgets And How to Use Them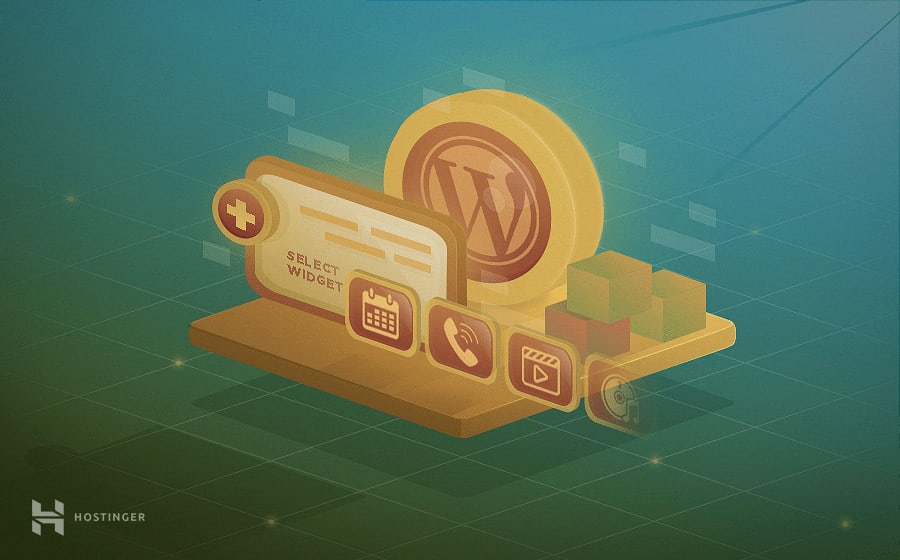 Did you know that your WordPress sidebar and footer can extend your site's functionality? You can actually add extra information on both parts, thanks to WordPress widgets.
In this article, we will learn about the widget's potential to help readers navigate on your page. We will also take a look at how you can add and customize widgets to fit your needs.
Video Tutorial
Are written instructions taking too long? Watch this video tutorial instead.
What are WordPress Widgets?
WordPress widgets are a part of your WordPress element that performs one specific function: adding extra content and structure to your sidebar or footer. For example, widgets can display your most recent posts, calendar, search bar, and much more.
Widgets are easy to use, and you don't have to write any HTML code to set them up. In fact, you only need to drag and drop the widget to the area on your page – sometimes called as widget areas. The placement of this area can be different depending on the theme. Sometimes you can only put widgets only on the sidebar, and other times only on the footer or both.
One of the great things about widgets is that they let you easily add more advanced features on the page. You can link your social media pages to further connect with your readers, although you need to install another plugin that has those widgets manually. No worries, we will discuss that a little bit later.
For the time being, let's talk about the widgets that WordPress has provided for you.
Default WordPress Widgets
By default, WordPress gives you with several widgets that can be essential to your web page. They are as follows:
Archive displays your monthly posts.
Audio lets you embed an audio player on your page.
Calendar displays the calendar.
Categories display the list or drop-down menu of post categories.
Gallery displays images gallery.
Image displays an image.
Meta shows webmaster login, RSS, and WordPress.org links.
Navigation Menu adds navigation menu on the sidebar.
Pages create a list of your pages.
Recent Comment displays the most recent comments on your pages.
Recent Post displays your most recent posts.
RSS is an entry for any RSS or Atom feed.
Search displays the search bar for your site.
Tag Cloud displays post tags.
Videos display any video embed from major video providers.
How to Add Widget in WordPress
Now that you know that WordPress has basic but quite powerful widgets, you can add one to your page with the following method:
Login to your WordPress dashboard.
Head to Appearance section and click Widgets

As you can see, there are several widgets on the left side and the widget areas on the right side. I use Radcliff theme by Anders Norén which allows me to put widgets on my footers.
Drag and drop the widgets to the designated area. Here, I use the Video, Calendar, Categories, and a Meta widget. For some widgets, such as video, you'll need to upload or insert the video link that you want to embed manually. In my case, I use a video from my YouTube channel.

And there you have it, now let's see how it looks on the website.

Alternatively, you can also add widgets via Customize in real time – able to see the preview of how your site would look while making changes. It can be accessed either from the Appearance section in your wp-admin or from the Customize button on your website while logging in as webmaster.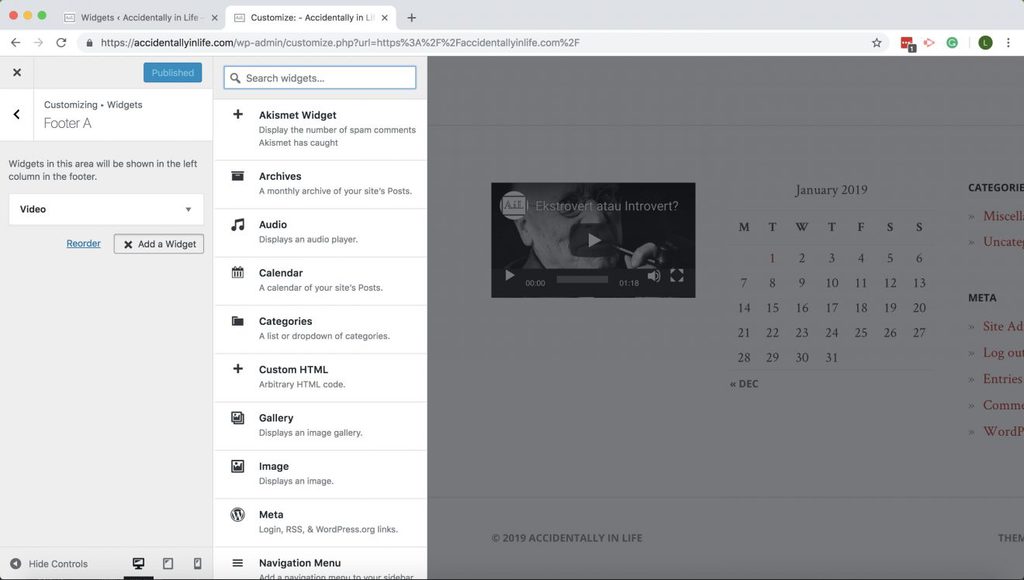 One of the good things about WordPress widget management is that you can temporarily disable them. If you think a widget is not needed for a while but want to keep its setting for future use, you can drag it to the Inactive Widgets panel in wp-admin.
There is also an Inactive Sidebar panel which contains unused widgets should you need to change theme with a different widget area. You can then activate the widgets by dragging and dropping them to your new theme's widget area. Pretty useful, right?
Adding New Widgets
WordPress allows you to add new widgets if you feel that the default ones are insufficient. For example, adding social media widgets to create more engagement with your readers. To do that, you need to install a specific plugin that provides you with social media widgets/icons. In this case, we will use the Simple Social Icon plugin.
Go to the Plugins menu from your WordPress admin dashboard and click Add New. From the search bar, type Simple Social Icon, then install and activate it.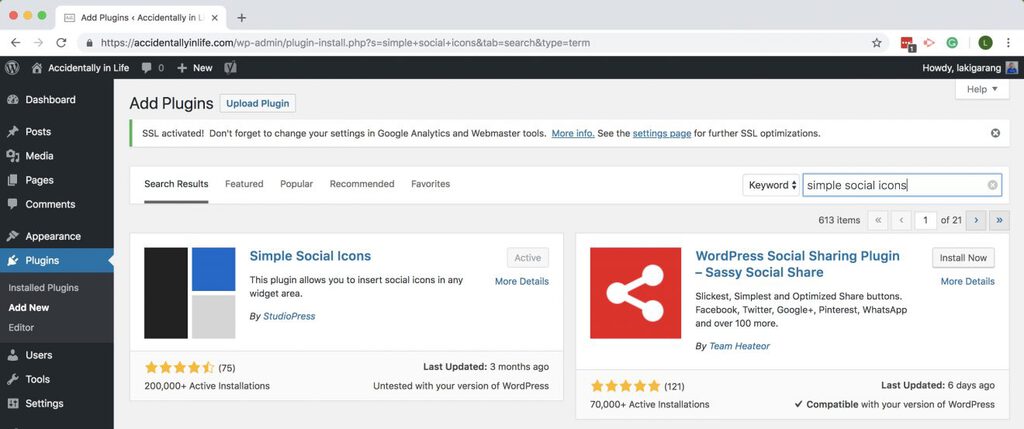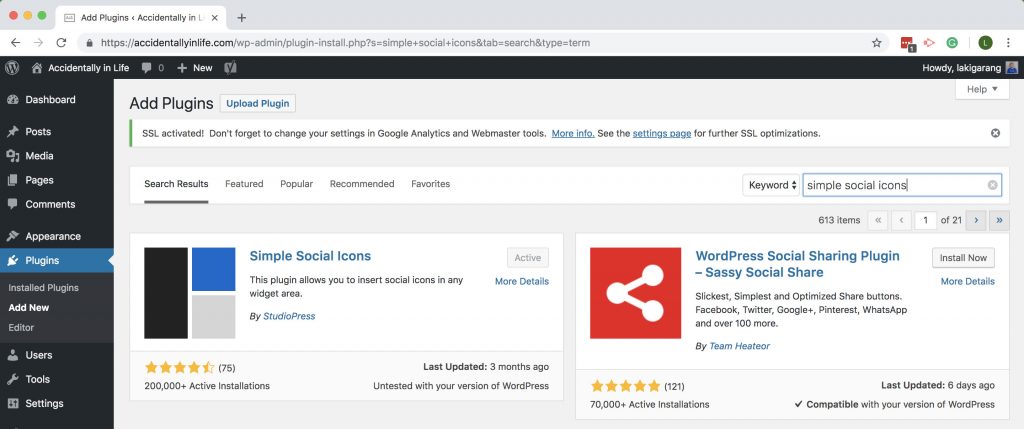 Now add the Simple Social Icon widget and add your social media links. This plugin can link your website to many popular social media channels, such as Facebook, Twitter, Youtube, LinkedIn, and many more. This is how it looks.
Conclusion
Let's wrap it up. We have learned about WordPress widgets and how to use them to add extra functionality to your website's footer and sidebar. We also know that we should not underestimate widgets. They might be a  simple element of your site, but they can boost reader engagement. There are literally hundreds of widgets available for use.
You should be careful when you set it up though. After all, it is only an additional element. When putting widgets on your website, you have to consider some aspects like user experience, website aesthetic, and the overall benefit of the widget itself. Don't just add whatever widget just because you can!