How to Add a Post to a Page in WordPress Using Classic Themes and Gutenberg
When publishing a new blog post on your WordPress site, it will appear on the homepage by default. If you prefer to have a dedicated blog page while keeping your homepage static, you've come to the right place.
In this WordPress tutorial, we will explore two easy methods to create a professional-looking blog page on your WordPress website – using a classic theme and the Gutenberg editor. We'll also show you how to add posts to the footer or sidebar area using a widget.

How to Add Blog Posts to a Page in Classic Themes
If you're using a classic WordPress theme, follow these steps to add blog posts to a separate page:
1. Create New Pages
To add posts, your WordPress site needs at least two pages – one as a static homepage and another as a blog page.
Luckily, adding a page in WordPress is easy:
Navigate to Pages on the left menu and click Add New.
Enter Homepage as the page title and edit the URL accordingly.

Personalize the homepage to your preferences.
Once everything looks good, hit the Publish button.
Repeat the same process to create a blog or any other different pages.
Leave the blog page empty, as it will automatically fetch and display blog posts once you've configured the settings.
2. Change the WordPress Settings
By default, your latest posts will be shown on the homepage instead of other pages in WordPress.
That said, you can customize the settings by following these steps:
Go to Settings → Reading and set your homepage to a static page.
Next to Homepage and Posts page, select the relevant pages from the drop-down menus.
Pro Tip
Don't pick the same page for the Homepage and Posts page options to prevent errors.

Next to Blog pages show at most, choose how many posts you want to display on each page.
Click Save Changes.
3. Add the Pages to the Menu
Next, add your custom homepage and blog page to the navigation menu:
Access Appearance → Menus.
Under Add menu items, tick the Select All box.
Click Add to Menu.
Make sure to save the changes.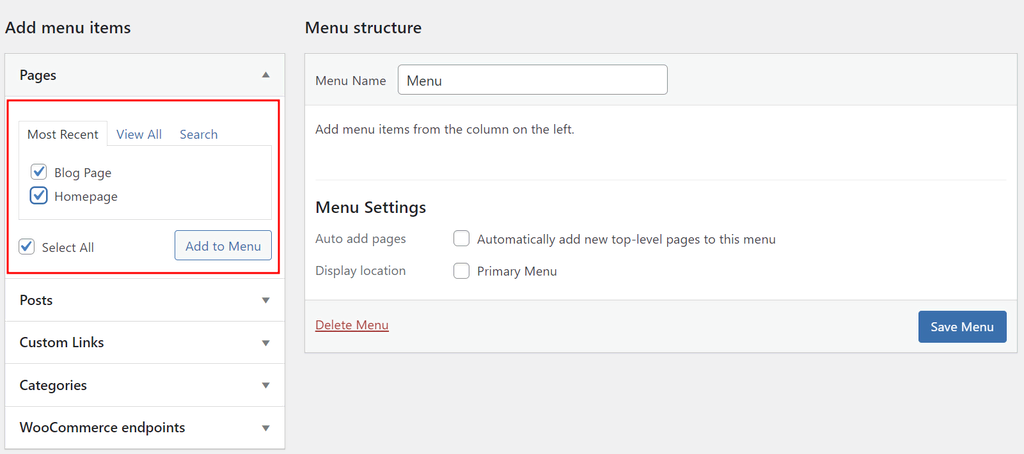 Once everything is set, your posts should automatically appear on the blog page. If you haven't published any article yet, perform this method to add a new post in WordPress:
Navigate to Posts → Add New.
Once the post editing screen appears, write the post title and content.
Click Publish.
You can view and edit all the posts published in the Posts section.

If you want to save time writing the post content and searching for relevant images, try our WordPress Business or Startup hosting plans.

Both packages come pre-installed with WordPress AI tools, enabling you to generate multiple blog posts and get featured images instantly.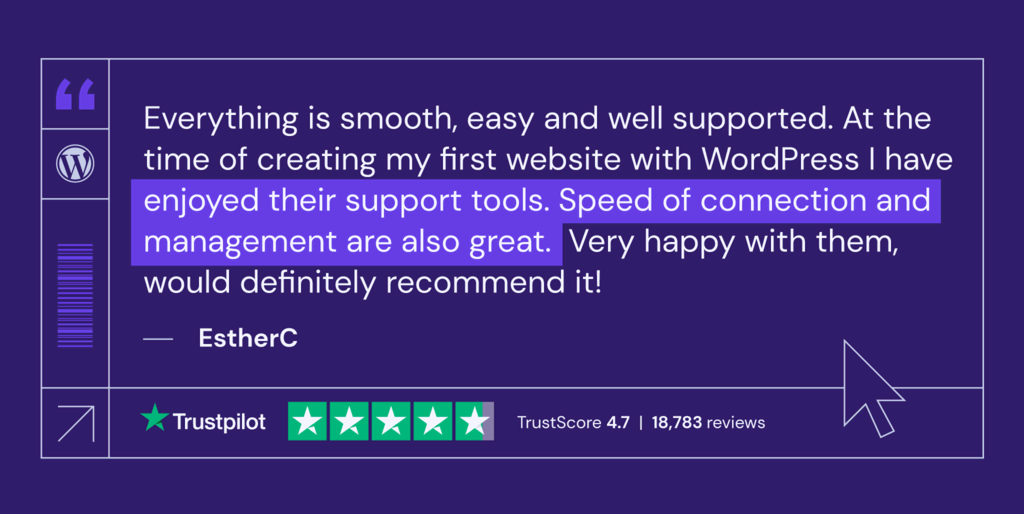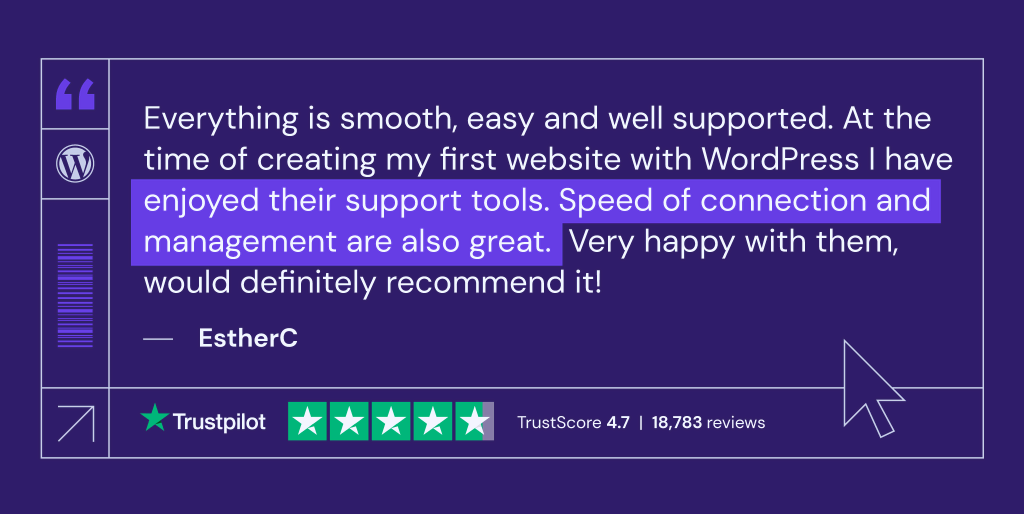 How to Add Blog Posts to a Page Using Gutenberg
For block themes, use the Gutenberg site editor to customize your homepage and create a dedicated section for posts.
1. Customize the Homepage
Some block themes have a Query Loop block added to their homepage template by default. In short, the WordPress Query Loop is a block for displaying different posts in a specific order.
When using an existing Query Loop pattern, the block will show your latest posts on the front page. However, you can also choose Start Blank to arrange the content in a chronological or alphabetical order.
To keep the homepage of your WordPress site static, you have to manually remove the Query Loop block. Here's how:
Open the Site Editor by going to Appearance → Editor.
Select all Query Loop block elements.
Pro Tip
Make sure you have selected the right block by checking the Settings section on the right sidebar. Under the Block tab, it should say "Query Loop" at the top.
Open the Options menu on the block toolbar by clicking the three-dot icon.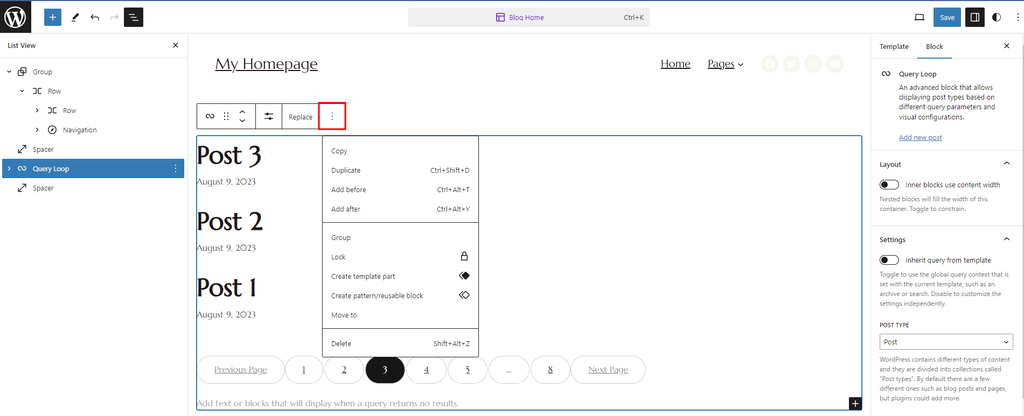 Press Delete to remove the Query Loop block.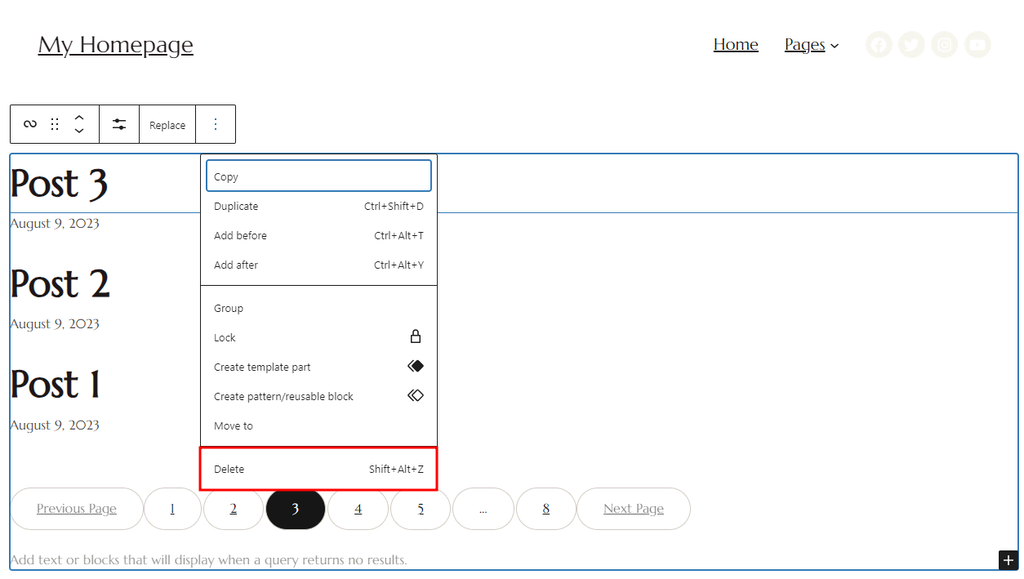 Hit the Save button at the top right.
2. Create a New Page and Add the Query Loop Block
After that, create a new blog page and add posts using the Query Loop block:
Head to Pages → Add New.
Hit the Add block (+) button to insert a new block.
Enter Query Loop in the search bar and click it.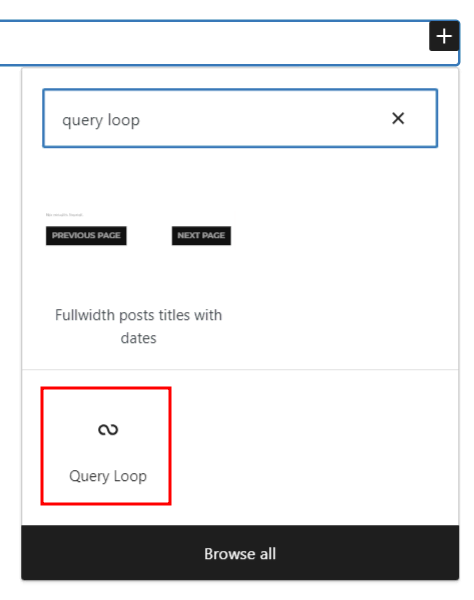 To add blog posts quickly, click Choose and pick one of the available patterns.
On the other hand, selecting Start Blank gives you more flexibility in customizing the block. With this option, you will find several content variations to choose from:
Title and post date
Title and excerpt
Title, date, and excerpt
Featured image, date, and title
After choosing a layout, navigate to the right-side menu. Under Block, you can perform several tasks, such as:
Select a post type – Post, Page, or Product.
Arrange the posts order.
Include, exclude, or only show sticky posts.
3. Add the Page to the Navigation Menu
To create a custom menu, you need to access the Site Editor by clicking Appearance → Editor. From the left menu, access Patterns → Template Parts → Header.
The header layout will be different from one theme to another. Some themes also come with a pre-determined page list that may include a blog page.
If your theme doesn't have one, here's how to add a page to the navigation menu:
Select the navigation menu block.
Click the Add block (+) icon.
Choose your blog page and make sure the URL is correct.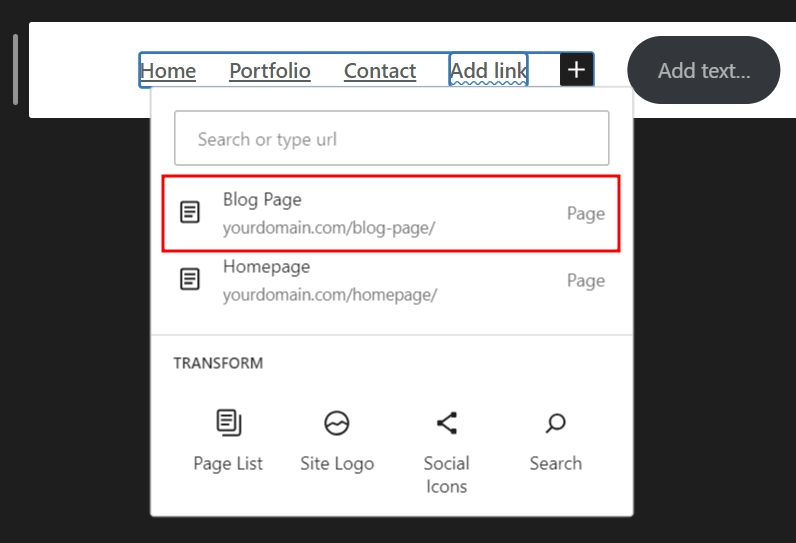 Save the changes.
This method also enables you to add other pages to the navigation menu, including About and Contact Us.
How to Add Blog Posts to a Page Using Widget
Another method of adding a WordPress post list to static pages is using a widget. This approach lets you showcase blog posts in the footer or sidebar widget area without cluttering the main content.
The following sections will explain the complete steps using both classic and block themes.
Classic Themes
If your theme uses the classic editor, add a widget to the footer or sidebar directly from the WordPress dashboard:
Navigate to Appearance → Widgets.
Look for the Latest Posts widget in the search bar.
Drag and drop it into your preferred area.

Customize the widget settings, including the number of posts to display and the post order.
Save the changes.
Block Themes
Block themes usually come with template parts for different sections of your website, such as the header, footer, or sidebar.
Therefore, if you're using a block theme, the process is slightly different:
Go to Appearance → Editor to open the block editor.
On the left menu, select Patterns and find the template part where you want to display your blog posts, such as the footer.
Click the Add block (+) icon and search for the Latest Posts block.

Customize the block settings from the right sidebar – adjust the number of posts and manage each post's content, author, date, and featured image.
Save your changes.
Why Do You Need a Separate Page to Display Blog Posts
Instead of displaying your blog posts on the homepage like many WordPress themes do, having a dedicated blog section offers several benefits:
Enhanced user experience. Displaying all blog posts on the homepage can clutter the layout and overwhelm visitors, potentially leading them to miss valuable content. Having a separate blog page helps visitors access your content more easily.
Better focus on the homepage. Use the homepage to showcase your products or services, highlight your key selling points, and encourage visitors to take specific actions. Those include making a purchase and signing up for a newsletter.
Customization flexibility. By separating your home and blog pages, you have the full freedom to personalize each page's design and elements to your liking.
Search engine optimization. Customizing the blog page's meta title, description, and URL structure specifically for blog-related keywords can improve its ranking on search engines.
Conclusion
The default setting of WordPress is to display blog posts on your homepage. Fortunately, creating a blog page in WordPress is very straightforward.
If your WordPress website uses a classic theme, create home and blog pages first. Afterward, set your homepage as a static page and customize the posts page. For block-based themes, create a new blog page and use the Query Loop block to display posts.
Either way, having a separate blog page enhances your website's structure and user experience. It makes it easier for visitors to find and engage with your valuable content.
We hope this article has helped you add a new post list to your WordPress site. If you have more questions, don't hesitate to leave a comment below.
How to Add Posts to a Page in WordPress FAQ
Find answers to the most frequently asked questions about adding blog posts to a dedicated page.
How Do I Show Posts on the Homepage in WordPress?
Log in to your WordPress dashboard and go to Settings → Reading. Next to Your homepage displays, select Your latest posts. Customize your homepage further using widgets or a page builder to make it more attractive.
Why Don't My Posts Show Up on the WordPress Blog Page?
If your posts aren't showing up on the blog page, it's likely due to incorrect settings. Head to Reading, and make sure you've set the correct WordPress page as your Posts page. Also, double-check whether the posts are published and not in draft or private mode. Verify your theme's template files and make sure they support displaying posts.
What Is the Difference Between a Post and a Page in WordPress?
A page is a section on your website like About Us, Contact, and Home. Meanwhile, a post is a piece of content you add to these sections. Simply put, posts are frequently published, while pages are a part of the permanent website structure.