WordPress Revisions: The Ultimate Guide
Losing work in the middle of editing is an irritating problem. Luckily for WordPress users, there is a feature that will prevent this from happening. It's called WordPress revisions, whose main function is to record changes made to your post.
But what else can it do? In this article, you'll learn all about it along with some customization options.
What Are WordPress Revisions?
The WordPress post revisions feature is a useful tool that saves and shows all earlier versions of a specific post.
Any changes in the content will be recorded as separate versions, or revisions, whenever you hit the Save Draft, Update or Publish button.
There are two main reasons why WordPress revisions are important. First is the autosave feature, the second – the ability to restore your post.
The autosave function would restore the post to its last state in case of a power outage, or similar issue. It will automatically save a copy of your post every 60 seconds, so you have a checkpoint if something unwanted occurs.
Let's cover the second reason – the ability to revert back to an older version of a post.
This feature will be useful in editorial work where more than one person is involved. If your colleagues edit your post, WordPress revisions will list their usernames and the timestamp of the edit. It also shows what changes have been made to the post.
The Many Options of WordPress Revisions
There are several situations where WordPress revisions can be of great help. For instance, you want to see what your editor added or deleted from your article, to improve it further.
Or maybe after finishing a post, you think back and realize that an earlier version of it was better and want to put it back online. You can do all of that by viewing, comparing, and restoring a post revision.
Nonetheless, before moving on to some WordPress revisions customization, you should know that there must be at least two edits in your post before the revisions button can appear.
Viewing Different Revisions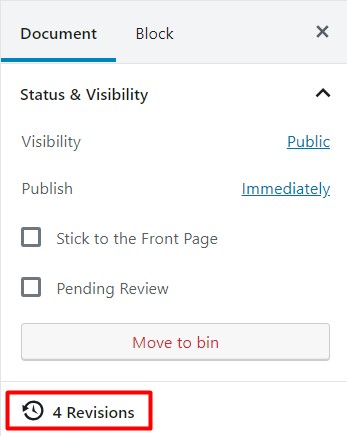 Once you're on the intended post, you can enter the revisions setting under the Document menu.
There's a slider that will assist you to scroll through all modifications, and show which users and when revised the post.
There are two columns in this interface. On your right, you'll see the selected revision of your article, and on the left, you'll see the previous one. Any added content is highlighted in green while the deleted parts are in red.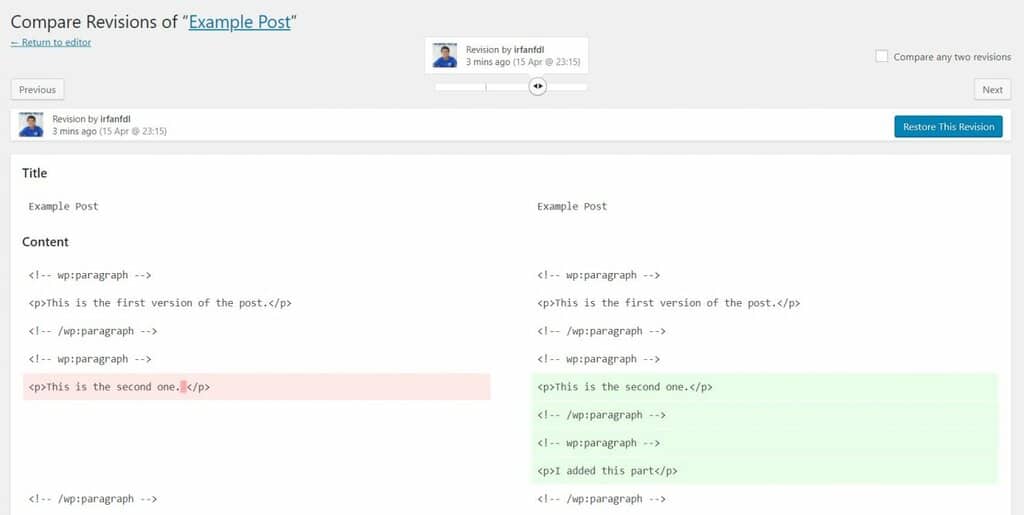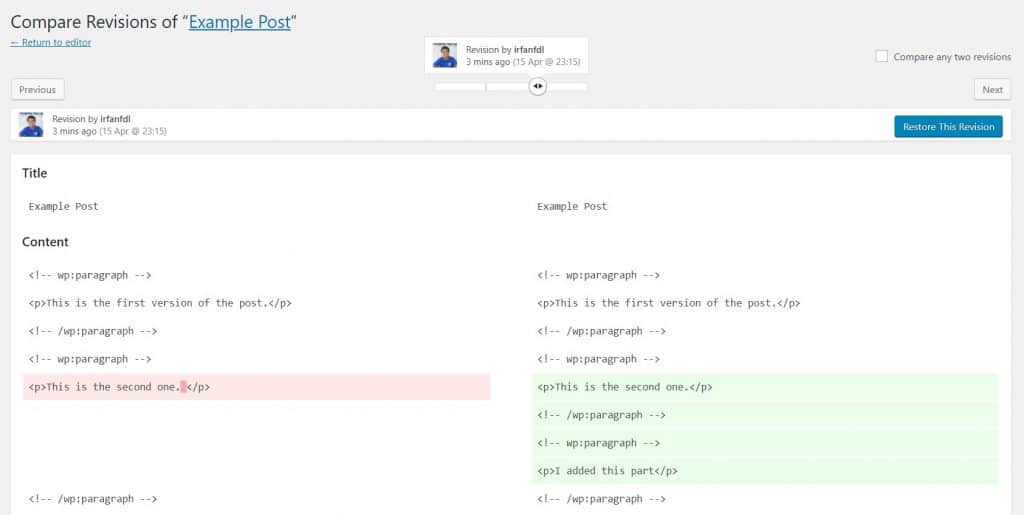 Comparing Different Revisions
You can compare two versions of your post. However, they are sequential revisions, meaning that one happened after the other.
To put two non-sequential versions side by side, you need to click Compare Any Two Revisions and use the slider to point out which modifications you want to see. This function displays the respective users who edited it too.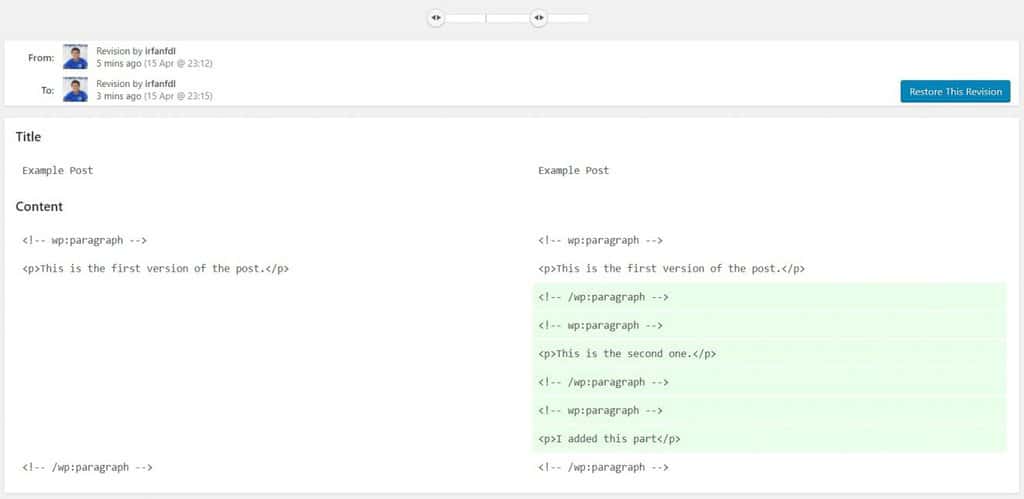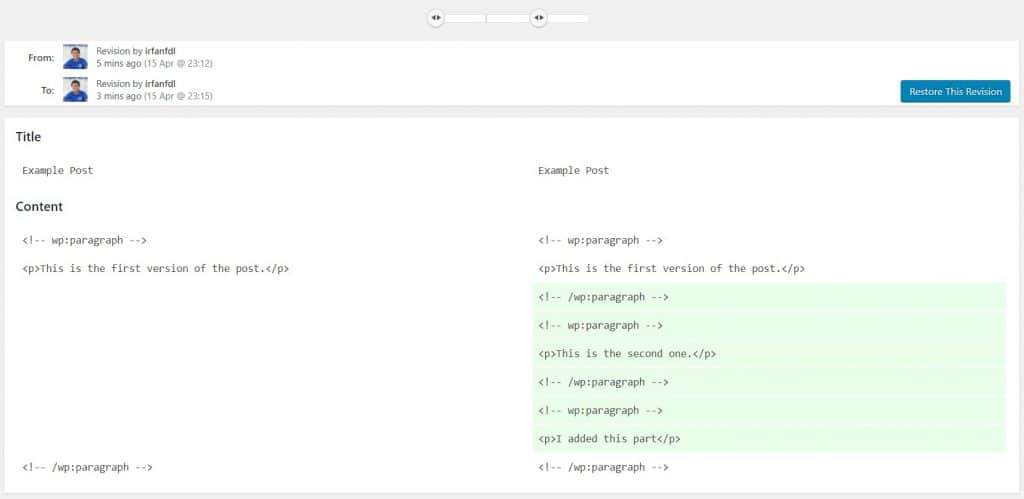 Restoring a Post Revision
To restore a previous version, you have to simply drag the slider to the intended point and click Restore This Revision. It will replace the existing content with the specified version.

Customizing WordPress Revisions
Revisions are a default feature in WordPress which has predefined settings. Fortunately, you can customize the tool if you want, including deleting, limiting, and disabling it.
Deleting WordPress Revisions
If your WordPress website has thousands of revisions and takes up tons of database storage, you can easily clean up.
To do that, grab a plugin called WP-Sweep. This simple tool will manage your revisions without issue.
1. After you install the plugin, click Tools on your dashboard and select Sweep. In the table, you'll see Revision and the following action.


The maximum amount of revision that's displayed is 500 for performance reasons.
2. Confirm that what you're deleting is no longer important. If everything is okay, click Sweep. There will be a dialog box showing how many revisions are being processed. Once complete, the revisions will be successfully removed.


Limiting WordPress Revisions
There is also a plugin that will help with the task, named WP-Disable. However, the menu is labeled optimisation.io on the WordPress dashboard.
1. Make sure that the plugin has been installed. Click on optimisation.io and go to the Admin tab.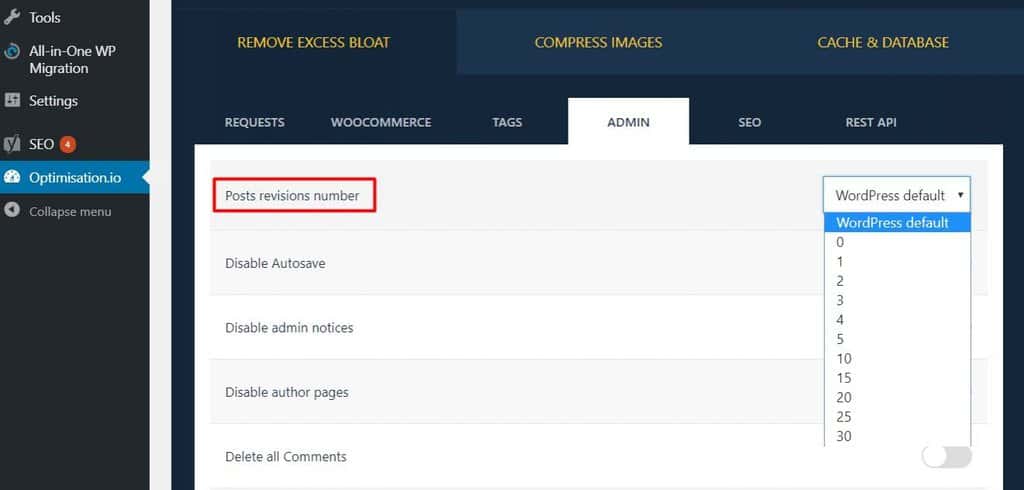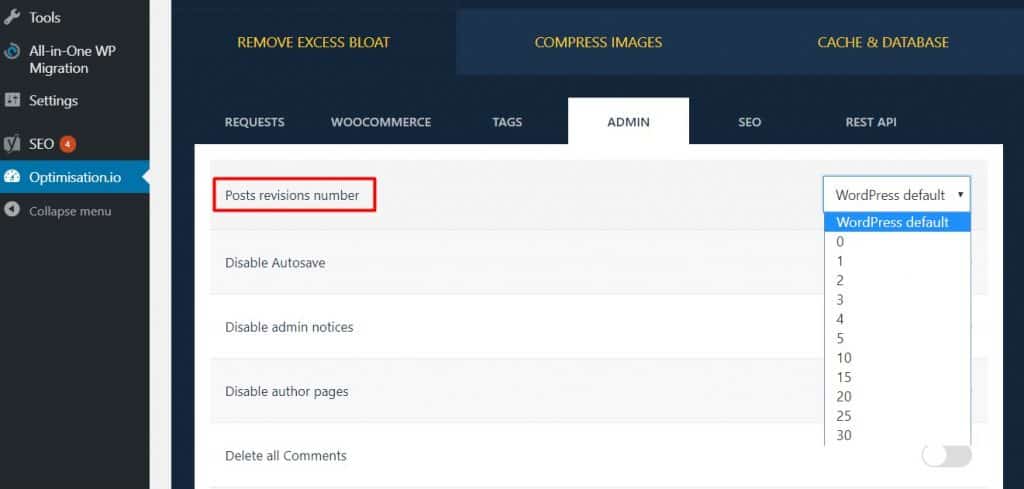 2. At the top, you can see Post revision number settings. Open the dropdown menu and choose the maximum number of revision you want. The maximum is 30.
Disabling WordPress Revision
There are two ways you can disable WordPress revisions: with optimisation.io or by modifying the wp-config.php file.
With the plugin, all you need to do is change the Post revision number to 0.
However, carelessly editing the wp-config.php file can be dangerous, so we recommend to follow the explanation as closely as possible.
Usually, the file can be found in the public_html folder of your website. In our example, it's on hostinger-dev-9.xyz/public_html.
To access the file, you need an FTP client like FileZilla. Alternatively, you can use the Hostinger File Manager. Once you locate the wp-config.php file, open it with a text editor and enter the following line at the bottom of the file:
define('WP_POST_REVISIONS', false);
Once the file is saved, the changes should take place, disabling WordPress revisions.
Conclusion
Post revisions are an essential tool for every WordPress site owner. It is helpful when trying to improve editorial workflow and keeping track of a post's history.
You can view any modifications made to the post, compare them, and get back to one of the previous versions. If your website needs more space, you can delete some of the revisions, limit their number, or even disable the feature altogether.
We hope this tutorial helped improve your workflow. Be sure to check out the Hostinger blog for more helpful content!