Hostinger hPanel Walk Through and Important Settings
In this tutorial, we'll go over the most important hPanel settings and help you get started with navigating the interface. While it might seem intimidating at first, hPanel is intuitive and made with beginners in mind, so don't get discouraged – we'll be going over it together.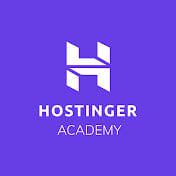 Subscribe For more educational videos!
Hostinger Academy
Subscribe