12 Best Video Hosting Services to Use in 2022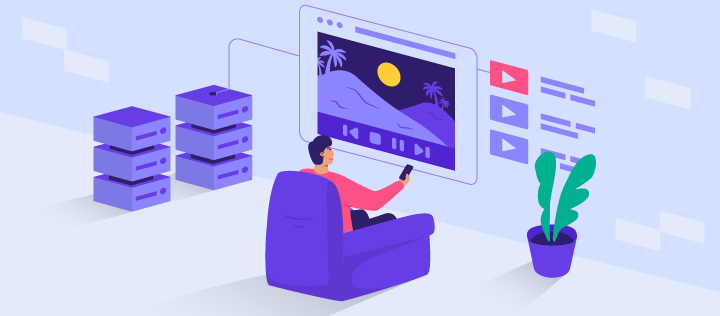 Download eBook: Build Your First Website in 9 Easy Steps
Adding videos to a website is a great way to increase visitors' average time on the site. Videos are also one of the essential tools for an effective digital marketing strategy.
However, video files tend to be large, and uploading videos to your website can take up your server bandwidth and storage space. This can slow down your site and impact its ranking on search engine results pages (SERPs). That's why it's crucial to use a video hosting platform to host your videos.
Video hosting services can store your video files without affecting your web server. These platforms will give a specific link for each of the videos you upload, which you can embed in your site to make the content appear on your web page.
To help you find a provider that suits your needs, we will show you the 12 best video hosting services to use in 2022 and the features you should look for in an online video platform.
What Are the Benefits of Using Video on Your Website?
One of the benefits of using video content is to build trust with visitors. Moreover, adding videos to an eCommerce store can help boost customers' confidence to purchase products or services.
Here are other advantages of adding videos to your website:
Why Should You Use a Video Hosting Service?
Many problems might arise when you decide to host your own videos, such as playback errors, unexpected pauses, and compatibility or quality issues. These can annoy your visitors, leading them to leave your site before they finish watching the video.
The best solution to those problems is to use a video hosting service. There are many benefits of utilizing video hosting sites, including:
Easy to manage – video hosting platforms can integrate with multiple applications, making it easy to publish videos to different channels simultaneously. Users can also edit and quickly remove a posted video.
Automatic backup – even if your site goes down, your videos are still available on other platforms.
Accessible everywhere – video hosting sites can replicate your videos across data centers worldwide, making them accessible in different countries at once.
Time-saving – after uploading your content, video hosting platforms can automatically compress and encode your videos and adjust them to the visitors' devices.
Analytics – many video hosting solutions also let users see each video's engagement, from how many times their videos have been viewed and shared to where their viewers are coming from.
Reduce bandwidth costs – if your hosting company charges you based on the amount of bandwidth used, then utilizing a third-party video streaming provider can help you avoid bandwidth overage fees.
There are a lot of video hosting providers to choose from. Picking one will depend on the users' needs and budget since each platform offers different features and prices.
What to Look for in a Video Hosting Service?
There are several key factors to keep in mind when choosing a video hosting service, such as:
Easy video embeds. Look for a platform that automatically generates links for your videos, helping you add them quickly to your website, blog, landing pages, and articles.
Responsive video player. A video hosting service should provide a player that supports popular video formats and is compatible with any type of browser and device, letting your audience watch high-quality videos on different screen sizes.
Content management. Find video hosting sites that let you store your video files in organized folders and make it easy to sync, view, and share your content.
Video SEO. To attract more visitors to a site, users need to pick a video hosting service that can help make their video content rank high on search engines.
Customer support. Make sure you choose a video hosting company that provides a knowledge base or customer support to help you solve any issue related to your videos.
Analytics. To help you create better videos and effectively engage with your audience, find a provider that provides helpful information about your content and viewers' behavior.
To help you find the best video hosting solution, we've collected free and premium platforms worth checking out.
Top 7 Free Video Hosting Services
Starting with free video hosting services is best for people on a tight budget or those who want to learn how a platform works before committing to it.
Here's what each of these free and freemium video hosting sites have to offer.
Platform Stats
Notable features: unlimited storage, vast audiences, comment section
Best suited for: increasing brand awareness and reaching new audiences
Price: free
YouTube is the most popular video hosting site, with over 2 billion viewers worldwide. Aside from hosting videos, this platform also lets you watch and subscribe to other accounts.
In addition, YouTube can help boost your brand's visibility on search engine results. There are also many practices that can help you improve your video exposure on the platform.
Viewers can add comments to your videos, helping you build relationships with your audience and potential customers. YouTube will also notify you through email when there is a new comment on your video.
Using artificial intelligence and machine learning, YouTube can detect copyrighted music and images right away upon upload. It will also disable these elements if the content creator doesn't have permission to use them. This can prevent users from accidentally violating copyright.
Users can also earn money with the YouTube Partner Program. To join this partnership, content creators need to have at least 1,000 subscribers and live in a country that supports the program.
In terms of analytics, YouTube provides key metrics and reports of the videos' performance, such as watch time, views, reach, and engagement. This platform also features a line chart showing how the data has changed over time.
However, YouTube displays a branded player when you embed a video on your site, showing its logo and the title link of your video. This can make a visitor go to YouTube instead of staying on your site.
Besides, since YouTube makes money from advertising, this free video hosting solution has many ads on the site and within the video player, which can be annoying as people watch your videos.
Hosting videos on YouTube is free. Aside from getting unlimited storage, users can also upload up to 15 videos at once, with a maximum file size of 128 GB or 12 hours of video length.
Overall, YouTube is an excellent option for creators or business owners who want to reach a wider audience and monetize their content.
Platform Stats
Notable features: high-quality player, customization options, privacy controls
Best suited for: displaying high-quality video content
Price: freemium, paid plans start at $7/month
Vimeo is a video hosting site that focuses on delivering high-definition (HD) videos across different devices.
Vimeo provides a 4K video playback option – your audience only needs the required bandwidth and screen resolution to view them.
This is an excellent feature for creators to showcase special content like a video campaign, commercial, film, or music videos.
Uploading videos to Vimeo is simple. Users can drag and drop a file from their desktop or connect their account to a cloud service, such as OneDrive, Google Drive, or Dropbox.
Additionally, Vimeo users can edit and update a video after it has been uploaded without losing its analytics. It's also possible to replace your video content if there are some mistakes in it.
One of the pros of Vimeo is its privacy controls, allowing you to choose who can see your videos. Using this feature, you can make a video visible only to selected team members, restricting the access of unauthorized viewers.
With Vimeo's free plan, a creator can only upload up to 500 MB per week, with a total storage limit of 5 GB, lower than what YouTube offers. This video hosting company also limits the number of videos you can upload to 10 per day.
However, unlike YouTube, Vimeo's site and video player are free from ads since this platform makes money on memberships.
Vimeo has four premium options, ranging from $7-$75/month. In addition to offering more storage, paid plans give you access to advanced analytics, live video streaming, password protection, and player customization.
Vimeo supports high-definition videos out-of-the-box, which is suitable for people who produce high-quality content, such as artists, filmmakers, and other creative workers.
Platform Stats
Notable features: customizable player, ad integration and management, video analytics
Best suited for: creating unique video players
Price: free
The next video hosting provider on our list is Dailymotion. It's the second-largest social video platform, just behind YouTube, with over 300 million monthly viewers.
Providing customizable players, Dailymotion gives users the freedom to modify their player's appearance and behavior, from adding a logo to changing the color of the progress bar to fit their brands better.
It's also possible for people with coding experience to customize the player via Dailymotion's application programming interface (API).
Like YouTube, Dailymotion includes ad integration and management, allowing content creators to earn revenue from uploaded videos. This social video sharing site displays three main types of in-stream advertisements within its video player – pre-roll, mid-roll, and post-roll.
To help users optimize their content performance, Dailymotion also provides several video analytics tools such as Google Analytics integration and data export.
With Dailymotion, users can upload a video file with up to 2 GB in size and a maximum video length of 60 minutes. Similar to Vimeo, this platform limits the number of video uploads to 10 per day.
Keep in mind that it's essential to join Dailymotion's partner program to start earning revenue from videos and take advantage of all this video platform's features.
Dailymotion is ideal for creators or businesses who want to create branded video players, as it offers the flexibility to customize them to their liking.
Platform Stats
Notable features: video ads, sound-off video, video series and playlists
Best suited for: creating a social media video marketing strategy
Price: free
Facebook is a social media and messaging site which is also used as a video sharing platform. Over 4 billion videos are watched on this site every day.
Facebook comes with an excellent ads manager, providing the demographic data and personal information needed to help increase your content's ability to attract potential customers or visitors.
Moreover, Facebook lets creators organize their videos into playlists or series, which also helps the platform suggest content to the viewers.
Since most Facebook users watch videos without sound, your video will also be muted by default. Thus, it's important to use visual elements like product images and captions to communicate your message when using this online video site.
Although Facebook has a vast audience, this platform lacks organic reach. Without using ads to promote them, your videos will only appear on the news feed of people who follow your account.
Facebook supports almost all types of video formats, but it recommends that you use MP4. It also limits the video file size to 10 GB.
Due to its targeting capabilities, Facebook is an excellent option for business owners who want to reach their target audience by sharing videos on social media.
Platform Stats
Notable features: video optimization, video recording, unlimited video hosting
Best suited for: adding a CTA on a video and recording screen
Price: freemium, paid plans start at $15/month
Vidyard includes many excellent features aimed at businesses that want to use their video content as a marketing tool. For instance, users can add calls-to-action (CTAs) to videos, letting their viewers take the next step directly from the content.
Vidyard also comes with built-in screen recording tools, a helpful feature in cases like remote onboardings, team updates, and customer presentations.
With Vidyard's free plan, you'll get unlimited video hosting, up to one-hour video recording, and video search optimization. Unfortunately, you can online embed five links on your website with this option.
If you want to get Vidyard's priority customer support and other advanced features, it's essential to pick one of its premium plans, ranging from $15 to $1,250/month.
Overall, Vidyard might be the best solution for businesses that want their viewers to take action right after watching a video. It's also great for those who wish to provide "explainer videos" using the platform's screen recording feature.
Platform Stats
Notable features: engagement analytics, player control options, video heatmaps
Best suited for: tracking viewers' activity
Price: freemium, paid plans start at $29/month
Spotlightr allows you to host videos on its cloud servers, ensuring your video content loads fast and plays smoothly on any device or browser.
Providing engagement graphs, Spotlightr lets its users see the viewers' activity in one place. This can be useful for educators or coaches who want to track their students' progress and see what parts of the video they skip, watch again, and complete.
Spotlightr's video player also comes with control and manipulation options, such as disabling pauses, limiting plays, and showing or hiding the progress bar.
Getting started with Spotlightr comes at no cost. With the free plan, creators will get 5 GB of storage and a limit of five videos.
To access other features such as an unbranded player and social sharing widget, users need to purchase Spotlightr's premium plan that costs $29/month. This paid option also includes 100 GB of storage and unlimited videos.
Due to its engagement analytics, Spotlightr is a great option for teachers or educational website owners to track their audience's activity and progress.
Platform Stats
Notable features: A/B testing, unlimited users, advanced analytics
Best suited for: promoting a brand and driving growth
Price: freemium, paid plans start at $99/month
Wistia is another popular video hosting site that is also worth trying. It comes with the tools needed to promote your brand and business with videos.
Wistia includes an advanced analytics dashboard, providing data such as engagement graphs, viewer-based tracking, and video heatmaps. This feature can help businesses to make informed video marketing decisions.
Another plus point of Wistia is its A/B testing feature, which allows users to compare two videos and get insights about their performance on the site.
Wistia also offers collaboration tools such as unlimited users, comments, permissions, and password protection, making it an excellent option for those who work in a team.
When choosing Wistia's free plan, users will get 200 GB of bandwidth per month, up to 250 subscribers, and three videos to upload with a maximum file size of 8 GB for each video.
To customize the Wistia-branded player, creators need to pick one of this platform's premium plans, which start at $99/month. Wistia will also charge $0.25/month for every additional video upload.
Wistia is a suitable choice for marketing professionals and data-driven businesses who want to use videos to drive growth.
Top 5 Premium Video Hosting Services
If the free and freemium video hosting services don't offer what you need, consider using a premium video hosting solution.
Let's take a look at five premium video hosting services that are worth investing in.
Platform Stats
Notable features: live video streaming, video libraries, marketing automation tools
Best suited for: monetizing videos with ads
Price: custom
Brightcove comes with various video hosting options, including live video streaming, video marketing tools, and fast load speeds.
Brightcove is a video-centric content management system (CMS) with special tools like drag-and-drop playlists and batch editing. This helps users to organize and manage their video library easily.
With Brightcove, users can add live video streaming directly to their website. Creating clips during the live stream event and publishing them on your social media channels is also possible.
This online video platform also comes with advertising features with metadata-driven ad insertion and built-in integrations with major ad networks, allowing users to monetize their content with ease.
However, since Brightcove is designed for enterprises, this online video platform has a steep learning curve and might be challenging to use for beginners or small business owners.
Brightcove offers three plan categories for different purposes, such as marketing, enterprise usage, and monetization. Each option comes with a custom price, so users need to contact the company to determine their plan's cost.
The Starter Marketing plan, for example, includes a limit of up to 200 videos, 100,000 plays, performance and engagement analytics, and email customer support.
Brightcove is one of the best video hosting services for businesses that generate revenue from their content, like broadcasters, publishers, content creators, and media companies.

Platform Stats
Notable features: robust security, video analytics, custom video players
Best suited for: securing video content
Price: starts from $24.99/month
SproutVideo is a video hosting platform that makes it easy to customize and share videos online. It also includes all the marketing, security, and analytical tools needed to create successful video projects.
Offering robust security, SproutVideo comes with features such as password protection, single sign-on (SSO), and login protection. These tools let you secure viewing, authenticate viewers with your existing identity provider, and assign individual credentials.
SproutVideo also allows users to restrict access to their videos based on specific IP addresses, URLs, and geographic locations.
When it comes to its video player, SproutVideo supports ultra HD videos in 4K and 8K, making the content look clean and impressive on your web page.
SproutVideo comes with a 30-day free trial and four pricing plans, from $24.99 to $499.99/month. The basic plan offers 500 GB of bandwidth and storage and customer support via email and live chat.
Something to consider before choosing SproutVideo is that it will charge $0.25/GB for additional bandwidth and storage.
If you are looking for an easy-to-use online video hosting platform that comes with powerful security, consider choosing SproutVideo.
Platform Stats
Notable features: payment and monetization tools, picture-in-picture (PiP), video SEO,
Best suited for: starting video businesses
Price: starts from $49/month
Uscreen is one of the best video hosting sites for selling videos online or launching a video subscription service without coding or hiring a developer.
With its monetization features, you can offer subscriptions, one-time sales, rentals, and free trials for visitors. Moreover, Uscreen lets you accept payments in more than 130 international currencies via popular providers like Stripe, PayPal, and Authorize.net.
Uscreen also provides a picture-in-picture (PiP) feature, which is a small and adjustable video player. Viewers can effortlessly move this player around their screens and keep watching the video while switching their tabs or screens.
This online video hosting platform offers a 14-day free trial and three plans starting at $49/month. Its lowest-tier option has unlimited streaming and bandwidth, 3,000 minutes of video storage, and 24/7 email customer support.
To get more video storage and third-party integrations, feel free to upgrade to its Amplify plan, which costs $399/month.
However, selling subscriptions with Uscreen will require you to pay $0.50/subscriber every month. In addition to that, this platform also charges a 5% fee on every transaction.
Uscreen is an excellent option for educators, business owners, interest groups, or creators from various industries aiming to stream content and take payments without hassle.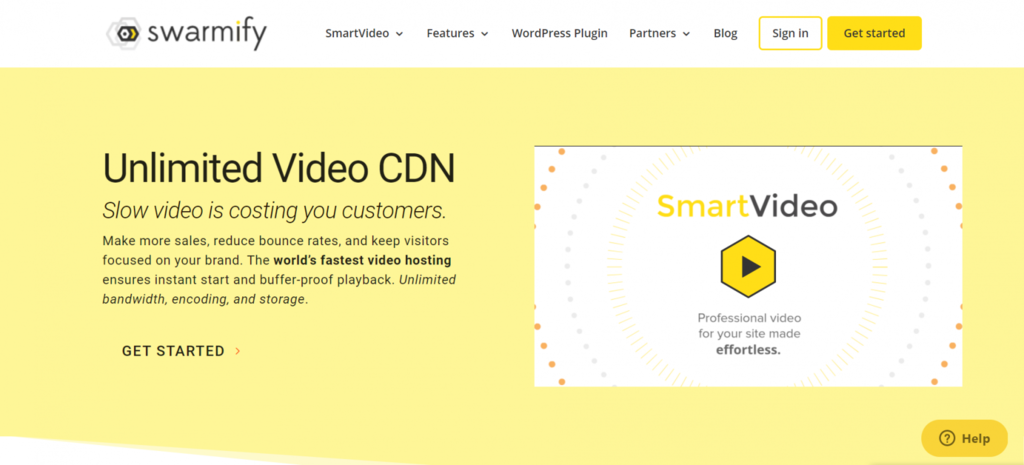 Platform Stats
Notable features: fast load speeds, real-time analytics, no bandwidth limit
Best suited for: sharing video content with a customizable player
Price: starts from $29/month
Swarmify is a video hosting company that offers a fast video experience. It features a video content delivery network (CDN) to deliver consistent video streaming speed and quality, ensuring your visitors worldwide can enjoy HD videos without delays.
Swarmify's video player is free from links and branding, keeping visitors on the site. It's also customizable, letting creators use their own logo and match the video player's colors to their website.
Even if you use YouTube, this video platform can place all of your YouTube embeds into its player automatically, making them free from clutter as well.
Swarmify comes with three pricing plans. Its cheapest option costs $29/month for unlimited video hosting, background video acceleration, and up to 50,000 views. However, users have to pay $1 for every 1,000 views above the plan's fair usage limit.
This video hosting service also offers custom pricing for enterprises that need customizable video views and 24/7 customer support.
For small and medium-sized business owners who are looking for a fast and unbranded video player, Swarmify might be the best video hosting service to try.
Platform Stats
Notable features: ad-free video channels, automatic SEO, supporting many video formats
Best suited for: adding a unique and ad-free video channel to a site
Price: starts from $25/month
Cincopa is one of the best video hosting platforms that offer various services such as slideshows, image galleries, music catalogs, audio collections, and video players.
Using Cincopa, users can create and embed an ad-free video channel on their websites. Moreover, this video platform lets them tweak their channel's design. It is possible to change the colors, select a header image, and add company messages.
One of the pros of Cincopa is its video SEO tool, which can automatically optimize web videos for search engines. This helps to bring more visibility to video content and drive traffic to the site.
Plus, this video platform supports many types of video formats, ensuring that they'll be accessible on any device and browser.
Cincopa offers three paid options that start at $25/month. Each plan comes with live video streaming, advanced analytics, a mobile app, and customer support.
The maximum file sizes, ranging from 2 GB to 30 GB, also change depending on the plan you choose.
Coming with ad-free video channels and video SEO, Cincopa is excellent for businesses that want to use videos to increase engagement and generate leads.
Conclusion
Adding videos can bring many advantages to your site and business, from building trust with clients to increasing conversions.
However, hosting video files on your own web server can cause several issues, like playback errors and slow loading pages.
Using a video hosting service can help display video content on your site without exceeding server bandwidth and storage limits. Many online video platforms also allow you to manage and share videos with ease.
After checking the list of the 12 best video hosting sites above, you know that each service has different pros and cons. Thus, it's crucial to consider your needs before choosing one to get started with.
Let's recap the 12 top video hosting services to get you started:
YouTube – best free platform for increasing brand awareness and reaching new audiences.
Vimeo – best value for money.
Dailymotion – best for personal use.
Facebook – best for reaching your target audience.
Vidyard – best for video optimization.
Spotlightr – best for tracking the audience's activity and progress.
Wistia – best for small to medium businesses.
Brightcove – best for medium to large businesses.
SproutVideo – best for securing video content.
Uscreen – best for launching a video subscription service.
Swarmify – best for making videos load fast on any device.
Cincopa – best for adding a video channel to a site.
Whether you pick a free or a premium platform, ensure that the video hosting service has such key features as embedded links, responsive video players, video content management, SEO tools, customer support, and analytics.
All in all, we hope this article can help you find the best possible video host to meet your needs.
Was this tutorial helpful?