The Rise of the .ai Domain: From Anguilla to AI Powerhouse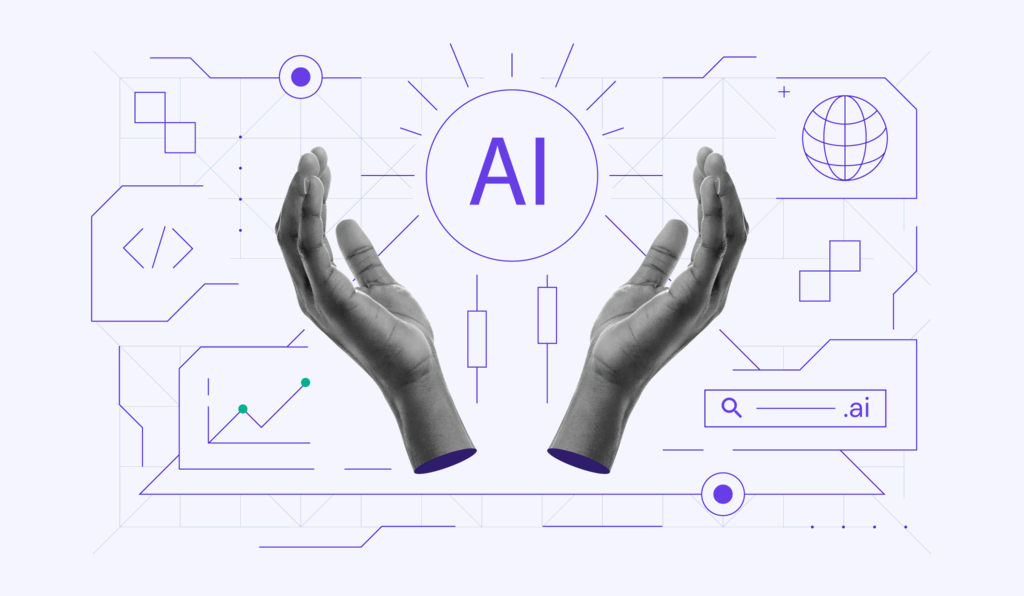 With artificial intelligence (AI)'s explosive growth, "ai domain" searches have skyrocketed 203% in just a year, fueled by game-changers like ChatGPT.
Although .ai began as Anguilla's country code, it's now seen as the go-to domain extension for AI-centric endeavors. Its growth rate has overtaken the market leader .com, as well as .io and .tech – which are popular among tech websites.
This trend is driven by big tech moves in the US and Europe, indicating its prominence online. In fact, tech giants like Google and Microsoft use .ai domains to point users to their AI innovations.
Hostinger's Domains Product Manager, Klaudijus Januitis, remarks: ".ai domain signifies more than just an online presence. It's a bold statement of being at the forefront of tech advancement."
How AI Is Changing Domain Search Trends
AI has taken the world by storm, and its effect on the domain market is evident.
According to Google Trends, the "ai domain" search term has grown by 203% in the past year, with over 18,000 searches/month. One of the main factors driving this trend is ChatGPT's release on November 30, 2022.
Its success has led organizations worldwide to build their own AI-based services, urging them to secure their own .ai domains. As a result, Google now treats .ai not merely as a country-targeted top-level domain (TLD) but as a generic one, acknowledging its widespread use in the tech industry.
When comparing "ai domain" searches with "com domain," the latter has been noticeably stagnant in the past year. This underlines the monumental shift surrounding AI despite .com's dominating search popularity.
The graph below illustrates the sharp uptick in "ai domain" searches after ChatGPT's launch and compares them with "com domain" trends: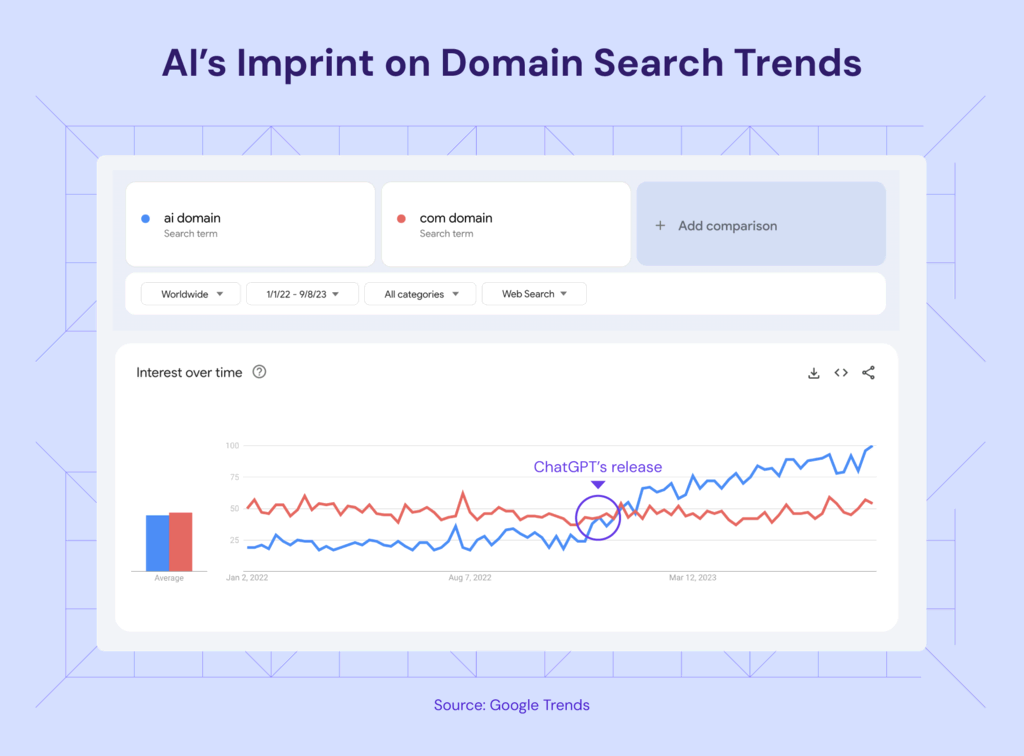 .ai's Disruptive Domain Growth: Key Findings
Over the past year, the number of registered .ai domains grew from 75,314 in July 2022 to 196,292 in July 2023 – marking an impressive increase of 160.77%.
The demand for the .ai domain has increased so rapidly that it has surpassed older domain extensions.
While .com remains dominant in the domain market share, it grew just 24% last year – rising from 202 to 251 million. The scarcity of desirable .com variations limits options for new registrants.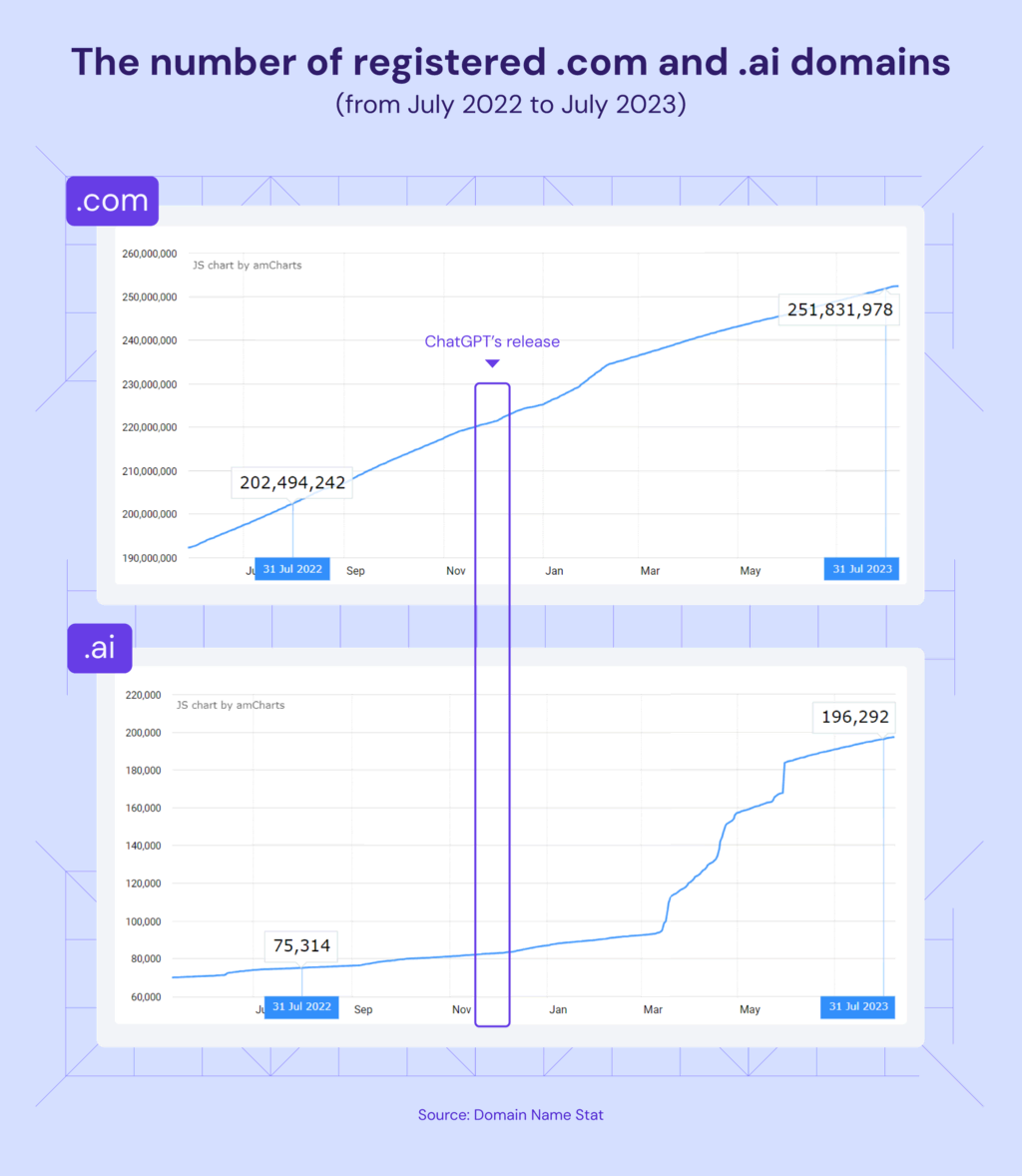 The same goes for .tech and .io TLDs, which are popular choices among tech companies. The number of registered domains increased by 52.25% and 32.6%, respectively.
Interestingly, the revenue from .ai domain registrations has become a significant economic contributor for Anguilla.
In 2018, those fees totaled $2.9 million, which is equivalent to the salary sum of 127 administrators, assistants, and teachers in the territory. It's a staggering amount, considering Aguilla's estimated population of around 15,000.
.ai's Global Footprint: Top Country Breakdown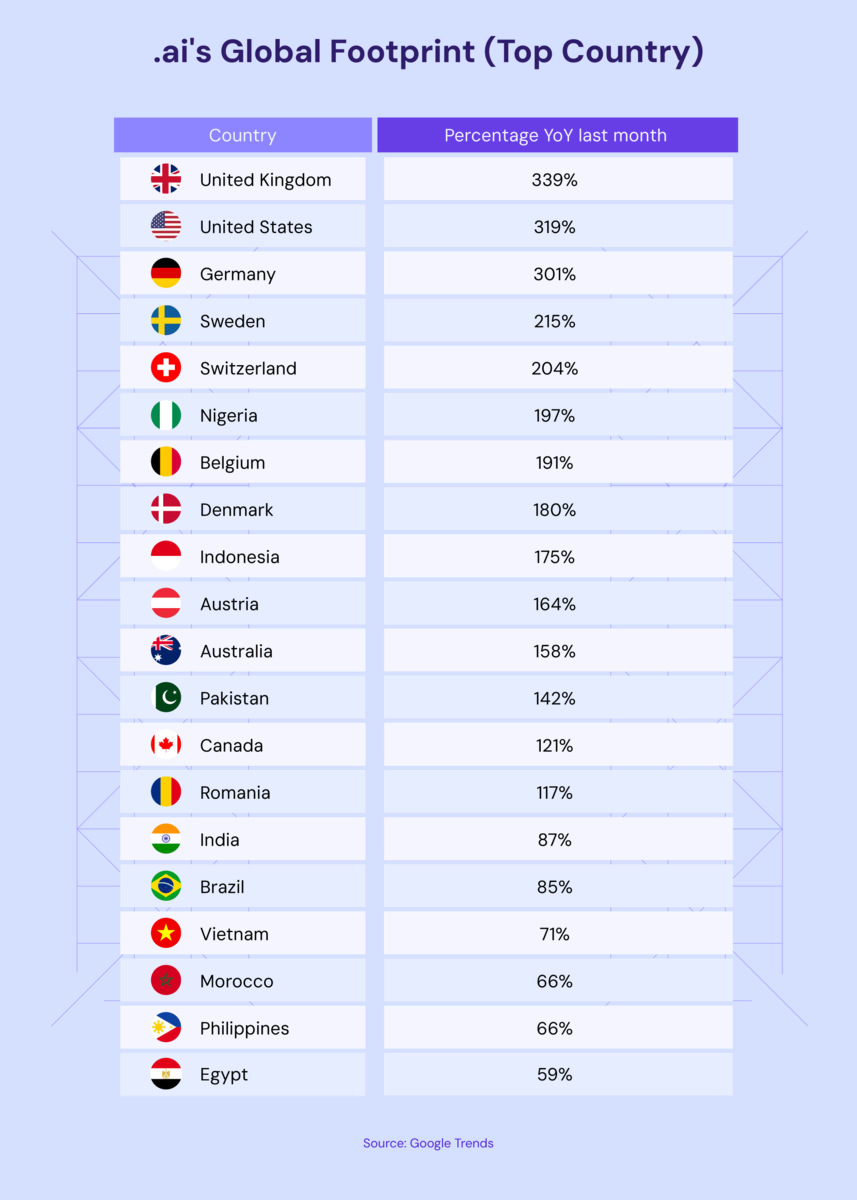 Besides analyzing global .ai domain growth, we delved into trends in key countries driving this surge.
United Kingdom
.ai Domain Stats
+339% YoY growth rate in the search volume for "ai domain"
Europe's highest number of AI startups, with 334 companies
University of Cambridge – the 2nd highest number of Europe-based AI founders
In recent years, the UK has emerged as a hotspot for AI innovation. London alone is home to a whopping 80% of the country's AI companies, including big names like DeepMind, Google's AI research lab.
Many UK companies sporting the .ai domain are making waves in the data analytics sector. Take iGenius, which has created a virtual advisor for data analytics, or Evolution, a game-changer in automated data extraction.
United States
.ai Domain Stats
+319% YoY growth rate in the search volume for "ai domain"
1st globally in AI investment
World's largest hub of top-tier AI researchers
The US ranks second in the .ai domain search growth, which is no surprise given the country's booming AI industry. Many organizations brand themselves with the .ai TLD to signify their commitment to AI-driven solutions.
American companies across various sectors are embracing the .ai extension. Energy firms like C3 AI and marketing platforms like Copy.ai lead the charge.
Germany
.ai Domain and AI Innovation Stats
+301% YoY growth rate in the search volume for "ai domain"
2nd highest number of AI startups in Europe, with 167 companies
Technical University of Munich – Europe's top source of AI founders
Germany stands tall in Europe's AI arena, serving as a hub for elite AI talent. The Technical University of Munich is especially renowned for nurturing AI innovators.
German companies embrace the .ai domain trend. While Vara.ai from Berlin is making strides in breast cancer diagnostics, SPREAD leverages its engineering intelligence network to enhance efficiency and cut costs throughout the product lifecycle.
Sweden
.ai Domain Stats
+215% YoY growth rate in the search volume for "ai domain"
2nd globally in AI-friendly regulations and public opinion
Stockholm – Nordic capital with the most AI startups
Swedish companies rank among Europe's AI elites. In a Microsoft survey, half of the Swedish companies showcased they're at the 'released' and 'advanced' stages of AI maturity – a figure that towers over Europe's average of 32%.
This AI maturity is reflected in their AI ventures, too – from agriculture and business to arts and recruitment. Noteworthy mentions include Depict, revolutionizing eCommerce merchandising for fashion, and Kive, redefining creative processes with its AI-powered visual asset library.
Switzerland
.ai Domain Stats
+204% YoY growth rate in the search volume for "ai domain"
2nd highest number of AI startups per million people in Europe
3rd largest hub of top-tier AI researchers in Europe
One of the richest countries in Europe, Switzerland is making its mark in the AI scene. ETH Zurich, a leading public research university, is one of Europe's top sources of AI founders. Plus, nearly 80% of Swiss companies have some level of AI strategy.
The .ai domain is a hit here, serving a diverse range of companies. Check out Viso, a no-code platform for cutting-edge computer vision apps, and Daedalean, a trailblazer in autonomous aircraft piloting systems.
.ai: The Future-Forward Domain
Today, building a strong online presence means aligning with emerging tech trends. With the rise of AI in both business and consumer demands, showcasing a future-ready digital identity is crucial.
The .ai domain does just that. While .com is still king, .ai domain growth is meteoric and shows no signs of slowing down. Choosing .ai can position you as the leader of AI-driven opportunities.
Klaudijus Januitis, our Domains Product Manager, weighs in: "The rise of the .ai domain reflects the rapid growth of the AI industry. This TLD resonates with us here at Hostinger, where AI isn't just an additional feature but is at the core of our innovation. Simply put, .ai is not just a domain extension – it's a testament to leading the charge in technological progress."
Data Sources
We gathered data from Google Trends and Domain Name Stat between July 31, 2022, and July 31, 2023. We also referred to the following resources for each country's AI stats: