Is Instagram Enough For My Business
An Instagram for Business account is a must for every online brand. It's a great way to gain visibility for your business and build a community of loyal customers.
The Instagram Shops feature lets you create a fully functional Instagram store, which includes Product Tags, Collections, and even a possibility to checkout without leaving the app.
Considering that 87% of users admit to being influenced by Instagram when making an online purchase, this feature is a great way to show off your products and increase revenue.
However, is Instagram enough to truly grow your business? Is it sustainable long-term?
Instagram for Business
Instagram's ever-growing popularity makes it an excellent place for gaining brand recognition. There's no denying that Instagram can be a fantastic marketing tool if the right strategies are applied.
While it's fully equipped to help you sell your products, using the platform alone is not enough if you're serious about growing your business. Here's why:
Instagram is not designed to be a store. While the Shops feature provides the essential tools for selling products, Instagram is not a fully-fledged eCommerce platform. It's a social media platform first and foremost, which means regular eCommerce feature updates are unlikely.
Limited branding and customization options. While you can have a custom bio description for your Instagram business account, you will not be able to customize the page design to match your branding fully.
Limited product display. If you sell only one type of product, the Instagram Shop product display will be sufficient. You can even group sets of products into Collections. However, if you sell a wider variety of products, your page will likely become cluttered as there's no proper way to categorize them.
Not sustainable long-term. The only way to keep your Instagram store visible is by paying for advertisements. This method may work for now, but it's too expensive to upkeep long-term. In comparison, a website comes with a large variety of different ways to bring in organic traffic.
Considering the issues above, a website is the best course of action for a growing business. You can design it the way you want and implement various long-term marketing strategies to organically grow your traffic over time.
How to Create a Website for Your Business
One of the best ways to create an online store that will look and function exactly the way you want is by using WordPress. This content management system lets you build websites of any type and for any purpose.
Here's how you can build an online store with WordPress in three easy steps.
1. Find a Suitable Web Host
The first step is to organize web hosting for your WordPress website. Hostinger's managed WordPress hosting plans start at ₱109/month and come with everything a growing eCommerce business may need.
The most basic hosting plan, Premium web hosting, includes a free SSL certificate, a professional email account, and a protection for added security. It's a great starting point for an online business that's ready to take the next step and open up an official online store.
More advanced hosting plans include additional benefits that cater to businesses with more traffic and products. See which option suits your current needs, and keep in mind that you can always scale up your hosting plan.
2. Register a Domain Name
A domain name acts as an address that your customers will use to access your online store. It has to be short, memorable, and easy to spell.
If you already have ideas for your domain name, use a domain name checker and see if it's available. If it's not, use our domain name guide to help you come up with a great alternative.

Keep in mind that most of our hosting plans included a free .com domain for a year. Make sure to check your web hosting plan before you make a purchase.
3. Install WooCommerce and Build Your Store
WooCommerce is a free eCommerce plugin for WordPress that can turn any website into an online store. The setup wizard is available to walk you through the process, letting you create an eCommerce website with ease.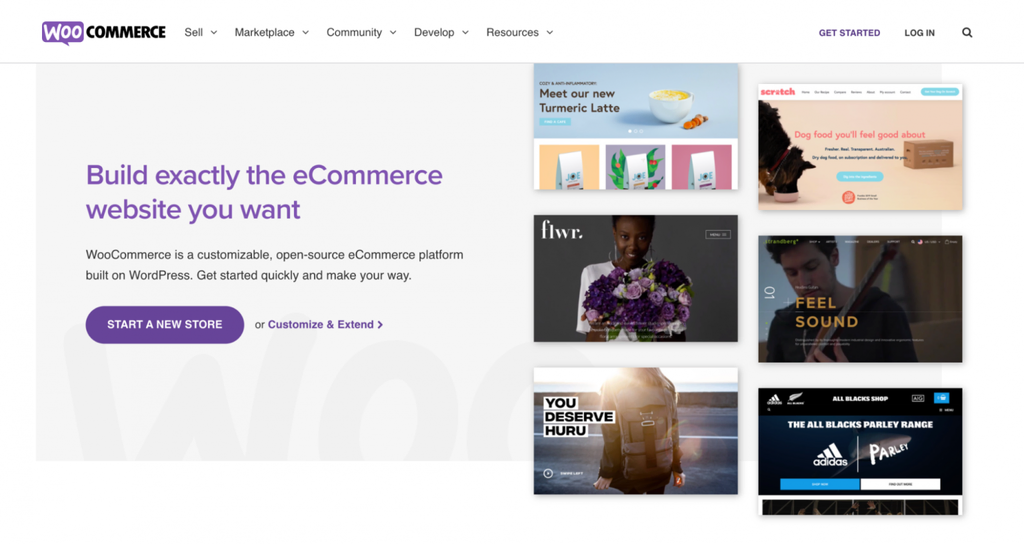 WooCommerce automatically comes with the essential eCommerce site functions, including payment gateways, an order management system, and shipping options.
It also has an extensive collection of themes and extensions available to help you customize your store's functionality and design further.
If you need inspiration or help with building your online store, check out our step-by-step WooCommerce guide.
How to Use Instagram to Drive Traffic to Your Site
The good thing about creating a new eCommerce website is that your Instagram efforts don't have to go to waste.
Here are a few ideas on how you can use your existing Instagram following to drive traffic to your online store:
Include a link to your website in the Instagram bio.
Promote your products on Instagram stories with links to your website.
Always include a link to your website under posts.
Connect your Instagram store to your website.
You can also install an Instagram plugin to your new website to connect it with the social media account. That way, people who visit your site can also check out your Instagram account without much hassle.
Conclusion
An active Instagram account with plenty of followers is great for any online business. It's an excellent place to market your products and gain visibility for your brand.
However, it's not a sustainable long-term platform for running a business without an official website to drive the traffic to. After all, paid advertising only pays off when it's turned into organic traffic.
Lucky for you, it doesn't take an IT expert to build a website. In short, you can launch an online store in three steps – get hosting, buy a domain name, and install WooCommerce.