How to Scale a Freelance Business: 12 Strategies to Increase Revenue and Gain New Clients
If your freelance business has a good reputation and a steady stream of clients, it may be time to scale your business and reach new heights.
In this article, we will explore how to scale a freelance business in 12 steps. We will cover everything from evaluating your current business performance to setting goals, expanding your client base, and increasing rates.
Scaling your business can be a great way to boost revenue, improve efficiency, and reach a wider audience.
For this, equipping yourself with the proper strategies is essential for growth. By following the tips in this article, you can scale your freelance business successfully.
Download Web Design Proposal Template
How to Scale a Freelance Business
The global freelance market size is expected to reach more than $12 billion by 2028. This means that there is growing demand, providing an opportunity to scale your freelance business and reach more customers.
Let's learn the ways to scale a freelance business below.
1. Evaluate Your Current Freelance Business
Knowing its strengths and weaknesses will help you scale your freelance business. Here are the steps to examine your business' current capabilities and performance:
Determine Your Capacity
Take note of the number of projects you can comfortably handle within a given timeframe. Determine if your workload aligns with your desired business growth.
Monitoring freelance performance is important for ensuring that you are able to deliver quality results to your clients consistently.
Analyze Strengths and Weaknesses
Once you have a good understanding of your workload capacity, start to identify your strengths. What aspects do you excel at? What skills set you apart from other freelancers? What value do you provide that attracts customers the most?
Your strengths could be specific skills or unique selling points, such as 3D web design, conversion-oriented copywriting, or an end-to-end web development service.
At the same time, in the process of scaling freelance operations, it is crucial to be honest in assessing your weaknesses. Acknowledging them enables you to focus on refining and enhancing your skills.
Identify Areas for Improvement and Growth
Based on your evaluation so far, pinpoint areas that have the potential to attract higher-paying clients. Look for opportunities to enhance or bundle your services, increase profitability, and explore new markets.
Then, consider your clients' feedback, run a Strengths, Weaknesses, Opportunities, and Threats (SWOT) analysis, and assess your skills.
For example, if you are a graphic designer, consider focusing on the digital product market. Or, if you are a copywriter, you can specialize in writing marketing materials for social media channels.
2. Set Goals and Track Progress
To scale your business, having goals is important to establish your purpose and keep you on track. They also help you stay focused on the overall objective of your freelance business amidst challenges.
Below are some tips for setting goals and tracking freelance business growth:
Make Specific, Measurable, Achievable, Relevant, and Time-Bound (SMART) Goals
This approach ensures your goals are well-defined and realistic, making it easier to track and evaluate your progress. Follow these steps to outline your business objectives:
Specific. Decide on exactly what you need to achieve. For example, instead of saying, "I want to grow my business," you could say, "I want to increase my monthly freelancing revenue by 30% by the end of the year."
Measurable. Tracking your progress requires having quantifiable goals. For example, instead of saying, "I want to be more productive," try, "I want to complete 10 projects per month."
Achievable. If your goals are too easy, you won't be motivated to achieve them. If your goals are too difficult, you might be discouraged and give up. So, make sure to set realistic, growth-driven goals.
Relevant. The goals should match your overall business objective. For instance, if you want to build a strong online presence, then a relevant goal would be to increase your website traffic by 20%.
Time-bound. Set a deadline so you know when you need to achieve the goals. That way, you can recap your achievements and adjust your approach to improve future outcomes.
Use Key Performance Indicators (KPIs)
Identify relevant KPIs that align with your operations to scale your business.
KPIs are quantifiable metrics that provide insight into your business' performance. Regularly monitor these indicators to gauge the effectiveness of your strategies and make data-driven decisions.
Utilize Progress Tracking Tools
Utilize project management or productivity tools to monitor your progress effectively. There are various options, so we recommend conducting thorough research and testing different platforms to find which ones are most suitable.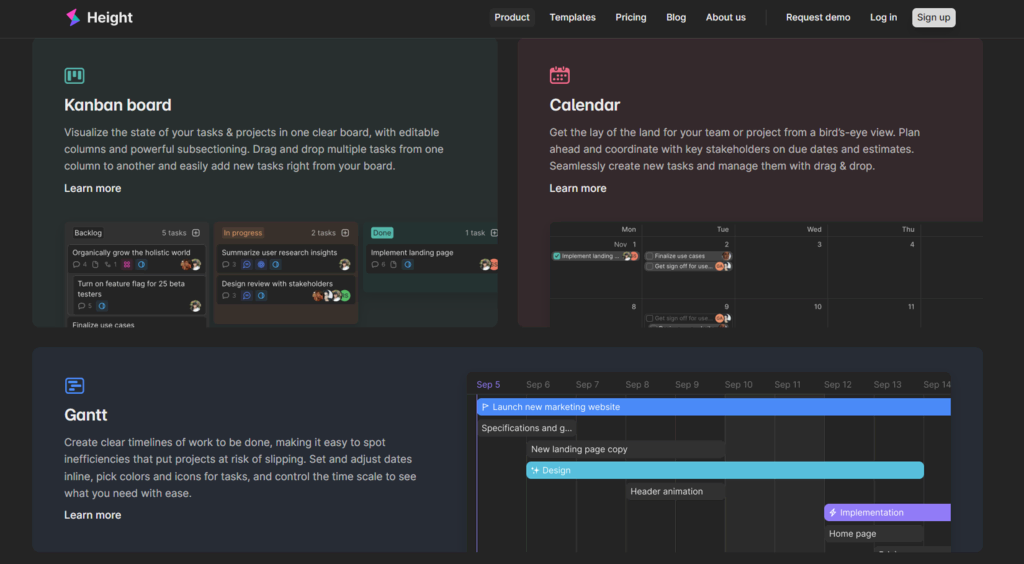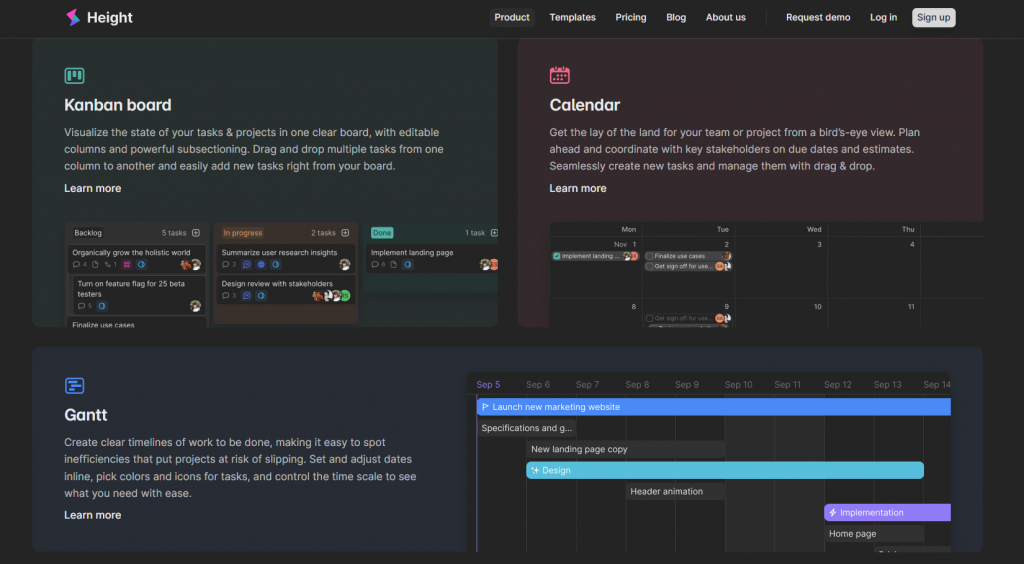 For instance, one of the best administrative tools for freelancers, Height App, provides Kanban, Gantt, and calendar views, helping you better visualize projects and stay on top of tasks.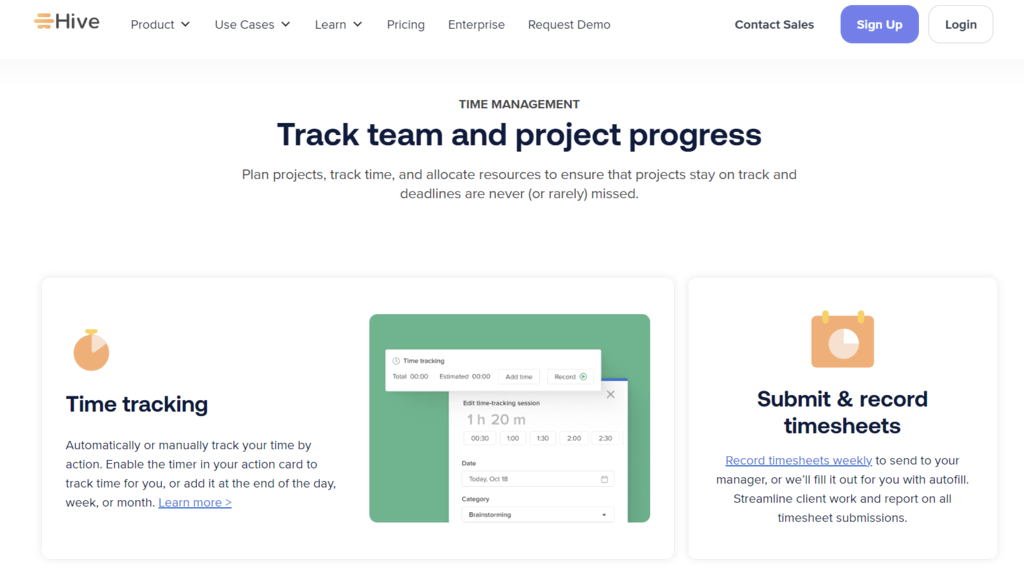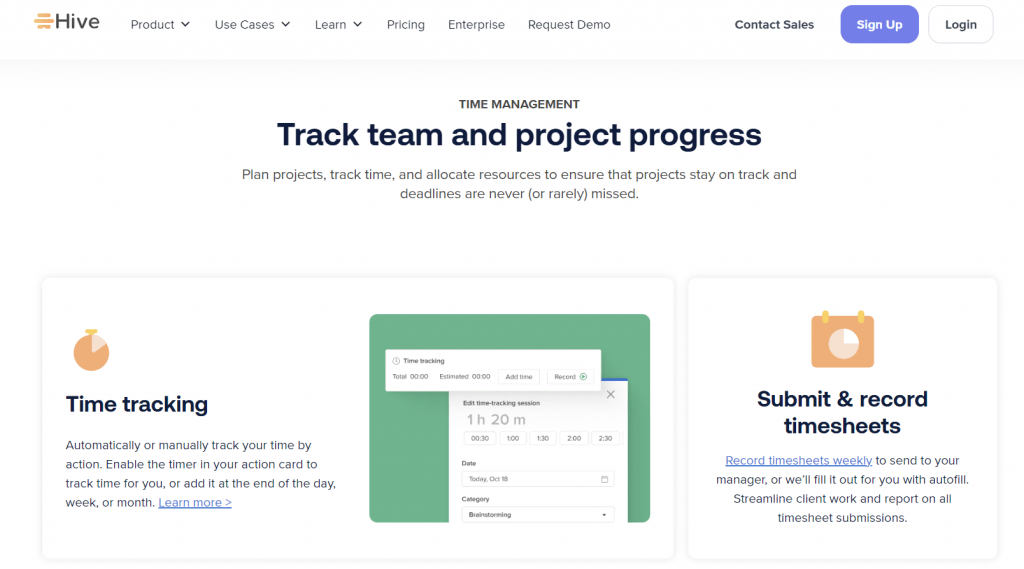 Another tool option is Hive, where you can utilize the time-tracking feature to oversee each project's progress and important tasks.
Tools like this help with workflow optimization for freelancers, letting you stay organized and focused on different client projects.
Do Regular Assessments
Schedule periodic assessments to evaluate your progress and see what you can improve. This can be done weekly, monthly, or quarterly, depending on the nature of your goals.
For example, maybe too much time was focused on a task that could've been automated. Or, perhaps your current client acquisition platform isn't yielding the desired results. Reflect on your achievements and conduct customer reporting to identify areas for improvement. Then, adjust your strategies accordingly to scale your business.
However, remember to acknowledge and celebrate the milestones you achieve along the way. As you grow a freelance business, recognize the progress you and your team have made to motivate further growth.
3. Streamline Your Operations
Efficient operations are the backbone of a successful freelance business. When you streamline your workflows, you save time, reduce errors, and improve overall productivity. This optimization lets you focus on what matters most – delivering outstanding service for clients.
Optimizing workflows brings several advantages to your freelance business. First, it can increase your operational capacity to handle more tasks without compromising on quality.
It also helps you to meet deadlines consistently. This leads to greater customer satisfaction, potential referrals, and returning clients. Additionally, you can improve your work-life balance as a result.
Start streamlining workflows by identifying tasks you frequently perform and delegate or automate them. Utilize productivity tools such as task schedulers, email templates, and project management software for automating freelance tasks.
You can also hire virtual assistants through online platforms to help you with your work routine and daily tasks.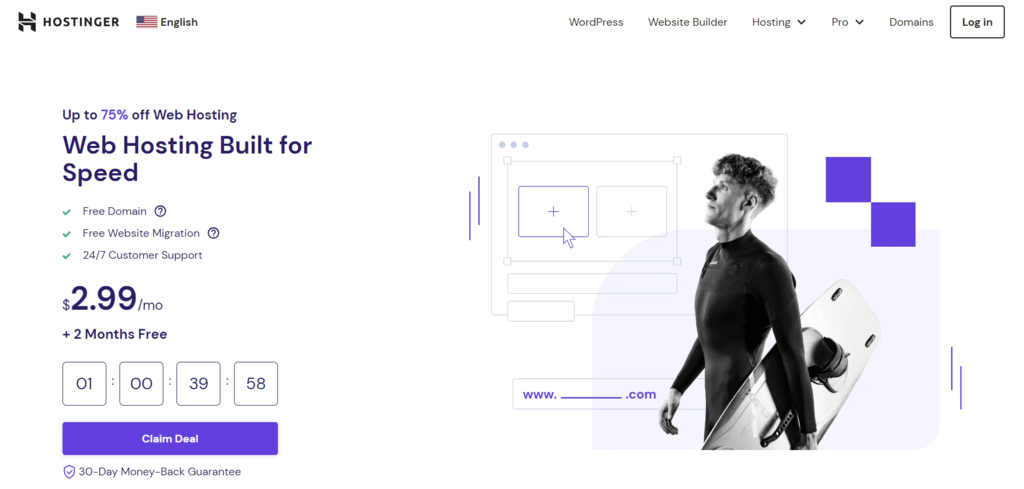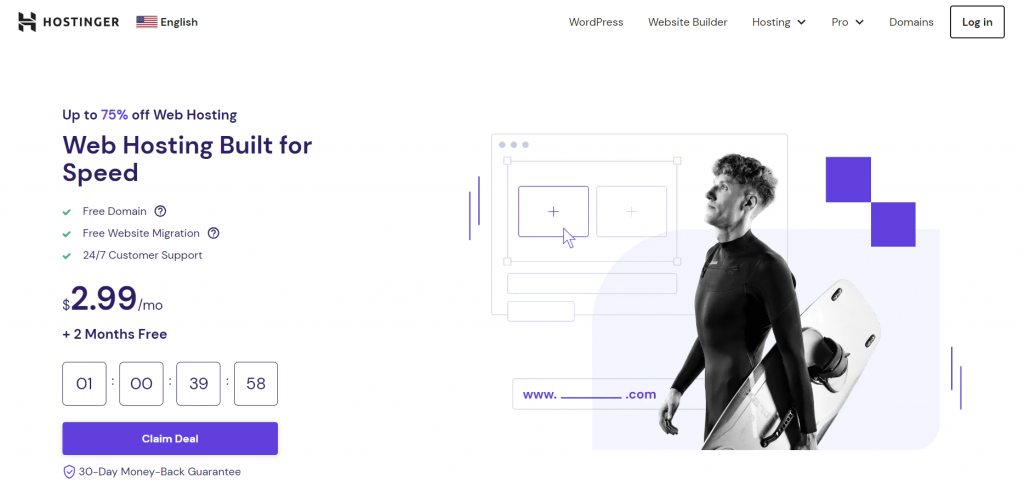 Furthermore, a good online presence for freelancers is essential for building a freelance brand.
Your website is your online storefront and digital office, so it's important to make sure it's running as efficiently as possible. Hostinger web hosting services help streamline website management, saving you time and enhancing your productivity.
For example, our intuitive and user-friendly custom control panel, hPanel, lets you easily manage your and your clients' websites. We also offer 24/7 customer support, so you can contact our dedicated Customer Success team round-the-clock for any assistance.
In addition, Hostinger offers free website migrations, so you can switch to our services seamlessly without worrying about technical configurations. This feature is also available for any client site you manage.
Other benefits of running your freelance website on Hostinger include:
Extensive WordPress features. We offer one-click WordPress installation and automatic updates, so you can get started quickly and ensure your website runs on the latest software.
A suite of AI tools. Whether you use a content management system (CMS) or our in-house website builder, we provide AI-powered features to help you optimize your site's UX design.
99.9% uptime guarantee. Our globally-distributed data centers ensure your website stays up and running round-the-clock.
Malware scanner and web application firewall. Protect your site from threats and attacks with our in-house robust security features.
Google Analytics integration. It helps with freelancer analytics and reporting, giving insights into visitor behavior and site performance.

4. Expand Your Freelance Client Base
Expanding your new client base is essential for scaling your business and diversifying revenue sources.
To do so, start by optimizing your portfolio website, which is essential for establishing a freelance reputation. Showcasing your best work and highlighting successful projects helps instill confidence in potential clients.
Then, leverage social media. Use platforms like LinkedIn, Instagram, and Twitter to showcase your experience and engage with the audience. Utilizing social media for freelancers can be a powerful tool to build a personal brand and attract new clients.
It's also crucial to strengthen your professional associations. Join industry-specific organizations and attend networking events to get more clients and connect with other professionals. Networking is one of the best marketing tactics for freelance businesses, leading to valuable referrals and collaborative opportunities.
In your quest to find more clients, don't overlook freelancer platforms. Register on reputable freelance marketplaces such as Upwork, Fiverr, or Freelancer.com to connect with potential clients.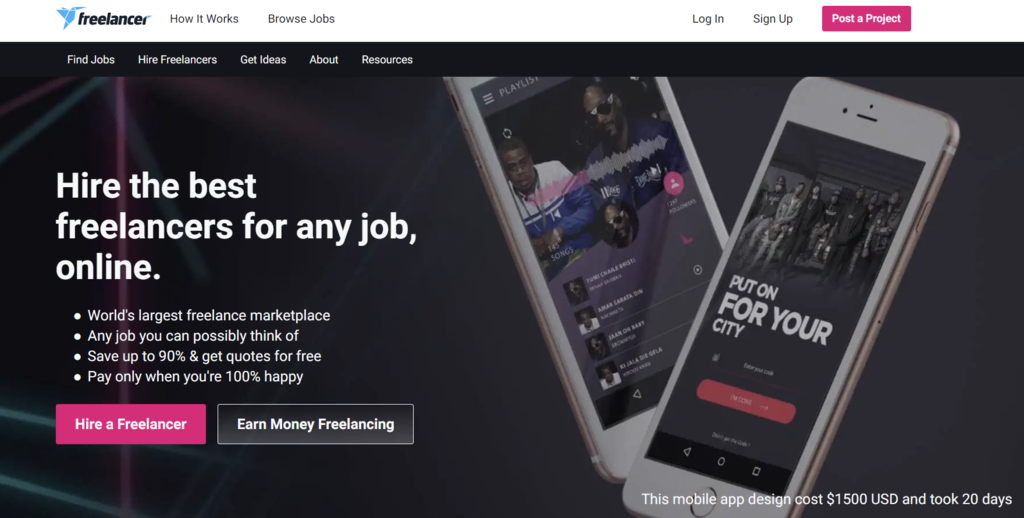 5. Collaborate With Other Freelancers or Agencies
Collaborating with another freelancer or an agency is one of the best marketing tips for freelancers. Partnerships offer benefits such as:
Access to new markets. Partnering exposes you to established client bases, unlocking potential clients you may not have reached otherwise.
Resources and expertise pooling. Collaborations combine skills and resources for a more comprehensive service that benefits customers.
Improved credibility. Partnering with reputable professionals builds trust and confidence in your business.
Diversification of services. Collaborating with others enables you to expand your offerings and cater to a broader range of customer needs.
To find reliable collaborators, start with professional network events and platforms. Networking for freelancers provides an excellent opportunity to meet potential partners and assess your compatibility.
Then, research the reputation of potential collaborators. Review their past projects, customer testimonials, and industry reputation. It's also important to align your values, work ethics, and business objectives. This will help ensure smooth collaboration and efficient communication for freelancers.
Consider working together on smaller jobs first before expanding to more projects. That way, you already have an idea of how profitable the collaboration and partnerships will be in the long term.
6. Improve Client Satisfaction and Retention
As a freelancer, good customer service is essential for success. Long-term clients not only provide valuable testimonials but also contribute to your freelance business' continued success, helping you gain more clients.
Here are a few tips to enhance customer satisfaction and build lasting professional relationships:
Active client communication. Keep your clients informed about the project's progress, potential delays, and any changes that may arise. Ideal client communication for freelancers includes regularly updating customers on milestones and addressing their questions or concerns promptly.
Manage expectations. Be clear about the scope of your services, timelines, and deliverables from the beginning. Setting realistic expectations helps build trust and prevent misunderstandings.
Ask for feedback. Seek feedback throughout and at the end of each project to gain valuable insights into your performance. Use this feedback to improve your services continuously.
7. Increase Rates Periodically
As you gain experience and expertise in your field, it can be beneficial to do a price increase to reflect the growing value of your services.
To handle rate increases effectively, notify clients of rate adjustments and provide transparent explanations for the change. Mention your industry experience and the improved quality they can expect when spending more money on your service.
Another way to tackle price changes is by offering tiered pricing and creating packages with varying levels of service. Tiered pricing is one of the most effective pricing strategies for freelancers, as it gives clients the option to spend money at different levels based on their needs and budgets.
8. Seek Retainer Clients
One of the most effective client retention strategies is to offer retainer packages. Retainer customers pay a fixed monthly fee to access your hours and services, regardless of whether they use the full allocated time.
There are a few reasons why seeking retainer clients can be beneficial. First is a more consistent income. Retainer agreements provide a stable income stream, as you can gauge how much you'll earn each month, even without new clients.
Another advantage is you can build stronger customer relationships. Working with retainer clients fosters loyalty as you become an integral part of their ongoing projects and operations.
This arrangement is also great for prioritizing the long-term value of your services. Retainer agreements emphasize ongoing collaboration and the benefit you bring to customers, encouraging mutual commitment.
9. Leverage Passive Income Streams
To boost your freelance business, explore side gig opportunities that can enhance your revenue with minimal effort. Consider these passive income ideas for freelancers:
Digital products. Develop eBooks, templates, or software tools catering to your audience's needs, increasing freelance income.
Online courses. Share your expertise by creating and selling an online course on platforms like Udemy or Skillshare.
Membership website. Establish subscription-based membership sites with exclusive content for recurring income.
YouTube channel or podcast monetization. Monetize your YouTube channel or podcast through advertisements, sponsorships, or viewer support.
Print-on-demand products. Design and sell custom merchandise via print-on-demand platforms, requiring minimal ongoing effort for order processing and fulfillment.
Affiliate marketing. Partner with relevant companies and promote their products through referral links for ongoing commissions.
As a freelancer, joining the Hostinger Affiliate Program is a great way to get extra income. Promote Hostinger's services to your expanding client base and earn money for every successful referral.


Here are some of the benefits of joining the Hostinger Affiliate Program:
Easy to join and maintain. Signing up for the program takes less than a minute. Access all of the tools and resources you need to start promoting Hostinger.
High commission rate. You can earn a 60% commission on every sale you make.
Personal affiliate account manager. You will have a dedicated affiliate account manager to help with your campaigns.
High conversion rate. We have services for different client needs and effective promo materials, meaning the traffic you send will likely convert.
To maximize your affiliate earnings, make the most out of your growing client base. Promote your affiliate link on your blog, website, and social media channels. Then, utilize the promo materials we provide like banners, text links, and email templates for easy promotion.
Make sure to write compelling content that highlights the benefits customers can get by purchasing these services from your affiliate link. Moreover, use clear calls-to-action (CTAs) to encourage the target audience to click on the link and sign up.
Once that's all set, start tracking your affiliate link's performance by monitoring its progress using Hostinger's affiliate dashboard.
10. Expand Your Service Offerings
Expanding freelance services can unlock new growth opportunities.
Identify complementary services that align with your current offerings, enabling you to upsell to existing clients and attract new ones. For example, a freelance web developer can provide a search engine optimization (SEO) service as an add-on.
Upselling to current clients is an effective way to grow revenue as a freelancer. Showcase how your new services can enhance customers' overall experience and position yourself as a one-stop solution for their diverse needs.
11. Develop a Referral Program
Word-of-mouth marketing is one of the best client acquisition strategies for freelancers.
Encourage satisfied clients to refer you to their network by offering attractive incentives. Consider providing discounts on future projects or even referral earnings for every successful lead they bring your way.
Incentives motivate customers to actively promote your services to others, helping you gain new clients and increase revenue as a freelancer.
12. Become an Agency
As your freelance business grows, you may decide to expand your team and become an agency. Hiring dedicated specialists enables you to divide the workload, increasing productivity.
Additionally, it brings in new skills and perspectives, fostering a collaborative and supportive work environment. Scaling freelancing operations with a competent team allows you to reach new heights of success by taking on larger tasks and a broader clientele.


Hostinger Agency Hosting is a great option for freelancers scaling into agencies. Our Pro hosting solution offers a variety of tools that can help you manage your business and customers more effectively. Some standout features include:
Integrated interface. Hostinger's Pro Panel simplifies website management for designers, developers, and agencies handling various projects.
Multiple site management. Easily control and maintain all your websites from one centralized platform.
Client account access. Use Account Sharing tools to securely access your customers' hosting accounts and deliver exceptional services.
Team collaboration. Invite team members, configure access rights, and improve project management with integrated tools like Atarim.


Conclusion
Scaling your freelance business can be a great way to increase your revenue, improve your efficiency, and reach a wider audience.
For this, it is important to equip yourself with the right strategies for growth. By following the tips in this article, you can scale your freelance business successfully.
One of the key points to remember is to evaluate your current operations and identify areas for growth. That way, you can set clear goals for your scaling freelance business.
Then, streamline your operations and improve efficiency. It's also a good idea to expand your services and reach new markets. However, remember to always prioritize customer satisfaction to build strong working relationships.
At the same time, track your progress regularly and make adjustments as needed. As you gain more experience and expertise, raise your rates to reflect the services' increased value.
Finally, explore passive income streams to boost revenue, like selling a digital product and joining an affiliate program. You might also consider developing a referral program to incentivize word-of-mouth marketing among clients.
These practices let you scale your business to new heights in the competitive market. Eventually, you can transition your freelance operations to an agency to support further growth.
How to Scale a Freelance Business FAQ
We'll answer the most asked questions about scaling a freelance business.
How Do I Set the Right Price for My Freelance Services?
Setting the right price for your freelance services involves evaluating your skills, researching market rates, factoring in costs, checking competitors' prices, and assessing the value you offer to clients. Be open to negotiation, but avoid undervaluing your expertise. Strive for a fair and attractive rate that reflects your worth.
How Do I Market My Freelance Business?
To effectively market your freelance business, practice freelancer branding techniques. Establish a robust online presence through a professional website, social media engagement, and freelance platform listings.

Network with potential clients by attending industry events, participating in online forums, and connecting with peers in your field. You can also offer free trials or consultations to demonstrate the value of your services.

How Can I Stand Out From Other Freelancers in the Market?
To stand out among others, become an industry expert by staying updated on trends. Offer unique or specialized services to set yourself apart by embracing creativity and innovation. Also, consider bundling services to give potential clients more value for money while increasing revenue as a freelancer.