Elementor Vs Beaver Builder – Everything You Need to Know
Do you wish for an easier way to create a WordPress website? Why not consider using a page builder plugin? It's packed with features to build a beautiful site with no hassle! There are plenty of page builder plugins out there, but Elementor and Beaver Builder are the ones that stand out the most. In this article, we'll go over the in-depth details of their features.
Video Tutorial
Check out the video on how to create a homepage easily with Elementor.
What Is A WordPress Page Builder?
If you're creating a website for a client or yourself, you wouldn't want to miss out on the many advantages that come with a WordPress page builder.
But, what is it exactly and how can it benefit you? Keep reading to find out:
What Are Page Builders For?
When customizing a WordPress theme, there are many things that can go wrong – a cluttered layout, errors, or simply not looking the way you want.
Fortunately, these problems now become things of the past thanks to the page builder plugins that you can install on WordPress.
So, what can you do with a page builder? Take a look at the list below:
Creating pages and posts. Aside from the classic or Gutenberg editor, you can create a page and a post using a page builder. The difference is, you get to go wild with the visual customization – structuring a layout, adding elements, and formatting style with ease.
Always easy customization. You can substitute the old WordPress customization page with a WYSISYG (What You See Is What You Get) interface – making it possible to see the result of the changes you make instantly.
Uses a drag-and-drop interface. Instead of tweaking the code to move a certain element, you can just drag it and place it to a certain section with precision.
Doesn't require tech skill. Like we said before, a page builder eliminates the need for coding almost completely – meaning, any non-tech person can create a beautiful website. Sure, you can still add custom CSS if you want, but it's completely optional.
Uses templates to create beautiful pages. One thing that page builders take pride in the most is ease-of-use. Even with little design skill, you can still make your website looks fantastic, thanks to the many available pre-made templates they bring along.
Great functionality at your fingertips. Sometimes, you need another plugin to add a simple widget – like social media share buttons, for example. A page builder has a library of built-in widgets that you can add directly to your site, such as a gallery, testimonial section, content sliders, and more.
It's clear that a page builder offers so much compared to the old-fashioned way of customizing a site, especially for newbie users. Plus, builders are easy to set up and get familiar with.
Why Use A Page Builder?
We talked about what features a page builder has in store for you. Now, let's talk about how those features can help you build a WordPress site stress-free.
Saves time. With easier customization, you're less likely to run into problems. The fewer problems you have, the faster you can set up an online presence. Why take a week to make something if you can do it in minutes?
Requires no technical skills. From the moment you install the plugin to when you publish your site, everything is as easy as can be. All you have to do is swap the images and the copy from your templates with your own, and adjust placement to your liking.
Allows the user to have a hands-on attitude towards design and features. The customization interface of a page builder is straightforward. You don't have to dig deep to find features and a template design you're looking for – everything can be accessed on one page.
Elementor vs Beaver Builder
WordPress page builders have been around for a long time and there are many that you can consider. However, we decided to go with these two-page builders because they are the most feature-rich options out there, without reaching too deep into your pocket.
Their competitive price makes both as ideal and a cost-effective way to build a website. Plus, their popularities have allowed users around the globe to build great communities to help fellow page builder users overcome their problems.
Elementor Basics
Ever since its founding in 2016, Elementor has been getting positive reception due to its ability to give people full control over their websites.
Now, Elementor has racked up over two million active installations. How could it not? It's a plugin that has the words "beginner-friendly" written all over it. Either you're a business owner who's looking for potential opportunities online, a freelance web developer, or simply looking for a way to channel your thoughts into blog posts, anyone can create a gorgeous website using Elementor.
Beaver Builder Basics
Beaver Builder was introduced to the market in 2014, two years before Elementor. It was built on an idea that Robby McCullough, the co-founder of Beaver Builder, needed a single framework that their company could use to meet their clients' design needs.
Formerly known as FastLine Page Builder, Beaver Builder has been one of the leading page builder plugins on the market – especially once they decided to take in GPL (General Public License). This allows their product to be modified, enabling tons of developers to create third-party add-ons to expand the plugin's functionality further.
With more than 100,000 live websites created on Beaver Builder right now, it's a page builder that's more than worth your consideration.
Elementor vs. Beaver Builder – Features
Now that we got the introductions covered, let's take a deeper look into the many features both plugins have to offer.
Theme and widget availability
When it comes to theme collections, Elementor easily wins this round. It offers more than 300 designer-made templates when you pick up the Pro plan, and these will suit any business niche you might consider tackling.
In addition, each widget in both builders plays a role in enhancing your site's functionality. There more than 40 basic widgets to choose from in the free version of Elementor and over 90 you get the paid version.
Meanwhile, Beaver Builder Lite (the free version) only has basic modules such as image, video, HTML, audio, and text. For more advanced modules, you'll have to purchase the premium version.
Interface
In this area, you'll get a pretty similar feeling when you tweak your site on either of the plugins. Although, there are differences that you need to note.
For example, Elementor uses a control panel on the left side of your screen – it's where you'll get to add widgets by simply dragging them to your site. You can also find options for each element there (customizing the margins, size, typography, etc.).
On top of that, Elementor provides you with in-line text editing where you get to make changes to your text right on the page itself – a feature not present in Beaver Builder.
Meanwhile, in Beaver Builder, you can add modules by clicking on the plus symbol in the top right corner. A window will pop up showing a few tabs for modules, rows, templates, and saved items (where you can see a list of templates and rows you have saved earlier).
What's interesting, you'll get to add pre-made rows right from the window easily. Just navigate to Rows and choose one of the dropdowns in Premade Rows, such as call-to-actions, content, an FAQ, and more.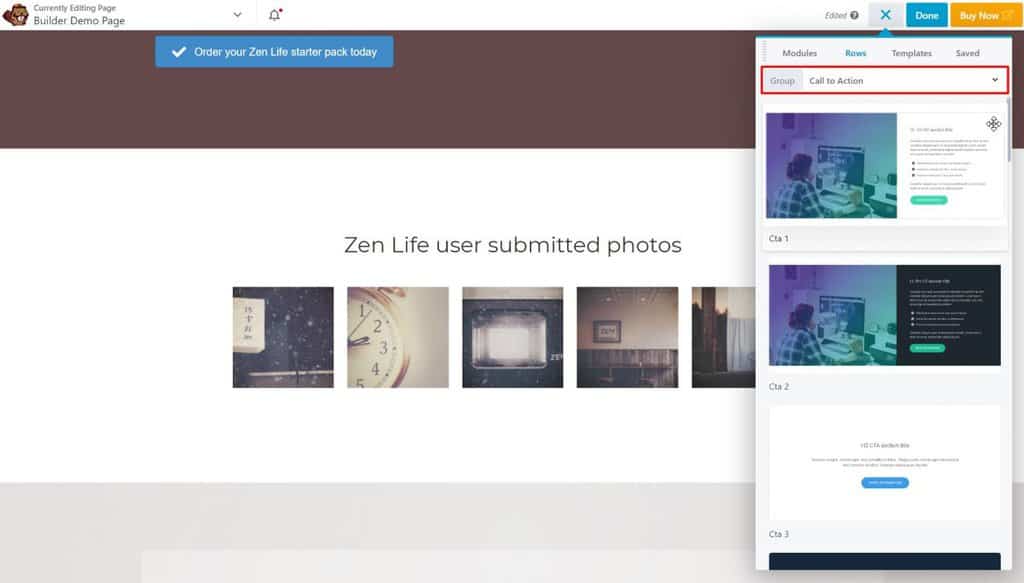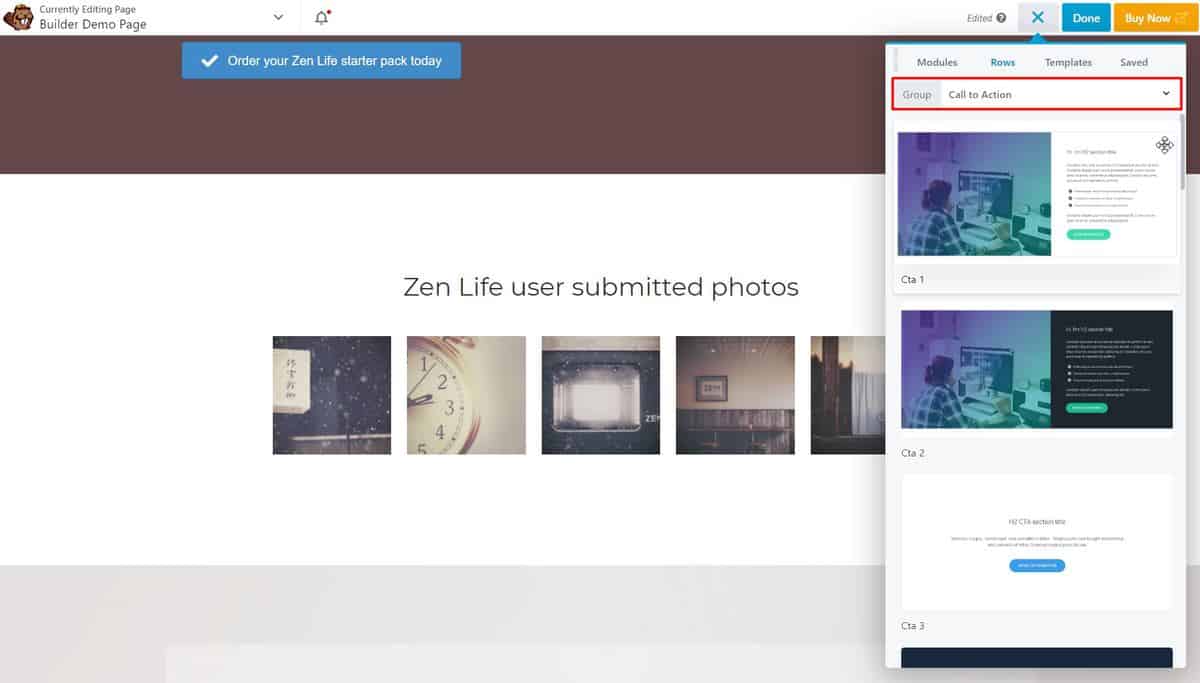 Security
Since nobody wants a plugin that can compromise their website, security is one of the most important aspects to look out for here.
Well, there was a major incident where Elementor allowed logged-in users besides admins to access and edit the site's content.
However, an incident of the same magnitude has never occurred in Beaver Builder – making it a better contestant when it comes to security.
But, it doesn't mean Elementor has no security measures. In its pro version, you can use a widget called Honeypot to make sure there are no spambots on the forms that you set up on your site.
Unique Features
Both Elementor and Beaver Builder have their own features that the other doesn't. Depending on your needs, this can be used as a tie-breaker. See for yourself which feature can benefit you more.
Elementor offers global widgets and the ability to embed templates anywhere.
Global widgets allow using a widget in multiple areas across different pages or websites. Every change you make in the widget will also be applied to the same widget in all pages.
Embed templates anywhere means that once you create a template (let's say a newsletter box), there's no limit on where you can display it – sidebar, footer, or even blog posts.
From the Beaver Builder's side, you'll get access to a white label feature. It allows you to offer Beaver Builder's page-building service to your client – with your own brand! Plus, one Agency license is enough to get Beaver Builder to work on multiple sites.
Elementor vs. Beaver Builder – Ease of Use
Beginner-friendliness is one of the selling points that page builders have. The idea of creating a web page without coding skills means that anyone should be able to do that without scratching their head.
That's why we're also going to compare how easy it is for users to get started and create a stunning web page with both page builder plugins.
Getting Started
First of all, they both have free versions that you can easily install and activate from the WordPress dashboard. Simply head to Plugins and type in the name of the plugin, click Install then Activate.
Let's say you just activated Elementor, the next thing to do is customizing your site. This can be done by going to Pages -> Add New.

Notice the blue button that says "Edit with Elementor" on the top? Click it and you'll be directed to the customization interface. (Note: you may want to insert the title first. Otherwise, the page's name will be randomized.)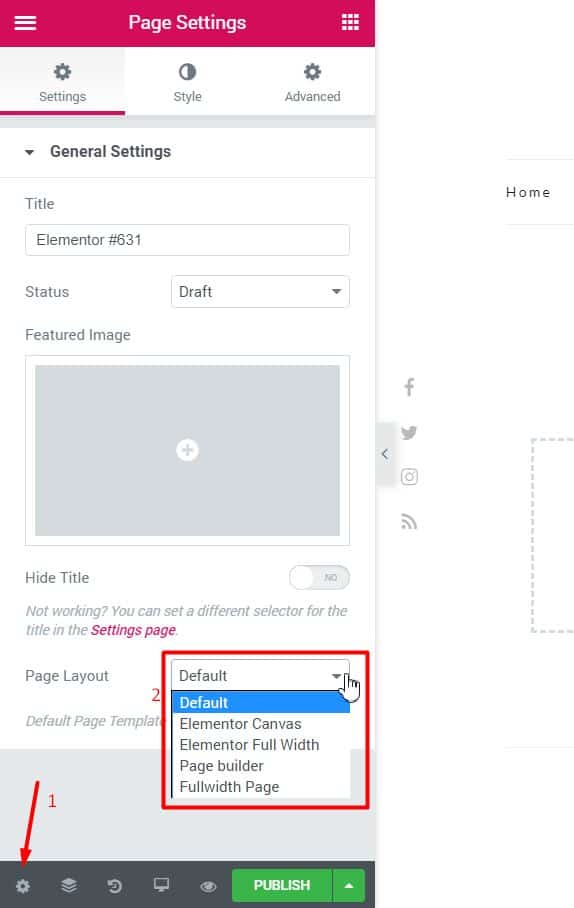 Afterward, you can set the page layout by navigating to the Settings icon on the bottom left corner. There are a few page layouts that you can choose, such as:
Default. This layout will show existing elements from the WordPress theme you have active – sidebar, header, and footer.
Elementor Canvas. This will give you a completely blank canvas. If you want to start from scratch, this page layout will be the right fit for you.
Elementor Full-width. You will find no sidebar here, but the header and the footer still appear.
As for Beaver Builder, the process is quite similar. When you create a new page, you'll find the option to launch Beaver Builder which will take you to its page-building interface.


The problem with this plugin is that you can't change the page layout as easily as Elementor. If you want to get rid of the header or the sidebar, you'll have to buy the premium version first and go through the Beaver Builder menu in the dashboard.
If the menu isn't there, go to Settings -> User Access in the WordPress dashboard and activate the Beaver Builder menu.
Compared to Elementor, it's a bit of jumping through hoops to get to where you want to go.
Customization
We have covered both of their interfaces, so you should already have an idea of how it works. Now, let's see how easy it is to customize with both plugins.
In Elementor, there are three tabs where you get to choose a certain option for your widget – Content, Styling, and Advanced.
Let's say you're customizing a FAQ section. Content lets you fill in the copy and some basic formatting such as size, linking, and alignment. In the Styling tab, you can find deeper customization – typography, color, drop shadows, letter spacing, and much more.
The Advanced tab gives you the freedom to set the entrance animation, add a background image, apply a gradient, create a scrolling effect, etc. You can also choose to hide a certain element in the mobile view, add custom CSS, and tweak with the margin and padding here.
The left side control panel is well-packed with every feature and widget setting you can think of – it doesn't take much effort to get used to the workflow.
Now, let's divert our focus into Beaver Builder's customization.
Instead of a control panel, there is a floating pop-up window that contains all the functionality you need.
After inserting a module, you get to tinker with its settings through the three tabs – General, Styling, and Advanced.
The customization is quite similar to Elementor – but, Beaver Builder has the integrated ability to add a parallax effect for your background. While in Elementor, you have to first install an add-on to do that.
What's more, you can drag the pop-up window to the left or right side, and it'll turn into a control panel similar to what Elementor offers.
Elementor vs Beaver Builder – Pricing
With the features and the ease-of-use out of the way, it's time to talk about the pricing options for both plugins and what you'll get for each package.
The free version of Elementor only has the most basic features. Here's what the Pro version will get you.
Pro templates, widgets, and blocks. It gives you much more freedom, flexibility, and functionality for your site. You're eligible for 300 designer-made templates, over 90 widgets, and you'll also unlock every pro block such as header, footer, single post, 404 page, pricing display, newsletter subscription, and other options.
WooCommerce support. You'll have access to the store builder that works well with WooCommerce.
Global widget. This is the unique feature we covered earlier – it allows you to apply settings to a widget globally.
Free support and update. Their support team is ready to solve any problem you have regarding Elementor for a year.
It comes with three pricing options. Each allows you to use Elementor for one or more sites – Personal/Single Site ($49/year), Business/Three Sites ($99/year), and Unlimited Sites ($199/year).
As for Beaver Builder, its Lite version feels more like a demo instead of a free version due to how limited its features are. Although, it's surely good enough if you're only looking to create a simple website.
Without the premium plan, here's what you're missing out on:
Premium modules and pre-made rows. Aside from the basic features such as images, text, audio, video, and HTML, you'll unlock many useful modules and visually stunning rows such as a content slider, gallery, Google Map, call-to-action, contact form, etc.
Duplicate your templates. To save time, you can also save your template and reuse it on other sites or pages.
Templates. The Lite version doesn't give you any template at all – that's another reason to go premium. Creating a site is now effortless, without having to build everything from the ground up.
Unlimited sites. Every premium plan they have allows you to use Beaver Builder for as many sites as you want.
Premium support for a year. No need to get worked up with any problem while you can rely on their support team for help.
Comes with three pricing options. All of the benefits above (minus the templates) are available with the Standard plan ($99). Upgrading to Pro ($199) will add templates and multisite capabilities to the pile. Then, there's the Agency plan ($399) which gives you the white-label feature and the Beaver Themer.
Wrap Up
We have gone over the in-depth comparison between Elementor and Beaver Builder with their features, user-friendliness, and pricing.
Both have their own strengths and weaknesses, but ultimately it's up to you to decide which one will be better.
Everything about Elementor screams beginner-friendly. So, you may want to consider using it if that appeals to you – especially with how affordable its Pro version is.
That being said, Beaver Builder is preferable if you require multisite integration or when you need a white-label feature to offer a convenient web development service to your clients.
Remember to carefully weigh the information to make an informed decision between Elementor and Beaver Builder. Happy page building!