Everything You Need to Know to Activate and Use WordPress Multisite
WordPress is an excellent solution, in part because it makes running your website simple. However, if you have multiple sites under your care, you're still going to struggle when it comes to juggling everything that's going on. You have to schedule content for all of them, stay on top of updates, reply to comments, and more. It's a lot of work, even for someone with plenty of WordPress experience.
Fortunately, WordPress provides you with its own tool to help you manage multiple websites. It's called Multisite, and you can activate it for both new and existing sites. Once that's done, you can add as many websites as you want to your network, and run them all from a single dashboard.
In this article, we're going to talk about what Multisite is, when to use it, and when not to. Then we'll teach you how to set it up for new and existing Hostinger sites. Let's get to it!
What Is WordPress Multisite?

Multisite is a WordPress feature that enables you to manage multiple websites from a single dashboard. The platform refers to this conglomerate of sites as a network. Once you've set up Multisite, you can add as many websites as you want to that network.
If you've ever found yourself in the unenviable position of managing multiple WordPress websites, you probably understand how such a tool could help you. Let's break down some of the reasons Multisite is so useful:
You can do almost everything from a single dashboard. Having to keep track of credentials for multiple websites and jumping from one to the other can be frustrating and time-consuming. With Multisite, you just need to keep track of a single set of credentials to handle everything.
You can publish new content for your websites. Multisite enables you to access the same WordPress editor you've always used, and use it to publish new content for any of your pages.
It enables you to handle themes and plugins for the whole network. As a Multisite administrator, you can choose which themes and plugins are available for your network. If you're not the only one working on a particular page, you'll appreciate that your collaborators can't just set up any plugin they want, for example. Nothing goes on in your network without your approval!
Network-wide user management is streamlined. Finally, Multisite also enables you to add new users to your network and set their roles. That means you don't need to go into each site's individual dashboard to add collaborators or review permission levels.
WordPress updates are easier to deal with. As the network administrator, you can update all your sites to WordPress' latest version as soon as it's available. The process works much the same as with individual websites – you get a notification, and you can update all your sites together whenever you'd like.
Aside from Multisite, there are plenty of other tools that enable you to manage multiple WordPress websites. For example, you can use services such as ManageWP and MainWP. The main difference between Multisite and these platforms is that they enable you to link websites from different hosts. In practice, this means you could conceivably manage a network of sites from all over the world.
As far as other features go, most tools in this field offer all the functionality we mentioned earlier. However, a lot of them are premium services that charge you for advanced features. That's not necessarily a bad thing, but it also means there's a time and a place to use Multisite as well. Let's talk about what some of those situations are.
When to Use WordPress Multisite (And When Not To)
In general terms, if you need to manage multiple WordPress websites, Multisite is probably a solid option for you. However, let's address some more specific scenarios that illustrate when this solution comes in handy:
You have a network of personal pages that don't require individual hosting. If you're comfortable with sharing hosting and you're running multiple WordPress sites, Multisite is the natural choice.
You need to manage client websites. If you offer hosting services as part of your web development projects, you may want to consider including those sites in your network. Of course, that will depend on whether your clients want you to provide post-setup support or not. If they don't, your best move is to host each site separately.
You're creating a complex website that requires multiple subdirectories or subdomains. WordPress Multisite enables you to add new sites to your network using either subdirectories or subdomains. This is a perfect fit for complex websites that need to be separated into specific sections, such as a blog and a shop running side by side.
Multisite is a powerful tool, but it's not perfect for every situation. For example, it doesn't enable individual site owners to use any plugin or theme they want, which means they're at the mercy of the network's administrator (you, in this case). If the people working on your network need full access to WordPress' features, they should probably opt for individual setups.
In addition, all the sites on your network will share the same IP, due to how Multisite works. This isn't a problem in most cases, but if you want a unique address for each of your sites, Multisite is out of the picture.
At this point, you probably know whether Multisite is a good fit for your needs or not. If you're interested in checking it out, read on to find out how to get started.
How to Activate WordPress Multisite for New Hostinger Websites (In 4 Steps)
Multisite is a feature that's already built into WordPress, but disabled by default. This means that you simply need to enable it, which you can do for both existing and new sites. However, it's often best to create an entirely new setup instead of using an existing website. The process works much the same in both cases, but the former option enables you to choose between using subdomains or subdirectories for your individual sites. We'll talk more about that in a minute. For now, however, let's focus on what you'll need to get started.
What You'll Need
Before you set up a Multisite network, you'll want to sign up for a web host if you haven't already. Naturally, we recommend you use one of our shared hosting plans, which are fully optimized for WordPress. The signup process is quite simple, and when your account is ready, you can install WordPress by following this tutorial.
You'll also need an FTP client to complete some of the steps below. We recommend FileZilla, and you'll find that it's quite easy to access your Hostinger website using it.
To recap, here are the three things you'll want to have in hand:
Access to a web host.
A brand new WordPress installation.
An FTP client – such as FileZilla – and your login credentials.
Once these three elements are ready, you can move on to the first step.
Step 1  —  Update Your wp-config.php File
We're jumping right into the deep end here, but don't panic – the process is actually quite straightforward. The first thing you need to do is locate and edit your wp-config.php file, which is where your installation's main settings are stored.
Let's go through the process step by step:
Open your FTP client, and access your website using your credentials.
Navigate to your root directory, which is most often called public_html, but can also show up as www or your site's name.
Look for the wp-config.php file and right-click on it.
Choose the option that reads View/Edit.
That last step will tell FileZilla to download a copy of the file, and open it locally with your default text editor. In this case, you'll see a complex file with a lot of code, but fortunately, you don't need to tinker with any of it:

All you have to do is scroll down until you find the line that reads  /* That's all, stop editing! Happy blogging. */, and add the following snippet right before it:
define('WP_ALLOW_MULTISITE', true);
That's it! This single line of code tells WordPress that you want to enable Multisite. Now, save your changes and close your editor. FileZilla will update the original file on your server with the changes you've made.
Step 2 — Configure Your Network's Structure
Access your WordPress dashboard now, and you'll find a new tab that reads Network Setup under Tools. If you have any active plugins, WordPress will ask you to disable them before it lets you move forward. Do that now if necessary, and the next time you load this tab, you'll see a screen asking you to choose between subdomains and subdirectories for your network's structure:

Subdomains are URLs that look like this: blog.hostinger.com. On the other hand, subdirectories show up in this format: hostinger.com/blog. From a purely technical standpoint, both approaches work just the same.
Right below this option, you'll also see a couple of fields where you can choose a title for your network and enter an administrator email address. Do so now, and click on the Install button. After a moment, WordPress will present a new set of instructions that we'll cover in the next step.
Step 3 — Update Your wp-config.php and .htaccess Files
Before you can get your network up and running, there are two files you need to edit – wp-config.php and .htaccess. Just as during the first step, you'll need to add a code snippet to each of them. WordPress should have provided these snippets for you at the end of the last step: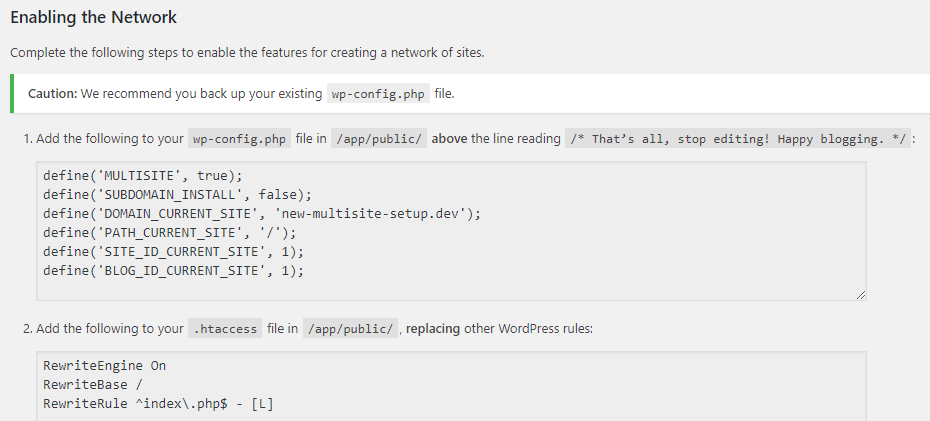 Don't worry, we'll also provide you with the code below just in case. Let's start with wp-config.php, which you can access using your FTP client. Paste in the following code before the line that reads /* That's all, stop editing! Happy blogging. */:
Now we're going to repeat the same process with the .htaccess file, which is located in the exact same directory as wp-config.php. All you have to do is close wp-config.php, look for .htaccess, right-click on it, and pick the View/Edit option once more.
When you're in, you'll want to delete anything currently in this file, and replace it with the following code:
Save your changes to .htaccess now, and access your dashboard once more.
Step 4 — Access Your Multisite Installation
Your Multisite setup is now ready to go! When you access your dashboard, you'll find a new option in your administrator navigation menu called My Sites:

Clicking on this will enable you to jump between your Network Admin dashboard and that of your original website. You can still use the original site as you would any other. So for all intents and purposes, it's your network's first website.
Multisite contains a lot of features that you'll need to learn how to use. We'll talk more about those in a moment. First, however, let's talk about how to enable Multisite for websites that have been around for a while.
How to Activate WordPress Multisite for Existing Hostinger Websites
If you want to enable Multisite for an existing Hostinger website, you can follow the steps in the previous section, and almost everything will work just the same. However, it's important to know that if your website has been around for over a month, WordPress won't let you to use subdirectories for your Multisite setup:

Activating Multisite on an existing setup also has another downside. If you've added custom rules to your .htaccess file, they'll be lost when you replace it with Multisite's code. You can always copy and add them again to each site on your network after setting it up, but this is still a hassle.
Enabling Multisite on a new installation is almost always the best route, so we recommend you set up a new website just for the occasion if possible.
4 Key Tips for Getting Started with WordPress Multisite
Now that your Multisite network is up and running, you need to learn how to use its main features. Let's start with adding new sites to your network.
1. Add New Sites to Your Network
If you've followed our instructions so far, your network should have a single site right now. However, one site does not make a network, so let's get to work on adding more of them right away.
First, navigate to the Sites > Add New tab on your network dashboard. Inside, you'll see options to set an address for your site, a title, a language, and an administrator email:

Fill out those fields now, and click on the Add Site button when you're done. Then you can find your new site on the Sites > All Sites tab:
Mousing over any of the sites in your list will display options to edit it, visit it, or access its dashboard directly. That last choice enables you to jump right in without having to input your credentials. You can repeat this process to create as many sites as you want.
2. Manage Your Network's Themes and Plugins
As the network administrator, you're the only person with permission to install new plugins and themes. The process works just the same as it does with a regular WordPress installation, except that when you activate a plugin or theme, you do so for your entire network:

Keep in mind that enabling a theme or a plugin for your network doesn't automatically turn it on for every website. It just gives you the option to do so. Also, as the network administrator, you'll need to update your plugins and themes as you would for any other WordPress website, to keep all of your sites in top form.
3. Add New Users to Your Network
By default, Multisite disables user registration on all sites in your network. You can either turn this feature off (which we'll cover in a minute) or add users to each of your sites manually. Personally, we favor the latter approach, since it gives you full control over each new account.
To add new users to your network, go to the Users > Add New tab in your Multisite dashboard. On the next screen, all you have to do is set a username and an associated email, then click on the Add User button:

Now, your new user will have access to your Multisite network and be able to help you with content management for your sites. Alternatively, you can also grant any user you want Super Admin status, which gives them all the same privileges you have. To do this, go to Users > All Users, and click on Edit below the account you want to upgrade:

On the next screen, look for the option that says Super Admin, and tick the checkbox next to it. Now your network has one extra pair of hands to help you administer it.
Keep in mind that granting any user full admin privileges to your website(s) is usually discouraged, unless you have full trust in them. After all, they'll be able to tweak your network in any way they want. If you don't absolutely need someone to have full access to your network, just set up a basic account for them and call it a day.
4. Configure Your Network
Multisite comes ready to use out of the box. You don't have to tweak any of its settings if you don't want to, but it's always a smart idea to take a look under the hood anyway just to see what options you have. Go right ahead and navigate to the Settings > Network Settings tab in your network dashboard now.
The first couple of settings are unimportant – they just enable you to change your network's title and administrator email. Keep scrolling down, though, and you'll find the option to enable registration for your sites. There's even a setting that gives network users the ability to register their own sites:

As the network administrator, you probably want to reserve the ability to add new sites to your Multisite setup. Scroll down further, and you'll see options to modify your site's welcome emails and other similar settings.
For now, the only other option you'll want to pay attention to is at the bottom of the Network Settings screen. You can specify a size limit for any attachments that people upload to your network's sites, as well as what file types they can add:

With that out of the way, let's move on to updates.
5. Update Your Network
Last but not least, Multisite enables you to update WordPress core for all the sites in your network simultaneously. If there's a new version of the platform available, you'll see a notification on your dashboard's main screen, just as with regular WordPress sites.
On the other hand, you can also force an update by going to the Dashboard > Upgrade Network tab. Once you're in, just click on the Upgrade Network button and sit back:

When the upgrade is finished, WordPress will show you a success message. This simple process will help you keep your WordPress websites running in top shape.
Conclusion
WordPress Multisite is a powerful tool that can help you manage multiple websites with ease. Being in charge of multiple WordPress sites is a lot of work. However, Multisite can make your life easier by streamlining many of your management tasks. Plus, you'll get to tackle them all from a single dashboard, which makes the process much less painful.
To recap, here's how to activate Multisite for both new and existing Hostinger WordPress installations:
Update your wp-config.php file.
Configure your network's structure.
Update your wp-config.php and .htaccess files.
Access your Multisite installation.
Do you have any questions about how to activate and use WordPress Multisite? Let's talk about them in the comments section below!