What Is Domain Squatting and How to Protect a Domain From Cybersquatting
Imagine you've spent a lot of time and effort establishing your online presence. Then, cyber criminals purchase a domain name that is confusingly similar to yours to deceive prospective customers. In this scenario, you've become a victim of cybersquatting, commonly known as domain squatting.
Domain squatting poses a serious threat to business owners by diverting traffic from their websites. Visitors will associate the malicious domains with your brand, resulting in lost sales and reputational damage.
This article will explain all about domain squatting, including how to prevent it. We'll also discuss ways to reclaim squatted domains and answer the most common inquiries regarding the topic.
Download Website Launch Checklist
What Is Domain Squatting?
Domain squatting is the practice of registering, buying, or using domain names with the intent of profiting off other people's trademarks or service marks. The victim of domain squatting may have to purchase the domain from the squatter at a high price or seek legal action to reclaim it.
How Domain Squatting Works
While domain flipping and cybersquatting both involve buying and selling domain names for profit, they are distinct practices with different legal consequences.
Flipping domains is a legitimate example of how to buy a domain based on its potential and demand to resell it at a higher price by marketing and optimizing its content.
In contrast, a domain squatting attack involves monetizing domains in bad faith – either with opportunistic or malicious intent. Usually, squatters target recently searched domain names so they can register names that are on demand.
Opportunistic domain squatting cases typically involve registering high-demand domains to sell them at a premium price to trademark owners. For example, if an average domain name costs $10-$15/year, cybersquatters might try to charge thousands of dollars for it.
Opportunistic domain squatters typically engage in the following practices:
Identity theft. Registering soon-to-expire domains to prevent the previous domain owner from renewing them. The squatter demands payment to return the domain.
Name jacking. Purchasing domains associated with authoritative figures to profit from web traffic related to those individuals.
Reverse cybersquatting. The practice of falsely accusing the current domain registrant of squatting, in an attempt to force them to transfer the domain ownership.
Meanwhile, domain squatters with malicious intent usually target domains similar to popular sites to spread malware and conduct phishing attacks.
In 2022, the World Intellectual Property Organization (WIPO) registered over 7,000 cybersquatting cases, an all-time record. The following are some of the common forms of cybersquatting attacks:
Typosquatting (URL hijacking). Using misspelled domains of legitimate websites to trick users into visiting the phishing site. For example, a typosquatter may register a domain name like amozon.com that resembles the legitimate amazon.com site.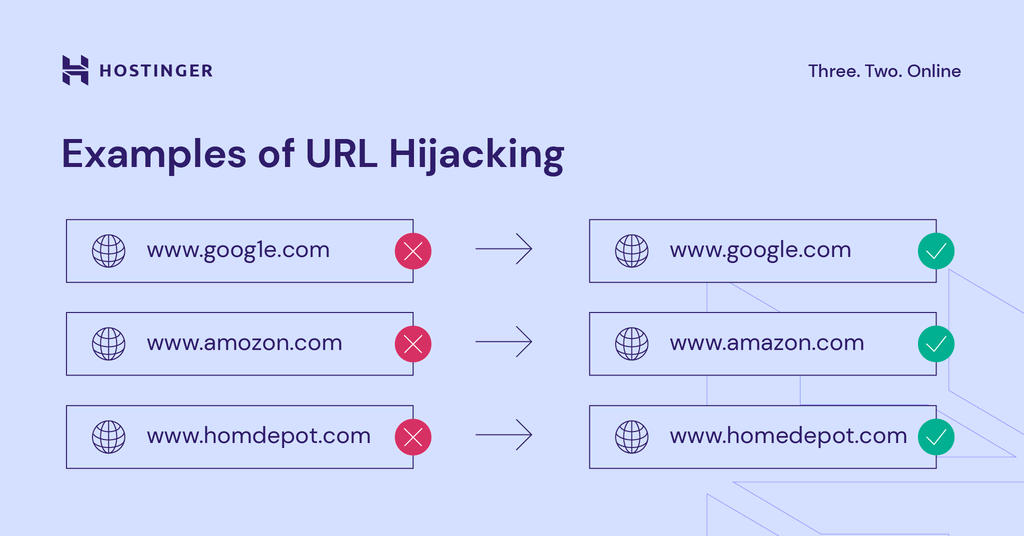 Homograph attack. Identifies and exploits visual similarities between characters or letters in the International Domain System (IDN). Domain squatters register addresses that look like a particular domain but use characters in a different language.
Homophone squatting. It takes advantage of similar-sounding domain names to redirect users to malicious sites. The rise of homophone squatting is driven by the popularity of voice-based search systems like Google Voice Search and Cortana.
Top-level domain (TLD) squatting. A domain squatter buys a pre-existing domain with the same name but different extensions. For example, registering domains such as example.co to mimic example.com.
Combo squatting. Adding a specific keyword into a legitimate website domain, such as onlineshopnamepayment.com, to convince people that they're entering an official payment page.
How to Prevent Domain Squatting
Now that you know what domain squatting is and how it works, we will provide six tips to protect your domain from squatters.
Register the Domain Before You Need It
Registering your domain name as soon as possible is best to prevent others from taking it. To do this, perform a domain search and verify its availability using a domain checker tool.
Domain Name Checker
Instantly check domain name availability.
For users who wish to get registered domains, here are a few things we recommend doing:
Get in touch with the current domain name registrant. Find out the owner's contact information using a WHOIS lookup tool or looking through domain sales pages and ask if they are willing to sell it.

Check out domain marketplaces and auction sites. There are several platforms where you can buy and sell domains, such as Sedo and Flippa. Search for the domain name on these platforms and place a bid or buy it at the listed price.
Hire a domain broker. If you cannot contact the current owner or the domain name is not available on a marketplace, consider hiring a domain broker to negotiate the purchase on your behalf.
Explore different alternatives. Registering a different domain name can be an option if your desired domain is taken. There are several domain name generators available to help you come up with alternative domain names.
Buy Domains From an Accredited Domain Registrar
It's important to choose a domain registrar authorized by the Internet Corporation for Assigned Names and Numbers (ICANN) to avoid scams and security issues.
As an ICANN-accredited registrar, Hostinger has strict verification processes for domain registration and offers additional security features such as a Transfer Lock.
Purchase Domain Privacy Protection
Domain ownership protection, also known as domain privacy protection, is a service offered by some registrars to conceal the personal information of domain owners in the WHOIS database, including their name, email address, and phone number.
Using a privacy protection service can provide the following benefits:
Reduce unwanted emails. Without it, your personal contact information can be freely accessed. You may start receiving emails containing viruses or malware, which can result in a severe security breach.
Prevent cyber attacks. Since the service hides your email and other information from the public, it makes it more difficult for attackers to hack your accounts and use your domain to launch phishing attacks, malware attacks, and other cyber threats.
Note that not all registrars offer the service – some may charge extra for it, while others might not provide it at all due to legal, financial, and technical reasons.
Hostinger offers a free privacy protection service for eligible domain extensions such as .com and .net, which users can enable easily via hPanel, Hostinger's custom control panel.


Register a Trademark
Trademark registration provides a legal basis for taking action against squatters. When someone registers a trademark, they will be granted exclusive rights to use it for goods and services covered by the trademark registration.
If a squatter registers a domain name that is identical or confusingly similar to your trademark names, you can take legal action to recover the domain name and stop its unauthorized use.
Usually, you need to file a complaint with the appropriate dispute resolution provider, like the WIPO or the National Arbitration Forum, to reclaim the domain name.
Register Misspelled Versions of Your Domain
Another way to protect your domains from malicious domain squatters is by purchasing different variations of your domain name, such as alternative spellings of your business name or different top-level domains (TLDs) like .com, .net, and .org.
For example, Google has registered many variations of its domain name, including goole.com, gogle.com, and gooogle.com, to avoid domain squatting.
Set Up Automatic Domain Renewal
If you fail to renew a domain, someone else can register it, gaining control over the domain name. Enabling automatic renewal services can prevent that.
Hostinger users can easily activate the auto-renewal feature in the Domains section of hPanel, which will automatically renew your domain name before its expiration.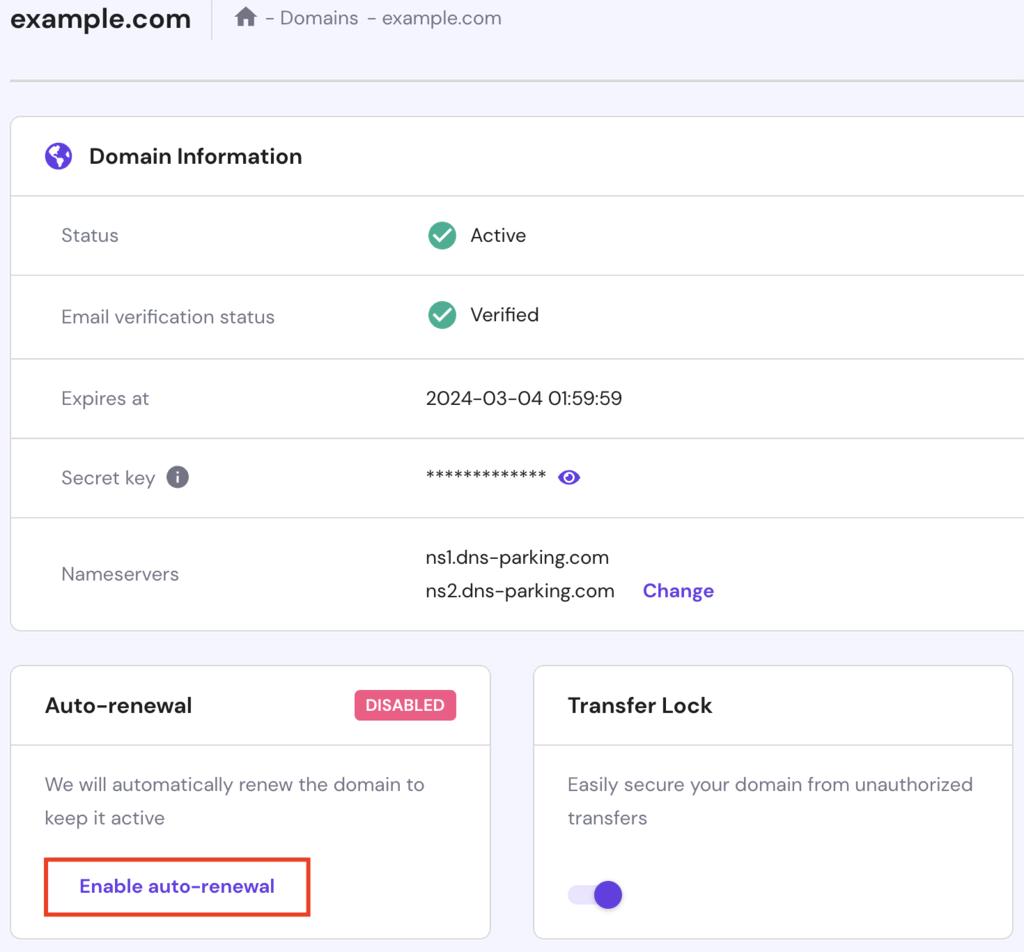 How to Reclaim a Squatted Domain
If you or another trademark holder falls victim to domain squatters, there are a few ways to reclaim the domain:
Negotiate with the squatter. Find out if the domain squatter is willing to sell the domain name and negotiate a fair price. However, they may ask for an exorbitant price or try to exploit your trademark rights.
File a Uniform Domain Name Dispute Resolution Policy (UDRP) complaint. ICANN provides a way for trademark holders to recover domain names that have been proven to be registered in bad faith.
File a lawsuit. If the method above is ineffective, the trademark owner can file a legal complaint. However, the process can be time consuming, and results are uncertain. Consider consulting with a legal professional before taking any action.
Conclusion
Squatting is an illegal method that seeks to monetize domain names with bad faith intent. This typically occurs when someone buys domain names that infringe an existing trademark or service mark.
To recap, here are some steps you can take to avoid being a victim of domain squatting:
Register the domain name as soon as you create your business.
Choose a reputable domain registrar with strict anti-squatting policies.
Protect your business and brand names by registering a trademark.
Use a domain privacy protection service.
Explore different variations and extensions of your domain name.
Depending on the circumstances, you may be able to negotiate with the squatter, file a complaint, or file a lawsuit to try and reclaim the squatted domain.
We hope this article helped you better understand how domain squatting works so you can employ effective methods to prevent it.
Domain Squatting FAQ
In this section, we will answer some common questions about domain squatting.
Is Domain Squatting Legal?
Domain squatting is illegal under the Anticybersquatting Consumer Protection Act (ACPA), as it is seen as a form of trademark infringement and ransom. Legislation exists to protect company names, trademarks, and personal names from domain squatting, even imposing fines for bad-faith registration.
What Is the Difference Between Domain Squatting and Domain Investing?
The main difference between domain squatting and domain investing lies in the intent. Domain squatting aims to prevent others from purchasing the domain, while domain investing involves buying undervalued domains and reselling them at a higher price based on market demand and trends.