13 Best WordPress Search Plugins
Having a search function is an essential element of any website with large content repositories such as blogs, news sites, online stores, and knowledge bases.
Unfortunately, the native WordPress search system comes with limited functionality as it can only perform basic searches and retrieve essential information.
Thus, to improve your WordPress site search and present more effective, narrow search results, you will need to install a WordPress search plugin.
Start A Free 7-day Email Course On WordPress
Benefits of Using a WordPress Search Plugin
A search plugin integrates and enhances the native WordPress search system by providing plenty of features and customization options. In return, it delivers faster, more accurate results along with other benefits such as:
More straightforward navigation on your website. If you have a text-heavy page like a blog or knowledge base, visitors can simply use the search bar to find specific content. This can also be a good advantage for eCommerce websites as visitors can easily find a product from your catalog.
More accessible content. Search plugins can perform extensive searches down to custom fields and custom post types, making your content more visible and easy to search.
Visitor behavior and preference analysis. Most WordPress search plugins come with built-in search logs that provide data and search analytics, enabling you to determine which content or product is on demand.
Top 6 Free Search Plugins
We have collected the best free search plugins for WordPress to help you get started.


Plugin Stats
Downloads: 50,000+
Rating: 5/5
Notable features: live search, unlimited number of search forms, WooCommerce product search
Ivory Search is a freemium search plugin that allows you to create unlimited search forms and configure each separately.
It is equipped with shortcodes that let you embed search forms anywhere on your site, including header, footer, sidebar, and other widget areas.
Ivory Search gives you the flexibility to search for any type of content and restrict specific content from search results.
You can configure the number of posts displayed and present them in either ascending or descending order. Moreover, Ivory Search is well-integrated with various WordPress plugins, such as bbPress and WooCommerce.
With its premium version that costs $19.99/year, you have the option to enable or disable search results based on specific authors, post statuses, and the number of comments.
Furthermore, by upgrading to the Pro Plus plan for $49.99/year, you can search WooCommerce products by their SKU.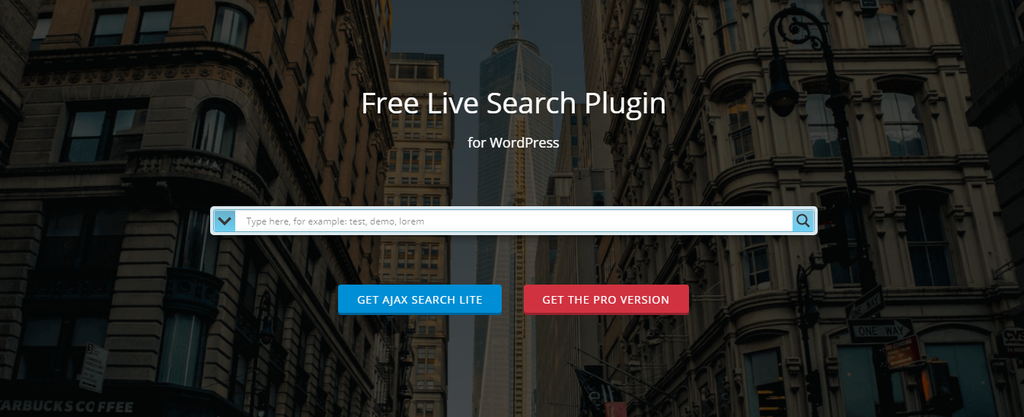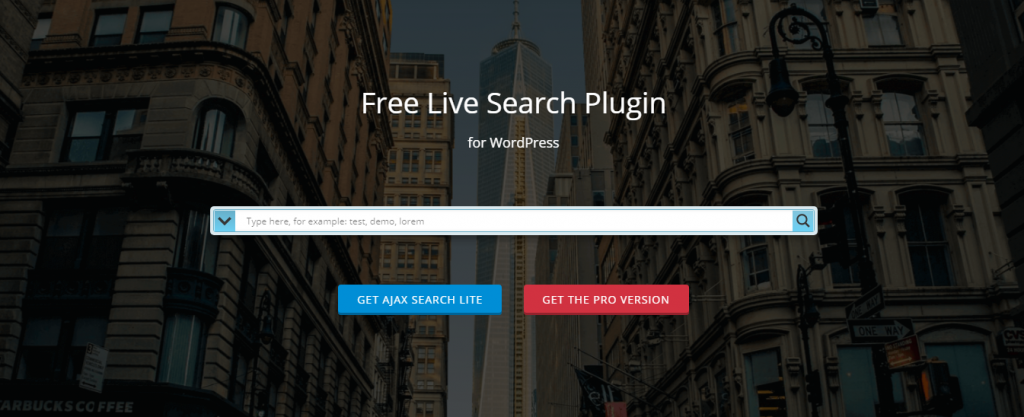 Plugin Stats
Downloads: 50,000+
Rating: 4.5/5
Notable features: live search results, user-friendly, retina-ready
Ajax Search Lite replaces the default WordPress search with a live Ajax-search bar to improve the user experience.
It is highly customizable and has numerous features, including search in posts and pages, five built-in templates, custom filter boxes, as well as category and post exclusions.
With Ajax Search Lite, search results are displayed with images, adding interactive elements to the website design. This plugin comes with smooth animations and a responsive design that works great with desktop and mobile devices.
The free version is able to perform searches in custom post types, such as WooCommerce products, events, and portfolio items.
Meanwhile, Ajax Search Pro costs $36/year and provides more functionality, from image pre-caching and keyword highlighting to auto-complete and suggestions.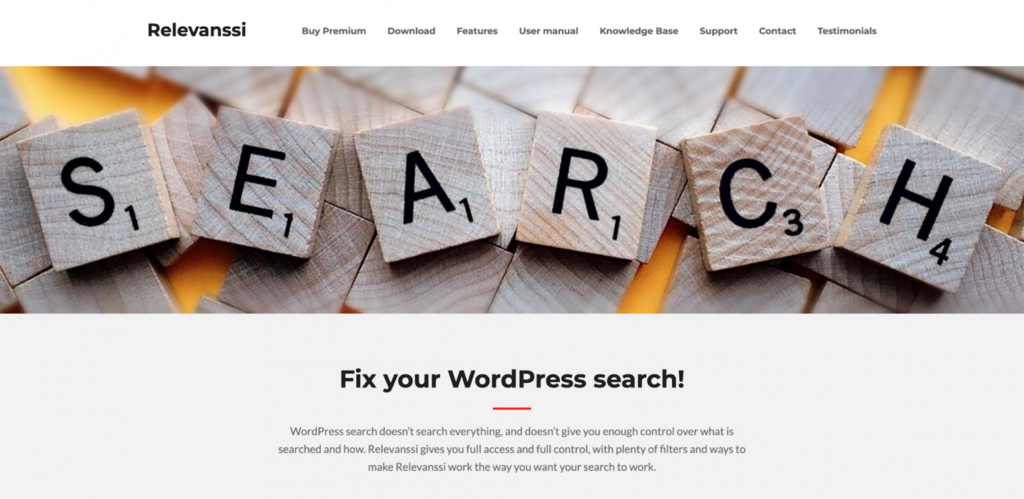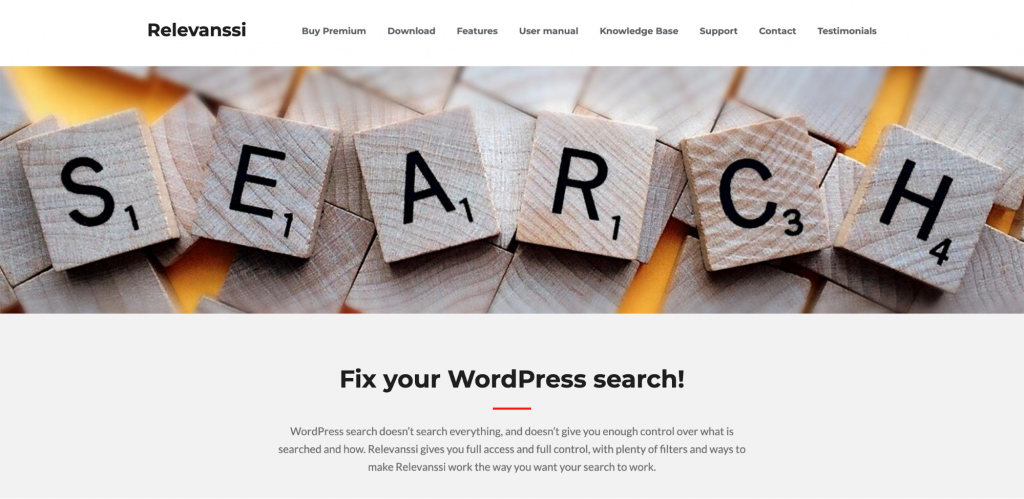 Plugin Stats
Downloads: 100,000+
Rating: 4.5/5
Notable features: relevant search results, image search, comprehensive knowledge base
Relevannsi improves the default WordPress search by giving you full access and control over your website search results through its wide variety of filters and extensive search functionality.
As the name suggests, this plugin sorts the results based on their relevance, not on the date. It highlights the search terms and gives "Did you mean?" search suggestions, making it easier for your visitors to find content on the website.
Visitors can search through all WordPress post types, from comments and tags to categories and custom fields. However, this WordPress search plugin gives you the option to only show results from specific categories.
For photography, portfolio, or other image-heavy sites, this search plugin lets you search images by title or description.
You can purchase a premium version for $99 an annual license or $349 a lifetime license to unlock more features and functions.
Furthermore, Relevanssi provides a comprehensive knowledge base to help you learn more about the plugin.


Plugin Stats
Downloads: 10,000+
Rating: 4/5
Notable features: Google Custom Search, custom search widget, and shortcode
WP Google Search allows you to integrate a Google Search feature on your WordPress site by registering a new Programmable Search Engine. Then, simply add the generated search engine ID to the plugin settings page.
This plugin not only works on a single website, but you can also insert it into a collection of websites. It retrieves information from the Google Search engine and then displays it on your WordPress site.
However, WP Google Search only provides limited options for customization. This includes using a custom shortcode to place the search form anywhere on your site or displaying the search widget on any widget area.
Instead, most of the customization options can be found in Google's Custom Search Engine admin area. There, you can configure the Look and Feel section and decide how you want to display the search results.


Plugin Stats
Downloads: 20,000+
Rating: 4.2/5
Notable features: lite mode, quick results, user-friendly
While other search plugins replace the native WordPress search engine, ACF Better Search improves its ability to search from a collection of advanced custom fields.
This free search plugin includes several custom fields such as Number, Text, Text Area, Email, and File. It also allows visitors to search for whole phrases instead of a single word, making the search results more accurate.
Moreover, ACF's developers recently modified the code and managed to improve the search speed by around 75%.
ACF Better Search works by modifying your existing SQL database and extending the standard search to selected fields of the Advanced Custom Fields.
In return, everything works automatically so that you won't need any additional lines of code. ACF Better Search offers a Lite mode option for faster search results as well.

Plugin Stats
Downloads: 100,000+
Rating: 4.3/5
Notable Features: Ajax-powered, infinite scrolling, turbo mode
WOOF Products Filter is a free WordPress search plugin that improves the functionality and user experience of your WooCommerce store.
This plugin helps you by providing faster and more accurate search results. It lets visitors filter products based on their categories, colors, or tags.
Shortcode and widget options are available for this plugin so you can display the search form on any part of your website. Besides, it allows you to show product taxonomy and attributes as radio buttons, checkboxes, or drop-downs.
One of its most useful features is a product messenger that lets logged-in customers save their filter combinations and get a notification whenever the exact product they want is available on the site.
Top 7 Premium Search Plugins
Opting for a paid search plugin might be a good solution if you want to have more features and customization options.
Below are the seven best premium search plugins to consider when making a choice.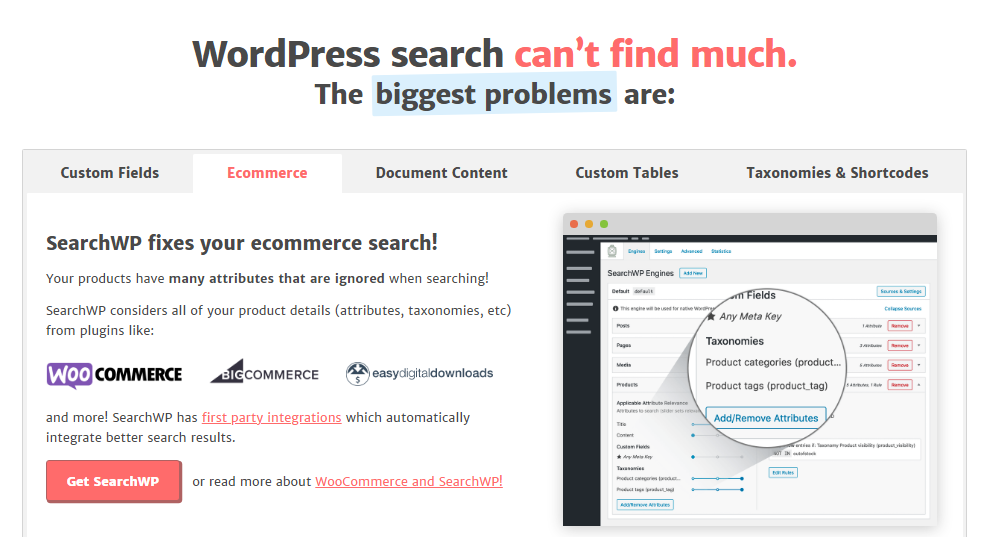 Plugin Stats
Downloads: 30,000+
Rating: 5/5
Notable features: extensive search, automatic integration, PDF and Office document indexing
Price: from $99/year
SearchWP is widely known as the best WordPress search plugin on the market. Its search system is packed with great features and extensive control options.
It searches for all types of content on the site, from custom fields and document texts to taxonomies and shortcodes.
SearchWP offers an automatic theme integration, meaning users don't have to set it up, as the plugin will start working automatically alongside any search forms and result templates.
It is also well-integrated with multiple WordPress builders such as Elementor and Divi, as well as popular plugins including WooCommerce, BigCommerce, and bbPress.
You can customize the weight of specific post type attributes, taxonomies, or custom fields to define which content is more important.
The Standard License costs $99/year, and it includes all standard features alongside 26 standard extensions.
Its most popular Pro License plan retails at $149/year. It allows you to use the plugin on five different sites and access all the Pro extensions.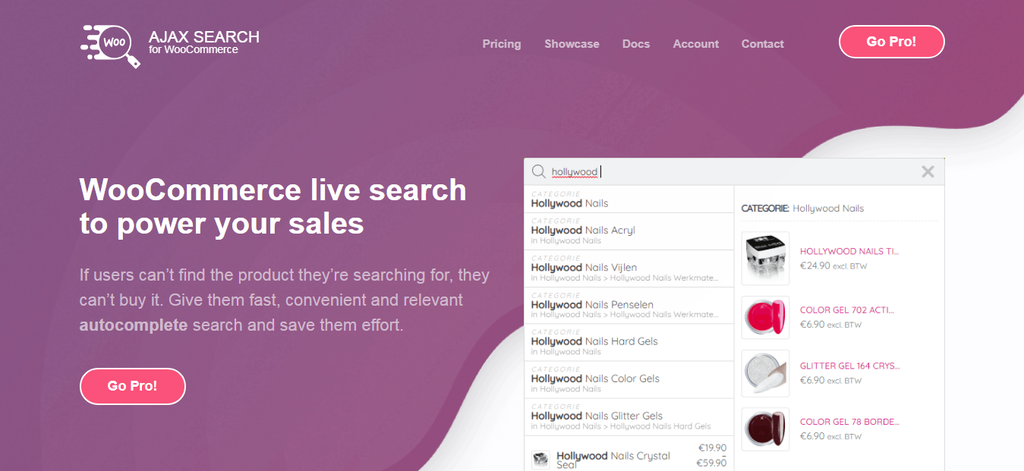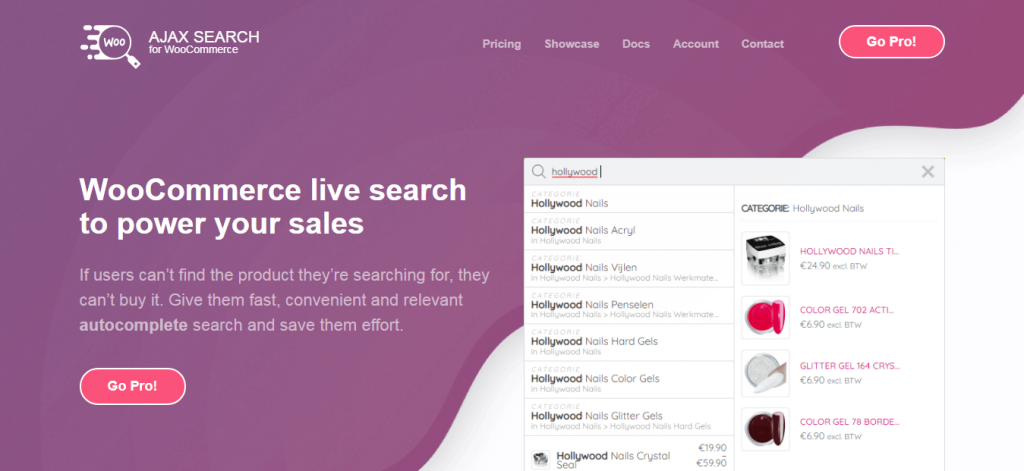 Plugin Stats
Downloads: 100,000+
Rating: 5/5
Notable features: fast performance, mobile search mode, reliable support
Price: from $49/year
Ajax Search for Woocommerce is another excellent WordPress search plugin built for WooCommerce stores.
It improves the WooCommerce default search system with an advanced live search feature, where customers can immediately see search suggestions as they type. They can be displayed either in a simple form with only the products' names or include photos, prices, and descriptions.
The plugin can perform searches in product titles, descriptions, and product SKU to improve your website's search experience.
It also provides easy implementation with your WordPress theme. You can embed the plugin using a shortcode or place it as a search widget.
Even though Ajax Search is available for free, it doesn't come with features such as fuzzy search, fast search engine, synonyms, or search for custom fields and attributes – you need to upgrade to the premium version, which starts at $49/year.

Plugin Stats
Downloads: 25,000+
Rating: 4.5/5
Notable features: translation-ready, plugin integrations, live search
Price: from $69.99/year
YITH WooCommerce uses the Ajax functionality to provide better search results on your WooCommerce website. The plugin creates a search box that shows instant results based on specific searching criteria.
In addition to showing the products' preview, price, or brief description, the plugin also allows you to add a customizable label to offer promotions.
Moreover, it provides extended search functionality for products' SKU, content, categories, tags, and excerpts.
When it comes to styling the search box, you can choose the default layout or a wide style that will automatically adjust to fit the screen.
You can also combine this plugin with other add-ons for extra features, such as YITH WooCommerce Multi Vendor, which allows you to create a multi-store.
This plugin's annual price starts at $69.99 for a single site, $209.99 for six sites, and $209.99 for up to 30 sites.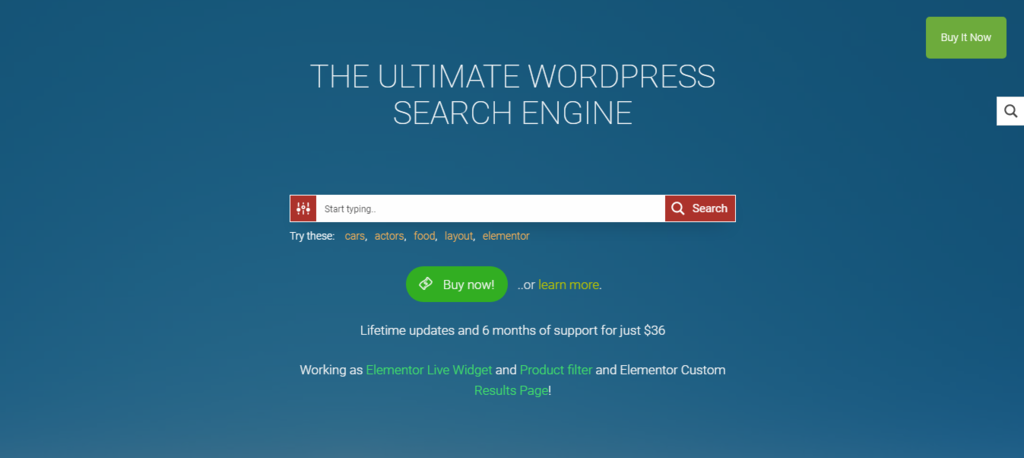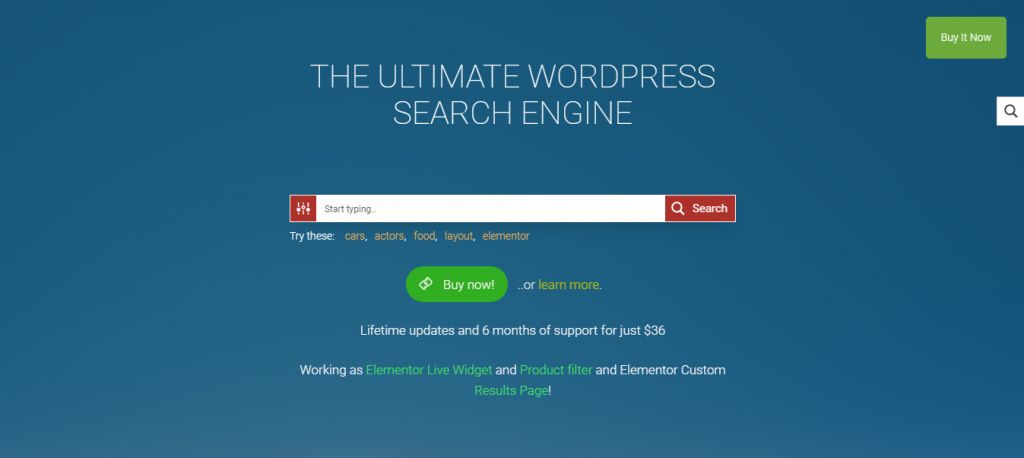 Plugin Stats
Downloads: 15,000+
Rating: 4.6/5
Notable features: user-friendly customization, Google Analytics integration, real-time results
Price: $36/year
Ajax Search Pro is another search plugin that has plenty to offer. This premium WordPress plugin comes with over 65 theme styles, allowing you to modify the search form as you like.
Besides, there are more than 400 search options to customize the plugin to fit your needs without the need to add a single line of code.
The plugin works with an OR logic by default to provide as many results as possible. It can perform searches for posts, pages, and any custom post types.
However, if you want to show more specific results, there is an adjustable keyword-logic feature that you can configure with just a few clicks.
Another interesting search feature is its smart image parsing to ensure that it displays only the best-quality images.
Google Analytics is also well-integrated with this plugin, allowing you to get insights into your users' behavior. Moreover, it is also compatible with popular page builders such as WPBakery, Divi, and Elementor.
This plugin is a budget-effective solution, allowing you to get all of these features and many more with only $36/year.


Plugin Stats
Downloads: 5,000,000+ (Jetpack)
Rating: 5/5
Notable features: instant results, highlighted search terms, spelling corrections
Price: from $5/month
Jetpack Search is a plugin developed by Automattic, and it is easy to see why Jetpack Search is one of the best WordPress search plugins on the market.
It replaces WordPress default search functionality to improve accuracy. It uses Elasticsearch to improve the search performance and overall user experience.
One of the plugin's key features is its real-time search index that automatically updates every time you publish new content or make edits.
It also comes with spelling corrections, fuzzy matching, and prioritized results based on the site statistics.
Jetpack Search offers monthly subscriptions based on how many records are displayed in your search results – these could be blog posts, pages, or products.
Plans start at $5/month for up to 100 records.
Plugin Stats
Downloads: 1,000,000+
Rating: 5/5
Notable features: cross-domain search, typo-tolerance, search analytics dashboard
Price: from €199/year
WPSOLR is a flexible WordPress search plugin widely used in eCommerce stores.
It integrates with three powerful search platforms: Elasticsearch, Algolia, and Apache Solr. They can give you optimal performance by speeding up database queries.
WPSOLR supports searches for custom fields, taxonomies, attached files, and all custom post types. Moreover, it provides facet options to allow users to filter results and find products easily.
This plugin has a cross-domain search function that allows users to explore multiple sites.
There are also various add-ons you can integrate to boost its functionality. Some of them are WPML to provide multilingual content, ACF Pro for extra custom fields, and a PDF embedder to search through documents.
The WPSOLR plugin is available from €199/year. It includes all add-ons and free local installations for Elasticsearch and Solr.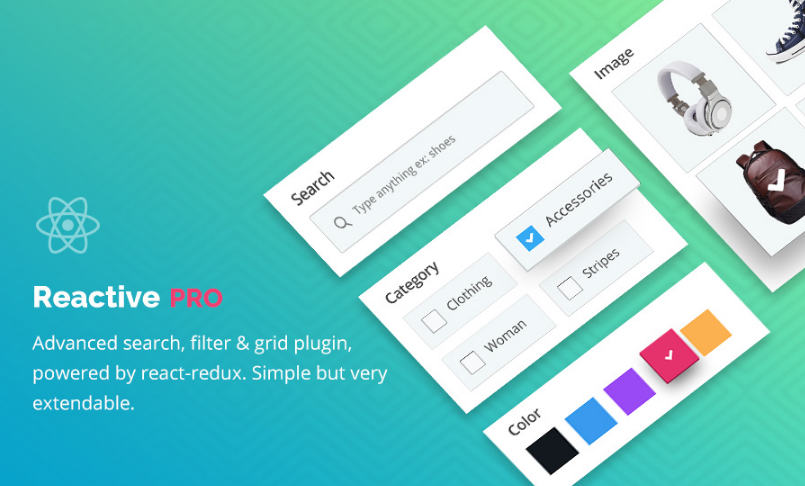 Plugin Stats
Downloads: 3,000+
Rating: 4.5/5
Notable Features: lazy loading, drag-and-drop builder, beginner-friendly
Price: from $29/year
Reactive Pro is a WordPress search plugin from CodeCanyon that comes with a lot of functions.
It allows you to create custom search forms using its drag-and-drop form builder. The 15+ search attributes also let you create many search filters, making it a great solution for different types of websites.
One of the most interesting key features from this plugin is a geo box and location searching facility that works alongside Google Maps. This allows users to search any existing location on the map and get results ordered by distance.
Moreover, it supports searches for multiple post types, categories, metadata, and images.
Reactive Pro implements code splitting and lazy loading to optimize your site search. It is also fully compatible with various WordPress plugins, including WooCommerce, BuddyPress, and WPML.
Despite providing a lot of features, Reactive Search Pro offers a beginner-friendly setup and reliable support for users with documentation and video tutorials.
To get this plugin, you can purchase a regular license for $29/year.
How to Choose the Right Search Plugin for You?
Here are a few tips to keep in mind to make sure you install the best WordPress search plugin on your website.
1. Identify Why You Need a Search Plugin
The more content you want to include in your search index, the more features are needed. Decide whether you want to provide a search form to help with general navigation or display a product catalog.
For instance, if you have an eCommerce website with many products, you might want to display search filters for quicker results and create custom fields for better accuracy.
In this case, WordPress search plugins like SearchWP, Ajax Search Pro, or Jetpack Search might be the best option for you.
On the other hand, for a content-heavy website like a blog, consider choosing a plugin that performs searches through posts, pages, media files, and excerpts. Plugins like Ivory Search, Relevanssi, and WP Google Search can easily get the job done.
2. Decide Which Features Are Important For Your Site
The next things to pay attention to are features and customization options since some themes offer more control than others.
For example, a live search feature can enhance the search form, improving the site's usability. WordPress search plugins with Ajax-powered search come in handy in this case.
Or you might want to modify the search algorithm. You can adjust the weight of a specific type of content to rank higher when specific terms are included. Plugins like Relevanssi, SearchWP, or FacetWP let you do so.
Meanwhile, if you want to modify the appearance of your search form, some plugins, including Reactive Search Pro and Ajax Search Pro, offer you the flexibility to choose different styles, layouts, and colors.
3. Determine Your Budget
Finally, another thing to take into consideration is pricing. Free WordPress search plugins might offer better solutions if you're just starting a website.
Free plugins offer more straightforward settings to improve your site search functionality.
However, if you have a growing website with a large database, you might need some extended functionality. Thus, investing in paid plugins might be well worth the money.
Conclusion
There you have it – the 13 best WordPress search plugins.
Free search plugins offer sufficient functionality for your search engines' back-end, from its algorithm to indexes. At the same time, premium versions provide extended functionality for front-end customization, such as filters and suggestions.
Whether you want to opt for the free or premium version, make sure to pick one that suits your website needs.
Leave a comment to let us know which WordPress search plugin you ended up choosing.
Was this tutorial helpful?