10+ Best AI Content Generators in 2023: Pros and Cons + Key Features
Quality content is essential for a website to attract audiences and nurture them to grow. However, making it can be difficult and costly if you hire professionals.
Artificial intelligence content writers help you easily create emails, social media posts, and sales copies. You can also use them as an idea generator when struggling with a topic.
This article will explore the 10+ best AI content generators. We have assessed each entry based on various factors, including prices, features, and content quality.
Top 10+ AI Content Generators
Thanks to AI technology, processes like website development and content creation have become possible even for beginners.
In the digital marketing industry, they can help users overcome writer's block, speed up the research process, and improve existing content.
This section will compare the best content creation tools for different budgets and use cases.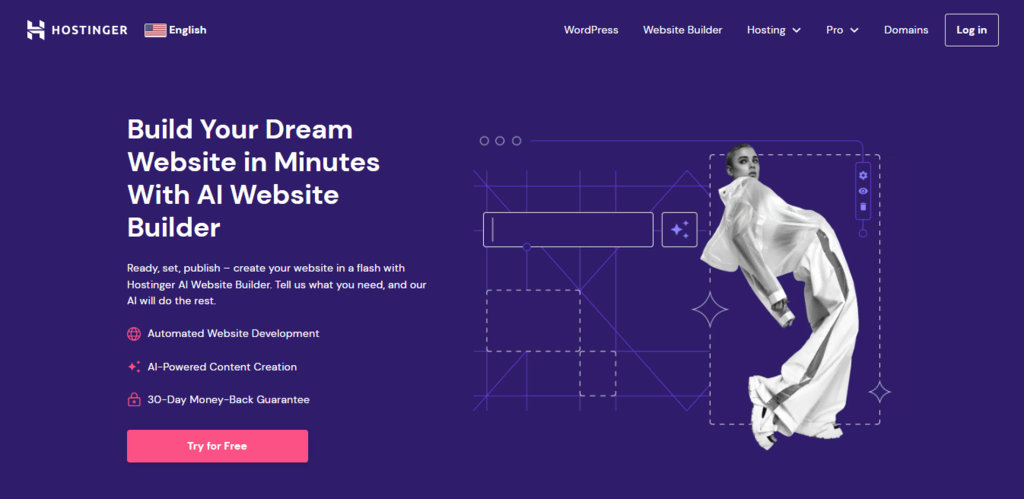 Hostinger AI Website Builder Stats:
Best for: quick and effortless website creation
Price: starts at ₱109/month
Hostinger AI Website Builder is a beginner-friendly site and content creation tool that can generate an entire website based on user prompts – complete with custom text, images, and alt attributes.
Besides using the AI-powered website generation tool, users can create a website by choosing from over 200 responsive designer-made web templates. Then, site owners can customize it with the platform's intuitive drag-and-drop editor.
There are also other built-in AI tools. Hostinger Website Builder's AI Logo Maker can generate a custom logo, while its AI Writer can come up with unique content. What's more, the platform's AI Heatmap tool can help analyze visitor behavior so you can optimize the site design.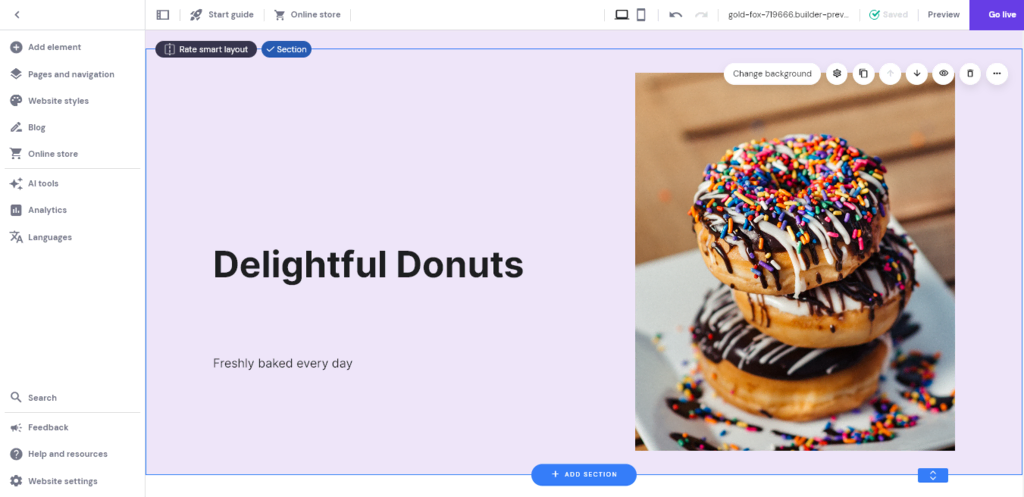 To get started, enter a brief description of your ideal website and click Create a website. Then, the AI builder will generate the site for you in seconds.
It offers three different design options. If you click Style, you can also choose your favorite font and color palette. Click Continue to further customize your generated website and take it to the next level.
In terms of pricing, Hostinger AI Website Builder comes bundled with hosting at ₱109/month. It also offers a 30-day money-back guarantee. In addition, note that this builder is included with all Hostinger web hosting plans, so you can scale resources as needed.
Key Features:
Built-in search engine optimization (SEO) tools. Various tools like a meta title and descriptions generator, URL customizer, and image alt text editor help your site rank better on search engine results pages.
Third-party integrations. It offers built-in integrations with tools like Google Analytics, Messenger Live Chat, and Hotjar to help extend your site's functionality.
eCommerce capabilities. It has an intuitive eCommerce management suite, supports 20+ payment gateways, and lets you sell up to 500 products – with no commission fees.
Blogging features. Users can write and generate blog posts using AI, schedule publishing dates, and organize content into different categories.


Hostinger WordPress AI Assistant Stats:
Best for: generating WordPress blog posts
Price: free
Hostinger AI Assistant is a WordPress plugin that brings AI content generation into the WordPress dashboard. The user-friendly tool lets you generate a complete blog post based on your prompts.
The plugin is available for Business web hosting and Cloud hosting users, and you can opt to install it automatically during the onboarding process. One important note is that users need to install and activate the main Hostinger WordPress plugin to use this AI tool.
Once everything is set up, you can access the AI Assistant from the Hostinger menu on the WordPress sidebar. On the Hostinger WordPress plugin interface, select the AI assistant tab where the AI tool is located.
Using the AI Assistant interface is simple. You only need to enter the blog post description as the prompt. For the best results, enter specific details like the content length, required SEO keywords, and preferred content structure.
Once you finish the prompt, click the Generate content button and wait until the blog post draft is generated. It will appear below the content generator section for you to review.
If you want to regenerate the post, you can modify and submit the prompt again to get different results. Once you're happy with the generated draft, simply click the Edit as a draft button. It will take you to the post editor, where you can make some final touches before publishing.
Key Features:
Easy installation. Hostinger's Business web hosting and Cloud hosting clients can set up a new WordPress website with this plugin automatically installed.
SEO-ready content. The AI tool generates blog posts and meta descriptions with SEO best practices in mind, helping you drive more traffic to your site.
Instant post editing. Exporting the generated content to the WordPress post editor only requires a single click.

Jasper Stats:
Best for: content writing and editing
Price: starts at $59/month
Jasper is a one-stop solution for generating marketing copy with AI. It has over 50 templates for different content types, from AI-generated social media profiles to eCommerce product descriptions.
This tool lets you create content in three simple steps – choose a template, enter the required information, and adjust the output settings. This information may include the content's title, tone, and description.
After clicking generate or compose, Jasper will produce content with different lengths based on your settings. The entire content generation process only takes seconds.
Jasper has comprehensive features and more integration options than other tools, helping to speed up non-writing tasks like editing, proofreading, and content optimization.
However, Jasper's pricing depends on the monthly word limit you choose. Since determining it can be tricky, try the five-day free trial before purchasing it.
Key Features:
Grammarly integration. Automatically checks for grammatical, spelling, and clarity errors to ensure content quality.
Text-to-speech input. Give the content details and further instructions using your voice.
SEO tools. Jasper automatically includes the targeted keywords in your content and integrates with Surfer for easy SEO analysis.
Tone settings. It will adjust the phrasing and tone based on how your content sounds to readers.
GrowthBar Stats:
Best for: creating SEO-optimized blog content
Price: $29/month (free for 5 days)
GrowthBar is an AI writing suite focused on long-form content. You can research keywords, then with one click, generate an SEO-optimized blog outline. With another click, you can write a full blog post that adheres to all SEO best practices in GrowthBar's user-friendly editor.
GrowthBar works in over 20 languages and also includes keyword research, competitor research, AI chat, and a whole host of other AI tools including a press release generator, email newsletter generator, and more.
To use GrowthBar, you start by researching a keyword. GrowthBar has a database of over 7 billion keywords, along with search volume and competitiveness scores. Once you've found a quality keyword, you enter it into GrowthBar's blog post generator, along with your language and optimization country.
GrowthBar's editor helps you build your outline and then write your article with a few button clicks. It also reveals optimizations as you go: including which keywords to use, how long your post should be, how to improve readability, and it even suggests internal links as you write with AI.
Key Features:
Long-form AI blog post generator: Create a fully optimized blog post in under 2 minutes.
Optimize existing posts: With one click, GrowthBar enables you to import any blog post on the web and improve it with AI recommendations
WordPress integration: Write with AI directly in WordPress.
AI Chatbot: Chat with GrowthBar's AI and ask it to do anything for you.
Custom AI models: Upload some information about your business and GrowthBar will create a custom AI model so that you can write with AI in your tone of voice.
SEO tools: Keyword research, competitor research, gap analysis, and rank tracking — GrowthBar helps you identify SEO opportunities and write articles with AI.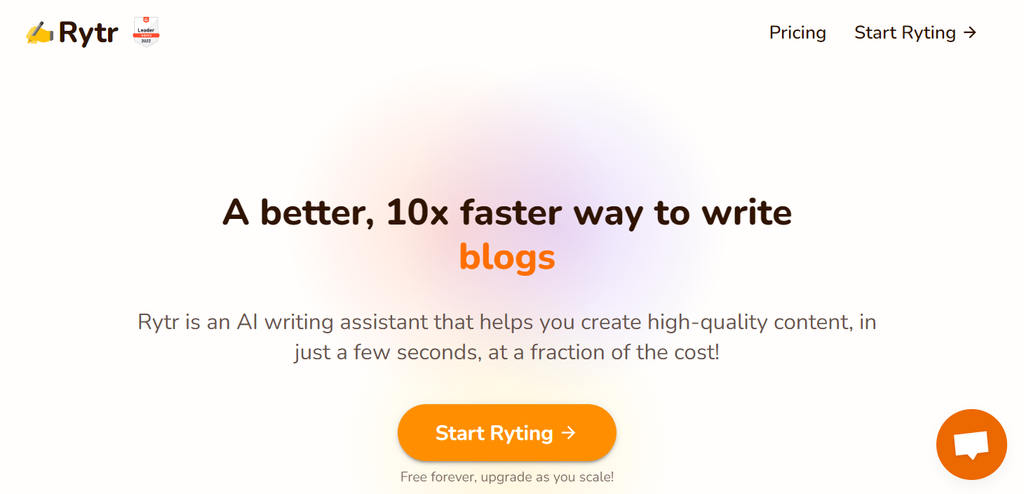 Rytr Stats:
Best for: creating short website copy
Price: freemium
Rytr is a feature-packed, affordable AI content generator. Its paid plans start from $9/month, but it also offers an unlimited free version with plenty of features.
To use this tool, users must create an account and log in to the Rytr website. Then, choose a template, enter the required information, and click Ryte for me to generate the content.
While simple and affordable, Rytr isn't ideal for generating ideas since it only outputs three content variants. Also, content in languages other than English needs more editing due to its lower quality.
Key Features:
Image generation. In addition to text, Rytr can generate a royalty-free image based on users' descriptions to help speed up the content creation process.
Document management. This tool has a built-in file and folder explorer to help organize your project.
Language support. Rytr generates written content in over 30 languages, significantly more than other AI writers.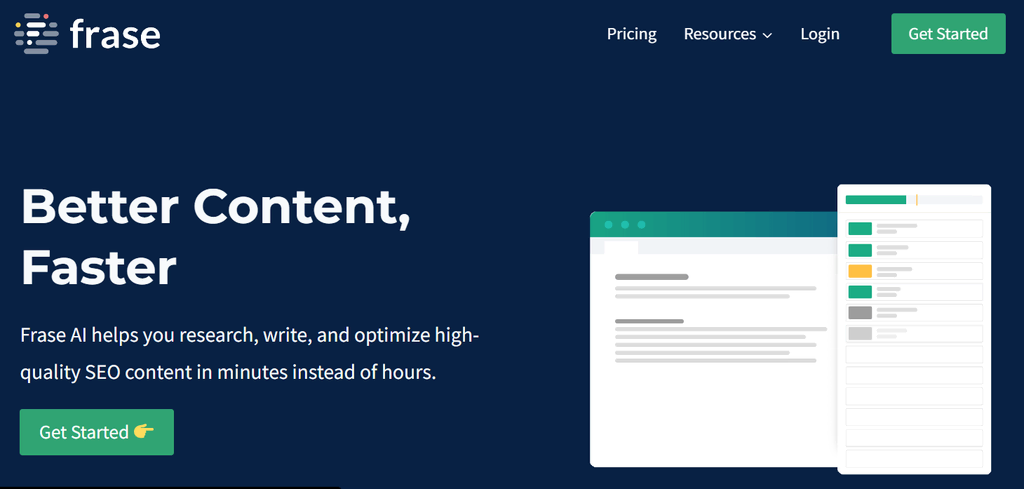 Frase Stats:
Best for: creating SEO-focused content
Price: starts at $14.99/month
Frase is an SEO-focused AI content-generation tool. Its built-in optimization feature shows keyword suggestions based on competitors' content to help your article rank better in search results.
Users can use the AI Write tool to automatically create full-length content based on templates. Alternatively, write a few sentences and expand them into paragraphs with the Write button.
This tool also suggests headings and content based on similar articles to speed up your writing process.
Frase's major drawbacks are its high prices and lack of a free trial. While the starting price is reasonable, its premium plan's cost increases even though the word limit is the same.
In addition, several features are only available as add-ons, costing an additional $35/month. Due to the high cost, we recommend this tool if you are a business owner focusing on content marketing.
Key Features:
Comprehensive AI SEO tool. Analyzes competitor articles and suggests the ideal keywords, word count, and headings to help your content rank higher in search engines.
Content analytics. Frase integrates with Google Search Console to track your article's performance, including click rate, impressions, and average ranking.
Brief generator. Automatically create full-length, SEO-friendly blog post templates to simplify your content creation workflow.
Copysmith Stats:
Best for: generating short content
Price: starts at $19/month
Copysmith is an excellent AI tool for generating short content such as ad copy, product descriptions, and taglines. This tool can create up to 15 content variations with different voices.
In addition to generating content based on use cases, Copysmith lets you automatically rewrite, enhance, or extend your sentences. This is a great feature for auditing existing content.
You can also write copy in bulk for multiple entries, such as product descriptions. To do it, select the appropriate template and upload a CSV file containing the content information about each item.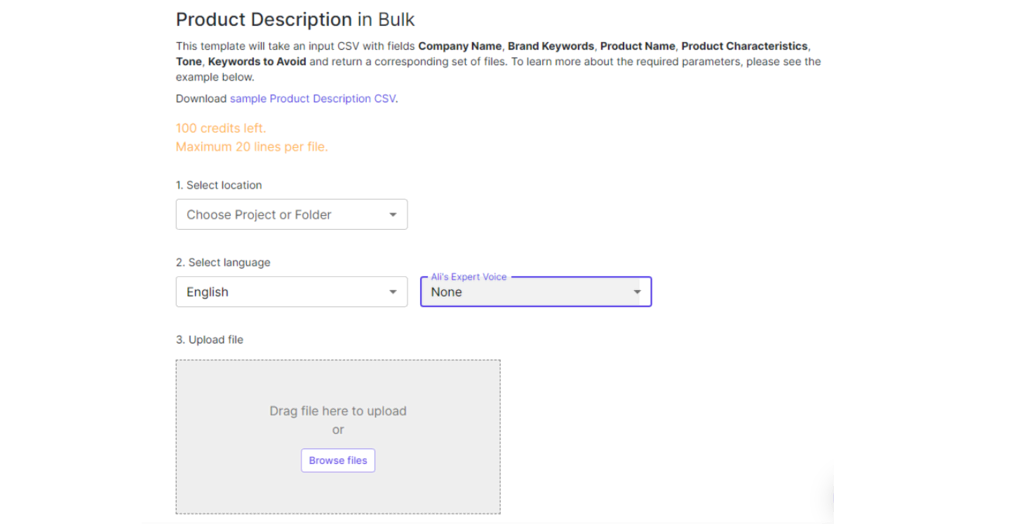 Copysmith integrates with various tools to improve its functionality. For example, combine it with the WooCommerce WordPress plugin to quickly write product descriptions for your online store.
However, while it supports other languages, Copysmith isn't suitable for creating non-English content.
Copysmith offers a free seven-day trial with all the templates and features, which doesn't require a credit card to sign up.
Key Features:
Vast integration. In addition to Frase and WooCommerce, Copysmith integrates with word processing tools like Google Docs and Microsoft Word.
Team collaboration. Share the project's files, folders, and content generator tools with team members.
Bulk content generator. Simultaneously create content for multiple entries using the provided template.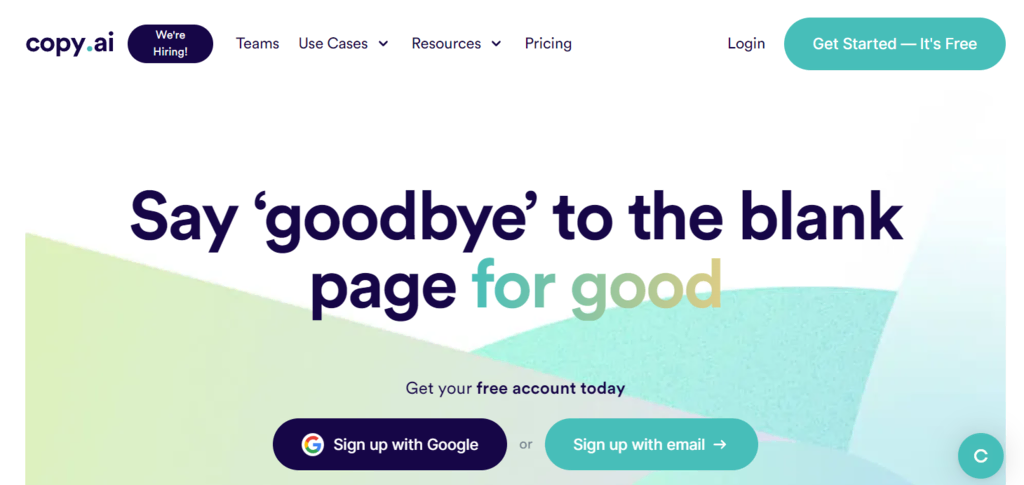 CopyAI Stats:
Best for: generating short copy
Price: freemium
Copy.ai is an all-in-one AI writer tool with over 90 content templates and support for 25 languages. Despite being a popular option for copywriting, it can also write long content like blog posts.
To get started, choose a template for your needs – such as Instagram captions, listicle posts, or cold emails. Copy.ai will generate the structure and content based on your description.
It also has several tools to improve your editing process. For instance, it lets you automatically rephrase sentences, convert passive to active voice, and change writing tones.
Best of all, all the templates and several features are free. This makes Copy.ai suitable for personal bloggers and freelancers with a limited budget.
While this tool lets you create longer content, it isn't the best for writing blog posts. It lacks SEO features, research tools, and blog post templates.
Key Features:
Template variety. Copy.ai has the most content templates compared to other AI writers.
Unlimited project and word count. Subscribing to the Pro plan, users can create unlimited projects and remove the word count limit.
AI workflows. Automate content creation tasks to simplify the workflow and minimize human errors.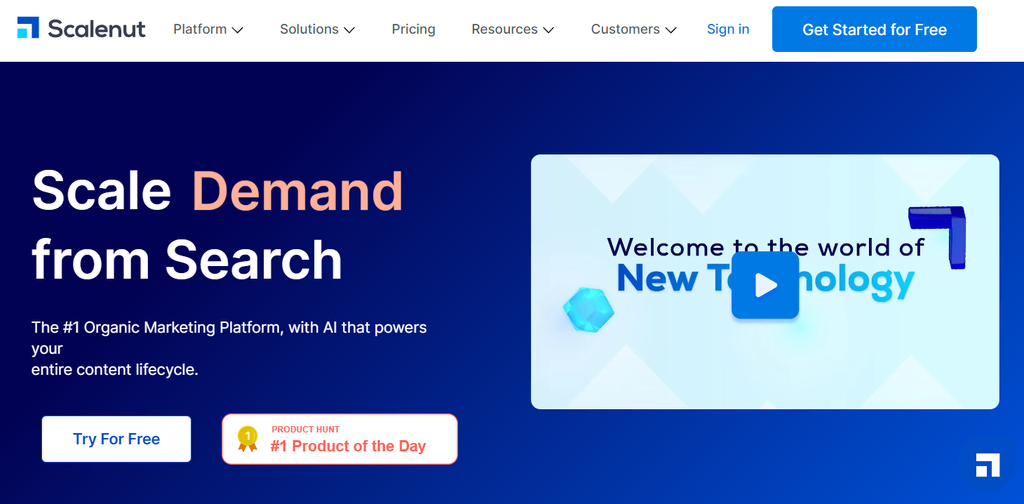 Scalenut Stats:
Best for: creating long-form content
Price: starts at $23/month
Scalenut is a great AI writing assistant tool for creating long blog posts. You can use it throughout the entire content production process, from keyword planning and topic research to writing.
To create articles using Scalenut, enter keywords related to your content in the Topic Cluster tool. Then, click Create Brief to edit the blog post outline, like changing the headings or adding FAQ sections.
The Cruise Mode in the editor screen lets you generate long blog posts in minutes. Click the headings you want to add, and Scalenut will automatically write their content.
However, this tool's output often contains spelling errors, odd phrasing, and bloated language. While easy to fix, it requires additional time to revise and proofread the content.
Scalenut plans are reasonably priced compared to other AI tools on our list. It also offers a free seven-day trial.
Key Features:
Cruise Mode. Plan and write new articles in five simple steps by clicking the provided suggestions.
Topic clustering. Enter a topic to generate content ideas around targeted keywords – including information such as keyword volume and relevancy.
Natural Language Processing (NLP) analysis. Scalenut provides semantically-related keywords to generate optimized and high-quality content.
Content at Scale Stats:
Best for: creating bulk SEO-optimized blog content
Price: $15-$31 per post
Content at Scale is an AI-driven platform that empowers SEO marketers to create high-quality, engaging content quickly and efficiently.
With advanced AI technology, the platform can generate research-backed, long-form blog posts of 2,500+ words in just five minutes. It achieves this by crawling top-ranking content on Google and combining it into a fully optimized post. Unlike other AI writing tools, Content at Scale creates human-level content that is fully original.
The platform's user-friendly interface allows even those without prior SEO experience to create content structured for search. With just one click, users can generate a 2,500-7,000 word blog post by inserting a keyword or prompt. And with users producing over 40 million words produced each month, the platform can write SEO content for any industry or general informational search terms.
Content at Scale saves marketers 10-25x on the typical time and cost of human-only content creation by utilizing an innovative AIO model. The platform also offers a WordPress plugin that syncs directly with your site, allowing you to publish fully formatted content, embedded links, and more.
Key Features:
Advanced AI: Generates fully original, human-level content.
User-friendly interface: Offers customizable templates and design options, making it easy to use even for those with no prior experience in SEO content creation.
WordPress integration: Syncs directly to WordPress with a plugin for easy publishing
Whitelabel feature: Allows for easy content embedding within your application.
Scalability: Enables high-volume quality content production.
LongShot Stats:
Best for: fact-checking and researching
Price: starts at $29/month
AI writers sometimes generate questionable facts, which require manual verification. If you need an AI writer that automatically creates and fact-checks content, consider using LongShot.
LongShot can generate various content types, including blog posts, sales emails, and meta descriptions. To start writing, click the content type on the sidebar and enter the required information.
Users can highlight part of the text and check for facts or plagiarism directly on the editor screen. The Content Claim widget optimizes this process, indicating the number of potential factual errors in real time.
LongShot's main drawback is its pricing and credit system. Every plan comes with limited credits, consumed when producing content or using features like the fact-checker.
This system can be tricky as you must balance your monthly word count and feature usage. In addition, LongShot doesn't offer a free trial.
Key Features:
Fact-checker. Automatically detects and flags part of your content with questionable factual claims.
Fact generator. Suggests facts from authoritative websites with a similar topic to help speed up the research process.
Custom template. In addition to the provided options, users can create custom templates for their specific use cases.
ShortlyAI Stats:
Best for: auditing content
Price: starts at $65/month
ShortlyAI is an AI content-writing tool with a simple user interface. It lets you generate full-length articles with only a few sentences or brief descriptions.
To use this tool, simply enter the article brief in the editor screen and click Write for me. Alternatively, add existing content and write commands to rewrite, shorten, or expand sentences.
Compared to other content creation tools, ShortlyAI is easier to use and has higher-quality output. However, it only generates articles – there are no additional research or marketing features.
Other drawbacks include its high price and the lack of a free trial. If you only use AI writer tools to support your writing process and don't need extra features, ShortlyAI can be an option.
Key Features:
Simple UI. Shortly AI's UI consists of the editor screen and a sidebar with three settings, making it easy to use.
Interactive editor. Users can write commands on the editor screen to adjust the content to their standards.
No limits. Unlike other tools, Shortly AI lets you create unlimited articles and words.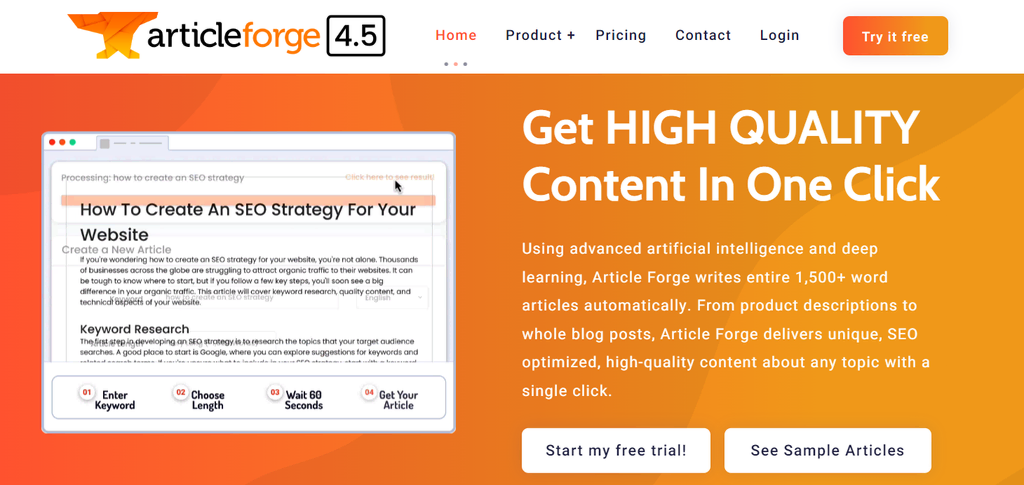 Article Forge Stats:
Best for: generating blog outlines and long-form content
Price: starts at $13/month
Article Forge lets users generate posts with only three inputs – keywords, language, and length. In addition to writing, it will automatically insert headings, images, videos, and hyperlinks to your article.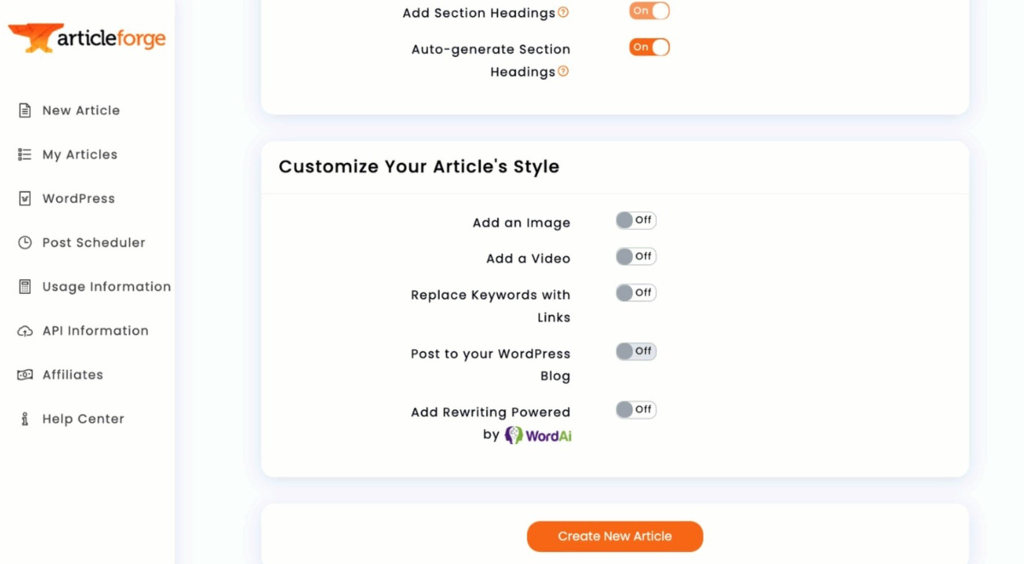 In the editor menu, users can extend the generated content to over 20.000 words and add more sections. Moreover, it automatically optimizes your content based on the keywords provided.
Article Forge's downside is its vague, quote-based pricing scheme. Still, this AI content writing tool offers a five-day free trial and a 30-day money-back guarantee.
Key Features:
Automatic publishing. Post your article on WordPress directly through the Article Forge application.
API integration. Integrate the AI tool with your application using Article Forge's API.
Video, image, and hyperlink generator. Automatically add videos, images, or hyperlinks to your AI-generated content.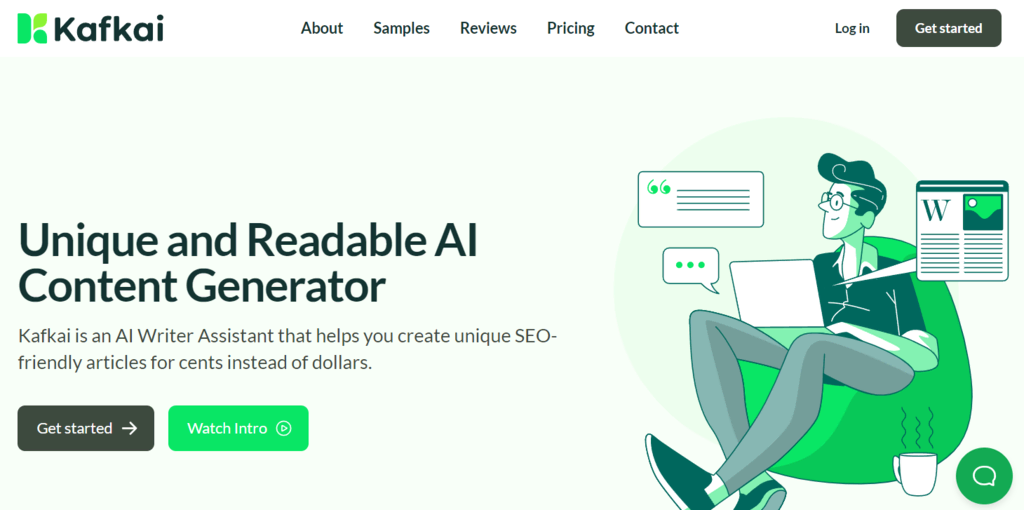 Kafkai Stats:
Best for: writing blog posts for specific niches
Price: starts at $29/month
Kafkai is an excellent AI content-writing tool for bloggers. It has blog post templates for 30+ topic niches, including health, automotive, education, business, and finance.
To write a post, pick a template and enter a paragraph about the content you want to generate. After deciding on the language and number of article variations, Kafkai will start writing.
Due to limited features and content variations, Kafkai is only suitable for bloggers. Since it has more specific use cases than other tools, try the three-day free trial before purchasing it.
Key Features:
Comprehensive templates. Kafkai's vast template library lets you generate blog content for different niches.
Generous monthly limit. The cheapest plan lets you create up to 100 articles per month with no word limit.
WordPress integration. Kafkai's plugin lets you create a seamless and centralized workflow.
How to Use an AI Content Generator
While the steps to create content with AI writing tools differ, generally, there are five of them:
Select a template. Pick the type of content you want the tool to write.
Enter your input. Add the content description, tone, output variations, and keywords.
Generate the content. Confirm the settings to start the writing process.
Proofread and edit. Check for errors in the written content, such as spelling, grammar, or facts.
Publish. Download or copy-paste the finished content into your website.
Several AI writer tools integrate with web browsers or blogging platforms, allowing you to publish the generated content quickly.
Note that Google may flag your website if it contains low-quality content, whether it is AI-generated or not. To prevent this from happening, consider the following best practices when using artificial intelligence tools:
Don't rely too much on AI. Artificial intelligence tools shouldn't replace human writers. Since AI-generated content isn't always reliable, use it to assist in content creation and marketing.
Create multiple outputs. AI content generator tools can produce multiple output variations. Choose the best option or combine them to create high-quality content.
Always double-check. Machine-generated content can be incohesive or have poor readability, especially longer articles. Before posting, always edit and proofread it.

Conclusion
AI content generators let users automatically create blog posts, emails, or product descriptions based on inputs. It helps simplify the content generation process, saving time and money.
Some also have features to improve your content marketing strategies, such as SEO analysis and performance tracking.
We have explored the 10+ best AI content generation tools to help you find one that suits your needs. Among them, our five best picks are:
Hostinger AI Website Builder. Best AI website generator complete with built-in SEO and AI-powered content generation tools.
Hostinger WordPress AI Assistant. Best AI content generator for WordPress websites.
Jasper. Overall, the best content generator for content marketers and writers.
Frase. Great for content marketers looking for SEO-focused AI tools.
Copy AI. A free option for copywriters, personal bloggers, and freelancers.
We don't recommend relying on such tools to generate all your site content. Always proofread AI-generated content as it may be incohesive or contain plagiarism.
AI Content Generators FAQ
To help you understand more about AI content generators, we will answer some common questions about them.