How to Start an Online Boutique: 11 Steps to Success
For style enthusiasts, having your own online boutique is a dream come true. With no brick-and-mortar costs to deal with, you can focus on maximizing your income, selling products you're passionate about, and building a loyal audience for the brand.
Before achieving success, however, knowing how to start an online boutique from scratch is necessary.
This article will explain the ten steps of starting an online boutique, from choosing a business idea, taking care of the legal requirements, and designing the website to promoting the store, all of which are required stages for starting a business. Plus, we'll include some extra tips and online boutique examples to use as a guide to make money online.


How to Start an Online Boutique Video Tutorial
Opening a boutique is a life-long dream for many young designers and fashion enthusiasts. This video tutorial will help you achieve that dream!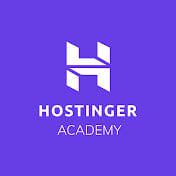 Subscribe For more educational videos!
Hostinger Academy
Subscribe
1. Decide on a Niche
The first step to starting an online boutique is to choose a niche or a specific market segment that the online business will focus on. Doing so determines exactly what type of product to sell and what kind of customers to target.
Sticking to a niche also helps set your new business apart from major retailers and other online boutiques, making it a sought-after brand for specific products.
When deciding on a niche, start by choosing a product category. Online boutiques usually sell unique clothing or luxury accessories, though other items with premium materials or ingredients also count.
Use the questions below to help decide on a boutique store niche:
What is a hobby or passion you have that has business potential?
What online boutique brands do you follow? What is missing from the market?
What kind of issue do you want to solve with the products?
What values do you want the boutique business to represent?
For inspiration, check out our guide on trending products.
As a business owner, you should also validate the business idea. There should be a sizable demand for the products you want to sell online. It can be difficult to market the items if no customers are looking for them in the first place.
Tools like Google Trends can help with this task. Alternatively, check out A Better Lemonade Stand's Instant Product Evaluator to measure the profitability of the new business.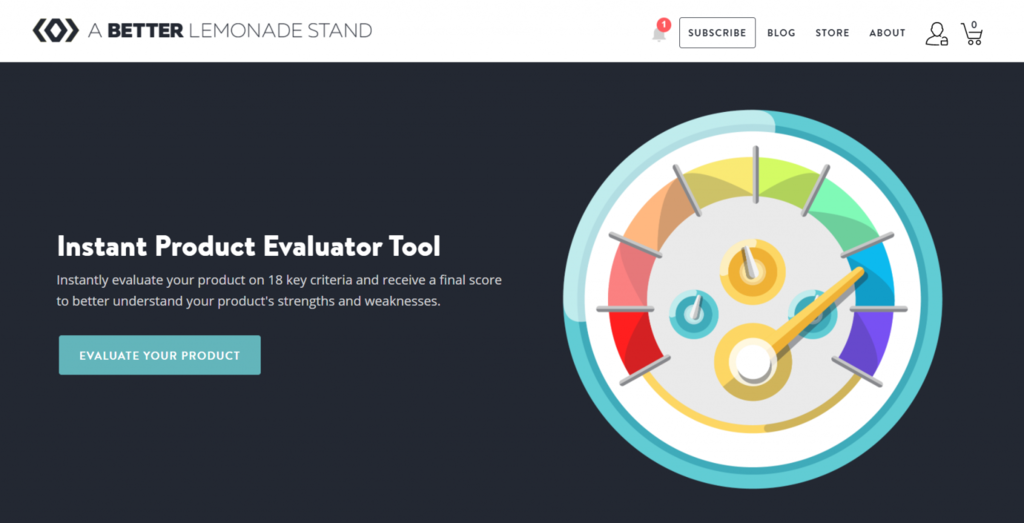 2. Research the Target Market
After deciding on a niche, you'll need to conduct some market research.
This step involves researching the target audience. That way, you can craft the business strategy around their needs.
Looking into similar boutique brands is one way to research the market. Ask the following questions during this process:
What kind of consumers usually shop there? Look into their user-generated content on the website or social media if available. Consider their age, gender, location, language, spending power, buying habits, interests, and professions.
What are their customers' motivations for buying the product? What are their pain points? Find out by reading user reviews and testimonials. Look into what their most common complaints are so that you know how to satisfy them.
What digital marketing platforms did the consumers use to discover the business? Use Similarweb to see from which channel the eCommerce website gets the most traffic.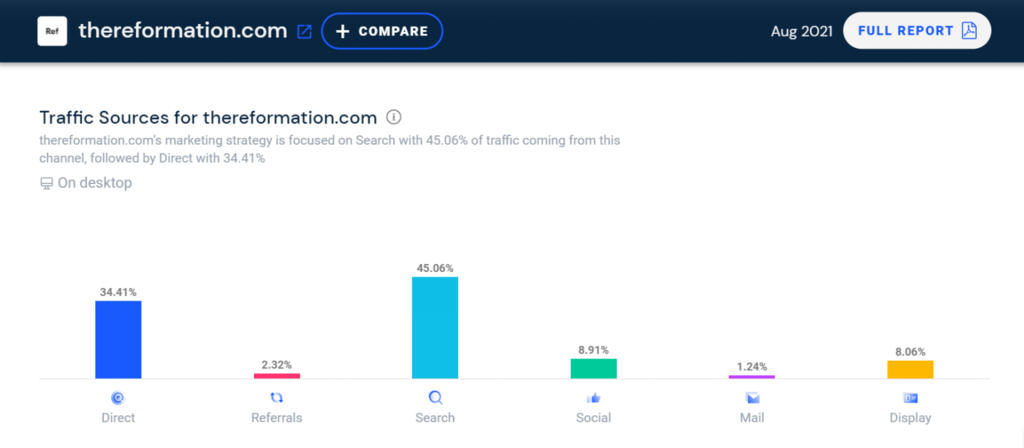 From there, create a buyer persona – a fictional representation of the target audience. It can serve as a guide to developing the product, running the online boutique, and crafting the marketing plans.
3. Create an eCommerce Business Plan
Writing a solid business plan is the next step in starting an online boutique.
This document functions as a roadmap for building the store, running it, and achieving any business goals. It can also help secure small loans to launch or grow operations.
Focus on the following elements when writing a business plan:
Company identity. Include the business name, logo, brand values, organization structure, and key team members. Also, set up goals for the boutique to achieve in the upcoming quarter or year.
Product information. Describe the process of developing and making the item. Mention the benefits and features that set the product apart from its competition.
Operations plan. Explain the online boutique's business model and daily activities, from selling and producing to shipping items to customers. Also, include the facilities, legal requirements, and tools necessary to run the business online.
Marketing and sales strategy. This section covers offline and digital marketing channels, brand positioning, and pricing strategy to entice customers.
Financial plan. Insert the financial statements detailing the startup costs, business expenses, cash flows, sales projections, and benchmarks.
As the operations grow, boutique owners can readjust the business plan and change the strategies accordingly.
4. Look For Manufacturers or Suppliers
With a business plan in hand, look for vendors to source the online boutique's products.
How to source or develop the products depends on the business model. One option is to work with a wholesale supplier – a vendor that buys items in bulk from manufacturers and resells them to smaller businesses.
For online boutiques, check out Faire, a wholesaler that sources high-quality products from independent brands.
Alternatively, consider working directly with manufacturers. There are two ways to do this:
Private label. The manufacturer will customize the products to your liking and brand them using your business name.
White label. Choose a ready-made product category and have the manufacturer change the branding to yours.
If you want to run an online clothing store, check out Indie Source. This company offers a custom development service where clients can collaborate with fashion experts to create their products.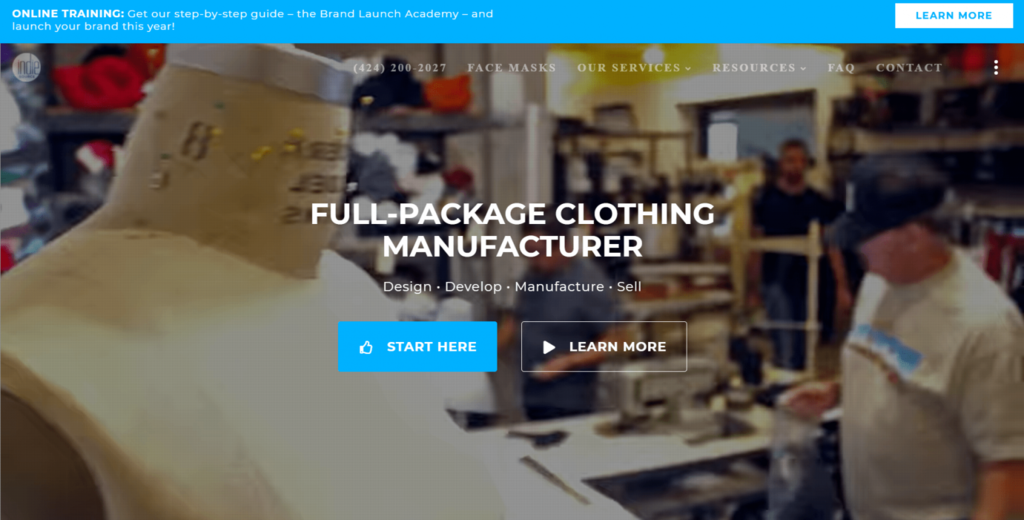 Working with a manufacturer or a wholesaler usually requires setting up a storage facility and managing order fulfillment, which we will discuss in the next section.
If you want to eliminate stocking and shipping costs, consider to start a dropshipping business.
Here, the business owner joins a dropshipping directory like Spocket to look for suppliers and feature their products on the online store. The vendor handles order fulfillment and shipping while you manage the online boutique storefront.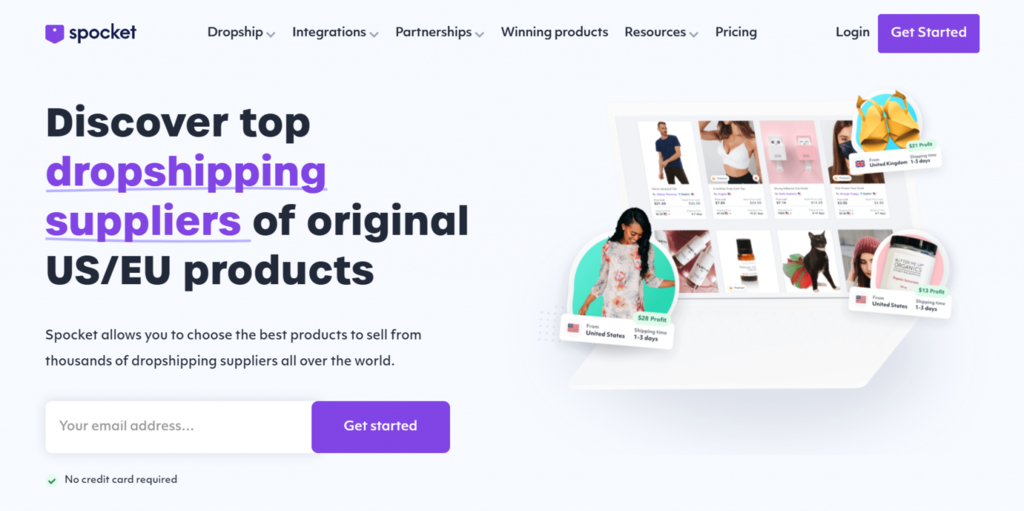 With this method, it may be more difficult for your brand to stand out as tons of other stores may sell the same products. Plus, handling customer inquiries can be tricky when you can't see the items or directly monitor their fulfillment.
For those looking to sell t-shirts, mugs, or pillows, check out on-demand printing services.
This is a dropshipping model where you create custom designs and have the vendor print and ship them to customers. Printful is an excellent example.
For those handcrafting the products, look for suppliers of the materials. Michael's Pro has volume-based discounts for arts and crafts items.
Regardless of the product development model, it's good to request a sample first. Make sure to vet the items' quality and see if they suit the online boutique's style.
5. Plan for Order Fulfillment
Now that we know where to source the products, it's time to think of storing and shipping the items to customers. Those using the dropshipping business model can skip this section.
There are two types of order fulfillment. With self-fulfillment, the business owner will typically store their inventory in their own home. They will also process the orders themselves – from packaging and labeling to shipping.
This method is recommended for new online stores with a small inventory. Once the boutique grows, storing the items and processing the orders at home can be challenging.
An alternative is outsourced fulfillment or partnering with a third-party logistics company like ShipBob. All you have to do is send the inventory to their storage facility, and they will handle all the order processes.
Besides choosing the type of fulfillment, decide on the shipping rate options. Here are some common choices:
Offer free shipping. 75% of consumers want shipping to be free, so this option can keep the majority of your customers happy. That said, make sure to include the shipping costs in the products' pricing.
Create table-rate shipping. Customize the shipping prices based on weight, price, location, item quantity, or other factors.
Set a flat rate. The shipping fee will be the same regardless of the package's weight or destination. It makes for a more straightforward calculation, but it can seem expensive for those ordering small quantities.
Use real-time shipping rates. Install an extension that connects the online boutique to the shipping carriers' systems. It will automatically calculate the delivery fees when a customer checks out.
Finally, make sure to write a clear return and refund policy – 63% of customers read it before placing an order. If this section is poorly-written, it can make 50% of them decide against purchasing.
Write down a time window for when customers can send the products back and receive a refund. Include the terms of what makes an item eligible for returns and the procedure for delivering it back.
Also, consider making return shipping free of charge. According to Narvar, asking new customers to pay these fees can discourage them from completing their transactions.
6. Register Your Online Boutique Business
Let's take care of the legal paperwork of your new business.
What documents to complete will depend on where the boutique is based. As such, it's best to research the procedure and consult a lawyer before getting a business license.
Generally, the first step is to pick a business structure. This decision will primarily affect what taxes to file and what counts as personal and business liabilities.
For US-based businesses, here are the most common business structures to choose from:
Sole proprietorship. This type is the simplest to form as it doesn't require the owner to register their business. However, there's no separation between business and personal liabilities, so you'll be responsible for any business-related debts and accidents.
Partnership. Made of two or more people who share business income and losses. Each of their liabilities may be limited or unlimited, depending on the type.
Limited liability company (LLC). Most business owners operating on a small-scale are recommended to choose this business structure. It combines sole proprietorship and corporation elements, protecting your personal assets from business debts and lawsuits.
Corporation. This business structure is the most complex and expensive to set up, though it's a good option for those who want to offer company shares to raise funds.
Depending on the chosen structure and the state, owners can register their company and business name with the federal, state, or local agencies.
Other than that, apply for a federal tax ID number to pay business taxes and hire employees.
Some business licenses will also be necessary to operate, though how many to register will depend on the boutique's location and size.
Finally, obtain a seller's permit to charge and pay sales tax for the products sold. Most likely, getting multiple sales tax permits will be obligatory if the customers are spread across different regions.
7. Secure Funding
Next, let's get the funds to cover the startup costs.
To prepare, open a business bank account with a credit card. Keeping personal and business finances separate will make it easy to track the boutique's income and expenses, which will come in handy for tax season.
A business credit card can offer more financial flexibility for future expenses. Plus, building a business credit score can make securing loans much easier.
Ask these questions when looking for a business bank account:
What are the transaction or maintenance fees?
Is there a minimum balance requirement?
Are there any introductory offers?
What about the online and mobile banking features?
What are the interest rates for savings and checking accounts?
Once the account is open, look for business funding opportunities. Here are some ideas:
Use personal savings.
Ask for loans or investments from friends and family.
Obtain personal loans from a bank, online lender, or credit union. For this, having a high personal credit score is crucial.
Apply for small business loans, such as lines of credit, term loans, or microloans. This is where having a solid business plan will be helpful.
Look for grants for small business owners.
Get vendor financing or a loan from a supplier or manufacturer to purchase their goods. They will get a portion of your sales plus interest to make up for the borrowed amount in exchange.
With the business set up, let's move on to the next step – creating the eCommerce website.
Expert Tip
Before you launch an online store, it is beneficial to have a good idea of your initial costs. The good news is that you can learn how to handle your finances by conducting research online and enrolling in programs.
Our experts at RevenueGeeks recommend that you concentrate on the following points:
• Recognize your credit score.
• The various kinds of company loans.
• What is the best way to manage a budget?
8. Choose an eCommerce Platform
To start an online boutique, you will need eCommerce software. With so many eCommerce platforms to choose from, it's good to have one that:
Is easy to use, especially for non-technical users.
Includes essential eCommerce features, such as storefront customization, inventory management, order processing, and integrated payment gateways.
Can support the business's needs and growth in the long term.
Suits your budget.
Website builders and content management systems (CMS) are the two main types of eCommerce platforms. Let's look at their differences and what kind of users they're best suited for.
Website Builder
Best For: Complete beginners in need of a website quickly.
With an eCommerce website builder, users can build an online store without any coding skills. Simply sign up, pick a template, and use the visual interface to add and edit website elements.


Some of the most well-known eCommerce website builders are Shopify, Squarespace, and Wix.
Pros
Low learning curve. The visual interface makes for an easier editing experience than CMSs. Plus, some platforms like Wix employ a drag-and-drop system that lets users move website elements to their preference.
Managed hosting. Most website builders offer hosting as part of their plans and will maintain the back-end environment for their clients.
Designer templates. Some website builders like Squarespace and Wix are known for their high-quality designs.
Clear pricing. Website builders generally use a subscription-based model, so estimating expenses is much easier. Users can simply refer to the pricing table, see what each package will get them, and choose one that best suits their needs and budget.
Cons
Lack of design freedom. Adding custom-made elements isn't possible as users can only rely on the existing customization features.
Limited features. Once the site grows, some may feel restricted by the tools provided in the current plan, prompting them to upgrade or look for other options. However, some website builders now have extension marketplaces.
CMS
Best For: Users who need flexibility over their hosting and website customization.
Like a website builder, a CMS allows users to build and publish sites without having to code. The main difference is it doesn't come with a hosting service, so it needs to be purchased separately.
The most popular CMS is WordPress, powering over 40% of all websites. This platform is known for its ease of use and customizability, enabling users to build online boutiques, blogs, portfolios, and more.
To create an online store with WordPress, users will have to install the WooCommerce plugin.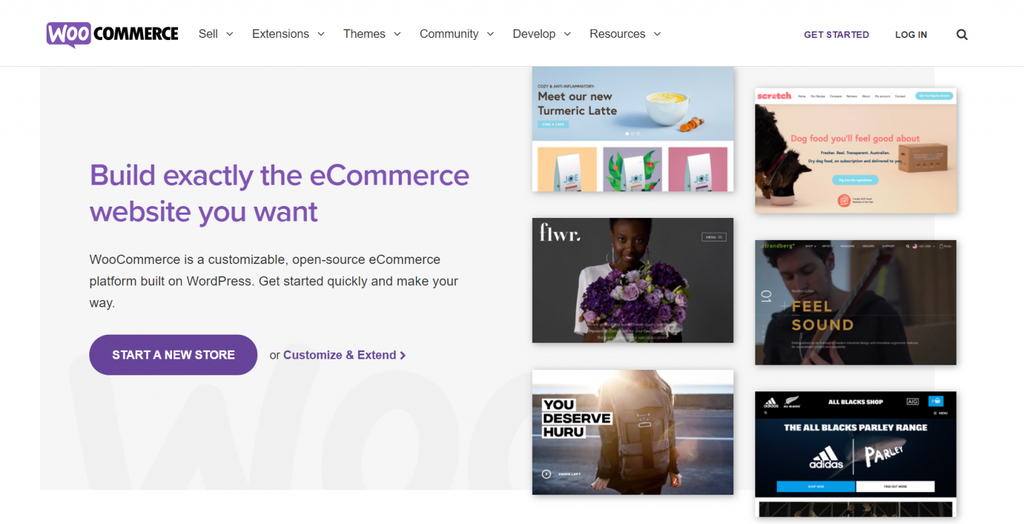 This plugin will walk you through building the online store – from adding new products and picking a payment method to setting up shipping options. It will also create the product, cart, and checkout pages for you, so there's no need to configure them yourself.
WooCommerce's built-in features make it possible to create a basic online boutique. If you need more tools to customize the website, tons of free and paid extensions are available on the WooCommerce Store and third-party marketplaces.
Besides WordPress, PrestaShop and Magento are other CMSs worth checking out.
If you're looking for reliable hosting for your CMS, consider Hostinger. Our ₱179/month Business Hosting plan can handle up to 100,000 monthly visits. With a 99.9% uptime guarantee, unlimited bandwidth, 200GB SSD storage, your online boutique will be up at all times.
You can also check out our free website hosting if you're starting out with a small shop or WooCommerce hosting if you're looking to host a WordPress store. We also provide PrestaShop optimized plans for those who prefer this content management system.
Pros
User-friendliness. While CMSs have a slightly steeper learning curve, they are intuitive enough to use. Plus, for WordPress users, there are page builder plugins, such as Elementor and BeaverBuilder, that can ease the customization process.
Freedom. Most CMSs are open-source software, meaning users will have complete control over their own website and data.
Scalability. With your own hosting account, you can monitor, adjust, or upgrade the hosting environment to optimize the website's performance. This will come in handy when the online boutique's traffic or catalog increases.
Customizability. Users can install extensions to enable custom features that aren't built-in. WordPress, in particular, has 58,000+ to choose from.
Cons
Expenses are more difficult to estimate. Since there isn't a clear pricing scheme, users have to calculate the hosting, domain name, theme, and plugin costs themselves.
Basic coding skills. While it isn't necessary, learning HTML, CSS, and JavaScript can help maximize a platform's capabilities.
No direct support. CMSs don't usually offer live chat, phone, or email support. Users have to refer to the official documentation, community forums, and online tutorials to get help.
Take some time reviewing different website builders and CMSs to choose the right eCommerce platform. Then sign up, pick a plan, and set up the software to get started.
9. Customize the Online Boutique's Website Design
Now, we can modify the online boutique storefront using your chosen eCommerce platform.
Users only need 50 milliseconds at most to decide whether to leave or engage with a website, so creating a striking web design should be a priority.
Using a theme or template is the easiest way to customize your online storefront. The design elements are already there, so you will only need to tweak them to make the store look unique.
Website builder users can find templates in the platform's official library. There should be a section dedicated to eCommerce websites.
For CMS users, there should be thousands of options in the official CMS repositories or third-party marketplaces, like ThemeForest, TemplateMonster, and Colorlib.
Theme developers also offer eCommerce templates on their own websites. Astra, for example, has a number of professional quality eCommerce templates available to download directly from their website.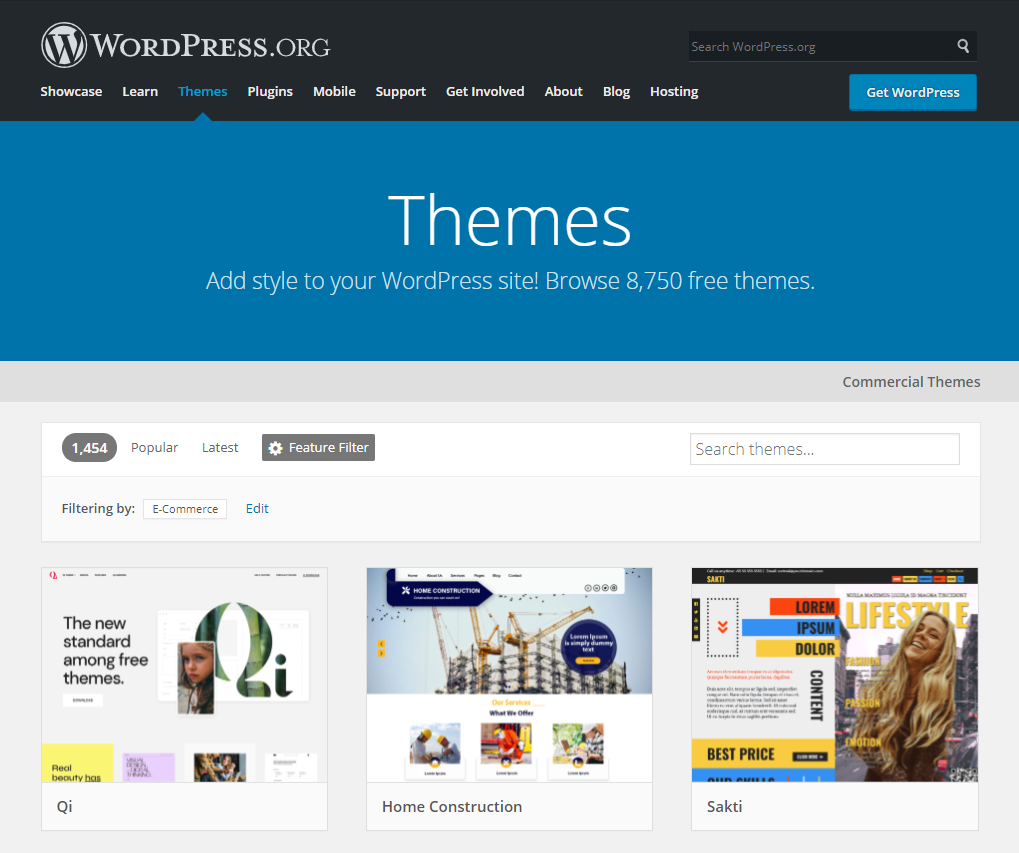 Ask these questions when looking for a website theme:
Does the theme have a key design feature you want the website to have?
How customizable is it? What font, color, and layout choices are available?
Does it look good on mobile devices?
Are they compatible with the extensions you're using?
If you're using a CMS, check the theme's changelog. Is it regularly updated? If not, it may have performance or security issues.
Is there customer support to help you use the theme, such as documentation or ticket support?
Is it SEO-friendly? Choose a clean and lightweight theme to ensure the best possible performance and make it easy for search engines to crawl the site.
After installing the theme, move on to customization. What you can do with the theme depends on its features and the tools provided by the eCommerce platform. Regardless, there are several factors to keep in mind:
Visual consistency. All pages should look like they belong to the same site. Use the same fonts, colors, and imagery throughout the online boutique website to create a memorable brand experience.
User experience. Prioritize easy navigation. Some ways to ensure this include picking a suitable menu format, making every page reachable within four clicks from the homepage, and adding a search bar.
Readability. The on-page elements, such as text and product pictures, should be easy to read. Implementing visual hierarchy for the typography, imagery, and layout can help guide users' eyes to the most important information.
10. Set Up the Online Store
Finally, it's time to set up the online store. We will use WooCommerce to illustrate the steps in this section, though what you need to do will generally be the same regardless of the eCommerce platform used.
Create the Web Pages
One of the first things to do, after purchasing a domain name and setting up hosting, is to add some web pages. As mentioned, the WooCommerce plugin will usually set them up by default, though you will probably need to tweak them a bit to suit your website.
Online stores usually have these pages:
Homepage. This page sets the first impression of your business on the customer. Feature the unique selling point, product hero shots, and customer testimonials to encourage users to explore the online boutique.
Shop page. It is where customers can look through the catalog of items. We'll talk more about this page later in this section.
Shopping cart. Here, shoppers can preview their purchases and how much they cost in total. Many online stores also recommend other items on this page to encourage people to buy more.
Checkout pages. It's where users complete their transactions. Make sure to optimize the checkout process to reduce cart abandonment. Some methods include offering guest checkout and only asking for the most important billing and contact information.
Shipping information. Here, include details about the available shipping destinations, shipping options, their prices, and the delivery times. Explaining the type of packaging may also be necessary for those selling fragile goods.
Return, refund, and exchange policy. Be clear on what counts as acceptable returns or exchanges and the time limit for customers to return the items. Write a step-by-step guide to illustrate the process.
Contact us. Display both the business and customer service contact information so readers know the right person to reach out to for their inquiries.
About us. Use this page to explain the company's history, vision and mission, accomplishments, and some behind-the-scenes information.
Legal pages. These usually cover the terms and conditions as well as privacy policy, which are essential to maintain transparency to customers and protect your web content.
Add the Products
Let's add some products to the online boutique.
To add an item on WooCommerce, go to Products -> Add New on the WordPress dashboard. You will see the following interface: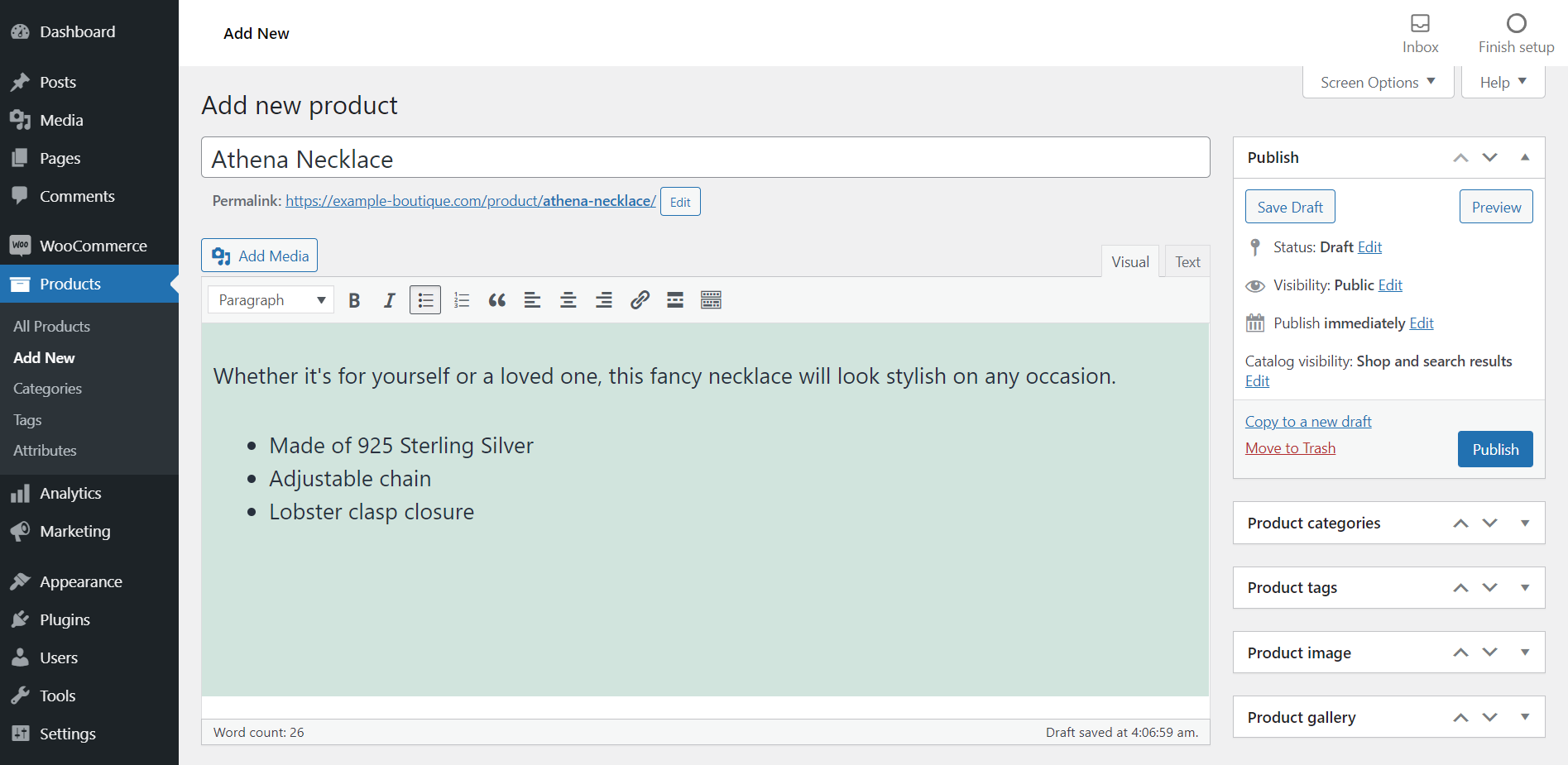 This page allows users to:
Write the product description in the text area. Make sure to describe the item in detail and focus on its benefits for the customers. If you have an online clothing store, it's a good idea to feature a sizing information table.
Upload the product images. Ensure they're high-quality and show different angles to help customers visualize the items in real life.
Select the relevant categories and tags for the product.
Insert the price, inventory details, shipping methods, attributes, and other product settings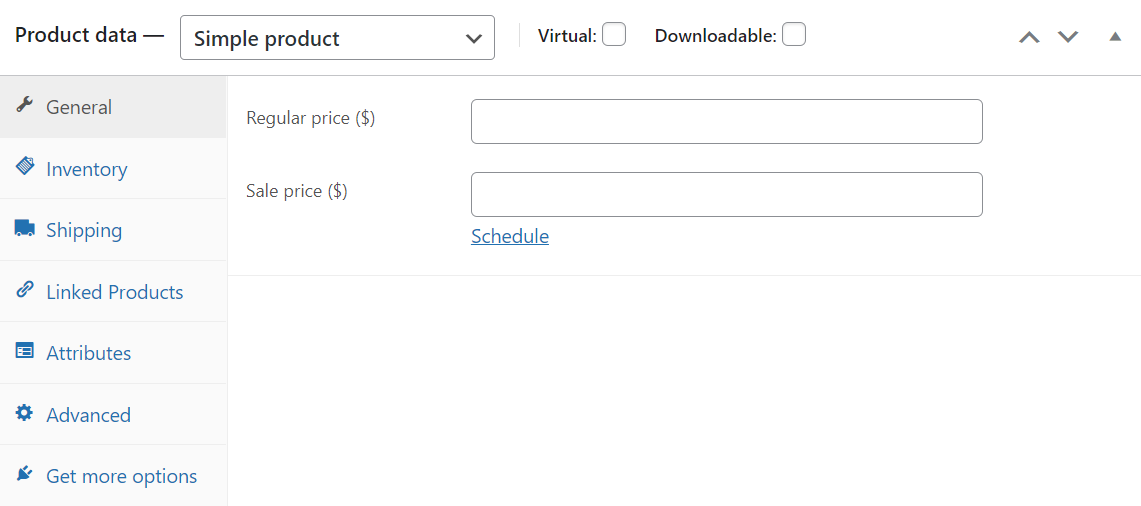 Create a short version of the product description for the shop page.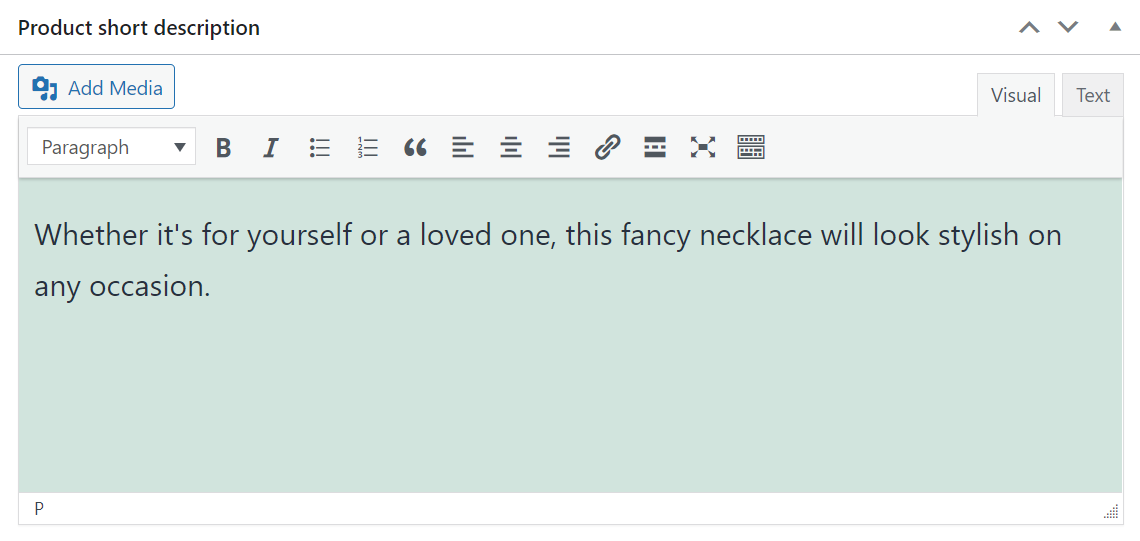 Once done, press Preview to check the product page. If everything looks good, click Publish, or Save Draft if you're not ready to make the item public.
WooCommerce also makes adding items in bulk possible by importing a CSV or TXT file of the product catalog. Simply go to Products -> All Products -> Start Import and complete the upload stages. Note that the maximum allowed file size is 512 MB.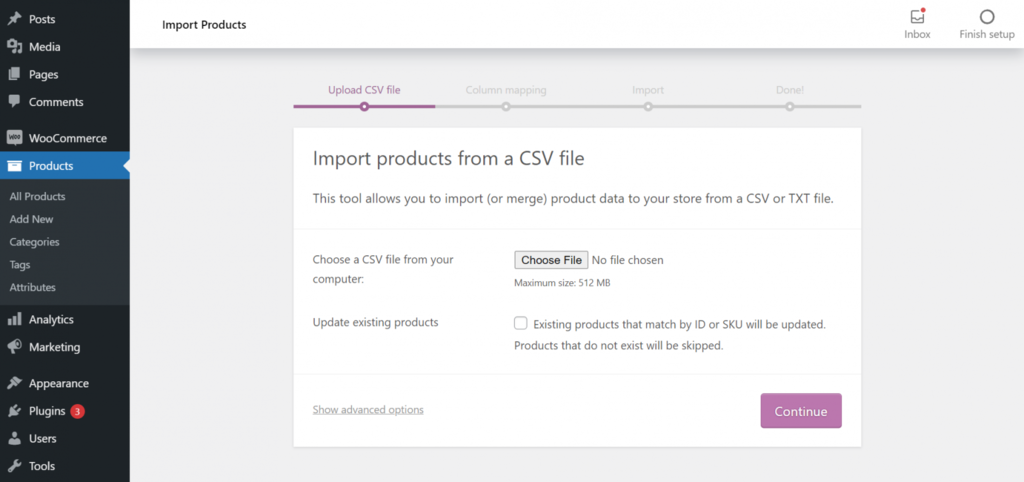 Configure the Shop or Catalog Page
The shop or catalog page displays all the products in the inventory. It should look attractive and organized, enticing customers to explore the collection.
WooCommerce should have created a shop page during the setup wizard. However, if you skipped it, follow these steps:
Go to the dashboard and select Pages -> Add New.
Name the page in the Title bar. Name it 'Shop,' 'Products,' 'Store,' or something similar.
Click Publish.
From the left menu, go to WooCommerce -> Settings and head to the Products tab.
In the Shop page field, select the page you have just created.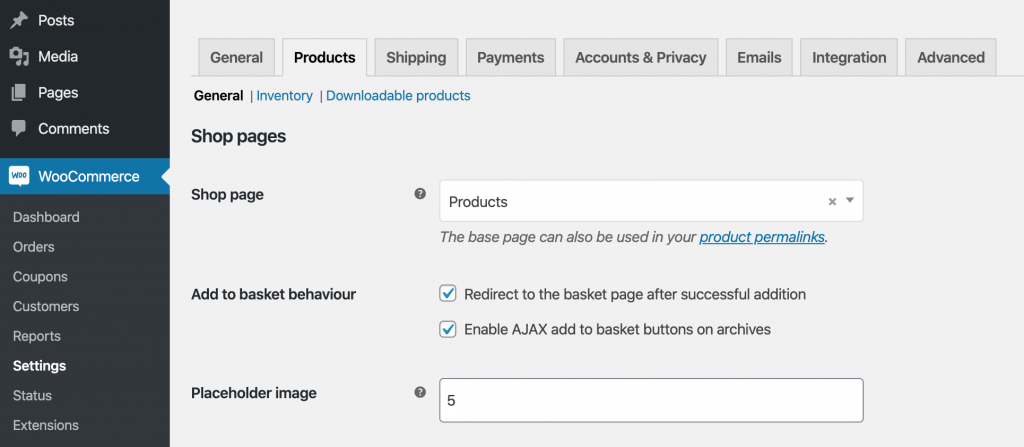 Press Save Changes. Now, the page will automatically display all the products in the catalog.
To edit the shop page's layout, click Appearance -> Customize from the dashboard. Then select WooCommerce on the left menu bar and go to the Product Catalog.
Here, choose to display products or categories, customize how they are sorted, and determine how many products should appear on one page.
Once done, go back to the previous menu and select Product Images. Select the size ratio for the product pictures to be displayed in.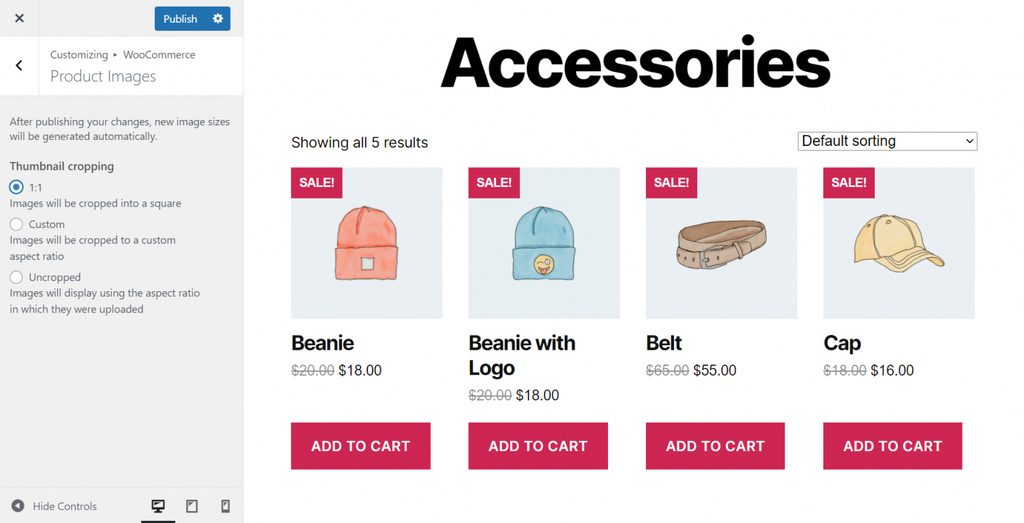 Below are some additional tips to improve the shop page:
Create categories to organize the items. If you have an online clothing store, product grouping can be based on gender, style, item category, new arrivals, bestsellers, or discounts.
Implement a filtering and sorting system. That way, customers can narrow down their selections faster.
Enable the quick view feature. With this, users can take a look at the product more closely without leaving the shop page.
Display breadcrumb trails. This feature lets visitors know their location on the website and easily navigate from one product category to another.
Set Up the Payment Method
Before officially launching the online business, let's set up a payment method.
Consider these factors when choosing a payment gateway:
Merchant fees. Check how much the company charges for each transaction and whether it has a monthly commitment price. For instance, PayPal imposes a 3.49% and $0.49 fee for every digital payment.
User base. The more people use it, the more widely accessible your online boutique will be.
Available regions. Make sure the payment method is available in the target audience's location.
Payout period. Some payment gateways allow merchants to access their earnings in a couple of days. With others, you may have to wait a week or two.
Customer support. Ideally, the company should have a representative available 24/7 or documentation to answer questions from merchants.
To set up payments on WooCommerce, go to WooCommerce -> Settings from the dashboard and navigate to the Payments tab.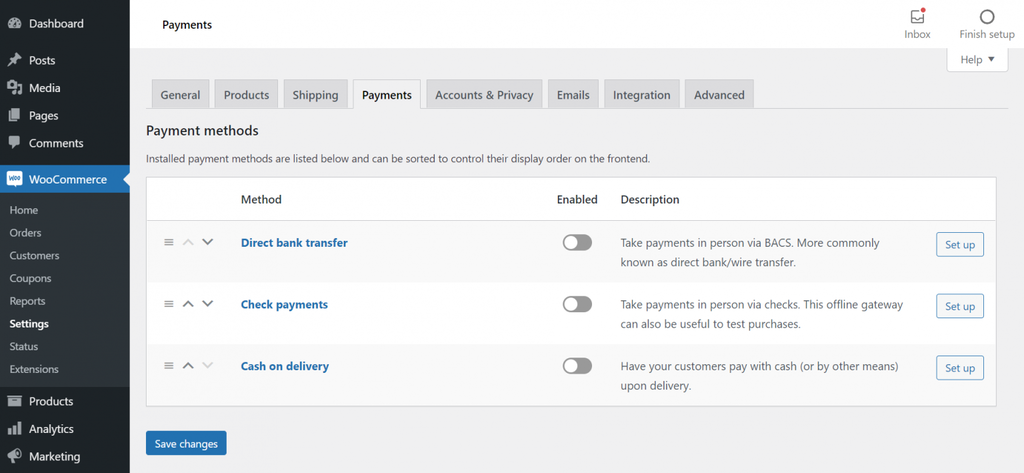 By default, WooCommerce accepts payments via direct bank transfer, cheque payments, and cash on delivery, which may be enough for a local small business. That said, we recommend enabling the PayPal and Stripe extensions to ease the checkout process.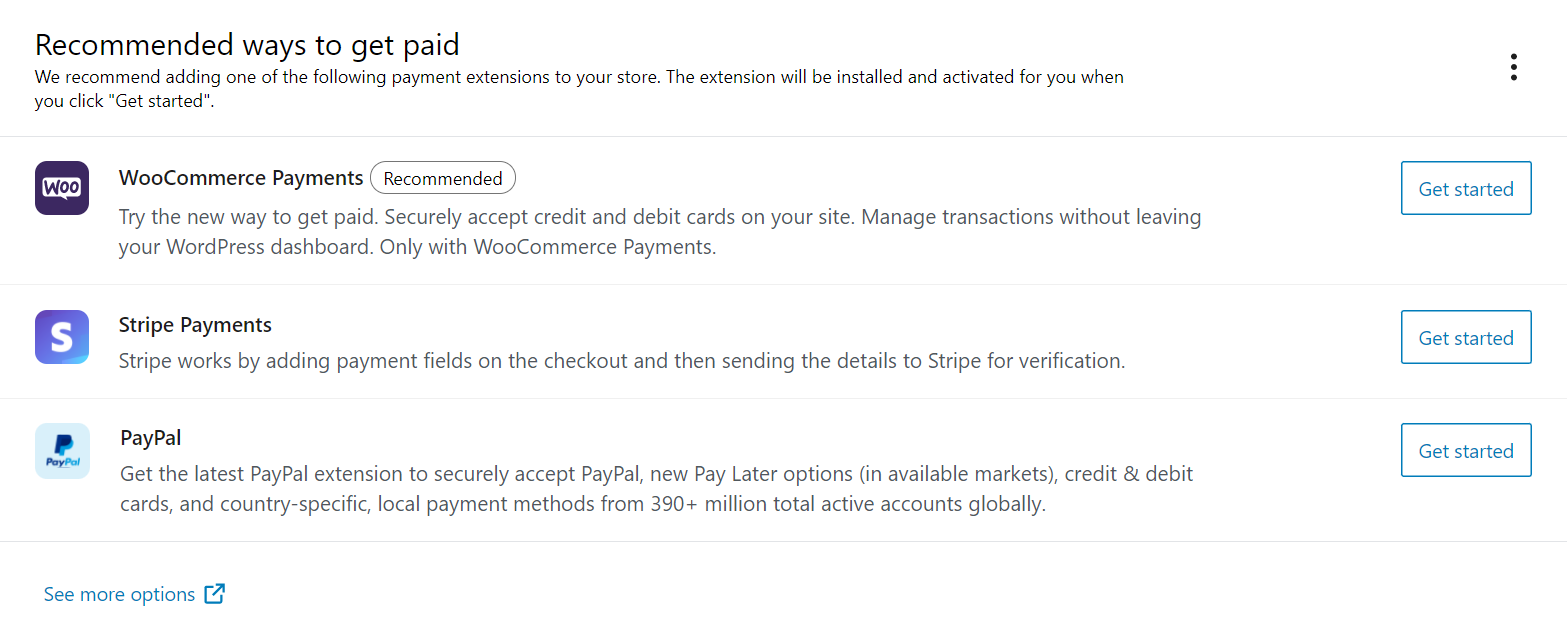 WooCommerce also offers its own payment solution, letting merchants manage their transactions in the same place as their online business. It accepts major credit and debit cards and digital wallets like Apple Pay and Google Pay.
11. Promote and Grow Your New Online Boutique
Now that you know how to start an online boutique, let's explore the ways to market it. Since the business is new, you'll have to raise brand awareness and build a customer base.
Consider the digital marketing channels below to promote your online boutique:
Social media marketing. Online boutiques can leverage Instagram and Pinterest to display their products and engage with customers. Both platforms also come with a shopping feature that lets customers buy the featured item right on these sites.
Social media ads. Check demographic data to make sure the ads reach the right target audience. Facebook and Instagram are excellent networks for this, though TikTok is also a popular choice.
SEO. Optimize the product pages to make them rank high on search results. Include relevant keywords, insert meta titles and descriptions, write image alt text, and add structured data.
Paid search ads. These appear above organic search results, so they can boost the chances of driving traffic to the online boutique. On Google, advertisers can use Text, Display, Video, or Shopping formats.
Influencer marketing. On average, every dollar invested in online content creators can generate $5.20 in returns. To get started, look into micro-influencers with a small yet engaged audience.
Email marketing. This channel is intended to guide customers through their order process and encourage them to shop more by highlighting hot items or sales. Email marketing also has an ROI of 3,800%, so it can be a highly-lucrative strategy.
Tips to Run a Successful Online Boutique
Starting an online boutique is no easy task. Here are some more tips for running your business:
Secure Your Online Store With an SSL Certificate
Without implementing the right precautions, small businesses can be at risk of cyberattacks. These companies make up 43% of cybercrime victims, and those that do get hacked usually stop their operations within six months.
Using an SSL certificate is one way to prevent this from happening. It offers the business greater protection against hackers by encrypting the connection between the online store and its visitors' browsers.
When an online store is SSL-enabled, the browser shows a lock icon next to the address bar. Clicking on it will say that the Connection is secure, informing visitors that the site is safe to open.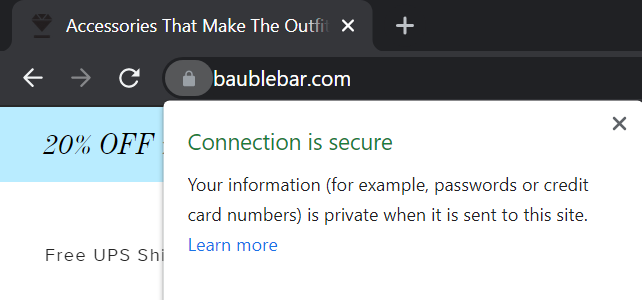 At Hostinger, all our web hosting plans come with a free SSL certificate that you can install from the hosting control panel.
Set Up Google Analytics
Google Analytics is an excellent tool for measuring the online boutique's performance. It can track the number of visitors that come to the site, how much time they spend on it, and how many become customers.
Plus, it can show various information about your audiences, such as their age, gender, interests, location, and devices used to open the website. Leverage these details to optimize your marketing strategy.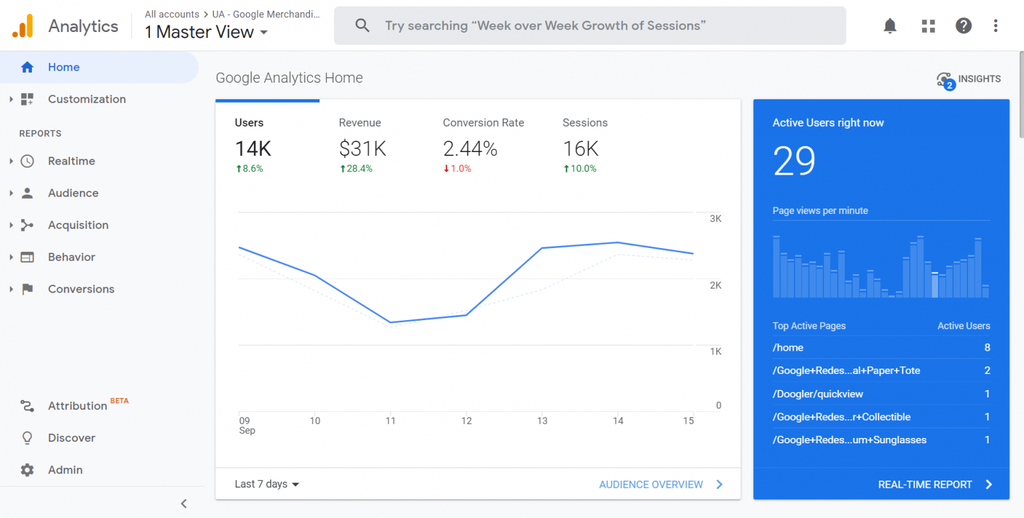 Manually integrating Google Analytics into a website requires some coding, though the process only takes a few steps.
For WordPress users, we recommend installing a Google Analytics plugin. That way, its dashboard will be accessible from the admin panel.
Set Your Pricing Accordingly
The pricing strategy should suit the target buyers. Charging too low can lower the products' value, but aiming too high can make the brand less approachable. As such, striking the right balance is crucial.
Online boutique owners can choose one of the three common pricing strategies below:
Cost-based. The calculation is simple – total all the production costs, then add a markup, typically around 50% or higher. The risk with this tactic is that material prices can increase unexpectedly and result in losses if you don't charge more.
Competition-based. Study similar brands and how much they charge for their items. Calculate the average, and offer a slightly lower price to entice customers.
Value-based. A combination of the previous strategies. The price takes into account the production costs and what consumers are willing to pay given its value.
Prioritize Your Customer Experience
The quality of customer experience can have a domino effect on a business. 78% of consumers have stopped buying from a brand after poor service, with 65% switching to a competitor.
Implement these tips to improve the online boutique's customer experience:
Offer multi-channel customer support. Every buyer has a different preference for getting assistance. Have a representative available on social media, enable a chatbot, and create a FAQ section on the website.
Be responsive. The average consumer expects a response within 24 hours, but the faster, the better. Make sure to activate notifications for when a shopper contacts you via social media, website, or email.
Optimize the user experience. Evaluate your website's ease of use and navigation from time to time. Consider using A/B tests and a heatmap to get more exact results on what to improve.
Online Boutique Examples for Your Inspiration
If you need some inspiration, here are some references to help you start an online boutique.
1. Maimoun
If you want to sell online without making your own products, take a look at Maimoun. This online boutique store works with independent brands to feature their clothing, jewelry, and home goods.
The website has a minimalist layout with plenty of whitespace, making the artistic photos stand out. Product pages feature slideshow image galleries that users can scroll through to evaluate the items further.
To emulate the experience of a physical store, the website includes a music playlist on the bottom right corner that users can turn on.
2. The Last Line
The Last Line is an online boutique that sells ethically-sourced fine jewelry. With premium materials and unique designs, the brand serves those looking for long-lasting and versatile accessories.
The clear product categories and filtering and sorting systems make browsing through the brand's collections easy. Product images are large and high-resolution letting customers examine each item much more closely.
The Last Line also uses tactics to encourage more purchases, such as offering worldwide free shipping and cross-selling other items on product pages.
3. Lisa Says Gah
Lisa Says Gah is a clothing business that offers sustainably-made pieces from its own collection and other independent designers.
This online clothing boutique embraces fun and quirky aesthetics, just like its apparel. Red serves as the brand's signature color. To maintain readability, the design utilizes a minimal layout and some whitespace to break up the elements.
Product pages feature a video and multiple images of the item from different angles, helping customers understand it better. If customers have further questions, they can click on the chat icon on the bottom right corner to contact a representative.
Conclusion
While starting an online boutique isn't easy, the process isn't impossible. Our guide has shown you how to launch one from scratch and some tips and tricks to ensure the business's success.
We've broken down how to start an online boutique in ten steps:
Pick a niche that has an existing audience and aligns with your passion.
Research the target customers to understand how they may be interested in buying the boutique's products.
Craft a business plan to guide the operations of your online boutique.
Look for manufacturers and suppliers to develop the boutique's products.
Choose an order fulfillment process and the shipping rate options.
Register the online boutique with local, state, and federal governments.
Secure funding. Some options include opening a business credit card and building a credit score, asking for loans, or applying for grants.
Choose an eCommerce platform to build the website on. For example, pick a CMS like WordPress with WooCommerce or a website builder like Squarespace or Wix.
Set up the online store by creating the essential web pages, adding the products, configuring the shop page, and setting up the payment methods.
Promote the online boutique using digital marketing channels like social media, online ads, and email marketing.
Remember to implement our tips and tricks to run a successful online boutique, and refer to the examples shown for some inspiration. Best of luck.