Starting a blog with WordPress is quick, easy, and requires minimal coding knowledge. This may be the reason why the most successful blogs run on WordPress and that number is quickly rising. As a CMS, WordPress creates the perfect environment for quick content publishing with search engine optimization in mind, thus letting a blogger focus on the quality of his publications.
While creating a WordPress blog does require a bit of knowledge, it isn't all that difficult once you learn the steps. With a comprehensive tutorial guiding you along the way, you can go from zero to hero quickly, and without feeling completely lost.
To start a blog using WordPress, all you have to do is:
Find a web hosting provider;
Register a domain name;
Install WordPress or a similar content management system;
Configure settings and set up plugins;
Create and publish content.
And that's all it takes to start a blog! With Hostinger, you can begin your journey with a 14-day free trial and create a WordPress blog in less than 10 minutes! In addition, here's a quick video guide on how to make a website with WordPress:
You may also continue reading for an in-depth coverage on how to start a blog using the WordPress CMS. We'll walk you through why it's worth starting a blog, explain when WordPress is the right choice, and help you prepare for hosting your own copy of WordPress. Finally, we'll provide some extra tips and trick on how to get the most out of your WordPress blog. Let's get started!
Why It's Worth Starting a Blog
Blogging is a multifaceted activity which can sharpen your skills as a writer, marketer, developer, and even be a project to network and build an online business around. As a freelancer or developer, each of these skills can help you earn more experience, land more clients, and justify higher rates.
For example, take a look at our interview with Tom L., who built a five figure business by setting up a blog, targeting a unique niche, monetized it using small offers, then eventually selling it for a nice sum. Here are five common ways you can earn money by starting a blog:
Advertising: Through regular advertising and sponsorships.
Affiliate marketing: Earning a fee when you sell someone else's product.
Digital products: Creating and selling ebooks, plugins, apps, webinars, courses, and more.
Physical products: Books, events, classes, products, and more.
Services: Development, design, consulting, coaching, writing, and more.
On the whole, even as a freelancer, it will benefit you to start a blog. Some of these perks include brand visibility, real practice running a website, and networking opportunities as you build an engaged audience. These are all especially important for beginner freelancers and developers!
In fact, we've already published quite a few specific ideas for building up a side business using WordPress. A few examples have included drop-shipping, starting an e-commerce site, offering business coaching, selling websites on Flippa, selling stock photography, and offering e-books. Blogging can be the start of all of these businesses and more, depending on the topics you're most interested in writing about.
In short, starting a blog can be a big boost to your budding career, as well as provide you with additional monetization opportunities. Next, let's have a look at whether WordPress is the right choice for your blog.
When You Should Choose WordPress for Your Blog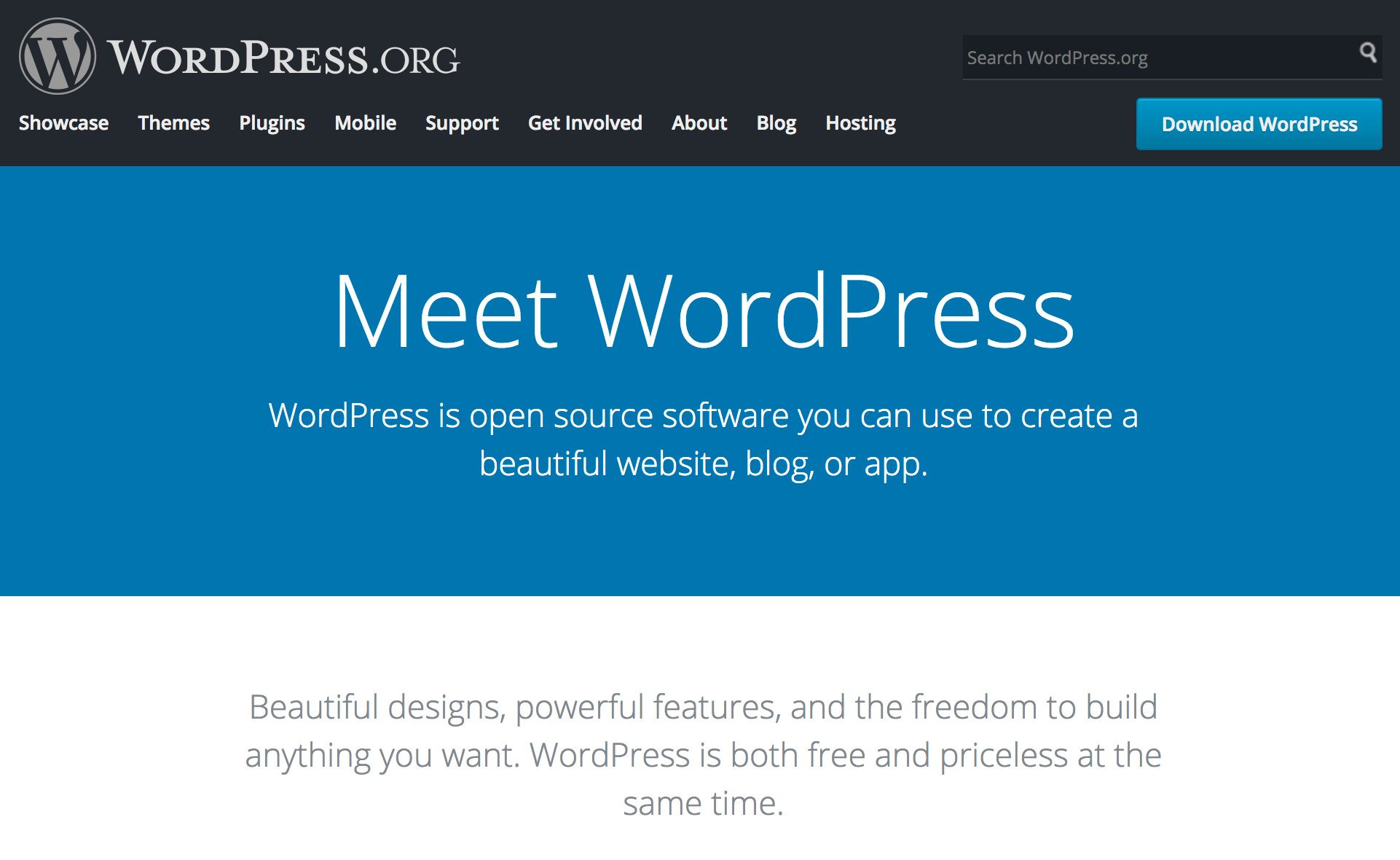 WordPress is currently the most popular Content Management System (CMS), powering nearly 29% of all websites, and almost 60% of all sites using a CMS. It was established in 2003 and has been picking up steam and community support ever since.
Whether you want to sell digital or physical products, offer online courses, run ads, or create a smooth checkout system for your clients, WordPress offers a variety of solutions. While some cost money, many free offerings can be found at the WordPress.org Plugin Directory. In fact, a lot of the most popular plugins are also essential for the smooth running of your site. What's more, the plugins found within are supported by some of the major players in WordPress. Whether it's industry giant WooCommerce helping you create online store, or something as simple as inserting an email signup form.
If WordPress' longevity and industry-standard solutions don't impress you, it's also a good idea to consider what it means to use open-source software. When you use managed Software as a Service (SaaS), you are giving up control and ownership of your content and data. By self-hosting WordPress, you get complete ownership. This means nobody can charge you to use the software or force you to pay for upgrades to proprietary software, and you get full control over how you modify and change it in the future. WordPress is released with a GPLv2 (or later) license, which is issued by the Free Software Foundation.
Additionally, thanks to the enormous ecosystem built around WordPress, you can take advantage of that open-source control by hiring your choice of talent to build and improve your site. If you'd rather be able to tinker and experiment yourself, you can do so with friendly community support.
Speaking of tinkering, using open-source solutions such as WordPress means you own your software. WordPress continues to grow and release advanced development tools such as the REST API and WP-CLI. This means it's becoming more accessible to develop advanced applications with WordPress. In other words, it brings big-league opportunities to the greater public.
Overall, WordPress is an ideal choice if you want an opportunity for unique growth, learning, and community. You'll have complete ownership over your work and can turn your blog into (almost) anything you can dream up.
What You Need to Start a Blog with WordPress
WordPress is an open-source platform available to everyone for download at WordPress.org. There, you'll also find open-source themes, plugins, documentation, developer blogs, and support forums.
Hosting your own WordPress blog takes a bit of preparation. The software is free and open-source, but where will you put it? How will people access it? For these, you'll need the following:
A domain name.
A copy of WordPress.
Many web hosts (such as Hostinger) bundle in a free domain with their services, so we recommend starting out by choosing the right hosting company first. We recommend looking for aspects that can make your life easier, such as regular backups, one-click WordPress installers, and the aforementioned free domain. However, developers will want to look for advanced features such as PHP with PHPMyAdmin support, File Transfer Protocol (FTP) access for managing files, cron jobs for scheduling automatic updates, and Secure Shell (SSH) access for fine-tuned server management
With the right mix of features, you can start a blog with WordPress in no time. Of course, we emphasize that these should all come in an affordable package. Once you've selected your blog topic, domain, and hosting company, it's time to actually create your WordPress blog. Let's look at the necessary steps.
How to Start a Blog with WordPress (In 7 Steps)
By this point, you've chosen WordPress as your platform, set up a hosting account and domain, and are ready to start building up your website. All that's left to do is actually create your WordPress blog! Here is our comprehensive guide to starting a blog with WordPress in seven straightforward steps.
1. Install WordPress on Your Host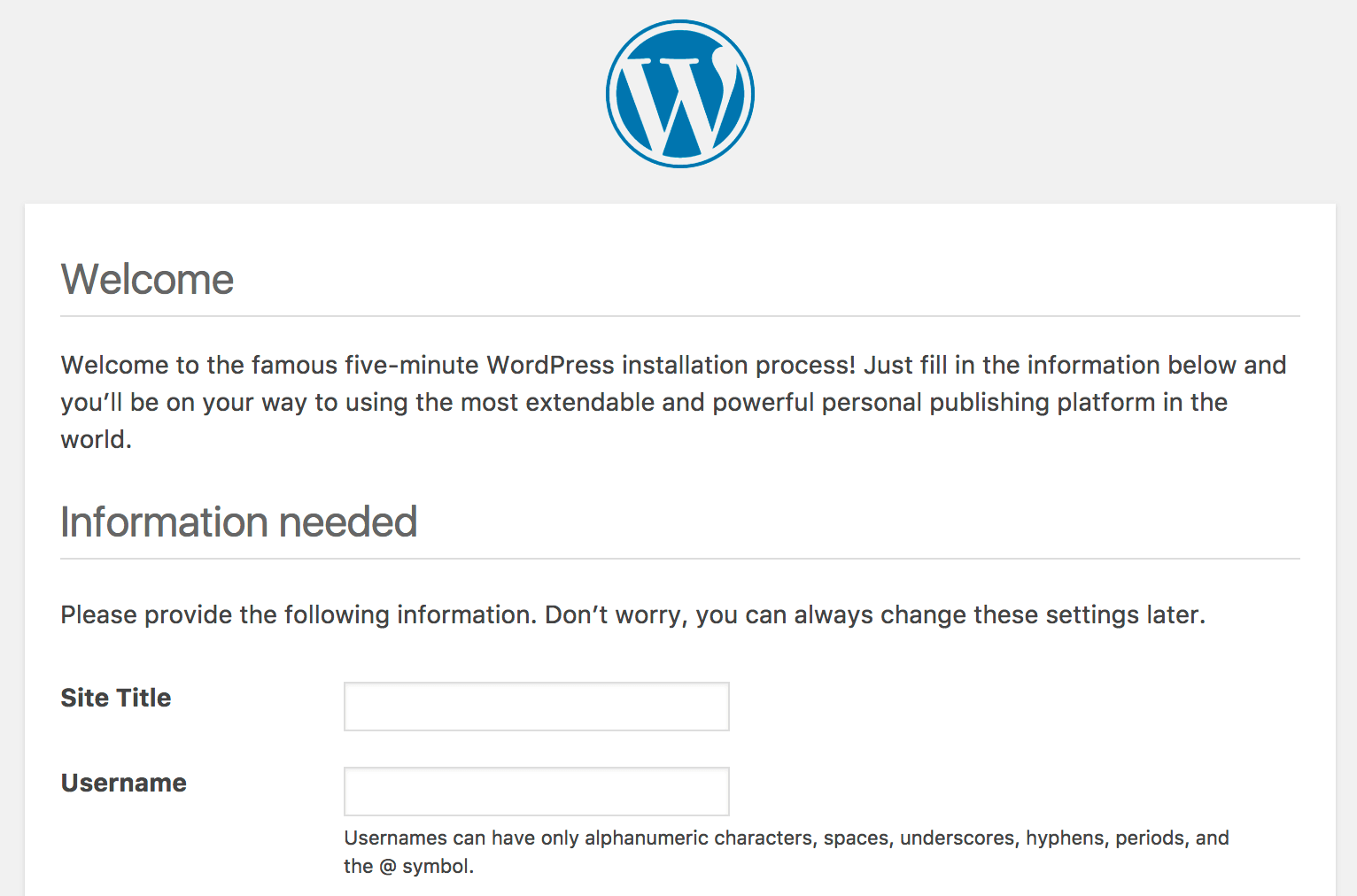 Quite often, many hosts include an automatic installer, access via cPanel or your main hosting dashboard. There are many permutations that exist; however, they all follow the same basic steps.
First, log in to your dashboard or cPanel and navigate to Website > Auto Installer:

On the next screen, use the search field to find the specific WordPress app: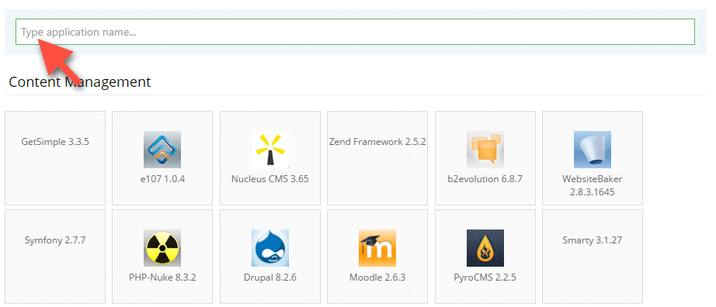 Once WordPress pops up, select it, and you'll be asked to fill in a form. The fields are pretty straightforward to fill out, and once you've completed them, click the Install button to begin the installation process: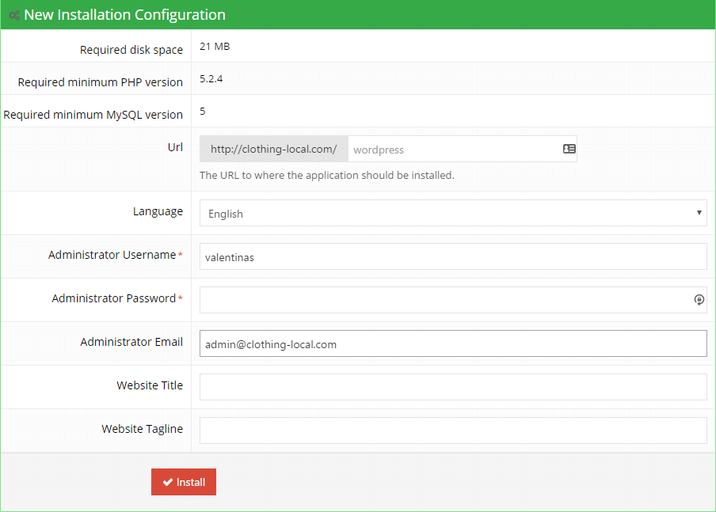 That's all it takes! If you'd like to install WordPress manually, that's also possible with WordPress' famous 5-minute installation process. Here's how to do this yourself briefly:
Create a database and a database user with full permissions on your hosting account.
Upload the unzipped WordPress files to your hosting account at the root of your domain.
Run the WordPress installation script by opening up the URL where you just uploaded your files to.
Follow the prompts, and you're done!
Once WordPress is installed, you'll next want to have a look at the default settings.
2. Tweak WordPress' Default Settings

WordPress comes with a plethora of default settings that you may want to tweak to suit your needs. These will dictate the way your blog looks and runs. While many of the default settings will work for you, we're assuming your tagline isn't "Just another WordPress site". Taking the time to tweak these details upfront means you'll have less to worry about cleaning up later on.
First, log into your WordPress dashboard. From here, go to Settings > General, where you'll be presented with a number of default settings. Start by checking your site title and default tagline. Although you could have set these at the point of install, you can also do so here. These should be customized to represent the name of your blog and a catchy or descriptive tagline:

Next, review your site's language and timezone. If you're blogging in a language other than English, switch to the appropriate choice (there are more than 70 languages available). Choosing the right time zone is important too because it dictates the time WordPress displays for your posts, as well as how it schedules content:

Finally, review the date formatting options. Different locales tend to format differently, so consider your target audience. For example, an American audience will expect to see m/d/Y, whereas international audiences are accustomed to d/m/Y: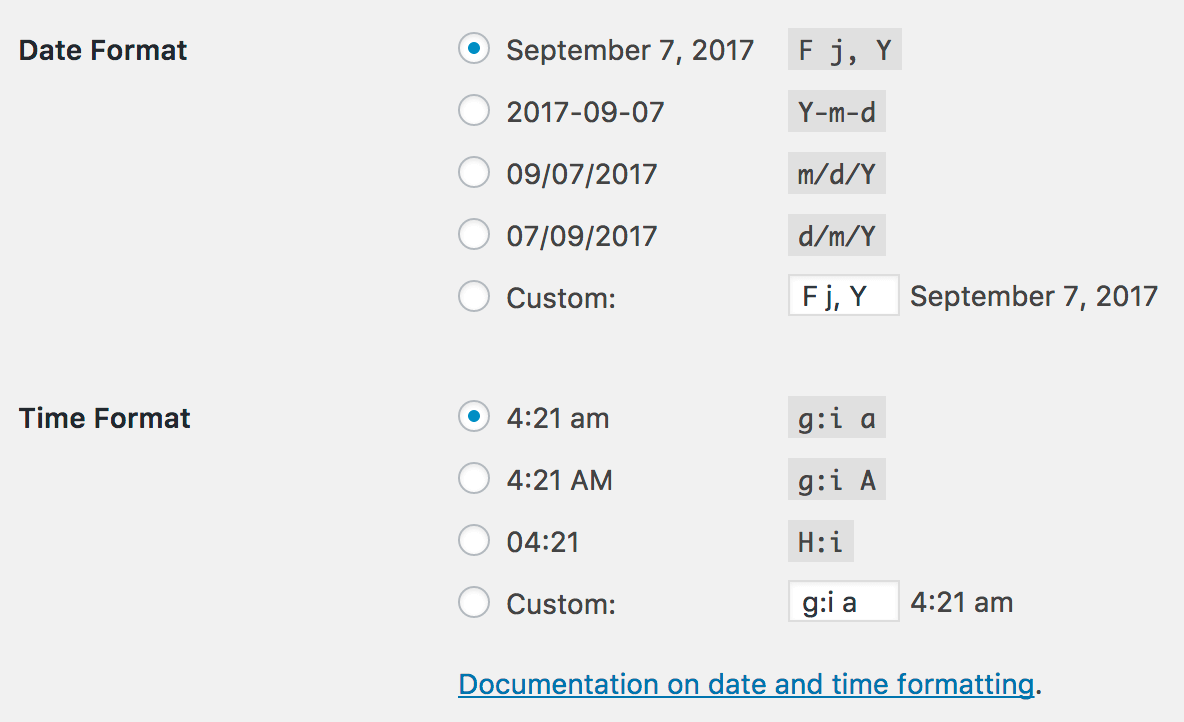 When you're finished, click Save Changes. Next, visit Settings > Discussion to enable or disable the comments section, or set restrictions against certain keywords. You can also choose whether or not to receive email notifications for comments. In this case, which settings work best will be based on how much time you want to spend moderating comments – erring on the side of over-moderating initially is a good idea while you establish your user base. We'd also recommend disabling pingbacks and trackbacks, and any attempts to notify linked blogs: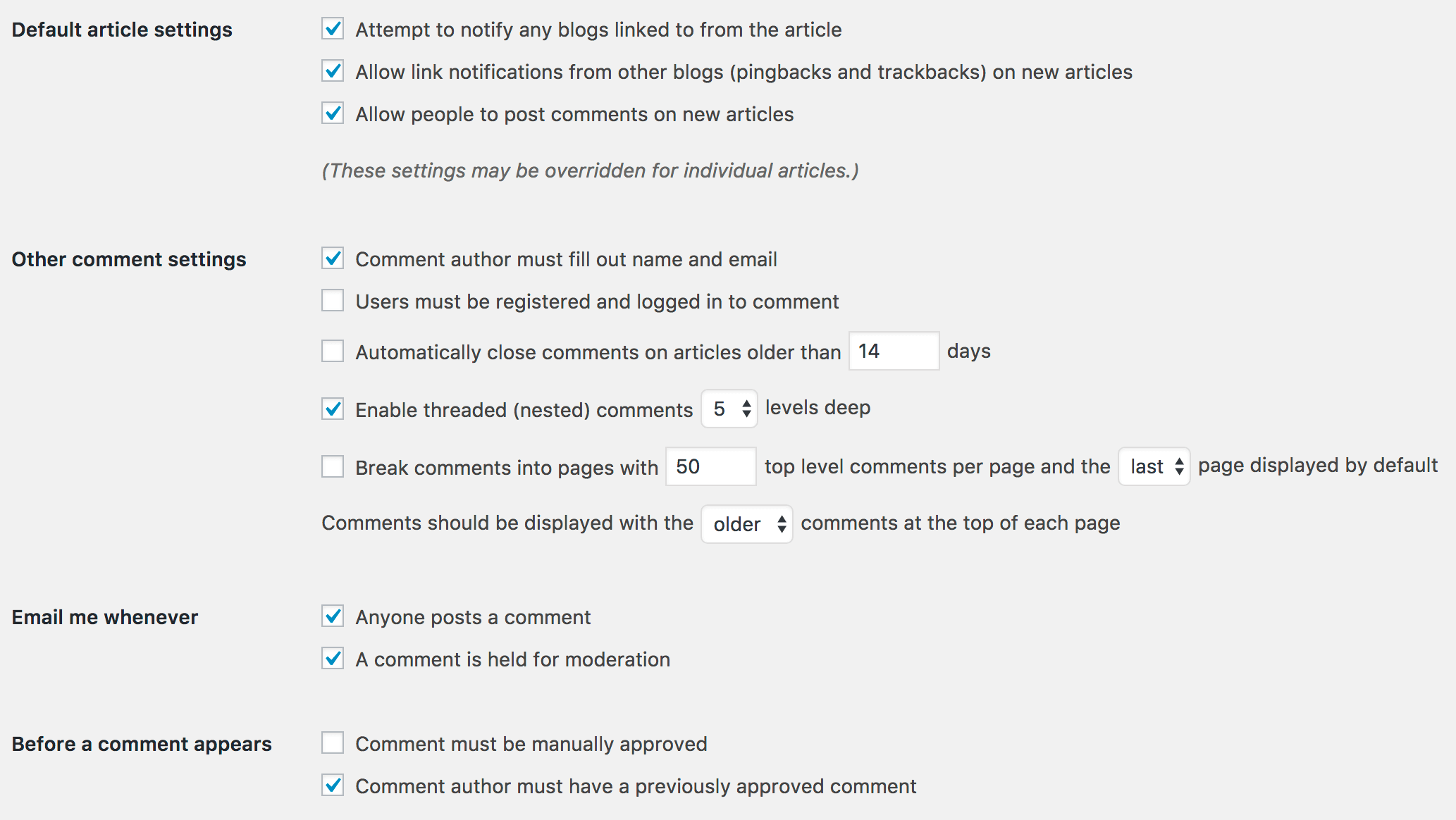 Again, you'll need to save your changes before moving onto Settings > Permalinks. Here, you can choose what kind of link structure you'd like your URLs to have. We recommend you choose anything but Plain, mainly for Search Engine Optimization (SEO) reasons. Selecting Post name will likely be your best option, as short, memorable URLs tend to work best: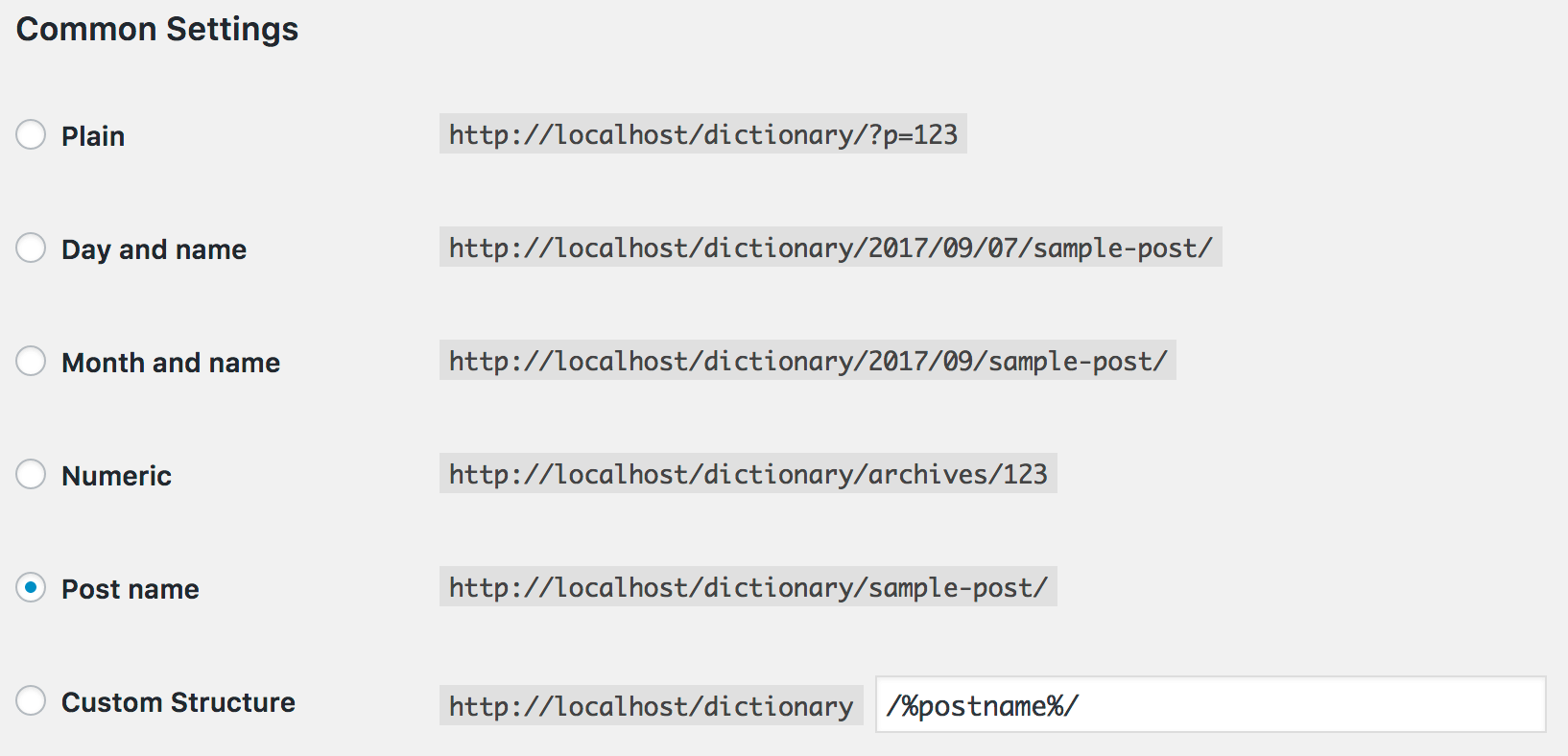 Once you've chosen a permalink structure you're satisfied with, click Save Changes. Now it's time to give your blog a suitable design!
3. Select a Suitable WordPress Theme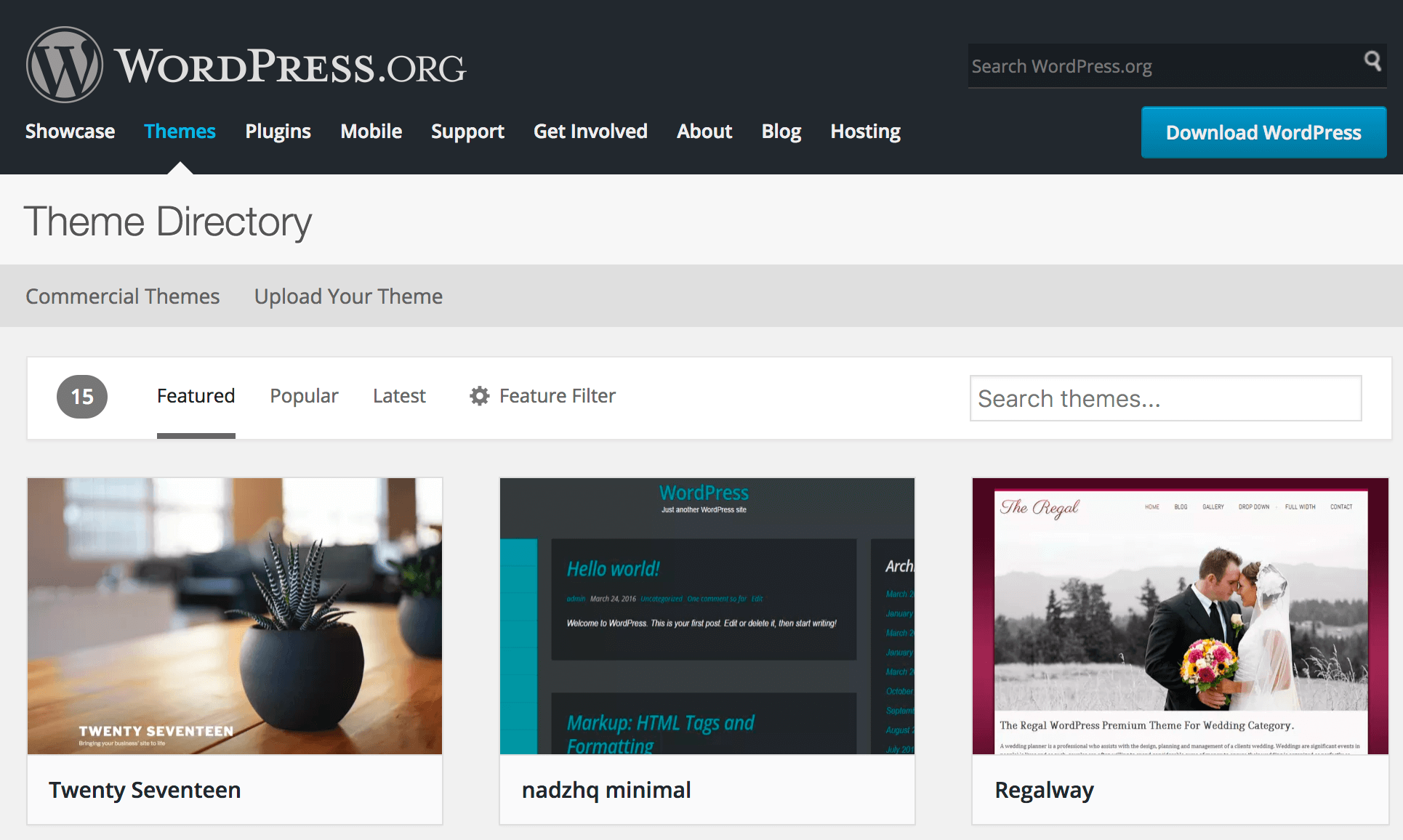 Next, it's time to choose a suitable WordPress theme (check out our list of the best free WordPress themes here). This is essentially a template that dictates your design and is an inherent part of WordPress' core. You can change themes at any time, so don't worry too much about which you choose to get started.
That being said, it's great if you can find a theme that works for your needs right off the bat! Here are a few guidelines you can use to find a suitable theme for your WordPress blog:
Responsive design is a must!
The theme should work well in all browsers, and major WordPress plugins should be supported out of the box.
It should be translation ready if you're planning to blog in another language.
Check for a thriving support forum, where users get answers quickly.
Clean code is important for SEO; validate the demo just to be sure.
High ratings and reviews are a good sign because experience speaks best.
Armed with these guidelines, you should be able to find a theme that fits your needs in the WordPress Theme Directory. Once you've found a theme, revisit your WordPress dashboard, and head to Appearance > Themes > Add New:

In the search box, enter the name of your desired theme you've found in the WordPress Theme Directory. After it appears, hover over it and click Install:

Once the Installing message has completed, click Activate: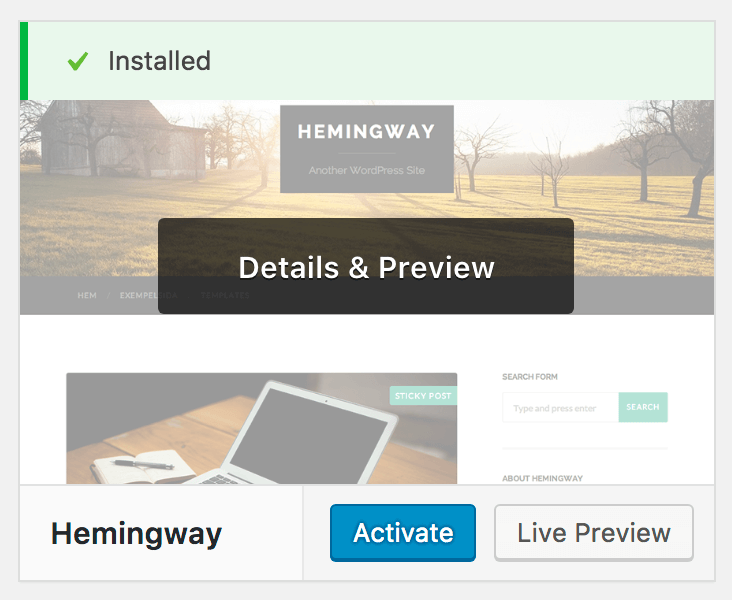 Your theme should now be installed! Alternatively, if you've found a WordPress theme elsewhere (for example, a premium solution from a developer's website), you can upload the theme's .zip file using the Upload Theme button on the Add Themes screen. From this point, you can Activate your newly uploaded theme as usual.

Once you've chosen a theme, you'll likely want to customize your layout. We'll get onto this, but before that, you'll need to look at implementing some additional functionality to your site.
4. Install Some Essential WordPress Plugins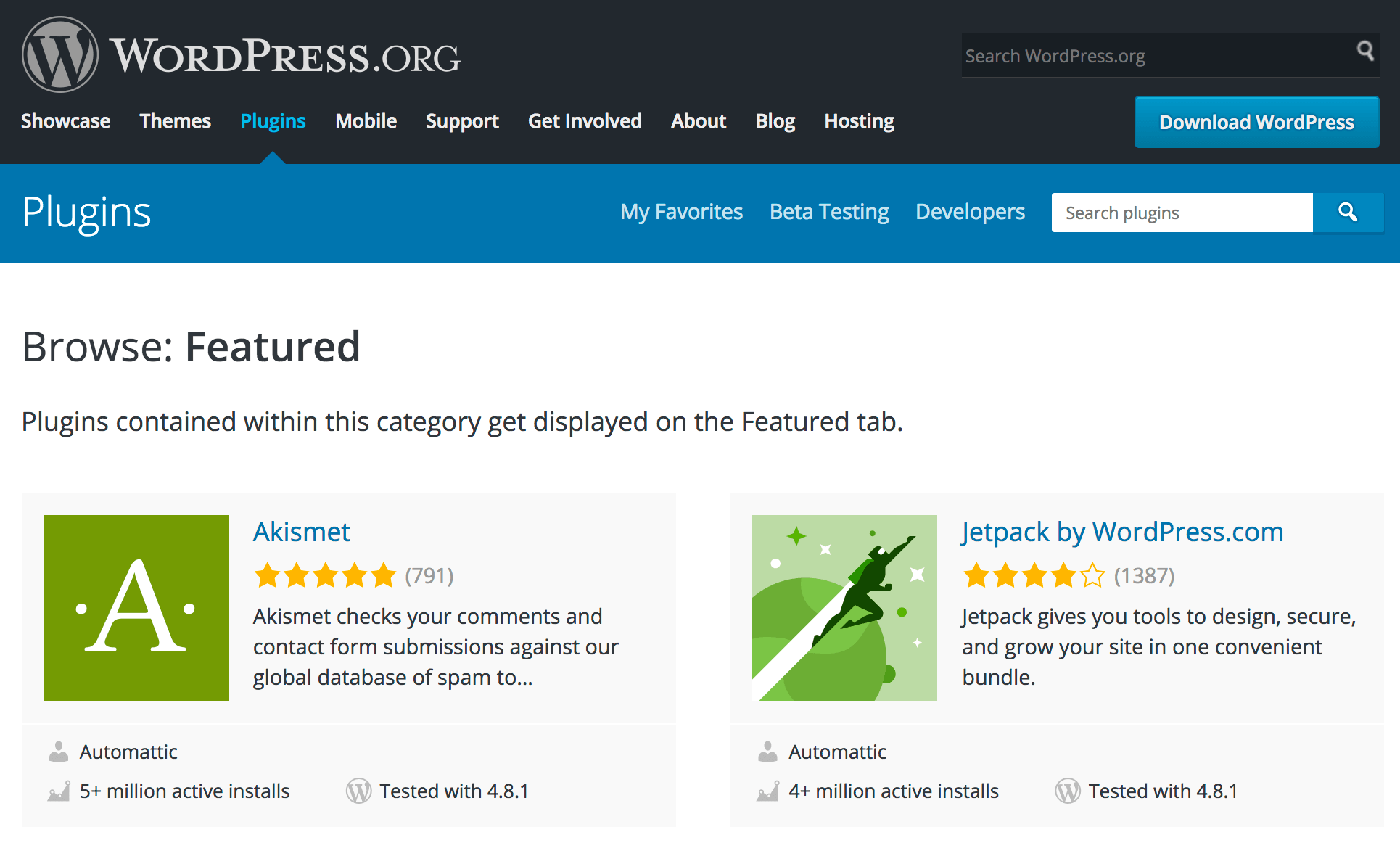 Every WordPress developer has a list of 'must-install' plugins. In a nutshell, these tools extend the capabilities of WordPress, and many of the best and most essential plugins are open-source and free. For example:
Jetpack. This is a collection of modules from the makers of WordPress that enable you to secure your site, share your content automatically, display contact forms, and much more besides.
Yoast SEO. SEO is key to earning a high Google ranking, and this plugin is by far the most popular and comprehensive option available. It analyzes your content and displays areas of optimization via a traffic light system.
Google Analytics Dashboard for WP. This plugin offers an easy way to embed Google Analytics on your blog and makes it a snap to monitor your site's traffic.
Akismet. Spam is a bane of many site owner's lives, and this plugin roots out spam comments based on a community database. This is yet another solution from the developers of WordPress.
Wordfence Security. This is likely one of the most vital plugins you can install. It's a multipurpose plugin that will help protect your site from brute force logins, prevent certain malicious IPs from accessing your site in the first place, and much more.
UpdraftPlus. Backing up your site will be a godsend when something goes wrong. UpdraftPlus is the most popular, and arguably the best solution available.
Installing plugins is a similar process as adding new themes in WordPress. To get started, visit Plugins > Add New from your WordPress dashboard:

Next, search for the name of your desired plugin:

When it appears in the results, click Install Now. Once the Installing message has completed, you'll see an Activate button, which you'll want to click to use the plugin on your blog: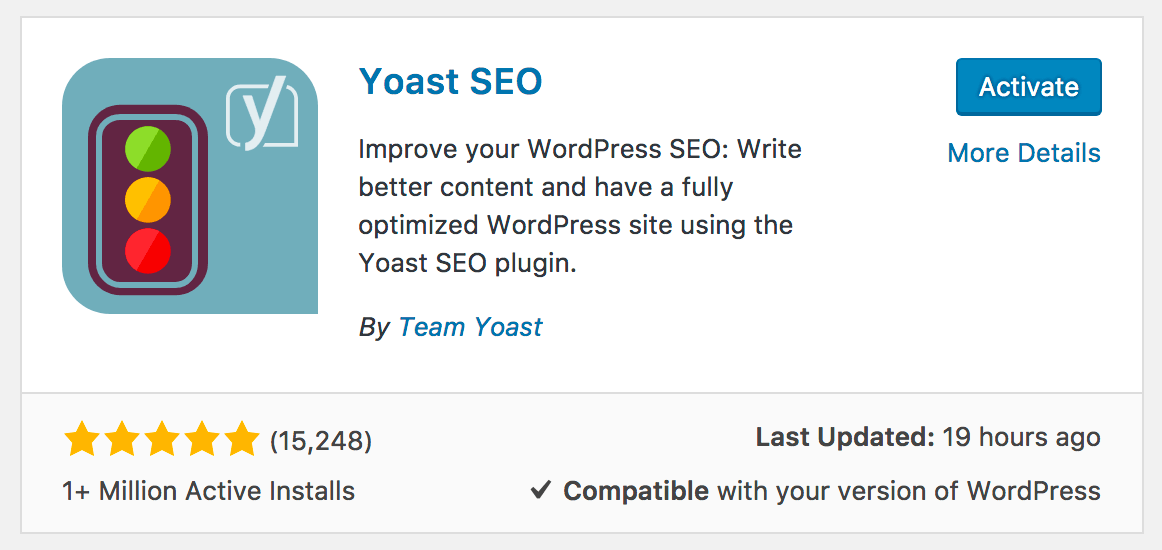 You can rinse and repeat this process to install all of the necessary plugins on your blog, then get down to the exciting part – writing and publishing posts!
5. Write and Publish Your First Blog Post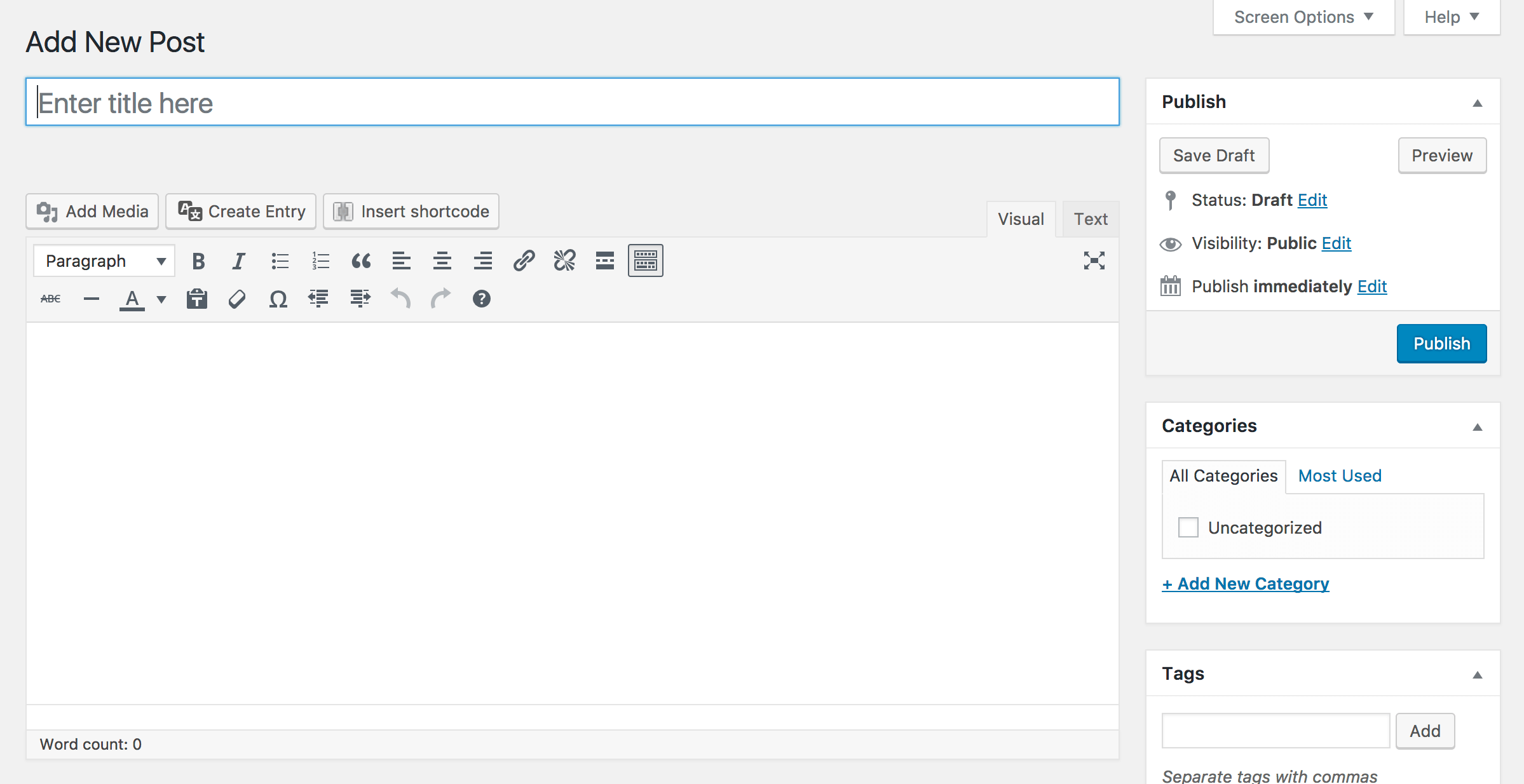 Now that your essential tools are in place, it's time to create and publish some content on your site! This is important to do at this stage for a few reasons. First, it gives you an idea of what everything will look like on your site using real content. Secondly, it means you won't procrastinate on getting your message out to the world. Finally, it's important to remember that your site will always be a work in progress. You could spend the rest of your life customizing the site and never feel like it was perfect. Content should always come first.
Here is a simple guide to writing your first blog post:
Choose your blog post topic.
Write your headline, incorporating the keyword you'd like this post to rank for in search engines.
Outline your post, using subheadings to divide the post into several sections. There should be an introduction, supporting sections, and a conclusion.
Write your post! Include links to external sources and mark places for video or images.
Include a Call To Action (CTA) for comments, contacting, or subscribing at the end of your post.
The length of your post isn't crucial, so take as many words as you need to get your message across. The end result should be informative or entertaining, or otherwise, provide value to the reader.
Once you've written your first post, you'll want to add it to WordPress! You'll start this process by visiting Post > Add New in your WordPress dashboard. To start, add the post title to the Title section and place your content in the large text area below:

Next, use the Add Media button to upload any images, video, or other media within your post. After uploading your file, click Insert Into Post: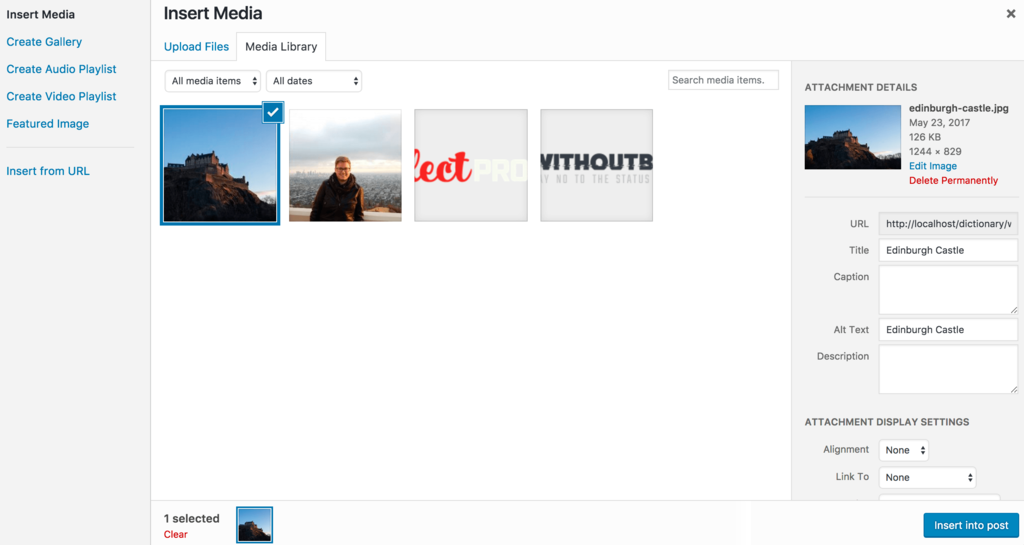 If you've installed Yoast SEO, you can also customize the meta description for your post. This is the short 'blurb' found in search engine results, so getting it right is crucial. Simply click Edit Snippet to modify this: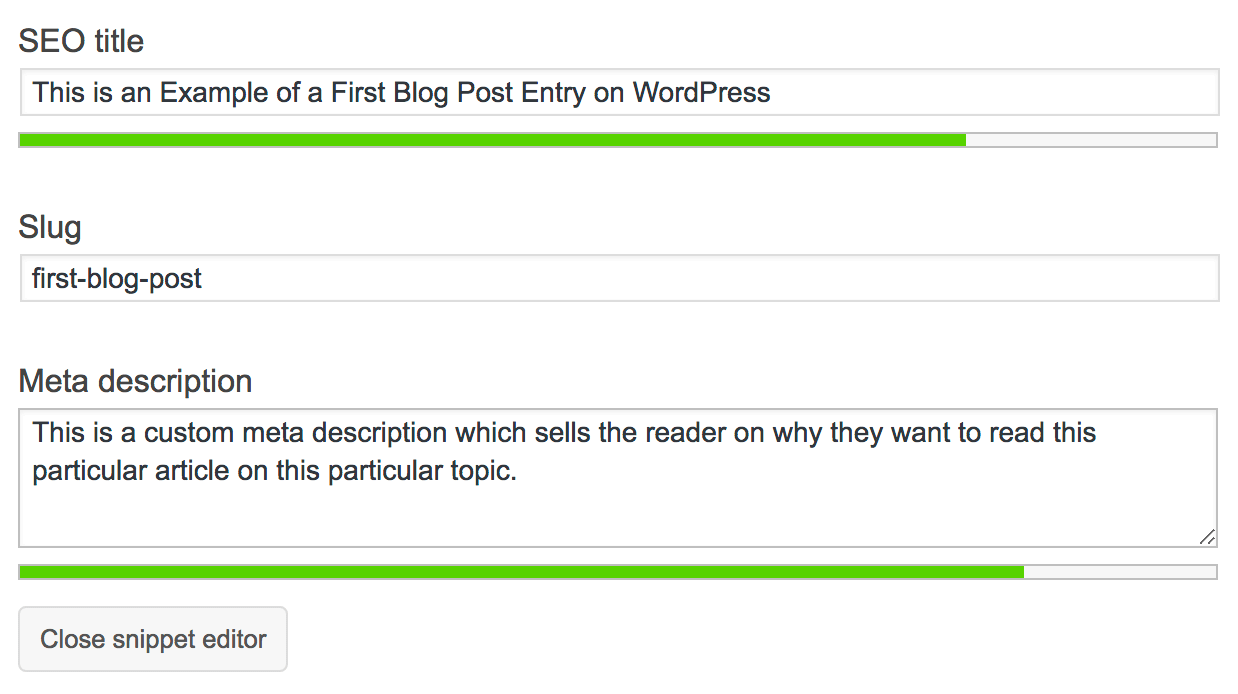 Finally, you can use the Preview button to ensure that your post looks good. Follow up by clicking Publish once everything looks correct. If you don't want your post to go live just yet, click the Save Draft button instead:

Now you've published your very first blog post! Armed with this published content, you can move onto optimizing the user experience for visitors.
6. Customize Your Site's User Experience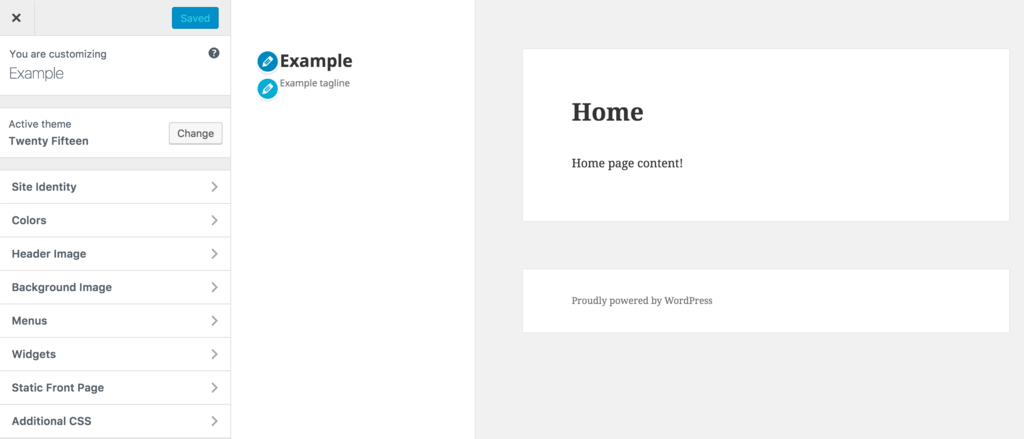 At this point, you're almost ready to start sharing your content! However, there are a few final tweaks you can implement to make everything as great as it can be before the official launch.
Customizing your website will likely center around your theme. Most themes support a few basic settings – some will also offer additional customization options. Ideally, you will have chosen a theme that mostly suits your goals right off the bat, but taking advantage of the options at your disposal will help you build a more usable and unique website.
To access the customization interface, go to Appearance > Customize from your WordPress dashboard. This should load up a screen where you can see a preview of your site, with a new list of options on the left-hand side.
It's important to note that each theme will potentially have a different set of options. We recommend starting out with any color, background, or typography options provided to ensure your theme sticks with your branding as much as possible. Some themes even let you to upload a logo. Check for these under the Site Identity and Colors sections: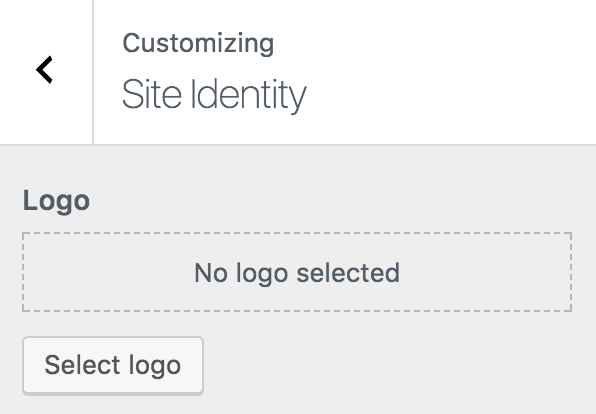 Next, you can choose whether your home page is a static page or a listing of your latest posts. To do this, find the Static Front Page option. From here, you can select Your latest posts or A static page: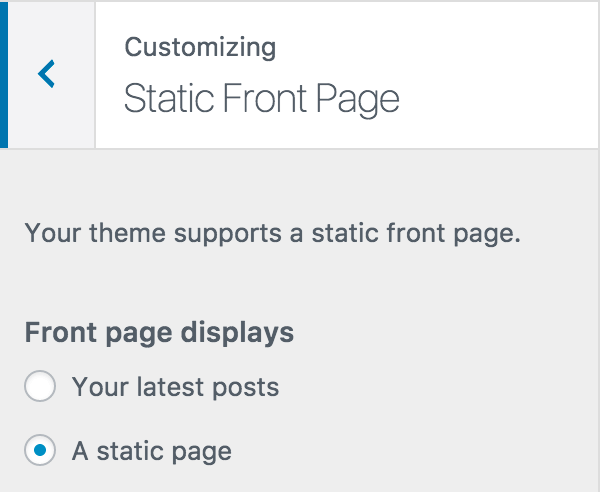 Finally, you'll want to set up a custom menu. To do this, find the Menus section of the Customizer. If you haven't created a menu yet, click Add Menu to get started. Here, you can add pages, posts, categories, and even custom links to a menu. At the bottom of the menu you can tick the proper Display Location option to make your menu show up as the main menu of your theme.

Feel free to experiment with the Customizer until the site preview looks right to you. Once you're finished, click Save & Publish to go live with your changes.
7. Plan Your Next Steps
If you've followed along, you should now have a WordPress blog up and running, with a public blog post ready to go! However, the work doesn't stop here – there are some further steps you'll want to consider before moving on.
First, consider how often you want to blog and what exactly you're planning to write about. If you're just blogging for fun, this won't matter as much. However, if you're blogging for professional reasons, you should consider creating an editorial calendar. This is where you'll track content ideas, schedule posts, and make sure you're hitting your blogging goals.
You'll also need to consider your blog's performance. This means it should load quickly and look great on all devices. The latter should be covered if you choose a responsive theme, and you can test how fast your website loads using online tools such as GTmetrix. Most sites will benefit from a caching plugin such as WP Super Cache. In short, this saves a version of your site's pages to the visitor's computer, cutting down the load time when they next visit your site. It can significantly speed up how quickly your website loads.
You'll also want to think about your site's security. It's a good idea to talk to your host about setting up a SSL certificate, which will be essential for e-commerce and helps protect your visitor's data from interception by hackers.
Finally, you'll want to think about how you'll attract visitors to your blog. A few strong contenders for promotion initially are SEO, social media, and email marketing. To incorporate this into your blogging, be sure to take full advantage of Yoast SEO's post suggestions, add social media sharing buttons to your site, and consider using a service like MailChimp to begin building your email subscribers.
Now, you're fully equipped to go set up and run your very own WordPress blog. We can't wait to see what you make!
Conclusion
Starting your own blog can be a daunting experience, particularly if you're new to the platform. Using a comprehensive tutorial like this one serves as a checklist to make sure you haven't missed anything important.
This article has been a thorough introduction to what it takes to start a blog on WordPress. To review, we first discussed the value of running your own blog. Then we explained the benefits of using WordPress, based on its community and open-source nature. After that, we talked about what's required to self-host your own WordPress blog. Finally, we walked you through seven steps to get your blog off the ground and into the public sphere.
What questions do you have about starting a blog? Ask us in the comments section below!