eCommerce Website Design Guide: Create an Online Store That Sells
What often differentiates top eCommerce sites from the rest is their web design. Having implemented the best practices, they provide an excellent eCommerce experience that can convert visitors into regular customers.
Though web design might seem complicated, there are simple ways to improve how your website looks and functions. This article will discuss the best eCommerce design practices and how to utilize them.
eCommerce Website Design Overview
Website design can have a lasting impact on a business, from the brand image to conversion rates.
According to Sweor, users only need 0.05 seconds to choose whether they will stay or leave a site. Therefore, your store design needs to create a positive impression in an instant.
Even when users overlook the poor eCommerce website designs, they might not return for a second purchase. The same report shows 88% of customers are less likely to conduct repeat business if the first shopping experience is awful.
With that, what does a high-quality website design look like? You can look through some design inspiration, but generally, an ideal eCommerce store should:
Represent the brand identity. The design elements convey what the business is about. They also correspond well to the look and feel of your other sales or marketing channels.
Inspire trust and confidence. There are signals that indicate a business is legitimate and reputable, encouraging customers to make a purchase.
Look clean and readable. Meaning, the design eases users in understanding the content provided on an eCommerce website.
Be easy to navigate. Customers can find their desired information and go through the online shopping experience without anything preventing them from completing the transaction.
Be mobile-friendly. Smartphone users are dominating internet traffic, so your website should translate well to smaller screens. Furthermore, responsiveness is a ranking factor in search engine optimization.
6 Best eCommerce Web Design Practices
Now that you understand the importance of eCommerce design, below are some of the best practices to try:
1. Easy Navigation
Navigation refers to the ways users explore your content. When an eCommerce website is easy to navigate, visitors can find what they are looking for and make their purchases without any trouble.
On the other hand, poor navigation practices can leave them frustrated, prompting them to exit the website and resort to a competitor.
One way to improve navigation is by evaluating the website structure. This aspect primarily concerns the organization and the interlinking of your web pages.
Typically, eCommerce websites use a hierarchical structure, where the home page serves as the arrival point, and the rest of the pages are grouped into categories and sub-categories. The home page will provide navigational links to the primary categories, leading users to different web pages.
When designing the structure, it's good to keep in mind how many clicks a user takes to find a product or service from the home. Research by Jakob Nielsen shows four clicks is the ideal number, though it depends on how many items and categories you have.
Besides structure, the menu type can also affect an eCommerce website's navigability. For those with plenty of product categories, using a mega menu can be useful to display all the links to these pages.
That said, note that this type may not look best on mobile screens. In this scenario, consider using a hamburger menu.
Lastly, using breadcrumb trails can also improve your eCommerce web design. These are text links that indicate the page's location in relation to their higher-level pages. They can help users figure out where they are on the website and where to go next.
Example of Good Website Navigation: Apple
Apple is one of the best eCommerce websites to reference for this practice. It uses a hierarchical structure and has a minimal menu design leading users to a product category, customer support, search function, and cart page.
After clicking on a product category, you will see clickable icons for different sub-categories. Using imagery makes the menu look more noticeable.
Meanwhile, the footer section provides more navigational links to other information about the company.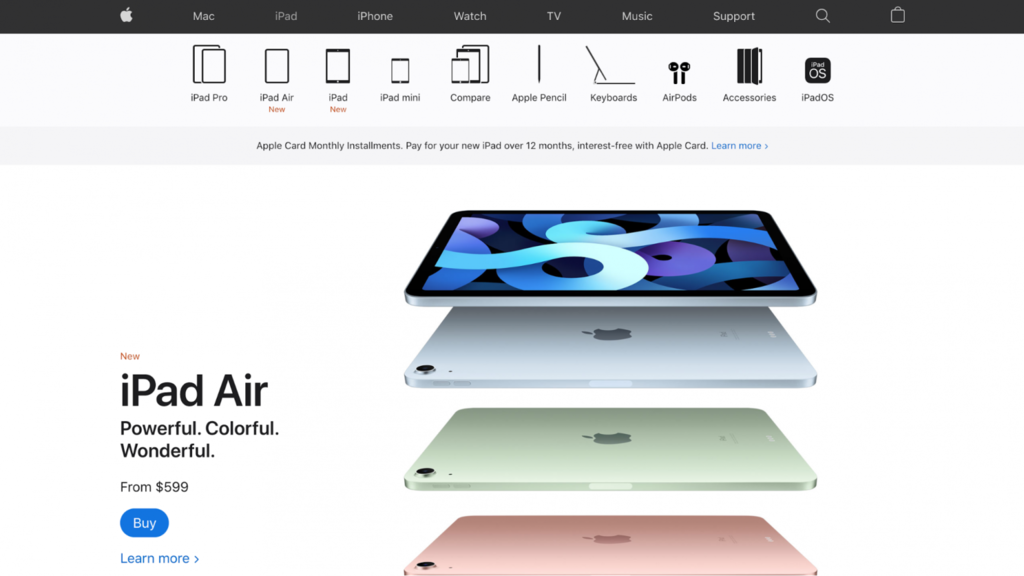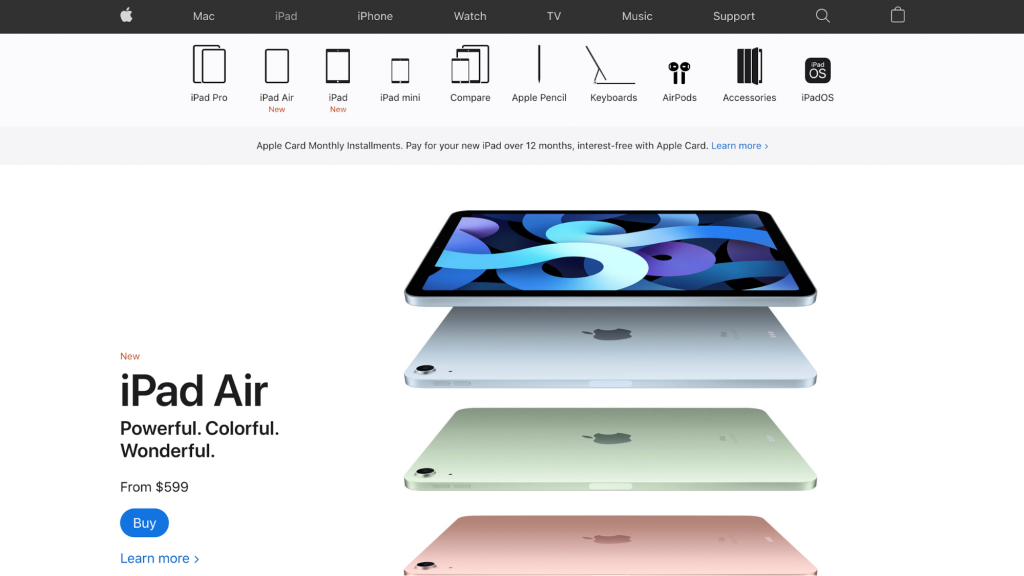 Example of Good Website Navigation: Welly
This eCommerce website uses a hamburger menu for both mobile and desktop devices to save space. The latter version comes with slides that display all of the links and an image to each product, allowing users to preview every item.
2. Optimized User Experience (UX)
User experience (UX) refers to how users interact with a website, particularly whether they find it easy to use. As such, this practice revolves around eliminating blockages in site design that may prevent visitors from exploring your content and becoming customers.
Improving UX usually begins with researching visitors' behavior. One way to do it by using analytics tools to examine existing data, such as Google Analytics. Heat mapping is also a popular method as it can reveal user behavior on specific web pages.
After collecting the research results, you may tweak the website design according to the findings.
Below are some common practices to optimize UX:
Make the call-to-action buttons stand out. These are links that lead users to your conversion goal. Their design has to look prominent so that users can find them easily. One way to enhance it is by using a contrasting color.
Include some whitespace between the content. Doing so will create a pleasant reading experience. Remove unnecessary elements to avoid cluttering the layout.
Employ visual hierarchy. This term refers to the organization of elements according to their importance so that visitors can read the essential information first.
Add a search bar. Users usually utilize this function when they need to find information quickly. Place it on top and feature a magnifying glass icon so that the bar looks more noticeable.
Make the link to customer support more accessible. Many sites place a sticky button that allows users to contact a representative, check out the FAQ section, or submit a contact form.
Use responsive design. This will automatically adjust the eCommerce website design to the user's device screen size.
After making some changes, it's good to conduct A/B testing by comparing the old design to the new one. That way, you're able to measure the results of the modifications.
Example of Good UX: SaleHoo
This eCommerce website design demonstrates some of the tips above very well. It looks simple, with the main call-to-action button sticking out against the white background. The button also shows up repeatedly throughout so that users can click on it as they scroll down.
Moreover, customers can ask questions before choosing a product by clicking the button on the bottom right corner.
Example of Good UX: thredUP
This eCommerce store sells used clothing, so it has a lot of products in the catalog.
The website design places the search function close to the shop links to improve the searching experience. It will also reveal the real-time trending keywords to speed up users' searching process.
3. Consistent Site-Wide Design
This practice ensures the look and feel of all the web pages are harmonious with one another.
One reason is to establish a brand identity. That way, your eCommerce store looks different from competitors, and the branding is more recognizable to customers.
Another is to improve the ease of use. No matter which web page the user is on, they should be able to interact with it similarly.
Creating a consistent site design usually requires repeating the same elements throughout your web pages, such as:
Layout. It's the arrangement of elements on a web page. Generally, individual pages belonging to the same category will use a similar format. Headers and footers should remain unchanged throughout the site.
Color scheme. A typical website design incorporates up to three colors from the brand's visual style guide. One can function as the dominant color, while the rest serve to complement it.
Typography. Like the element above, the general practice is to use up to three fonts that look good together. One can be for headlines, another for subheadings, and the other for body text.
Imagery. Examples of this element include icons, illustrations, screenshots, and graphs. Web designers usually use imagery from the same family to maintain consistency.
Example of Good Site-Wide Design: Mailchimp
Mailchimp's eCommerce website design shows how a page can look consistent while simultaneously having a dynamic feel.
Each web page features a different background color, but it uses the same colors for links and buttons to establish coherence. All the illustrations also share a similar aesthetic while still looking unique from one another.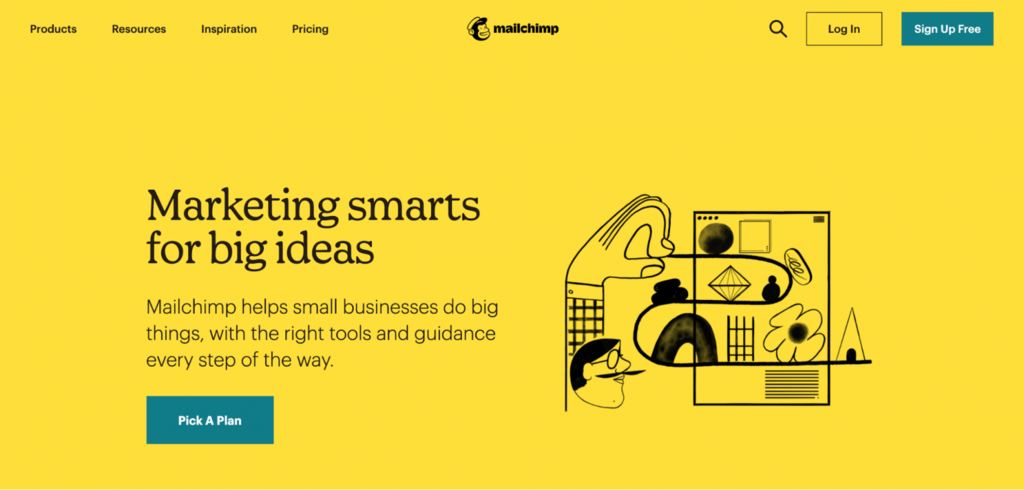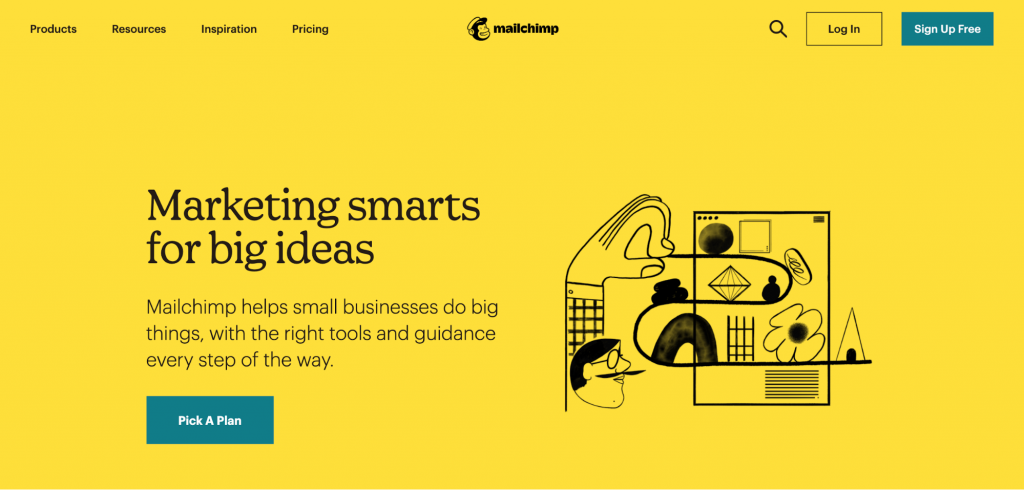 Example of Good Site-Wide Design: Google Store
This is another excellent eCommerce example of consistent website design. The color scheme and font choices are familiar to the Google brand, and it maintains the same full-width layout used in other Google sites.
4. Attractive and Informational Home Page
The home page is usually the first web page customers will visit, so this is a great opportunity to make the right impression.
Generally, a home page design should communicate what your business can do for the audience and persuade them to make a purchase. The visuals also have an important role in captivating visitors' attention and intriguing them to continue browsing.
Consider implementing these tips when designing a home page:
Highlight the unique selling proposition. This practice is especially beneficial if people are not familiar yet with your brand. Position this in a large headline above the fold so that it immediately grabs users' attention.
Keep the information concise. Only include the most relevant details that customers might be interested in, such as how your business works or what the products are made of.
Feature hero shots. These are images that demonstrate the benefit of using a product or service. Consider featuring a shot on a full-width banner to catch visitors' attention.
Display social proof. Add customer testimonials, media mentions, or partner logos to convince customers that your business is in good standing.
Example of a Good Home Page: Bite
This eCommerce website design has one of the best home pages to check out. From the start, it greets customers with professional product shots and an eye-catching headline. There are also logos of media companies that have covered the brand in their platforms.
Scrolling down, there is more information about the business, from their purpose, product demonstration, to buyer reviews. All these come in a soft color scheme that looks easy on the eye.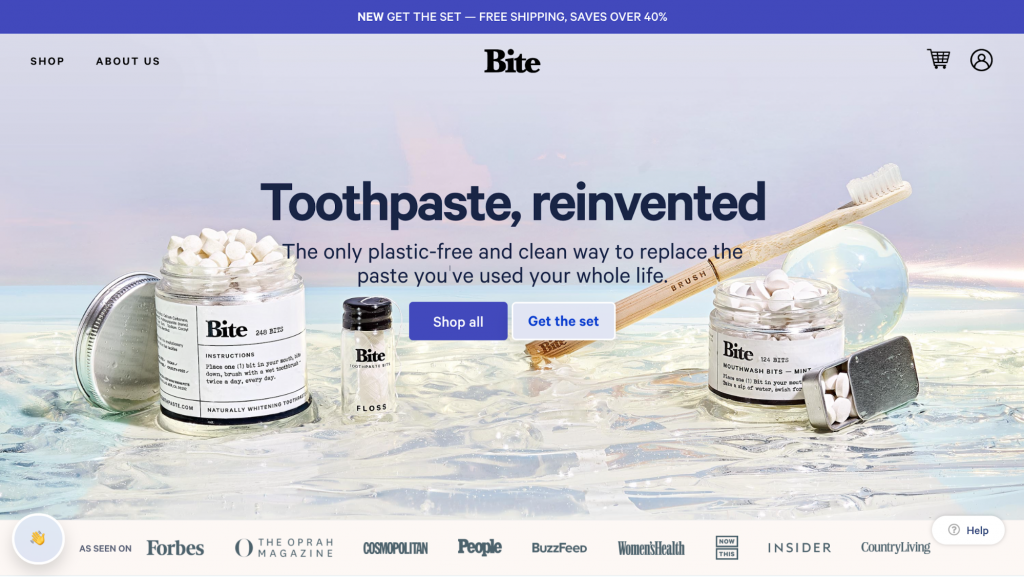 Example of a Good Home Page: Wayfair
Wayfair's digital store features great eCommerce website design to take inspiration from, especially if your brand is more well-known.
The home page focuses more on highlighting products and sales events instead of introducing the business to the viewer. Customers can find the latest updates and services from the company towards the bottom of the page.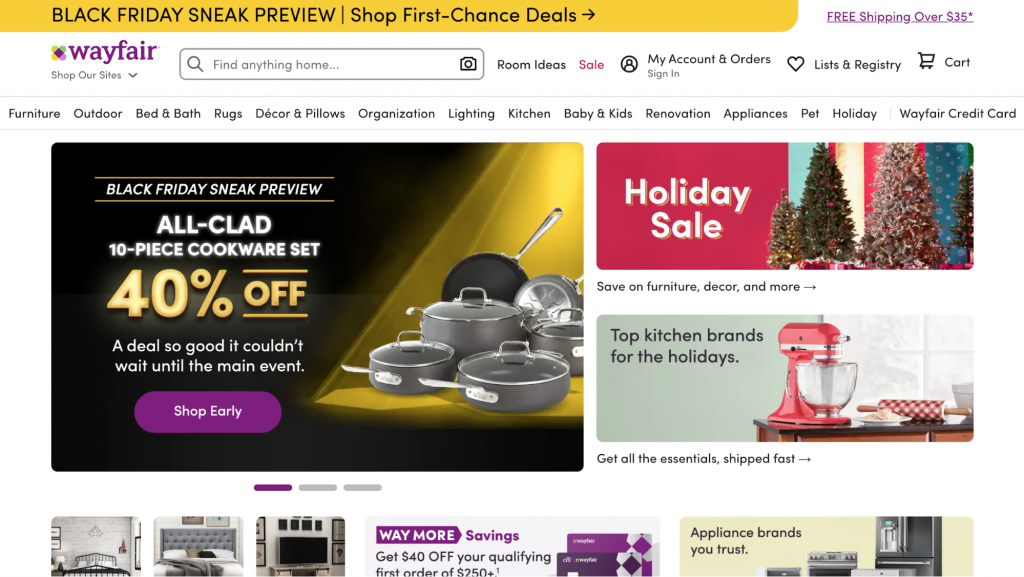 5. High-Converting Product Pages
The product page allows customers to get to know an item better and decide whether it's worth purchasing. Therefore, it's essential that the design and content provided can help them take your desired action.
We will cover two types of product pages – the category page and the single product page.
The first one displays all products within the same group. Typically, there is a sorting and filtering system to help narrow down the search. Some also come with a quick view function, enabling customers to preview the item more closely while remaining on the same page.
When a customer clicks on an item, they will be redirected to the single product page to get more detailed information.
Said page usually has multiple images or videos showing the item in different angles and scenarios. eMarketer's research shows customers expect at least six to eight pictures on product pages.
Other common features include product description, sizing, and fit information, an FAQ section, and relevant recommendations to encourage more purchases. Some also display ratings and reviews to persuade customers further.
Example of Good Product Pages: Bellroy
Bellroy's eCommerce website design is an excellent demonstration of these practices. The category product page has an interactive tool to compare a regular wallet with their item, showing why theirs is more beneficial to the customer.
What's more, it categorizes the items by what people carry in their wallets. That way, customers can choose the type that describes their lifestyle.
Their single product pages are also worth mentioning. The gallery has several high-quality close-up shots showing the item from various angles. There are also links to view information on sizing, materials, and warranty.
Scrolling down, users can view a more in-depth product demonstration through a video. If the item doesn't suit the customer's preferences, they can check out the recommended products on the bottom.
6. Fast and Easy Shopping Cart and Checkout Flow
eCommerce websites rely on a user-friendly cart and checkout process to ensure successful sales. Baymard's data reveals the average cart abandonment rate is 69.57%, which means most users who add items to their bags never end up making a purchase.
Though the reasons vary, many of them are design-related, such as:
Not seeing the total upfront costs.
Unsafe-looking web page design.
Members-only checkout.
Lengthy checkout flow.
Thankfully, implementing the practices below can help reduce cart abandonment:
Use a mini cart. This feature allows customers to keep track of their purchases without being redirected to the cart page. Add shipping costs and taxes so that they can know the exact price.
Allow users to make changes from the cart page. For instance, include buttons to remove or modify the product variants.
Limit the checkout flow to three to four pages. More than that can risk frustrating users and causing them to leave. One-page checkouts may also be a good idea as it can reduce the number of clicks and, in turn, the loading time.
Enable guest checkout. First-time customers may feel burdened by creating an account as they may not trust you yet with their email addresses.
Include a progress bar. Such a feature lets users know how close they are to finishing the transaction.
Show trust seals. Feature logos that indicate all the transactions made on your eCommerce website will be secure. Types of widely-used trust badges include an SSL certificate, secure payment icons, and money-back guarantee seals.
Remove unnecessary form fields. Only ask for the most relevant information, such as payment, contact, and address details.
Add a button to access customer support. That way, customers can request assistance if an error occurs or they have questions about the purchase.
Offer one-click payment. Many payment gateways today provide this option for instant checkout. The brand Macy's was able to increase mobile conversions by using PayPal's version of the feature.
Example of Good Shopping Cart and Checkout: Dr. Martens
Dr. Martens' eCommerce website design has an intuitive cart and checkout flow. Hovering over the bag button displays the mini cart, allowing customers to preview their items along with estimated shipping costs.
The checkout button on the shopping cart has a vibrant yellow color, signaling users where to click. It also cross-sells a different product to encourage more purchases. Other than that, there is brief information about shipping and returns should customers need them.
The checkout process is quick and straightforward. The sticky sidebar lets users preview the order total as they fill in their information. There are also progress indicators with links on top to redirect them to a previous step.
How to Build Your Own eCommerce Website
There are several ways to create websites with eCommerce functionality. One is to hire a web developer who will take care of the site-building process for you.
This method is best for those with a large budget, considering the cost can get to around $50/hour. The steep price comes with the promise of a professional design, as your eCommerce website will be in capable hands. Web developers may also handle the purchase of a hosting service and a domain name.
If you prefer to do it yourself, consider purchasing a web hosting service and installing an open-source eCommerce platform. This option requires more effort, as you have to build a website from scratch and manage the hosting on your own.
That said, it can be an excellent choice for those looking to reduce costs. Hostinger offers hosting plans starting as low as $0.99/month. Moreover, eCommerce platforms like WooCommerce and PrestaShop are free to download.
Another alternative is to use website builders. Unlike the previous option, these programs come with managed hosting, allowing users to focus on designing their eCommerce store. Since they're intended for beginners, their features are usually more intuitive.
Which Website Builder is Best for eCommerce?
Many website builders today are suitable for online stores. One such example is Zyro.
It uses a drag-and-drop interface that enables moving elements freely across the page. There are also plenty of eCommerce website design templates available.
This platform covers essential online selling features, including order tracking, inventory management, and discount applications.
Zyro's online store plans start from $9.99/month to $14.99/month. The lower-tier option is best if you have up to a hundred items, whereas the higher-tier subscription is for selling unlimited products. There are no commission fees.
Another option is Squarespace, a website builder known for offering minimal designs for websites of any type. It also has a drag-and-drop feature, but the block-based system may limit some of your movements. It may be useful for those who are afraid of messing up the layout.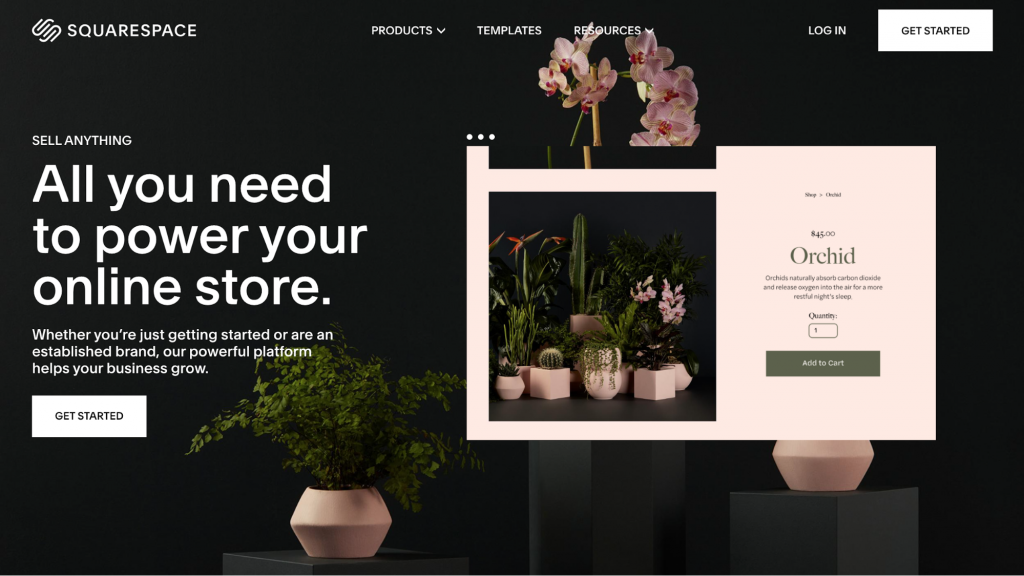 The core eCommerce functionality is readily available in the Business and Commerce plans. There are also marketing tools for email campaigns, social media marketing, and search engine optimization.
The packages for commercial use cost between $18/month and $40/month. There is a 3% transaction fee in the lowest-priced plan.
Designing and Customizing Your eCommerce Website
One easy way to design an eCommerce website is to choose a pre-configured template. They already come with beautiful designs that are easily modifiable to suit your store.
Website builders usually come with a dedicated page for their template collection. Both Zyro and Squarespace have special sections for eCommerce site designs.
WooCommerce or PrestaShop users can find themes in their official libraries. There are also online store designs in theme marketplaces such as TemplateMonster and ThemeForest.
When choosing the right template for your eCommerce website, start by thinking about your brand's visual identity. Using a template that resembles your branding closely will allow for easier and quicker customization.
This template, for instance, is better for an electronics brand. The black-and-white color scheme and minimal layout can make the website look modern.

On the other hand, this template's color palette and decorative elements are more suitable for eCommerce websites that sell children's products.
Another factor to consider is the standout features. For instance, if you want to use slider galleries throughout the website, it's best to pick a template that already includes or can support such a function. 
Conclusion
Making an attractive and user-friendly eCommerce website isn't as tricky as it sounds. Applying the simple tips we've discussed can help create a high-quality web design that positively impacts your business:
Make navigation easy.
Optimize user experience.
Repeat elements to create a consistent website design.
Craft an attractive and informational home page.
Ensure the product pages are optimized for conversions.
Design fast and easy cart and checkout pages.
To see the effects of these eCommerce store design practices, it's a good idea to conduct regular tests. That way, you're able to track the results and find new ways to improve.