How to Backup Your Email Accounts and Messages via cPanel's File Manager

Backing up your email accounts in cPanel and messages is useful if you wish to archive your old messages, or simply restore emails and the rest of your content to an entirely different server.
While this is usually done by creating a full cPanel backup file using its built-in Backup Wizard feature, in some cases, you don't need to back up all the data in its entirety. In this tutorial, we're going to show you how to back up email-related data for download.
How To Back up Your Email Data via cPanel?
Before we begin, get access to your cPanel account. From here, we're going to take you through step-by-step how to back up your email accounts and messages without breaking a sweat.
If you wish to know how to back up your data on other platforms, check out our other guide here.
1. Log Into Your File Manager
Once you have gained access to your cPanel account, find and click on the File Manager under the Files tab.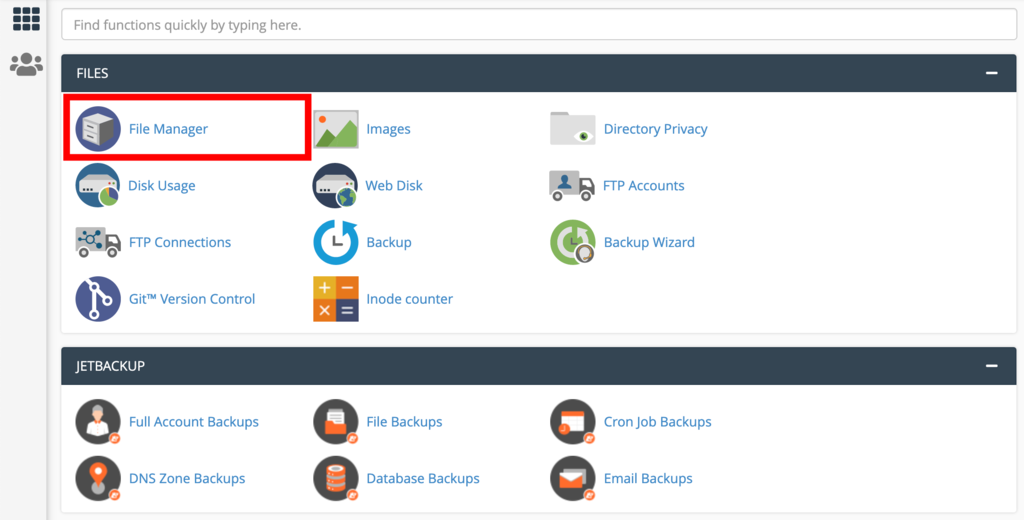 2. Access Your Home Directory
Once you're in the File Manager, ensure that you're in the home directory of your hosting account.
PRO TIP: While you might come across different naming formats from time to time, your main directory is usually labeled similar to /home/username/ in cPanel.
Now, look for the Mail folder and find a folder labeled after your domain name.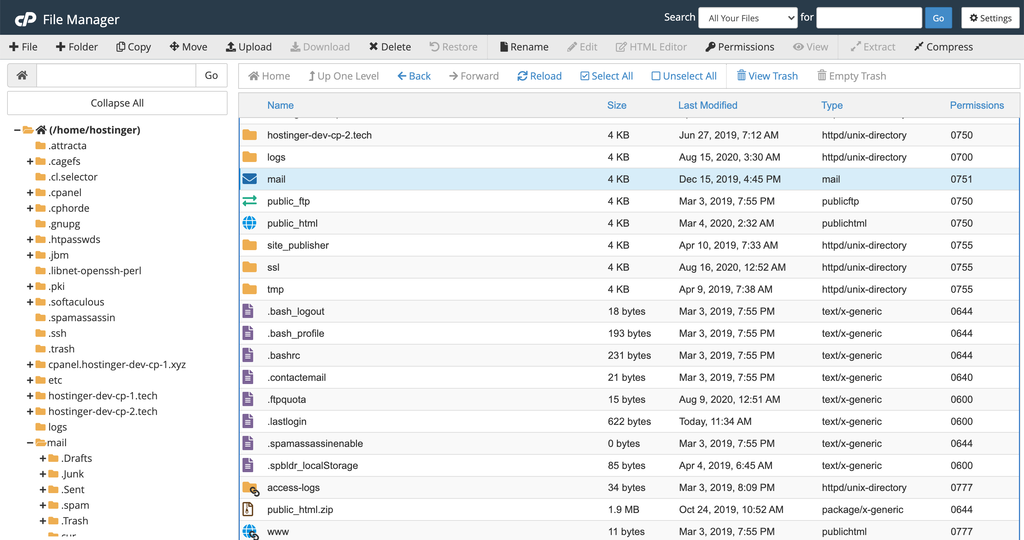 3. Compress Your Email Data
Click on the Mail folder with your right mouse button and select Compress.
In the following window, you will see that there are four compressions types that you can use:
.zip – this option offers standard compression and is usually used by Windows or macOS users.
.tar – your backup file will not be compressed and simply placed into an archive.
.tar.gz – using this method your files are compressed using the gzip algorithm. These archives are usually used by Linux users and offer decent compression ratios.
.tar.bz2 – these types of archives use the bzip2 algorithm, which offers better compression than .tar.gz, but the algorithm is slower.
For maximum compatibility, select the Zip Archive option as the preferred compression type.
PRO TIP: Leave the name unchanged for easy restoration in the future.
Click Compress File(s) button to start the compression process.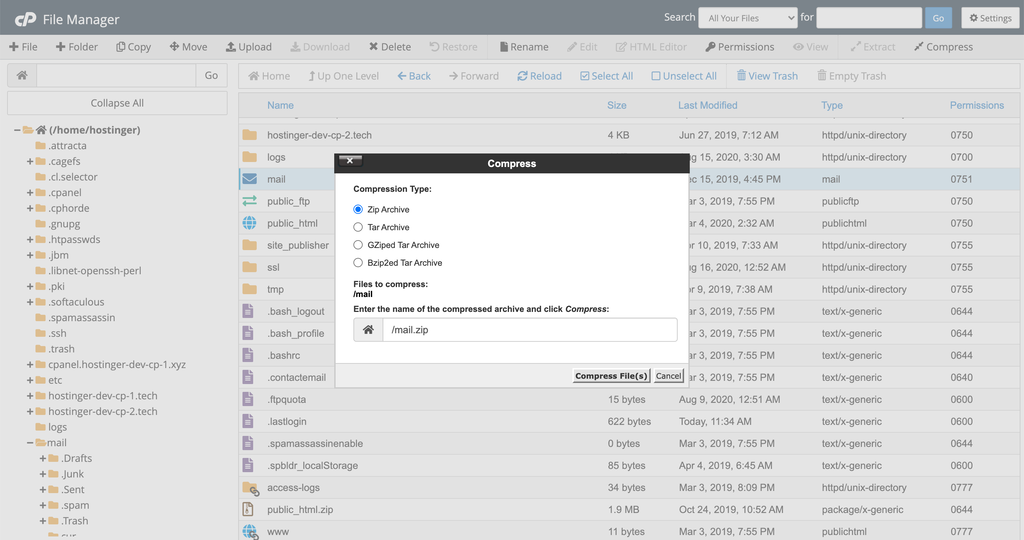 PRO TIP: Your Mail directory contains information about every email account on your cPanel account. In this example, we've downloaded data just for the selected domain. If you wish to create a backup file for all of your accounts in cPanel, repeat the steps shown, but select the entire Mail folder instead.
4. Download Your Compressed Files
In order for your email backup to be secure, you must download it to your local machine.
IMPORTANT: cPanel backup emails that are stored on the hosting account by itself are not protected from all potential dangers, such as potential server crashes, so it's a good idea to keep your backed up data on your local or several machines.
From here, right-click the newly created mail.zip archive and click Download. Your archive will then be downloaded to your machine.
Your email accounts and messages from your cPanel are now downloaded and safely backed up on your local computer inside of these archives.
5. Removing Leftover Data
It is wise to delete your backup archives from your hosting account once they are downloaded to your machine. This way, you save server space and also keep a tidy hosting environment.
Right-click the mail.zip archive you've just created and select Delete to remove it.
Your backup archives have now been removed from your cPanel account.
Conclusion
In this tutorial, we've learned how to back up email accounts and messages using cPanel's File Manager and can now be used to restore emails and messages on another account or hosting provider.
If you have any questions regarding this article, don't hesitate to leave a comment down below.